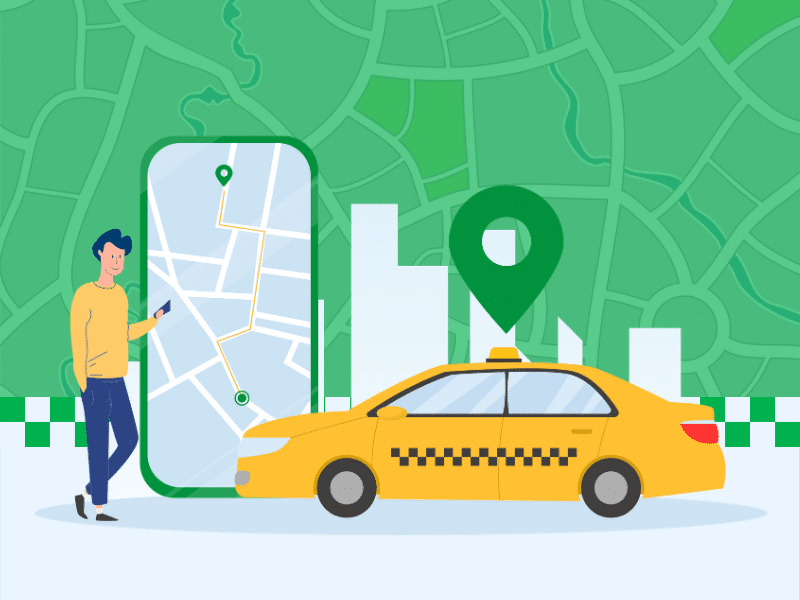 Ankit Patel

July 10, 2020

6 min read
The ride-sharing industry is a rapidly growing market, with global revenue expected to reach $242.73 billion by 2028. This growth is being driven by a number of factors, including the increasing demand for transportation, the rise of smartphones, and the convenience of ride-hailing apps like Uber.
In today's dynamic business landscape, staying ahead often requires innovative solutions that meet evolving consumer needs. As urbanization increases, the demand for efficient transportation solutions grows, giving rise to ride-sharing apps like Grab. These platforms have redefined the way we travel, seamlessly connecting passengers with drivers while optimizing urban mobility.
Founded by Anthony Tang and Tan Hooi Ling, Grab is a number one ride-hailing app that gave the convenience of booking cars at the outset. With time it adopted a super app model and included a variety of other consumer services such as food delivery, ticket buying, grocery shopping, hotel booking, and many more under its radar.
Whether you're a startup seeking to disrupt the transportation sector or an established player looking to diversify your services, understanding the nuances of app development cost is a strategic advantage. By grasping the key factors and intricacies, you can embark on the journey of creating a ride-sharing app that not only meets the technological demands of today but also contributes to the transformation of urban mobility and the way people navigate their world.
Grab's Purpose
Grab was mainly focused on bringing people under one roof. It aimed to provide more employment prospects while making commuting from one place to another. They aim to solve all travel-related issues with the help of the latest technology. To help in the transport of almost every good, they transformed a ride-only app into a multi service app.
Grab's Overall Growth
Grab is a leading super app in Southeast Asia operating within the deliveries, mobility, and digital financial services sectors while serving over 600 million people in eight countries. Grab has grown rapidly in recent years and is now one of the most valuable technology companies in Southeast Asia.
In 2022, Grab's revenue was $1.43 billion, up from $0.67 billion in 2021. This growth was driven by the expansion of Grab's services beyond ride-hailing to include food delivery, grocery delivery, and financial services.
In the first quarter of 2023, Grab's revenue grew by 42.32% year-over-year to $525 million. This growth was driven by the continued expansion of Grab's services and the strong demand for its services in Southeast Asia.
Also check: Super App Development Cost
Why Build a Grab Clone App?
Creating a clone app like Grab offers a strategic advantage in the ever-evolving ride-hailing landscape. Here are a few of the most:
To save time and money: Cloning an app can be a much faster and more cost-effective way to get your app to market than developing it from scratch. This is because you can use the same code and framework as the original app, which can save you a significant amount of time and money.
To get started quickly: If you are new to app development, cloning an app can be a great way to get started quickly. This is because you don't have to worry about the nitty-gritty details of development. You can simply focus on customizing the app to meet your specific needs.
To test new features: Cloning an app can be a great way to test new features before you launch them on your main app. This is because you can create a separate clone app for testing, which will allow you to get feedback from users without affecting the main app.
To enter a ride-sharing market: If you want to enter the USA taxi app development market with your own application, the Grab clone app can be a great way to do it.
Variety of Rides Provided By Grab
A number of riding options are provided by Grab which you can utilize to develop an app like Grab.
GrabCar: Gives an option of riding all day long for a number of hours to go to multiple places
GrabTrike: For hiring a three-wheeler
GrabHitch: For those who ready to share rides. Also called as Carpooling.
GrabFamily: For those with families looking for comfortable baby seats
GrabCoach: For those looking to hire a minivan or bus
GrabAssist: For those who wish to travel with differently abled people or senior citizens.
GrabCouch: For those who wish to travel with a group of more than 10 people. This options lets users hire buses with 13, 23 or 40 seats.
GrabRental: For renting a car for a day, month or even a year.
Based on the travelling options people look for and go for, in your city, you can plan and structure a ride option for the denizens.
• GrabXYZ
Grab not only offers its users an app for ride sharing but it also offers a number of things which you can just grab with grab.
Food Delivery: For ordering and getting food delivered at your doorstep – GrabFood
Parcel Delivery: Courier service offering insurance on the items being delivered – GrabExpress
Cashless Payments: An all-in-one mobile wallet which lets you pay not only for rides and food but also to local traders. – GrabPay
Grocery Delivery: Forgetting groceries at your doorstep – GrabFresh
So, with Grab clone ideas brimming your mind, you can choose to go for either rides or any other service which is in demand in your vicinity. The choices are endless. All you need to do is scorch the market to identify the demand and grab it in your app to develop an app like Grab.
• Panels Of The App
App for Users: This app lets users book a cab, food order, grocery order, or order to deliver a good based on the type of Grab app you opt for.
App For Drivers/Delivery Guy: This is for drivers accomplishing the orders
Admin Panel: It is a control panel to manage driver app and how users view the features of the app.
Each of the panels has different features as the users are different. Every Grab clone source code includes them while creating the app. However, the admin panel lets the app owner to totally control the first two panels of the app.
• System Architecture
App design is the first introduction of any app to its users. However, apart from the mobile app interface, the back-end plays a crucial role in the success of any Grab clone app development process. Back-end is nothing but the server app which receives and stores user data, processes it, and sends it to specific services and apps. It is this part of the app which is responsible for syncing different elements of the app.
There three levels when it comes to architecture of the app:
Server
Apps on servers – The back-end
Admin panel and mobile apps
It is API which makes it possible for system elements to communicate mutually. During the Grab clone app development process, it is imperative to optimize the architecture to make the app function faster.
This can be done in the following ways:
The data on the server should be structured appropriately
Specify the max load system can take
Mention the technologies that will help in managing the load
Choose appropriate servers for a location
Check load prior to the launch of the app
Also check: 9 Successful Taxi Apps Inspiring Startups
Key Features to Include in Grab Like Taxi App
Grab Taxi is a popular ride-hailing app in Southeast Asia that offers a variety of features to make it easy for users to get around. Here are some of the best app features of Grab:
Ride Booking: Users can easily book rides with a few taps on their smartphones. They can choose between various ride options, including economy, premium, and shared rides.
Real-Time Tracking: The app provides real-time tracking of the assigned driver's location, allowing users to know exactly when their ride will arrive.
Estimated Fare: Users can get an estimated fare before confirming the ride, helping them make informed decisions based on the cost.
Scheduled Rides: Users can schedule rides in advance, ensuring they have transportation ready when needed.
Secure Payment: The app offers cashless payment options, making transactions safer and more convenient. Users can link their credit/debit cards or e-wallets to the app.
Rewards Program: The app features a loyalty program where users can earn points for each ride and redeem them for various rewards.
Driver Ratings: After each ride, users can rate their driver, ensuring accountability and maintaining service quality.
In-app Support: Users can reach out to customer support directly through the app for any assistance.
Ride History: Users can access their ride history, including details of previous trips and payments.
Driver Earnings Tracking: For drivers, Grab provides a feature to track their earnings and optimize their work schedules.
Cost to Build a Ride-Sharing App like Grab
The cost to develop a taxi app like Grab clone can vary depending on a number of factors, such as UI/UX design, features you want to include, app complexity, and the location of the company you choose.
However, if we have to provide a rough estimation, Grab taxi app development costs can range from $15,000 to $40,000 or more.
To get a precise cost tailored to your specific requirements, connect with us with your project's particulars.
Wrapping up
Creating a ride sharing app similar to Grab demands a comprehensive approach that balances passenger convenience and driver efficiency. By integrating user-friendly features, robust safety measures, and efficient communication channels, you can cultivate a platform that not only enhances transportation accessibility but also fosters trust and reliability among users. Remember, while the development costs may vary, the value of providing a seamless and reliable ride-sharing experience is immeasurable. As you embark on this journey, collaborating with an experienced taxi app development company and emphasizing a commitment to user satisfaction will undoubtedly steer your app toward success in the competitive ride-hailing market.
You may also like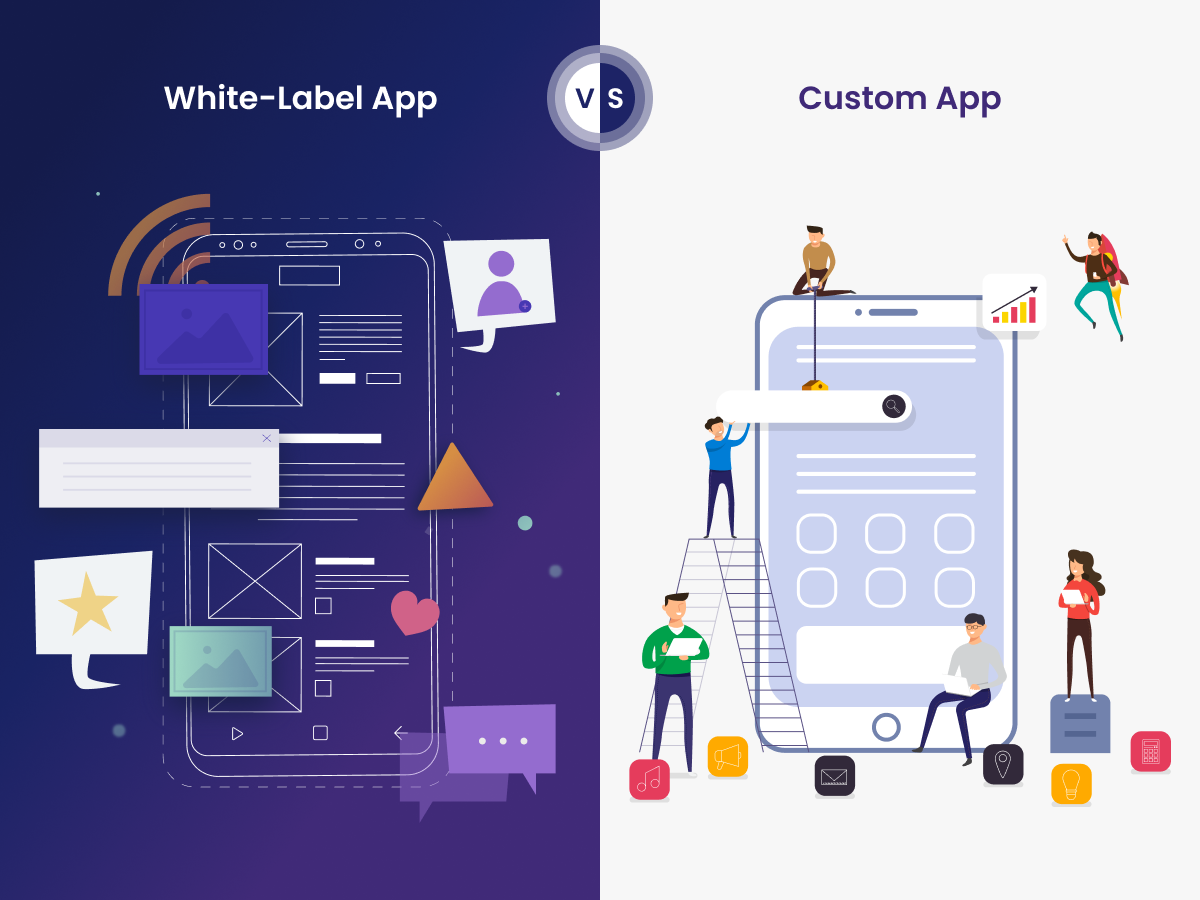 White Label App vs Custom App: Unveiling the Right Choice
Chirag Vaghasiya
In today's fast-paced digital landscape, the choice between white label app and custom app is a pivotal decision that businesses must make when venturing into mobile application development. Both approaches have their distinct advantages and disadvantages, and the path chosen can significantly impact a company's success in the digital realm. Every business has common goals… Read More