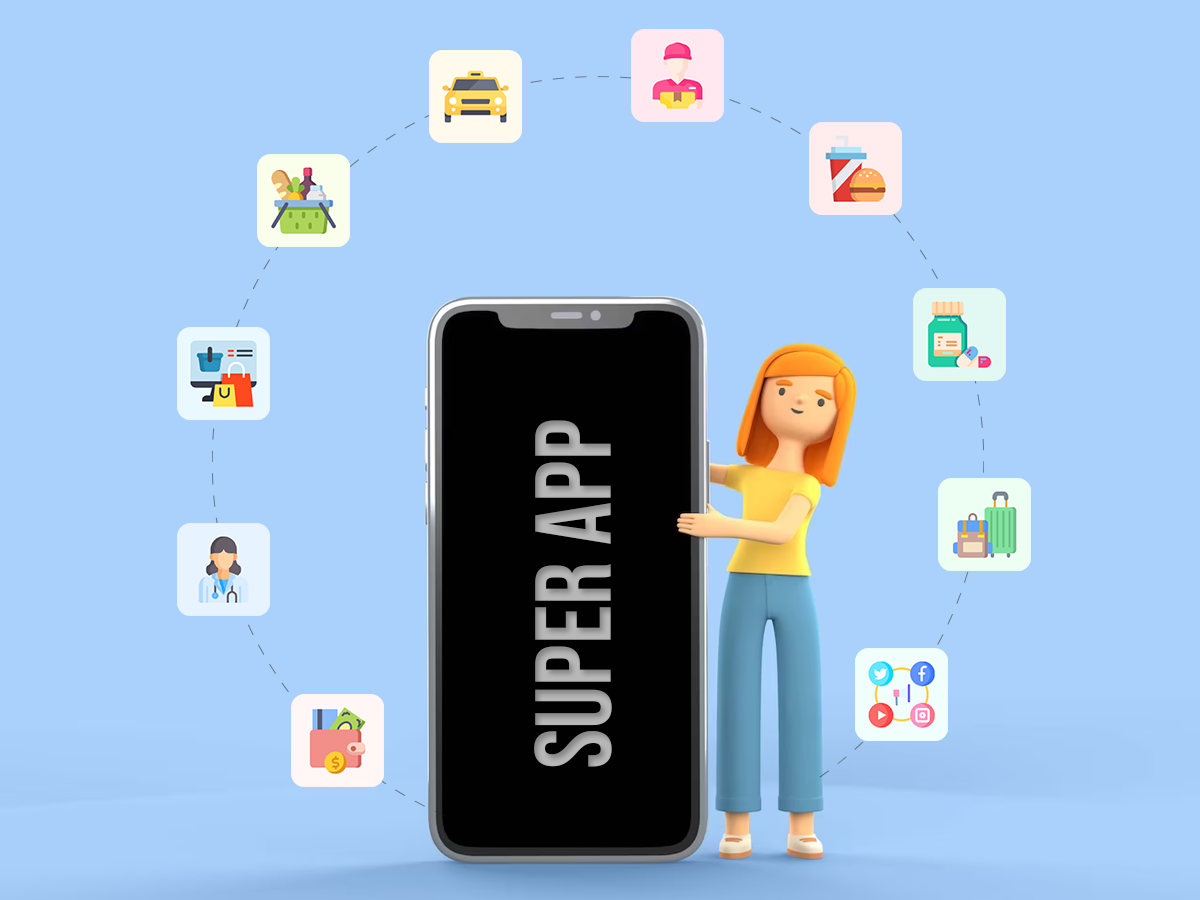 Ashka Panchal

May 30, 2023

6 min read
Super apps are the superheroes of our digital era, bringing together multiple functions within a single interface. These innovative applications go beyond the digital realm, offering online solutions. They combine social features, group chats, e-commerce, banking, and digital payment options, including quickly paying offline merchants using QR codes.
This phenomenon has sparked a revolution in the global app industry, inspiring entrepreneurs to embrace the all-in-one super app development trend. According to Statista, a well-designed super app could attract 98 million users on its first day, resulting in over $3.25 billion in annual revenue.
It's an exciting opportunity to generate substantial digital revenue and solidify your position in the market. If you are curious about the development cost, process, features, and more, this article will guide you. Let's explore the world of super apps!
Benefits of Super App Development
Super app development offers businesses several benefits, revolutionizing how they interact with customers and operate in the digital landscape. Let's explore the key advantages of developing a super app:
Increased Reach and Market Penetration: Popular super apps like Amazon and Gojek have millions of active users. By developing a super app, businesses can tap into this vast user base and expand their customer reach significantly. It allows them to promote their products or services to a large audience directly, increasing brand visibility and potential sales. Moreover, a super app provides a centralized platform where customers can access multiple services, making it convenient for them to engage with different businesses under one umbrella.
Ecosystem Development: Super apps can catalyze ecosystem development by bringing together various service providers under one roof. This collaboration allows for creating new partnerships and synergies between businesses, fostering innovation and driving the growth of the overall digital ecosystem.
Cross-Promotion Opportunities: Super apps create cross-promotion opportunities for various services within the platform. For example, a ride-hailing service can promote food delivery services and vice versa, leading to increased exposure and usage of different features within the app.
Streamlined Operations: Super apps integrate various functionalities and services into a single platform, eliminating the need for multiple standalone apps. This consolidation simplifies business operations, reducing maintenance costs and the technical complexities of managing multiple applications. Additionally, businesses can leverage data analytics and user behavior insights within the super app ecosystem to optimize operations, personalize offerings, and improve overall customer experience.
Enhanced User Engagement: Super apps foster higher engagement by providing a seamless and comprehensive user experience. Furthermore, features like personalized recommendations, loyalty programs, and social sharing options within popular super apps enable businesses to engage with users deeper, building brand loyalty and encouraging repeat usage.
Must-Have Features To Build a Successful Super App
The below-mentioned features are a great starting point for multi-service app development. Customize these features according to your target audience and business goals to ensure a successful app.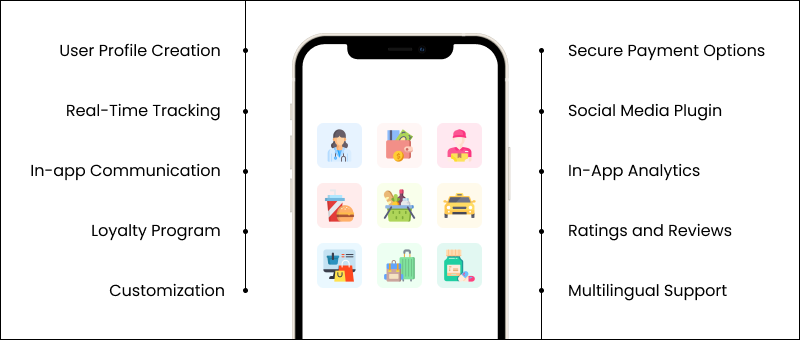 • User Profile Creation
Enhance user connection by allowing easy profile creation, preference customization, and account management. Personalizing the experience ensures a strong bond with the platform.
• Real-Time Tracking and Notifications
It informs users of real-time tracking of orders, deliveries, and services, along with timely notifications. It helps to enhance transparency and user experience and reduce anxiety.
• In-App Communication
Improve customer support and engagement by adding video calling and messaging features. Users can easily connect with customer service, vendors, or other users, keeping them engaged.
• Loyalty Program
Implement a loyalty program to reward and encourage frequent users, attract new ones, and strengthen customer relations.
• Customization
Offer personalized recommendations based on user preferences, leading to increased engagement and satisfaction.
• eCommerce Functionality
Boost in-app revenue generation by providing online shopping services within your super app, capitalizing on the popular digital trend.
• Secure Checkout and Payment Options
Integrate a secure payment gateway for safe and convenient transactions, fostering trust and boosting conversions.
• Social Media Plugin
Enable users to share experiences and purchases on social media, amplifying your app's visibility, brand awareness, and user acquisition.
• In-App Analytics
Provide businesses with valuable insights to understand user behavior, track app performance, and identify areas for improvement. Optimize app performance through data-driven decisions.
• Ratings and Reviews
Facilitate user-generated social proof through ratings, reviews, and testimonials. Users can attach photos and videos to prove their purchases, enhancing trust and credibility.
• Multilingual Support
Improve accessibility and user experience by supporting multiple languages to cater to diverse regions and cultures.
Super App Development Cost
Developing a super app entails different cost considerations based on the app's complexity and development timeframe. For a minimum viable product (MVP), the estimated cost ranges from $30,000 to $60,000, with a 3-6 months development period. This option offers essential features and functionality. On the other hand, the cost to build an app with advanced features and extensive customization requires a budget between $60,000 and $150,000. The development timeline for such an app typically extends beyond nine months. These cost breakdowns account for design, development, testing, integration, and deployment, reflecting the investment required to bring a successful super app to life.
Factors Affecting the Super App Development Cost
| Factors | Description |
| --- | --- |
| UI/UX Design | The app's design includes visual elements, typography, color psychology, content writing, button placements, branding, and more. |
| Location of the Agency | The app development agency's location affects the hourly development rate. |
| Team Size | The size and composition of the development team, including project managers, business analysts, developers, designers, and quality analysts. |
| Underlying Platform | The platform on which the app is developed, such as Android or iOS. |
| App Maintenance | The ongoing maintenance and updates required for the app after its deployment and launch. |
Steps to Build A Super App
All-in-one app development is the key to creating a super app that caters to your unique needs. You can embark on a comprehensive mobile app development journey by engaging a leading app development company, ensuring a seamless and triumphant project. Leveraging their knowledge and proficiency, they will deliver the optimal solution that aligns with your project's requirements and aspirations.
Now, let's delve into the fundamental stages encompassed in the development process of an on-demand super app:
Step 1: Define Your Objectives and Requirements: Clearly outline your app's purpose, target audience, and specific functionalities you want to include. Identify the key features and services to make your super app stand out.
Step 2: Conduct Market Research: Analyze the existing competition and user preferences to gain insights into market trends and customer expectations. This research will help you identify gaps and opportunities to differentiate your super app from others.
Step 3: Engage a Reputable App Development Company: Partner with a high-quality software development company with a proven track record in mobile app development. Collaborate closely with their team to communicate your vision, align expectations, and leverage their expertise in creating successful apps.
Step 4: Plan the Development Process: Work with the development team to create a comprehensive project plan. This plan should include key milestones, timelines, resource allocation, and a roadmap for each app development stage.
Step 5: Design and Develop the App: Begin developing a user-friendly and visually appealing interface. Utilize the latest design trends and best practices to create an intuitive user experience. Develop the app using agile methodologies, ensuring regular testing and iterations for optimal performance and functionality.
Step 6: Test, Launch, and Iterate: Thoroughly test the app across multiple devices and platforms to identify and fix any bugs or glitches. Seek feedback from early adopters and conduct beta testing to gather user insights. Launch the app in the market and closely monitor user feedback and metrics. Continuously iterate and improve the app as per user suggestions and changing market dynamics.
How Would You Make Money With a Super App? [Business Model]
Super apps like Amazon, Paytm, Gojek, and Uber have revolutionized the mobile app industry, and now it's your turn to join the leaderboard of these successful ventures. Here are four lucrative strategies to make money with your super app:

App Subscription: Create an irresistible in-app subscription model, enticing users with exclusive features and services. Offer a free trial period to hook them in, then charge a subscription fee for continued access. This approach has gained popularity among businesses seeking to monetize their apps effectively.
Credit System: Implement an in-app credit system, providing customers, service providers, and business partners with convenient options like EMIs, loans, and rewards. You can generate profits by offering in-app loans with interest charges while enhancing user experience.
Transaction Fees: Super apps can capitalize on cross-border transactions by charging a nominal fee for secure payment services. It ensures reliable transactions and generates substantial revenue for your business.
In-App Advertisements: Unlock the potential of third-party advertising within your app. Collaborate with businesses to showcase their products or services to your user base. Earn commissions on purchases made through your app and charge fees for running advertisements, creating a win-win situation for all parties involved.
Final Thoughts
Living in this digital age, we rely heavily on various apps to simplify our daily tasks. However, super apps take it to the next level by providing a comprehensive range of services under one platform. Imagine having everything you need, from social networking to shopping and payments, all conveniently accessible through a single app. The decision to partner with an app development company to create a super app can be a game-changer for your business.
With the ability to streamline processes, enhance customer engagement, and drive innovation, a super app offers unparalleled advantages in today's digital era. By embracing this transformative technology, you position yourself as a leader in your segment and can provide a superior user experience that will captivate and retain customers. So, leap and unlock the full potential of your business with a tailor-made super app. The possibilities are limitless, and the rewards are immense.
You may also like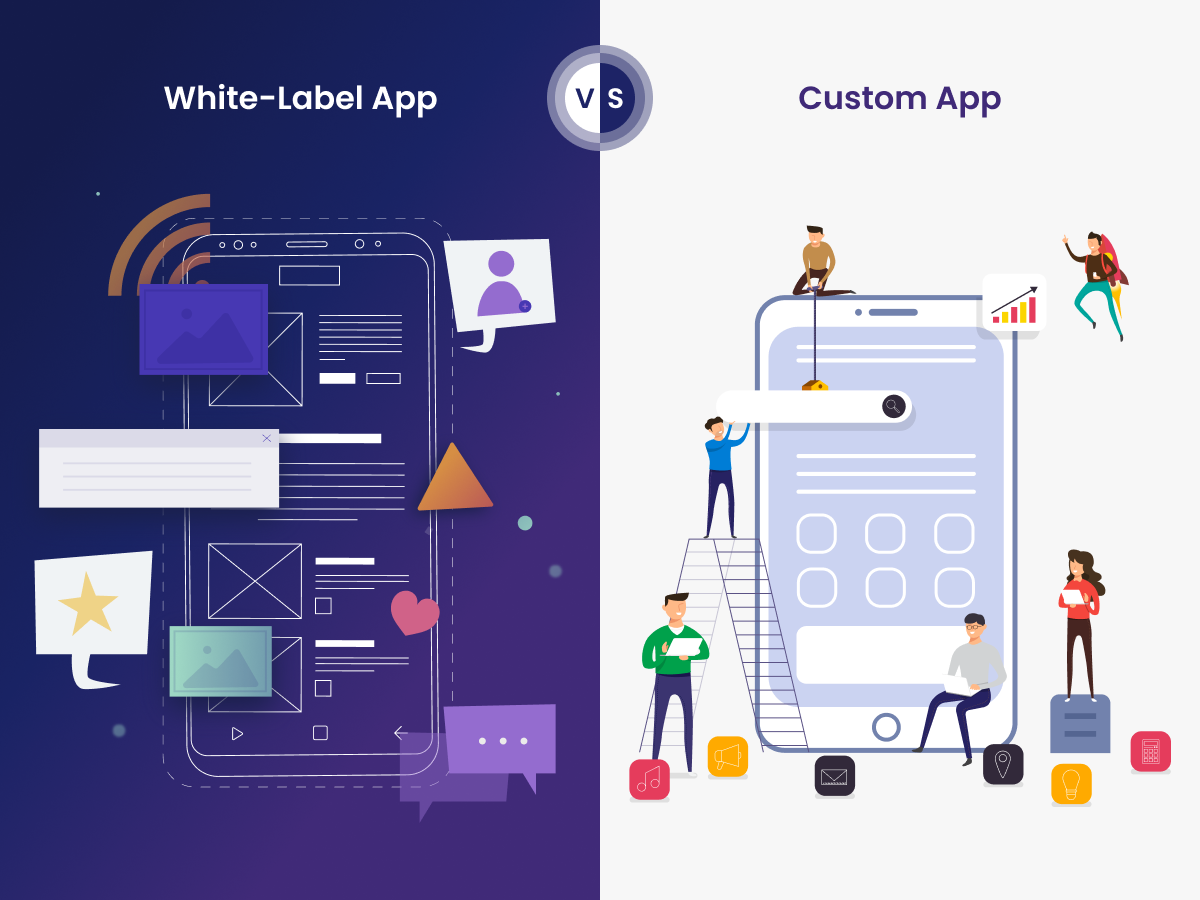 White Label App vs Custom App: Unveiling the Right Choice
Chirag Vaghasiya
In today's fast-paced digital landscape, the choice between white label app and custom app is a pivotal decision that businesses must make when venturing into mobile application development. Both approaches have their distinct advantages and disadvantages, and the path chosen can significantly impact a company's success in the digital realm. Every business has common goals… Read More