Efficient Browsing
Having an efficient search feature, the app permits the customer to look for some specific restaurants and cuisines via filters sort options.
Cross-Platform Support
The presence of a steady and excellent interface enables the app to function smoothly on all devices irrespective of the platform and mobile.
Secured Payment Gateways Integration
Secured payment gateways integrated guarantees that the payment details of the customer will be kept highly confidential.
Robust UI and UX
Robust, dynamic and completely responsive UI and UX offer customers reliable and satisfactory service experience.
Why Choose Our Postmates Clone App?
In the epoch of on demand delivery business, apps are playing a tremendous role and helping customers get instant items for what they have been looking for. Powered with all the essential features, our Postmates clone app source code will enable you to expand your market reach in less time, increase your sales, help you in generating higher profits and most importantly will make it possible for you to gain confidence among your clients. With our tailored and highly customizable solutions, you can with ease meet the expectations of your potential customers.
What Do We Offer With Our Postmates Clone Script?
Replacing the conventional dining methods, our strategically designed and created Postmates clone app development solutions offer foodstuff deliveries as per the convenience of the user right at his doorsteps. We are offering two options to get our product! Either go to our Readymade app or we will develop an app like Postmates from scratch as per totally your requirements that means new design and new features & functionalities. With our every product, we are offering below services to our each and every client:
24*7 Dedicated Support

Whenever you want our assistance we are there for you. We offer dedicated support and maintenance services to our valuable clients.

Quick Delivery

We aim at delivering resourceful and quality work quickly so that you can enter the online market and mark your online presence sooner.

Quality Assurance

For maintaining our Postmates clone app source code stability and quality, we carry out constant testing. If required, we also retest the product so that the final product meets your expectations.

Feature-Rich Solutions

Attractive, easily accessible, feature-rich and highly lucrative our Postmates clone app development solutions are crafted enabling you to maximize your business' turnover and help you reach the peak.
How Our Postmates Clone App Works?
The exceptionally original food delivery app clone understands the customer behavior and on the basis of that offers them services or items matching their needs. Meeting the revolutionary needs of the customers and making the delivery task easy for the drivers our Postmates clone app is the ultimate solution that could satisfy the needs of its every user. Have a look the process of our Postmates like food delivery app:
Login/Signup

1

Discover Restaurants

2

Select Food and Book

3

Confirm the Order

5

Receive The Order

6
Customer can sign up through their mobile or email id. By entering mobile number or email id, he/she will get the OTP to verify. The customer can also sign up through their social media accounts such as Facebook, Twitter, etc.
After a successful logged in, customers can able to see all nearby restaurants with basic details like name, logo, address, minimum order, rates and more.
After selecting the restaurant, customer can able to see available all food items along with details. Customer can also search his favorite food items by manually and book the order.
Customer can pay the amount to the restaurant owner by multiple ways like net banking, credit/debit card, cash on delivery, and in-app wallet.
After placing an order by the customer, automatic notification sent to the restaurant and restaurant confirm the order and prepare the food and give it to the delivery boy.
The delivery boy will pick the order from the restaurant & deliver at the customer's location. Delivery boy can track restaurant as well customer location in his App.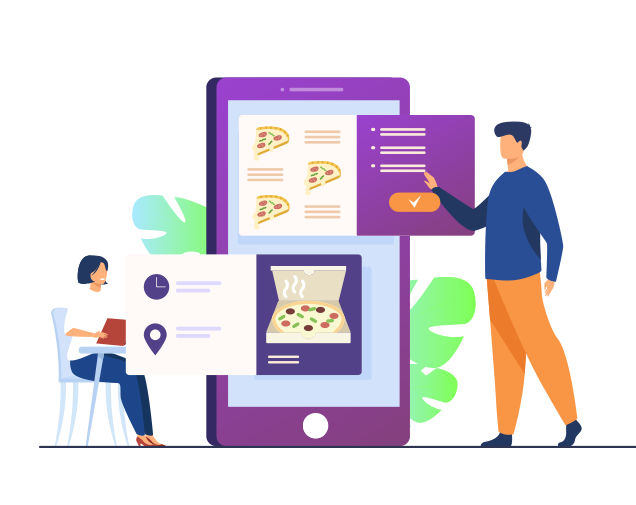 Customer App Features
Offer your futuristic thinking customers a pleasant ordering experience. With the customer app, customers can access the app via their email or social media id, view multiple restaurants' products or use the instant search button for a perfect search. Also, there are lot's of features, we have integrated with our Postmates clone script, have a look:
Customer Login

Customers can log in or sign-up using their social media accounts in just one single click instead of manually entering details to create an account.

Track Nearby Restaurants

As per a particular delivery zone, the app enables the customer to find the nearest restaurants.

Restaurant Profile

Through this segment complete detail of a particular restaurant can be obtained like its experience, specialty, service hours, food item's rates, feedback from other service seekers, etc.

Search Versatile Items

Via powerful search feature integrated into the app, customers can search through versatile items to find their favorite cuisines or food items.

Live Order Tracking

With this feature, customers can know the exact location of the delivery boy along with the expected arrival time.

Multiple Payment Options/wallet

Integration of secured and multiple payment gateways enables the customers to transact glitch-free via the most preferred medium.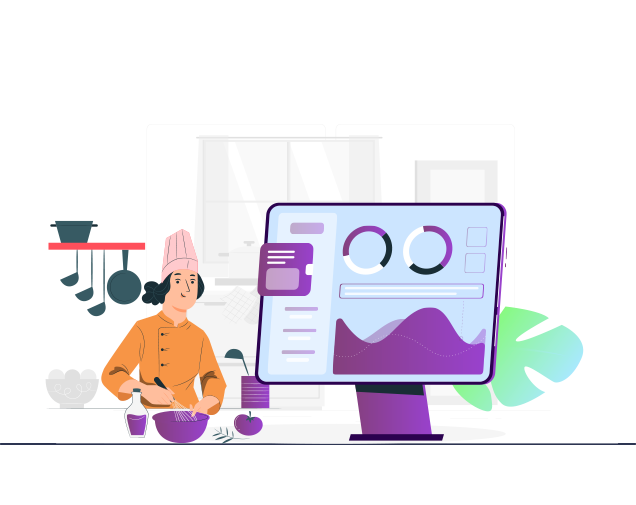 Restaurant App/Panel
Handle multiple customer orders as well as deliveries simultaneously utilizing our robust on demand food delivery app clone. Our restaurant owner app's robustness helps the owner to manage his business efficiently and increase business profits significantly through a single mobile screen.
Accept/Reject Delivery Request

During peak hours, if the restaurant owner finds that the order could not be delivered then he may reject the delivery request.

Push Notifications

Push notification feature for the restaurant owners to send promotions, special discounts and offers to the customers.

Order Management

Managing every customer order and providing them with satisfactory services is not a piece of cake. From this feature, every customer order can be managed aptly.

Profile

The restaurant owner can frequently update his profile with eye-catching pictures of scrumptious dishes together with its preparation and delivery time and prices.

Individual Dashboard

With this powerful panel, unlimited food items can be added to the respective categories, the food photo along with price description, calories and ingredients can be managed.

Availability

Some ingredients may not be available throughout the year; hence the outlets can mark the item as available or unavailable on the basis of the ingredient's availability.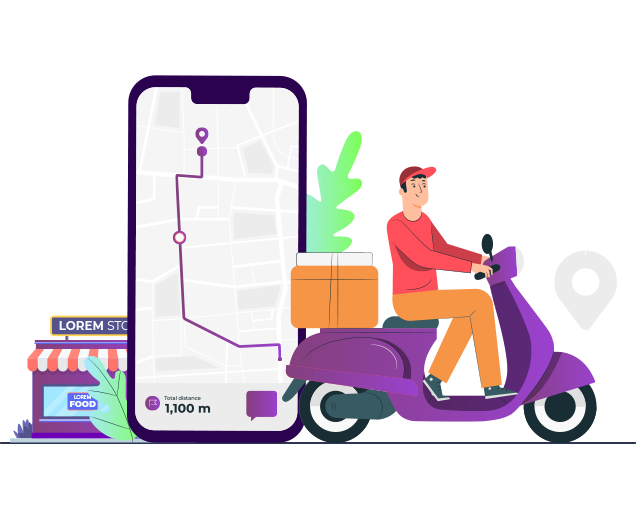 Delivery Boy App Features
Crafted with our best Postmates clone app source code, our food delivery app makes it easy for the delivery person to accept delivery requests, live track the pickup and delivery location and analyze his earnings and view the booking history. Have look some of the best features of our Postmates clone app:
Flexible Login Hours

The driver can turn his availability status ON if he is willing to provide services and turn OFF if he doesn't desire to provide services for a specific time period.

Create Detailed Profile

A delivery person can keep his profile updated by adding his name, contact number, photo, available hours, email id, etc. using this profile section.

One-tap Call to Customers

To know about the exact location and shortcuts if any, he can call the customer instantly to obtain the information for the same.

Geo-Location

Geo-location makes this script a user-friendly and convenient tool for the drivers as it enables them to locate the location of the customers and the outlets.

Order List

Complete order list together with the date, time, pick-up and delivery location can be analyzed from a single screen.

Chat System

Robust chat system integrated enables the driver to chat with the outlet and the customer and vice versa.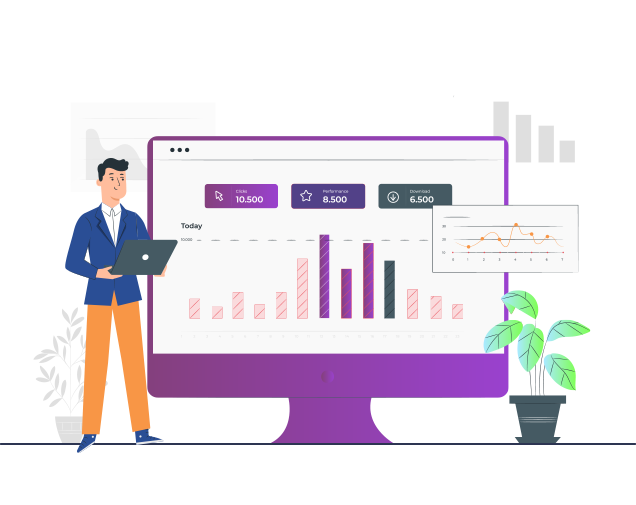 Admin Panel Features
Run your food delivery business successfully with our sophisticated food delivery app that we develop app like Postmates having a highly scalable server and powerful admin panel along with the most up-to-date features for Android and iOS.
Approve/Reject Request

On the basis of the app popularity, many outlets and delivery partners would like to associate with the app. If there is room for an addition, the admin may approve their requests.

Admin Dashboard

Business profit graphs, total earnings, number of customers, outlets and delivery partners linked with the app, the commission received and paid, etc. everything can be viewed from this dashboard.

Customer management

The admin possesses the authority to remove a particular customer if he has cancelled the orders many times without providing any valid reason.

Restaurant management

The admin can update the information of the outlets and can delete the accounts of those outlets which are no longer tied up with the business.

Delivery Boy management

The admin can update the information of the drivers and can delete the accounts of those drivers who are no longer tied up with the business.

Order management

View every completed, scheduled, rejected or cancelled order from one place. Input order id to know the details of any specific customer or order.
Customer App Design
While implementing our best efforts, we design the customer app with a fast interface, unique UI/UX designs, various platform compatibility, trendy themes and convenient controls.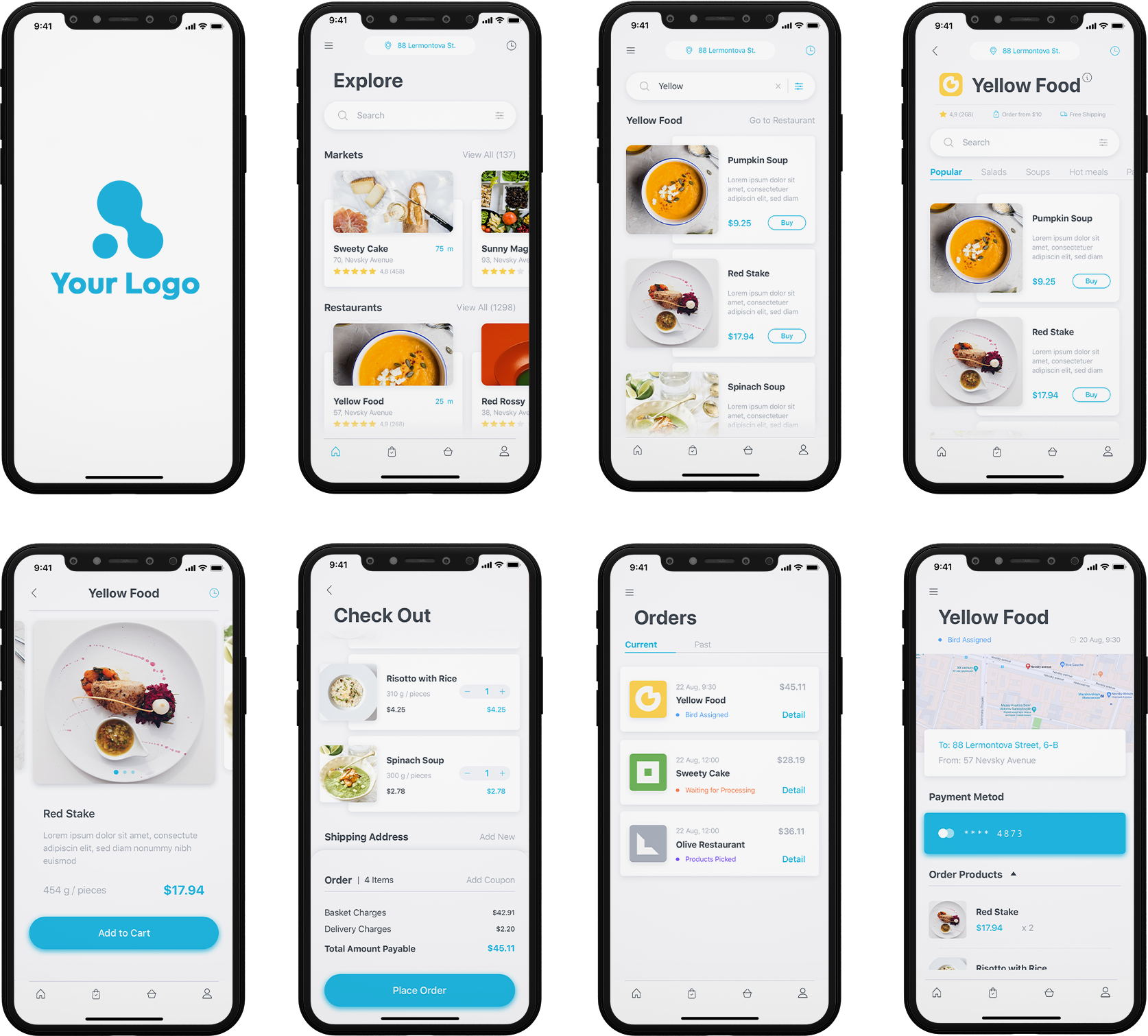 Restaurant App Design
A robust restaurant panel, through which all the vital operational information and data can be received in real-time, comprises all the essential features such as manage users, administer transaction details, manage order requests, etc.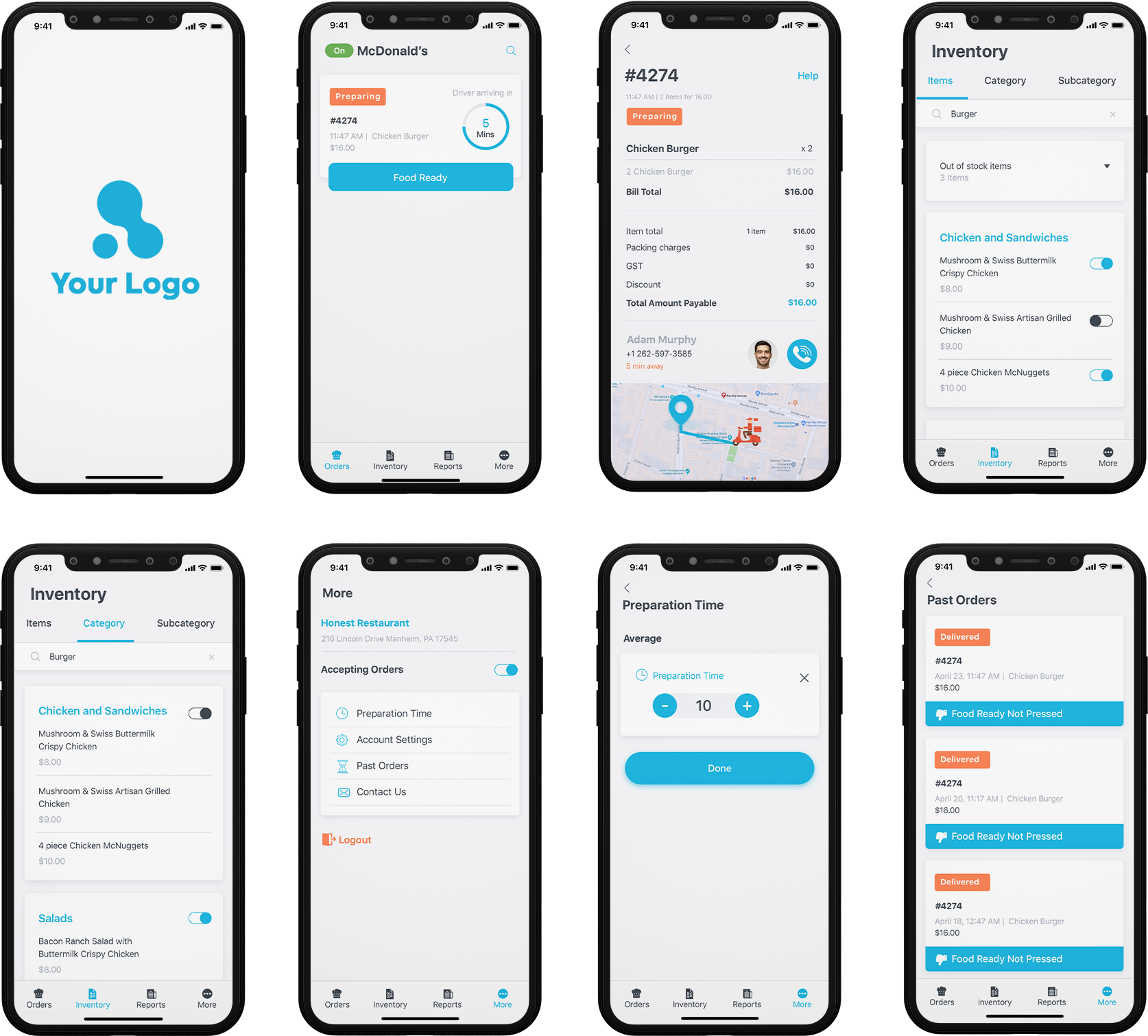 Delivery Boy App Design
With easy to use features that have been assembled in a proper sequence, the delivery app can without any hassle use the app without any assistance.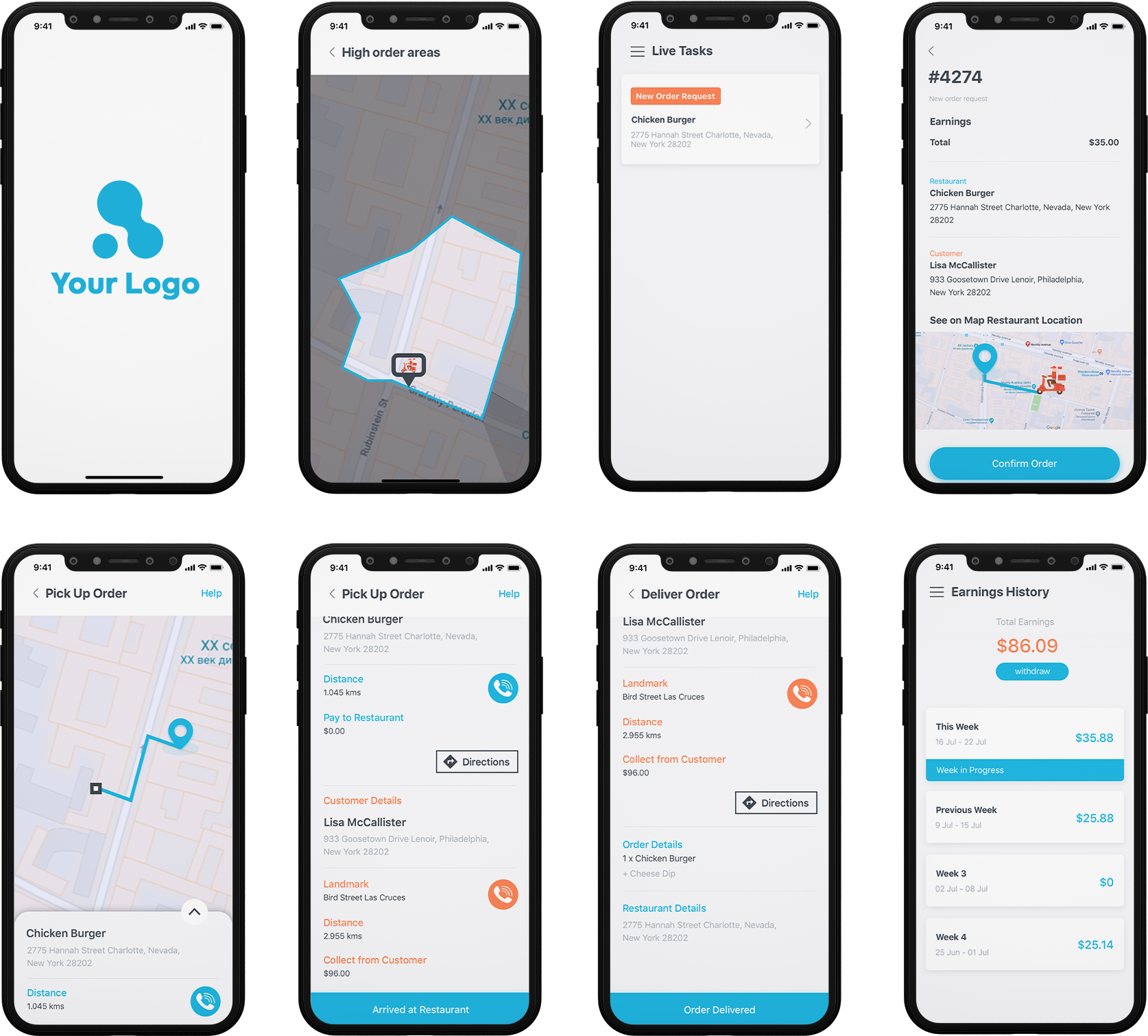 Our Postmates Clone App Package
Our Postmates clone script is available completely in the white label so that you can add color, logo, features, language and currency of your choice. Below are the deliverables of our product:
Customer App (Android & iOS)
Restaurant Owner App (Android & iOS)
Delivery Boy App (Android & iOS)
Restaurant Web Panel
Super Admin Panel
Fully Functional Website
Billing Panel
Full Postmates Clone App Source Code
100% Customizable
Technical Support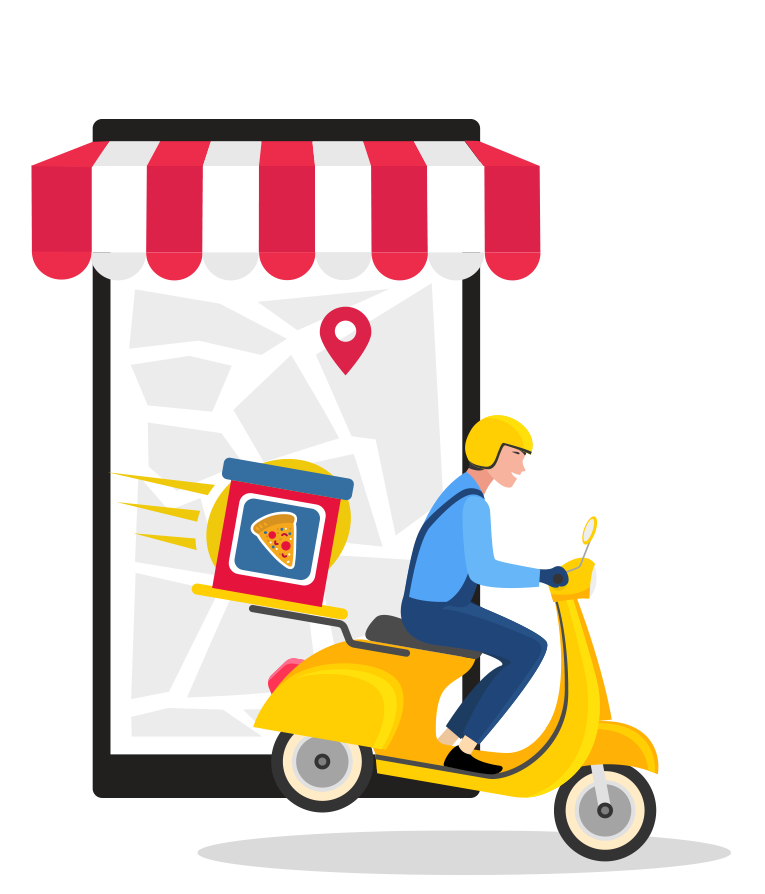 Our Postmates Clone App Development Process
Essential assessments are executed prior to starting with any project food delivery app development process. Considering your requirements and our resource availability, we move ahead with the development process so as to build outstanding software for your business.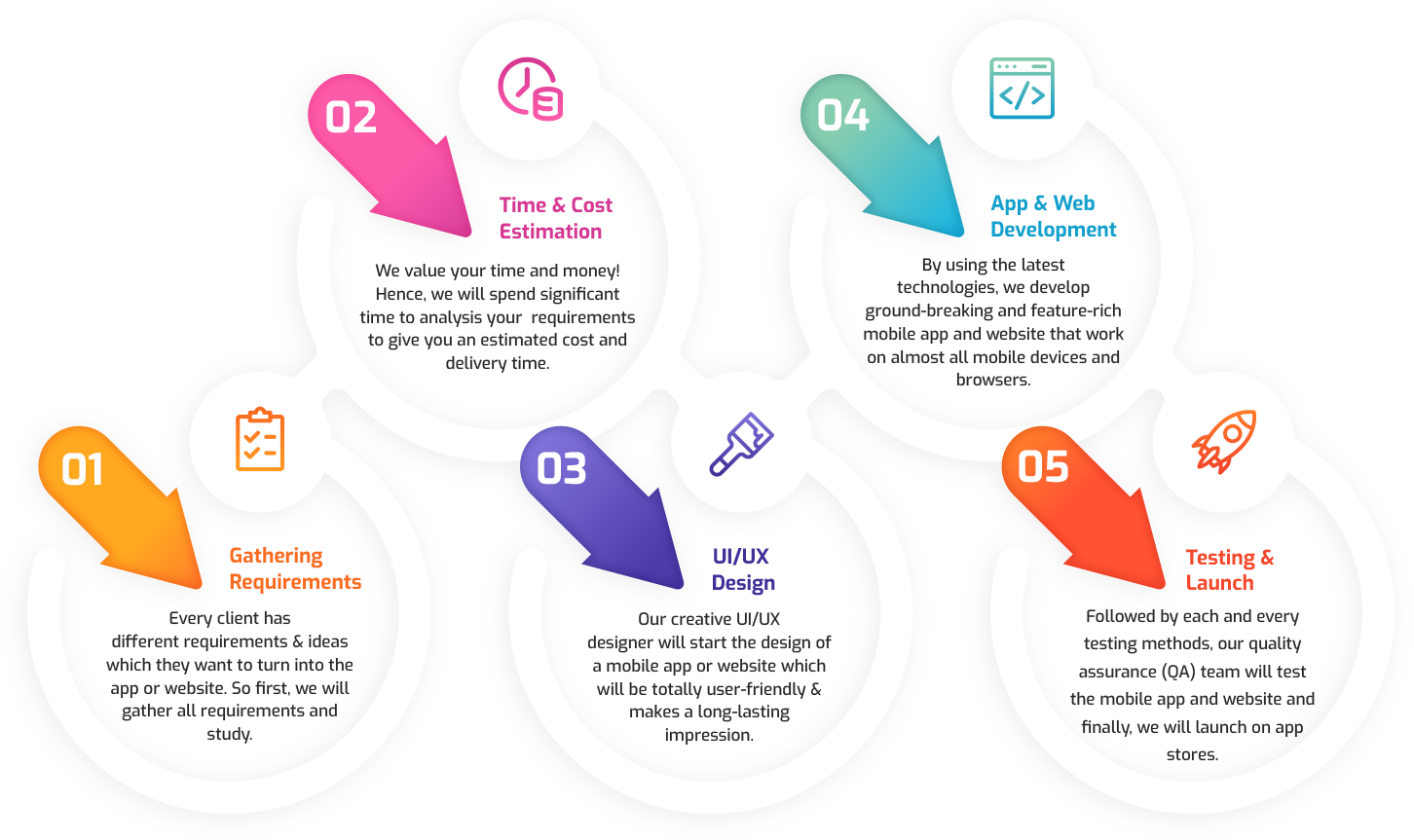 Our Technology Repository
Developed with the latest technologies; our crafted food delivery app is surely going to grab the attention of numerous customers and provide them with exactly the same things that they have been looking for in an on demand food delivery app. We are working with below trending technologies to develop & design Postmates clone script to make it even more engaging.
Flutter
React Native
Kotlin
PWA
Swift
Java
Ionic
Firebase
Backbone.JS
Angular.JS
Vue.JS
Node.JS
MongoDB
PostgreSQL
Google Cloud
Amazon AWS
Innovative And Customized Other Clone Solutions
We always work with trending technologies to develop and design food clone apps. We believe in engaging users by deploying interactive and advanced features in the app. Our food clone app services ensure compatibility, scalability, intuitive UI/UX, and better user experience. Explore our below-mentioned section for more Postmates like apps.
Payment Gateway Offered
Payment Gateways are added as per the preferences of your customers and the country in which you want to trade. Let us know which payment modes you would like to have in your app so that your customers can enjoy easy and fast checkout.

Available in Brazil

Available in Turkey

Available in Kazakhstan

Available in Worldwide

Available in Worldwide

Available in Malasiya

Available in Worldwide

Available in Indoneisa

Available in Brazil

Available in India

Available in Worldwide

Available in India

Available in this Country

Available in this Country
UAE
Qutar
Egypt
Lebanona
Jordan
South Arabia

Available in this Country
Mexico
Ecuador
Venezuela
Colombia
Brazil
Chile

Available in this Country
Nigeria
Kenya
Ghana
South Africa
United States
Extra Features Of Our Postmates Clone App
Irrespective of how complex and diverse your project requirements are, we build the app for you with best features integrated to it so that you can easily reach your potential customers, enhance your customer base and achieve set goals.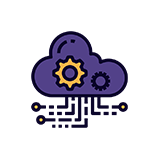 SaaS-Based Model
SaaS keeps yours and your customer's entire data safe from cyber robbers and burglars. Only the authorized people can access their accounts and data.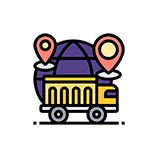 Multiple Delivery Address
Via this feature the customer can quickly and with ease deliver food to multiple addresses simultaneously.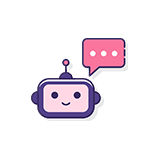 AI-Based Chatbots
With this feature, provide great and personalized support to your app users directly within the app and permit them to get automatic answers to their queries.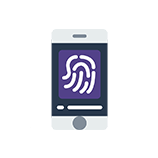 Facial & Fingerprint ID
Give your customers the most comfortable and highly secured login option. Instead of a password, they can right away access the app using their fingerprints or face.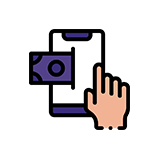 Digital Wallet
Once the debit/credit card details are saved in the wallet, the user need not carry the card along with him all the time to commence payment. With just a click the payment can be processed.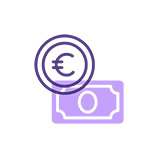 Multi-Currency
With multiple currency options the rates will be displayed in the chosen currency and your customers can make payment in the currency they are more comfortable with.
Reputed Company With Happy Clients
PeppyOcean was established with a motto to deliver top-notch on demand app development services to our clients and we have been doing this since our inception. We have a long list of satiated and authentic clients that are very much contented with our services and keep sharing their success stories with us.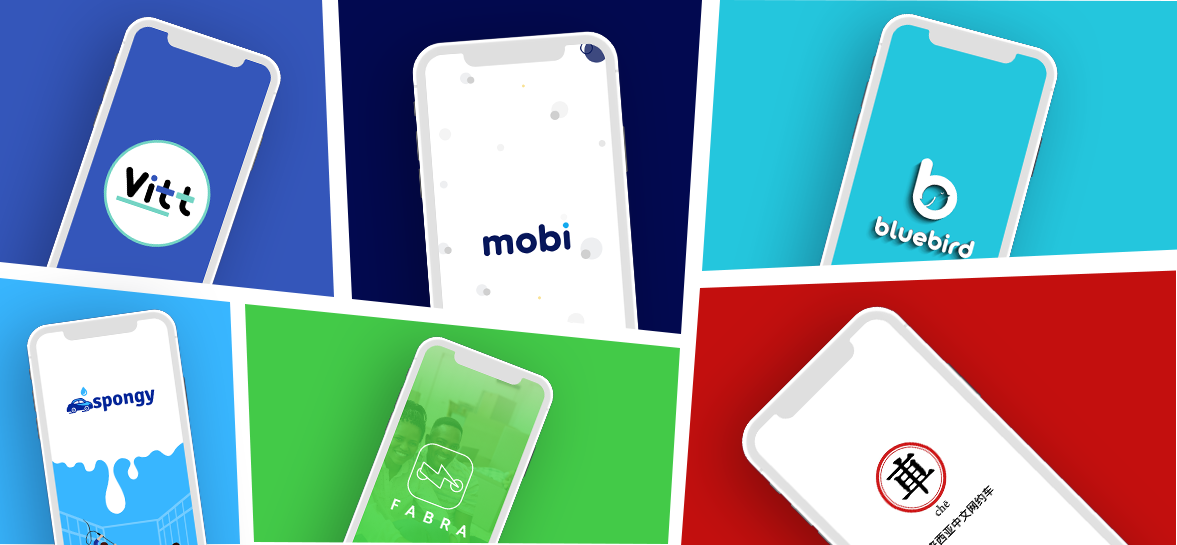 Richard Ling
Commitment to deliver regardless of the amount of time needed to completed the tasks.

Paola Baquero
They have a very complete team, where they attended each of my requirements and offered different solutions.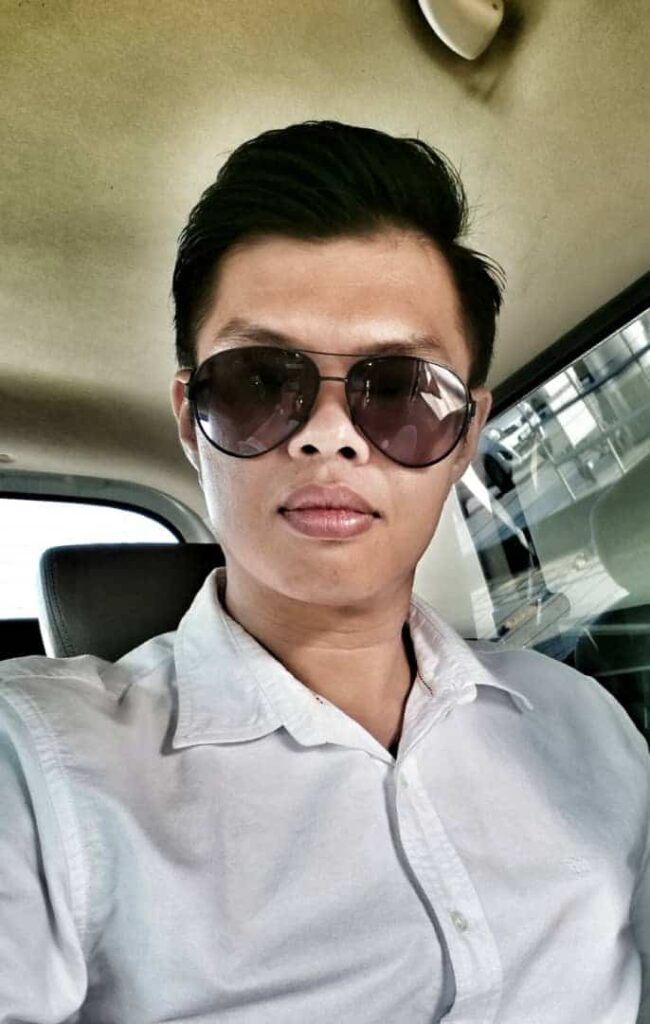 Andrew Yuen
They never fail me on all of our request and always complete the task according to time line.

Gourab Mukherjee
Extremely Reliable and a Hardworking team and good value for money

Faisal Al-Salem
Understand any requests even if we don't give a clear brief Very flexible team
BLOGS
We light the lamp of knowledge by spreading it. Sharing the knowledge we gain helps us enter deep insights and make meaningful transformations in the world around us. Look how we contribute towards a technologically better world.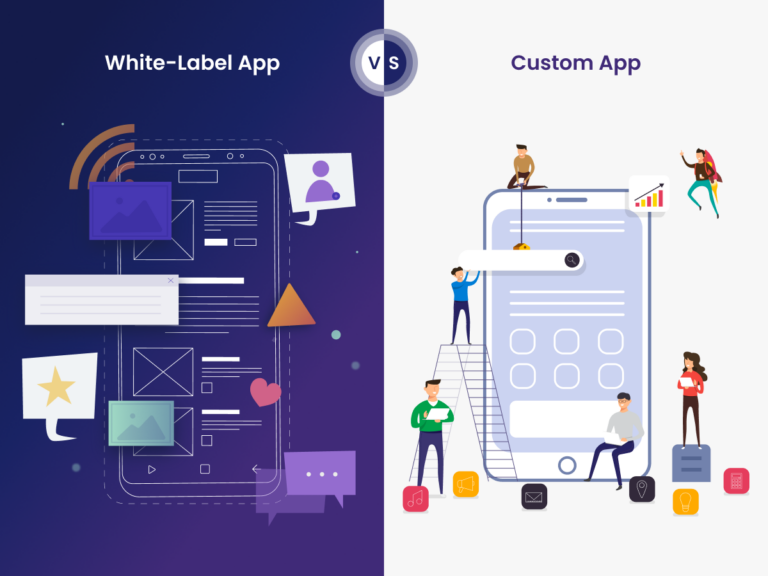 White Label App vs Custom App: Unveiling the Ri...
In today's fast-paced digital landscape, the choice between white label app and custom app is a pivotal decision that businesses must make when venturing into mobile application development. Both approaches
Continue Reading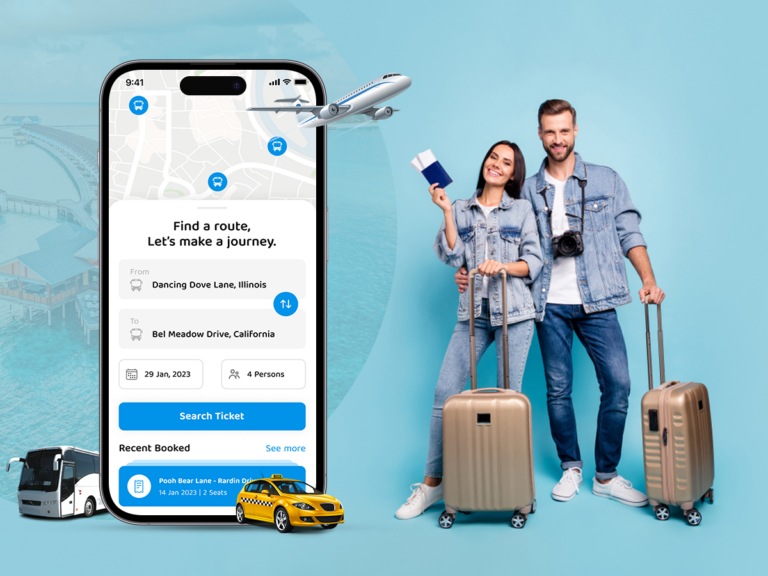 A Definitive Guide to Travel Booking App Develo...
Globally more and more travelers are opting for convenient and efficient digital solutions. As the world is moving towards a post-pandemic reality, travelers seek seamless travel experiences at their fingertips,
Continue Reading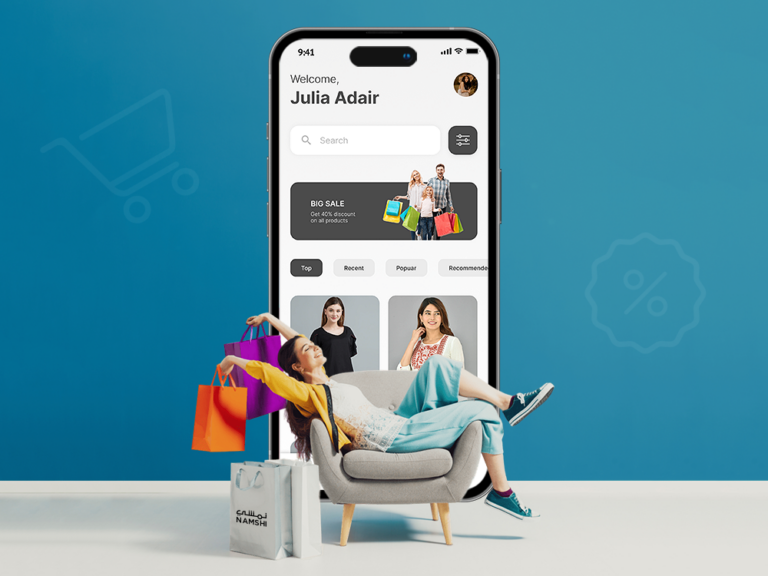 Estimate the Cost of Developing an eCommerce Ap...
eCommerce startup is a relatively new and booming trend in the business world today. If we consider how popular online shopping has become in recent years, it's no surprise that
Continue Reading