Real-time Communication
Through this feature, the users can communicate with the merchant or the support team whenever required to assist.
Mark As Favorite
Some items can be marked as a favorite that is being frequently purchased by the customer so that they can be found easily in the future.
Barcode Scanner
This feature the user can check entire product information such as price, ingredients, nutritional values and so on.
Offer Deals & Discounts
Customer can save plenty of time by using this feature if he wants to order for the same products that he has bought in the past.
Why Go For Our El Grocer Clone App?
Serving as an online bridge amidst the supermarkets and the customers, this app is one of the most useful apps that should be present in everyone's phone. The online store created with vibrant El Grocer clone app considering the customer's everyday essential needs has thousands of products in its product list from where the customer can search and avail for the desired ingredients to prepare the favourite recipes. The moment the customers step into your online store until their checkout time, you can offer them a hassle-free shopping experience with rightly blended features and extremely commanding El Grocer clone script that would manage everything from grocery orders to its doorstep delivery smoothly.
What Do We Offer With Our El Grocer Clone Script??
At PeppyOcean you get complete end-to-end El Grocer like grocery delivery app development services for imperative web and mobile apps demanding superior and robust performance. Making use of immense practical knowledge of app development for grocery stores, we build a better structure having great El Grocer clone app source code for your brand to augment your business sales.
White Labeling

With compelling layouts and logos, allure your targeted customers and enhance your online presence and brand visibility with our white-labelled El Grocer clone app development solutions.

Transparency

Complete transparency is maintained throughout the development stage, i.e. right from the El Grocer like grocery delivery app development to its deployment.

Flexible Engagement

PeppyOcean offers flexible engagement models from which you can pick the best one suiting your diverse business requirements.

Quickly Configurable

We deliver a convenient and quick setup with the help of which you can rapidly launch your own EL Grocer clone app..
How Does Our El Grocer Clone App Works?
Attuned with Supermarkets, our software with potent El Grocer clone script enables the process of placing orders for vegetables, frozen foods, fruits, bread and meat in a sequence. With app features automatically recommending the customer to buy other items along with the chosen ones, the customers can attain several items at best prices.
Easy Registration

1

Search or Browse Stores

2

Search Products and Book

3

Confirm the Order

5

Receive the Order

6
Customers can easily signup or sign in through email id or mobile number. By doing so customers will get the OTP (one-time-password) to verify. Customers can also signup directly through their social media accounts such as Facebook, Twitter, etc.
After a successful login, he/she can able to see multiple grocery stores on the map. By clicking on the store icon or name, customers can check full details of the store like name, description, timing and all.
After selecting the store, customers can able to see available all grocery items along with details. The customer can also search for products manually and book the order.
There are multiple payment options available in the app such as credit/debit card, net banking, COD or through the in-app wallet.
After placing an order by the customer, automatic notification sent to the grocery store and store confirm the order, pack the order & give it to the delivery boy.
The delivery boy will pick the order from the grocery store & deliver it to the customer's location. Delivery boy can track the store as well as the customer location in his app. Also, customers can track the location of the delivery boy and estimated arrival time.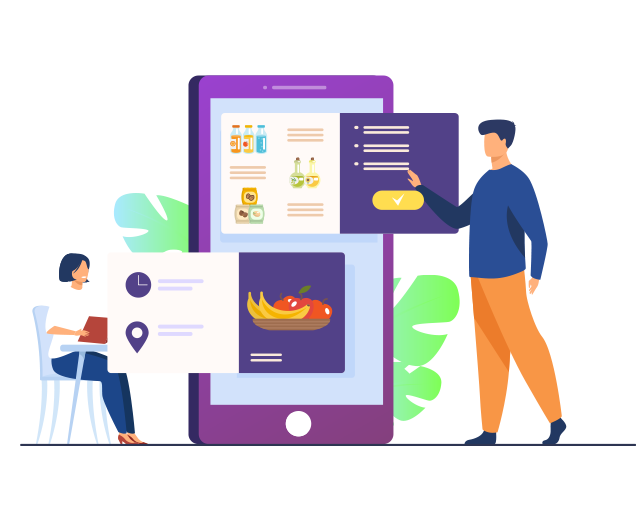 Customer App Features
Responsive customer apps designed with the infallible El Grocer clone app source code, enable the customers to order from multiple grocery stores at a time and from the same screen. With available options to schedule the deliveries, the customers can pick the most convenient delivery time slot.
Easy Login

Secure and easy login facility available using the mobile numbers, OTP or social media profile id.

Multiple Payment Options

Best-in-class and enhanced security based flexible payment options supporting multiple payment gateways.

QR Code Scanner

Lets customers know about the products instantly and shop for their items more rapidly.

Add-to-Cart

Enables the customer to add multiple items selected from multiple stores simultaneously without the need of visiting the page again and again.

Discount Voucher

Coupon codes and promo codes can be applied in sequence for multiple in-app grocery stores at the time of commencing payment to avail discount.

Easy Checkout

Easy and handy ways for reviewing the cart items, filling the delivery address and payment details and commencing payments.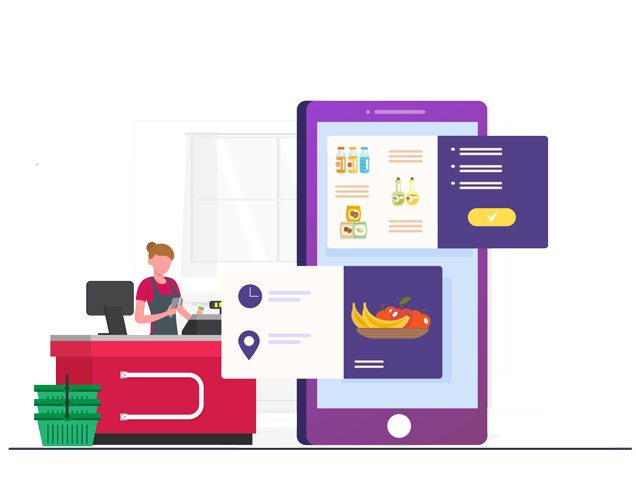 Store Owner App Features
With accessible and comprehensible features, the store owner can achieve everything that he needs from the app. Our app build with unsurpassed El Grocer clone app source code and infused with futuristic features is no less than a multipurpose tool for the store owner assisting him in executing grocery delivery related responsibilities with ease.
Alerts

Instantly, the merchant gets notified as soon as a customer clicks the buy button for the products of his store.

Accept or Reject Orders

The merchant via this feature can accept or reject the customer's orders. He can also state a valid reason for the rejection of the order.

Manage Delivery Timings

The merchant on the basis of the time, when his offline store experiences less rush, can set the delivery timings.

Notify Drivers

On preparing the order for delivery, the merchant can notify the nearest available delivery person to collect the order for delivery via this feature.

Track Drivers

The vendor can track the driver instantly to know how far he has reached and through which route he is heading towards the location of the customer.

Manage Opening Hours

Using this feature the opening hours of the online grocery store can be managed without any difficulty.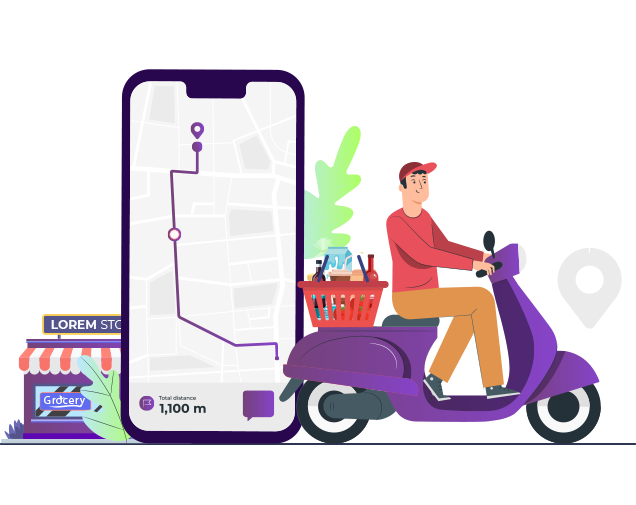 Delivery Boy App Features
Keeping the delivery boy app simple yet effective, we have taken care of each and every feature like listing, order tracking, order detail, order status, map, and alert notifications for the waiting orders utilizing which the driver can manage the entire delivery duty without any anxiety.
Profile Management

Profiles can be kept updated all the time with recent photo, contact number and email id for easy communication.

Notification Alert

Alerts on any new order can be received by the driver via this feature whenever the admin or the store owner assigns dispatch tasks to him.

Navigate Routes

Shortest or less traffic prone routes towards the grocery store and the delivery address can be discovered instantly.

Call Feature

Feature providing the best support to the driver by allowing him to call the customers or the store owner directly from the app.

Digital Signature

Digital signatures can be received from the customers as proof of delivery made.

Order History

On completing every delivery, the status of the order gets updated automatically and gets stored in the order history feature of the delivery boy's account which he can view anytime.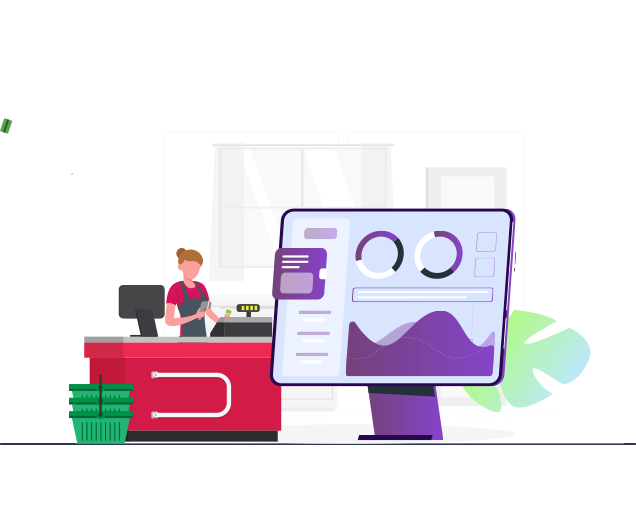 Store Owner Panel
Handling multiple supermarket tasks is a tedious job. Our developed app with magnificent El Grocer clone source code provides a great relief to the store owner as jobs like tracking inventory, managing multiple stores, modifying product list, uploading trendiest pictures all can be done while the store owner is on the go with the help of the app's extremely robust features.
Track Customers

The purchase habitat statistics of the huge pool of customers can be tracked expediently for improving the business.

Social Login

The store owner can enhance his customer base and reach out to more customers by means of multiple social media channels via this feature.

Manage Large Inventory

Sync can be maintained between his inventory and products by keeping a track on the movement of the inventory.

Manage Multi-Store

From a single app, multiple chain stores along with their inventories can be handled efficiently.

Manage Categories

Products can be listed in sequence as per their categories and sub-categories making it easy for the customers to search the products hassle-free.

Update Rate Charts

Within minutes, the product's prices can be updated with revised prices.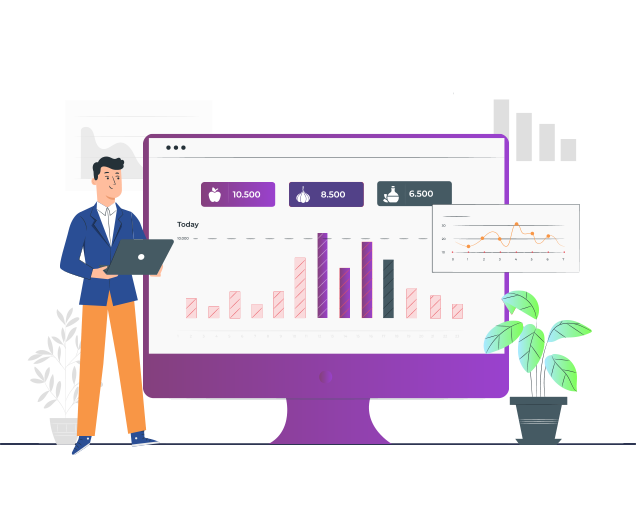 Admin Panel
Our Interactive dashboard crafted with complete diligence and a great El Grocer clone script enables the admin to manage vivid supermarkets, customers, and delivery personnel concurrently. Enabling the admin to keep track on in-app bustles, the feature-rich dashboard has been created using a perfect El Grocer clone app source code, apt tools and right technology.
Admin Dashboard

A powerful panel for scrutinizing business data and managing entire business operations systematically.

Report Generation

Reports on the basis customer name, order ID, order status and payment type can be generated within a fraction of seconds.

Unified Report

Analytics on customer purchasing patterns and sales as well as unified reports can be obtained with the help of which you can have an edge over your rivals.

Push Notifications

The best business intelligent feature to keep app users engaged by means of targeted messages and personalized offers.

Invoice

Admin can view the invoice whenever he needs and even have the option to print or download the invoice.

Manage Profiles of App Users

Managing and reviewing the profiles of every app user – customers, registered merchants and delivery guys can be accomplished effortlessly.
Customer App Design
Our Features displaying complete grocery lists categorized under relevant categories and sub-categories help the customers in finding products with ease and other features such as wish list, order history, easy checkout, etc make the app a friendly one.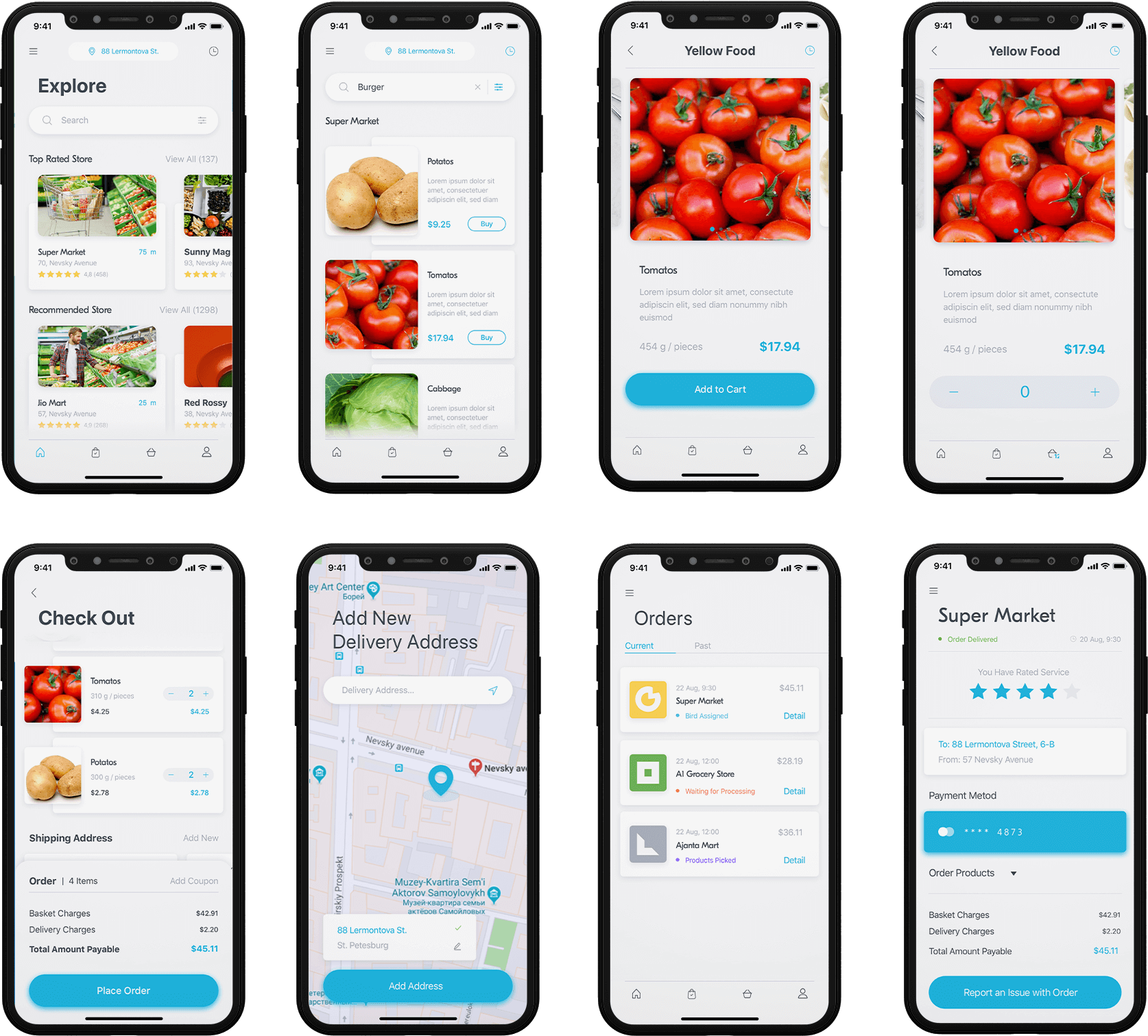 Delivery Boy App Design
Our on demand grocery app comes with native Android and iOS applications to the delive ry boys enabling them to access the app via easy registration feature from any device irrespective of the platform.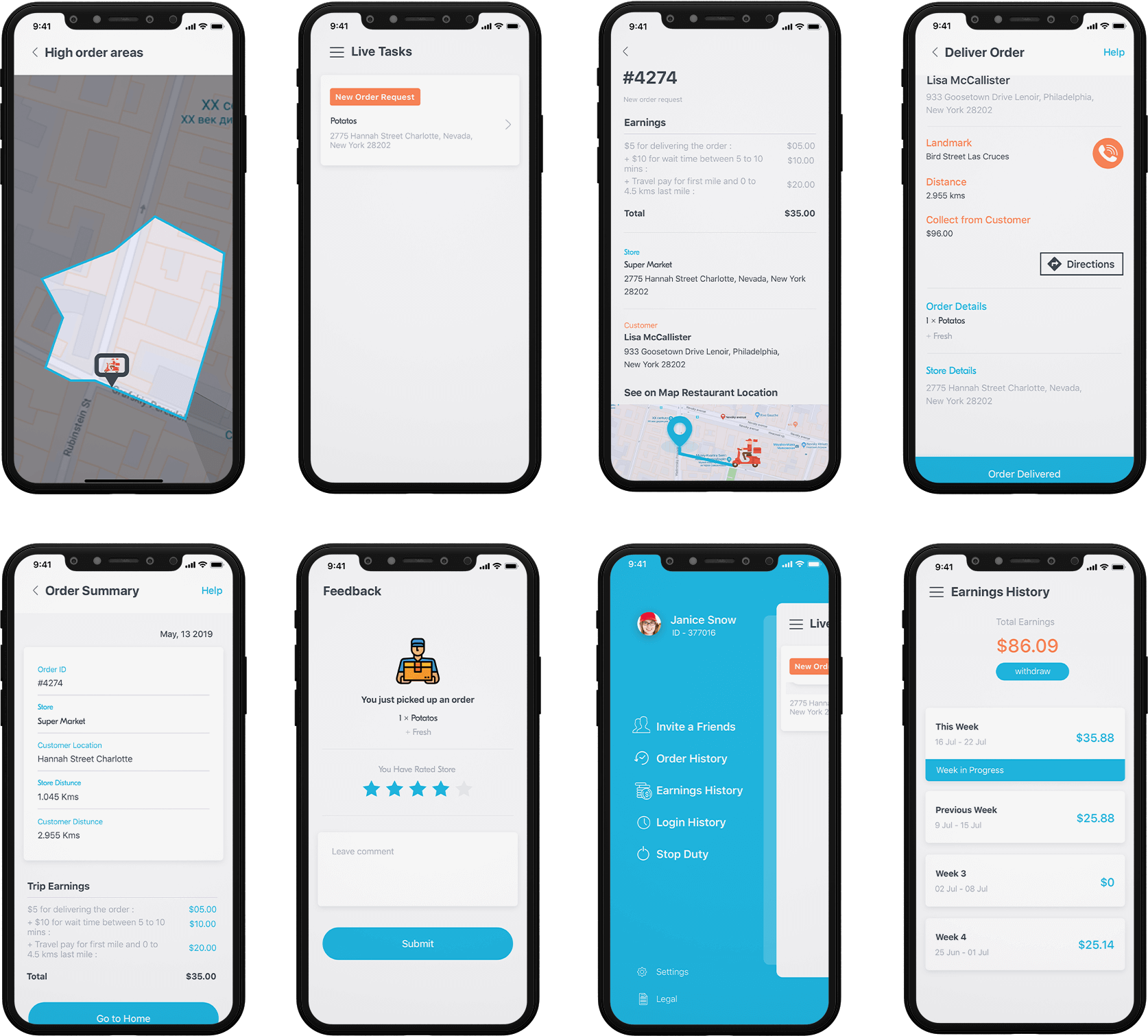 Admin Panel Screenshot
Our solution comes with an efficient end panel for the admin from where they can manage user information, view graphical reports, update business-related information, overview user feedback, etc.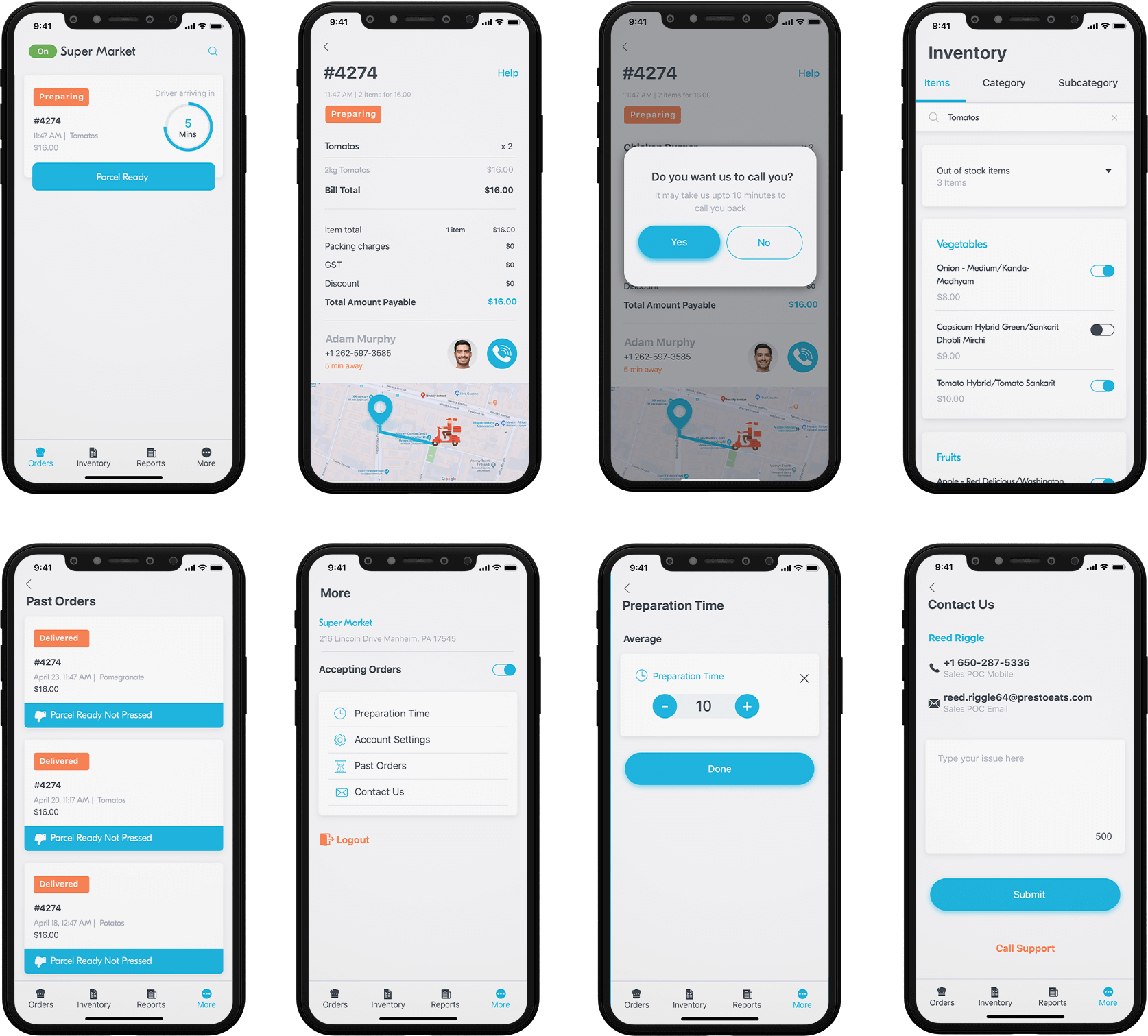 Our El Grocer Clone App Package
After evaluating your business line and your purpose to build an app, we develop a seamless shopping interface for your target customers. By integrating Omni-channel we assist you in energizing your business chain. Let your customers gain a whole new online grocery shopping experience with our fast loading apps created with dynamic El Grocer clone app:
Customer App (Android & iOS)
Store Owner App (Android & iOS)
Delivery Boy App (Android & iOS)
Store Web panel
Super Admin panel
Fully Functional Website
Billing Panel
Dispatcher Panel
Complete Source Code
100% Customizable
Technical Support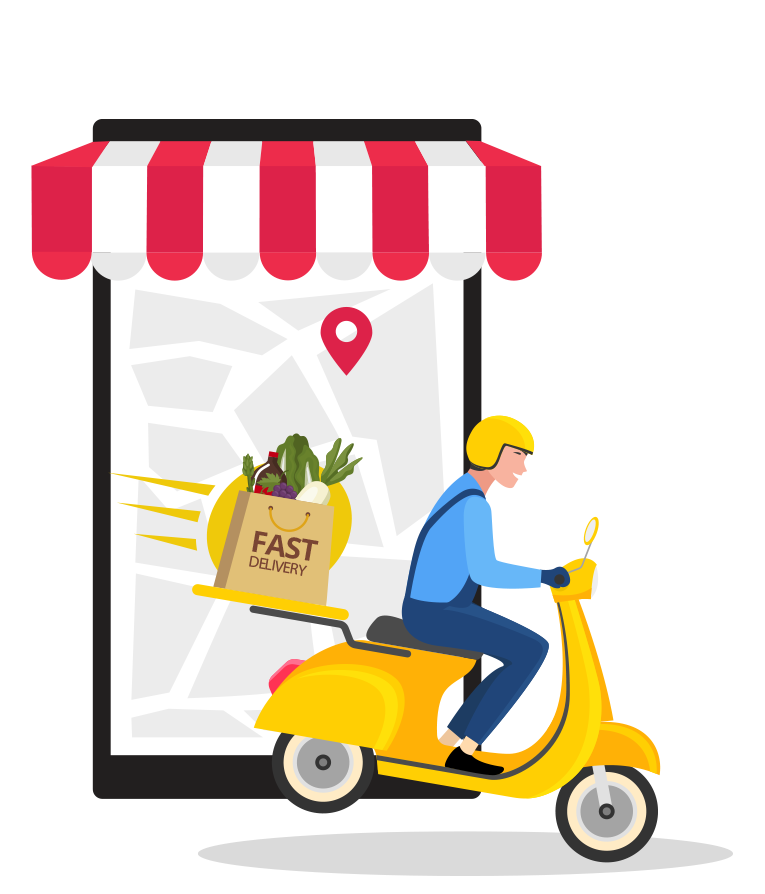 Our EL Grocer Clone App Development Process
Making it possible for you to explore new opportunities for enhancing your sales, we at PeppyOcean intend to deliver top-notch El Grocer clone app development solutions that have been built following a strategic development process.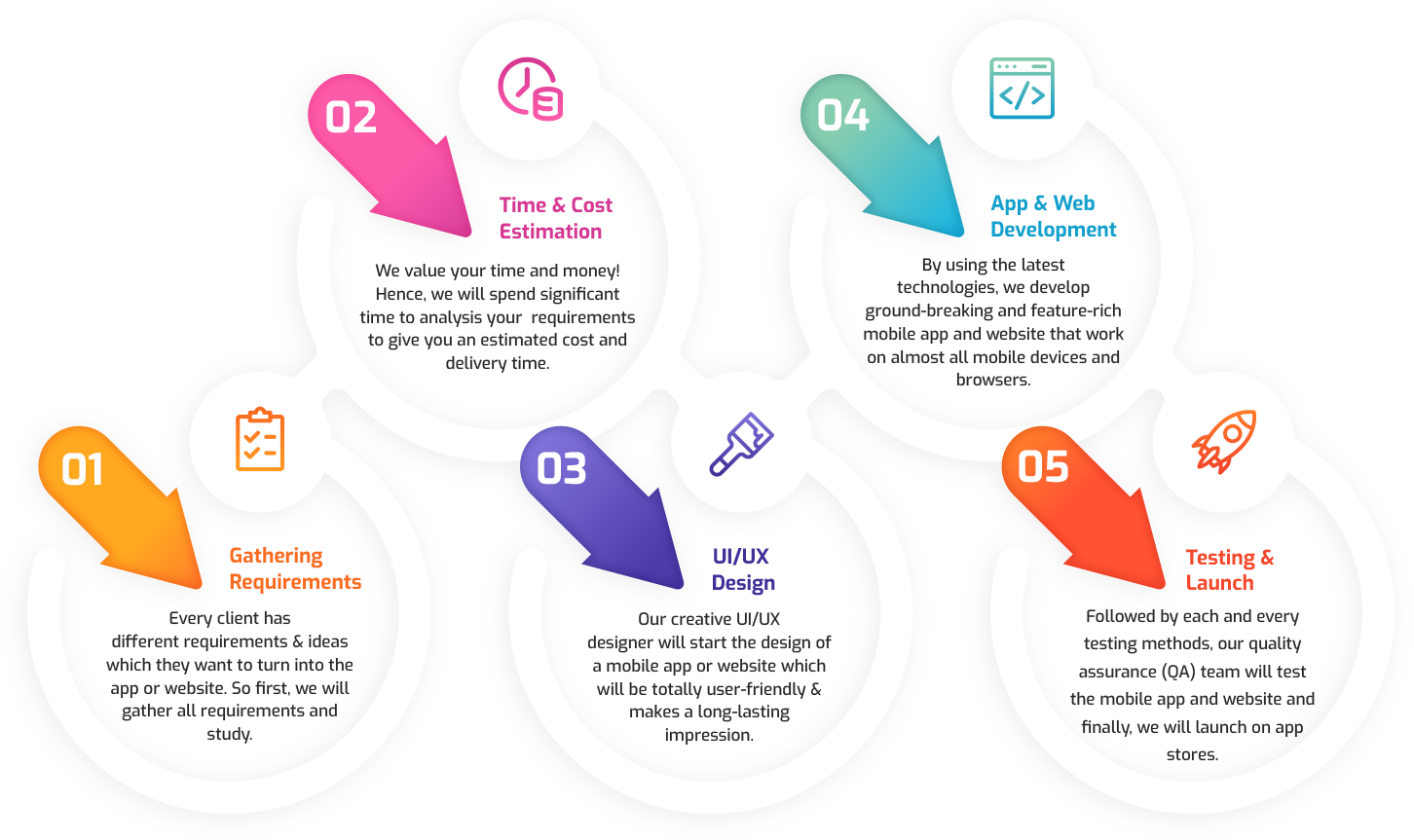 Technology Used To Smoothen Our Development Process
To provide our customers with impactful and business level El Grocer like grocery delivery app development services, our competent developers make use of cutting-edge tools and technologies. Possessing the skill of extracting insights from enormous data sets, developers at PeppyOcean can infuse traditional languages with the latest frameworks to come up with innovative and revolutionary results.
Flutter
React Native
Kotlin
PWA
Swift
Java
Ionic
Firebase
Backbone.JS
Angular.JS
Vue.JS
Node.JS
MongoDB
PostgreSQL
Google Cloud
Amazon AWS
Innovative And Customized Other Clone Solutions
PeppyOcean has a team of skilled developers who first gather all the requirements and estimates the cost and time of developing a particular Grocery app, then they start working on it. Experience our world-class grocery app development services or else, tell us your specific requirements, we will make it exactly like that.
Payment Gateway Offered
Not one or two, in fact, there are so many payment gateways that are being used by people all over the world among which the most popular once are PayPal, Stripe, Google Pay and Paytm. You can integrate two or more payment gateways for offering your customers complete payment flexibility.

Available in Brazil

Available in Turkey

Available in Kazakhstan

Available in Worldwide

Available in Worldwide

Available in Malasiya

Available in Worldwide

Available in Indoneisa

Available in Brazil

Available in India

Available in Worldwide

Available in India

Available in this Country

Available in this Country
UAE
Qutar
Egypt
Lebanona
Jordan
South Arabia

Available in this Country
Mexico
Ecuador
Venezuela
Colombia
Brazil
Chile

Available in this Country
Nigeria
Kenya
Ghana
South Africa
United States
Extra Features Of Our EL Grocer Clone App
From fresh vegetables and fruits to pulses, from seafood and eggs to milk and water, all the essentials can be obtained from one single smart app. With a feature-rich section for every app user, efficiently managing grocery delivery chores for every app user becomes easy.
Multilingual Support
Don't let the language barriers obstruct your path towards growth. Be it RTL or LTR, the app supports multiple languages.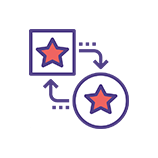 Reward & Loyalty Points
For increasing customer loyalty the admin can reward customers through this powerful feature.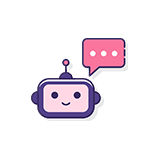 Chatbots
The chatbots backed by AI resolves the user's issues by offering complete guidance to the customers through text, voice or both the commands.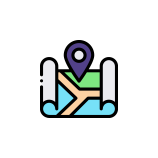 Delivery Address
More than one delivery address can be saved so that it becomes advantageous for the customer while he has very little time to shop.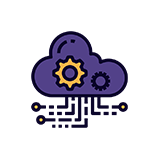 SAAS App
Irrespective of the device and internet connection, this feature enables the customer to use the app from any part of the world.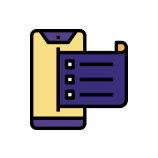 In-App Advertisement
From here, the app owner can serve ads of different companies on their app screen to make extra income.
Reputed Company With Happy Clients
PeppyOcean was established with a motto to deliver on demand top-notch app development services to our clients and we have been doing this since our inception. We have a long list of satiated clients that are very much contented with our services and keep sharing their success stories with us.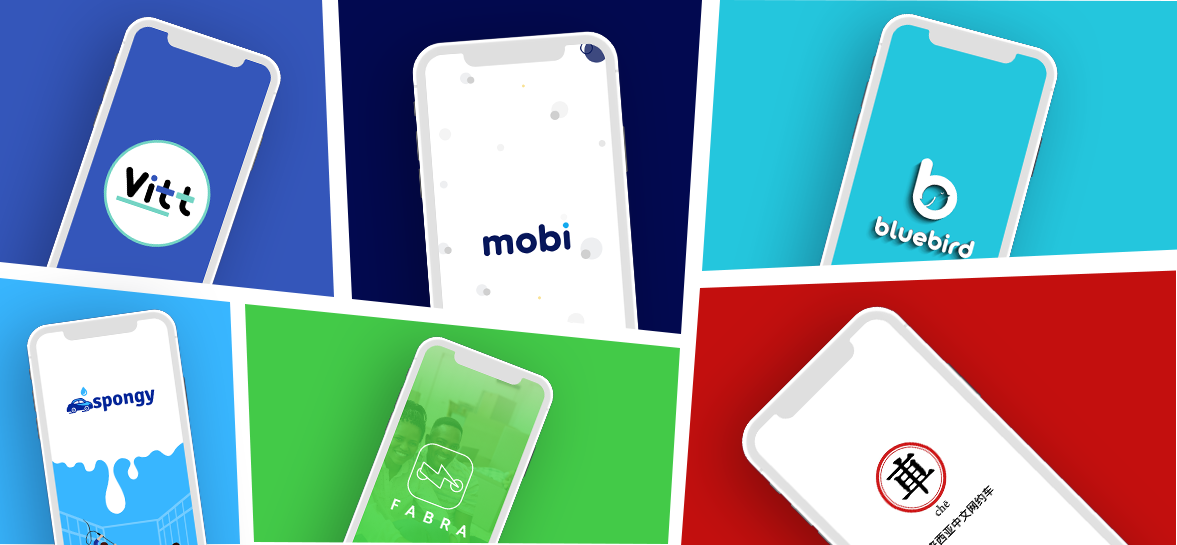 Richard Ling
Commitment to deliver regardless of the amount of time needed to completed the tasks.

Paola Baquero
They have a very complete team, where they attended each of my requirements and offered different solutions.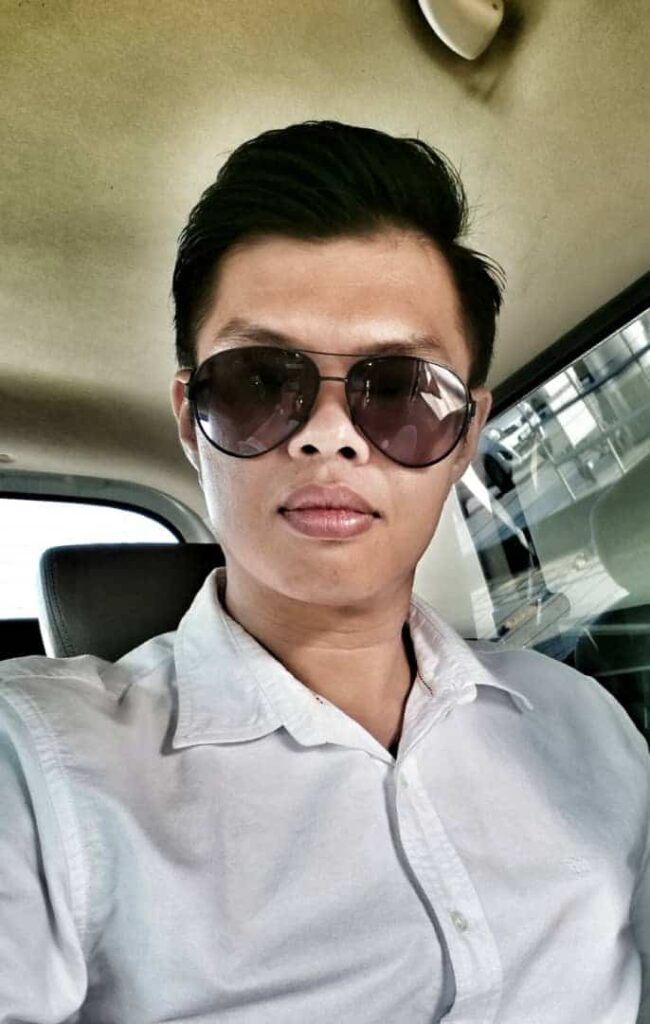 Andrew Yuen
They never fail me on all of our request and always complete the task according to time line.

Gourab Mukherjee
Extremely Reliable and a Hardworking team and good value for money

Faisal Al-Salem
Understand any requests even if we don't give a clear brief Very flexible team
BLOGS
We light the lamp of knowledge by spreading it. Sharing the knowledge we gain helps us enter deep insights and make meaningful transformations in the world around us. Look how we contribute towards a technologically better world.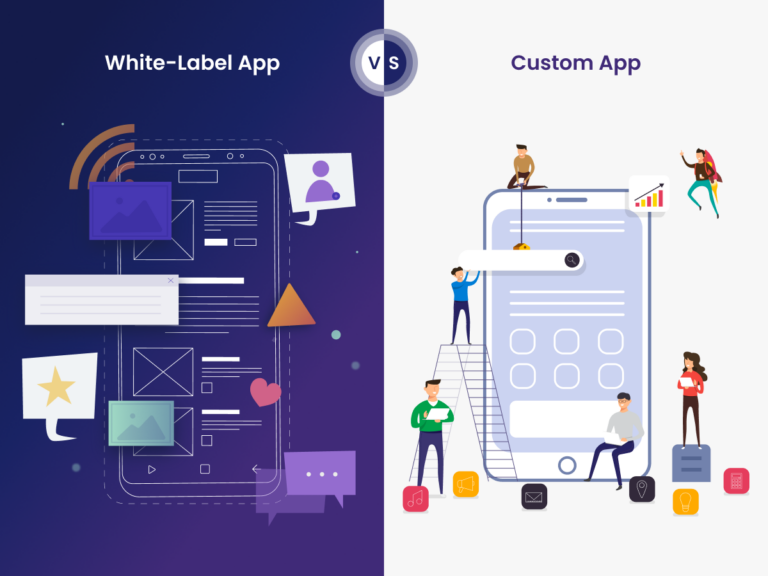 White Label App vs Custom App: Unveiling the Ri...
In today's fast-paced digital landscape, the choice between white label app and custom app is a pivotal decision that businesses must make when venturing into mobile application development. Both approaches
Continue Reading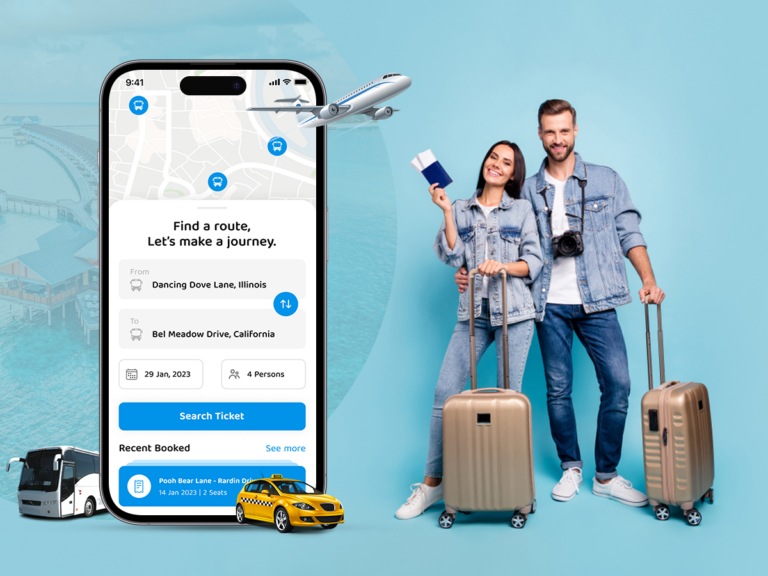 A Definitive Guide to Travel Booking App Develo...
Globally more and more travelers are opting for convenient and efficient digital solutions. As the world is moving towards a post-pandemic reality, travelers seek seamless travel experiences at their fingertips,
Continue Reading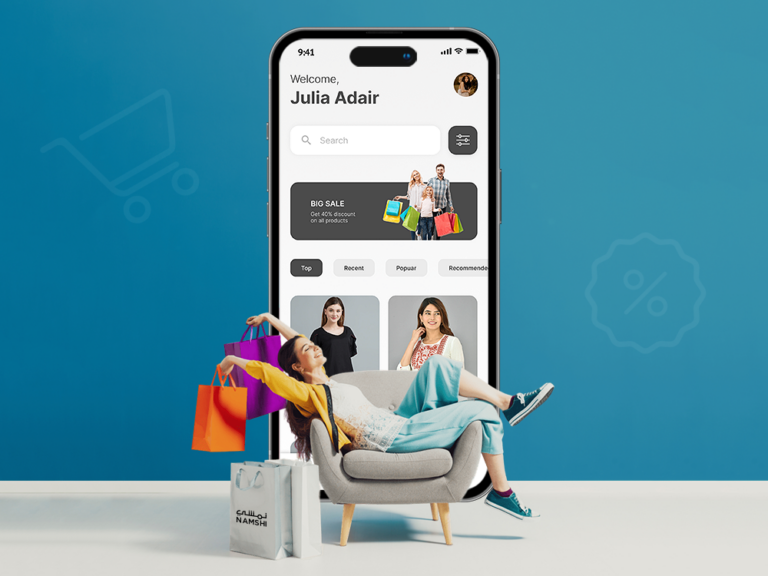 Estimate the Cost of Developing an eCommerce Ap...
eCommerce startup is a relatively new and booming trend in the business world today. If we consider how popular online shopping has become in recent years, it's no surprise that
Continue Reading