Reward Points
The app rewards the customers with reward points on achieving a specific target, which can be redeemed at the time of future purchases.
Easy Checkout
This feature enables the customer to checkout securely, easily and simultaneously from multiple grocery stores.
In-Store Discounts
The app displays the discounts offered by a particular store so that customers can directly visit that store and buy items at a discounted price.
Schedule Delivery
The app permits the customer to get the grocery delivered at their doorsteps on the same day or on any scheduled date as stated by the customer.
Why Go For InstaShop Clone App?
Our grocery app development solutions are suitable for single grocery store, multi-vendor grocery marketplaces, and grocery chain stores. Many companies offer an InstaShop clone app, but only a reputed grocery app development company could provide you with a worthy one. The customers can rest assured about the quality of the items produced as the app delivers their orders in good condition from trusted neighborhood grocery stores. Designed with exceptional features, our developed InstaShop clone app displays the items as soon as the customer enters the relevant keywords and the app informs the customers when any searched product is out of stock and displays substitutes of that particular item. Run your grocery business and boost your sales utilizing our grocery delivery app development services.
What Do We Offer With Our InstaShop Clone Script?
By amalgamating our years of experience with today's advanced technology, we execute every app development process with utmost precision so as to create an exceptional and brilliantly performing InstaShop clone script. Aiming to deliver bug-free solutions, we pass our every final product through rigorous testing.
Stunning UI

The apps we build have accessible and simple UI in order to make them uncomplicated and usable even for the matured users.

24/7 Support

From the moment we become your technology partner, you get 24/7 assistance from us. Hence, if you want to infuse new features or enhance the design of your app, you can reach us anytime.

Global Operations

Enabling your app users to operate the app from any part of the world in their chosen language and make payments through the most suitable payment mode, we integrate multiple languages and payment gateways to your app.

Scalable Solutions

Knowing the fact business needs are never the same, we develop scalable InstaShop like grocery delivery app development services for you that can be scaled up/down tailoring your growing business needs.
How Does Our InstaShop Clone App Work?
We developed the InstaShop clone app with the latest tools and technologies to carry out the entire grocery ordering and delivery task, right from receiving orders to assigning delivery tasks to the delivery boy and paying the delivery boy and the vendor for the services offered in a systematic manner.
Easy Registration

1

Search or Browse Stores

2

Search Products and Book

3

Confirm the Order

5

Receive the Order

6
Customers can easily signup or sign in through email id or mobile number. By doing so customers will get the OTP (one-time-password) to verify. Customers can also signup directly through their social media accounts such as Facebook, Twitter, etc.
After a successful login, he/she can able to see multiple grocery stores on the map. By clicking on the store icon or name, customers can check full details of the store like name, description, timing and all.
After selecting the store, customers can able to see available all grocery items along with details. The customer can also search for products manually and book the order.
There are multiple payment options available in the app such as credit/debit card, net banking, COD or through the in-app wallet.
After placing an order by the customer, automatic notification sent to the grocery store and store confirm the order, pack the order & give it to the delivery boy.
The delivery boy will pick the order from the grocery store & deliver it to the customer's location. Delivery boy can track the store as well as the customer location in his app. Also, customers can track the location of the delivery boy and estimated arrival time.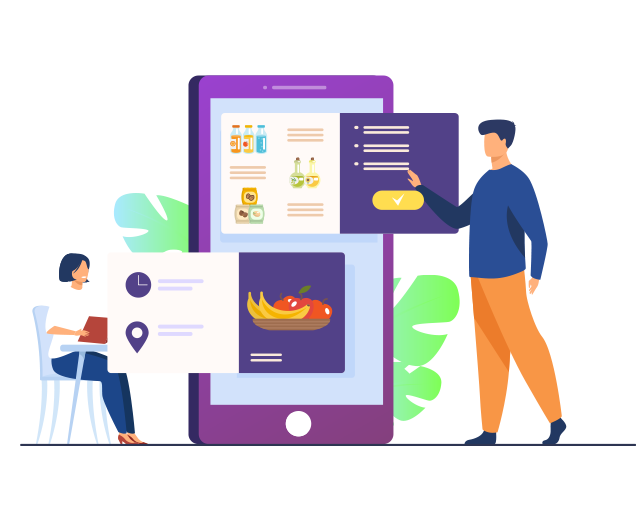 Customer App Features
Considering all age group users, we build the InstaShop clone app source code of the customer app brilliantly and seamlessly to make it comprehensible for meeting the daily grocery needs. Our app integrated with GPS feature displays the entire list of neighbouring supermarkets as soon as the customer enters his location details making it easy for them to locate his preferred store.
Easy Login

Login can be done immediately via social media profile, Gmail ID or mobile number.

Manage Profile

The customer can manage his profile by updating his name, delivery address, notification settings and contact details.

Re-Order

By using the ordering history, the customer can swiftly and easily place re-orders without wasting time in searching for the same items.

Order Tracking

On real-time, orders can be tracked to know their expected time of arrival.

Notifications

The customer receives notifications on the status of the order, promo codes, offers, etc.

Ratings & Reviews

Enables the customer to write a review on the services received, the received product quality and condition and about the overall experience.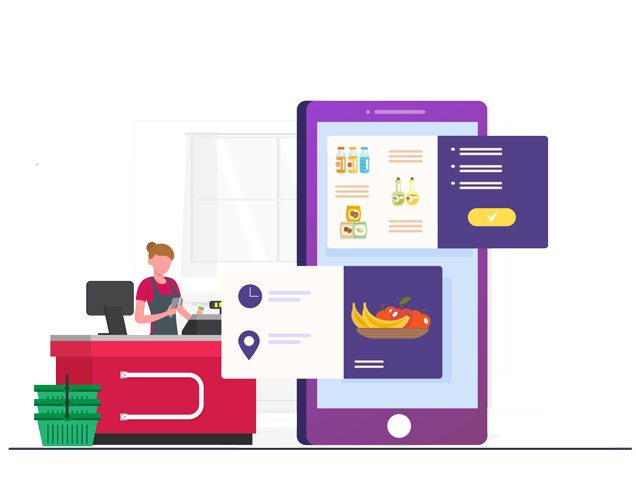 Store Owner App Features
Optimizing the process of delivering groceries at the customer's doorsteps, our InstaShop clone app source code proves to be the best handyman for all the store owners. With features from receiving instant notifications on every new customer order to enabling the grocery store owner to track the delivery guy, the app is simply an awesome solution to execute entire grocery delivery chores.
Notification

Receive email or SMS notification regarding the latest orders received from the customers.

Accept/Reject Order

Permits to quickly accept or reject the order and send notification about the same to the customers.

Tracking Order

Delivery guy along with the route details can be tracked with just a single tap.

Filter & Sort Order Status

Permits the store owner to filter as well as sort orders on the basis of their status and delivery date.

Time Slot For Delivery

Delivery timings can be managed with ease by the store owner as per his convenience.

In-App Chat

Acting as a seamless communication channel, the feature enables the store owner to communicate with the customers as well as the delivery guy.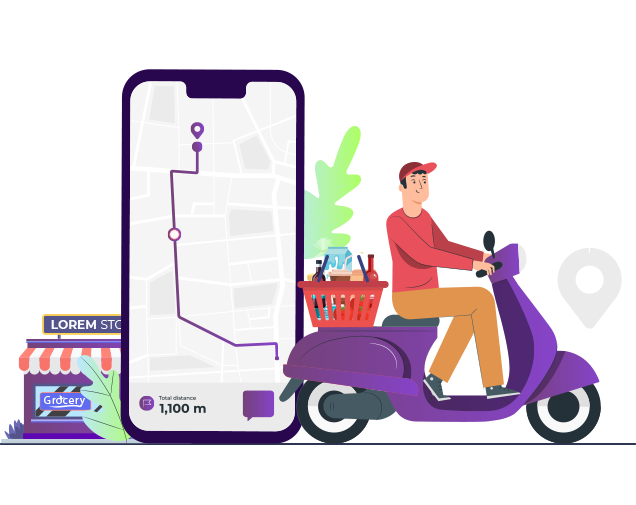 Delivery Boy App Features
With clean designs and accessible features including earning details, in-app call, navigation, etc. Our InstaShop clone script can be used by the delivery boy without the need of acquiring any prior technical knowledge for operating the app. With minimum screen sliding, it becomes easy for the driver to carry out various tasks comfortably.
Easy Login

A delivery person can log in using his email or phone number. The platform can even be accessed via social media accounts.

Accept/Reject Requests

With a valid reason the delivery person can accept or reject the requests.

Availability Toggle

A delivery person can confirm his availability to offer his services via this app feature. New delivery requests will hit his profile only when he marks his status as available.

Delivery Details

Entire necessary delivery details like delivery requests, type and quantity of delivery, location, date, etc. can be observed.

View Earnings

Previously accomplished tasks and the earnings earned from each delivery can be viewed directly.

Navigation

This feature provides accurate and end-to-end route guidance from the grocery store to the location of the customer.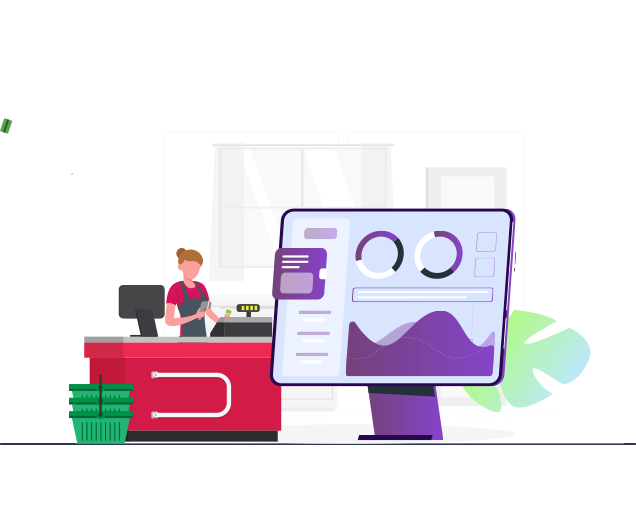 Store Owner Panel
Intuitive and influential UI of our scrupulously crafted InstaShop clone app permits the store owner to provide their customers with uninterrupted grocery delivery services. Managing the catalogue of unlimited items, updating product lists along with their revised rates and images and item's availability all can be done competently in a systematized manner.
Login/Signup

One step easy login using the contact number or social media credentials. Entry into the app also permitted via Gmail id.

Product Upload

Permits the store owners to update the product list with new arrivals in order to provide the customers with a plethora of options to choose from.

Inventory

Get exact reports on the stock movements such as items sold/undersold, available stock and many more in real-time.

Track Customer Behavior

With these features, the store owner can track the shopping pattern of the customers like the average value of the order, preferred price range, discounted orders, etc.

Track Products

Helps the store owner to figure out the best and the worst-selling items, most and the least browsed products, most trending items etc.

Track Sales

On yearly, monthly and daily basis, sales record can be tracked with the help of a comprehensive tracking as well as sales statistics.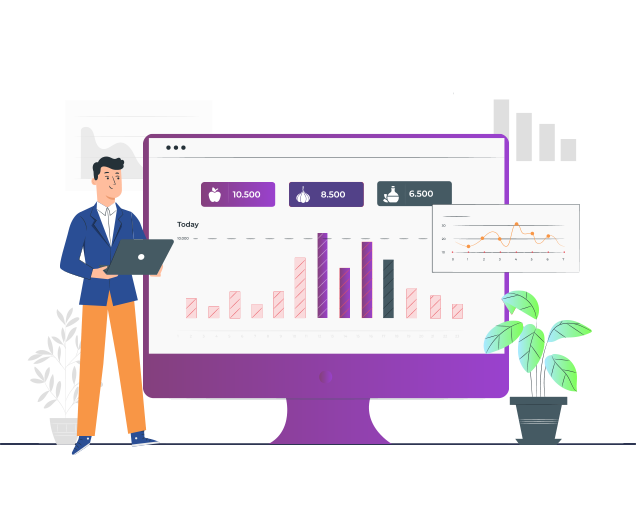 Admin Panel Features
The content management system of our app being user-friendly can be used efficiently and can be learnt in a single day. Within a little time, the admin can handle tranquilly all the operations carried out within the app such as managing customers, tracking orders, reviewing feedback, sending notifications etc.
Dashboard

Feature-rich, eye-catching and well-crafted admin dashboard for better management of the site.

Sub-Admins

For speeding up the processes and supervising the in-app activities in the absence of the Admin, sub-admins can be assigned tasks via this feature.

Customer Management

Manage all the customers (both guest customers and registered customers) effectively along with their profile details.

Store Owner Management

Manage multiple store owners seamlessly within the app along with their commission rates and profile details.

Delivery Boy Management

Manage all the registered delivery boys effortlessly within the app along with their commission rates and profile details.

Track Payment

Using this feature, received and pending payments from the customers can be viewed and commissions can be paid with ease to the associated grocery stores and the delivery guys.
Customer App Design
Clear and simple UI/UX designs, perfect font, eye-catchy images, perfect frontend functionalities make the app an exceptional one and grab the attention of the visitors thereby inducing them to shop via the app.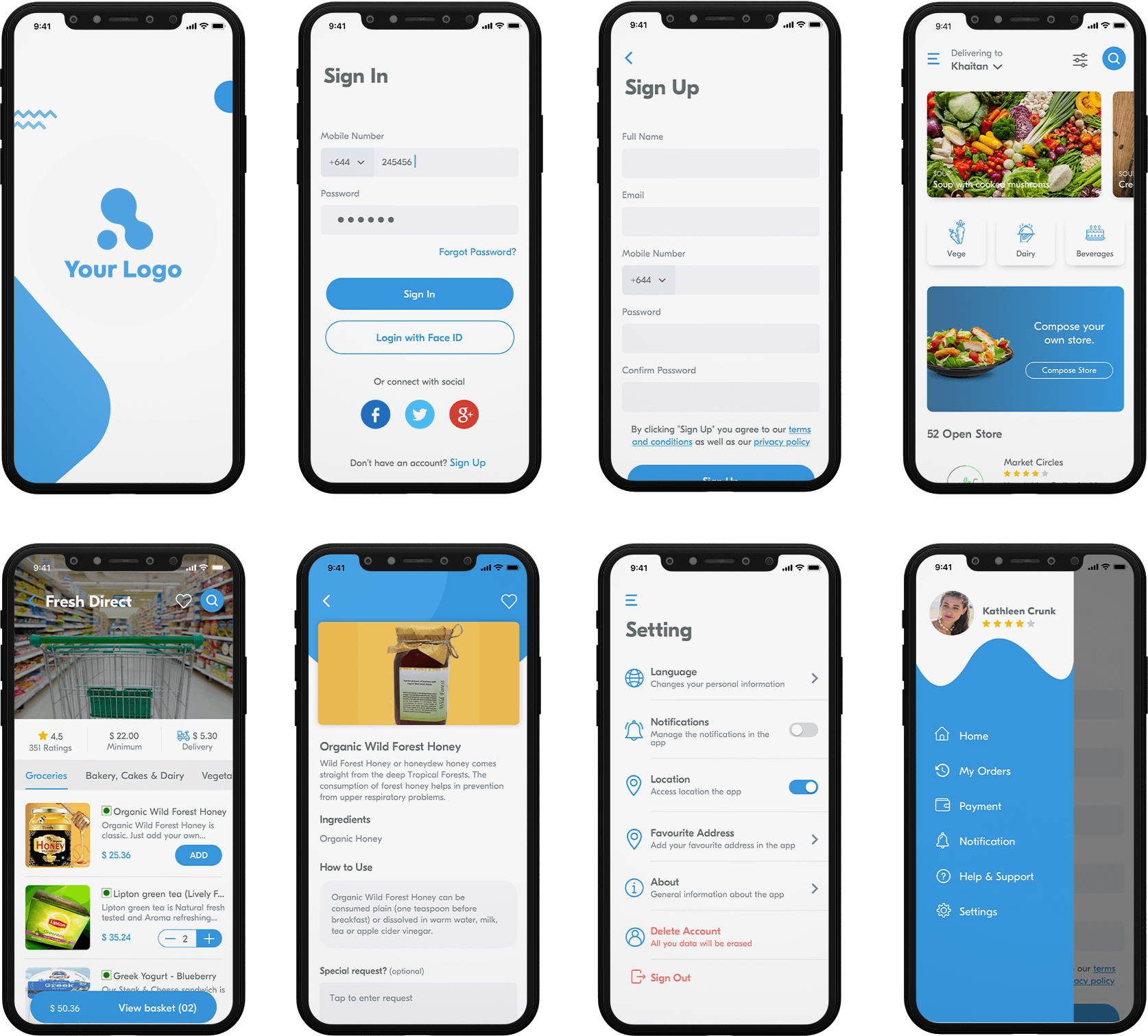 Delivery Boy App Design
Amazing delivery solutions with easily traceable and simple features are being created to enable the delivery boy to use the app without any difficulty and complete their deliveries through the fastest and shortest routes on time.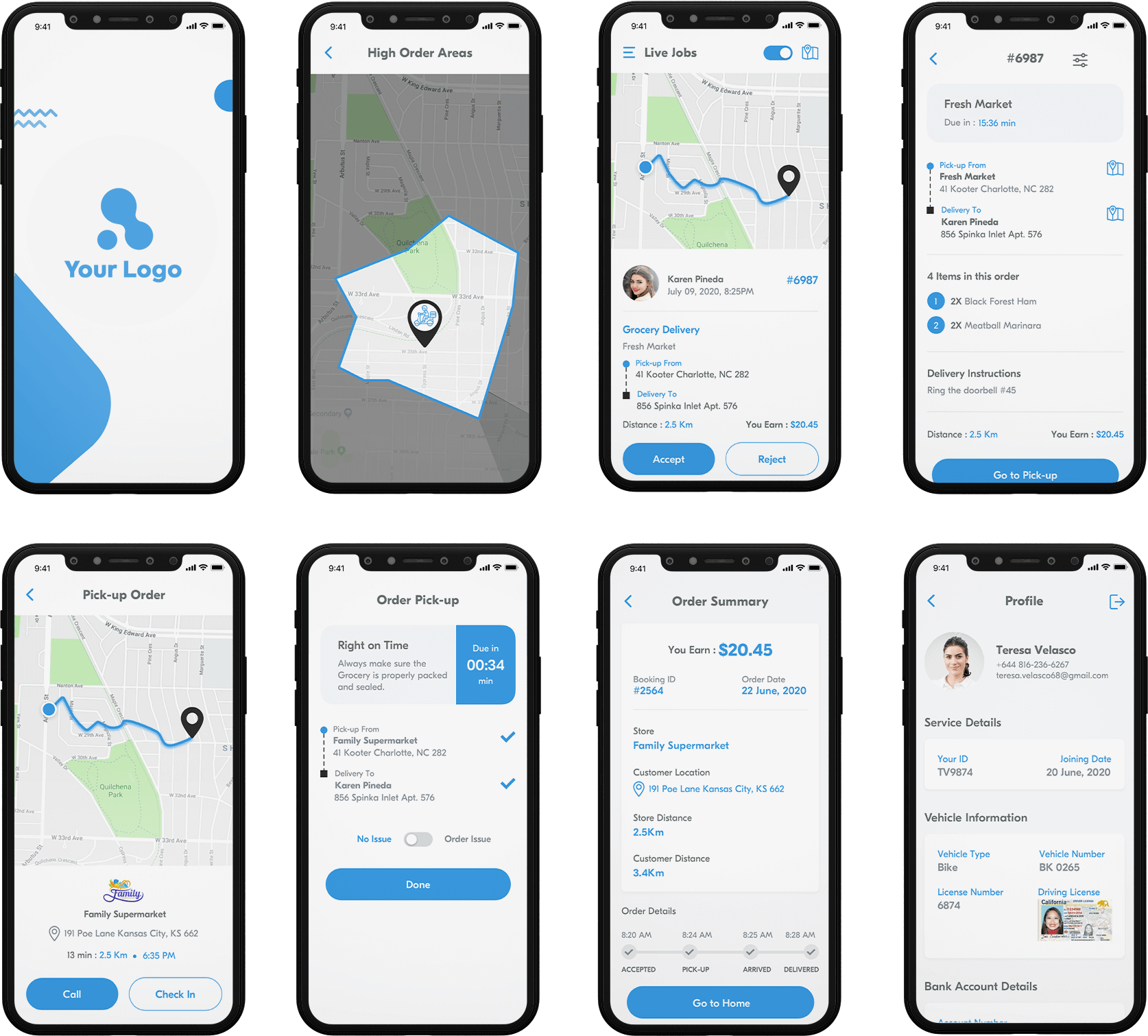 Store Owner App Design
We deliver the admin dashboard system having complete data and information management features through which the app users, orders, reports, transaction details and various other business activities can be managed.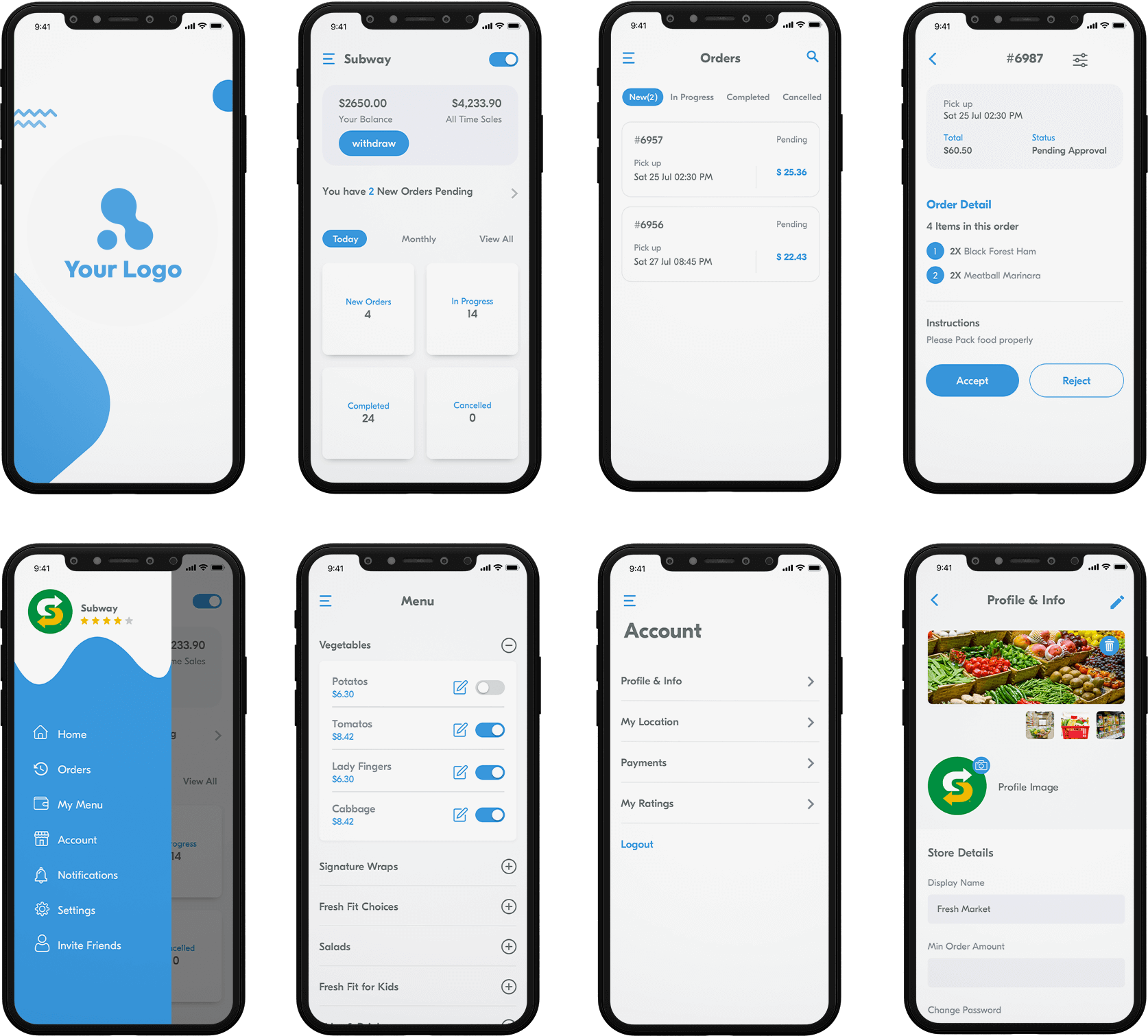 Our InstaShop Clone App Package
Within the given time constraints, we aim at delivering consistent InstaShop like grocery delivery app development solutions that can help you increase your customer base and improve sales. We create a clean and minimalist user interface for providing an optimum level of shopping experience to your app users.
Customer App (Android & iOS)
Store Owner App (Android & iOS)
Delivery Boy App (Android & iOS)
Store Web panel
Super Admin panel
Fully Functional Website
Billing Panel
Dispatcher Panel
Full Source Code
100% Customizable
Technical Support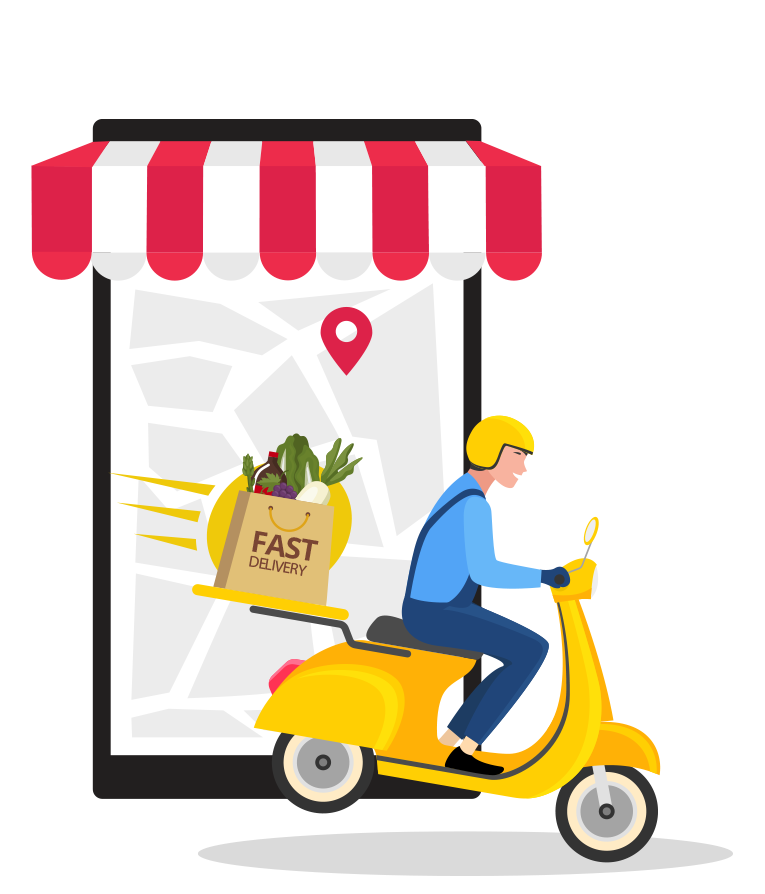 Our InstaShop Clone App Development Process
Offer the easiest and the most convenient way to shop for groceries with just a few taps on the mobile screen to your customers that have been created using an effective clone app development process.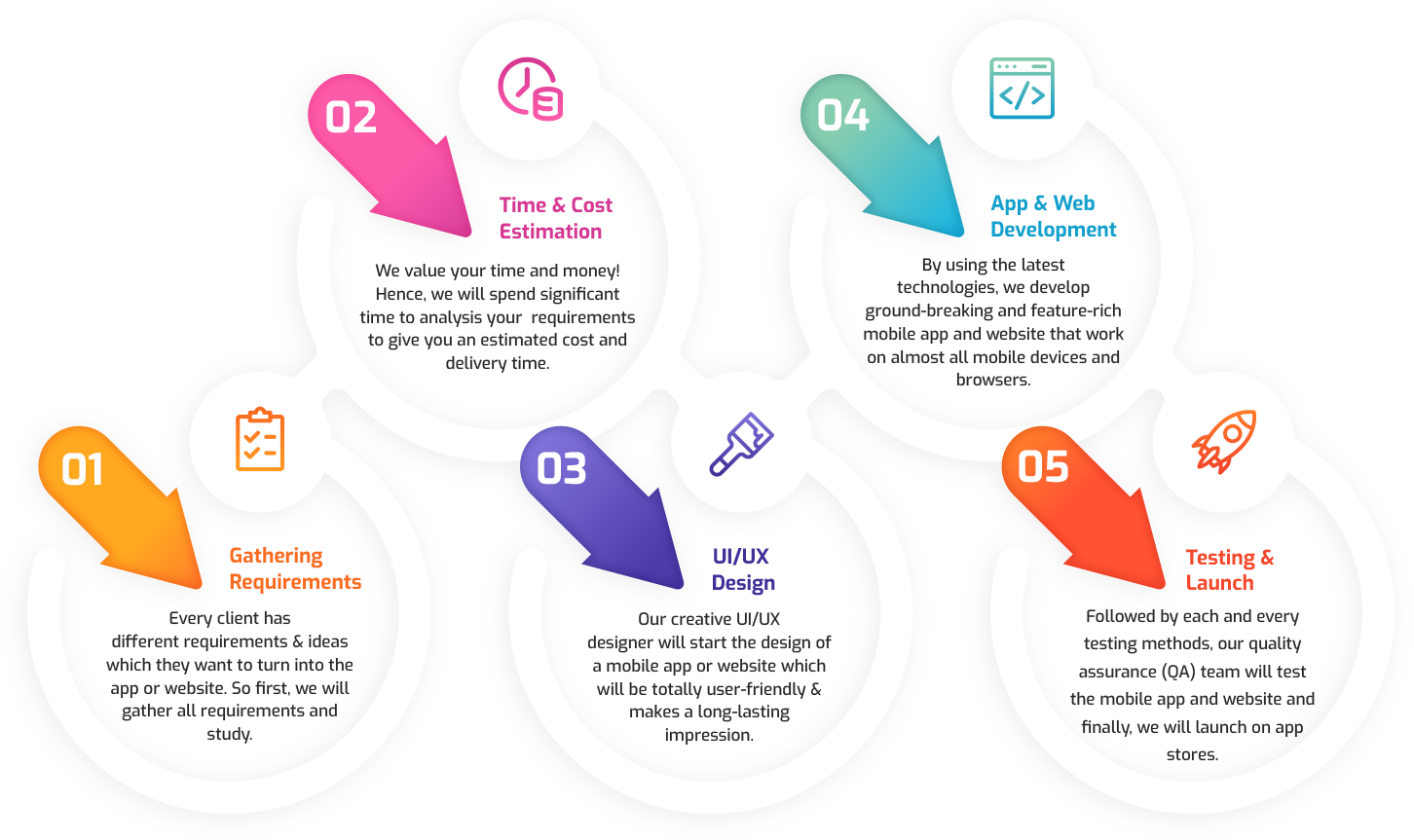 Our Technology Repository
The certified programmers, developers and designers at PeppyOcean make use of the ultra-modern tech stack while developing an unfailing and peerless InstaShop clone script for you to keep you ahead of your rivals. Be it Java, Python, JS, ReactJS, AngularJS, Ruby on Rails or any other language, our experts are well-versed with all of them.
Flutter
React Native
Kotlin
PWA
Swift
Java
Ionic
Firebase
Backbone.JS
Angular.JS
Vue.JS
Node.JS
MongoDB
PostgreSQL
Google Cloud
Amazon AWS
Innovative And Customized Other Clone Solutions
Our end-to-end Grocery clone app services are remarkable when it comes to adding advanced features and functions. We help people in increasing their online presence and brand visibility. Our professionals take care of the unique business requirements of our clients and deliver the results on time. We can make any type of grocery clone app available in the market.
Payment Gateway Offered
Embellish your app with multiple payment gateways and let your customers process the payments in the manner they feel more convenient and safe. Connect your customer's bank account with a secured tunnel – online payment gateways for processing payments with a click.

Available in Brazil

Available in Turkey

Available in Kazakhstan

Available in Worldwide

Available in Worldwide

Available in Malasiya

Available in Worldwide

Available in Indoneisa

Available in Brazil

Available in India

Available in Worldwide

Available in India

Available in this Country

Available in this Country
UAE
Qutar
Egypt
Lebanona
Jordan
South Arabia

Available in this Country
Mexico
Ecuador
Venezuela
Colombia
Brazil
Chile

Available in this Country
Nigeria
Kenya
Ghana
South Africa
United States
Extra Features Of Our InstaShop Clone App
Our well-built InstaShop clone app source code makes the app fast, simple and handy enabling the customers to search immediately for everything that they need and buy entire grocery items from one single app.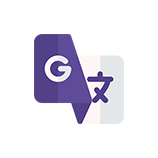 Multi-Languages
More than 5 languages are integrated enabling worldwide users to use the app in their local or the most comfortable language.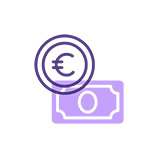 Multiple Currencies
Along with the local and worldwide used currency, there are various other currencies integrated into the app enabling global users to use the app.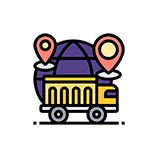 Multi-Delivery Address
Enables the customer to add and save as many delivery addresses as he/she wants so that in the future he/she can skip filling the delivery address.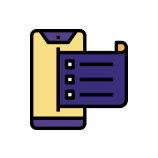 Loyalty Program
For encouraging customers and having a firm grip on them, admin can provide rewards to them on completion of any target from here.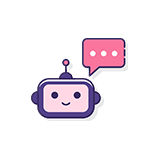 AI-Based Chatbots
Enables the users to get instant solutions to their delivery related issues in the form of voice commands or text messages or both.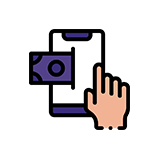 Digital Wallets
Transforming traditional transaction methods, this feature makes the transaction fuss-free and quick.
Reputed Company With Happy Clients
PeppyOcean was established with a motto to deliver top-notch on demand app development services to our clients and we have been doing this since our inception. We have a long list of satiated clients that are very much contended with our services and keep sharing their success stories with us.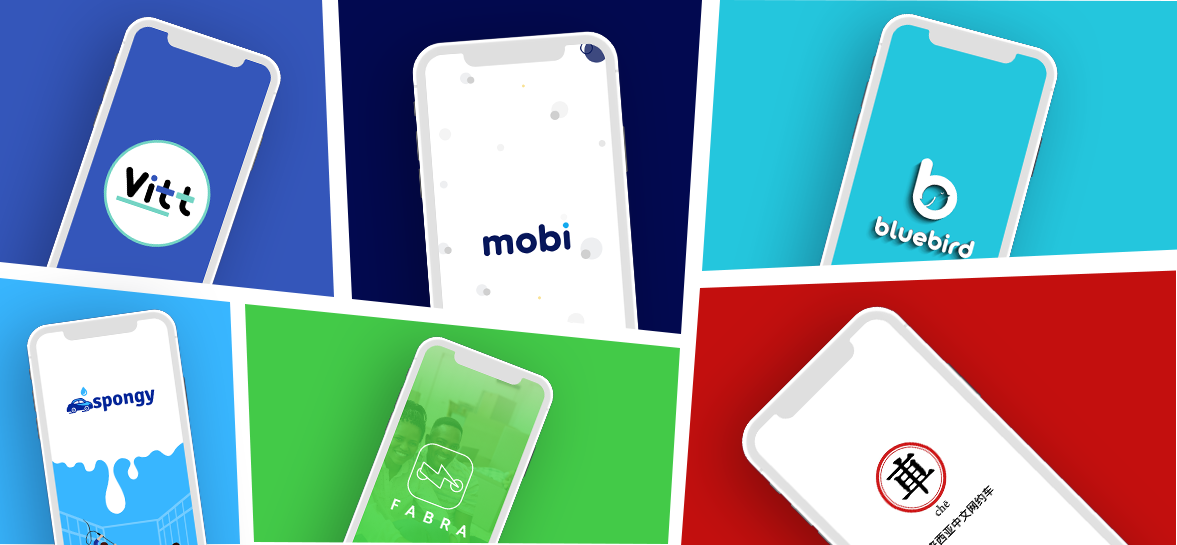 Richard Ling
Commitment to deliver regardless of the amount of time needed to completed the tasks.

Paola Baquero
They have a very complete team, where they attended each of my requirements and offered different solutions.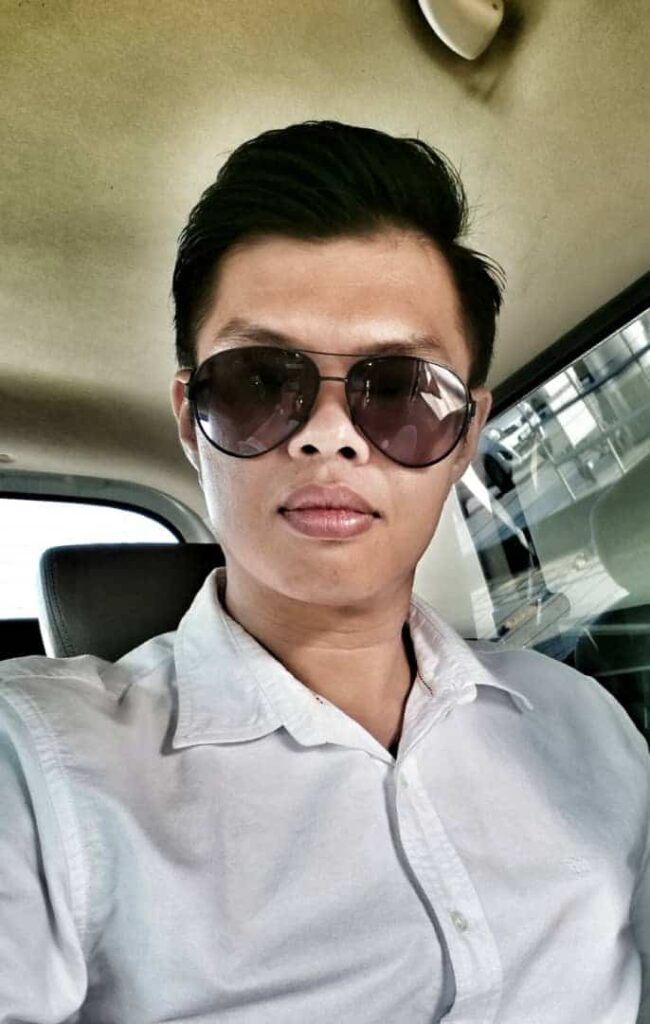 Andrew Yuen
They never fail me on all of our request and always complete the task according to time line.

Gourab Mukherjee
Extremely Reliable and a Hardworking team and good value for money

Faisal Al-Salem
Understand any requests even if we don't give a clear brief Very flexible team
BLOGS
We light the lamp of knowledge by spreading it. Sharing the knowledge we gain helps us enter deep insights and make meaningful transformations in the world around us. Look how we contribute towards a technologically better world.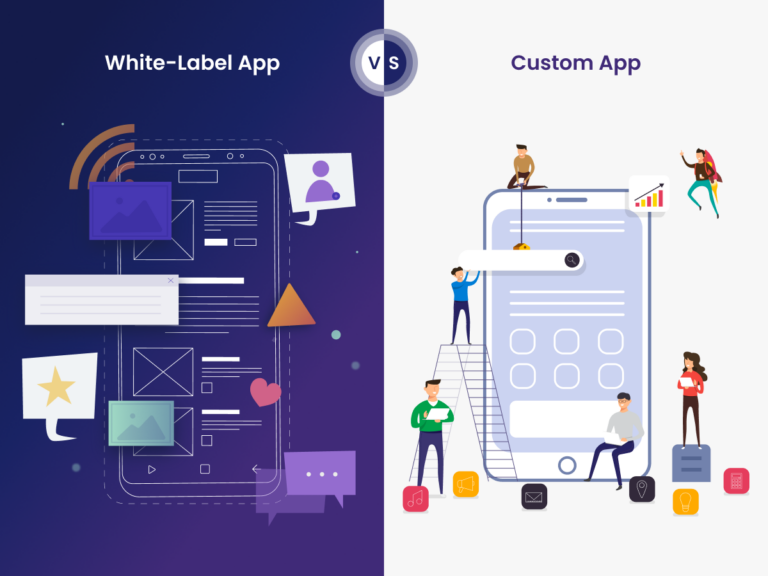 White Label App vs Custom App: Unveiling the Ri...
In today's fast-paced digital landscape, the choice between white label app and custom app is a pivotal decision that businesses must make when venturing into mobile application development. Both approaches
Continue Reading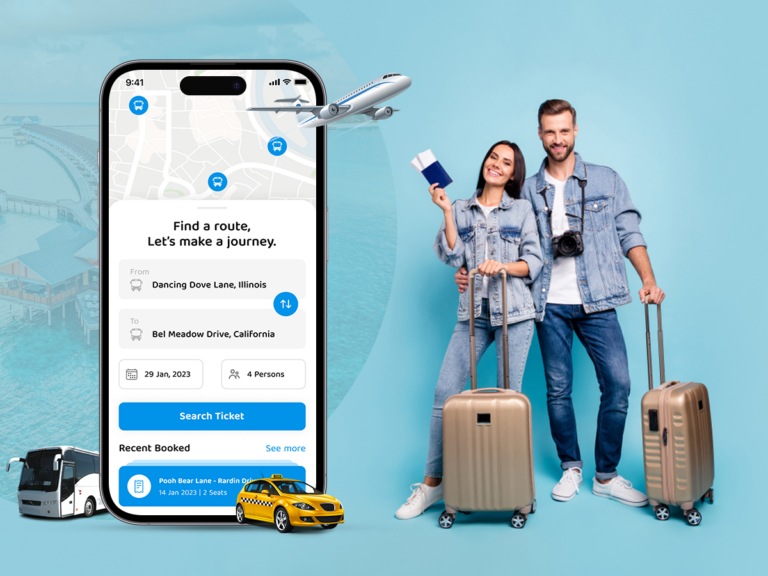 A Definitive Guide to Travel Booking App Develo...
Globally more and more travelers are opting for convenient and efficient digital solutions. As the world is moving towards a post-pandemic reality, travelers seek seamless travel experiences at their fingertips,
Continue Reading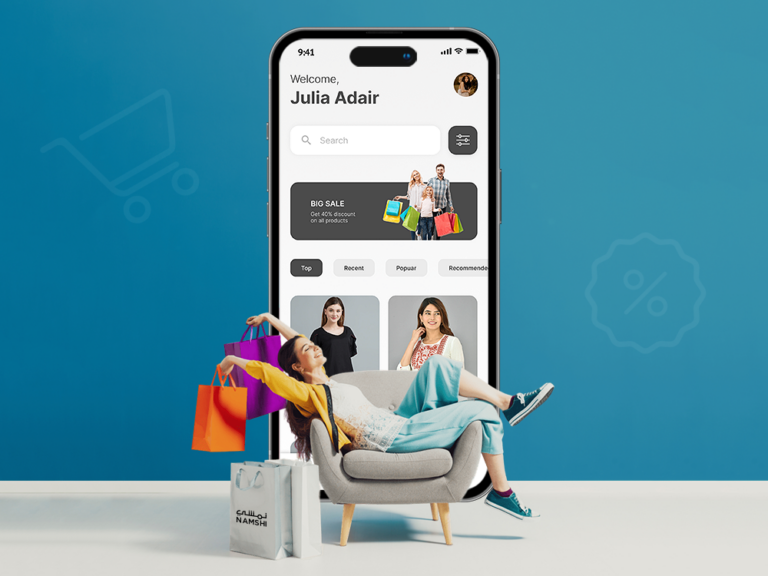 Estimate the Cost of Developing an eCommerce Ap...
eCommerce startup is a relatively new and booming trend in the business world today. If we consider how popular online shopping has become in recent years, it's no surprise that
Continue Reading