Top-notch On Demand Delivery App Development Company
At, PeppyOcean – a fantastic on demand delivery app development company, we possess broad knowledge and profound knowledge in the app development sphere. Our delivery app developers have delivered plenty of unassailable and outstanding digital solutions using which many of our clients are performing lucratively in their particular arena.
Having developed a food delivery app, courier delivery app, grocery delivery app, pharmacy delivery app and etc., our ever-evolving solutions have helped many enterprises restructure their business as per the digital demand of the current time period. Our developers have performed deep analysis and followed international coding standards to develop multi delivery app development services.
Our enterprise-level multi delivery service app development solutions offered via which you can overcome the traditional business operating culture and successfully flourish in this digital era. With simple and easily accessible features, you can clinch numerous customers and enhance their shopping experience. Boost your app's usage and your business profitability by integrating these essential features into your app.
Easy Checkout

Enables the customer to make payment together at the end without the need of paying one by one for every item.

Add To Cart

One of the best features enabling customers to add selected items to the cart and view at the end all the items before confirming the purchase.

Mark As Favorite

The customer can mark a particular service or product as a favorite so that he need not have to search for that again and again in the future.

In-App Calculator

As the customer keeps on adding items to the cart, the in-app calculator displays the total shopping amount making it easy for the customer to know about the total spending.

Customer Support

In case, an app user finds difficulty in understanding a particular feature's use or is unable to find a particular feature, with customer support feature, he can get complete assistance.

Enticing Discount Section

This is one of the best features that provide information about upcoming and current deals and discounts and helps the app owner in gaining maximum customer attention.
How Does Uber for Delivery App Work?
Boosting your business profitability by using our viable on demand delivery app development services With utmost care and deliberately every app feature has been designed and integrated, ensuring it encompasses every feature that needs to be present in an ideal on demand multi delivery app for its smooth functioning.
Easy Registration

1

Choose Delivery

2

Book Request

3

Payment Option

5

Rate & Reviews

6
Customers can register in the app via email id or mobile number or can directly login through social media accounts such as Twitter, Facebook, etc.
After successful login, customers can select the delivery service from the app either it food delivery, grocery delivery or courier delivery & many more.
After selecting the preferred delivery service, customers can book the request to the delivery boy. Here, customers have to provide delivery details like pick-up and drop-off locations.
After booking done by customers, the request will be sent to the delivery boy and accept the request. After that, the delivery boy will go to the pick-up location, pick the order and head to the customer's location to deliver the order.
Customers can pay for their delivery services via multiple payment options integrated into the app like credit/debit cards, in-app wallet, COD, etc.
Customers can rate the delivery boy out of 5 based on the service they receive and leave their feedback.
Customer App Features
From signing in to selecting items and making purchases, we have developed the multi delivery clone app with 100% user-friendly features so that the user can with ease understand each app feature and operate it effortlessly. The app incorporates features like sign up, search for product details, fast checkout, easy payment options, etc.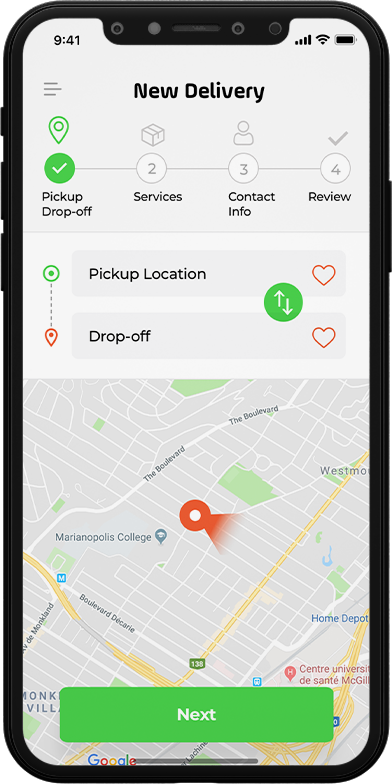 Easy Signup

The user can sign-up via various ways like by providing social account credentials, email id or sign-up using his phone number.

Search Products

From the plethora of options available on the app screen, the user can search for the required services or products in minutes.

Cart

As the user keeps on selecting the services or products, he can add them to his cart and at the end cross-check all of those and make the final purchase decision.

Schedule Delivery

As per his/her convenience, the user can schedule the delivery date and time.

Tracking

Enables the user to track his order all the way from the place of dispatch to its final destination. The tracking feature provides the user with the delivery status, ETA and delivery route.

Manage Order

If the user wants to cancel or reschedule the order, he can do so with ease via this feature.
Store Owner App
With all the necessary features arranged immaculately, the store app enables the store owner to carry out customer order related tasks like receiving the order, responding to the same, assigning delivery jobs to the delivery boy, tracking him, keeping an eye on the order status and much more with complete perfection and hassle-free.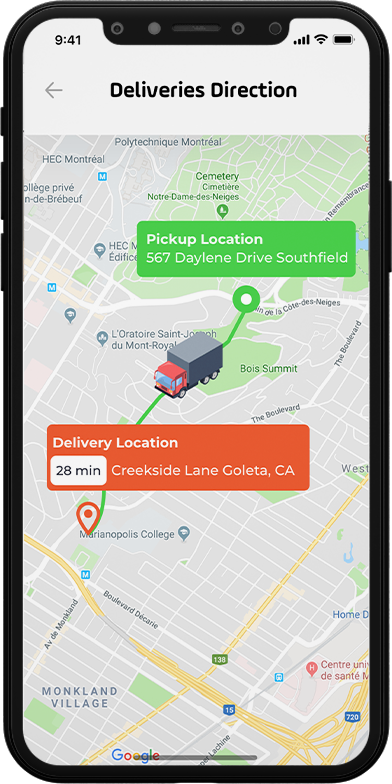 Notifications

Via notifications, the store owner can regularly intimate the customer about the order's status and gain customer's confidence.

Rating and Feedback

Ratings and feedback provided by the customer can be viewed from here and from those feedbacks the store owner can know about his provided services.

Receive Orders

Whenever an order is placed by a customer, the store owner gets notified of this feature.

Acceptance/Rejection

As per the availability of the products or sources, the order can be accepted or declined instantly.

View Order Details

Complete order details like quantity, date, time, delivery address and much more can be viewed directly through this feature.

Track Order Status

Status of every order such as fulfilled, pending and declined can be tracked with a single tap on this feature.
Delivery Boy App
Aware of the technical knowledge a normal driver possesses, we develop the delivery clone app with easy to understand and highly interactive features so that they do not face any problem while operating the app. Be it from receiving order notification to getting navigation help to get directions towards the delivery location, every feature has been crafted with best-in-class technology to offer optimum support and convenience to the drivers.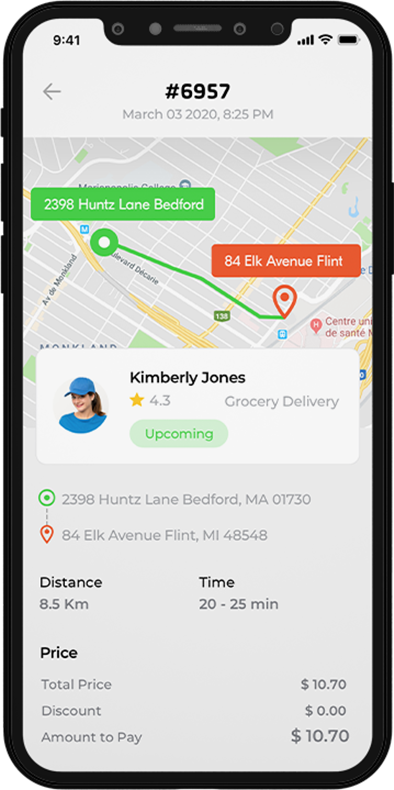 Manage Profile

The delivery boy can manage his profile by adding his name, photograph, contact address and number and upload necessary documents easily.

Accept/Reject Request

The delivery boy has full authority to accept or reject the order on the basis of his willingness to work.

In-App Call/Chat

To get the exact direction to the customer's location or to know anything in context to the delivery, the delivery boy can chat with the customer within the app.

Booking History

Drivers can track the entire booking history including the canceled ones.

Navigation

For quick and hassle-free delivery, the delivery boy can take the help of this GPS based navigation feature to find the path easily.

Earning History

Complete access to check anytime the earning details – hourly, daily, weekly or monthly.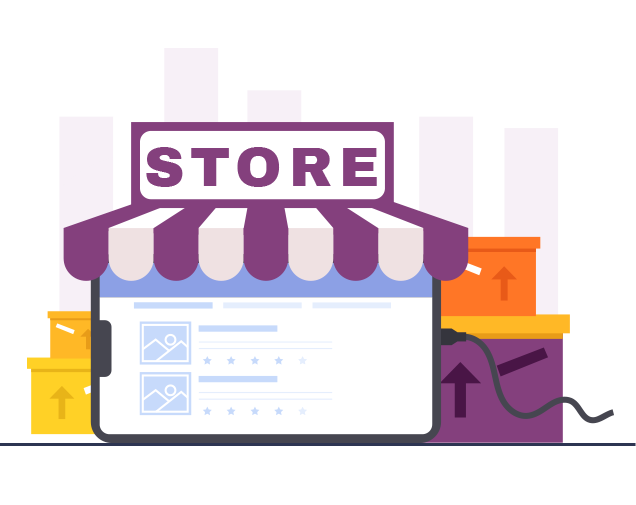 Store Owner Panel
Managing the store of the profile, categories, earnings, adding and deleting items, accepting/rejecting requests and many more can be accomplished via our well-designed store owner panel. With the help of easily accessible features, the entire store can be handled systematically and easily.
Manage Profile

With complete data on the screen, the store owner can manage his business profile in a better way and update the profile with essential data.

Update Service/Products List

As per the end user's demand, the store owner can effortlessly add or deduct products/services anytime.

Order Alerts

Real-time notification can be received the moment the customer places an order.

Manage Orders

Under-process, in-coming, dispatched or scheduled, all the orders can be managed seamlessly and without any hassle.

Earning History

To ascertain the business profits, the earnings can be checked as many times on a daily or weekly basis or on the basis of orders.

Manage Availability/Unavailability

Availability or unavailability of a particular item/service can be managed with ease just by an Available/Unavailable toggle.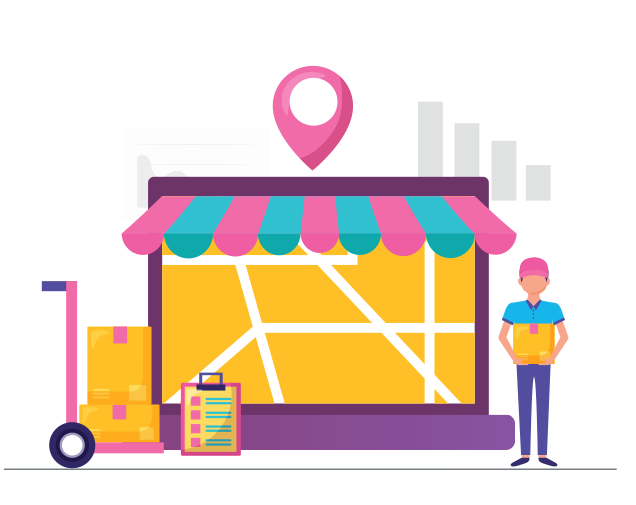 Admin Panel Features
Managing basic yet vital things for the smooth functioning of the venture, the admin needs a robust and powerful dashboard. We have created this admin panel diligently so that it meets the industry level standards and permits the admin to execute every business-related tasks efficiently. From this panel app growth and popularity can also be tracked.
Dashboard

With complete access to most of the essential business information and with overall statistics, admin can copiously supervise entire business activities within the app.

Manage Associated Service Providers

From a single place, irrespective of the count, all the associated service providers can be managed effortlessly for maintaining smooth working.

Manage Service/Product List

Holds full right to control the service/product lists by updating their prices, uploading or deducting items/services.

Order Tracking

To ensure the systematic work process is followed; the admin can keep an eye on every single order through the admin panel.

Feedback

The Admin collects all the valuable customer feedback from here and takes action on it for improvising the customer's experience.

Delivery Service Area

On the basis of the targeted area, the delivery service area can be set (either expanded or contracted) anytime with a few taps.
Customer App Design
Make using your app a breeze with our intuitive on demand delivery app development services. We make it easy for users to navigate through the app and also utilize its functionalities to the optimum.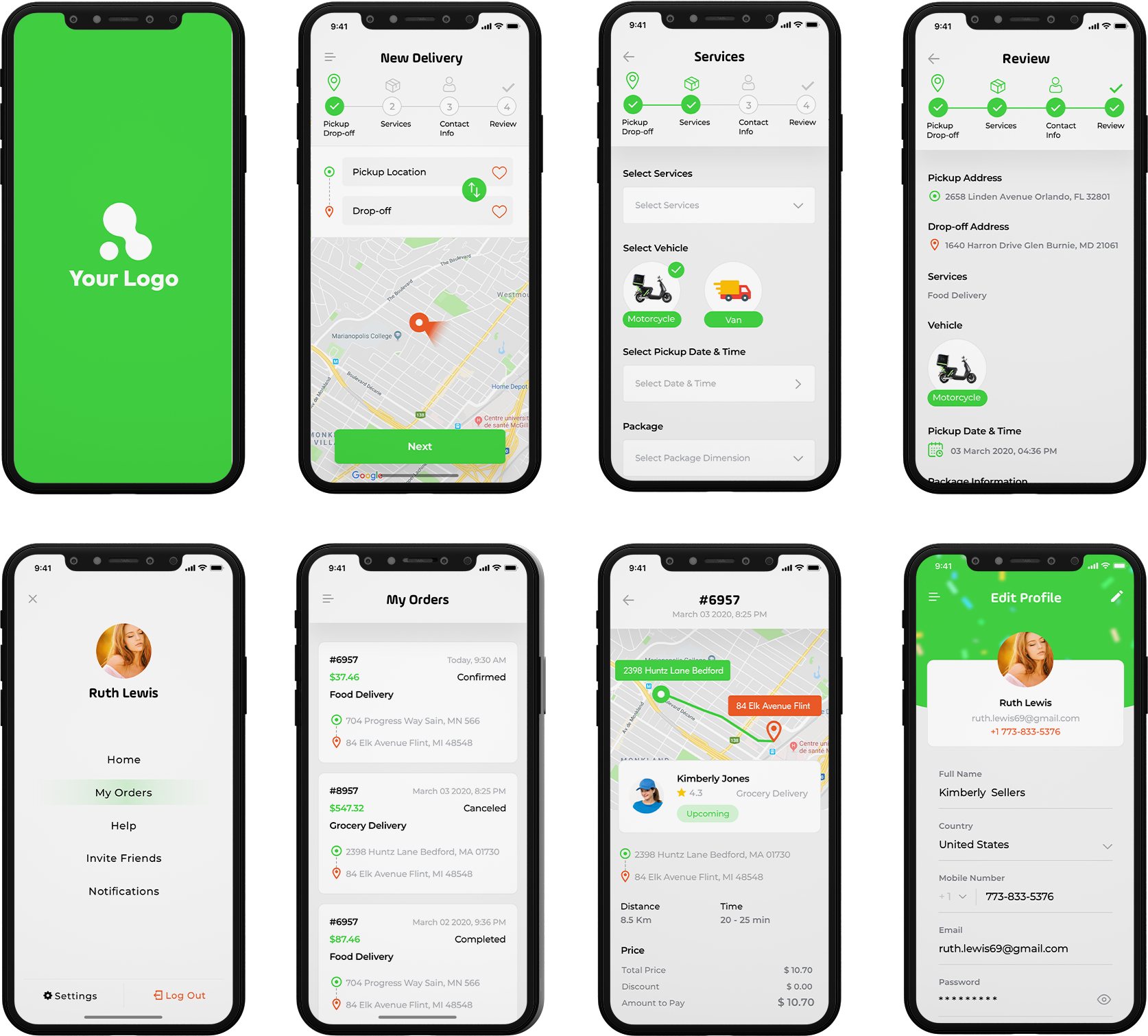 Driver App Design
Look how easy it is for delivery guys to receive information on orders to be delivered. They can send notifications to customers and easily find the address with the built-in functionalities.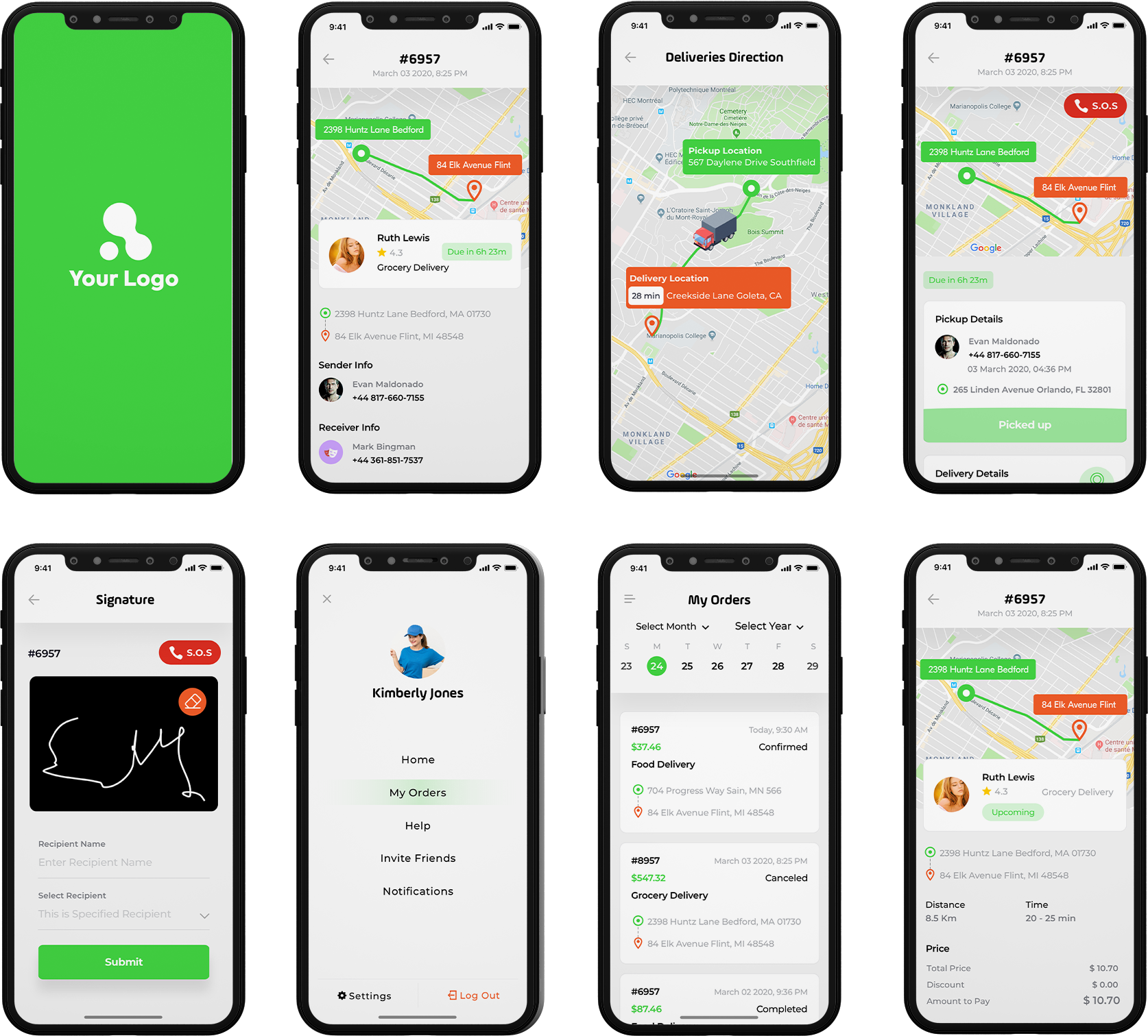 What We Deliver
Quality has been never compromised and we believe in delivering lively and vibrant on demand delivery apps that run smoothly on every platform and can be modified or updated as per your business requirements. If you are looking forward to building an feature-rich all type of delivery clone app, then feel free to contact us.
Customer iOS/Android APP
Delivery Boy iOS/Android APP
Full Functional Website
Customer Web Panel
Delivery Boy Web Panel
Delivery Company Web Panel
Billing Panel
Dispatcher Panel
Super Admin Panel
Full Delivery App Source Code
6 Months of Free Support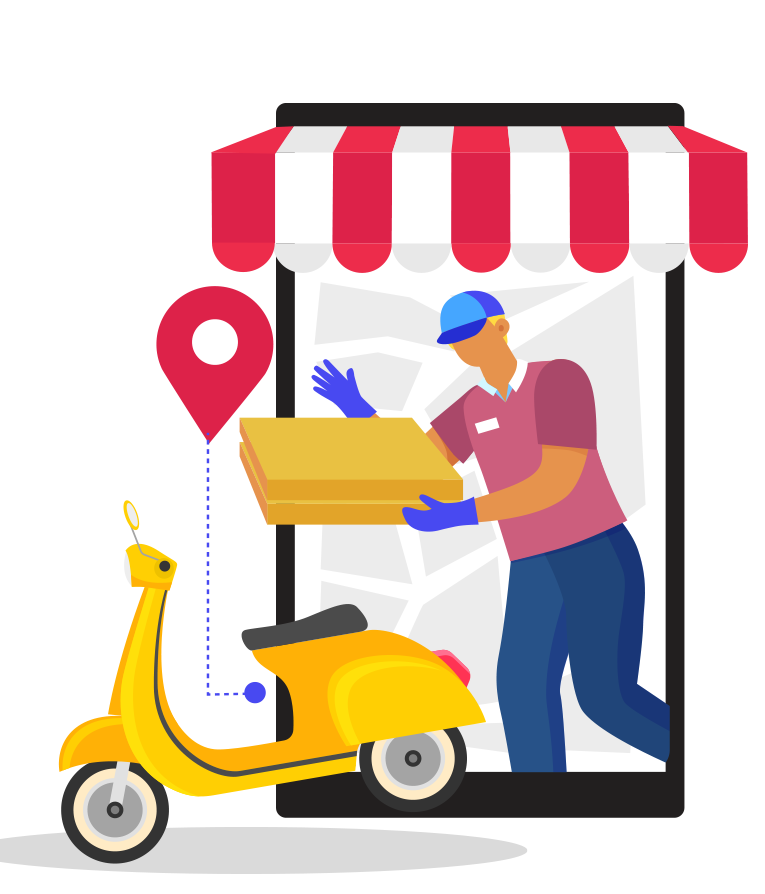 On Demand Delivery Service App Development Process
At our multi delivery app development company, our developers start project development from the scratch following a simple yet agile development process with an aim to offer our clients a hassle-free on demand delivery app development services.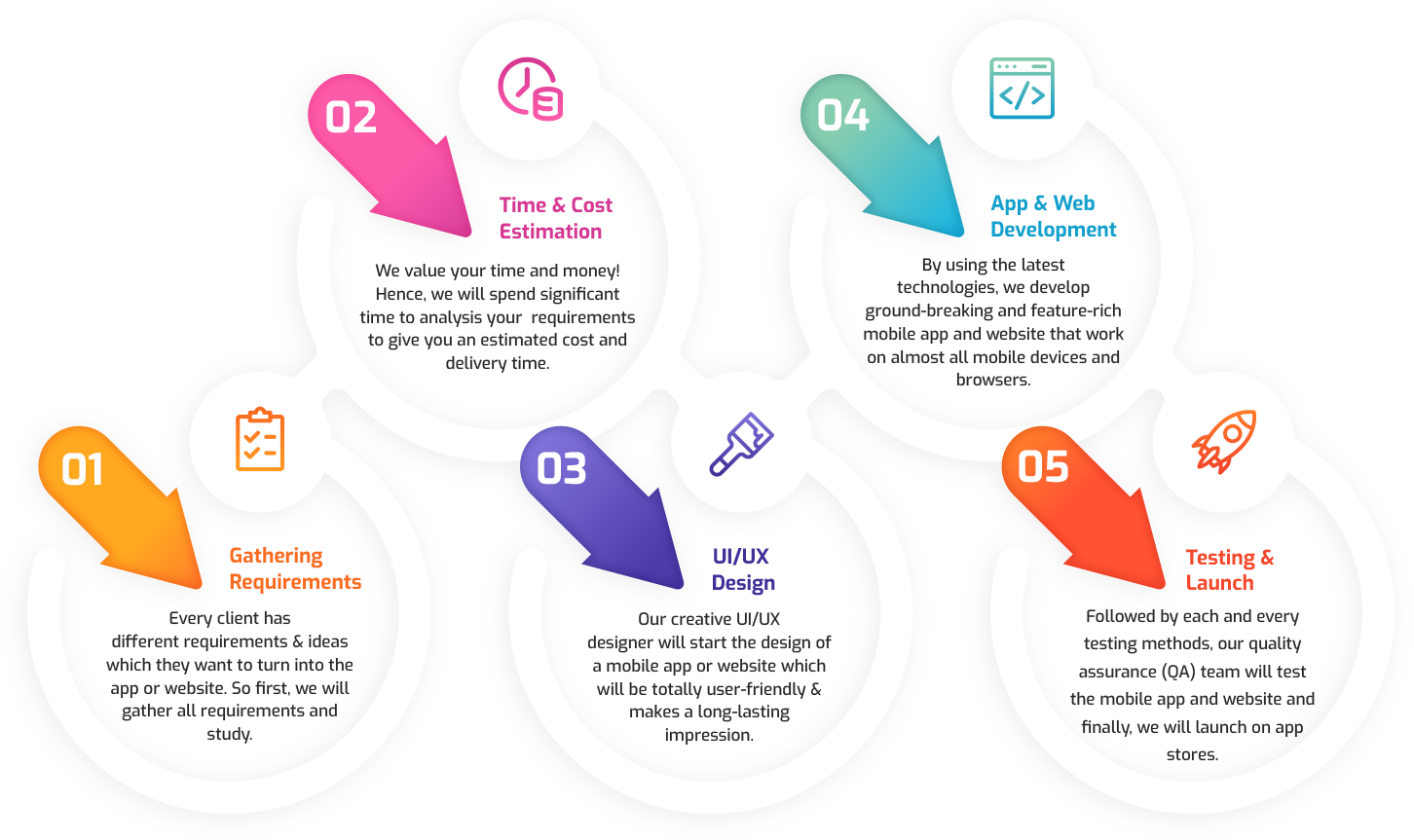 Our Technology Repository
We at PeppyOcean – a top-notch on demand delivery app development company, emerge with the most up-to-date technical specifications so that you can explore the actual importance of having an on demand delivery service app for delivery.
Flutter
React Native
Kotlin
PWA
Swift
Java
Ionic
Firebase
Backbone.JS
Angular.JS
Vue.JS
Node.JS
MongoDB
PostgreSQL
Google Cloud
Amazon AWS
Why Should Choose PeppyOcean?
Our motive is to provide our customers with highly scalable, user-friendly and robust solutions; hence we offer out-of-the-box delivery service app development solutions that make us stand apart from all other app development companies. Our knowledgeable and certified programmers make use of the latest technologies and tools required for developing a terrifically multi delivery app source code..
Flexible Solutions

Along with customized multi delivery service app development solutions, we expertise at creating robust code that would enhance your sales as well as ROI.

Matchless Support

Offering matchless support is what in which our specialty lies. We are available 24*7 to provide you optimum support and solve your queries as we take this as our responsibility from the very moment we sign a deed with you.

Timely Delivery

Considering your time's value, we aim at delivering flawless and scalable Uber for delivery app solutions within the stipulated time frame.

Visually Enhancing UI/UX

Ensuring that the app provides an enhanced experience to the users, we build delivery app source code with designs that are pristine and uncluttered.
Payment Gateway Offered
With plenty of payment gateway alternatives present, provide your customer with complete flexibility so that they can make payments in the most favorable manner.

Available in Brazil

Available in Turkey

Available in Kazakhstan

Available in Worldwide

Available in Worldwide

Available in Malasiya

Available in Worldwide

Available in Indoneisa

Available in Brazil

Available in India

Available in Worldwide

Available in India

Available in this Country

Available in this Country
UAE
Qutar
Egypt
Lebanona
Jordan
South Arabia

Available in this Country
Mexico
Ecuador
Venezuela
Colombia
Brazil
Chile

Available in this Country
Nigeria
Kenya
Ghana
South Africa
United States
Personalized Variations of Our On Demand Apps
On demand apps must be feature-rich catering entire technical aspects along with their implementations, industry constraints as well as several marketing aspects. Considering this, we provide you with quality on demand app solutions across the different industries like transportation, hospitality, healthcare, retail, and many more. Tell us your idea and leave the development part on us.
Extra Add-ons of Our Delivery Clone App
Features of the Uber for delivery app need to be clear as well as intuitive providing ultimate ease to its users. Apart from having regular app features, to make our app the most exceptional one and to boost its efficiency, we have added some extra features like: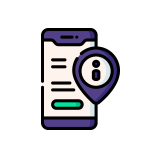 Advanced Search Options
By using filters and advanced search options the users can look for any specific products with ease.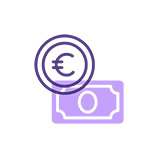 Multi-Currency Option
With the multi-currency payment options, even international users can buy products via our Uber for delivery app.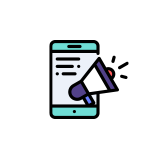 Wishlist
The wishlist feature enables the buyers to bookmark all those items that they would like to purchase in the future.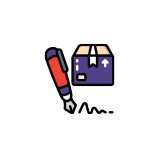 Digital Signature
Making the product digitized in every aspect, the app incorporates this digital signature feature, where the customer can sign digitally on receiving the delivery.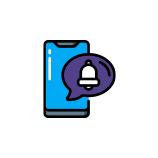 Notifications
The feature not only notifies the customer about the deals and discounts but also provides timely notification from the dispatch of the order to its actual delivery to the customer.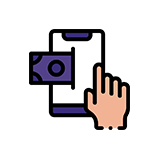 Multiple Payment Gateways
Multiple secured payment gateways like Stripe, WePay, Amazon Pay, PayPal, Debit/Credit cards and many more are available to provide complete payment flexibility to the users.
Reputed Company with Happy Clients
The positive feedback from our happy and valuable clients affirms the quality of our application. Our clients keep on sharing their achievements with us that they have achieved via our provided delivery service app development solutions.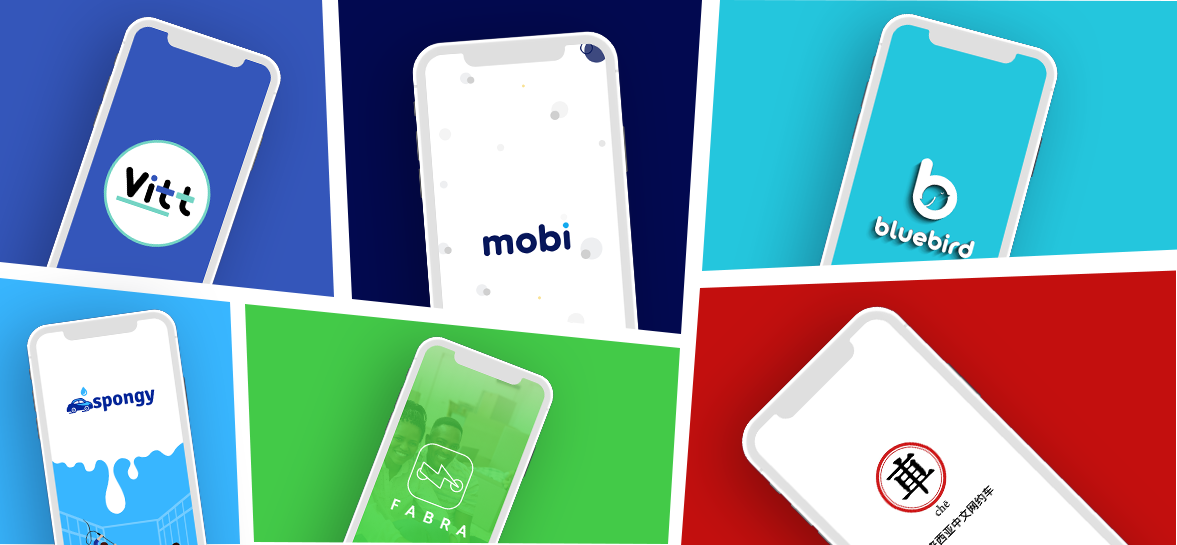 Richard Ling
Commitment to deliver regardless of the amount of time needed to completed the tasks.

Paola Baquero
They have a very complete team, where they attended each of my requirements and offered different solutions.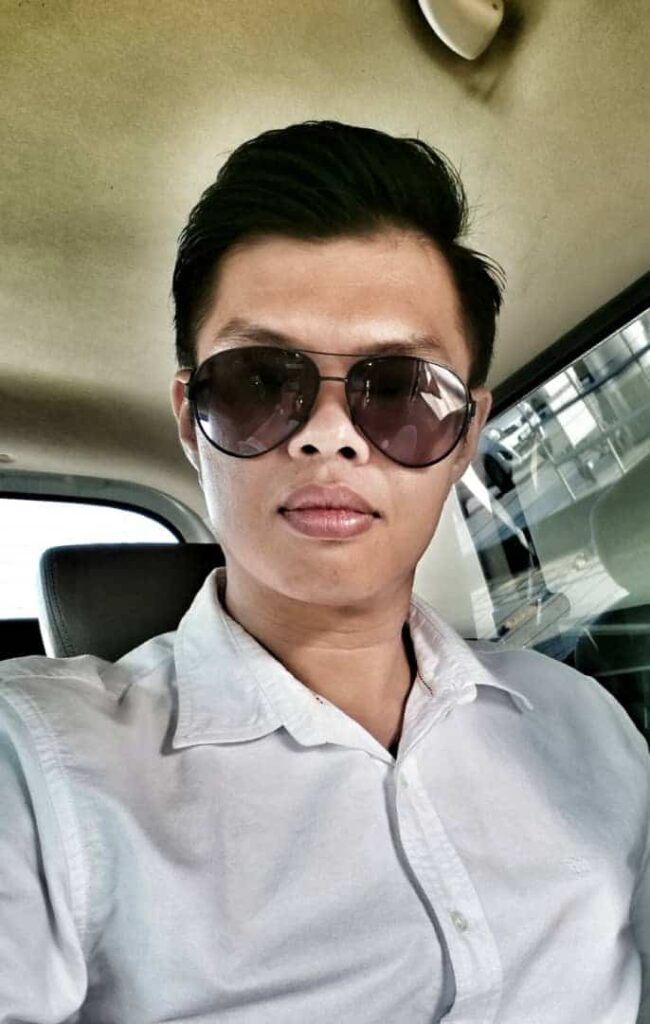 Andrew Yuen
They never fail me on all of our request and always complete the task according to time line.

Gourab Mukherjee
Extremely Reliable and a Hardworking team and good value for money

Faisal Al-Salem
Understand any requests even if we don't give a clear brief Very flexible team
BLOGS
We light the lamp of knowledge by spreading it. Sharing the knowledge we gain helps us enter deep insights and make meaningful transformations in the world around us. Look how we contribute towards a technologically better world.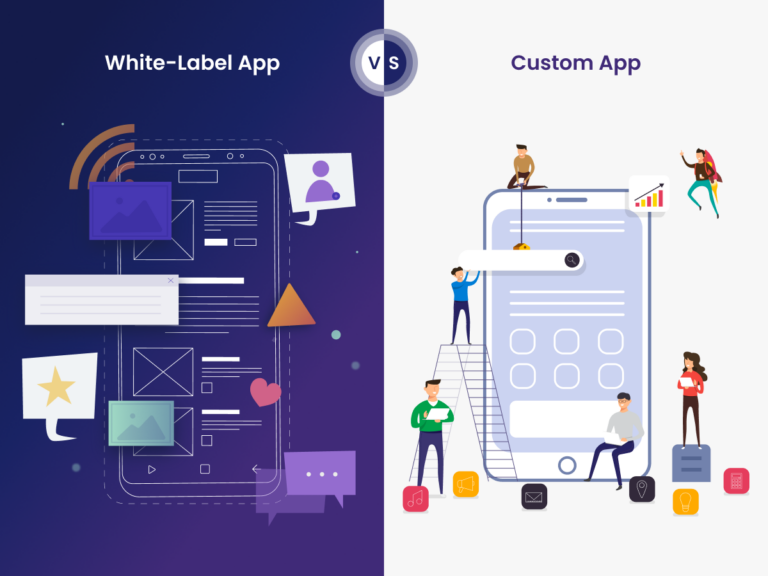 White Label App vs Custom App: Unveiling the Ri...
In today's fast-paced digital landscape, the choice between white label app and custom app is a pivotal decision that businesses must make when venturing into mobile application development. Both approaches
Continue Reading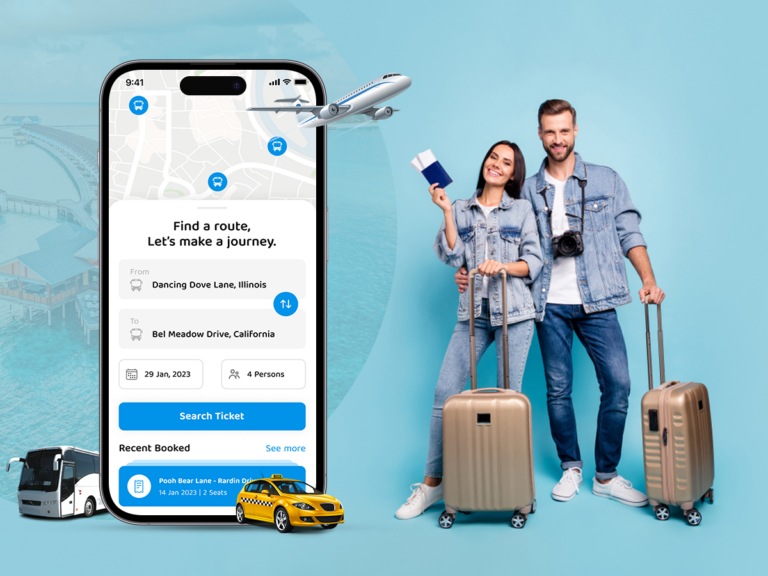 A Definitive Guide to Travel Booking App Develo...
Globally more and more travelers are opting for convenient and efficient digital solutions. As the world is moving towards a post-pandemic reality, travelers seek seamless travel experiences at their fingertips,
Continue Reading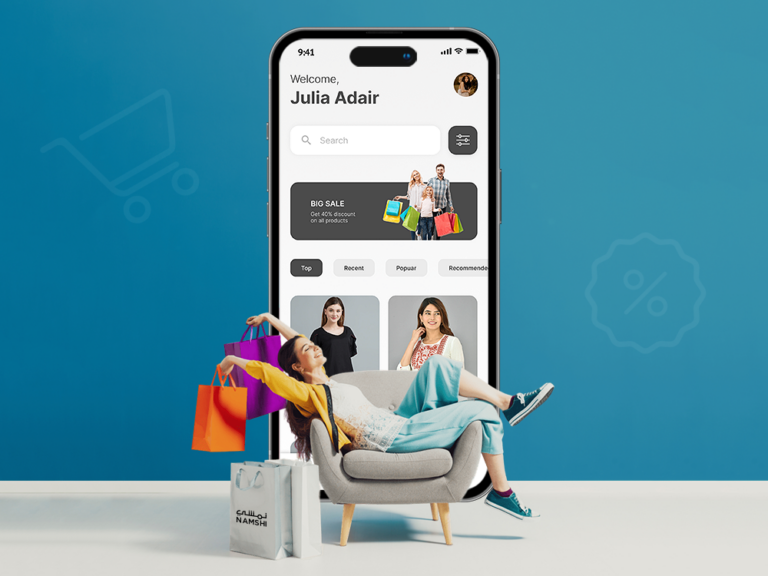 Estimate the Cost of Developing an eCommerce Ap...
eCommerce startup is a relatively new and booming trend in the business world today. If we consider how popular online shopping has become in recent years, it's no surprise that
Continue Reading