An Outstanding On Demand Courier Delivery App Development Company
Empower your courier or parcel delivery business with our powerful and advanced Uber for courier app solutions. The emergence of on demand apps like Uber has made the life of customers convenient and like many other sectors, the courier delivery sector too has transformed because of the on demand service's repercussion. If you're a courier business owner, you can power your courier network with PeppyOcean advanced on demand courier delivery app development services without investing more efforts!
Just because of the Uber for courier delivery app, the manner in which the courier delivery services were used to be provided has been altered completely. With our well-craft and flawless on demand courier delivery app development services, you can provide reliable and quick courier services to your customers residing in any geographical location all over the world. The fully-functional Uber for courier app built with scrutinized and the best techniques enable you to provide your customers with an omnichannel experience.
Our Uber for courier delivery app is designed in such a way that it serves as a one stop solution for customers, drivers and admin to help save time, save money, get rid of delivery trouble and most importantly save your precious items. Being a leading courier delivery app development company, our process involves transformational actions, which is a blend of our development strategy and creativity process.
On-Time Delivery

The incredibly build feature-rich the app makes the delivery of the parcel on time. The automatic system assigns the task to drivers once the customer shares their drop off location.

Real-Time Location

This exceptionally built feature will not only let you know your service where they are and where they are going but also allow you to have complete control over it in real-time.

Easy Tracking

With Google Maps embedded eloquently, the app tracking features allow you to easily track your service in real-time.

Logbook

To have a complete record of your bookings and delivery data, an efficient online diary embedded feature provides you with a complete view and log of your activities.

Social Media Integration

Using this exceptional feature, the user can share his experience on social platforms with his friends and families and advertise for the app indirectly to earn added benefits.

One Tap Invoice Download

The user can download the invoice and transaction history with a single tap to save a hard copy of the transaction in his office files.
How Does Courier Delivery App Work?
Get cost-effective on demand courier delivery app services for iOS and Android platforms with exceptional features like order entry, document verification, parcel tracking, digital signature and many more. Let's take a view on the work flow of courier or parcel delivery mobile app.
Login/Signup

1

Make a Request

2

Payment Option

3

Track Courier

5

Ratings & Reviews

6
The customer first signs up using their phone number or email or social media accounts such as Facebook, Twitter. etc.
All you have to do is fill in where your parcel is going (fill pick up & delivery location), and parcel types (such as document, products or small package) and select vehicles (such as van, truck or car).
After making a request, the customer can pay by multiple payment gateway integrations in the application such as credit/debit card, E-wallets, COD, etc.
After successful payment, the delivery agent receives your request and accept it. Customer will get a notification when delivery boy delivered your parcel.
With this important feature, You can track the delivery guy in real-time by using GPS tracker integrated into the app.
Customers can share their experience based on service, quality, pricing and other factors in the form of ratings & reviews.
Customer App Features
The easiest way to parcel the goods to your loved ones with this Uber for courier app available on both iOS and Andriod. Embellished with incredible features, the courier service app is highly user friendly and provides easy access to instantly book the parcel service for your goods and easily find the courier agency that delivers service to your doorstep.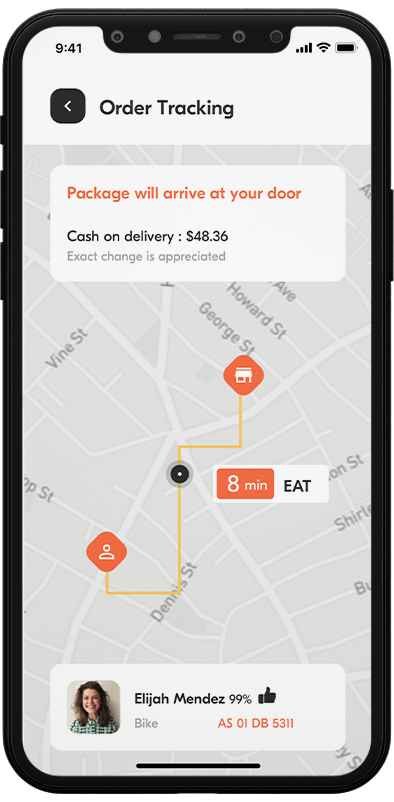 Register/Signup

Customers can easily register through their email id or phone number. Alternatively, they can log in through their social media login details instantly.

Pick/Destination

It is hassle-free for customers to set up the location of the product to be delivered and pick up the destination for the delivery of the product.

Digital Payment

It is convenient for customers to pay online for any order placed on the app. With varied payment modes available, it becomes simpler and easier to quickly opt for the available option.

Notifications

Users get an instant notification once the good is delivered at the designated destination. Also, notifications of an order confirmation, status updates on the order and offers, discounts, etc.

Change Address

Customers can easily change the desired location for parcel delivery. They can change this either by auto-complete suggestions or pinning the location on the map.

Real-Time Tracking

It is quick to track the delivery provider's real-time location as soon as their order gets picked up. Customers can track the details until it is delivered.
Delivery Boy App Features
Expert in the latest technology and dexterous in delivering the most sophisticated courier app development services, we excel in empowering businesses to boost their growth. Inbuilt with innovative features, it is the perfect app that helps to get items delivered – with quick accept/reject delivery request option for the delivery boy.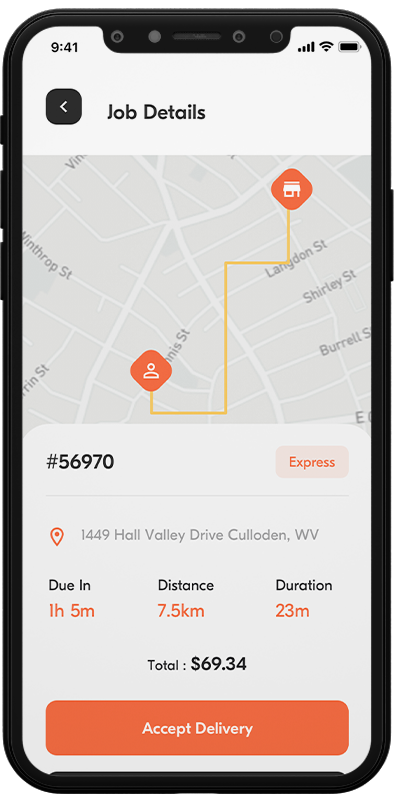 Create a Profile

It is easier for delivery men to create and access the whole profile details and edit as per the requirements through this feature in the application.

Submit Documents

Just by uploading the essential required documents to the application, the delivery boys can start receiving the delivery requests.

Earning details

Delivery boys have easy access to check their earning details in their earnings reports daily, weekly basis or according to order earnings too.

Navigation

For hassle-free and quick delivery, the delivery boy is provided with outlets and customers' locations for easier navigation on Google Maps.

Route Optimization

This excellent route optimization feature in the app allows providers to find the best plausible and fastest route to delivery or pick up location.

History

Delivery men can look into the history of the whole delivery with details including the completed, pending and cancelled deliveries.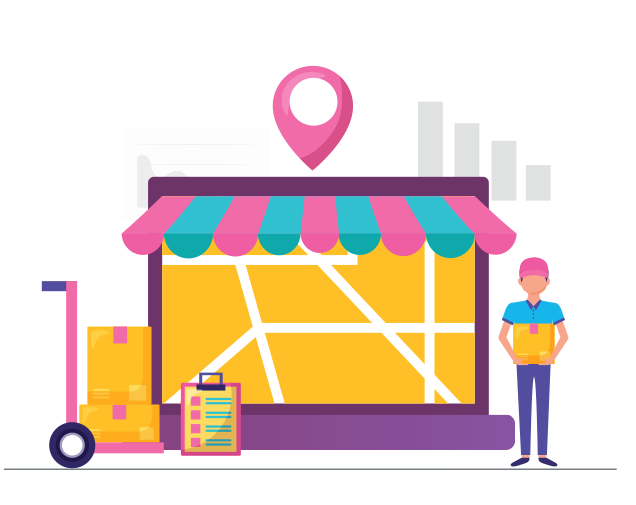 Admin Panel Features
Whether updating drivers' requests or accepting customers' delivery requests to assigning the delivery service manually to delivery boys, Admin has all the access and can easily manage the whole cycle.
Manage Order

Quite easier to manage orders whether getting a new order request online or managing all orders on one page – active or new, with complete order details, everything is accessible.

Manage Delivery

Admin can check and view all the delivery service details after assigning delivery tasks to the respective delivery service providers. From a single tab, everything is easily manageable.

Delivery Service Radius

Admin can set a delivery area radius according to their business goals. Whether long-distance or a short delivery radius, Admin has full access to either expand or contract the areas or locations, they think to target.

Manage Driver Details

Admin can easily manage delivery provider details along with their earning details, work activities, service details, and bank details.

Vehicle Management

Admin has the authority to pick up the vehicle for the delivery provider to complete delivery service and easier to manage all delivery service vehicles.

Add Cities

It's a matchless feature that allows Admin to add multiple cities under the country and manage city details like city code, radius, time zone, latitude, etc.
Customer App Design
Get a custom app developed with better features that would offer ultimate convenience to your customers. By providing your customers with a comprehensible courier delivery app, let them track the actual location of their parcels with the live tracking feature and get in touch with the driver with the in-app chat feature.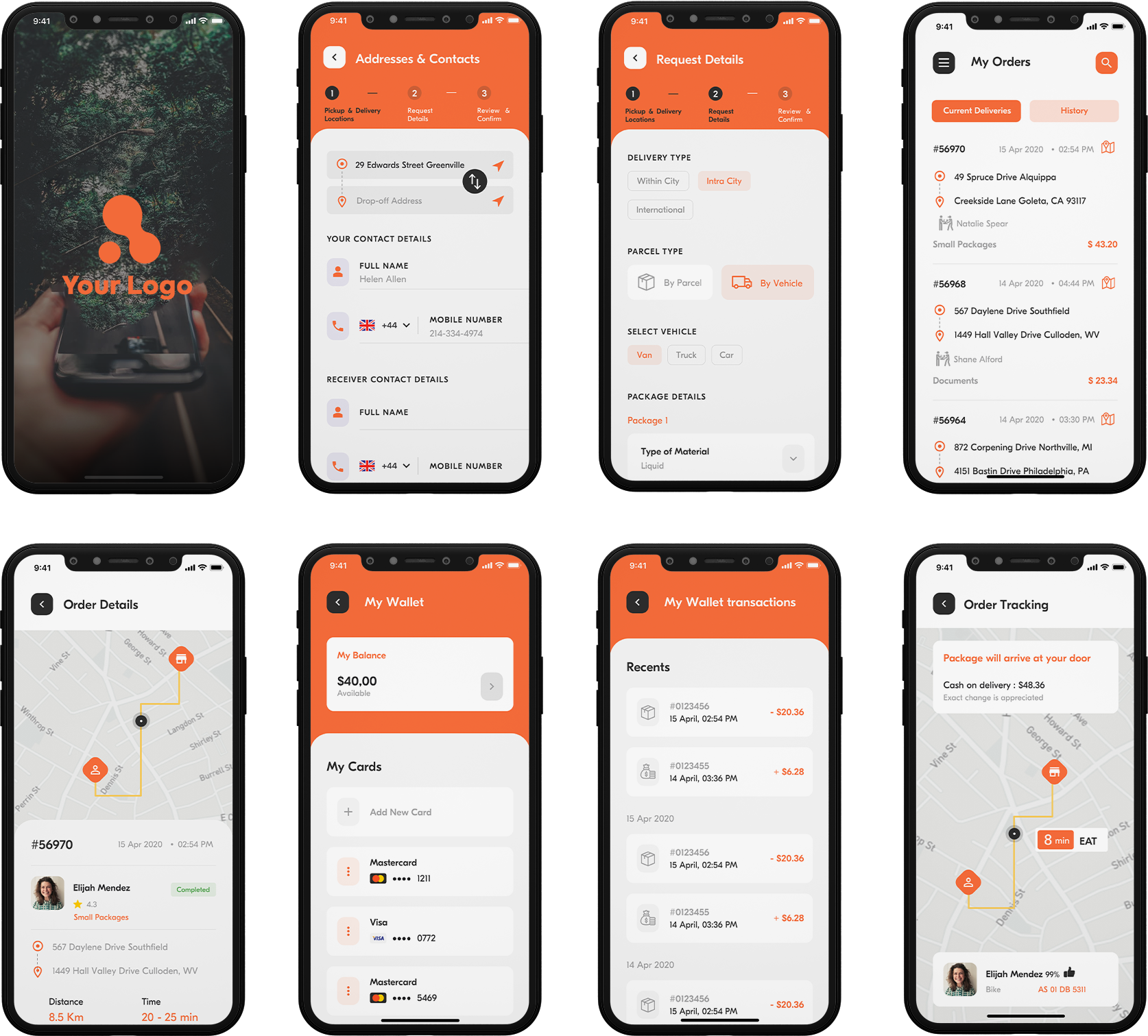 Driver App Design
User-friendly features such as easy navigation, real-time notifications, logbook, pick-up list, history, and many more are incorporated into the delivery boy app that would enable your delivery personnel to access the app easily and execute their tasks without any flaws and on time.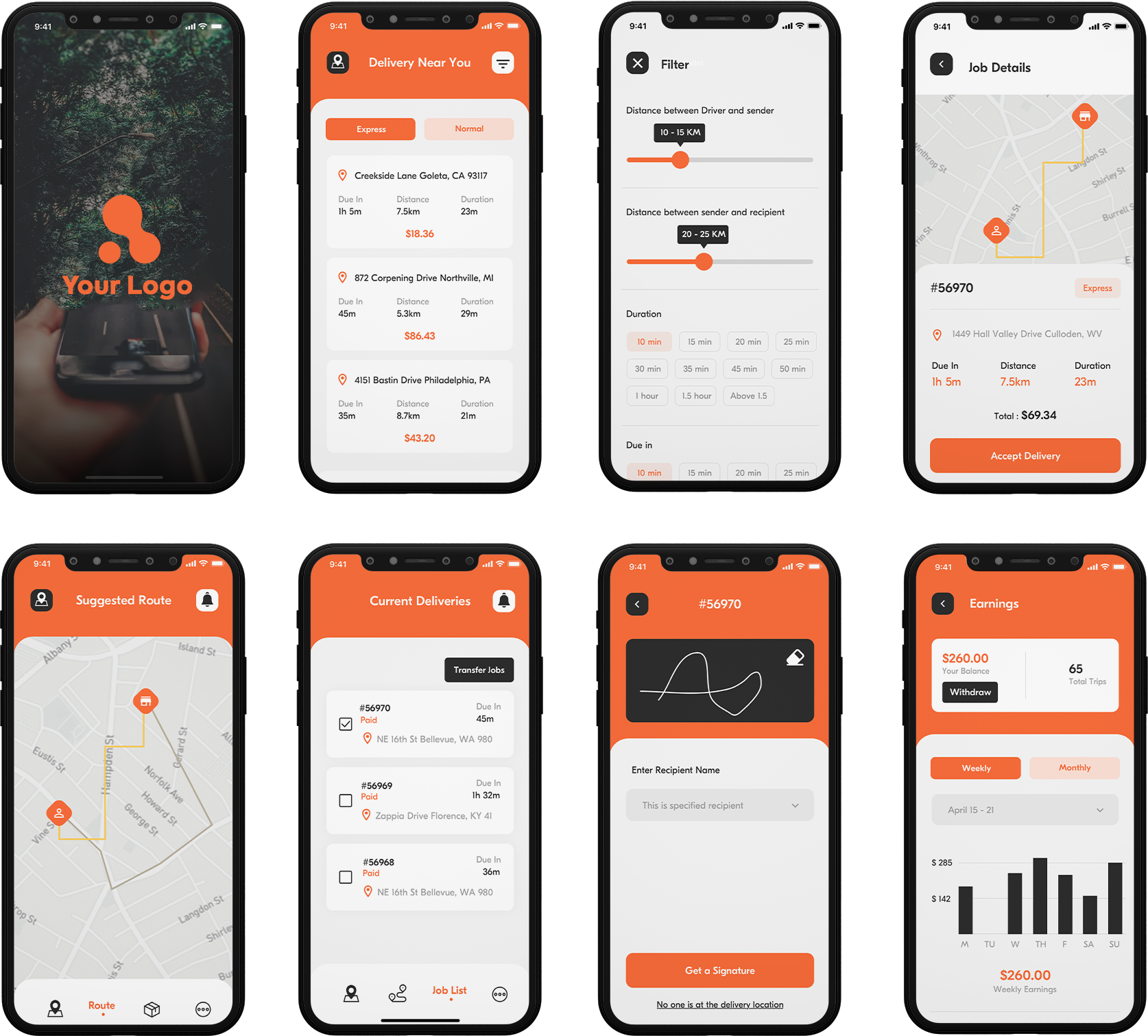 What We Deliver
To make the complete cycle work profusely and seamlessly, the courier service app comes with various aspects, add-ons and parameters offering the best of services to all – Customers, Drivers, and Admin and Business owners.
Customer Android/iOS APP
Delivery Boy Android/iOS APP
Full Functional Website
Delivery Company Panel
Partner Panel
Billing Panel
Dispatcher Panel
Admin Panel
Full Courier App Soure Code
6 Months of Free Technical Support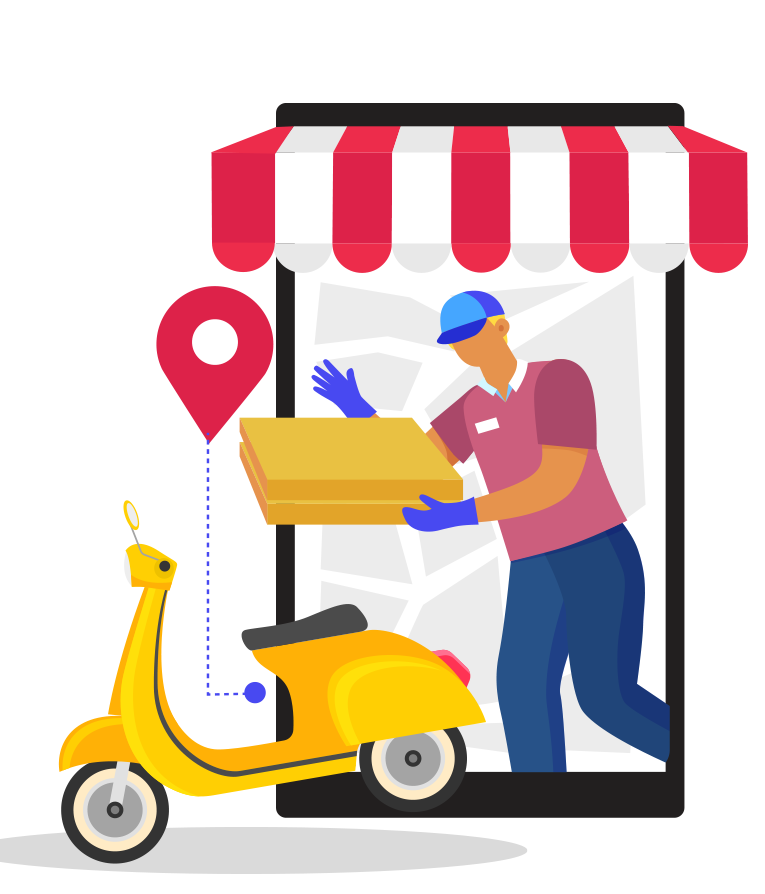 Our Courier App Development Process
With a passion to deliver scalable and secure on demand courier delivery app development services, our skilled courier app developers brings a gamut of unique features that will surely save time, money and of course, your delivery troubles! Leveraging the best of technologies and implying the robust tools and agile methodologies, we bring in best in our courier app development process that runs smoothly conquering each stage deliberately.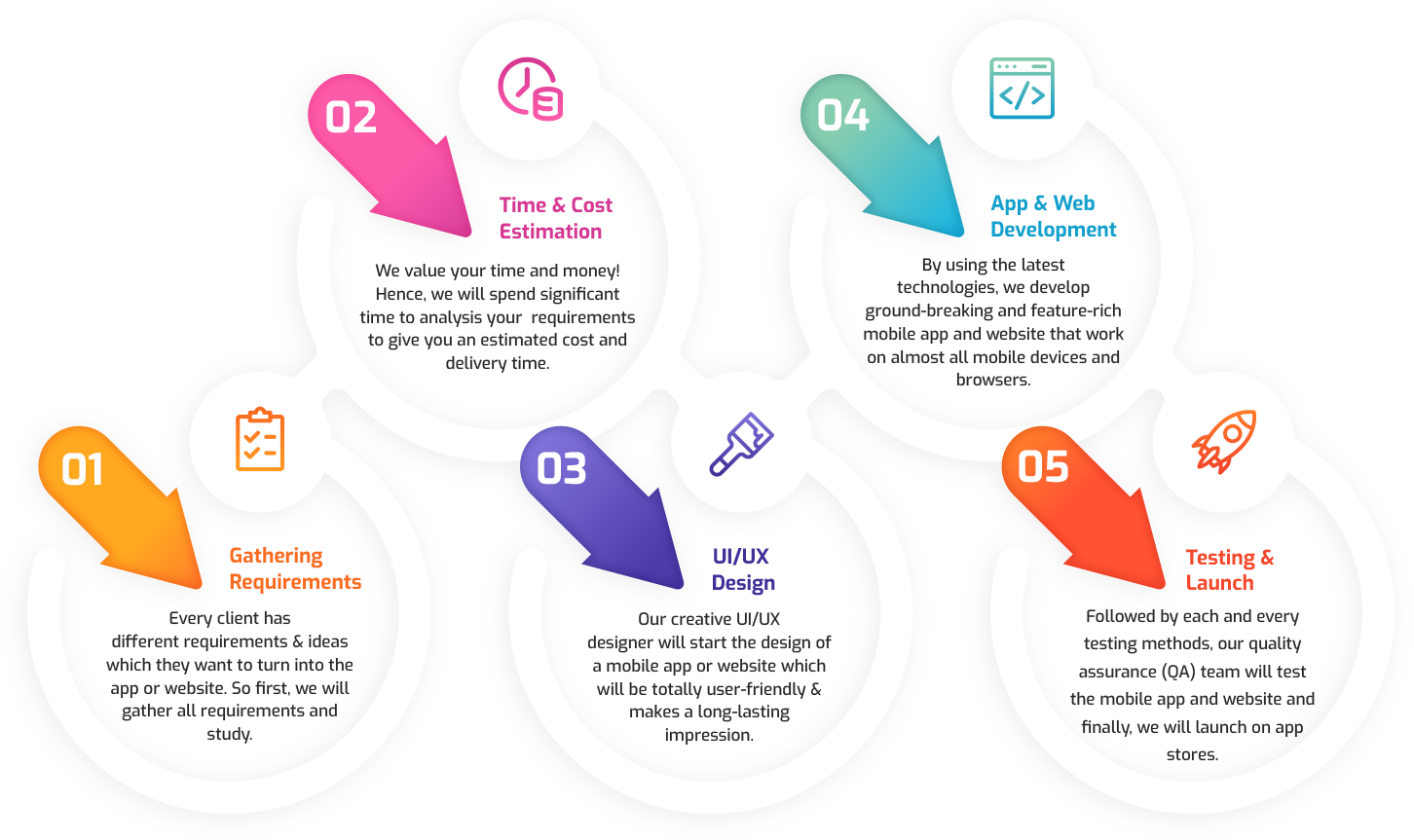 Our Technology Repository
Reputed in innovative solutions and experts in on demand courier delivery app development services, our mobile app developers harness the potential of traditional and latest technologies and tools to tailor-cut the most effective solutions.
Flutter
React Native
Kotlin
PWA
Swift
Java
Ionic
Firebase
Backbone.JS
Angular.JS
Vue.JS
Node.JS
MongoDB
PostgreSQL
Google Cloud
Amazon AWS
Why Should Go With PeppyOcean?
Experience matters a lot & that's what we have been doing since beginning by crafting innovative, flawless & ace on demand courier app development services. Creating amazing stories, pouring life into things and converting dreams into reality is What We Do and that sets us matchless.
100% Customizable

We offer ready to use 100% customizable apps along with courier app source code that can be customized as per your needs hassle-free.

Interactive Interface

We aim at offering a feature-rich interface for both the delivery personnel and the customers enabling them to navigate with ease through the on demand app.

Free Technical Support

Post-launch support is provided round the clock via every possible means so that your business functioning doesn't get stuck in between because of technical flaws.

White-Label Solutions

We offer complete white-label courier app development services, onto which you can with ease place your company name, logo as well as other brand-related things on the app.
Payment Gateway Offered
According to your business requirement or feasibility, select from an array of Payment Gateways:

Available in Brazil

Available in Turkey

Available in Kazakhstan

Available in Worldwide

Available in Worldwide

Available in Malasiya

Available in Worldwide

Available in Indoneisa

Available in Brazil

Available in India

Available in Worldwide

Available in India

Available in this Country

Available in this Country
UAE
Qutar
Egypt
Lebanona
Jordan
South Arabia

Available in this Country
Mexico
Ecuador
Venezuela
Colombia
Brazil
Chile

Available in this Country
Nigeria
Kenya
Ghana
South Africa
United States
Personalized Variations of Our On Demand Apps
On demand apps must be feature-rich catering entire technical aspects along with their implementations, industry constraints as well as several marketing aspects. Considering this, we provide you with quality on demand app solutions across the different industries like transportation, hospitality, healthcare, retail, and many more. Tell us your idea and leave the development part on us.
Beneficial Add-ons of Our Courier App
Successful apps come with effective features. Loaded with ingenious features and functionalities, our Uber for courier app has something unique and more to offer.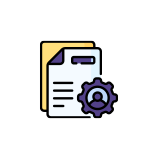 Efficient Management System
With varied panels and customized tools, our on demand app turns the messy management into an organized and systematic way.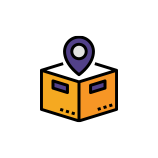 Easy Tracking
With excellent inbuilt professional courier tracking feature app for the customers help to track the service easily and a user can track it based on location.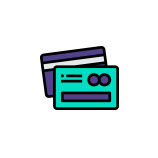 Online Payment
The online delivery app includes a reliable online payment feature that has well-integrated various payment platforms instilled by developers through API.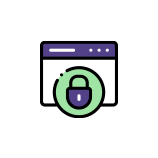 Secure & Transparent
The Courier delivery app is completely secure and fully transparent. The authorized payment gateways are fully secured and the tracking system offers complete transparency.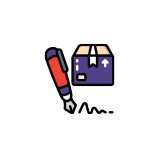 Digital Signature
Bringing digitalization in every aspect, our on demand courier app development services provide a digital signature facility, where the signs are taken in the format of digital signature.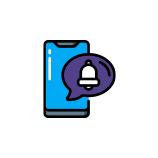 Push Notifications
Our courier service app development solution is designed in such a way that the user and the delivery service provider both can receive notifications for their parcel.
A Real Company With Happy Clients
Our clients are walking testimonies. Once the project is delivered and revenue starts generating in, our clients invite us to their success party. And, we capture these beautiful moments to cherish and share our stories. Bringing smiles on their faces is our biggest success.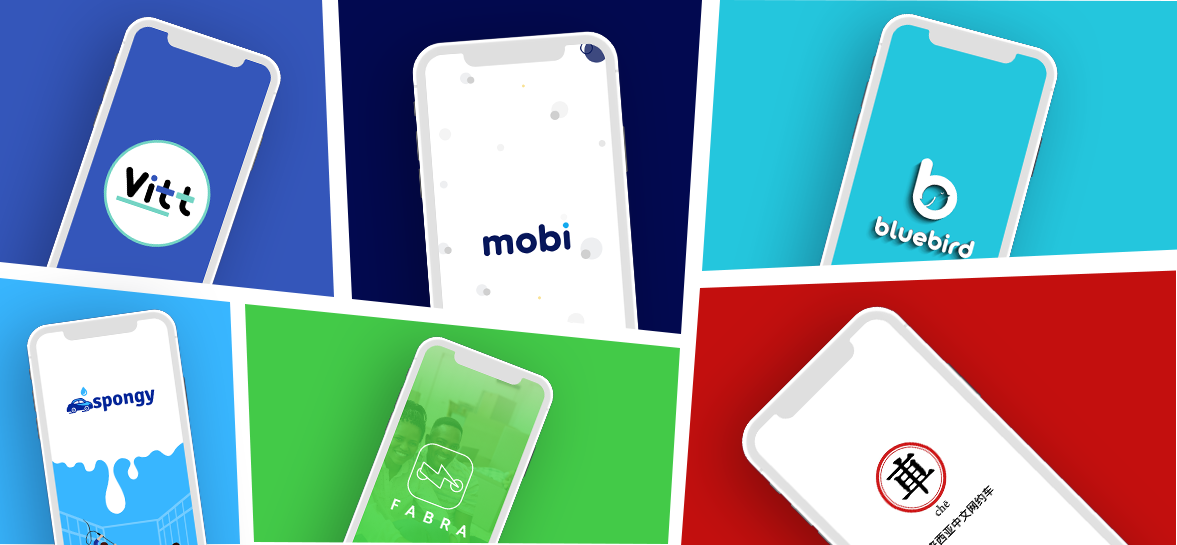 Richard Ling
Commitment to deliver regardless of the amount of time needed to completed the tasks.

Paola Baquero
They have a very complete team, where they attended each of my requirements and offered different solutions.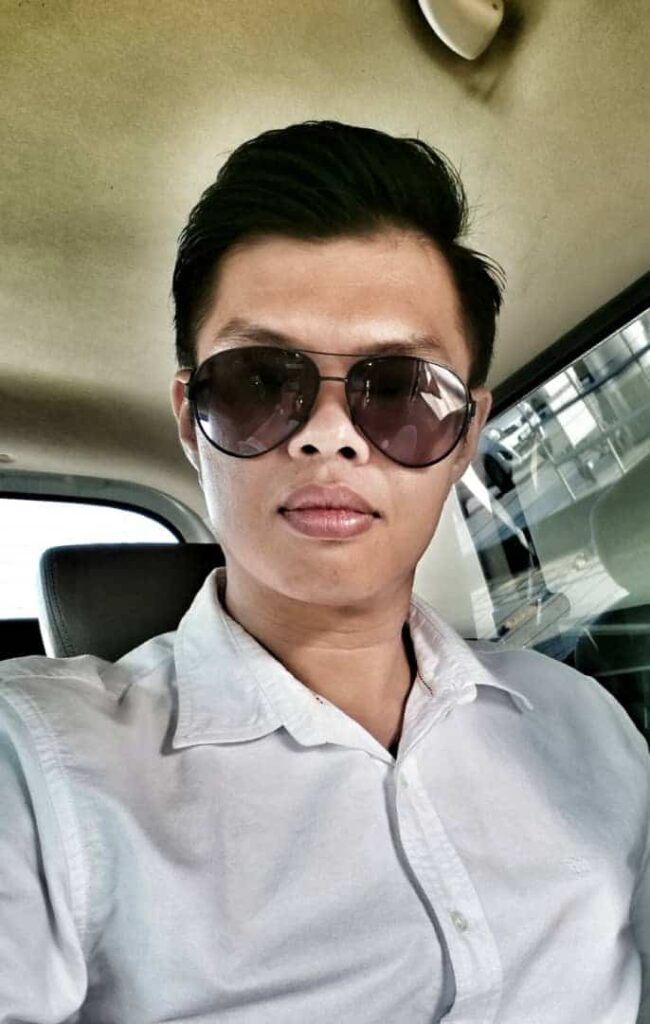 Andrew Yuen
They never fail me on all of our request and always complete the task according to time line.

Gourab Mukherjee
Extremely Reliable and a Hardworking team and good value for money

Faisal Al-Salem
Understand any requests even if we don't give a clear brief Very flexible team
BLOGS
We light the lamp of knowledge by spreading it. Sharing the knowledge we gain helps us enter deep insights and make meaningful transformations in the world around us. Look how we contribute towards a technologically better world.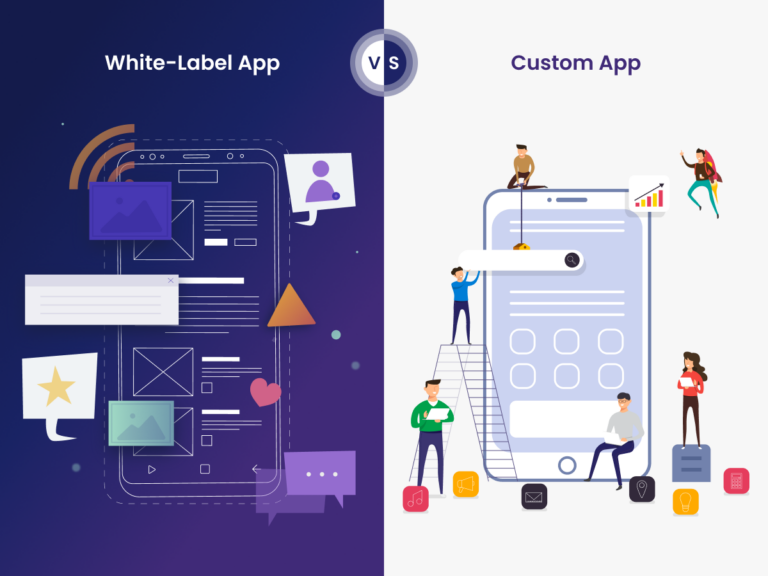 White Label App vs Custom App: Unveiling the Ri...
In today's fast-paced digital landscape, the choice between white label app and custom app is a pivotal decision that businesses must make when venturing into mobile application development. Both approaches
Continue Reading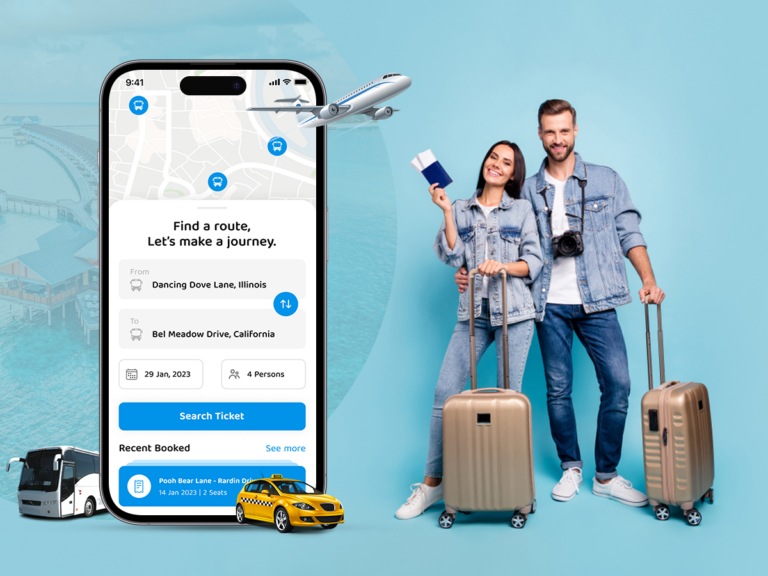 A Definitive Guide to Travel Booking App Develo...
Globally more and more travelers are opting for convenient and efficient digital solutions. As the world is moving towards a post-pandemic reality, travelers seek seamless travel experiences at their fingertips,
Continue Reading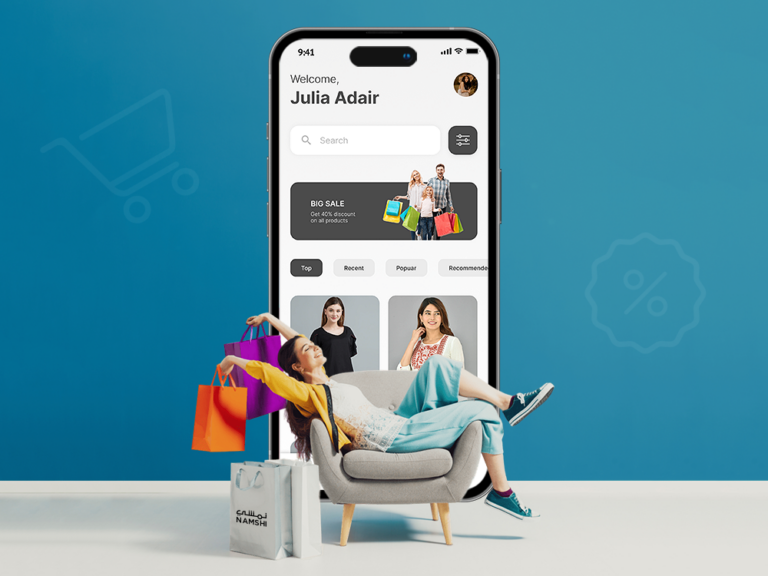 Estimate the Cost of Developing an eCommerce Ap...
eCommerce startup is a relatively new and booming trend in the business world today. If we consider how popular online shopping has become in recent years, it's no surprise that
Continue Reading