Easy Checkout
Smooth and uncomplicated checkout option so that not a single customer deter from completing his purchase.
Diverse Categories
Numerous product categories listing various products under the right category as well as subcategories in an organized manner.
Payment Gateways
From various payment gateways available, the customers can take the pleasure of ease of payment.
Re-Order
Using this feature, the customer can place orders for the same products again and again without going through the product search process.
Why Go For Our Ocado Clone App?
With our innovative Ocado clone app, your customer can access the entire product list of all the listed grocery stores as well as caters to the needs of your customers optimally. The creative UX/UI designs and user-friendly features have been attached for easy grocery ordering with simply a few clicks and taps. Our robust back-end and front-end technology and apt Ocado clone app source code used for creating the app enables the customer to shop from anywhere, anytime. Right pictures attached to the products make it easy for the customer to differentiate between several products having the same keywords and pick the product that he has been searching for.
What Do We Offer With Our Ocado Clone Script?
Creativity and exuberance fuel our caliber. We do not just deliver Ocado clone script to our clients, rather add value to their business and enhance their customer engagement thereby shooting their ROI graph. We help startups in growing their business on the online platform efficiently and quickly within their planned timeline and budget.
Lucrative Solutions

Corroborating your vision, we develop navigable and lucrative mobile apps, which can be accessed from anywhere and across any device.

100% Customization

Simple and affordable customized white-label solutions are offered to which you can give your brand name and add features matching your business needs.

Screen Compatible App

Leveraging responsive wireframes and style tile, we develop web apps that could run flawlessly on desktop, mobile as well as tablet screens.

Robust & Scalable

Our scalable and robust Ocado like grocery delivery app development services across several industry verticals and various platforms.
How Does Our Ocado Clone App Work?
Balancing perfectly our innovative tactics with the ultra-modern technologies, we script every feature of the grocery ordering and delivery app with the right Ocado clone app so that the in-app processes from grocery product selection to its shipment and processing secured payment everything is carried out impeccably.
Easy Registration

1

Search or Browse Stores

2

Search Products and Book

3

Confirm the Order

5

Receive the Order

6
Customers can easily signup or sign in through email id or mobile number. By doing so customers will get the OTP (one-time-password) to verify. Customers can also signup directly through their social media accounts such as Facebook, Twitter, etc.
After a successful login, he/she can able to see multiple grocery stores on the map. By clicking on the store icon or name, customers can check full details of the store like name, description, timing and all.
After selecting the store, customers can able to see available all grocery items along with details. The customer can also search for products manually and book the order.
There are multiple payment options available in the app such as credit/debit card, net banking, COD or through the in-app wallet.
After placing an order by the customer, automatic notification sent to the grocery store and store confirm the order, pack the order & give it to the delivery boy.
The delivery boy will pick the order from the grocery store & deliver it to the customer's location. Delivery boy can track the store as well as the customer location in his app. Also, customers can track the location of the delivery boy and estimated arrival time.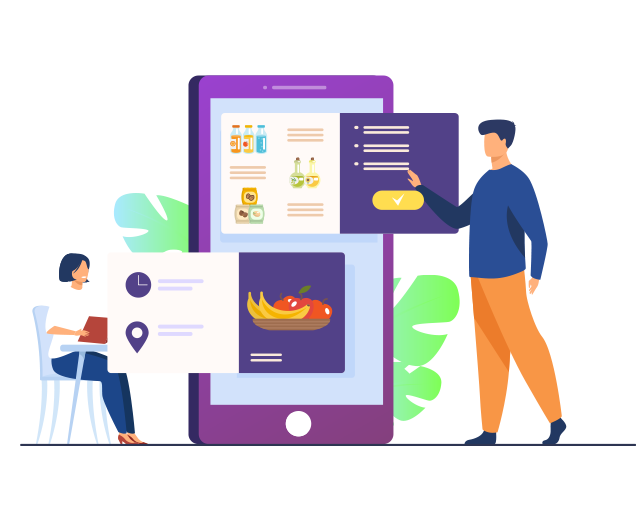 Customer App Features
Without any fuss and annoyance, now the customers get a very good tool coded with our imperative Ocado clone scritp via which they can order for their groceries while being within their comfort zone. Loaded with ready to use and easy to understand features, every age group user can access the app with a few taps and shop for the desired products.
Sign-Up

A new account can be set up instantly just by feeding the Google id, social media id or phone number.

In-App Helpline

Customer support team can be easily contacted if the customer has any query or wants any updates regarding services.

One-Step Checkout

The customer needs to add the payment details only once and after that, they can commence payments with a single click.

Shopping List

The customers can prepare their shopping list within the app as and when they recall the items and place orders for all of them together when the list is ready.

Wishlist

The items that they want to purchase later can be added to the wishlist so that instant purchases could be made in the future without recalling their names.

Product Search Filter

Products can be found with lightning speed as soon as the keywords, categories or name is entered.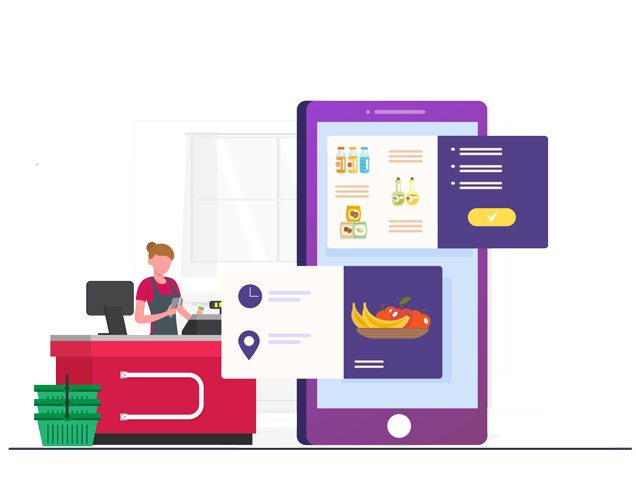 Store Owner App Features
Simple yet expressive app created after hours of coding sessions and splendid Ocado clone script, this app aids the store owner in providing his esteemed shoppers with a wonderful shopping experience by quickly responding to their orders and delivering those goods as early as possible.
Receive Notification

An essential feature assisting the store owner in receiving the orders from the customer in real-time.

Items Delivery

Delivery details like the drop point, date and time can be sent to the drivers with a single tap on the app.

Truck Driver

The delivery boy can be tracked from the very moment he picks the delivery and heads towards the drop point.

Accept/Reject Order

On the basis of the distance of the drop point or due to any other valid reason, the store owner can reject the customer order.

Delivery Scheduling

The store owner can schedule the time slots for making deliveries as per his own convenience.

Delivery Status

The status of every order gets updated automatically over here which can be viewed by the store owner at the end of the day.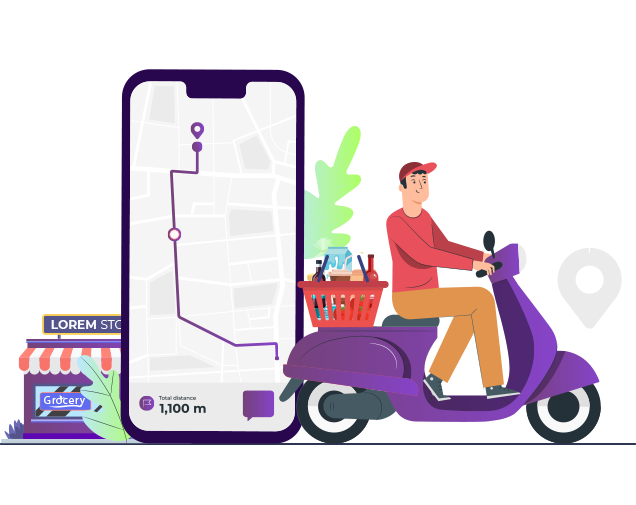 Delivery Boy App Features
Equip your drivers with our comprehensive app solution for delivery boys developed using effective Ocado clone app source code so that they can avoid the heavy traffics and big queues and deliver orders on-time. This app plays a crucial role in enhancing the deliver boys's competence thereby helping him in earning a handsome amount by accomplishing several delivery tasks in a day.
Delivery Alerts

Real-time delivery alerts can be received along with all the necessary details such as customer's name, address and time.

Geo-location

From this feature, the exact location of the store and the customer can be acquired and deliveries can be made on time.

In-App Chat

To clear queries related to the order, the customer and the store owner can be contacted with a single tap.

SOS Button

Instant help can be acquired by the driver during emergency situations via this noteworthy feature.

Availability Settings

Using this feature, the driver can update instantly his availability or unavailability with a single tap.

Track Earnings

The entire earnings of the driver gets saved over here and the driver can view them whenever he wants to ascertain how much he has earned.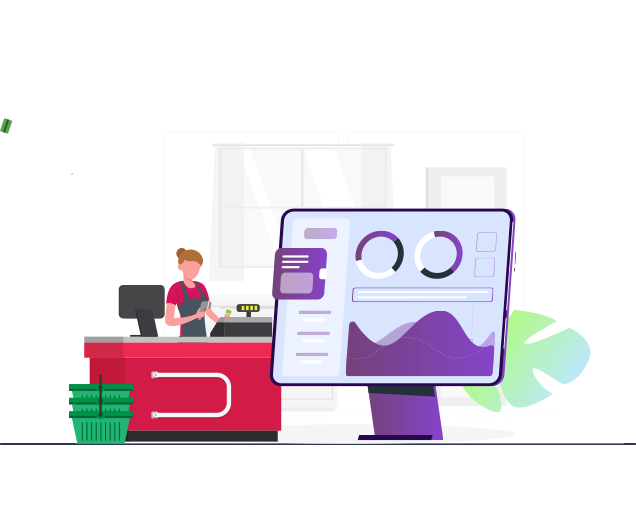 Store Owner Panel
Utilizing a powerful store owner panel, the store owners can immaculately manage grocery orders of multiple customers at a time and perk up their online sales. By means of this intuitive panel, sales can be tracked, inventories can be controlled, customer behavior can be examined, etc. rightly leaving no space for inaccuracy.
Product Availability/Unavailability

If any product is running out of stock then the store owner can update the product's availability as "Unavailable."

Customer Support

Customer's issues related to the store can be addressed with ease by the store owners via this feature.

Add Products

New items can be anytime inserted to the existing product list along with supporting details from anywhere and anytime easily.

Offers & Discounts

Enhance the shopper's shopping experience by letting them benefit from the offers and discount vouchers.

Inventory Management

Every item's stock can be efficiently managed and can avoid understocking or overstocking issues.

Manage Multiple Branches

Multiple branches, their orders and inventory can be managed from a single place and from a single screen efficiently.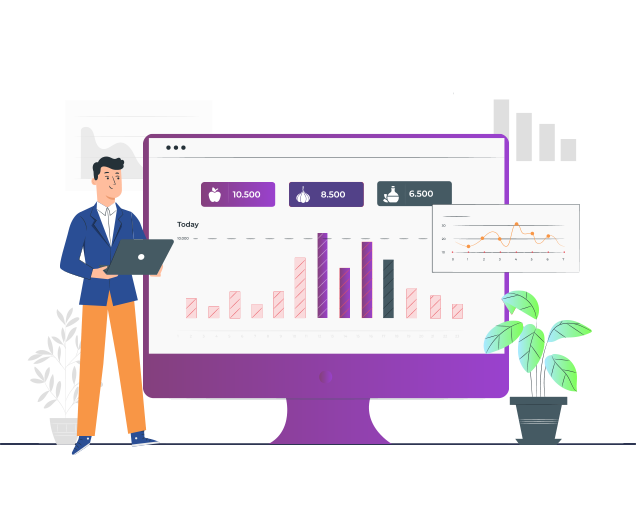 Admin Panel
Our responsive designs of the dashboard coupled with the dynamic Ocado clone script permit the admin to manage the entire venture from any device and platform. Created with effectual and advanced features after excogitative analysis, the admin dashboard helps in executing complex online grocery store's operations efficiently.
Admin Dashboard

Our smart admin dashboard permits you to have complete power over your grocery delivery business thereby enabling you to gain intelligent insights.

Customized Push Notification

With this automated push notification feature you can land smoothly your enticing deals and offers to your customer's phone.

Manage Reporting

Tons of data and reports can be managed efficiently and flawlessly from this robust reporting feature.

User Management

The admin can view, edit, add and manage every profile details of the users along with other information.

Sales Analytics

The admin can nimbly go through the reports as well as statistics of daily sales, customers and expenses in a real-time graph.

Add Merchants & Delivery Guys

New merchants and delivery guys can be added easily and an eye can be kept on their activities within the app.
Customer App Design
We embed the app with enriched filter and search options along with an enhanced product list having supportive images thereby making it easy for the customer to pick the searched item without any trouble.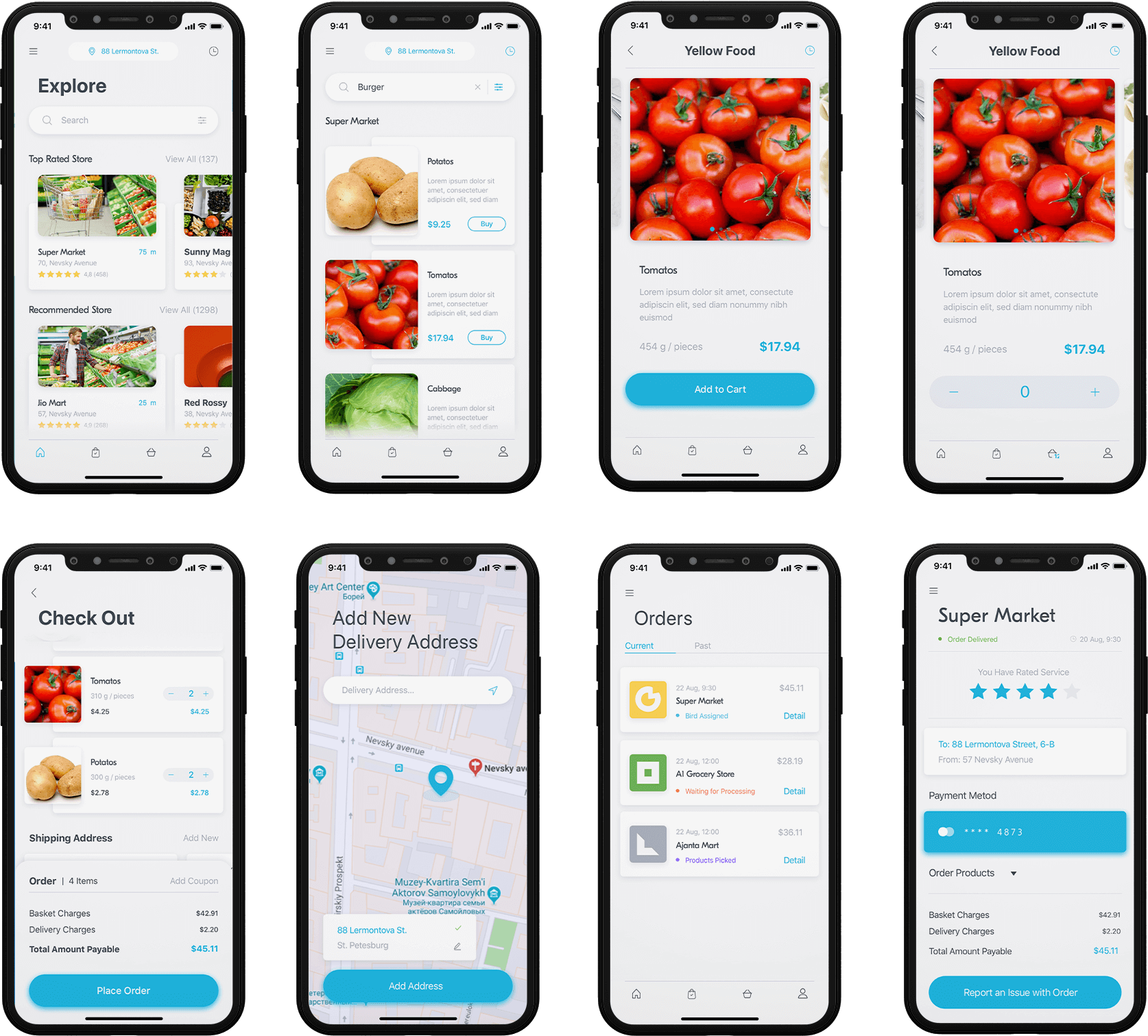 Delivery Boy App Design
Our extremely superb delivery boy app enables the delivery person to keep a constant watch on their total earnings and total orders completed/pending. Also, they can toggle their availability status from available to unavailable and vice versa with just a single tap.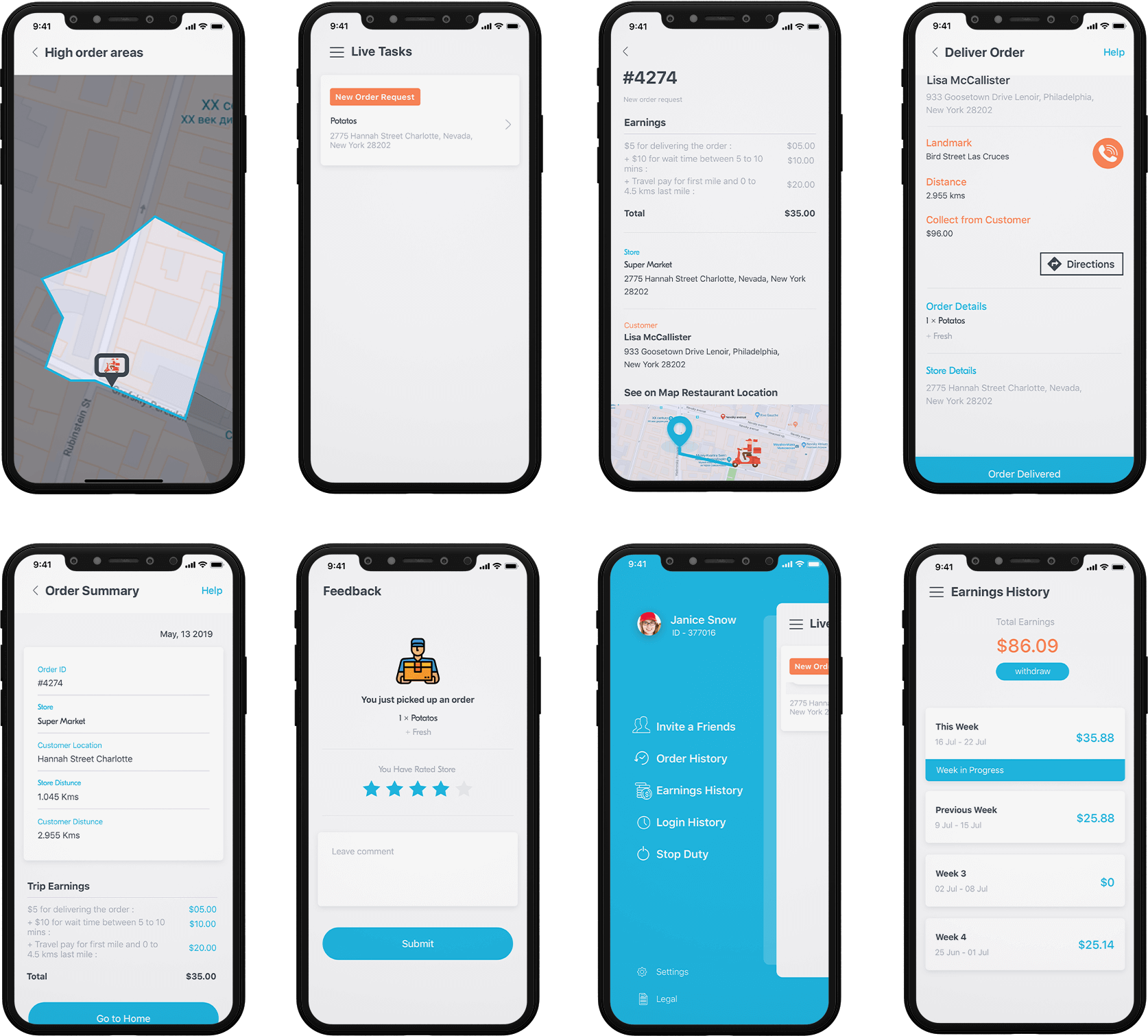 Store Owner App Design
The implemented notification button permits the admin to send promotional notifications to the customers with just one click. Product details, delivery time slots, etc. can also be modified and updated with ease as and when required.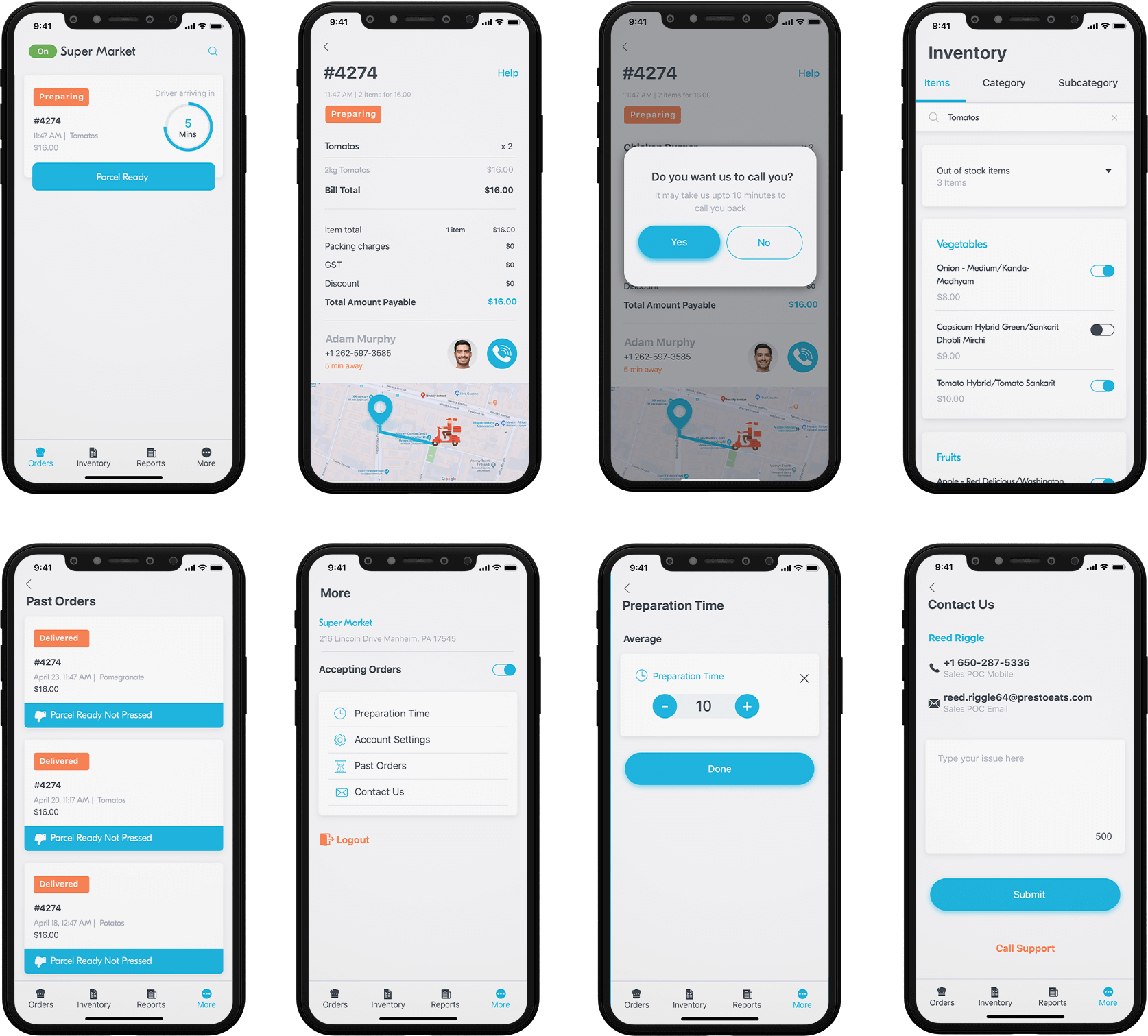 Our Ocado Clone App Package
PeppyOcean delivers avant-garde Ocado clone app development services for addressing and overcoming various complicated industry-specific hurdles. For tailoring the needs of the ever-evolving digital platforms, we passionately code the Ocado clone app of each of the user panel and app with the best and the most appropriate languages.
Customer App (Android & iOS)
Store Owner App (Android & iOS)
Delivery Boy App (Android & iOS)
Store Owner Web panel
Super Admin panel
Fully Functional Website
Billing Panel
Dispatcher Panel
Complete Source Code
100% Customizable
Technical Support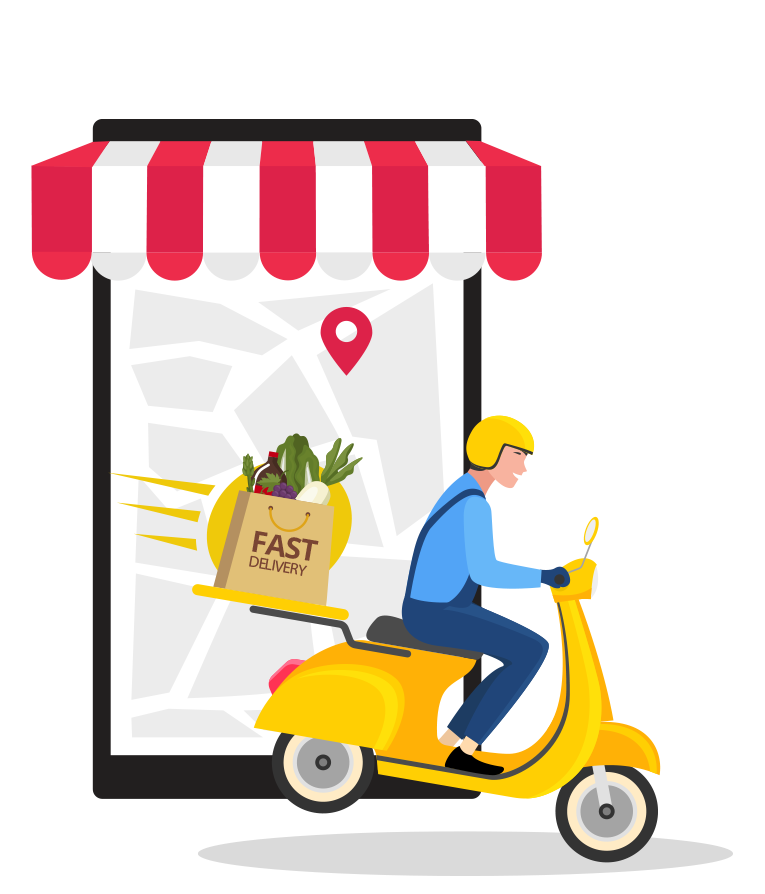 Our Ocado Clone App Development Process
PeppyOcean was established with an aim to develop apps that would bring infinite opportunities for our esteem clients so that they can add commercial value to their existing business and reach new success heights. Hence, we make sure that every Ocado clone app development stage is followed step by step.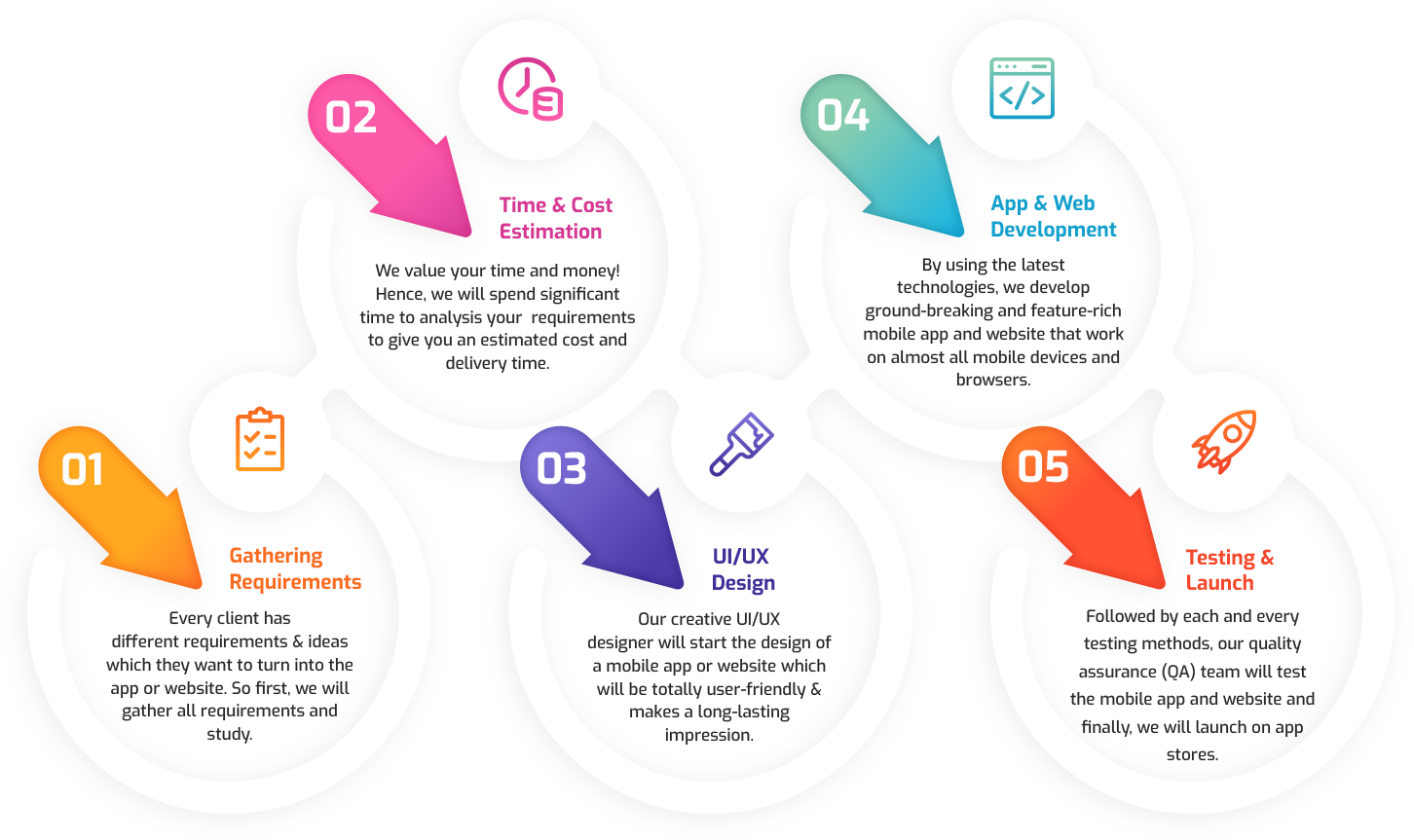 Our Technology Repository
Our team of profound developers is well-acquainted with the state-of-the-art technologies and advanced platforms. Harnessing the latest tools & technologies, frameworks as well as SDKs we have delivered cost-effective, top-ranking and award-winning mobile apps with flawless Ocado clone script enabling our clients to execute critical tasks easily.
Flutter
React Native
Kotlin
PWA
Swift
Java
Ionic
Firebase
Backbone.JS
Angular.JS
Vue.JS
Node.JS
MongoDB
PostgreSQL
Google Cloud
Amazon AWS
Innovative And Customized Other Clone Solutions
We follow appropriate strategies, technology stacks, and designs while developing apps for our clients. We make hybrid as well as native grocery apps like Ocado under the budget. Our team of developers never lets you down when it comes to designing grocery clone apps. Choose your preferred grocery clone, and let's discuss it overcall.
Payment Gateway Offered
Once the products are selected, the shopper would prefer a simple and quick payment process. With multiple security options to make payments like PayPal, Stripe, Google Pay, etc. offer your shoppers uncomplicated and fast checkout and have a firm grip over them.

Available in Brazil

Available in Turkey

Available in Kazakhstan

Available in Worldwide

Available in Worldwide

Available in Malasiya

Available in Worldwide

Available in Indoneisa

Available in Brazil

Available in India

Available in Worldwide

Available in India

Available in this Country

Available in this Country
UAE
Qutar
Egypt
Lebanona
Jordan
South Arabia

Available in this Country
Mexico
Ecuador
Venezuela
Colombia
Brazil
Chile

Available in this Country
Nigeria
Kenya
Ghana
South Africa
United States
Extra Features Of Our Ocado Clone App
Become the owner of a smart and premier on demand grocery delivery app backed by our additional features and appropriate Ocado clone app source code that would aid you in empowering your online business and connect with thousands of customers. With these exceptional qualities, you can swiftly boost your online business's revenues.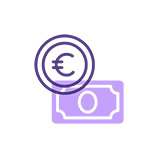 Multilingual & Multi-currency
Whether it is about different languages or different currencies, the app caters to both the needs enabling the merchants to serve in different demographics.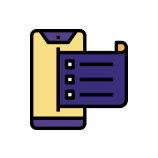 Loyalty Programs
For repeatedly shopping from your app and continuously referring friends and family, offer your customers tangible incentives from this feature.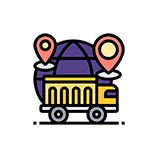 Multiple Shipping Address
With a single checkout, the shopper can ship his same order to any number of shipping addresses.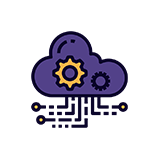 SAAS Based Model
The user can access the store from any location and any device that is connected to Wi-Fi or has an internet connection.
In-App Advertisement
The merchant can add in between the advertisements of different brands to earn additional revenue.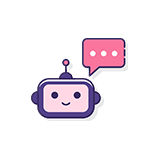 AI-Based Chatbot
Users can get their queries answered or can get instant help any time from this Chatbot feature backed by AI in the absence of support representatives.
Reputed Company With Happy Clients
PeppyOcean was established with a motto to deliver top-notch on demand app development services to our clients and we have been doing this since our inception. We have a long list of satiated clients that are very much contented with our services and keep sharing their success stories with us.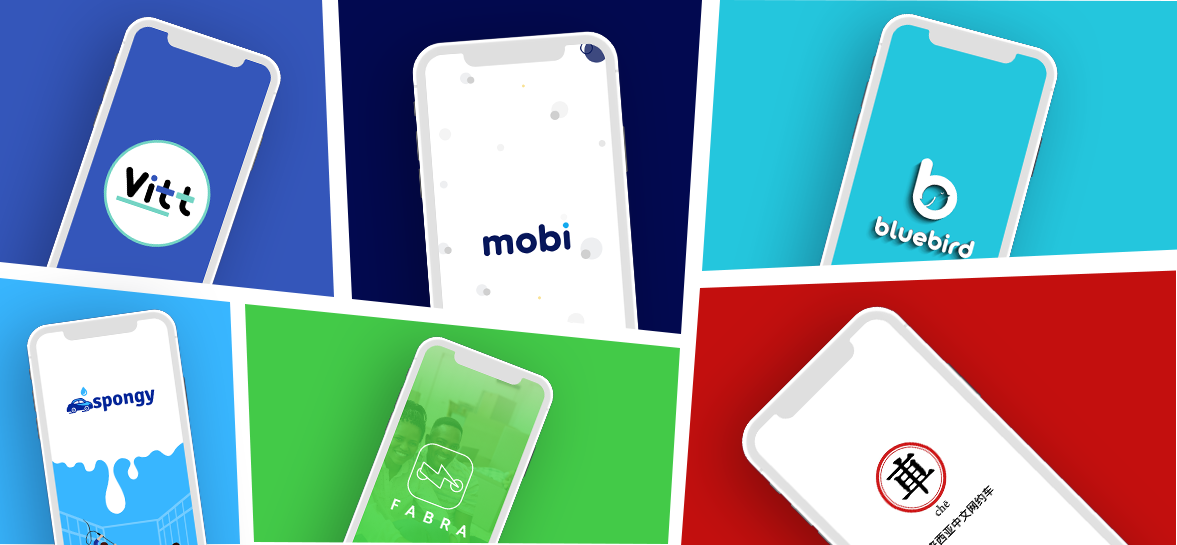 Richard Ling
Commitment to deliver regardless of the amount of time needed to completed the tasks.

Paola Baquero
They have a very complete team, where they attended each of my requirements and offered different solutions.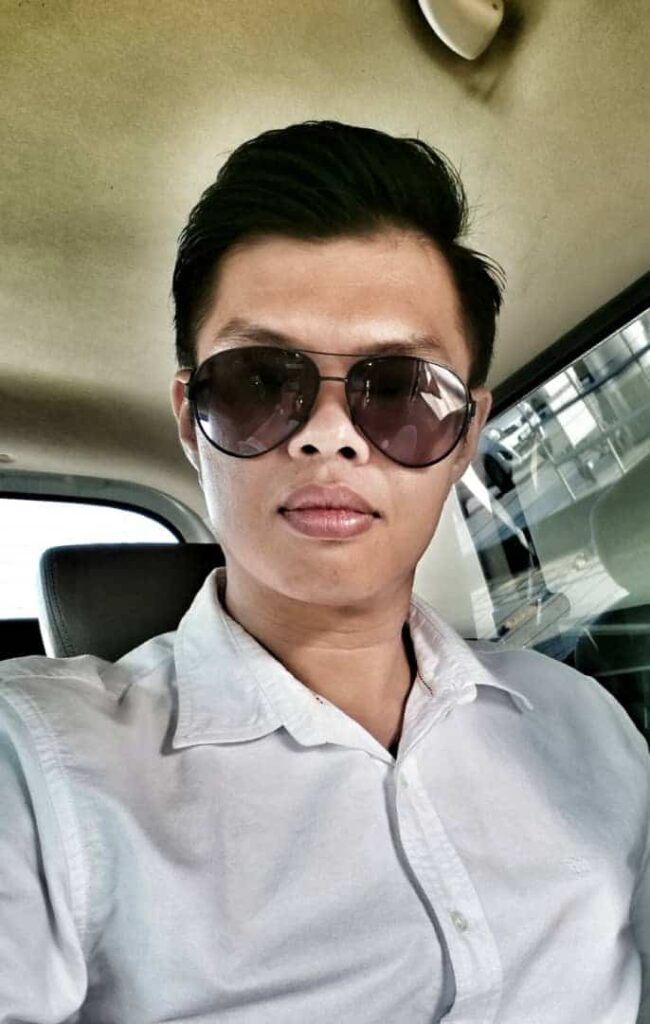 Andrew Yuen
They never fail me on all of our request and always complete the task according to time line.

Gourab Mukherjee
Extremely Reliable and a Hardworking team and good value for money

Faisal Al-Salem
Understand any requests even if we don't give a clear brief Very flexible team
BLOGS
We light the lamp of knowledge by spreading it. Sharing the knowledge we gain helps us enter deep insights and make meaningful transformations in the world around us. Look how we contribute towards a technologically better world.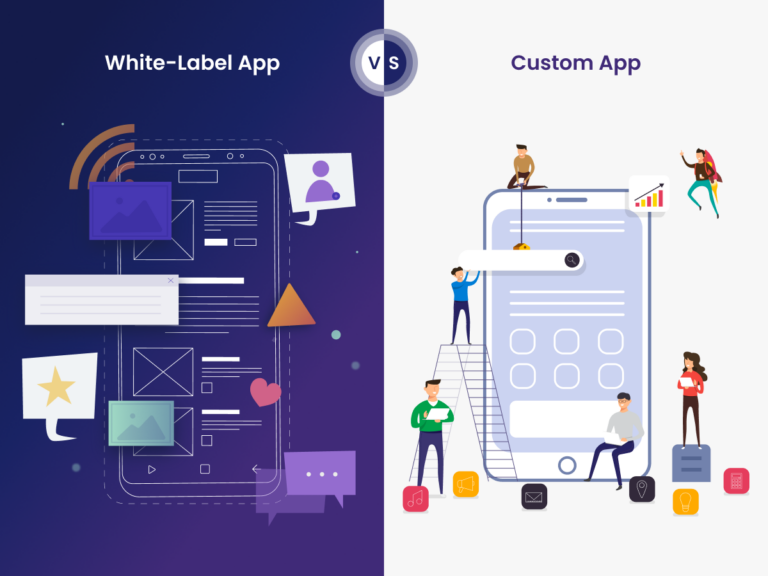 White Label App vs Custom App: Unveiling the Ri...
In today's fast-paced digital landscape, the choice between white label app and custom app is a pivotal decision that businesses must make when venturing into mobile application development. Both approaches
Continue Reading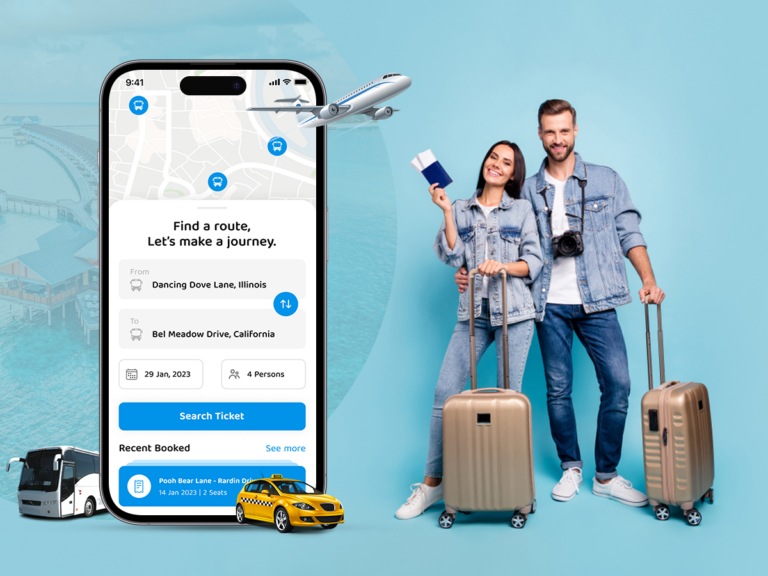 A Definitive Guide to Travel Booking App Develo...
Globally more and more travelers are opting for convenient and efficient digital solutions. As the world is moving towards a post-pandemic reality, travelers seek seamless travel experiences at their fingertips,
Continue Reading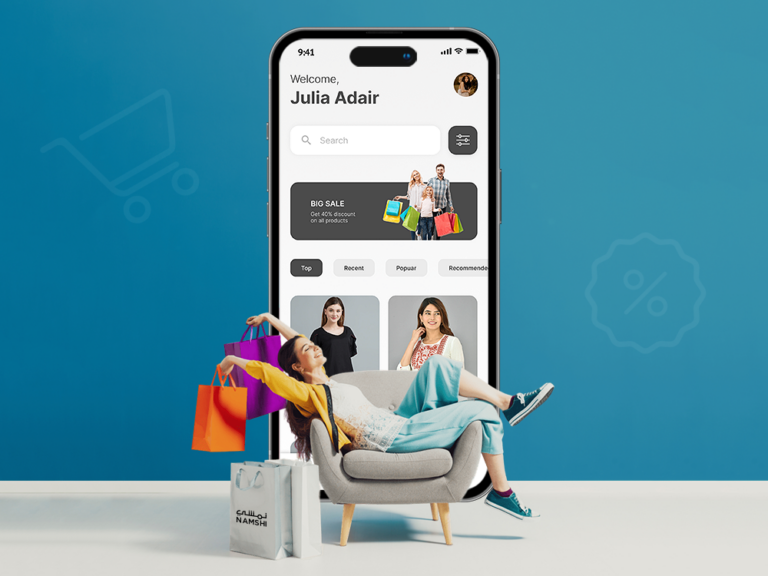 Estimate the Cost of Developing an eCommerce Ap...
eCommerce startup is a relatively new and booming trend in the business world today. If we consider how popular online shopping has become in recent years, it's no surprise that
Continue Reading