Scheduling Deliveries
The app provides the option to the customer to schedule the food delivery order for future date or time.
Easy & Intuitive UI/UX
A well-designed UI makes it much more comfortable for the customers to use the app and place their orders.
Advanced Search With Filters
This feature enables the customer to search restaurants location wise and various cuisines along with their prices.
Multi-Lingual Option
With the presence of multiple language, to understand features of the app and use properly, the user can choose his preferred language.
Why Go For Our Deliveroo Clone App?
Today's generation is all set to embrace digital transformation. Comprehensive technology when merged with our wide industry expertise results in an exclusive development strategy using which we churn out robust applications that can simplify your business workflows, help you attract more customers and boost your business profits. Our crisp and fully functional Deliveroo clone app source code makes our application highly scalable. Compatible with several cryptocurrencies, customers can carry out transactions securely. Kick-start your own on demand food delivery business and infuriate your rivals with our highly functional Deliveroo clone script. With strategically built app features grab the attention of new customers together with retaining existing customers.
What Do We Offer With Deliveroo Clone App?
By implementing innovative app development tactics, we deliver a ground-breaking Deliveroo clone app to you. We aim at designing stunning solutions by implementing an interactive Deliveroo clone app source code permitting our customers to jump into the bandwagon of this digital market. Our flexible, supreme quality and out-of-the-box solutions have proved to be very helpful for our customers.
Seamless Communication

We apply the most proven Deliveroo clone app development methodologies to develop app like Deliveroo ensuring flawless communication.

Fast Delivery

Within 10 days, we build immensely powerful food delivery app clone enabling you to reach your desired customers quickly.

Stick To Time & Budget

After the finalized timeline, as well as budget, we immediately start the development to deliver it within the stipulated time and estimates the budget.

Creativity

Our entire Deliveroo clone app development process is channelized with creativity and fineness that ultimately leads to the outcome of a perfect solution.
How Does Our Deliveroo Clone App Works?
Designed with interactive UI/UX, our Deliveroo clone script is easy to follow and offers a splendid user experience to its customers. Integration with social media, payment gateways and Google maps helps the customers share the app experience on social media, optimize route and make seamless payment. With a few clicks, foodies can choose their favourite cuisines and avail for home delivery services for the same.
Login/Signup

1

Discover Restaurants

2

Select Food and Book

3

Confirm the Order

5

Receive The Order

6
Customer can sign up through their mobile or email id. By entering mobile number or email id, he/she will get the OTP to verify. The customer can also sign up through their social media accounts such as Facebook, Twitter, etc.
After a successful logged in, customers can able to see all nearby restaurants with basic details like name, logo, address, minimum order, rates and more.
After selecting the restaurant, customer can able to see available all food items along with details. Customer can also search his favorite food items by manually and book the order.
Customer can pay the amount to the restaurant owner by multiple ways like net banking, credit/debit card, cash on delivery, and in-app wallet.
After placing an order by the customer, automatic notification sent to the restaurant and restaurant confirm the order and prepare the food and give it to the delivery boy.
The delivery boy will pick the order from the restaurant & deliver at the customer's location. Delivery boy can track restaurant as well customer location in his App.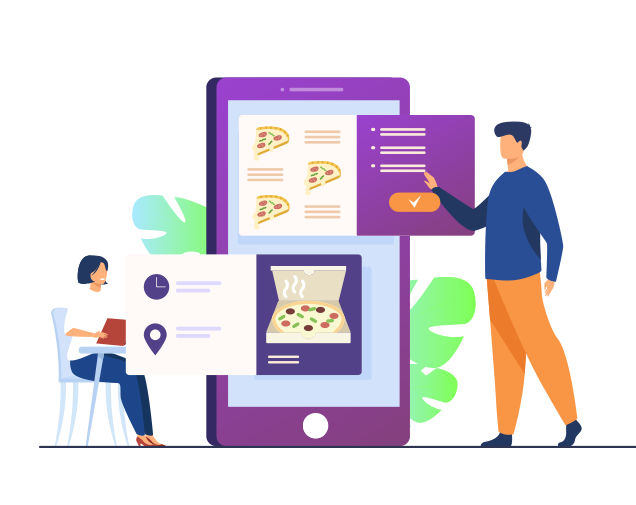 Customer App Features
With one tap order placement, seamless checkout, real-time en-routing and fast home delivery from their selected restaurants delight your customers with an advanced on demand food ordering as well as delivery experience. Here is the listed some of the best features of our Deliveroo clone app:
Customer Login

Either by using Facebook or Instagram id or by providing the email id, the user can log in with ease without the need of providing his contact number.

Track Nearby Restaurants

From the great restaurant list, the user can easily track the restaurants nearest to the delivery location by providing the delivery location's pin code or address.

Restaurant Profile

Detailed profile of every outlet can be observed together with what items each outlet offers, charges charged by them for a particular item, delivery hours, etc.

Search Versatile Items

Making the ordering process even easier for the users, this app displays versatile items to choose from.

Live Order Tracking

Live order traceability permits the customer to track down his food delivery route from the restaurant to his doorstep.

Multiple Payment Options

With flexible and secure payment options like credit/debit card, wallet, COD and other payment gateways, the user can comfortably pay for the orders.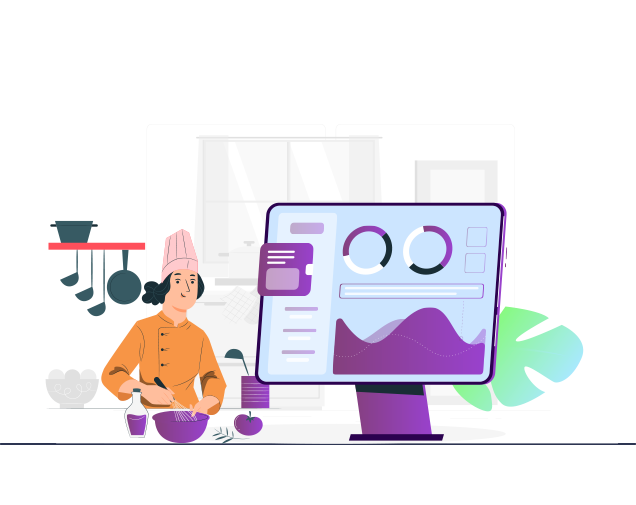 Restaurant App/Panel
Permitting restaurants to connect with customers easily and offer them fast delivery services, the restaurant owner's panel has been created with our effectual Deliveroo clone script and crafted with easy-to-use and avant-garde features.
Accept/Reject Delivery Request

Due to unobtainable ingredients, absence of chef or heavy rush, the restaurant can turn down the delivery requests.

Push Notifications

Permit the eateries to notify the delivery person when an order is placed and notify the customers when the order is dispatched and delivered.

Order Management

The records of every order that the restaurant receives can be maintained with complete transparency and perfection via this app feature.

Profile

To make the dishes look tempting so as to captivate the attention of the customers, the restaurant can add 3D images of recipes.

Individual Dashboard

Individual dashboard can be used to keep an eagle's eye over the entire outlet activities and manage them flawlessly.

Availability

During festive seasons, the restaurant owner may not be able to provide home delivery services for a few hours. In such cases he can mark his status as unavailable for those hours of the day.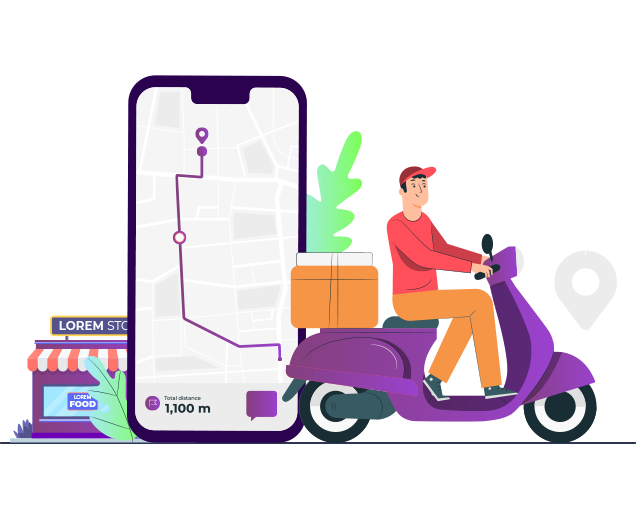 Delivery Boy App Features
Enabling the delivery boy to keep a record, view the complete summary of the orders completed together with assessing his total earning, our Deliveroo clone script has simple yet powerful features. It has also route optimization and live tracking features for assisting them to deliver food on time to the customers. Have look another features:
Flexible Login Hours

As per his wish, the delivery boy can mark his status as ON/OFF and enjoy flexible login hours.

Create Detailed Profile

Detailed profile can be drafted including name, photo, email id, mobile number, address, years of experience, etc.

One-tap Call to Customers

If the delivery boy is unable to find the location, then he can directly contact the customer to get directions.

Geo-Location

Helps the delivery boy in finding the shortest route with less traffic to deliver food fast.

Order List

List of accepted, rejected, completed and scheduled all can be seen from here.

Chat System

Whenever required, using the chat system both the delivery boy and the customers/restaurants can communicate with each other.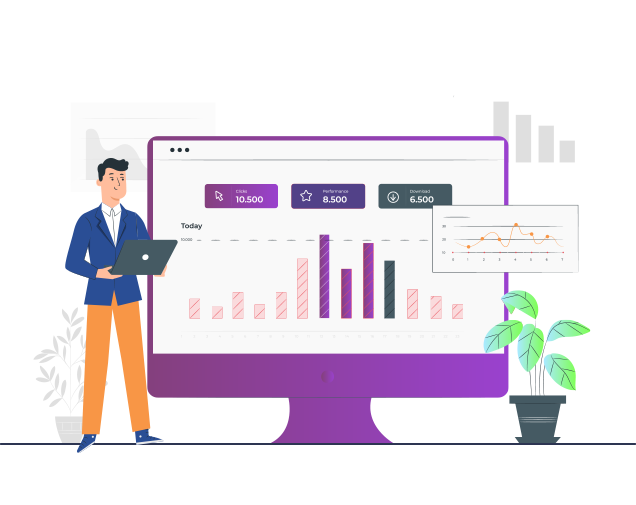 Admin Panel Features
From integrating secured, resourceful and intuitive features to attaching alluring item pictures, we put in our 100% while we develop app like Deliveroo for Admin. Enabling the admin to keep a constant watch on all the activities going within the app, we have embedded this panel with robust and highly responsive features. Below are the other features:
Approve restaurant/delivery boy Request

The admin can as per his consent approve or disapprove the requests of the restaurant and delivery boy.

Admin Dashboard

Admin can easily update the existing staff records like attendance, expenses, worksheets, profiles, etc.

Customer management

Manage customers, go through their order history and reviews provided by them.

Restaurant management

Manage restaurants, categorize them and assign them delivery according to their location.

Restaurant Boy Management

Manage the delivery boy by adding, blocking or removing them on the basis of the services provided by them and reviews received.

Order Management

Used to view upcoming order's details and using this feature admin can update the delivery status.
Customer App Design
Unique app screens with the perfect design are designed to provide ultimate ease for the users while using it along with features created using the latest technology.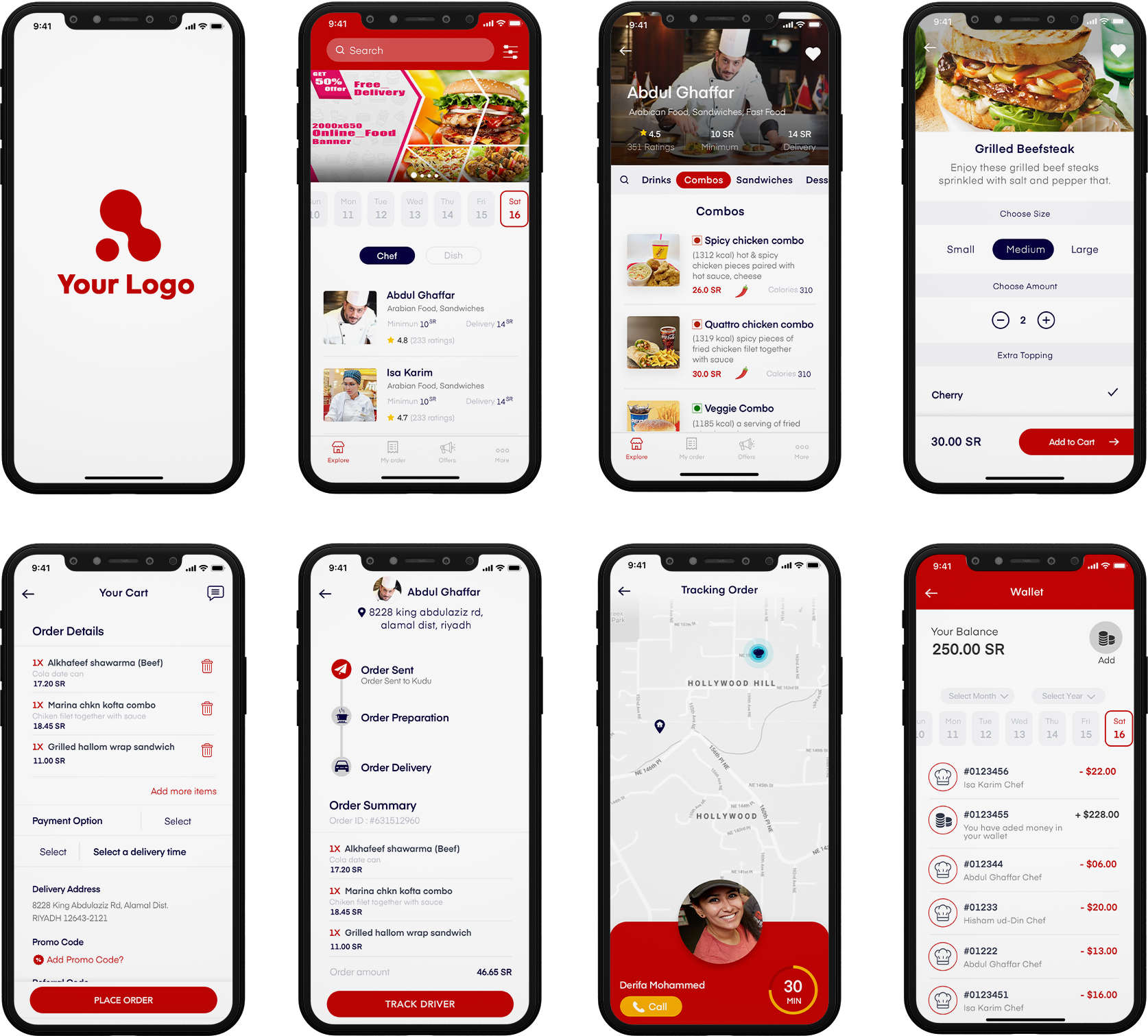 Restaurant App Design
The restaurant panel incorporated with sophisticated features created using the latest tech stack enables the admin to collect the entire business data and manage the business flawlessly with one single touch.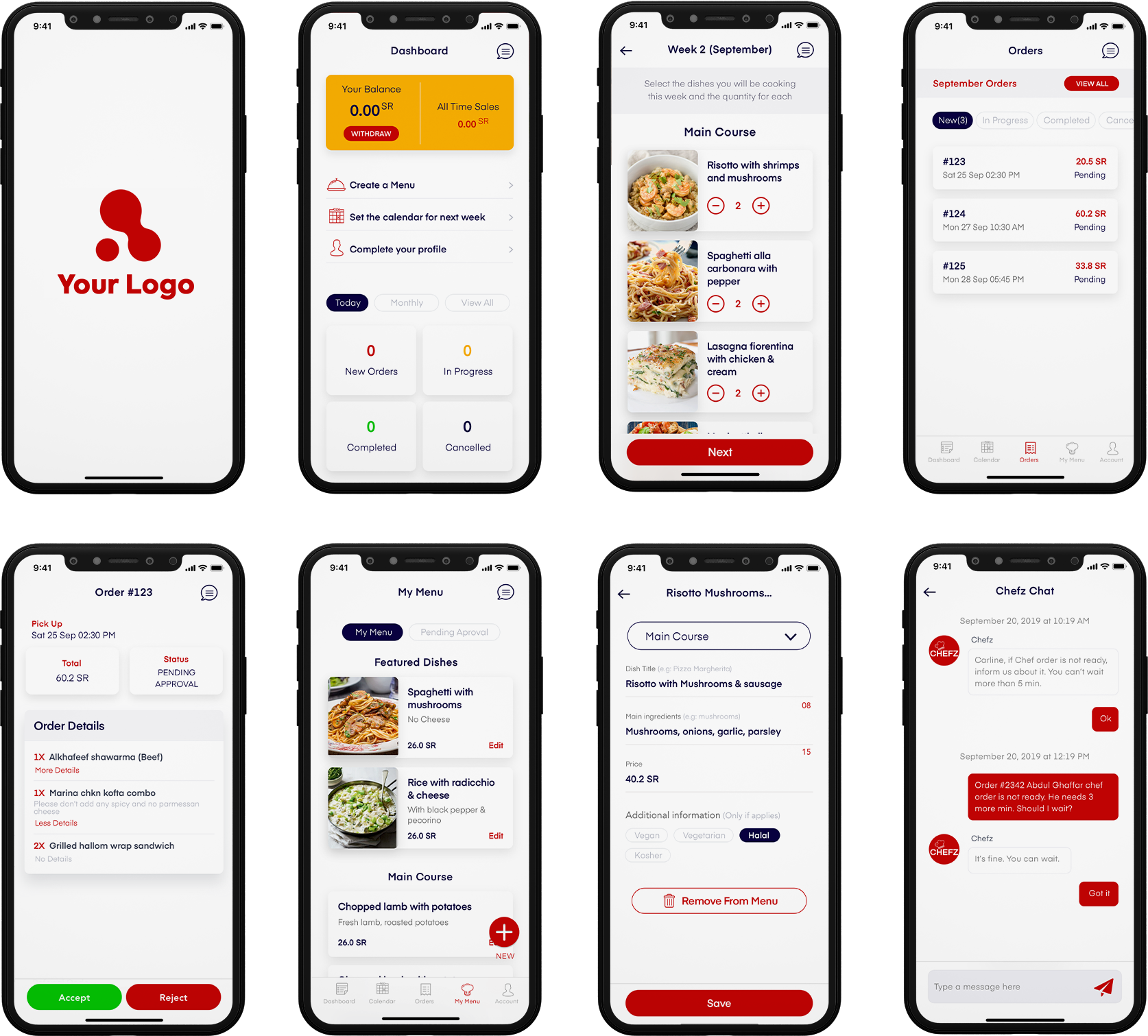 Delivery Boy App Design
With the exact delivery location, the driver can make deliveries on time without any hassle. The app covers great themes and designs that give a unified look to the app.
Our Deliveroo Clone App Package
Integrate or modify features suiting your business needs and launch your immensely functional food delivery app . With our product, we offer below deliverables:
Customer App (Android & iOS)
Restaurant Owner App (Android & iOS)
Delivery Boy App (Android & iOS)
Restaurant Web Panel
Super Admin Panel
Fully Functional Website
Billing Panel
Full Deliveroo Clone App Source Code
100% Customizable
Technical Support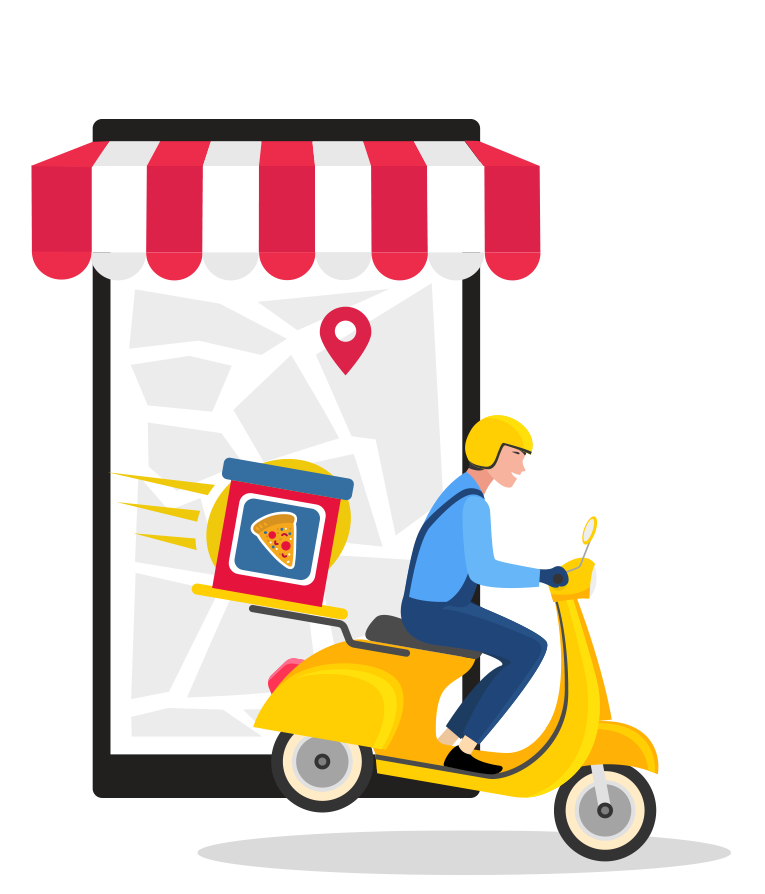 Our Deliveroo Clone App Development Process
Considering your unique needs, we make sure that we fulfil your demands beyond your visions. Thus, we go through a seamless food delivery app development process, right from the primary discussion to designing, strategizing and final product launch.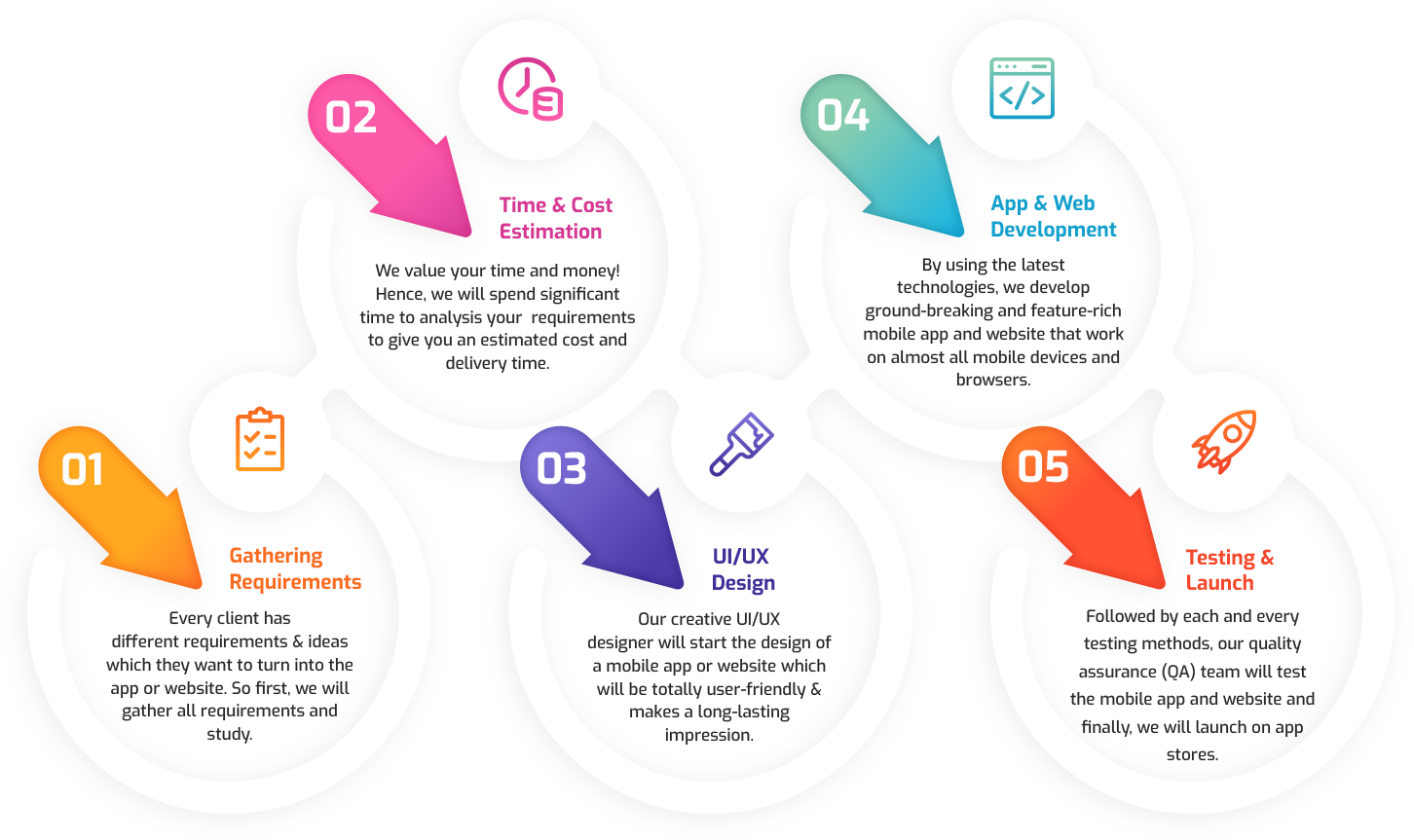 Our Technology Repository
Utilizing the latest technologies and our technical expertise, we create ultra-modern Deliveroo clone app source code for our customers enabling them to offer a great shopping experience to their customers. Be it whatever framework, computer language or tool, our developers hold ample knowledge on each of the tools and technology used for developing an app like Deliveroo.
Flutter
React Native
Kotlin
PWA
Swift
Java
Ionic
Firebase
Backbone.JS
Angular.JS
Vue.JS
Node.JS
MongoDB
PostgreSQL
Google Cloud
Amazon AWS
Innovative And Customized Other Clone Solutions
We always work with trending technologies to develop and design food clone apps. We believe in engaging users by deploying interactive and advanced features in the app. Our food clone app services ensure compatibility, scalability, intuitive UI/UX, and better user experience. Explore our below-mentioned section for more Postmates like apps.
Payment Gateway Offered
Integrate your on demand app solution with multiple secure payment gateways for managing your entire online transactions without any fuss and seamlessly. Also, your customers can get several payment options to pay easily.

Available in Brazil

Available in Turkey

Available in Kazakhstan

Available in Worldwide

Available in Worldwide

Available in Malasiya

Available in Worldwide

Available in Indoneisa

Available in Brazil

Available in India

Available in Worldwide

Available in India

Available in this Country

Available in this Country
UAE
Qutar
Egypt
Lebanona
Jordan
South Arabia

Available in this Country
Mexico
Ecuador
Venezuela
Colombia
Brazil
Chile

Available in this Country
Nigeria
Kenya
Ghana
South Africa
United States
Extra Features Of Our Deliveroo Clone App
PeppyOcean has been creating award-winning food delivery app development solutions for its clients. We create an out-of-the-box app for every client by implementing unique and the most successful features of the app. Some of the extra features have been highlighted below, that you can also integrate into your app to make it a big hit.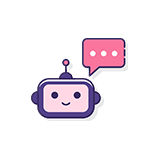 AI-Based Chatbots
Build rich and natural conversational experience with this exceptional chatbot feature backed by AI. Provide your app users new interaction way by providing them engaging text-based or voice commands via bots.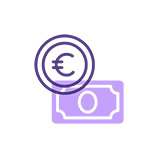 Multi-Currency
Unlock the international sale's potentiality and let your app users view the prices of your services in the desired currency they want thereby building their trust.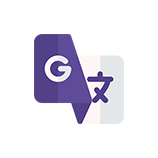 Multilingual
This feature provides the same unswerving shopping experience to different app users in multiple languages & enhanced user-experience for the users as they using the app in their chosen language.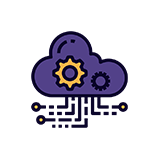 SaaS-Based Apps
Applications that are based on SaaS can be accessed via all devices, locations and browsers where the internet exists, thereby making the app accessible 24*7.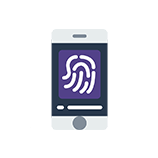 Facial & Fingerprint ID
This feature is best for all those who find it hard to remember the password. The user can log into the app with just a just tap within a fraction of seconds.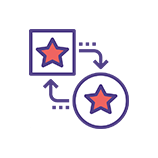 Loyalty Programs
With this feature, you can make the customer feel that they are valuable for you which would help you in enhancing customer retention and boosting your growth.
Reputed Company With Happy Clients
PeppyOcean was established with a motto to deliver top-notch on demand app development services to our clients and we have been doing this since our inception. We have a long list of satiated and authentic clients that are very much contented with our services and keep sharing their success stories with us.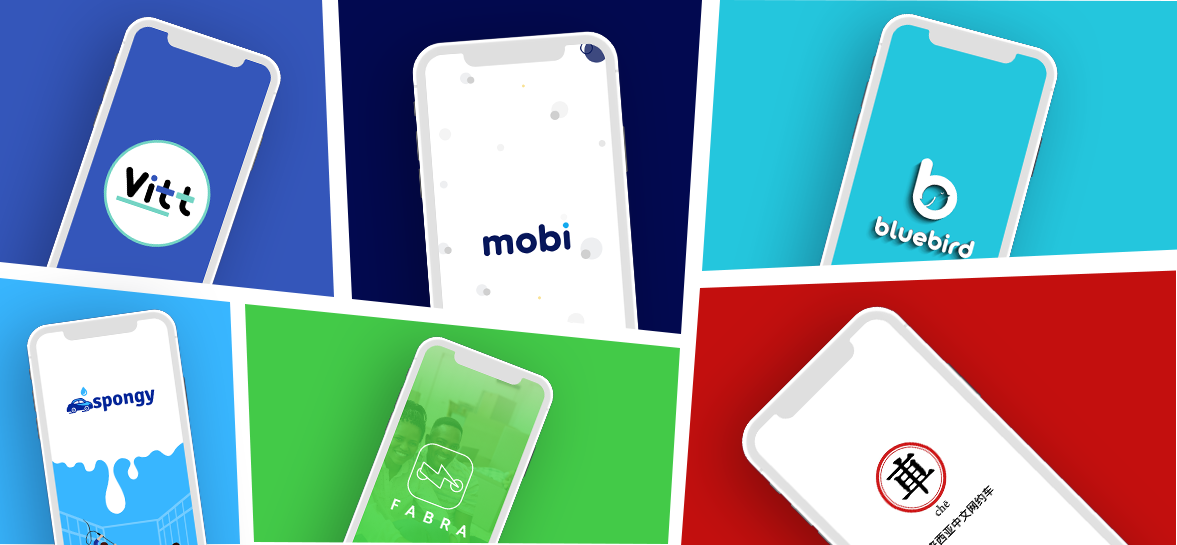 Richard Ling
Commitment to deliver regardless of the amount of time needed to completed the tasks.

Paola Baquero
They have a very complete team, where they attended each of my requirements and offered different solutions.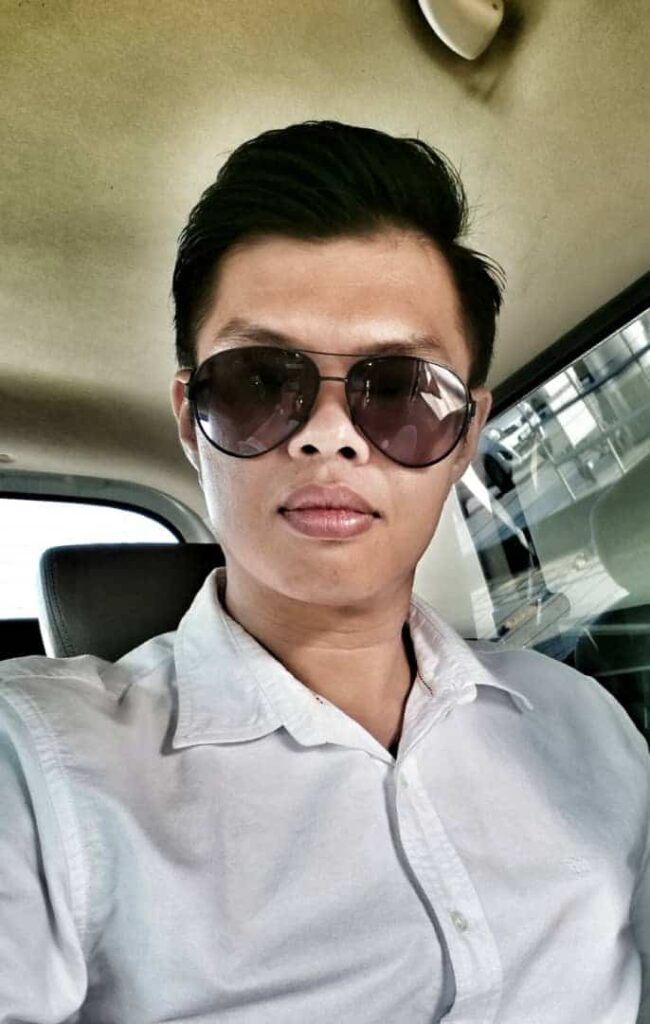 Andrew Yuen
They never fail me on all of our request and always complete the task according to time line.

Gourab Mukherjee
Extremely Reliable and a Hardworking team and good value for money

Faisal Al-Salem
Understand any requests even if we don't give a clear brief Very flexible team
BLOGS
We light the lamp of knowledge by spreading it. Sharing the knowledge we gain helps us enter deep insights and make meaningful transformations in the world around us. Look how we contribute towards a technologically better world.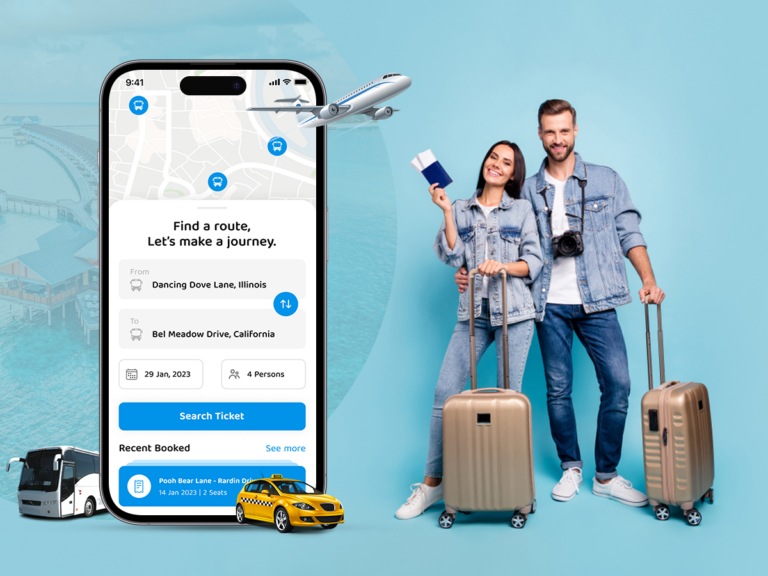 A Definitive Guide to Travel Booking App Develo...
Globally more and more travelers are opting for convenient and efficient digital solutions. As the world is moving towards a post-pandemic reality, travelers seek seamless travel experiences at their fingertips,
Continue Reading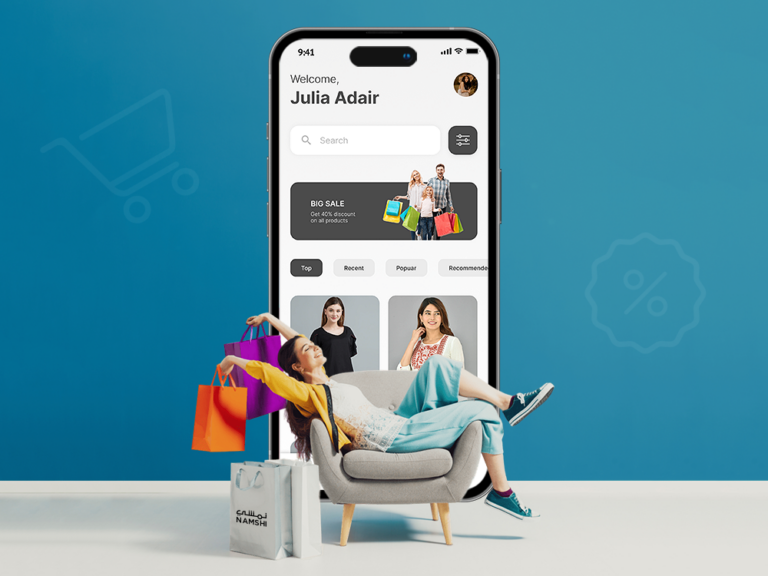 Estimate the Cost of Developing an eCommerce Ap...
eCommerce startup is a relatively new and booming trend in the business world today. If we consider how popular online shopping has become in recent years, it's no surprise that
Continue Reading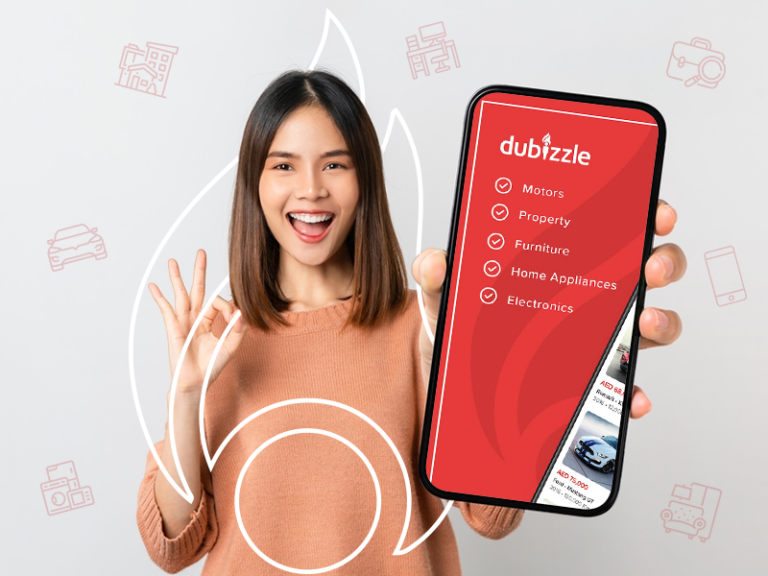 Unveiling the Cost of Building a Classified App...
The Internet offers numerous avenues that provide various advertising materials. It's an excellent strategy to connect with a large audience in a specific location, making it an ideal solution for
Continue Reading