Past Search
Remembering what the customers have searched for in the past, their preferences automatically pops-up making their shopping fast.
In-Built Wallet
Enabling the shoppers to shop cashless, they can simply buy and pay for the bought items through the in-built wallet.
User Interface
Clean user-interface without any unwanted or confusing theme and graphics of the app simplifies shopping procedure for the customers.
Barcode Scanning
With this feature, the customer can have complete product details like ingredients, price, nutritional value, manufacturing and expiry date, etc.
Why Go For Our OneCart Clone App?
Revolutionizing grocery shopping, our OneCart clone app gives complete access to the customers to their preferred stores online, making it easy for them to order for groceries as well as other day to day essentials from numerous local stores. The powerful OneCart clone app source code of our on demand grocery app loads the app features at a lightning speed resulting in the smooth functioning of the app. Having integrated with multilingual and multiple currencies, the app enables the users to operate it from any part of the world. From a heap of products available in the app, the customer can easily search any specific product using the relevant keywords on the search bar.
What Do We Offer With Our OneCart Clone Script?
Our meticulously created apps simulate virtual malls making it convenient for the customers to shop any grocery item they want while staying within their comfort zone. Working on every project with a motto to offer the best OneCart clone script solution to our clients, we have been the biggest reason behind the success of our many clients.
Dedicated Professionals

At PeppyOcean, the developers utilize their professionalism to make the innovation more prominent thereby making your software an exceptional one.

Tech Support

Round the clock tech support is provided so that you face minimum loss due to app breakdown.

Economical Service

We not only provide you with cost-effective solutions but also make sure that every resource is used finely to deliver you brilliant OneCart like grocery delivery app development solutions.

Scalable Products

Leaving room for scaling the app features up/down as per the business requirements, we offer completely scalable products.
How Does Our OneCart Clone App Work?
Apps are developed to ease the life of people and considering this we make sure that the moment a user registers into the app, he can easily understand how the entire ordering and delivery chain will take place. Below we have stated the complete workflow of our outstanding OneCart clone app offering an extreme degree of ease to its every user.
Easy Registration

1

Search or Browse Stores

2

Search Products and Book

3

Confirm the Order

5

Receive the Order

6
Customers can easily signup or sign in through email id or mobile number. By doing so customers will get the OTP (one-time-password) to verify. Customers can also signup directly through their social media accounts such as Facebook, Twitter, etc.
After a successful login, he/she can able to see multiple grocery stores on the map. By clicking on the store icon or name, customers can check full details of the store like name, description, timing and all.
After selecting the store, customers can able to see available all grocery items along with details. The customer can also search for products manually and book the order.
There are multiple payment options available in the app such as credit/debit card, net banking, COD or through the in-app wallet.
After placing an order by the customer, automatic notification sent to the grocery store and store confirm the order, pack the order & give it to the delivery boy.
The delivery boy will pick the order from the grocery store & deliver it to the customer's location. Delivery boy can track the store as well as the customer location in his app. Also, customers can track the location of the delivery boy and estimated arrival time.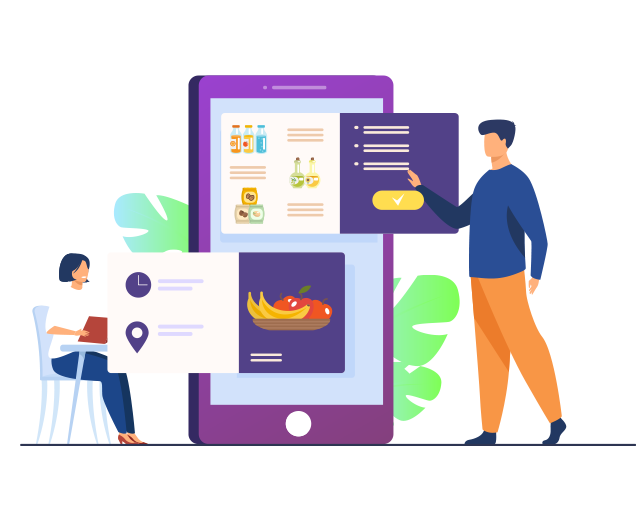 Customer App Features
Our online grocery ordering app is a smart technology solution enabling customers to sort out and buy products from any online grocery store with just a single click. Our app created with secure and rigid OneCart clone app source code and it enables the customers to shop like a pro.
Easy Login

Customers can quickly and easily access the app simply by feeding their contact number or email id.

Search Grocery Stores

By mentioning his location, a complete list of grocery stores situated in the nearby area gets displayed from which the customer can choose his favourite one.

Product Categories

Products categorized aptly making it easy for the customer to view similar products on one go and choose the best and the most affordable one.

Mark As Favorite

Those products that the customer buys regularly can be marked as a favorite so that in the future he discovers those products with a click.

In-Built Calculator

As the customer keeps on adding items to the cart, the app automatically calculates the total amount making it easy for the customer to ascertain how much he needs to pay.

Wish-List

Customers can add those products to their wish-list that they would prefer buying in the future.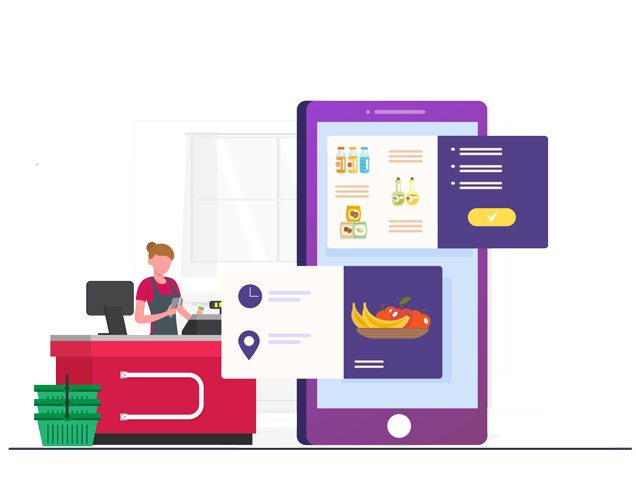 Store Owner App Features
A store owner needs a support system that would assist him in managing chores linked up with the grocery order delivery like notifying and tracking the drivers, scrutinizing the order history, etc. Our flawless grocery delivery app solutions crafted using ideal OneCart clone script proves to be the ultimate saviour for the merchant.
Notification

The merchant can know about every new customer order as soon as it is placed by the customer via this feature.

Accept/Reject

Based on the available resources and workforce, the merchant can accept or reject the order request stating valid reasons.

Order History

Along with the invoice date and order completion date and time every completed order can be viewed on a single screen.

Track Order

To make sure that the orders are delivered at the right address, orders can be tracked in real-time using this feature.

In-App Chat/Call

Now, the drivers and the customers can be communicated quickly with a few clicks.

Open/Close

The home delivery services to a particular area can be updated as open or close with ease.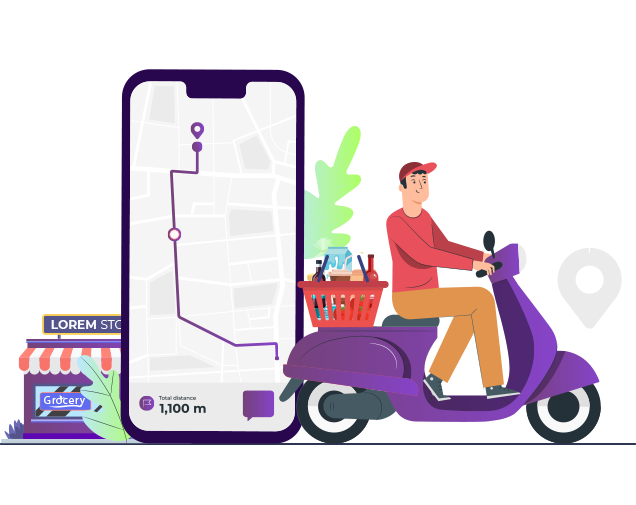 Delivery Boy App Features
Every delivery has to be done on time. Hence, to help the drivers to make timely delivery, we have build this app with great OneCart clone app source code together with amazing, easy-to-use and essential features. The app is so simple that the driver can operate the app features without having any prior technical knowledge.
Update Profile

The drivers can update their profile by fetching essential details like name, photo, contact number, driving license details, years of experience etc.

Available/Unavailable

When the driver doesn't wish to make deliveries he can update his status as unavailable.

Accept/Reject

When the driver feels like he won't be able to make timely deliveries to a particular location, then he can reject the delivery request.

View Earnings

Despite calculating on the calculator and noting down details on the paper the earnings for the day, the entire day's earnings along with the details can be viewed with a tap from here.

GPS

Some routes towards the delivery address may be new for the driver. GPS feature provides complete route guidance.

SOS Button

SOS button helps the driver to overcome any unfavourable situation easily and without any harassment.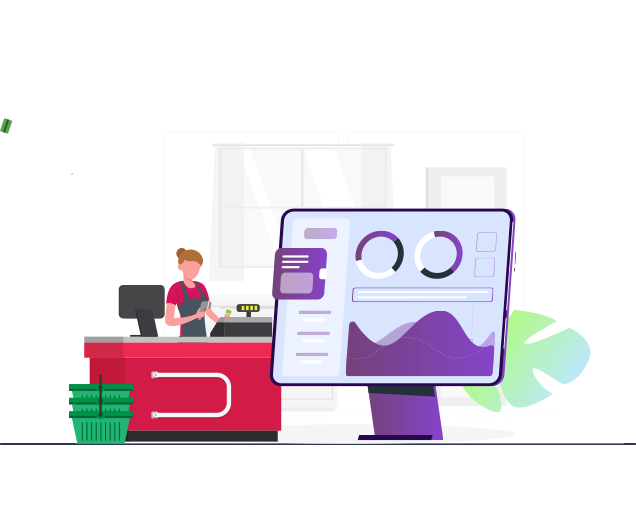 Store Owner Panel
Tracking each and every item's movement, categorizing and sub-categorizing under the relevant head, managing product listings is undoubtedly a daunting task. Enabling the store owners to manage everything systematically, seamlessly and effortlessly, we have designed the app having the best OneCart clone script.
Login/Signup

Seamless login can be done using the e-mail address or phone number. Even login can be done directly through social media accounts.

Update Profile

The merchant can keep the profile all the time updated with the Store's name, photos, operational phone number, opening and closing hours, etc.

Item's Images

3D pictures of the items can be uploaded for enhancing the visual appeal and attracting the customers.

Product's Price List

Any alterations in the prices of the items or any discount offered on any particular item can be updated rapidly.

Know Customer Behavior

Consumer behaviour can be tracked based on what items maximum customers purchase and what items are very less in demand.

Product Availability/Unavailability

Product's availability can be marked if it is available and 'Hurry Only Few Left' – like tags can be added to those products that are going to finish soon.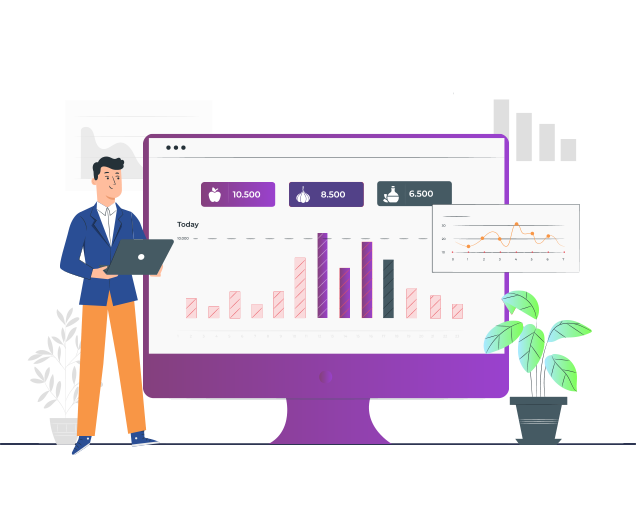 Admin Panel Features
Never has it been so easy and smooth to manage all the chores of a virtual store. But, with the powerful admin panel of our grocery ordering and delivery app, from simple to complex tasks, everything can be done without any stress leaving no room for errors. Our outstanding OneCart clone app source code backs the admin in managing all the users, inventory, orders as well as payments perfectly.
Detail Reports

Back-to-back reports on feedback received, commissions earned, the performance of the stores and delivery executives, etc. can be viewed. Also, these reports can be downloaded.

Monitor Ratings

For enhancing and improving service quality, ratings given by the customers and delivery executives can be viewed.

Notification

For reaching out to the app users (customers, stores and delivery executives), admin can take the help of e-mail, push notification, SMS, etc.

Manage Payments

Payments received and made can be easily viewed from here along with all the essential details.

Manage Customers

Registered customers can be managed aptly and if required their profile can be edited.

Approve Requests

Service requests from the store owners and the delivery executives can be approved or declined efficiently.
Customer App Design
With an advanced search feature just by applying certain filters, the customer can search the desired item easily and quickly also with appropriate images attached to the product the search becomes even easier for your customers.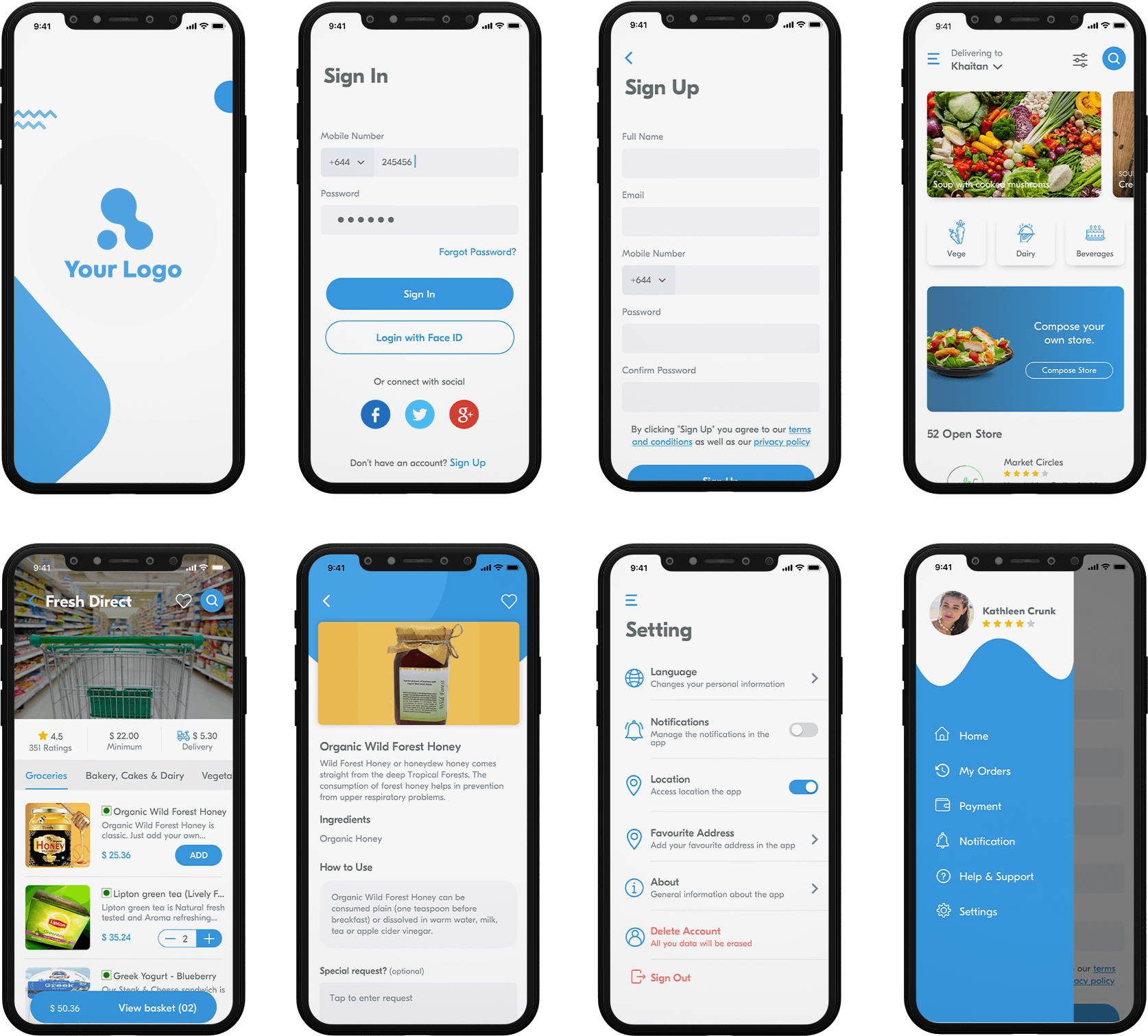 Delivery Boy App Design
Let the delivery partner access the app with an easy registration process and keep a complete track of their deliveries made and earnings earned with the help of our marvelously and dedicatedly developed delivery boy app with perfect background theme and color.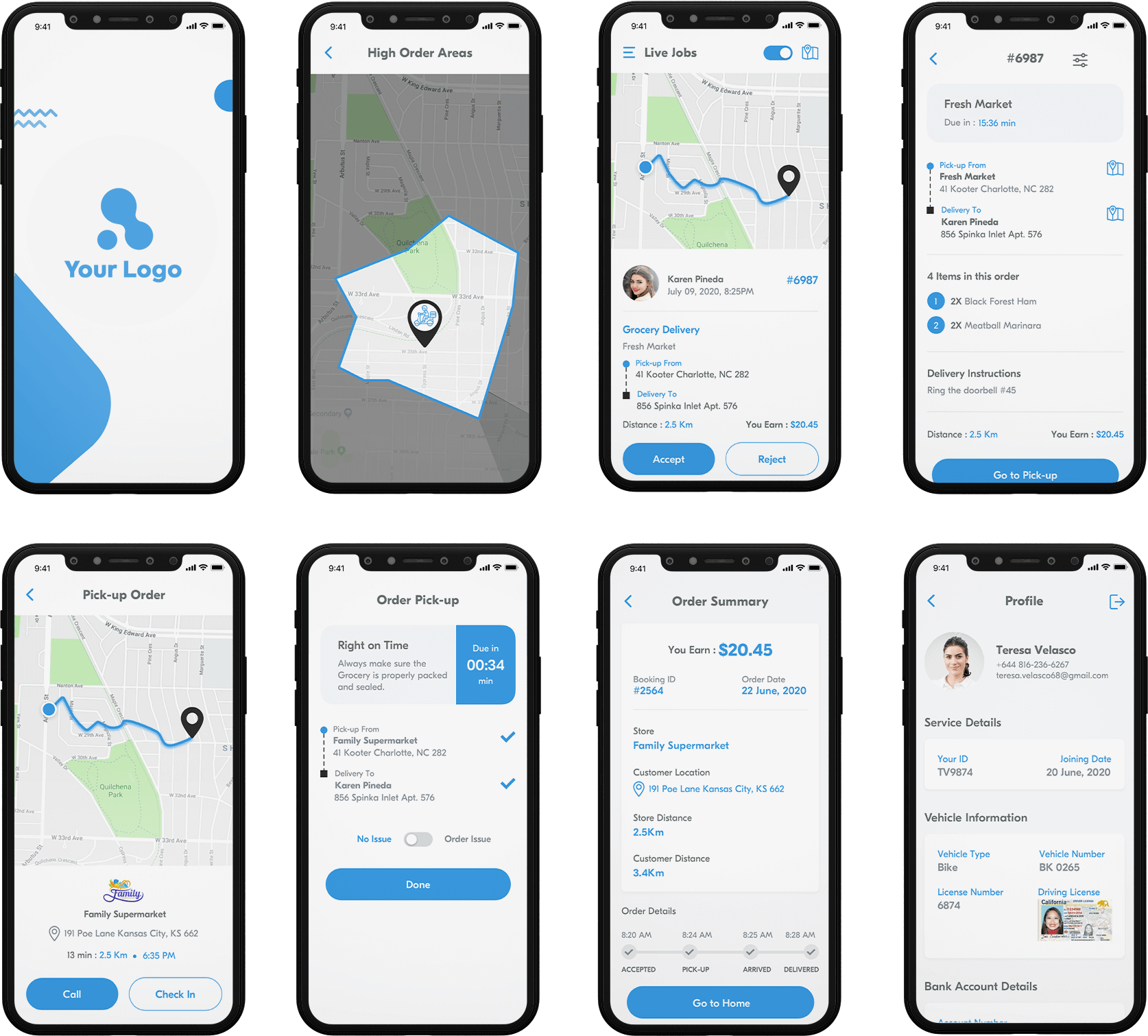 Stroe Owner App Design
Track services, manage payments, automate workflow, manage customers and delivery partners and generate daily reports quickly and with no trouble with our perfectly designed and developed sophisticated admin panel.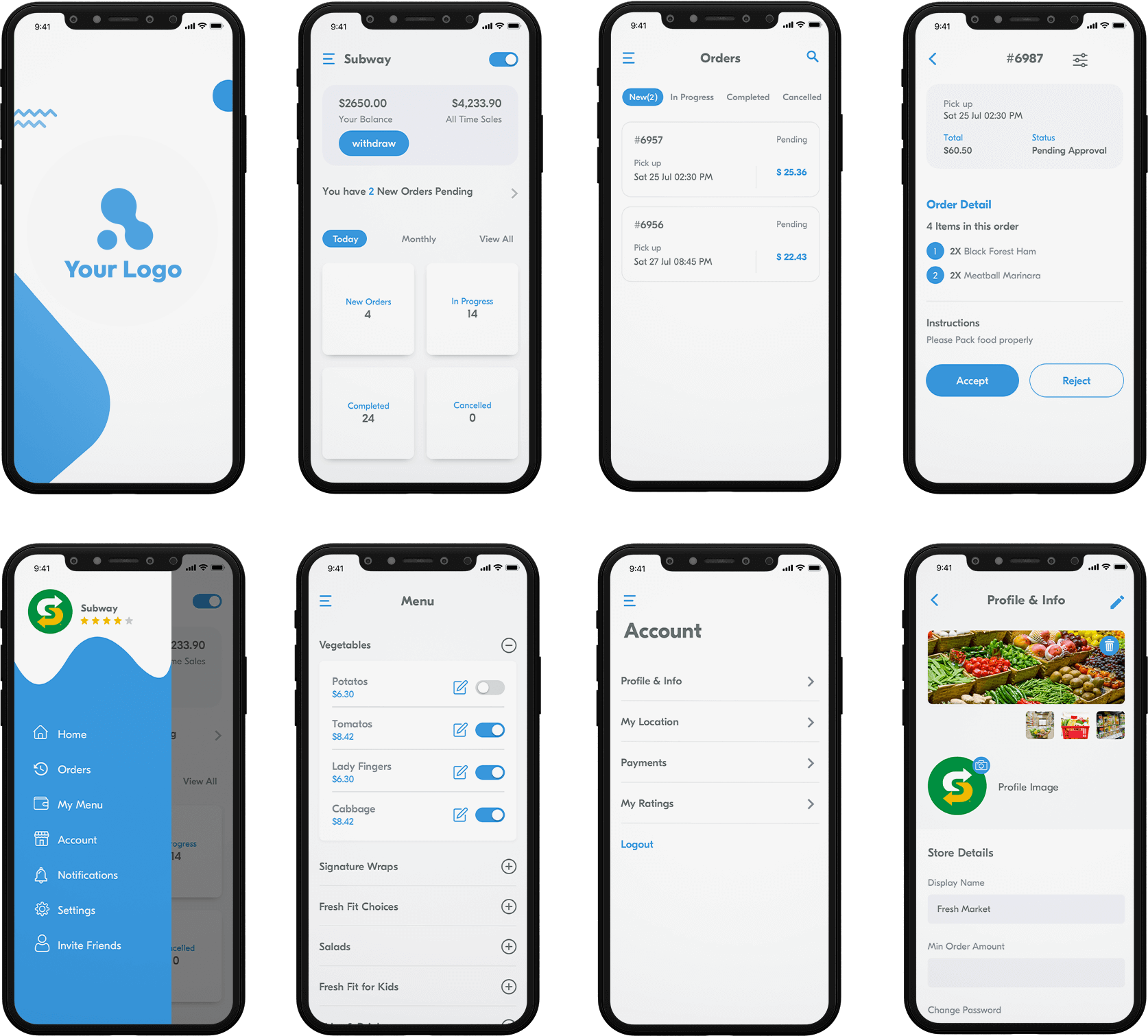 Our OneCart Clone App Package
Ensuring that you always stay ahead of time we build for you the most sophisticated mobile app festooned having the best OneCart clone app, unique designs and top-notch features. The app's UI/UX is designed in such a manner so that it can engage users, provide ease of use and can be modified quickly as per the future needs.
Customer App (Android & iOS)
Store Owner App (Android & iOS)
Delivery Boy App (Android & iOS)
Store Owner Web Panel
Super Admin Panel
Fully Functional Website
Billing Panel
Dispatcher Panel
Complete Source Code
100% Customizable
Technical Support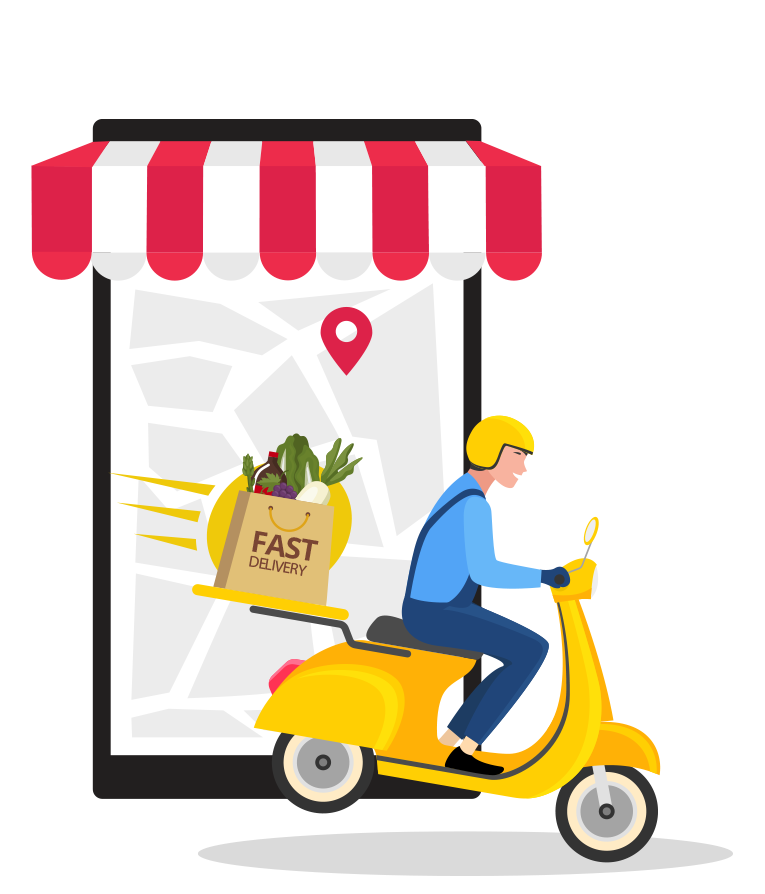 Our OneCart Clone App Development Process
Specializing in creating matchless and exceptional grocery delivery app development solutions for our clients, we make sure that the best OneCart clone app development process is followed so that we could materialize your dreams and offer you the solution in the same manner as you have thought of.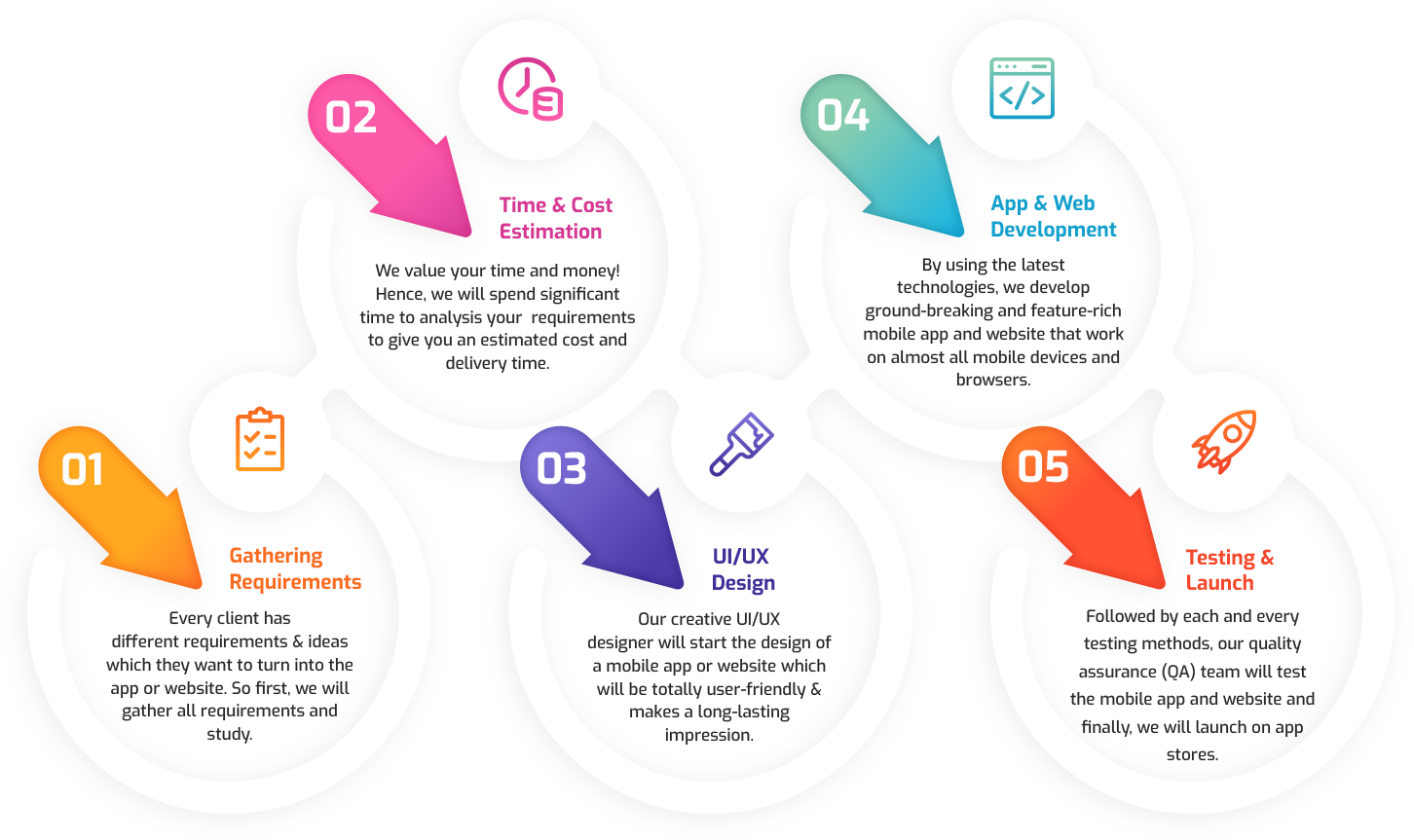 Our Technology Repository
We deal with cutting edge technologies and powerful OS software like git, eclipse, Jetty, Protocol Buffers, HAProxy and various others for developing robust OneCart clone app. By continually learning the evolving technologies, developers at PeppyOcean are proficient in handling any type of project. Be it Python, JS, Angular or any other language, our developers develop the app using the best and the most suitable technology.
Flutter
React Native
Kotlin
PWA
Swift
Java
Ionic
Firebase
Backbone.JS
Angular.JS
Vue.JS
Node.JS
MongoDB
PostgreSQL
Google Cloud
Amazon AWS
Innovative And Customized Other Clone Solutions
We provide on-demand app development solutions to our different clients from different sectors, by considering their industry trends. We aim to make a loyal client for a long time, so we provide solutions according to it. Below given clone apps are all grocery clone apps of various regions, we can precisely build all of them.
Payment Gateway Offered
To provide optimum convenience to your customers when it comes to processing payment, you need to integrate multiple payment gateways so that your customers can pay easily with their preferred payment option.

Available in Brazil

Available in Turkey

Available in Kazakhstan

Available in Worldwide

Available in Worldwide

Available in Malasiya

Available in Worldwide

Available in Indoneisa

Available in Brazil

Available in India

Available in Worldwide

Available in India

Available in this Country

Available in this Country
UAE
Qutar
Egypt
Lebanona
Jordan
South Arabia

Available in this Country
Mexico
Ecuador
Venezuela
Colombia
Brazil
Chile

Available in this Country
Nigeria
Kenya
Ghana
South Africa
United States
Extra Features Of Our OneCart Clone App
We make sure that you achieve every milestone with the help of our exceptional OneCart like grocery delivery app development solutions embellished with futuristic features. Other than general features, there are a few extra features that would undoubtedly boost the efficiency of your app.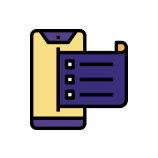 In-App Promotions
Good feature that can be used for serving trailers to add more profits to the bag without putting in any extra effort.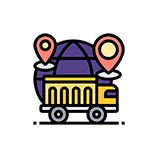 Multiple Shipping Address
Provides ultimate convenience to your customers to shop without difficulty for multiple people simultaneously.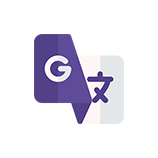 Multiple Languages
Enables the customer to access your app in the language with which he is more familiar.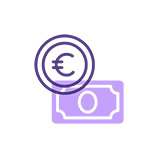 Multi-Currency
This feature having innumerable currencies helps you track as well as manage multiple currencies and expand your online business globally.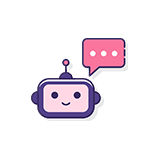 Chatbots
This feature helps in establishing a better brand and enhancing customer experience as it offers round the clock assistance to solve repetitive customer's queries.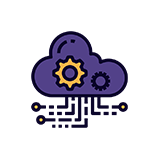 SaaS-Based Model
A Feature that provides complete flexibility to the users to shop through the app using any platform and gadget.
Reputed Company With Happy Clients
PeppyOcean was established with a motto to deliver top-notch on demand app development services to our clients and we have been doing this since our inception. We have a long list of satiated clients that are very much contented with our services and keep sharing their success stories with us.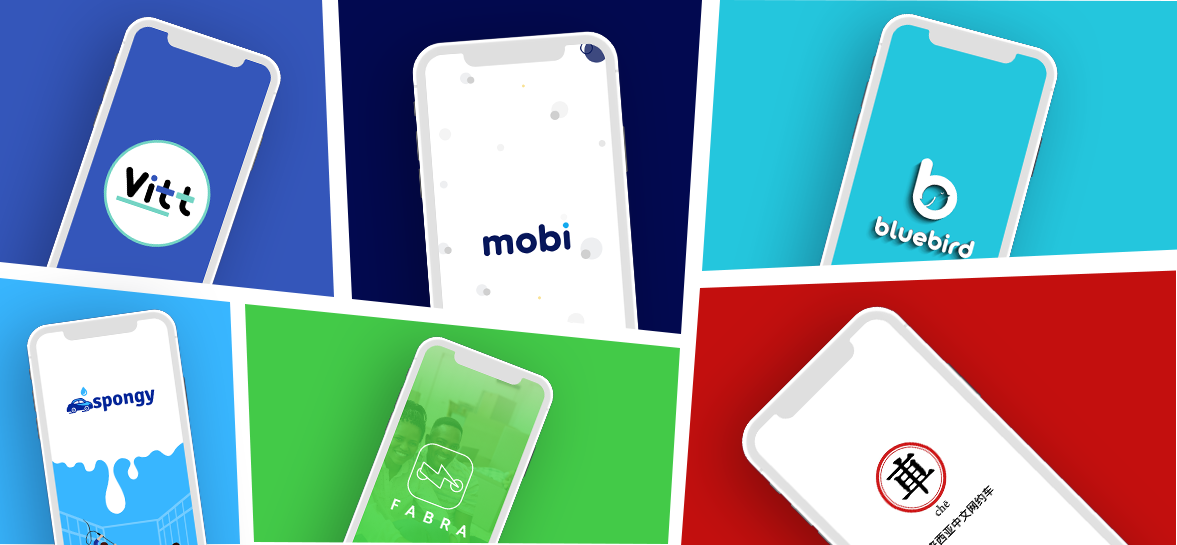 Richard Ling
Commitment to deliver regardless of the amount of time needed to completed the tasks.

Paola Baquero
They have a very complete team, where they attended each of my requirements and offered different solutions.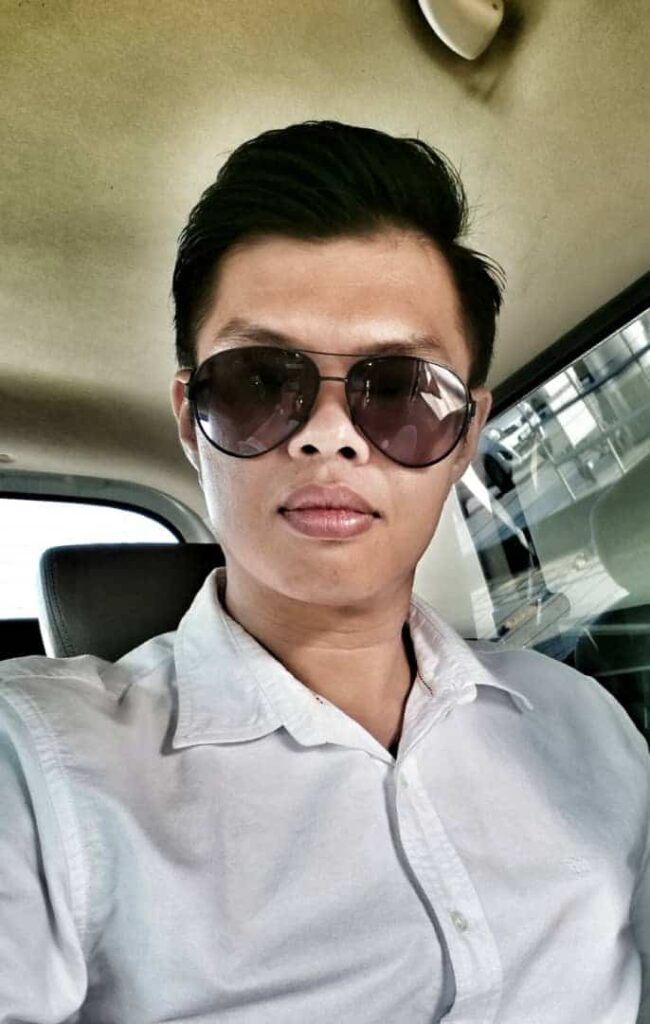 Andrew Yuen
They never fail me on all of our request and always complete the task according to time line.

Gourab Mukherjee
Extremely Reliable and a Hardworking team and good value for money

Faisal Al-Salem
Understand any requests even if we don't give a clear brief Very flexible team
BLOGS
We light the lamp of knowledge by spreading it. Sharing the knowledge we gain helps us enter deep insights and make meaningful transformations in the world around us. Look how we contribute towards a technologically better world.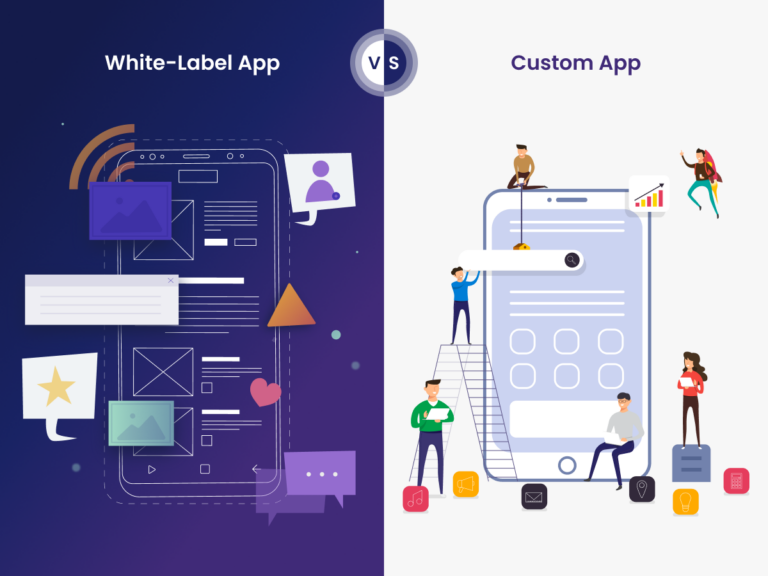 White Label App vs Custom App: Unveiling the Ri...
In today's fast-paced digital landscape, the choice between white label app and custom app is a pivotal decision that businesses must make when venturing into mobile application development. Both approaches
Continue Reading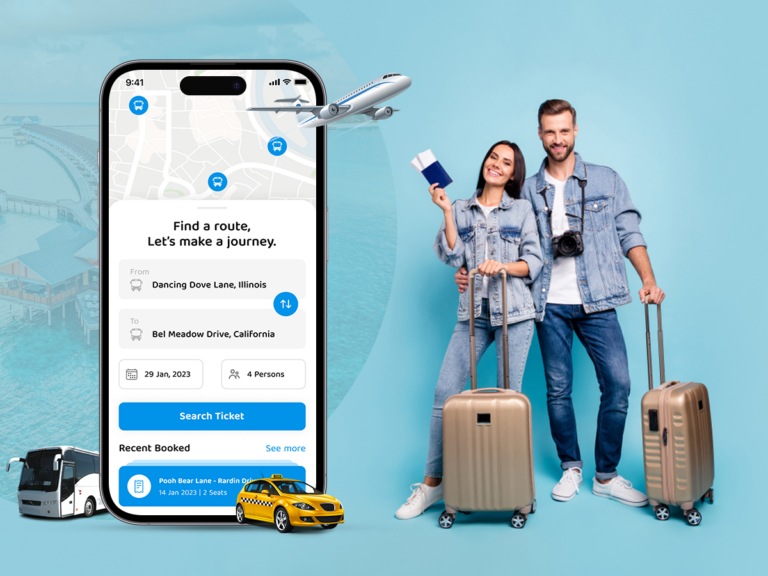 A Definitive Guide to Travel Booking App Develo...
Globally more and more travelers are opting for convenient and efficient digital solutions. As the world is moving towards a post-pandemic reality, travelers seek seamless travel experiences at their fingertips,
Continue Reading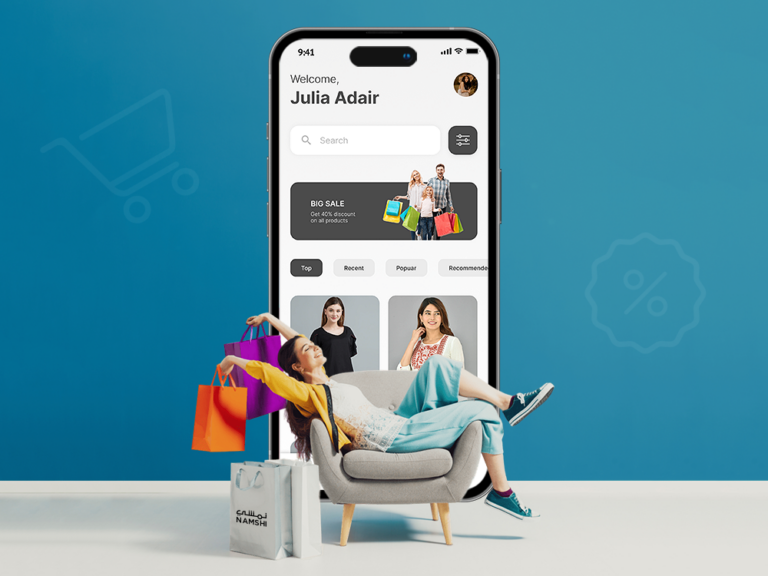 Estimate the Cost of Developing an eCommerce Ap...
eCommerce startup is a relatively new and booming trend in the business world today. If we consider how popular online shopping has become in recent years, it's no surprise that
Continue Reading