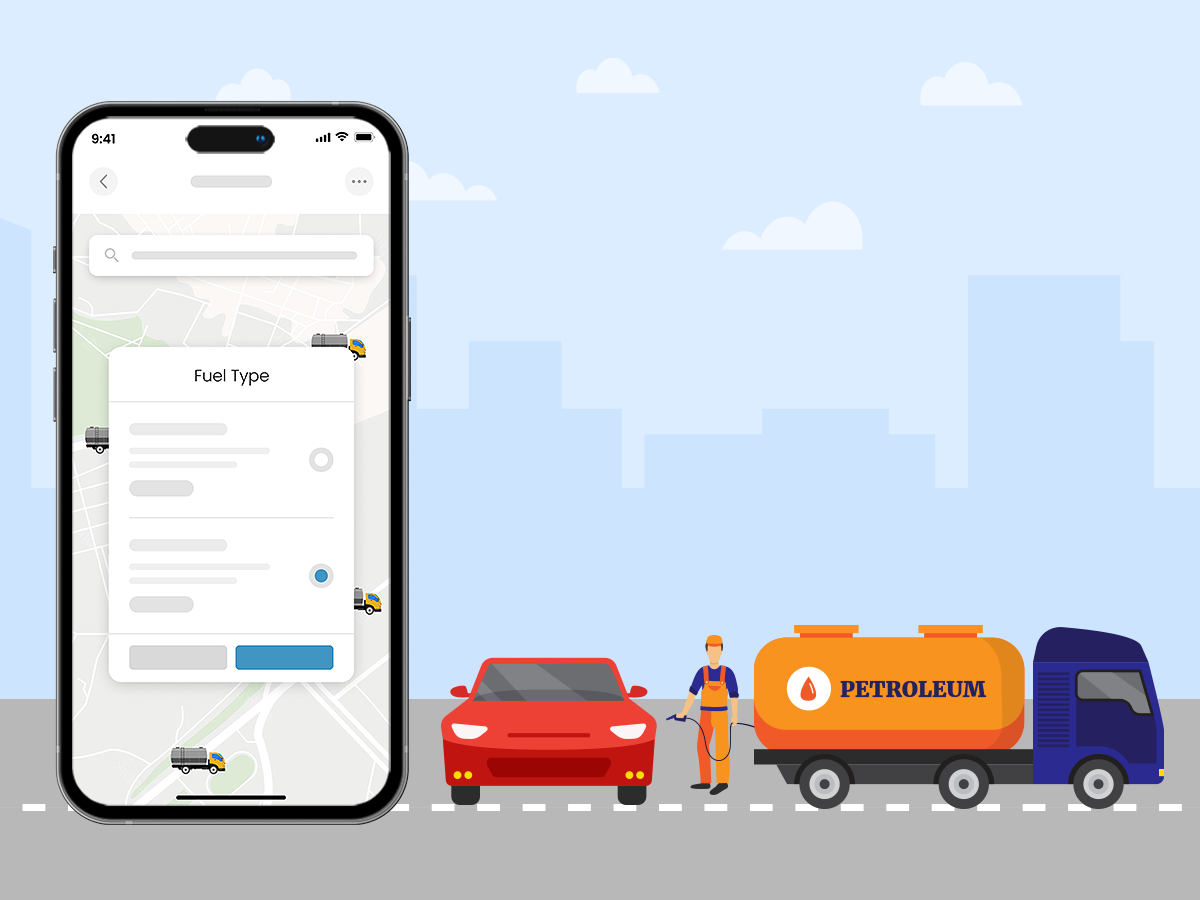 Chirag Vaghasiya

June 13, 2023

6 min read
The fuel delivery business has undeniably transformed the business arena of the on-demand economy. One area that has particularly caught the entrepreneur's attention is the on-demand fuel delivery system. This revolutionary approach has empowered users to conveniently order fuel to their location, and the domain is expanding rapidly.
The industry is experiencing remarkable growth, and it's no surprise given its numerous tangible benefits. It saves users valuable time by eliminating the need to visit a fuel station and enhances their ability to handle emergencies effectively. According to Future Market Insights, the market for mobile fuel delivery is expected to be worth 9.3 billion USD by 2032. The investment in on-demand fuel delivery apps has far exceeded expectations, showcasing the immense potential of this industry.
In this article, we will analyze fuel delivery apps, key features, benefits, business models, and development costs.
What is a Fuel or Gas Delivery App, and How Does it Work?
A fuel delivery app offers a convenient and efficient solution for obtaining fuel without visiting a gas or fuel depot. Similar to the popular Uber service for cars, the process is streamlined and user-friendly.
Let's explore the basic steps involved in using a fuel delivery app.
Registration: To access the app's features, users must register by providing the necessary details. Many apps now offer the option to sign up using social media accounts, simplifying registration.
Location Details: Users can easily share their live location through the app, ensuring accurate fuel delivery. The app's driver promptly reaches the designated location to make the fuel available.
Fuel Request: In this step, users can select the type of fuel they need, such as diesel or petrol, and specify the desired volume. Some apps even offer features that allow users to negotiate fuel prices.
Fuel Delivery: Once the above steps are completed, users can expect a fuel delivery truck to arrive at their doorstep within minutes, ready to provide the requested fuel.
By utilizing a fuel delivery mobile app, users can enjoy the convenience of fuel delivery right to their desired location, eliminating the hassle of visiting fuel stations.
Also check: How Uber Health App Transforms Healthcare Transportation?
Popular Fuel & Gas Delivery Apps
There are several popular fuel and gas delivery apps available that allow users to order fuel or gas and have it delivered directly to their location. Here are a few examples:

1. FuelBuddy
Offering all-day services, they deliver fuel to your doorstep for generators, trucks, buses, and cars. With quick response times, their delivery personnel arrives within minutes of placing an order, ensuring a seamless customer experience.
2. EzFill
It caters to workplaces and homes, delivering fuel wherever customers need it. With a team of professional HAZMAT drivers, EzFill prioritizes speed and safety during gas delivery. The app informs users with timely notifications and reminders, providing accurate updates on the arrival time of their fuel delivery.
3. Yoshi
Yoshi is a fuel delivery service that not only provides gasoline but also offers services like car washes, oil changes, and more. They have an app that allows you to schedule fuel delivery and other car-related services.
4. Booster Fuels
Besides delivering fuel, they offer additional services like windshield wiper replacement and tire inflation. While providing the flexibility to refill tanks anytime, the app may take longer for fuel delivery, which is a minor drawback.
Also check: On Demand Car Wash App Development Cost & Features
On-Demand Fuel Delivery App Benefits
Having an on-demand fuel delivery app offers many benefits to both consumers and businesses, such as:
Instant Fuel Ordering: On-demand fuel delivery apps allow users to order fuel anytime, anywhere conveniently, and in any desired quantity. With these apps, customers can easily place online fuel orders and expect timely delivery within the specified timeframe.
Real-Time Tracking: In real-time, users can track the delivery truck's location through GPS and map integration within an app. This feature enables customers to estimate the delivery time and prepare to receive the fuel at their designated destination.
Cost-Effectiveness: Implementing an on-demand fuel delivery app offers businesses a seamless user experience, attracting a broader customer base and increasing profits. Furthermore, these apps relieve companies from the time-consuming task of maintaining a physical fuel station, reducing maintenance costs, and optimizing profitability.
Flexible Payment Options: By incorporating ready-made fuel delivery app solutions, business owners can offer multiple payment modes to their customers, including debit cards, credit cards, and mobile wallets. A secure payment gateway can also be established to ensure smooth and accurate transactions. A "pay later" option in the online fuel ordering system can enhance customer convenience and boost transaction frequency.
Efficient Driver Management: Effective driver management is crucial in on-demand fuel delivery services. This entails hiring skilled fuel vehicle drivers and verifying their qualifications before onboarding them. This kind of applications can also assist in driver tracking, providing real-time updates on their working status.
Key Features of a Fuel Delivery App
A fuel delivery app is designed to simplify the process of ordering and receiving fuel for various purposes, such as refueling vehicles, generators, or heating systems. Here are some key features that you can include in your mobile application:
| Customer App Features | Driver App Features | Admin Panel Features |
| --- | --- | --- |
| Place fuel orders | View assigned fuel orders | Manage customer accounts |
| Track fuel delivery status | Navigate to delivery locations | Monitor fuel inventory levels |
| Select delivery time and location | Update delivery status | Generate reports on sales and deliveries |
| View order history and receipts | Capture digital signatures | Manage driver accounts and profiles |
| Make payments and view invoices | Upload proof of delivery | Set pricing and discounts |
| Rate and provide feedback on the service | Communicate with customers and admins | Manage promotions and loyalty programs |
| Access loyalty rewards and discounts | Receive real-time notifications | Handle customer support and queries |
| Update personal information | View customer instructions and preferences | Monitor driver performance and ratings |
| Manage favorite delivery locations | Track fuel consumption and mileage | Manage fuel suppliers, and contracts |
| Refer friends and earn rewards | Report vehicle issues or delays | Control app settings and configurations |
Business Model of Fuel Delivery Apps
When considering the growth and prosperity of your business, selecting an appropriate fuel delivery business model is crucial. By making a careful choice, you can position yourself for success.
Here are some popular and effective on-demand fuel delivery business models to explore:

Aggregator Business Model: With the aggregator business model, you can enhance your business revenue by establishing an independent fuel delivery system. This model connects fuel delivery distributors or suppliers with end users, enabling seamless transactions.
Delivery Service Model: For startups aiming to expand their fuel business, implementing a delivery fee to cover the cost of bringing fuel to their location can be highly beneficial. This fee can vary based on factors like distance, time of delivery, or order volume.
Steps to Develop an On-Demand Fuel Delivery App
Step 1: Market Research and Analysis: Conduct thorough market research to understand the dynamics of the fuel delivery industry, including existing competitors, target audience, and market demand. Identify any gaps or opportunities that can be leveraged for your on-demand fuel delivery app.
Step 2: Define Your Unique Selling Proposition: Determine what sets your business app apart from competitors and create a unique selling proposition (USP). Consider factors such as faster delivery, a more comprehensive range of options, a user-friendly interface, or special features that enhance the user experience.
Step 3: Plan App Features and Functionality: Based on your market research and USP, outline the key features and functionality required for your on-demand fuel delivery app. It may include user registration, online ordering, payment integration, order tracking, and delivery notifications—plan for user-facing and administrative features for fuel station owners and delivery personnel.
Step 4: Design User Interface and User Experience: Create a visually appealing and intuitive user interface (UI) design that enhances your app's overall user experience (UX). Pay attention to easy navigation, precise categorization, and seamless ordering. Aim for a user-friendly design that caters to both new users and returning customers.
Step 5: Develop and Test the App: Hire a skilled development team to build a robust and high-performing mobile app for your business. Ensure that the development process aligns with your planned features and design. Conduct rigorous testing to identify and fix bugs or usability issues before launching the app.
Step 6: Launch and Market Your App: Once the development and testing phases are complete, launch your app on relevant platforms such as iOS and Android. Develop a comprehensive marketing strategy to create awareness about your app, attract users, and engage with potential partners.
Technology Stack Required
To build a robust and scalable application, you'll need a combination of frontend, backend, and mobile development technologies. Here's a technology stack that you can consider:
For Android: Kotlin or Java
For iOS: Swift or Objective-C
Frontend – React.js, Angular.js, Vue.js, HTML, CSS
Backend – Node.js, Express.js, Python
Payments – Braintree, PayPal, Stripe, eWallet
Push notifications – Twilio, Push.io
Database – MongoDB, MySQL
Cloud architecture – AWS, Google Cloud

Exploring Fuel Delivery App Development Costs
The cost to develop a fuel delivery app depends on the number of complex features. Typically, the price range for such an app falls between $15,000 to $50,000 and more. However, the cost may vary due to the platform, user interface and experience, the technologies employed, and the location of the app development company you hire.
Put simply, a more intricate app will entail higher associated expenses. Here is a breakdown of the estimated cost to build an app based on different complexity levels:
Basic App: Estimated cost of $10,000 to $15,000, with a 3 to 6 months development timeframe.
Medium Complex App: Estimated cost of $15,000 to $25,000, with a 6 to 9 months development timeframe.
Highly Complex App: Estimated cost of $25,000 to $50,000+, with a development timeframe of 9 months or more.
Consulting with a reputable on-demand app development agency is recommended to accurately determine the cost of building a fuel delivery app. They can assist you in finalizing the specific type of app you intend to create.
Final Thoughts
Embracing online on-demand services presents an excellent opportunity to connect with your audience, one you should pay attention to. Although developing an on-demand fuel delivery app can be challenging, this article is a valuable guide. By partnering with an app development company, you will have the necessary support to create a fuel delivery app that instantly resonates with your target audience. Don't hesitate to seize this golden opportunity and tap into the power of online platforms.
You may also like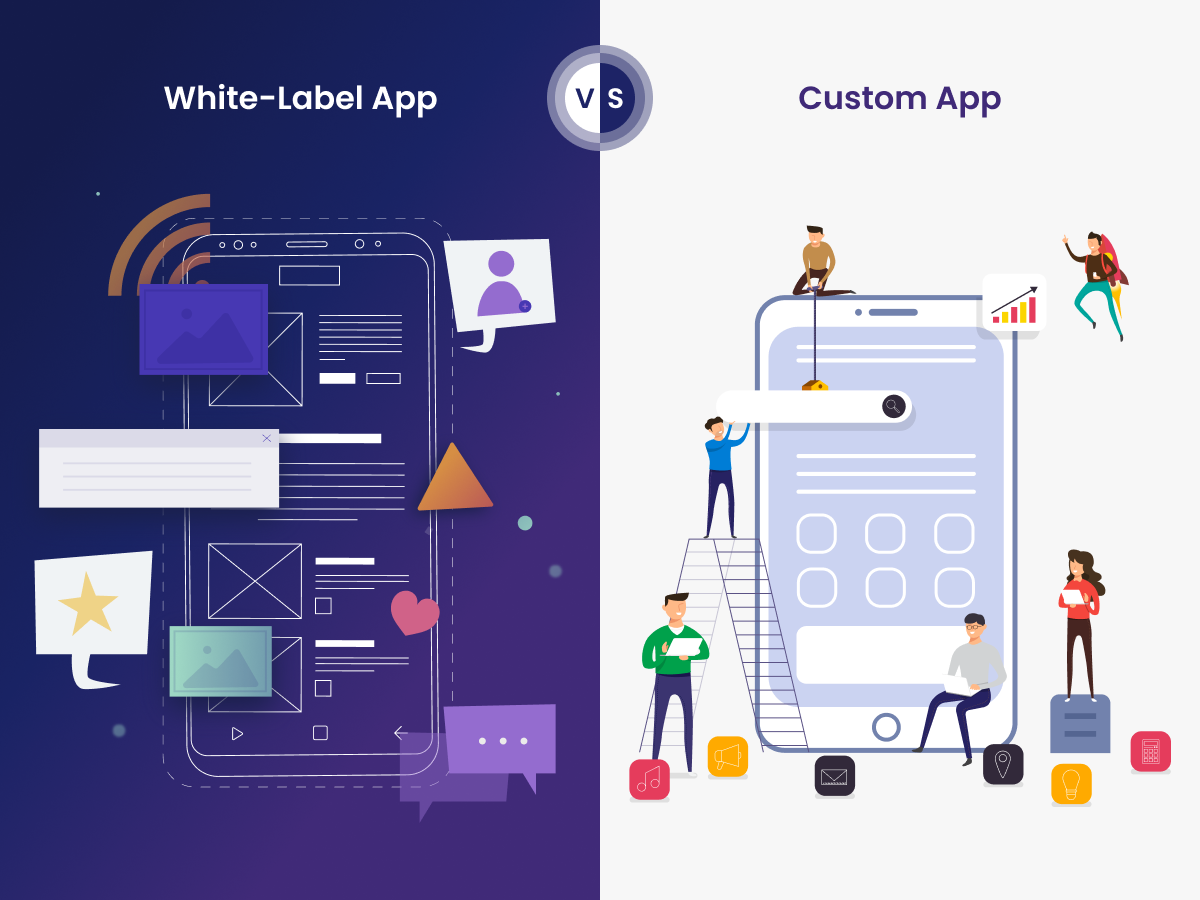 White Label App vs Custom App: Unveiling the Right Choice
Chirag Vaghasiya
In today's fast-paced digital landscape, the choice between white label app and custom app is a pivotal decision that businesses must make when venturing into mobile application development. Both approaches have their distinct advantages and disadvantages, and the path chosen can significantly impact a company's success in the digital realm. Every business has common goals… Read More