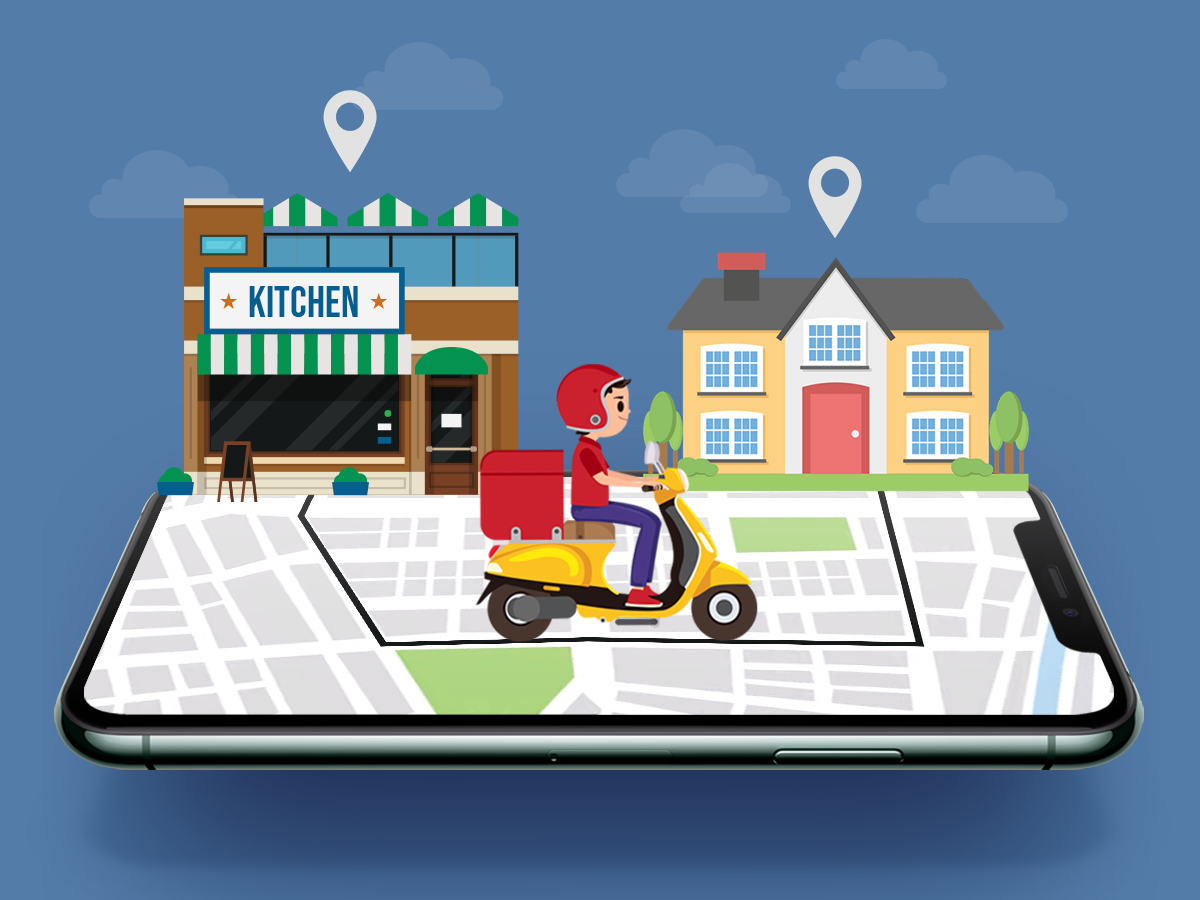 Chirag Vaghasiya

May 25, 2023

6 min read
Virtual kitchens, or cloud kitchens, are a relatively new concept gaining massive popularity in the restaurant business. These kitchens are designed specifically for preparing and delivering food, with no physical dining space for customers. Instead, they operate solely through online platforms and delivery services.
Ghost Kitchen, such as "Kitchen United," provides shared restaurant kitchen spaces and offers an online ordering and delivery logistics platform. Through their network of ghost kitchens, they enable restaurants to expand into new markets and increase their delivery capabilities while reducing operational costs and risks associated with traditional brick-and-mortar locations.
With the rise of online food delivery businesses and third-party delivery applications, ghost kitchens can fulfill orders quickly and efficiently without the constraints of a physical dining area. This model also enables companies to target specific neighborhoods or regions without needing multiple branches, enhancing their market reach.
This article will highlight the loopholes of ghost kitchen platforms and explain how cloud kitchens work. But before doing that, let's look at the market for this food delivery model.
The Current Positioning of the Cloud Kitchen Market
The global market size of cloud kitchens was valued at over 56.71 billion USD in 2021.
China is the leading country globally in the number of ghost kitchens.
Deliveroo, a leading online food delivery provider, tied for second place as the most used online U.K. food delivery app in 2022, indicating its popularity and impact in the market.
Source: Statista
Who Reigns as the Masters of Cloud Kitchens?
Virtual kitchens enable restaurant operators and food entrepreneurs to establish delivery-only kitchens, bypassing the need for a physical dine-in space. As a result, numerous food truck business providers have emerged with the growth in demand for this business model. Here are three top cloud kitchen providers that have gained global recognition: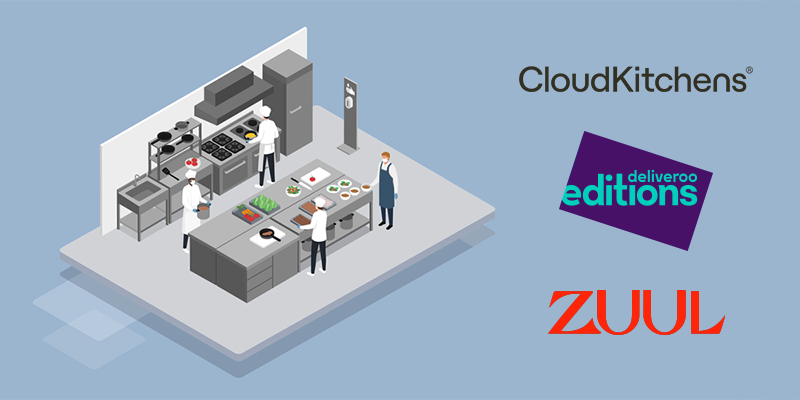 CloudKitchens: Founded by Travis Kalanick, the co-founder of Uber, CloudKitchens is a leading player in the cloud kitchen industry. They provide fully-equipped kitchen spaces in various cities, allowing restaurants and delivery-only concepts to operate efficiently. CloudKitchens offers shared rooms, technology solutions, and logistical support, making it a leading choice for many food entrepreneurs.
Deliveroo Editions: Deliveroo Editions is a cloud kitchen platform operated by the food delivery giant, Deliveroo. They collaborate with restaurant partners to establish shared kitchen spaces strategically located to cater to high-demand areas. Deliveroo Editions provides various services, including kitchen infrastructure, delivery logistics, and marketing support, helping restaurants expand their reach and increase their delivery capabilities.
Zuul Kitchens: Based in New York City, Zuul Kitchens provides shared kitchen spaces and restaurant support services. They aim to help culinary entrepreneurs scale their businesses by offering turnkey solutions. Zuul Kitchens focuses on optimizing operational efficiency, leveraging technology for order management, and providing marketing support to enhance brand visibility.
Also check: Startup Ideas for Successful Online Office Food Delivery Platform
Kitopi Kitchen: A Fresh Approach to Food Delivery
Kitopi Kitchen is a popular cloud kitchen in Dubai, UAE that connects with restaurants looking to offer online food delivery. Since its establishment in 2018, Kitopi has provided a platform for restaurants to operate from multiple locations without costly infrastructure and software investments.
What sets Kitopi Kitchen apart is its focus on creating an exceptional customer experience. Through their platform, restaurants can receive orders, manage deliveries, and handle customer reviews seamlessly.
Let's look at the UAE-based Kitopi Kitchen platform working model to understand better how to start your cloud kitchen.
| Step | Description |
| --- | --- |
| Onboarding | Restaurants pay an onboarding fee to join Kitopi. |
| Royalty Fee | Kitopi retains a portion of the onboarding fee and returns a 10% royalty fee on sales to restaurants. |
| Operations | Kitopi manages the end-to-end operational process on behalf of the restaurants. |
| Hub Kitchen | Kitopi has a central hub kitchen where food preparation occurs in each city. |
| Smaller Kitchens | Food is transported to smaller kitchens closer to the delivery areas for final touches and delivery. |
How to Choose the Best Cloud Kitchen Business Model?
The rising demand for online food delivery app development and the changing preferences of consumers has made selecting the best cloud kitchen business model a critical decision. By understanding the various models available and assessing factors such as target market, scalability, and cost-efficiency, you can make an informed choice that aligns with your vision and maximizes your chances of thriving in the competitive food industry.
Now, let's describe each model: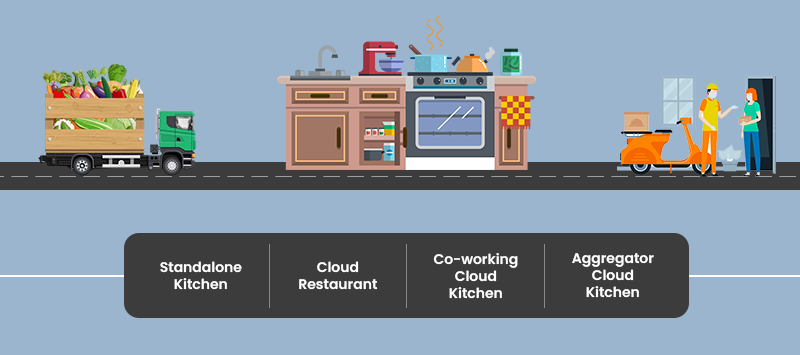 Standalone Kitchen: This model represents a single, independent kitchen that operates independently. It requires a platform development cost of $15,000 or more. Standalone kitchens typically focus on preparing and delivering food for their brand.
Cloud Restaurant: The model also requires a platform development cost of $15,000 or more. In this model, the kitchen is a virtual restaurant that solely works online without a physical dine-in location. Customers place orders through online platforms or mobile apps, and the food is delivered to their site.
Co-working Cloud Kitchen: The co-working cloud kitchen model involves multiple food businesses sharing a common kitchen space. This model requires a higher development cost of $20,000 or more. It allows different food businesses to operate simultaneously and share resources, such as kitchen equipment and infrastructure, reducing costs and fostering collaboration.
Aggregator Cloud Kitchen: The aggregator cloud kitchen model requires the highest development cost, starting at $30,000. It involves a centralized kitchen facility as a hub for multiple food delivery platforms and brands. The aggregator manages various food businesses' operations, logistics, and delivery, providing a centralized and efficient food preparation and delivery system.
These models represent different approaches to the cloud kitchen concept, each with its own characteristics and cost considerations.
Also check: Top Benefits of Food Delivery App for a Single Restaurant
Technical and Operational Considerations for Cloud Kitchen Platform Development
If you wish to develop a Kitopi-like online cloud kitchen platform in UAE, there are certain things you'll have to consider:
Location: Forget fancy sites! Cloud kitchens can pop up anywhere, from cozy neighborhoods to empty parking lots or on wheels like food trucks! The secret sauce is being close to your hungry customers, so you can zoom through deliveries and satisfy their cravings at lightning speed.
License: Do you know licenses are secret recipes for cloud kitchens? They add a pinch of trust and confidence to your delicious food. Since your customers can't visit your kitchen in person, having certifications and licenses ensures your food is safe, clean, and mouthwatering!
Inventory Manager: Managing inventory is essential for any restaurant business, and it's no different in a cloud kitchen. An excellent inventory management software lets you track daily usage and know when to restock. This critical tool helps you minimize waste and save costs like a wizard of inventory control!
Kitchen Staff: Behind the scenes, it's all about the excellent cooks and cleanliness champions! In your cloud kitchen, you need a team of skilled cooks who can whip up delicious meals while maintaining impeccable hygiene. They are the superheroes of the restaurant world, ready to launch your culinary dreams into orbit.
Online Ordering Software: When you team up with a third-party aggregator, they take a slice of your online orders and deliveries. But fear not! You can have your online order software, a fancy web app, or a mobile app that works seamlessly with your POS and KDS. It's like having your genie make the ordering experience enchanting!
Delivery Partner: When it's time to deliver the deliciousness, you have two choices. You can manage delivery independently, but it comes with challenges and costs. Alternatively, you can team up with a delivery partner, and a food delivery system helps you assign orders to nearby heroes of hunger. It's like having a trusty sidekick to ensure your food reaches its destination!

How Much Does a Cloud Kitchen Platform Like Kitopi Cost?
The tentative cost to develop a cloud kitchen platform like Kitopi in Dubai, UAE depends on the unique features you need for managing your business and supporting partner restaurants. On average, building a restaurant app and website on a platform can range from $25k to $35k.
The price range also depends heavily on the solution provider you partner with. Alternatively, you can also go for the Kitopi clone app, which will cost you much less than the app developed from scratch.
Are You Planning to Develop a Cloud Kitchen App?
With the massive popularity of online food delivery and its convenience, a cloud kitchen app presents a lucrative business opportunity. The app can be a one-stop platform, enabling customers to explore various cuisines, place orders, and track deliveries. A well-designed user interface, seamless integration with payment gateways, and robust backend infrastructure are vital aspects to consider.
Additionally, incorporating real-time order updates, personalized recommendations, and customer feedback mechanisms can enhance user experience and drive customer loyalty. By strategically planning the development of a cloud kitchen app, one can tap into the growing demand for digital food delivery services while delivering customers a superior and hassle-free experience.
Partnering with a reputable cloud consulting services company becomes paramount when embarking on cloud kitchen app development. Their expertise avoids costly technical mistakes, enabling you to invest time and money wisely in creating a successful and efficient platform. It is always recommended to fact-check the background of the developers to ensure that you make the most out of your hard-earned investment.
You may also like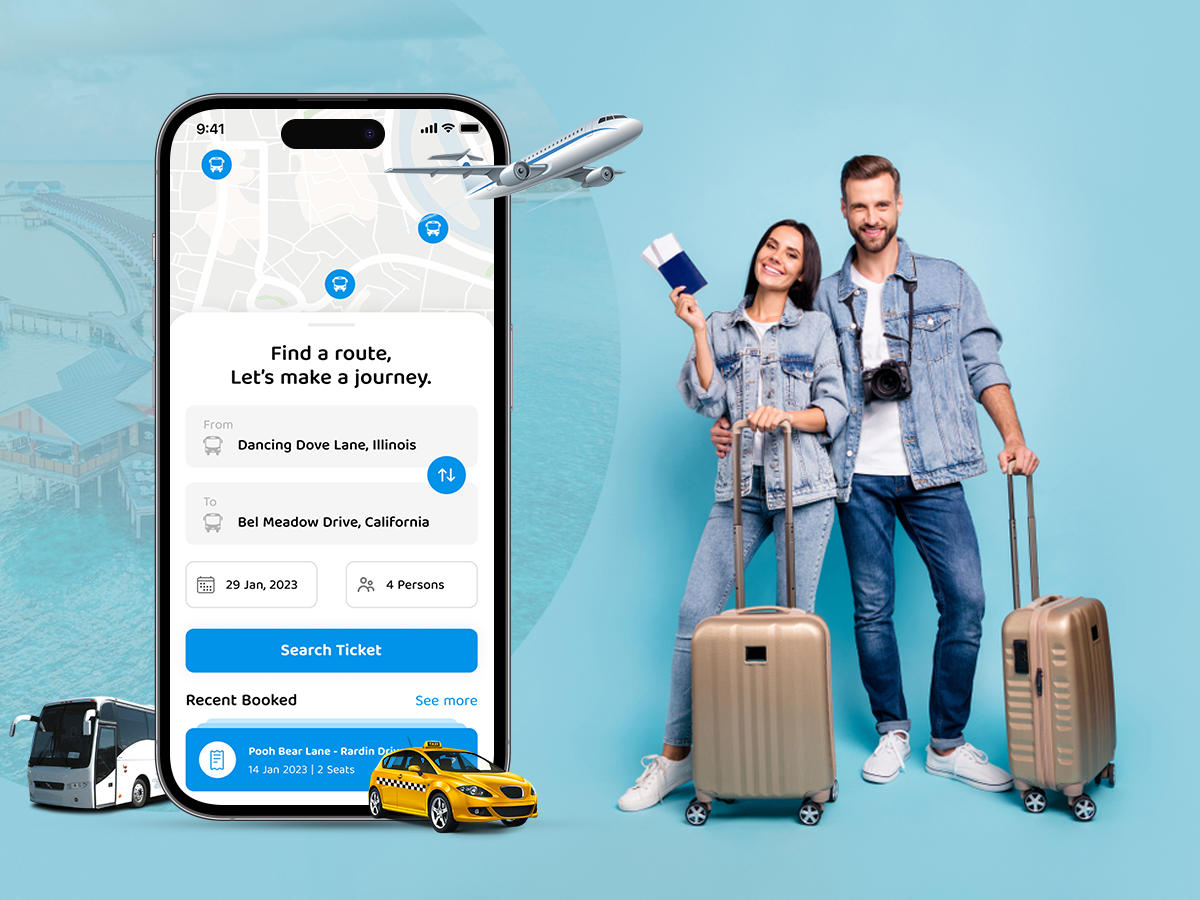 A Definitive Guide to Travel Booking App Development
Ashka Panchal
Globally more and more travelers are opting for convenient and efficient digital solutions. As the world is moving towards a post-pandemic reality, travelers seek seamless travel experiences at their fingertips, making a massive surge in the travel app industry. To meet this demand, developers have the opportunity to create impactful travel booking apps that will… Read More