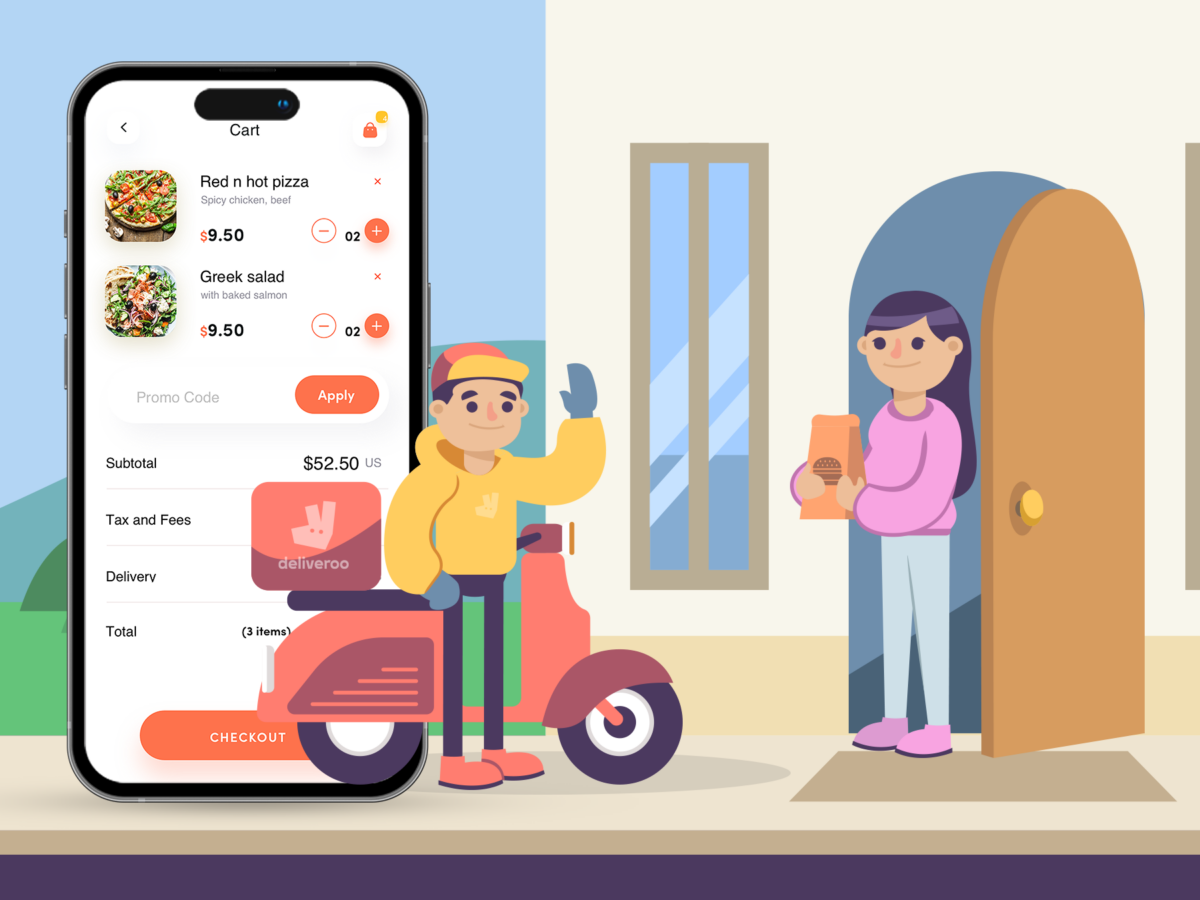 Ankit Patel

October 21, 2022

4 min read
Hunger pangs can strike at any time, any hour. To mitigate them food delivery apps have come to the rescue. These solutions have given convenience to customers to find eateries nearby, order meals, and get them delivered to their doorstep. This has allowed the food delivery business to have an extremely lucrative future. Side-by-side, it has also encouraged many restaurant startups to take part in on-demand food delivery app development services. This is to allow them to get their offerings boosted visibility alongside being able to become part of the billion-dollar market without any roadblocks.
If you visit the Android Play Store or the iOS App Store, you will find many food delivery apps that have eased food delivery services. The prominent examples are Zomato, Swiggy, UberEats, and Deliveroo, to name a few.
In the article, we will discuss in detail the Deliveroo app and the nature of its popularity which has resulted in the creation of the ready-to-launch Deliveroo clone app. This is in the quest to assist the restaurant startup to get their food offerings known among more customers. We will provide you a formative figure for the cost of building the solution to save on costs while performing food delivery app development.
So let us begin.
About Deliveroo
Launched in 2013, Deliveroo is a UK-based food delivery app, that since its creation has made food delivery services easy to access for people living there. Going down the years at the current juncture, it makes meal delivery services accessible to people in the Netherlands, France, Belgium, Ireland, Italy, Australia, Singapore, etc.

Image source: deliveroo.co.uk
With easy operations, the app makes meals convenient to access for customers apart from creating a sense of comfort among them in connecting to restaurants nearby.
Here are other reasons to elucidate the app's popularity.
Market Stats for Deliveroo
Check out the stats below to get an idea of the popular nature of the Deliveroo app.
Earned revenues of €1.8 billion in 2021.
Has over 8 million users in the UK.
Annual revenues in 2021 were €1824 million.
Gross transaction value in 2021 was €6.6 billion.
Has 160,000 restaurants partnering on its platform.
Statistics source: Business of Apps
Unique Features
The app has extremely unique features present in them which allow the three segments, namely, the customer, the delivery driver, and the restaurant to seamlessly operate it.
For the Customer

Social media login
Customize menu
Advanced search
Order food or schedule
Add to cart
Multiple payment options
Push notifications
Tracking order
Offers and discounts
In-app chat/call
Rating and review

For Delivery Boy

Manage profile
Set availability as online/offline
Accept/reject the order
Track customers' location
Earning report
Work history
In-app chat/call
Rating and reviews

Admin Panel Features

Powerful dashboard
Menu update
Manage customers
Manage delivery boys
Manage restaurants
Payment management
Reports and analytic
Manage deals and discounts
Reviews and rating management
Its Business Model
The next factor that contributes to the popularity of the app is the business model it follows. Have a look at them below.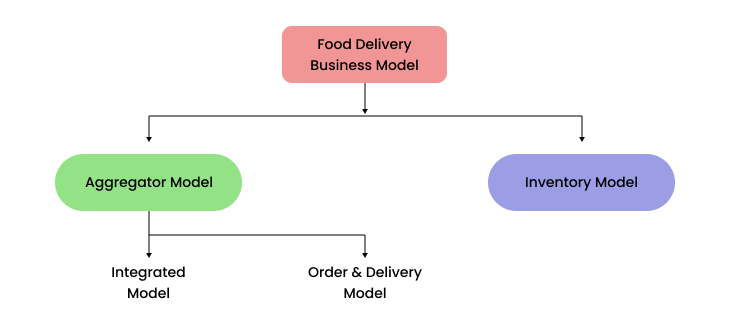 Image source: fooddeliveryclone.com
Aggregator apps where restaurants register on third-party platforms to provide meal delivery services to customers.
Apps with logistic support to ease it for customers to order food at different outlets, which includes restaurants, cafes, etc.
Ghost kitchens where meal orders are taken on the internet and then their delivery gets seamlessly done.
Read Also: Doordash Business Model and Revenue Sources
Revenue Stream
There are three ways through which the app capitalizes on profits.
Commissions from restaurants on orders they receive.
Delivery charges from the customer for peak hours, and festivals.
Advertisement charges from restaurants for listings etc.
Deliveroo App workflow
Alongside these areas that make the Deliveroo app popular, its easy operations are also predominantly responsible for its astounding popularity.
Check the workflow of a food delivery app like Deliveroo.
The customer enters the app and adds location details to get a list of restaurants nearby and selects one matching preference.
They choose meals and order them.
The restaurant receives the order request, accepts it, and assigns a delivery driver for picking the order up.
Driver tracks the restaurant location and reaches there for picking the order up.
Order gets picked- with the customer being notified of it.
The customer and driver can track each other until the final delivery gets done.
With an idea of the different factors that contribute to the popularity of Deliveroo, you can understand why it has therefore led to the creation of the ready-to-launch Deliveroo clone app. This is to assist restaurant startups to get their visibility boosted, reaching out to the maximum number of customers, and so on.
Being a boon in disguise, with the solution, you can capitalize on profits and accomplish growth like never before.
Follow these steps during on-demand food delivery app development to streamline the process.
How to Develop a Food Delivery App like Deliveroo Clone?
Follow these steps to develop Deliveroo like food delivery app to reach out to the maximum number of customers.
Research the target market.
Assess competitors well to ideate a design strategy to implement.
Use appropriate technologies to streamline food delivery services for customers.
Connect with a reliable food delivery app development company offshore competent in developing a Deliveroo clone app. Analyze their portfolio to ascertain this.
Let's now assess the cost to develop the solution.
How Much Does It Cost to Develop an App like Deliveroo Clone?
If you are creating a food delivery business for the first time, focus on the budget.
So if we have to formulate the cost to develop app like Deliveroo clone, the estimated cost will be between $12,000 and $20,000.
Remember, the costs provided above might go up in case of the situations listed below:

UI/UX design
The choice of the platform (Android, iOS, or both)
Based on app complexity
Advanced features
Third-party integrations
The company you choose and its location
Support and maintenance
Hence, outsource on-demand food delivery app development from a reliable company to ensure your budget remains within the check.
Read Also: How On Demand Food Delivery Clone App Changing The Food Business
Wrapping Up
The food delivery business will earn revenues of $320 billion by 2029. Thanks to apps like Zomato, Swiggy, Deliveroo, etc. Courtesy of its popularity, the prominence of the market has grown manifold. It has furthered the creation of the Deliveroo clone app to aid restaurant setups in reaching out to the maximum number of customers and boosting their visibility. If you are also among one those who are planning to achieve visibility and revenues in a short time, connect with us today. With our expertise in channeling the best practices during food delivery app development, on understanding your requirements, we will partner with you to develop a solution that is in sync with your needs to aid you in capitalizing on profits and returns. It is time for a transformation- get the solution for your visibility to get boosted manifold.
You may also like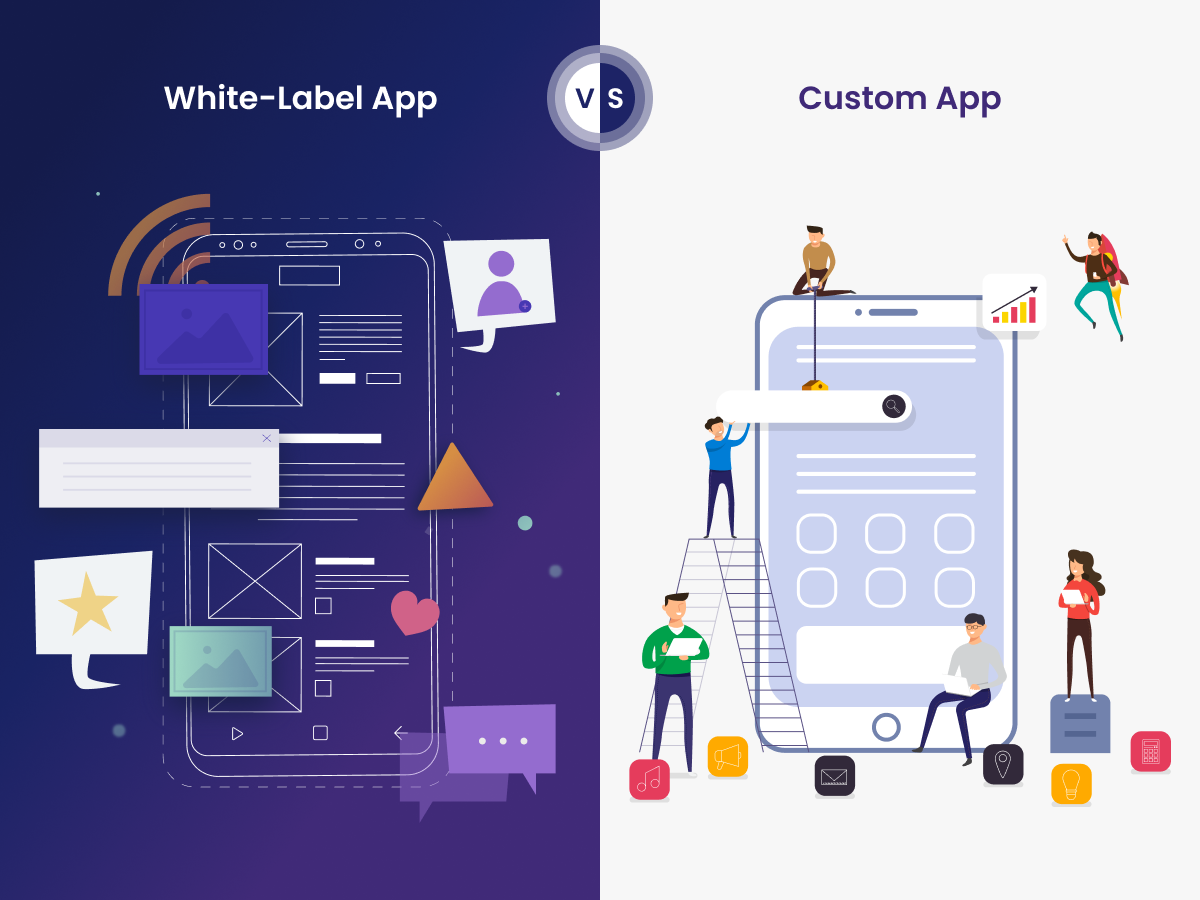 White Label App vs Custom App: Unveiling the Right Choice
Chirag Vaghasiya
In today's fast-paced digital landscape, the choice between white label app and custom app is a pivotal decision that businesses must make when venturing into mobile application development. Both approaches have their distinct advantages and disadvantages, and the path chosen can significantly impact a company's success in the digital realm. Every business has common goals… Read More