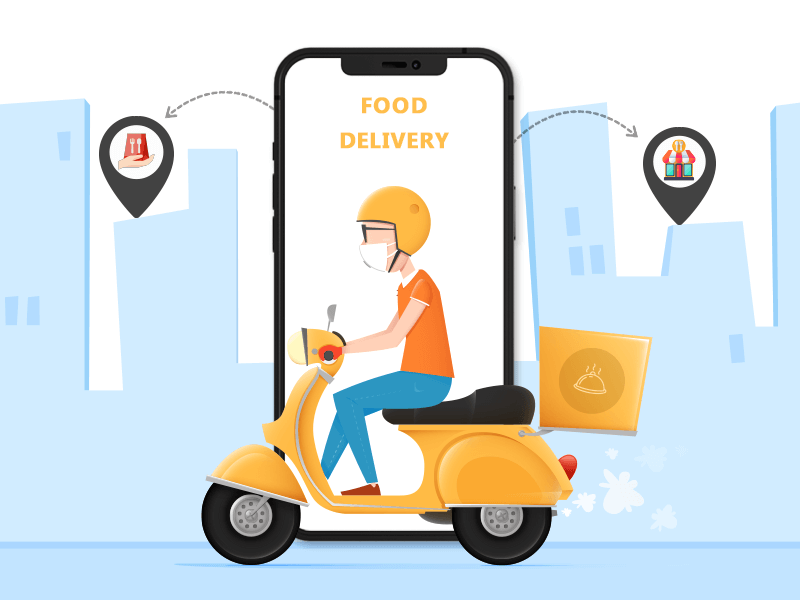 Ankit Patel

December 24, 2021

5 min read
In this era of Digitalization, mobiles are the most preferred gadgets. Mobile applications have changed the way of business of almost all industry verticles. One of the main reasons, why consumers prefer meal ordering and delivery applications is the convenience of ordering or purchasing food online. They get their food delivered to their doorstep. Therefore the demand for such apps is getting increases with time. Aspiring entrepreneurs might take advantage of the opportunity by creating a meal delivery app clone.
● Why You Should Get A On Demand Food Delivery App For Your Business?
Assume you're the owner of a restaurant or a meal delivery service. In that situation, getting a functional app is the first step toward success in the current market. You should be aware that app development is quite expensive but it is all about the first step that you take to start your business. A food delivery app development company charges around $20,000 to $25,000 to properly construct, design, and test a food delivery software with only the most basic functionality. The prices vary according to the region.
Rather than building an app from the ground up, you should use food delivery app development services. Clone applications are the greatest choice for new business visionaries because they help immensely with marketing. A food delivery app clone can be built for under $7000-$8000 which can save you both time and money. Furthermore, the clone apps can be modified and adjusted according to your business needs.
● Importance Of On Demand Food Delivery App
By seeing the present Covid 19 situation, people are increasingly turning to online services to save themselves from getting infected. These days, everyone's life revolves around on demand delivery apps.
Furthermore, having an internet presence has become the most critical part if you successfully want to run the business. People use their smartphones to order food from their favorite restaurant or they also get the facility to schedule a home delivery at any time.
Let's have a look at some of the most important characteristics of the on demand delivery market:
User experience tailored to mobile devices (the key point).
Effortless payment.
More offers and discounts as compared to traditional stores that's why it attracts more customers.
Scripts for clone applications are social media-friendly. Customers can post their orders and experiences on social networking sites like Facebook and Instagram which could be more beneficial for you as they are marketing your services to their loved ones.
Product and service delivery times are being sped up.
People can give ratings and reviews as per their experience.
Clone solutions are the ideal approach to creating an on demand delivery app. You can avail of food delivery app development services to get the app as per your specific requirements. We'll understand everything about the food ordering app in this blog. Let's take a glance at why you should go for an on demand food ordering app.
● Why Go For An On Demand Food Ordering App?

On demand delivery entails a short turnaround. This means that consumers who use on demand delivery expect deliveries within a few hours or no later than the next day.
With the help of mobile applications retailers as well as consumers can schedule home deliveries according to their preferred time. Mobile apps have the ability to simplify the business process and it is also very helpful for consumers on a large scale. Because everyone has a mobile phone on them at all times that's why choosing a delivery partner is a lot easier now.
Easy Accessibility – Receiving, processing, and delivering orders from a single location can be immensely convenient with a hyperlocal delivery app.

It automates the record-keeping task and reduces the need for human resources which saves overall company cost at a huge scale. You may use hyperlocal delivery applications to arrange pickups, designate delivery partners, and remain in touch with them for better communication.

Efficient Deliveries – When you have a mobile app specialized in deliveries, you can hire the required human resources to ensure that no orders are missed.

You can also handle more incoming orders more rapidly at the same time, thanks to a mobile app that requires little technical knowledge.

Easy Order Management – You can handle all of your orders from one spot with the help of a mobile app. This means you can keep track of how many orders are being handled. It also helps in avoiding confusion regarding incoming and outgoing orders.With the help of an application, you can simply keep track of incoming orders and make sure you don't miss out on any sales.

On demand delivery necessitates swift action, which you can only achieve if you have the ability to instantly access orders. With a smartphone app, you may do so in a matter of seconds.

Simplifies Record-Keeping – Keeping track of the transactions that occur during shipping might be challenging for businesses. The mobile app allows you to keep track of all of your latest and past transactions in one spot. It also gives access to keep a constant eye on how many times you load money and spent it on various shipments. It supports businesses in performing better money management
Easy Order Tracking – Finally, order tracking is considerably easier to conduct using a mobile app because the interface is a lot more user-friendly. You can chase the whereabouts of the delivery executive once you schedule a pickup, and once the order is picked up, you may track it until it arrives at its destination. You can effortlessly manage your business with live updates and tracking information available in a single app.
● Important Features Of Food Delivery App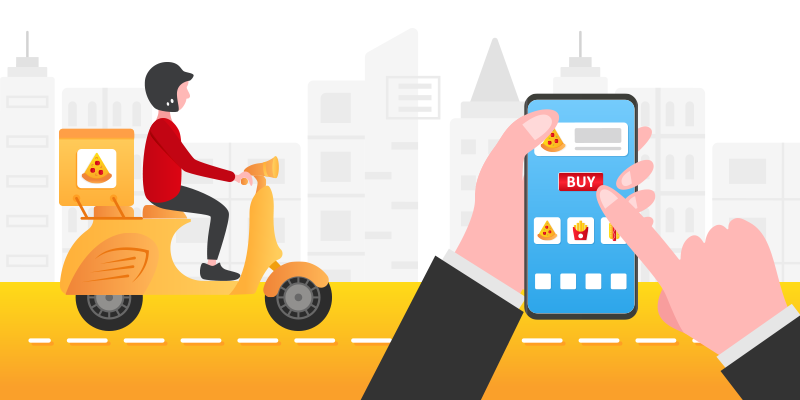 A food ordering app requires a lot of effort and advanced features that can simplify human life. A food delivery app plays a major role when it comes to ordering food online through mobiles.
Quick Login – Users can register by using their email addresses or phone numbers. They can also use social media logins for quick access.
Smart Search Filter – With the search filter option, customers can quickly and easily find restaurants and their favorite dishes. This will make browsing within the on demand app much easier.
Payment Modes – Users can choose between cash-on-delivery and digital payment alternatives when it comes to making payments. Debit cards, credit cards, UPI payments, and e-wallets are all examples of digital payment options which can be used in an app for making payments.
Order tracking – Customers can track their orders after they have been placed. Aside from that, they will be able to estimate the delivery time and keep track of the delivery personnel's current location.
Order Management – Mobile apps simplify the order management process up to a great extent. Restaurant managers can use this function to see and handle orders, including incoming and cancelled orders.
Meal Management – Restaurant managers have the option to manage the app's sections. They can add or remove any meal components depending on the availability of the cuisine at the time.
Customer feedback – It is very important to obtain customer feedback practically for all on demand apps in order to analyze the perception of users. This feedback can be viewed by restaurant managers and the platform owner, who can then take appropriate action to improve the situation.
Payment Management – By including this functionality in the admin panel, the app owner will be able to handle payments. Total earnings can be checked and analyzed.
Promotional activities – As a platform owner, you can provide discounts and offers to your potential clients in order to improve your business. A food delivery app development company can help you out in your promotional activities.
Restaurant Management – You are in charge of adding the names of eateries. Moreover, if a restaurant does not respect the platform's criteria, you can delete or remove it from the list.
These are the basic things you should think about while creating a food ordering app. Aside from these, adding a fresh set of features to your software will make it stand out. As a result, you will be able to distinguish yourself from the burgeoning competitors.
Summing Up
On the Spot In the realm of food ordering, the Food Delivery app is not a new term. For both entrepreneurs and users, the platform has set new standards. Food delivery app development services could help you out in reaching out your goals.
I understand that putting words into action is more difficult than saying them, but a little research and market research can help you reap beneficial rewards in the future. Hopefully, this blog has sparked your interest in starting a meal delivery service. Furthermore, the market's future potential validates that creating an on demand food delivery app is a wise decision.
You may also like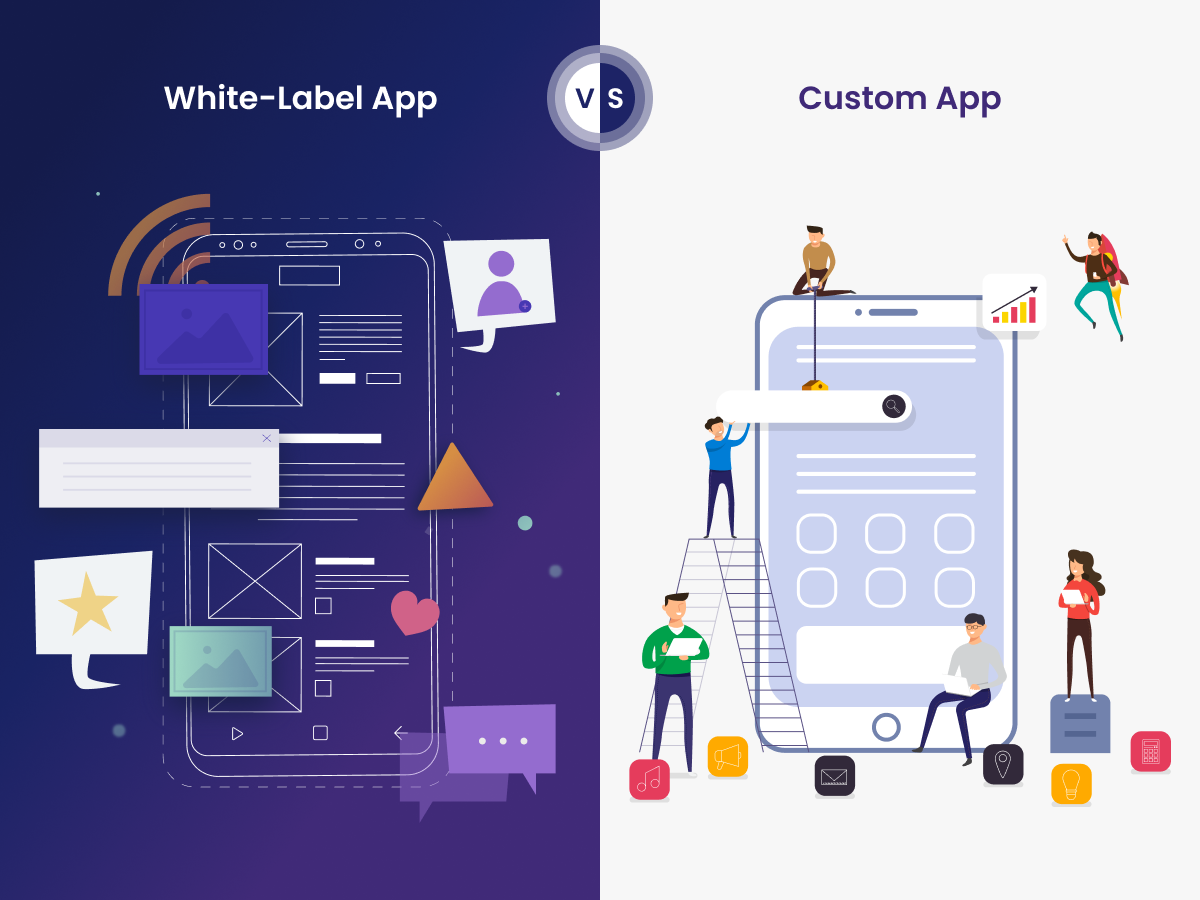 White Label App vs Custom App: Unveiling the Right Choice
Chirag Vaghasiya
In today's fast-paced digital landscape, the choice between white label app and custom app is a pivotal decision that businesses must make when venturing into mobile application development. Both approaches have their distinct advantages and disadvantages, and the path chosen can significantly impact a company's success in the digital realm. Every business has common goals… Read More