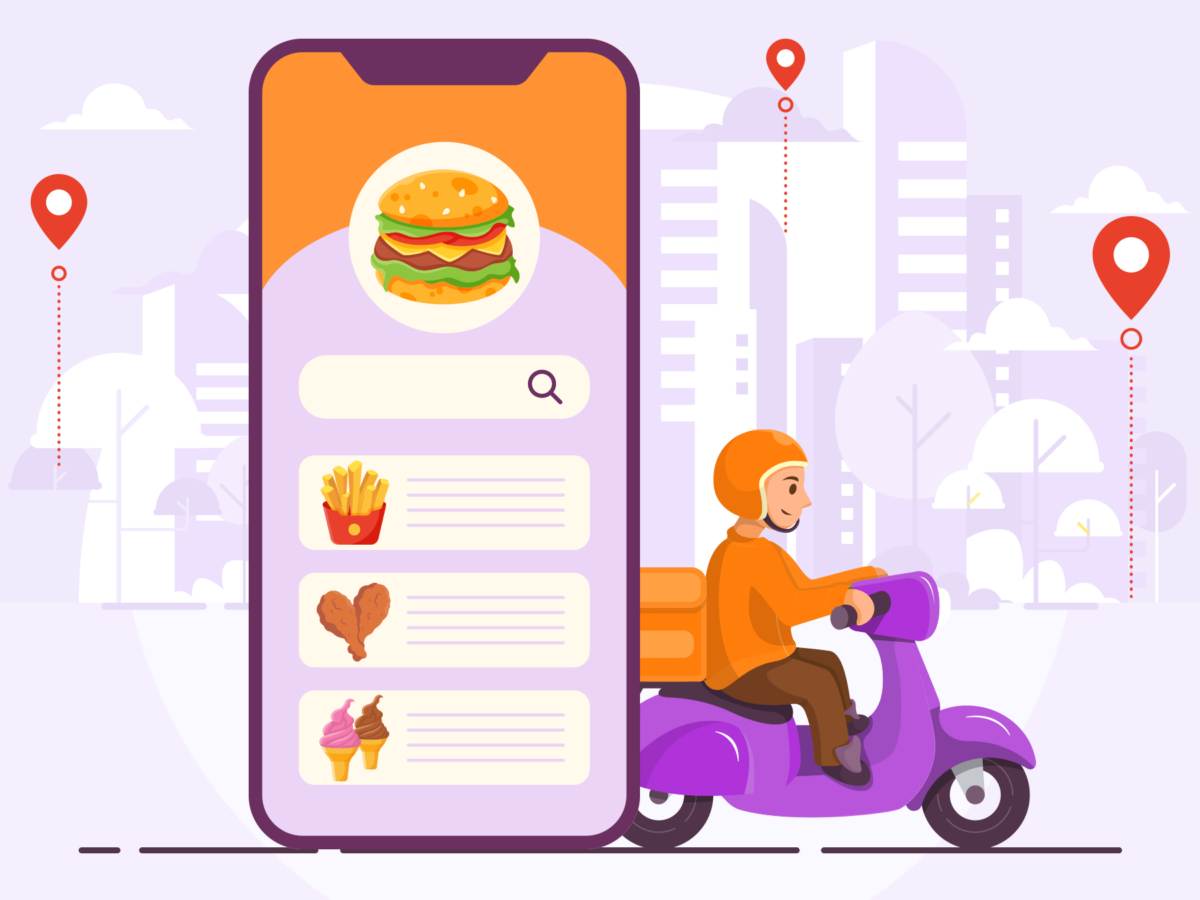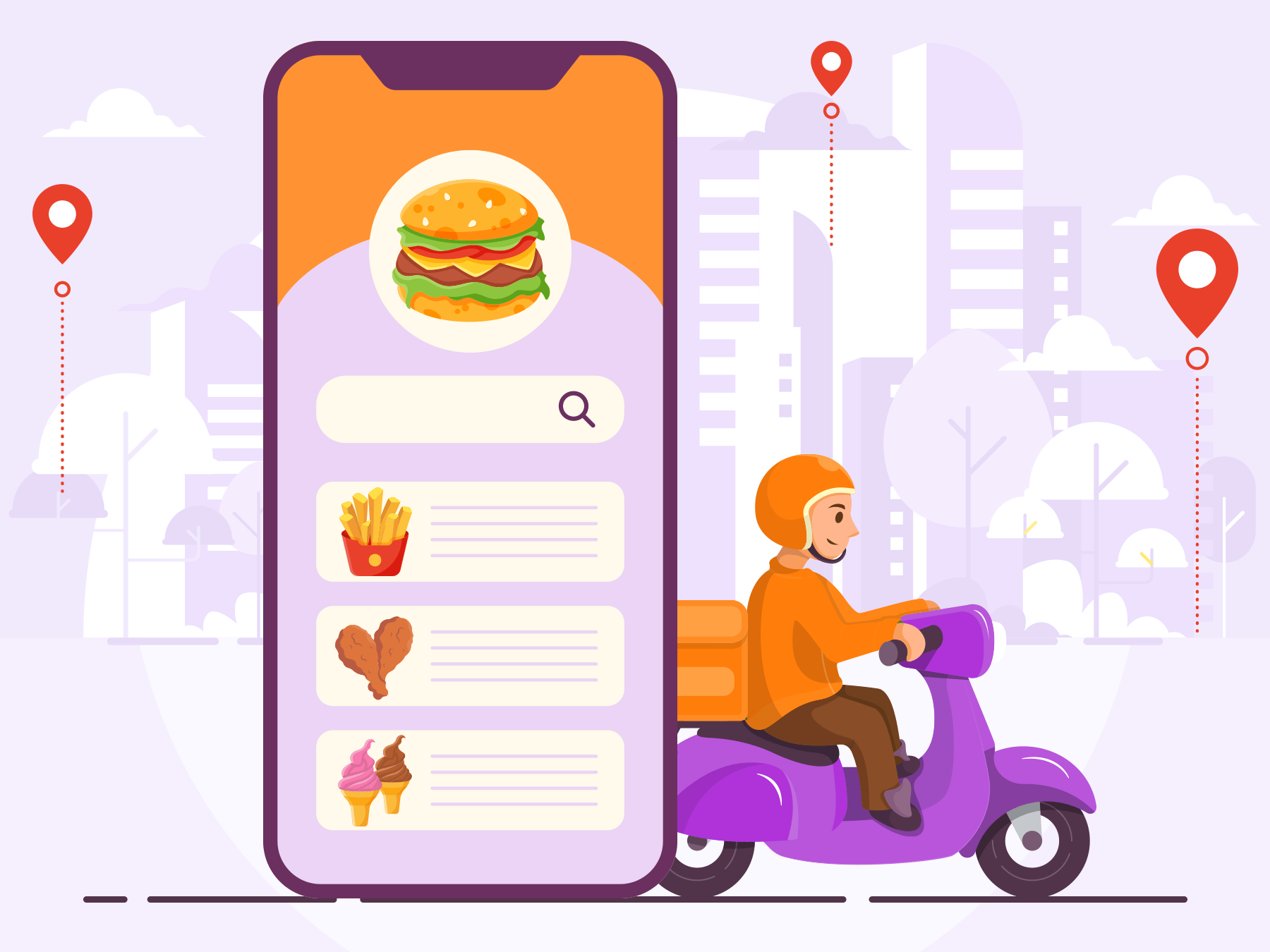 Ankit Patel

June 02, 2022

7 min read
Close to around a billion people spend daily ordering meals online. Thanks to this, food delivery apps have gained a prominent place not only in the hearts of consumers but observed itself earning a prominent place among those setting up a new food delivery venture. This also includes those who have used it but wish to include features within the already existent app to keep customers attracted.
You would be surprised to know that the overall revenue generated from the food delivery market would become close to 320 billion dollars by 2029.
Take a peek at the graph below to look at the amazing figures.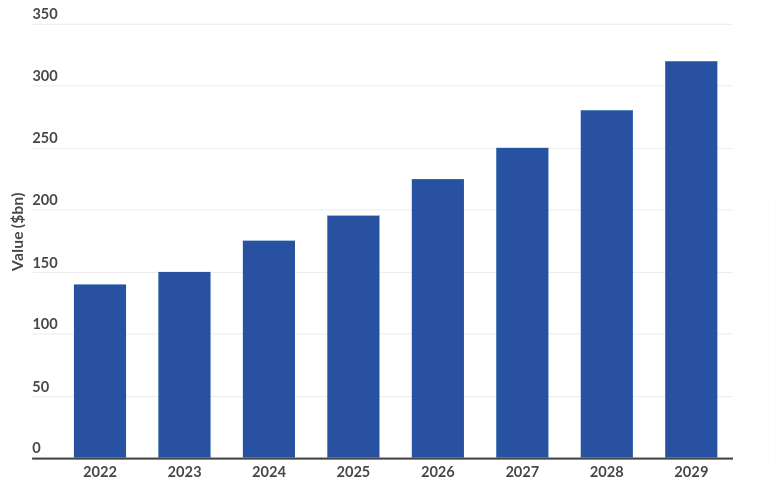 Image source: businessofapps.com
Through this graph, you can get a basic idea of how the food delivery market since the pandemic witnessed overriding growth in revenue.
Especially due to the presence of apps like UberEats, the one that we will discuss here in this article below, the food delivery market has witnessed greater popularity first among customers. This is followed by businesses that wish to deliver seamless food delivery services with an app similar to this.
Read also: How On Demand Food Delivery Clone App Changing The Food Business
In the lines below let us first introduce you to the UberEats app.
◉ Introducing You to UberEats

Launched by Uber in 2014, UberEats is an online food ordering and delivery platform empowering customers with the flexibility to get food delivered to their doorstep. This also includes performing tasks like getting the menu and performing the review for meals they have ordered from the platform.
Available on iOS, Android, and the web platform, using this medium customers can likewise tip the delivery drivers for the meals they order.
All these unique functionalities have therein been responsible for the growing popularity of this food delivery platform.
Below are enlisted the ranking of UberEats across the different app stores, along with the percentage of users using this medium for ordering meals.
◉ App Store Ranking of UberEats
After DoorDash, and McDonald's, UberEats ranks third on the list of best food delivery apps on the iOS App Store.
Being aware of the ranking of the food delivery app on the iOS App Store; let us look into the ranking in the Google Play Store.
◉ UberEats Ranking on Google Play Store
On the Google Play Store as well, UberEats enjoys third place, after apps like McDonald's, DoorDash, and GrubHub.
Knowing about the rating, you may have gotten a brief idea of the overall ranking that the app has been able to garner in recent years.
Let us now look into the graph below to get a peek into the overall revenues the app has generated.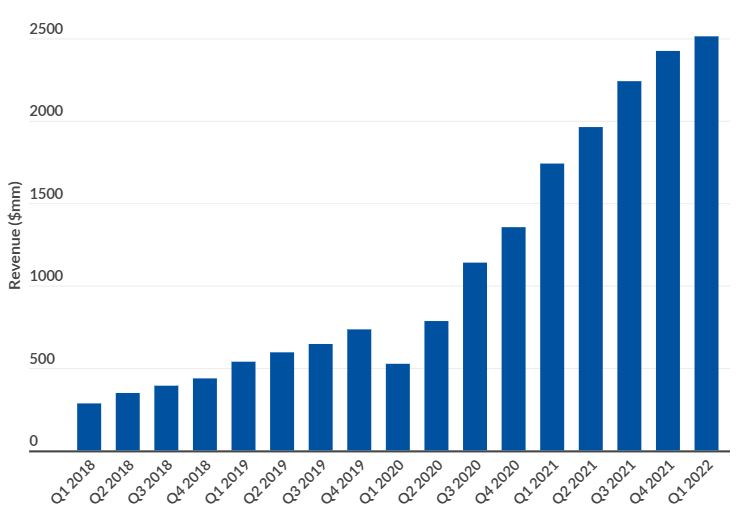 Image source: businessofapps.com
Through this graph you can get knowledge of how UberEats has seeped its way into the hearts of those ordering meals, thereby allowing it to become popular. Simultaneously through this graph, it can be understood the factors that have thereupon been responsible for new food delivery startups to therefore build apps like UberEats for streamlining food delivery service.
Now you may be wondering seeing the graph above we have an uncountable number of food delivery apps available on the iOS and the Android App Store and Play Store. However, what has been responsible for UberEats then becoming so popular.
So here they are, the reasons enlisted below.
Reasons for Popularity of UberEats
Food availability from different restaurants.
Offer free and fewer delivery fees.
Comprises a separate driver base from the regular Uber drivers to avoid incidents of overlap.
All these factors have thereupon been responsible for UberEats to gain a prominent place among those who are particularly setting up a base for the first time in the food delivery market; wishing to streamline food delivery services.
Hence, if you are also one among them driven to develop an app like UberEats, it is first necessary to note that building an app from scratch might consume a lot of your time and finance. This is if you are setting foot for the first time in the food delivery market. Therefore, it is a good idea to include the UberEats clone app.
Being a customizable, and responsive food delivery solution, it allows new businesses to modify the features as per their business requirements, and side-by-side allows users to operate the app easily across different mediums like the iOS, and the Android platform, along with the website.
Knowing now about the UberEats clone app in the lines above, let us now understand the steps you can follow when you want to develop app like UberEats for your food delivery business. This will simplify the food delivery service. Side-by-side, your new food delivery setup will be able to maximize revenues as well as ROI.
◉ How to Develop Food Delivery App like UberEats?
Research Well and Research Accurately
You have done good research, but if not done precisely will prove detrimental to your business. Hence, when you want to develop an app like UberEats for your food delivery venture, you do your research well to achieve the utmost accuracy.
This means you should be aware of the tech trends competitors include within food delivery apps. This is to streamline food delivery service. This is followed by being aware of the different mediums competitors use for providing food delivery: such as social media. All these areas will ensure that you build an insightful and unique app.
Market Analysis – Do It Well Please
Apart from research, a key determinant to building an app that drives maximum value for your food delivery business. This means creating an app similar to UberEats is performing robust market analysis.
Hence, do this well. In other words, take care of the following areas, or answer the questions below-
What techniques would you adopt to reach the target audience?
What is the age group of the target audience?
Who are your competitors?
What strategies get implemented by competitors within the app?
Do your competitors lack a feature/features within the app?
Will the/those feature/features add value to your food delivery app?
This is the kind of thing you really need to take care of. Getting an answer to all this will ensure that you know the prerequisites to create a great food delivery app.
Choose Business Model Wisely
Alongside the two areas that you need to take care of when you want to build a successful food delivery app that is at par with UberEats, it is equally relevant to make a wise choice in the business model.
So, there are two models which usually food delivery apps make use:
Order only known as Platform to Consumer.
Order with delivery business to allow customers to make orders from the app of the restaurant or the food outlet.
However, before you go ahead and use a business model to your advantage, know first whether it is in sync with your business needs. Once you have gotten a green signal to the same (it is in sync with business requirements), you can then go ahead.
Read also: Tips to Build Your Own Food Delivery App Like GrubHub
Identify Features that Guarantee a Hit App Creation
UberEats encompasses some unique features within them. Hence, it is best to take a look and know if using them will drive value for your app or not to allow customers to have a seamless food delivery experience.
Customer App Features:
Social Media Login
Browse Restaurants
Search Menu
Add to Cart
Schedule or Place an Order
Multiple Payment Options
Order Tracking
Offers & Discounts
Rating and Review
Customer Support
Restaurant App Features:
Login
Manage Business Profile
Order Dashboard
Menu Management
Order Alerts
Accept/Reject Order
Manage Orders
Manage Pricing
Push Notification
Earnings Report
Checking Rating and Review
Delivery Boy App Features:
Easy Registration
Create/Manage Profile
Availability Toggle
Push Notifications
Accept/Reject Requests
Live Tracking
Check Earnings
In-App Chat
Rating and Review
Admin Panel Features:
Powerful Dashboard
Restaurant Management
Order Management
Delivery Boy Management
Payment Management
Discount Offers and Coupons
Analytical Reports
Identify Tech Stack that Guarantees Unique Food Delivery Service
Features albeit being an integral part of an app, the tech stack is more critical. This is because the wrong tech leads to app functionality becoming poor.
Hence make sure to use these stack-
Swift for iOS/ Flutter / React Native
Java for Android/ Flutter / React Native
Node.JS/Express.JS for Backend & API
React.JS for Front-end
MongoDB for Database
AWS for Server
PayPal, Braintree, EWallets, Stripe for Payments
All these tech stacks will aid you to create a solution that ensures seamless food delivery services to your customers.
Focus on App Appearance
Beauty is in the eyes of the beholder no doubt, but outer beauty is reflected first. This is especially true for an app too. For a food delivery app, focus on the user experience to the greatest extent, especially during the design stage. This will ensure the creation of a food delivery app that is visually appealing and easy to navigate side-by-side.
You need to get in touch with a food delivery app development company. Channeling the best techniques, they will deliver a customizable solution possessing responsive designs that seamlessly work on different devices.
It is then relevant to focus on the cost to develop app like UberEats.
Here is how to analyze the cost factor.
◉ How Much Does It Cost to Develop App like UberEats?
When you want to build the UberEats clone app, it is important to focus on the cost. This means focusing on the areas listed below:
The tech stack you use.
Platform you choose (Android, iOS, or both)
Features you add within the app.
The overall customizable nature of the solution.
Alongside these points, it is important to understand here that the overall finances that you approximately might have to incur when you want to empower your business with the UberEats clone app is around $5000 to $20,000. This is based on the features that you add to the app, the functionalities, and so on.
With these areas taken into strict purview you get the UberEats clone app that drives maximum revenues for your food delivery venture, and ensures maximum ROI right from Day 1!
Wrapping Up
UberEats has aided the food delivery market to become a profitable venture and encouraged many new food ventures to build apps similar to them. However, since it is a task to craft an app from scratch for a startup, taking the UberEats clone app edge is the right path. However, to determine the best clone in the market, it is equally relevant to partner with a food delivery app development company possessing experience in this. Here we step into the picture. Connect with us today and empower your food delivery enterprise with this customizable solution. Understanding your requirements, we will provide you with an app that drives maximum value for your food delivery business!
You may also like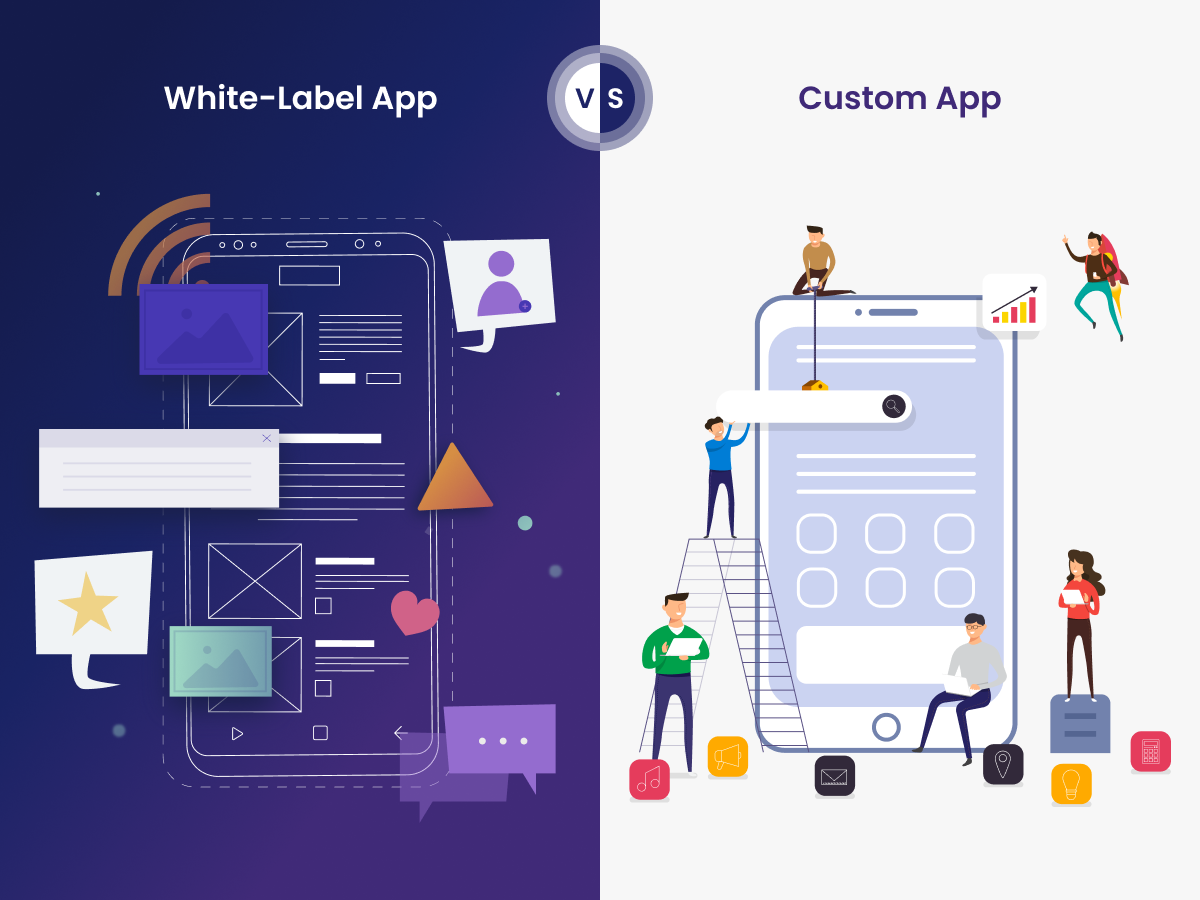 White Label App vs Custom App: Unveiling the Right Choice
Chirag Vaghasiya
In today's fast-paced digital landscape, the choice between white label app and custom app is a pivotal decision that businesses must make when venturing into mobile application development. Both approaches have their distinct advantages and disadvantages, and the path chosen can significantly impact a company's success in the digital realm. Every business has common goals… Read More