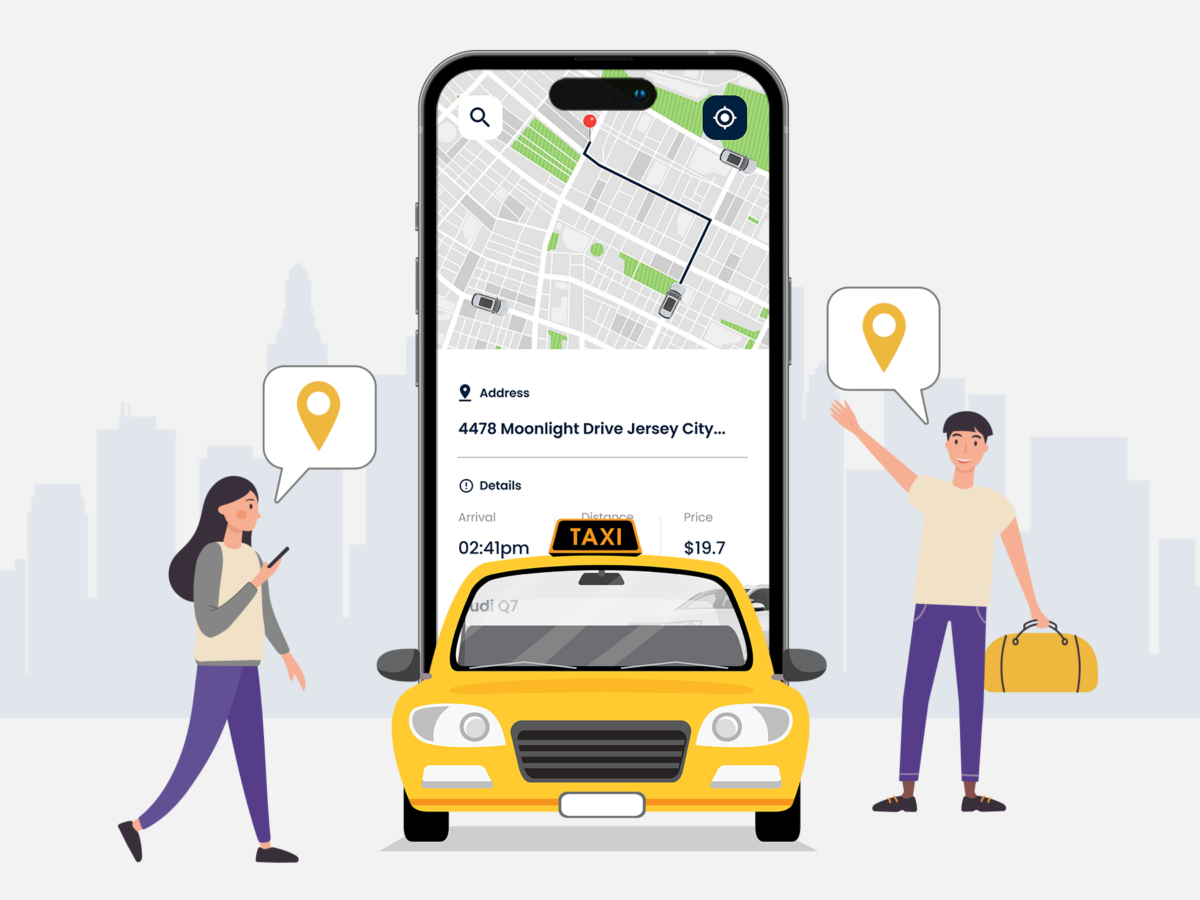 Ankit Patel

March 28, 2023

8 min read
Technology has transformed practically all sectors. Take for instance the automobile. Thanks to the Uberization of this industry, the transportation industry has observed a transformation. This is in the way it operates. It has also brought about a sense of convenience in people's lives enabling they can cover Distance A to Distance B with added safety.
If we go by numbers, the revenues made by the rideshare apps have been tremendous. According to PR Newswire, The ridesharing apps market is estimated to be $61.3 billion in 2018 & is projected to reach $218.0 billion by 2025.
These valuations are enough to suggest the overall scope and potential of the apps for the taxi business as a whole.
It is important to add here that these numbers would become unachievable without the contribution of ride-hailing service providers like Uber, Lyft, Ola, BlaBlaCar, etc.
In this article, we introduce you to the top Uber alternatives to consider for ride-sharing app development. Read to educate yourself about the positive impact they have brought about to the rideshare industry and as startups what you can learn from them. Before that let us first enlighten ourselves with the concept of a ride-hailing app.
Read Also: 9 Successful Taxi Apps Inspiring Startups
What Do You Mean by Rideshare Apps?
Rideshare apps are different from traditional taxi services. They give drivers and riders the desired aid to connect, alongside helping the latter to locate fellow co-passengers who may be taking the same route as them. It alternatively also helps them to split the fare with others, thereby ensuring the services remain affordable.
What Are Ridesharing Apps?
Rideshare apps are different from traditional taxi services. They give drivers and riders the desired aid to connect, alongside helping the latter to locate fellow co-passengers who may be taking the same route as them. It alternatively also helps them to split the fare with others, thereby ensuring the services remain affordable.
11 Popular Taxi Apps Your Ridesharing Industry Should Emulate
To ensure customer satisfaction remains at prime when riders commute from one place to another, these rideshare apps connect them to the most professional drivers. We have enlisted the top Uber alternatives that you can consider while developing your own taxi app.
1. Uber: The Rideshare Giant

Year of Launch – 2009
Founder – Travis Kallanick, Garrett Camp
Number of Downloads – 500 million+
Valuation – $61.72 billion
Keeping up with its motto to re-imagine the way the world moves for the better, Uber since its launch in the year 2009 has made ride-hailing services take place conveniently at the tap of a few buttons. With the functionality of the platform being simple, it enables passengers with a wide variety of ride choices so they can easily cover distances.
It alternatively also provides drivers with the ability to provide rides as per their flexibility and earn while doing so. This is something budding taxi startups have made note of and has enticed their attention. In case you are among those who are also in the plans to gain a competitive advantage like this ride-hailing giant, the Uber clone app is here to your rescue. Here are some inherent features that the solution has which in fact help it stand out.
Book a ride now or schedule it for later
Share ride details with friends and family
Add multiple drop-off points
Heat map to know locations where maximum ride-hailing takes place
Split Fare
Multiple payment modes
Know the real-time location of drivers
2. Lyft: Friend with a Car

Year of Launch – 2012
Founder – John Zimmer, Logan Green
Number of Downloads – 50 million+
Valuation – $3.73 billion
Built with the motto to enhance the way ride-hailing services take place, Lyft makes its offerings available to over 95% of people in the US and select places in Canada. This is by enabling them with shared rides, followed by bike-share, electric scooters, food delivery, and public transit. Alongside these offerings, the app also implements a dynamic pricing model. This is to ensure that commuters are aware of the price in advance before availing of the ride. Here are some qualities that the Lyft app has that allow it to stand out.
Get a fare estimate
Schedule rides in advance
Earn rewards after every successful ride completion
Destination mode to find rides within your route
Two-way rating for driver and rider both
Heat maps for surge pricing
Read Also: Know The Cost of Developing a Ride Sharing App Like Lyft
3. Cabify: Spain Leading Ridesharing App

Year of Launch – 2011
Founder – Juan de Antonio
Number of Downloads – 10 million+
Valuation – $1.49 billion
Spain-based ride-hailing services provider, Cabify, since its launch has enabled passengers to conveniently avail private rides within the city, alongside getting access to outstation rides as well. By presenting a new concept of corporate transport, the platform enables riders to have a safe and comfortable ride experience. This is courtesy of the inherent characteristics of the app such as:
Affordable pricing for every trip
Different ride options
Accessibility to highly professional drivers
SOS to alert contacts of crises during the ride
Know the estimated price for the trip
Secure payment modules
Share your journey
4. Ola: Best Indian Ridesharing Company

Year of Launch – 2010
Founder – Bhavish Aggarwal
Number of Downloads – 100 million+
Valuation – $7.3 billion
An Indian rideshare app that has become a source of inspiration for those who want to invest in building an Ola clone app, Ola makes available rides, alongside easing the way customers order meals and get access to financial services as well. The platform is known for presenting commuters with many ride options, enabling them the flexibility to book a ride for later. All these factors and more such as the ones enlisted below help the platform gain a competitive edge.
Set multiple stops
Get up-front pricing for rides booked
Accessibility to different ride types
Book a ride for someone else
Push notifications to get updated on rides or other services availed
By-the-hour pricing
Panic button
5. Careem: Dominating the Middle East & North Africa

Year of Launch – 2012
Founder – Mudassir Sheikha, Magnus Olsson
Number of Downloads – 10 million+
Valuation – $3.1 billion by 2020
Dubai-based ride-hailing services platform, Careem (acquired by Uber) helps riders and drivers easily connect, alongside presenting the former in particular with different ride options. This is to ensure they can easily cover distances with a level of safety and convenience added to it. Alongside the option to find cabs, the platform also helps customers to order meals and groceries. It alternatively also has these features within that in turn make it stand out from the rest.
Repeat booking to enable riders with a scheduled car at the doorstep
Split fare with friends or family
In-app chat/call to enable a smooth connection between driver and rider via app
Heat map to know real-time locations where ride requests are maximum
Get a fare estimate before the ride begins
App wallets
Multi-currency support
6. BlaBlaCar: Share Your Ride Costs
Year of Launch – 2006
Founder – Frederic Mazzella, Nicolas Brusson
Number of Downloads – 50 million+
Valuation – $2 billion in 2021
French-based carpooling platform, BlaBlaCar is known for its community-based travel network. Enabling riders with bus and carpool options, the ride-hailing app ensures they can easily find rides and commute from Location A to B without any difficulty whatsoever. This follows next by aiding passengers in also sharing the cost of the journey. All these areas are what have prompted the conception of the BlaBlaCar clone app to enable budding taxi startups to digitize their operations.
Peer-to-peer carsharing to allow car owners to rent their car to others for a particular time
Advanced search filter to easily find drivers and rides
Accept/reject ride requests received from riders
Get a review of other passengers
Receive payment for the ride after successful trip completion
Ride cancellation
Set favorite locations
7. Curb: Best Rideshare App For Long Distance

Year of Launch – 2007
Founder – George Arison, Keith Forsythe, Sanders Partee, Toby D. Russell
Number of Downloads – 1 million+
Valuation – $1.5 billion in 2019
Curb, reputed as the #1 taxi app in the US has inculcated the Uber-like taxi app development strategy in their solution to enable smooth ride-hailing and sharing services to take place through its platform. Providing services in over 65 cities in the US, the platform has these inherent characteristics that enable commuters there with a safe and convenient taxi experience.
Know the ETA of the cab after booking the ride
SOS button to alert contact of danger from the app itself
VoIP to enable smooth communication between rider and driver
Live chat to help passengers resolve queries related to rides from the app
Upfront pricing to enable a transparent pricing strategy for riders before the ride begins
8. GoJek: Southeast Asia's Best Rideshare App

Year of Launch – 2010
Founder – Nadiem Makarim, Kevin Aluwi, and Michaelangelo Moran
Number of Downloads – 100 million+
Valuation – $10 billion
Through the incorporation of the multi-service model, Gojek makes available rides, deliveries, and on-demand services like car washing, fitness, etc. to its users. Available on iOS and Android, the app is extremely popular among those living in Indonesia and other places like Vietnam, Singapore, Thailand, etc. The platform alternatively has these elements that in turn give it a standout image.
Schedule booking for a later date
Multi-payment options for a smooth and convenient payment experience
Safe trip kit to allow commuters to report about impending danger in ride
Get notified of new discounts or offers through push notifications
Feedback cards to enable riders to provide feedback for rides during the trip
Read Also: How to Build an App Like GoJek?
9. Gett: Israel Based Ridesharing App

Year of Launch – 2010
Founder – Shahar Waiser, Roi More
Number of Downloads – 10 million+
Valuation – $1.5 billion
Providing riders the support to book rides for now or later, Gett is known for supporting them with thousand of ride types. This includes standard and executive car providers, taxis, and limo options. It alternatively gives passengers the help to revolutionize the way they avail cabs. Gett is the next biggest Uber alternative in the USA. This is thanks to these features:
Ride now or later
Get the best price for rides booked
Connect to background-verified drivers
Track the real-time location of rides
Know the estimated wait time for the ride
Accessibility to different payment options
Vehicle categories
Multi-currency
Read Also: Cost to Develop a Taxi App Like Gett
10. Via

Year of Launch – 2012
Founder – Daniel Ramot, Oren Shoval
Number of Downloads – 500,000+
Valuation – $3.5 billion
Via is popular as a shared shuttle system that allows passengers to enjoy a smooth booking experience to ensure they get picked up within a duration of a few minutes only. Coming with some of the best sets of features and having extremely easy operations, the app enables riders to enjoy a unique ride experience when they book from it.
Know the ETA for the ride booked
Get a fare estimate based on the pickup and drop location provided
Be aware of reviews of other passengers
Share ride details with friends/family
Free ride credits for new riders
11. Bridj: Long-Distance Ridesharing App

Year of Launch – 2014
Founder – John Langford-Ely
Number of Downloads – 10K+
Bridj is a popular long-distance ridesharing app for those who want to travel in the same direction. With Bridj, travelers are facilitated with a smooth bus journey. Having features like generating an e-boarding pass for the ride, followed by providing booking confirmation for the bus booked, the platform ensures that commuters can travel to and fro with the utmost level of convenience. It alternatively also maintains a huge level of safety for them through the app. This is thanks to the below features:
Track buses in real-time time
Know the time when the bus arrives
Get an e-pass for the bus
Know different routes
Pay via the app to prevent cash woes
Lessons You Can Learn from These Ridesharing Apps
The rideshare apps listed above have enabled riders to get access to a safe and convenient ride experience alongside providing a source of livelihood to millions of drivers worldwide. It has alternatively also given aid to taxi aggregators to get their brand value boosted. Hence, they have provided a huge potential to the drivers and the taxi business. So, as a startup owner, in case you want to stay ahead of the competition like these solutions, you need to make sure that you know about the concerns of your customers when they want a ride. This follows next by having a good idea of your competitors' activities. With these kept in focus, you can earn a competitive advantage and gain huge value for your taxi business.

Choose PeppyOcean to Develop Your Taxi Booking App
Do you wish to build your own ride-sharing application like Uber or Lyft?
You can never be late to get rolling! Regardless if you are a startup or an established business, PeppyOcean is here to your rescue. Reputed as the best taxi app development company in the globe, we will partner with you to beat the Uber alternatives by creating a custom taxi-hailing app solution.
Ending Words
Uber, undoubtedly has taken the transportation industry by storm. However, over the years, the advent of these top taxi-booking apps has brought about a revolution in this sector as well. Courtesy of the platform including the best set of features within for convenience and safety, it has enticed the attention of those who wish to also make their presence felt in this field. If you are planning along these lines, get in touch with a reputed Ridesharing app development company like PeppyOcean today. They will channel their expertise in rideshare app development services to build a solution that assists you to keep the cost to build a ride-sharing app within balance. They will alternatively also ensure that your brand value goes up in a reasonably short time.
You may also like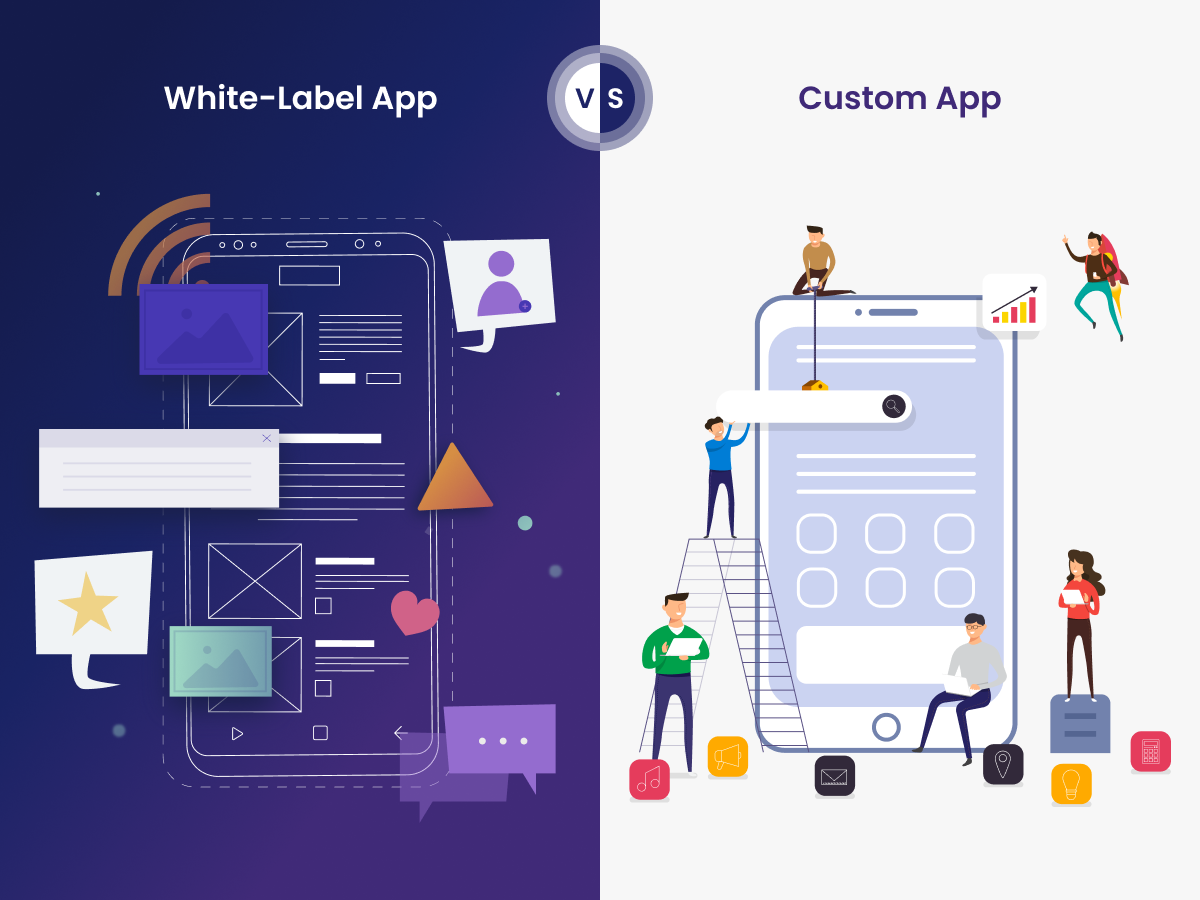 White Label App vs Custom App: Unveiling the Right Choice
Chirag Vaghasiya
In today's fast-paced digital landscape, the choice between white label app and custom app is a pivotal decision that businesses must make when venturing into mobile application development. Both approaches have their distinct advantages and disadvantages, and the path chosen can significantly impact a company's success in the digital realm. Every business has common goals… Read More