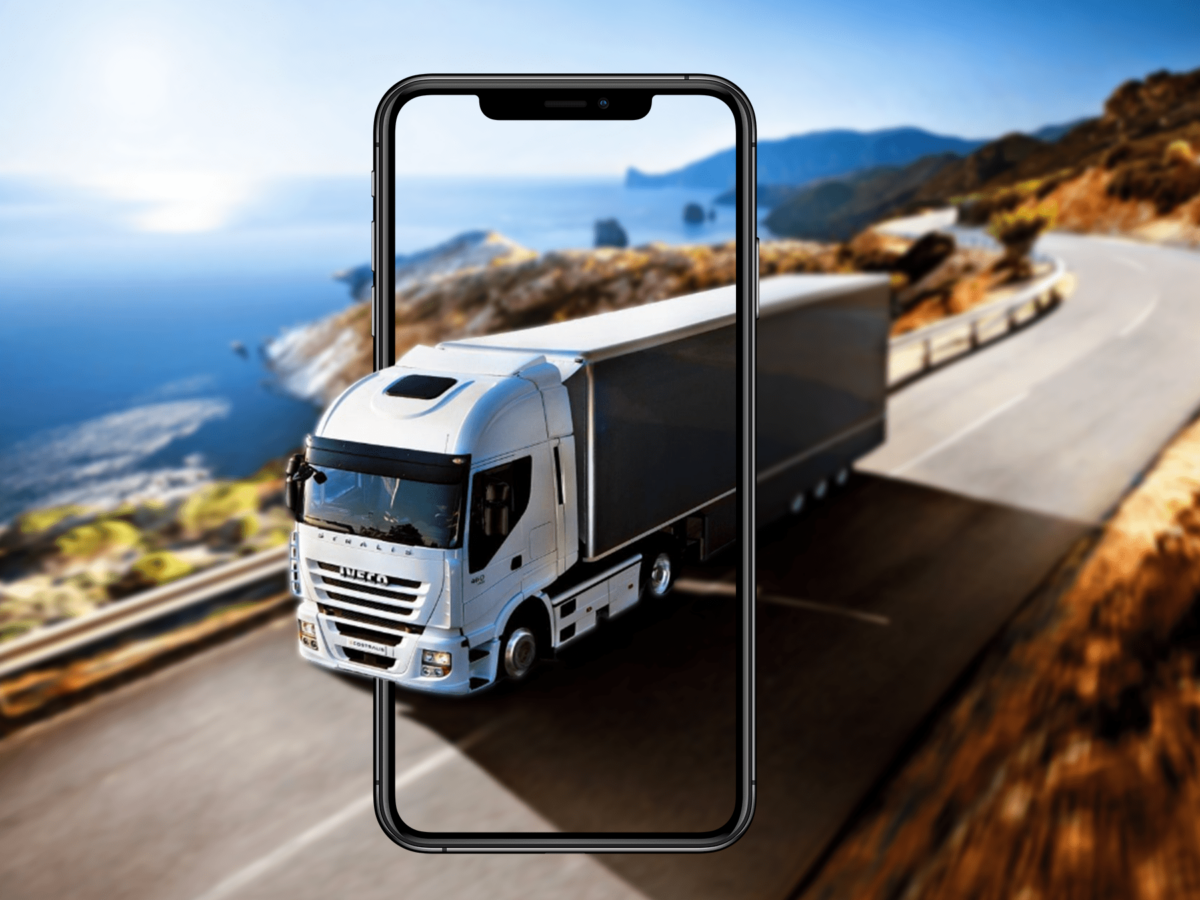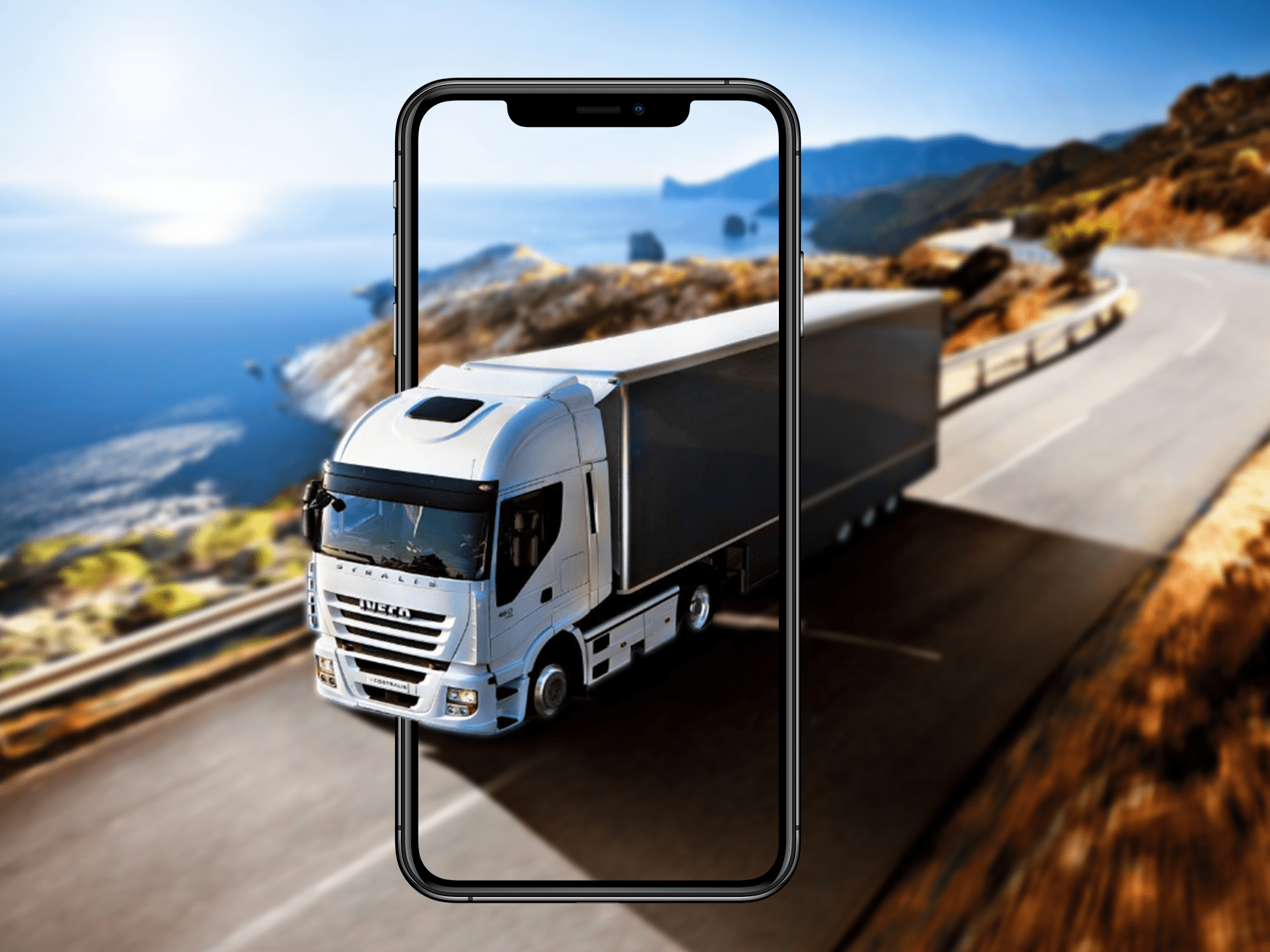 Ankit Patel

March 16, 2023

6 min read
Statistics reveal the truck rental business in Canada generates revenues of 39.55 billion Canadian dollars annually. On the other hand, The truck rental business in the US is projected to bring in profits of $214.571 billion by 2030 from $107.89296 billion in 2022. These valuations are testimony to the fruitful prospect that the industry has. Therefore, if one is considering to go about setting up a digitized moving truck rental industry in US and Canada, one should not think twice.
Setting up a moving truck rental business will make it easy for you to save on costs when it comes to rolling your operations. This is due to the requirement you will need in terms of a small vehicle alone as it alone will help you in providing aid to customers. This is in terms of giving them access to different trucks so they can choose one that matches their needs to aid them in their relocation-related tasks with utmost ease and efficiency.
So the question that comes about is how to start a trucking business. We cover all this and more in the article here.
All About Commercial Truck Rental Service
When we use the terminology commercial truck rental service it depicts the use of commercial trucks as well as vans to allow different tasks like moving items, picking them up, and so on to take place swiftly.
Based on the vehicle kind, and delivery type it becomes easy for the business to make a considerable amount of profit.
Here are some of the different kinds of truck rental services that are quite popular. This is something that you need to keep in mind when you embark on the voyage to start a moving truck rental business.
Truck Rental Marketplace – Talking about the concept of a truck rental marketplace also known as Uber for trucks, it involves the creation of a website or an app. The platform thereafter helps different truck owners, and truck rental service providers to register and deliver their services.
Standalone Truck Rental Website – In this model, the business handles the website, and carries out operations through the site ensuring different deliveries to take place smoothly.
Why Start an Online Truck Rental Business in US & Canada?
USA and Canada are becoming a hub for different on-demand business models. In recent years particularly after the launch of U-Haul, the operations observed its popularity growing. Here are some reasons that make it crucial to set up an online truck rental business in the region. The first is the support it provides in automating the different tasks the business performs. This ranges from having the perspective of different vehicles to performing asset management, etc. Alongside presenting these benefits, through the facts and figures, let's understand the potential of embarking on the journey of starting this venture.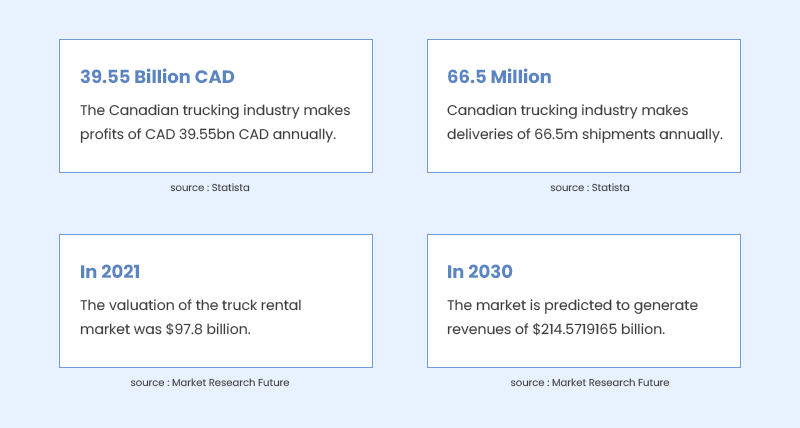 Read Also: How to Determine Cost for Logistics App Development?
How to Start a Truck Rental Business in US & Canada?
We have discussed the reasons that determine the relevance of creating an online truck rental business in the US & Canada. It is now critical to gain perspective into the techniques that are to be followed during the creation to ensure this process can take place swiftly without any kind of obstacles.
• Create a Strong Business Plan
This is probably one area you need to focus on before you enter your business journey. It is relevant to create a strong business plan. This means you need to define your business mission. In other words, outline the strategies you want to integrate to earn more customers, make deliveries easier, and so on. When you have been able to do this, it is time to move to the next step.
• Conduct Strong Competitor Research
It is next integral to conduct strong competitor research. You should be aware of the activities that your competitors perform. In simple words, when you are embarking on the journey to digitize your truck rental service, focus on the techniques they (competitors) have implemented to reach out to customers. Understand the features they have added, and so on. This will make your business creation journey sleek, smooth, and flawless.
• Execute Appropriate Business Model
It is next vital to make use of an appropriate business model. This will allow you to streamline operations and allow different segments – customers, the rental service provider, and the business to function the platform effectively.
Here's one you can particularly implement.
– Integrate a platform to help the admin, the users, and the truck rental service provider connect to allow delivery to take place swiftly and ensure smooth operations. Additionally, truck rental also becomes an easy task.
• Integrate a Unique Set of Features
When you embark on the journey to create a Uber for trucks platform, you must include the best and most unique features. This will allow rental and fleet management to take place conveniently.
Here are some you can particularly consider adding-

Booking calendar to help the user conveniently select the date, time, and location when they wish to avail of the rental services thereby streamlining the booking process.
Multiple payment modes to ease the payment process for customers by providing them the flexibility to choose a payment mode from different available.
Booking management to enable the truck rental business to maintain a record of all their bookings, and the mode of payment used during the booking, followed by gaining perspective of the ratings and reviews, as well.
Claims adjudication module to assist the admin process the damage claims and keep a smooth record of them at the same time.
Tax management to allow the moving truck rental industry to calculate the taxes during the rental.
• Implement a Revenue Generating Model
The next most crucial pointer that you need to keep in mind to make your Uber for trucks journey a memorable one is implementing a revenue-generating model.
Here are two particularly popular.
1. Commissions wherein a payment is charged to the rental service provider for every successful rental service rendered.
2. Intercity and intra-city charges based on the rental service within the city or outside it and the charges the rental service provider levy for them.
• Enter Promotion Stage
You now need the different stages when you are building your online moving truck rental business. It is now time to enter the promotion stage.
Here it is crucial to create a name that people will reckon with. This follows next by creating a branding strategy alongside connecting with a moving truck rental company offshore. It is recommended to outsource these services as it will enable you to focus on your operational tasks with utmost convenience.
• Connect with Best Truck Rental Companies Offshore
It is indeed a difficult affair to get your business running without any form of obstacles in a rather smooth way. This makes outsourcing the best option wherein business owners partner with companies offshore.
Hence, in a situation wherein for instance you own a moving truck rental business and you wish to digitize its operations through a Uber for trucks solution, it is recommended to outsource this. In other words, you should offshore the task to truck rental companies overseas.
Here you need to remember there are many companies currently that may be competent in this, but to be sure about the best one, follow these steps.
Research the company and its expertise on sites like Clutch, GoodFirms, etc.
Go through their client reviews and their work portfolio.
Assess the tech stacks they are competent in.
Once you have a green signal that the organization is perfect, connect with them and share your requirements. Corroborate their understanding next and once you are sure they have understood your needs, you can be sure that your Uber for trucks journey will undoubtedly be a memorable one.

How Much Does It Cost to Build an App for Renting Trucks?
To digitize your truck rental business in US & Canada you must have a robust app presence wherein if you build an app from scratch you may have to pay more. However, with a Uber for trucks solution, you can successfully keep your budget within the limit.
Some areas get particularly taken into consideration during cost calculation are:
UI/UX design
App platforms (Android, iOS, or both)
Features you want to integrate
Technology stack
The country you choose for outsourcing mobile app development services.
So, if we have to get a formative figure for the cost to build an app for renting trucks you have to spend around $25,000 to $35,000. The cost might vary as per the app's features, app complexity, location of the mobile app development company you choose, etc.
Ending Words
The moving truck rental market in recent years has created the potential for the industry to think of new ways to make it possible to interact with customers. This follows next by ensuring that customers get access to quick and efficient services. Particularly in places like USA and Canada where this business has attained huge potential, it goes without saying that taking your services online will help you a lot. It will make your brand value go up and ensure you can deliver the best-in-line customer service. So what are you waiting for? Build an online moving truck rental business in the USA and Canada with a mobile app to successfully automate your operations and earn ROI like never before.
You may also like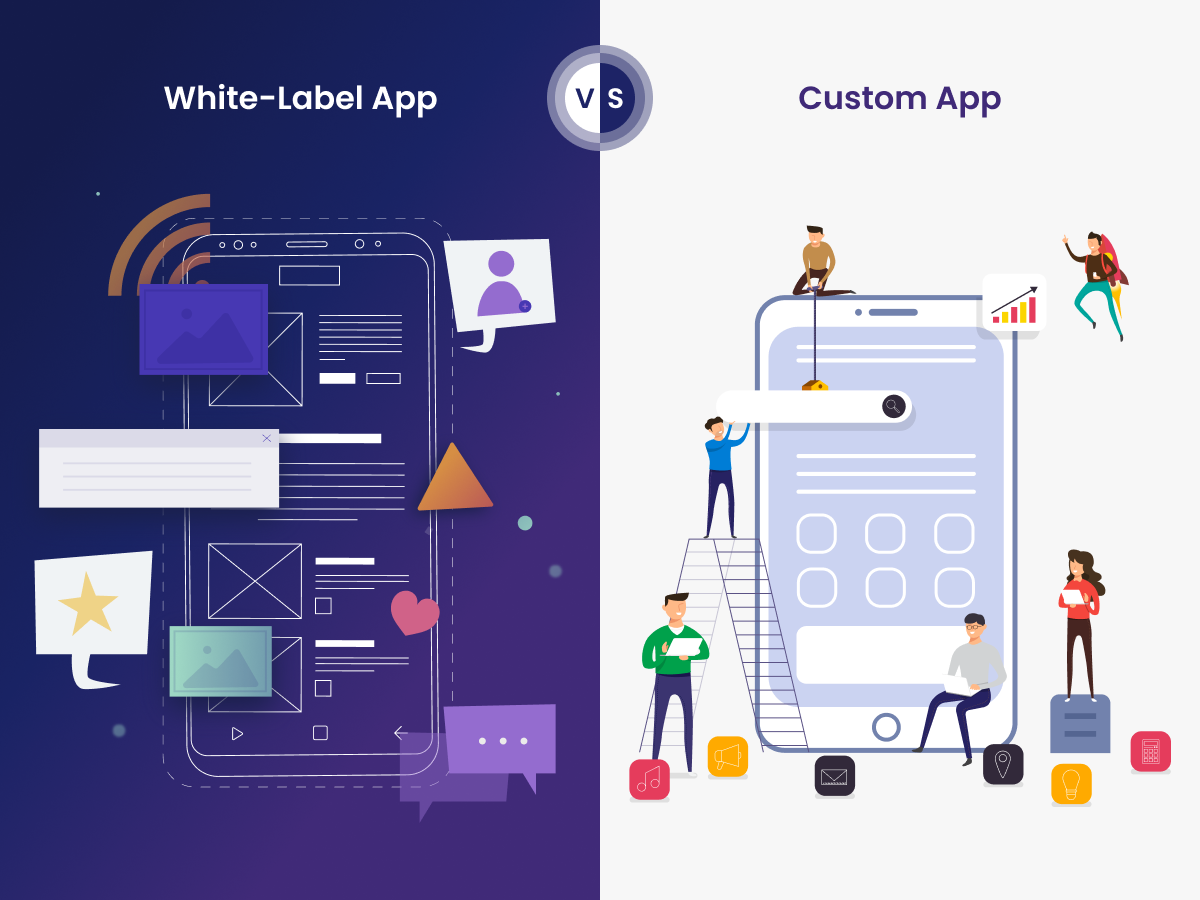 White Label App vs Custom App: Unveiling the Right Choice
Chirag Vaghasiya
In today's fast-paced digital landscape, the choice between white label app and custom app is a pivotal decision that businesses must make when venturing into mobile application development. Both approaches have their distinct advantages and disadvantages, and the path chosen can significantly impact a company's success in the digital realm. Every business has common goals… Read More