Ankit Patel

June 26, 2020

4 min read
The app industry has taken the world by the storm. Rewind to the pre-pandemic era, there were most of us relying on taxi booking apps like Uber and Ola to meet our travel needs. Many of us would take these rides more for luxury. Fast forward to the post-pandemic era and here be the high reliance on apps that make travel bookings a breeze. Commuting by booking cabs or vehicles through apps is no longer a luxury or an option but it is a necessity in this cab driven world. Covid-19 has ushered in huge demand for apps and digitized the world around us.
Whether it is a transport for individuals or of goods from one region to another, the touch of a smartphone is enough to get the job done. With the emergence of a number of on-demand apps, a number of transport service providers have jumped on the Play Store bandwagon to give that needed push to their business post the lowered profit curve owing to the lockdown.
Even prior to the Coronavirus era, logistics apps such as GoGoVan and Lalamove have proved the potential of the courier delivery apps. As a result, a number of stakeholders have come forward to create GoGoVan clone apps which can give them as well as the transport providers success with minimum efforts.
Purpose of GoGoVan Clone App :
From the blurb above, it is crystal clear that delivery apps such as GoGoVan, facilitate users to deliver each kind of good right from food to fridge through a reliable and affordable logistics service.
Once a mobile app development company develops an app like GoGoVan, it connects several drivers to individuals and businesses who would like to transport goods from one region to another. You may want to send that old refrigerator which you have not been using for months as you got a new one. All you need to do is simply download any app from the list of GoGoVan clone apps and you will be presented a list of transport service provides, both individuals and businesses, who will be ready to transport your good for you.
You may be a business wanting to send your consignment to the next city at the most affordable rate. Just any GoGoVan clone app can help you send your goods and accomplish your order and give a boost to your profit curve.
The best thing about these apps is that they let users transport any kind of good from one place to another. The quick and efficient delivery of items is done in the most affordable way as there will be a number of parties wanting to deliver their goods across the same route.
Benefits of GoGoVan App :
Simple ordering process
Quick, systematic, and economical
A huge and single platform which brings transporters and businesses together
Real-time tracking of goods and vehicles
Rating of drivers lets users choose the best party
Professional delivery service
Fast match order with the nearest driver and delivery partner
Vast network
Why Develop an app like GoGoVan?
Well, after reading the first part of the article there must be no qualms about why to go for creating an app like GoGoVan. Bringing all transport providers and those needing transport on a single platform, a GoGoVan like clone app can bring you instant success. With a huge number of parties registered with your app, there is no doubt that you will be providing the fairest and economical rates for transporting goods.
The following are some of the reasons why you should say yes to develop an app like GoGoVan:
Huge platform with a lot of users
Feedback and rating system attracts more number of parties to register with the app
Transparent pricing system instils faith in the app
The clarity to users as they are aware of the transport rates even before the ride actually begins
Users feel secure as the app enables real-time tracking
Option to let users avail of a number of payment systems
Contactless payment system
Possibility of letting users with a variety of vehicles, such as trucks, Lorries, and motorcycles, to register. This ensures huge app usage and ultimately profits.
GoGoVan clone apps are evergreen apps that will always be in demand. Digitization of the world has created a never-ending demand for online vehicle booking apps. When you develop an app like GoGoVan, you not only make it easy for individuals and businesses to deliver goods from one place to another but you also let transport providing parties to exploit the digital platform and make their business prosper.
By letting individuals or enterprises with any type of vehicle book with your app, you create an equal opportunity and a fair market rate.
Any on-demand app development company with expertise and experience can help you create the right business platform for helping you earn a margin through an app. A professional company can also guide your way to make your logistics app an instant success.
So, what will be cost involved in developing an app like GoGoVan?
Creating an app is a complex process. It involves a number of factors and propositions which are variable and fixed at various times. There are simple as well as sophisticated GoGoVan like apps that have several outstanding features and spectacular user interface. The cost highly depends on the number of features you want your app to have.
The fundamental cost of creating an app like GoGoVan is around 5000$. However, the final cost highly depends on the number of add-ons or additional features that you may want in your logistics app. The cost also depends on the development timeline. Sometimes, the app may be perfect. However, later on, you may need any changes in the design of the app to make it more user-friendly. This may elongate the development time.
The pricing model also impacts the overall cost of developing an app like GoGoVan. With hiring a developer model, you will have a dedicated developer who will be working on creating your app. The pricing model also impacts the development time as a limited number of individuals are working on your assignment.
Hence, the cost and the time involved in creating an app like GoGoVan varies as per the number of features and pricing model selected. If you are thinking of creating a logistics app which gets as successful as GoGoVan then please feel free to contact us and get further details regarding the same.
You may also like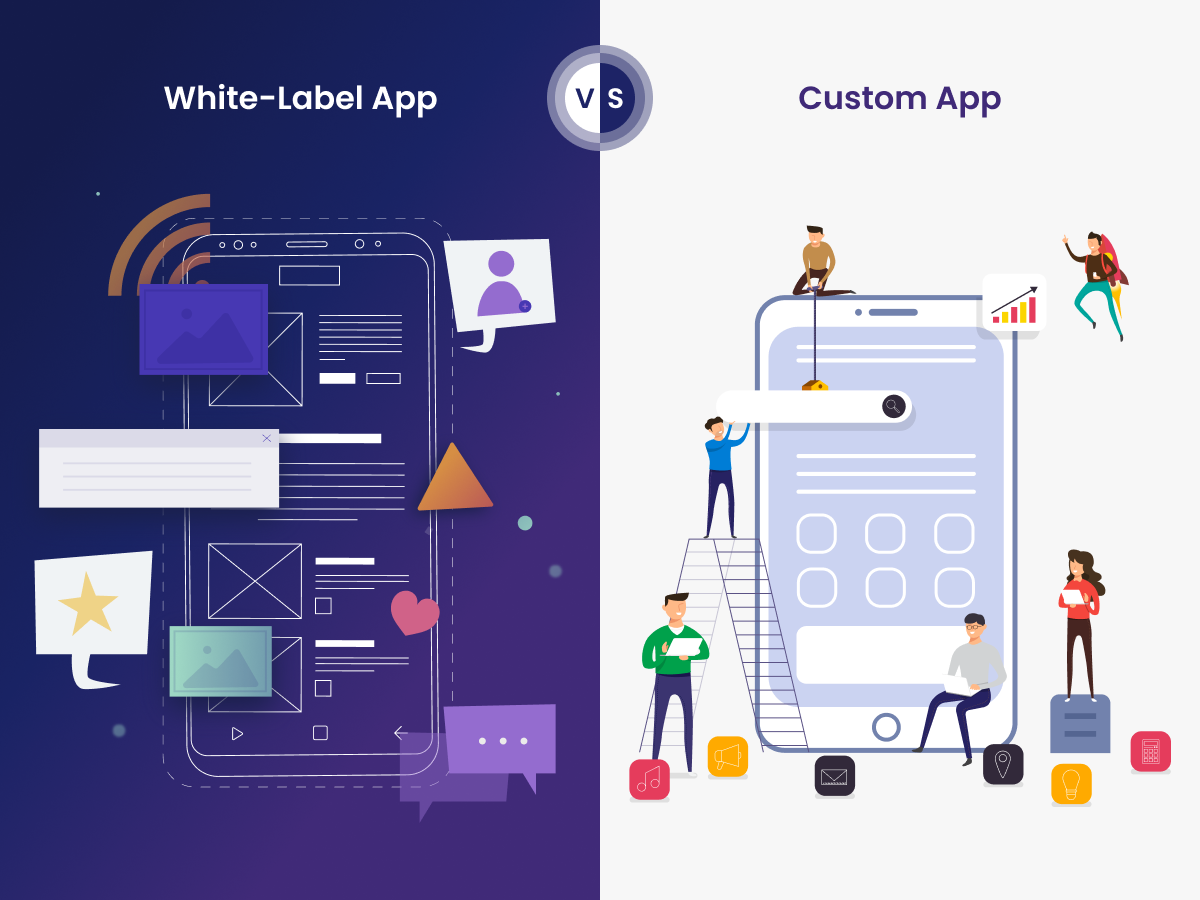 White Label App vs Custom App: Unveiling the Right Choice
Chirag Vaghasiya
In today's fast-paced digital landscape, the choice between white label app and custom app is a pivotal decision that businesses must make when venturing into mobile application development. Both approaches have their distinct advantages and disadvantages, and the path chosen can significantly impact a company's success in the digital realm. Every business has common goals… Read More