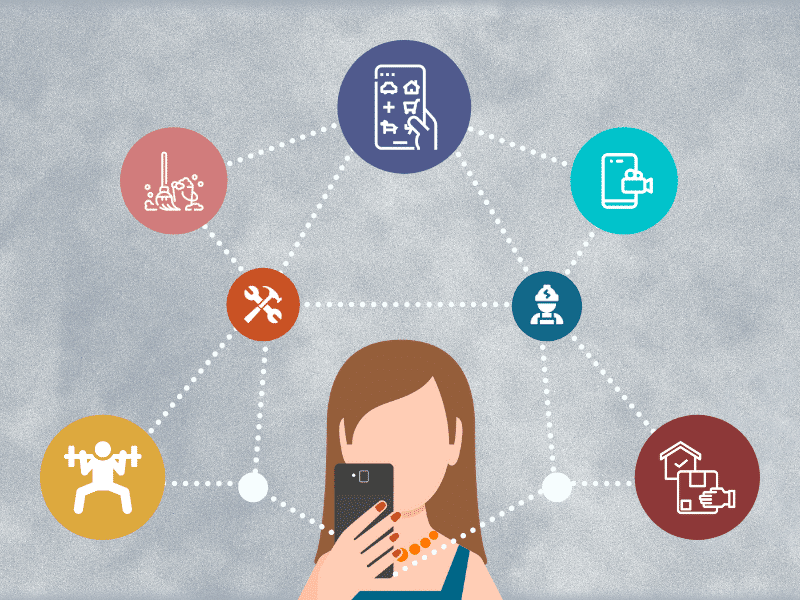 Ankit Patel

June 19, 2020

5 min read
Many businesses around the globe have also gone mobile. With the increasing number of tech-savvy smartphone users and the easy access to the internet, businesses found it critical to go with the trend to reach their target market more effectively.
One way of leveraging the power of mobile devices is to create and develop mobile apps. There are now thousands, if not millions, of mobile applications available in various mobile app stores. You can now also find a myriad of apps available on the market- gaming apps, lifestyle apps, business apps, sports apps, food apps, communication apps, entertainment apps, shopping apps, work management apps, name it and you can surely find it.
The mobile apps market is indeed flourishing and has shown no sign of stopping, so far. So if you want to take a share of the pie, it would be smart to join the mobile application development arena. One of the companies that have made their way to the mobile apps market and conquered the competition is AirTasker.
What is AirTasker?
AirTasker is a privately held Australian company that is based in Sydney. It is a mobile and online community marketplace that connects users who need to find local services and to outsource tasks, with people who are looking for work and are ready to provide the needed services. Users who need to outsource everyday tasks (the Poster) post the task details in the platform including its description and budget. Members of the community who are ready to work (the Tasker) then place their bid, and if chosen, they can start the project right away. Tasks can be as simple as home cleaning, garden works, furniture assembly, home removal projects, and handyman jobs to complicated tasks that require advanced skills like graphic design, photography, and website development.
AirTasker is just one of the few successful online and mobile applications available on different apps stores today that is dedicated to the peer-to-peer marketplace. Since its foundation in 2012 up to date, Airtasker has already raised AUD 3.5 million. It has a net income of $23,536,669 (FY 2018). Not only does the platform offers Posters and Taskers the opportunity to meet and work with each other quickly and easily, but AirTasker has also become an inspiration to many companies and even individuals who are planning to start the same service-based marketplace and to develop their own mobile application.
Developing a new mobile app
Developing a mobile application like AirTasker or AirTasker clone app is not a piece of cake. You will likely face some challenges along the way, not to mention the stiff competition that has already been around for some time now. One of the many challenges that are stopping many businesses from developing their own mobile app is its high costs. But how much do you need in order to develop a successful mobile app like AirTasker? Let us find out below.
1. The cost of developing a mobile app like AirTasker
How much does it really cost to develop an app similar to AirTasker? Frankly speaking, this question is quite tough and it is difficult to identify the exact amount needed for the entire project considering the multiple factors at play. But for AirTasker clone app, the development cost can be as low as $5,000 to $20,000 to as high as $50,000 to $100,000. More sophisticated and larger scope mobile apps can cost as much as $2,00,000.
The total cost of an AirTasker clone app development project greatly depends on a few factors. The factors affecting the cost of developing a mobile app include but not limited to:
Type of mobile app
Location and Vendor
Complexity and app features to be integrated
Design
Platforms to cater and development approach
2. Type of mobile app
The first factor that can affect the cost of development is the type of app you want to develop. Is it a mobile game, social networking, community marketplace, lifestyle, shopping, or business app?
Know that different types of mobile apps differ from each other in many ways. Community marketplace apps like AirTasker, for instance, are different from mobile game apps like Angry Birds especially in terms of features and graphic requirements.
Gaming apps are so far considered as the most profitable application available today. Unlike AirTasker, Angry Birds require more advanced graphic requirements. The development cost of Angry Birds app totals to around $140,000 but the said app was able to earn as much as $70 million in its first year and its revenue is continuously improving over the years.
3. Location and Vendor
The location where you intend to make the mobile application available and the vendor who will provide you with the app development services are among the major factors that affect the cost of AirTasker clone app development.
The cost of developing separate but the same mobile application for the United States market and the Asia users, respectively, can be different. This is mainly because of the geographical location where the development took place affects the hourly charges of the developers. For instance, mobile app developers from Canada, New Zealand, Australia, and the United States typically charge higher hourly rates than those from North Africa and Asia. India-based mobile app developers are equally competent but they charge the least hourly rate.
Another thing that can affect the cost is whether you will hire an in-house team, a mobile app development agency, or a freelancer. Each of these vendors charges different rates depending on the scope of the project.
4. Complexity and app features to be integrated
Mobile apps can be simple or complicated. The more complex the app is, the more expensive it gets. Also, the more features you want to integrate into the app, the higher the cost will be.
5. Design
The design of the app can also add to the total cost. Are you developing a basic, individual, or custom app? Basic apps are typically the ones that cost the least. On the other hand, if the app needs to be customized to fit specific requirements, you would need to extend your budget a bit more to cover the cost of customization.
6. Platforms to cater and development approach
One of the major challenges app developers encounter when developing a new mobile app like AirTasker is the diverse platforms people use. What platform do you want your app to cater to? Do you want your app to support Android devices, Windows Mobile gadgets, or iOS powered smartphones?
Each of these platforms has different development requirements and thus need to be created separately. If you want to reach a wider and larger pool of users, you can opt to develop multiple apps to support each platform but this can be quite costly.
If you want to save on the AirTasker clone app development costs, however, you may opt for cross-platform mobile app development. This approach allows you to write one common code and implement it across different platforms. Not only will this approach makes it quicker for the app developer to deliver the application, but it also helps keep the cost at a minimum.
These are just the basic costs that you need to determine when planning to develop an app like AirTasker. Other factors include connected APIs, back-end infrastructure, third-party app integration, data security integration, hosting fees, and maintenance costs.
You may also like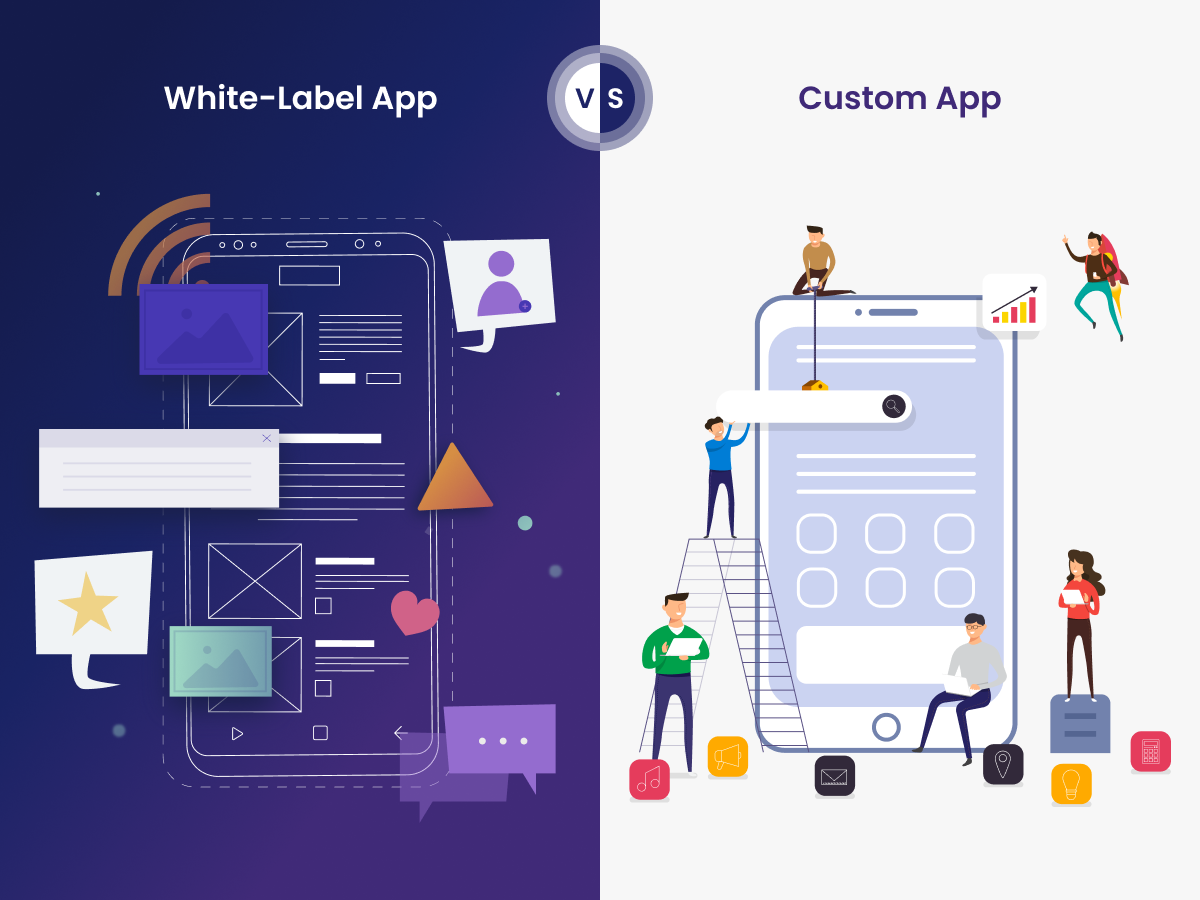 White Label App vs Custom App: Unveiling the Right Choice
Chirag Vaghasiya
In today's fast-paced digital landscape, the choice between white label app and custom app is a pivotal decision that businesses must make when venturing into mobile application development. Both approaches have their distinct advantages and disadvantages, and the path chosen can significantly impact a company's success in the digital realm. Every business has common goals… Read More