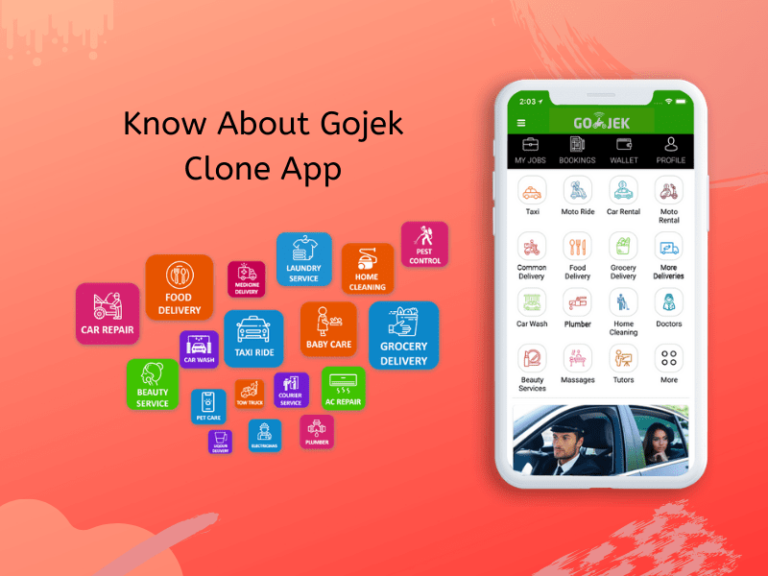 Ankit Patel

January 17, 2020

5 min read
What is Gojek App?
Gojek app was launched in 2010 with an intention to solve our day to day challenges with the help of technology. Gojek launched its services first in Indonesia and offered 20+ services, but today it has started launching its services all over the world.
Gojek divides all the 52+ services into three main subsets and they are as follows:
Go-Jek : This section covers different delivery and transport services including, taxi booking, bike riding, food delivery, ticket, truck service, courier service, coupon deals, and medicine delivery.
Go-Pay : In this section are included payment services like, go-pay service, usage of e-wallets to pay in the future, Go-points to get points and token, billing service, Go-Pulsa for recharging mobile phone. This service is available 24*7 for each and every customer. Go-Pay offers hassle-free and safe money transaction.
Go-Life : Recently, this feature has been added by the Gojek in their app which is related to on-demand services such as beauty, auto repairs, massage, and home cleaning services. Within a few clicks, the user can find the service providers who are experts in their particular fields. 12000 and more trained experts are this feature's part to provide quality services.
Now, what is Gojek Clone Application and why is it becoming so popular?
Gojek clone application is an app similar to Gojek app that provides numerous on-demand services through a single platform. Gojek clone app has made our life easy by offering us a whole host of services like a taxi ride, car rental to booking services of plumbers, lawyers, doctor's appointments and on-demand tutors as per our convenience. Additionally, it has also helped businesses in earning great profits in the form of commissions derived through every ride, services or delivery booked from this app. Gojek clone application also helps businesses in retaining customer loyalty by collecting customer data as well as in building their brand on an online platform as almost 60% of the total population is using mobile apps to carry out their daily tasks. Gojek clone app has revolutionized the app world as this single app offers more than 52+ services.
Features that must be in a Gojek Clone
The popularity of the Gojek clone app has motivated a lot of on-demand service providers to dive into the trend and build their personal app similar to the gojek app having the exact qualities that it has. If you too want to build an app similar to Gojek one, then you will have to search for the best gojek clone app development company that can incorporate the below-mentioned features in your app.
Easy & Single Touch Login – For enabling the users to register easily and after that permitting them to operate the app in future by logging into the app with just a single touch.
Licensed Source Code – For ensuring that you can customize and modify the app in accordance with the changing requirements of your customers and business.
Responsive – For empowering your customers operate the clone across different platforms such as Android device, iOS, PC, laptop, etc.
Multi Payment Options – Availability of flexible and multiple payment options like debit/credit card, wallet or cash so that users can make payments conveniently.
Real-time Tracking – For tracking service provider's location.
Multi Language and Multi Currency – For ensuring that your app users can use the app in whichever language they are comfortable with and make payment in whichever currency they want.
White Labeled – For ensuring that your logo and brand name is present in every page of your Gojek clone.
Seamless Interface – For permitting the user to view clearly all the services category wise.
Notification – For notifying the users regarding new services, offers, deals and discounts.
Bug free – For ensuring that the clone functions efficiently without crashing.
Hence, with these powerful features of gojek clone, on-demand business run by you would attain new heights of success beyond your expectations. You need to have an impeccable gojek clone script having perfect gojek clone app source code other than having a gojek clone with essential features. Do you know what does this gojek clone script means? Do have a look to understand what actually a gojek clone script is.
Gojek Clone Script
Today every business is having an app that not only permits them to build their brand name but also enables them to generate huge profits by offering vivid services to their customers through that app. While developing an app, the gojek clone app development company makes use of an ideal source code that would undoubtedly help you in establishing your online presence.
Below are stated some of the essential components that should be present in an ideal gojek clone script:
Native iOS Driver, restaurant, store or service provider app for empowering the business to accept services, orders, or rides, etc. in real-time.
Native iOS or Android User App for placing orders, services, or rides, etc. in real-time.
Web panels for Driver, service providers, restaurant and store for accepting orders as well as tracking users via the web.
Web panel for users for placing orders directly across the web.
Manual booking and dispatcher panel for enabling all those users having no iPhone or Smartphone leverage the service benefits by contacting the business owner directly.
Interactive panel for admin for managing the entire functioning of the app, like commissions earned, payments and information regarding the restaurant, driver, service provider, store, user, etc.
Now, when you have learned about the essential components of a perfect gojek clone script, it's time to have some understanding on how development of app like Gojek app having a powerful Gojek clone app source code can be beneficial for your on-demand business as well as for your app users.
Gojek Clone App Development Benefits

Benefits to Customers:
Empower those without a Smartphone or iPhone to directly call the business thus making it convenient for them to receive the services
Eases their life by offering them more than 52+ services from a single app
Helps in maintaining the security and safety of the user by using call masking feature
Empowers the app users track the service provider's location so as to know about the delivery or service status
Benefits to Businesses:
Turn into a brand by offering 52+ on-demand services
Maintain and boost customer loyalty with the help of feedback and reviews provided by the customers
Keep updating their services according to the feedback received
Offer new and improved services on the basis of app used by the users
Generate huge revenues and profits by earning commissions on every service offered
Services Offered By The App:
This app comprises of 3 default services from which the user can as per his requirements choose. Those services are stated hereunder:
Transport Service:

Through this service a user can book a bike, scooter or taxi. The user can set him from and to a location along with the time. Not only, he can select the vehicle type from multiple options like a hatchback, sedan, SUV, etc, but also, he can choose among various payment options such as e-wallet, cash or card. The driver can navigate the entire route using the GPS map.

Delivery Service:

If a user wants to send his item from one destination to another destination or wants to get a courier delivered, he can make use of this delivery service. The items to be delivered can be food, flower, courier, medicine, bottled water, etc.

Service Providers:

In this service provider's section, services like hiring a babysitter, handyman, healthcare service provider, laundry, car repair mechanics, getting roadside assistance and many others are offered to a user.
Concluding Statement
Gojek clone application being the replica of gojek app, offers full convenience to the users as they have to download one single application instead of too many apps to get whichever service they want. After knowing in detail about this clone app, if you too want a customized app similar to Gojek app having perfect gojek clone app source code, then you should hire the services of a development company that would develop an exceptional application same as Gojek for you.
You may also like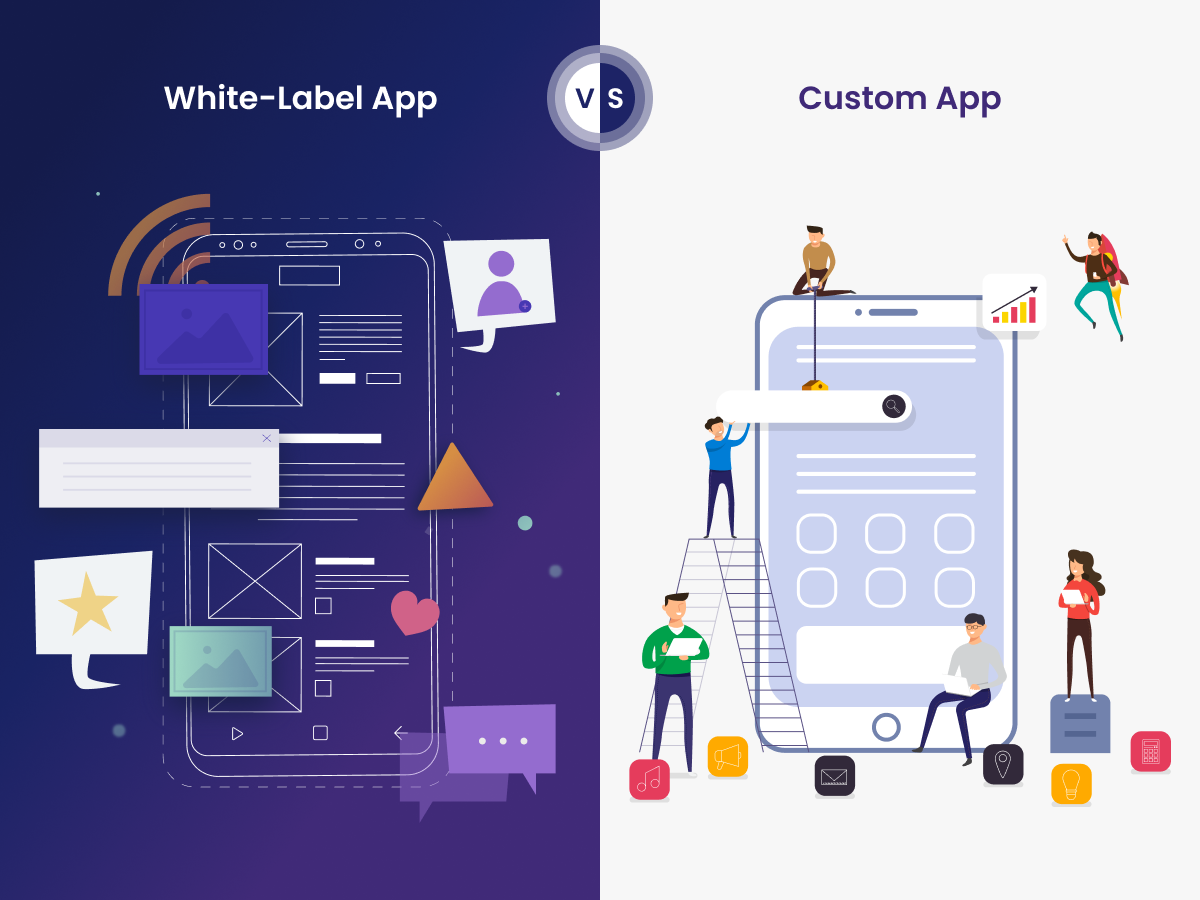 White Label App vs Custom App: Unveiling the Right Choice
Chirag Vaghasiya
In today's fast-paced digital landscape, the choice between white label app and custom app is a pivotal decision that businesses must make when venturing into mobile application development. Both approaches have their distinct advantages and disadvantages, and the path chosen can significantly impact a company's success in the digital realm. Every business has common goals… Read More