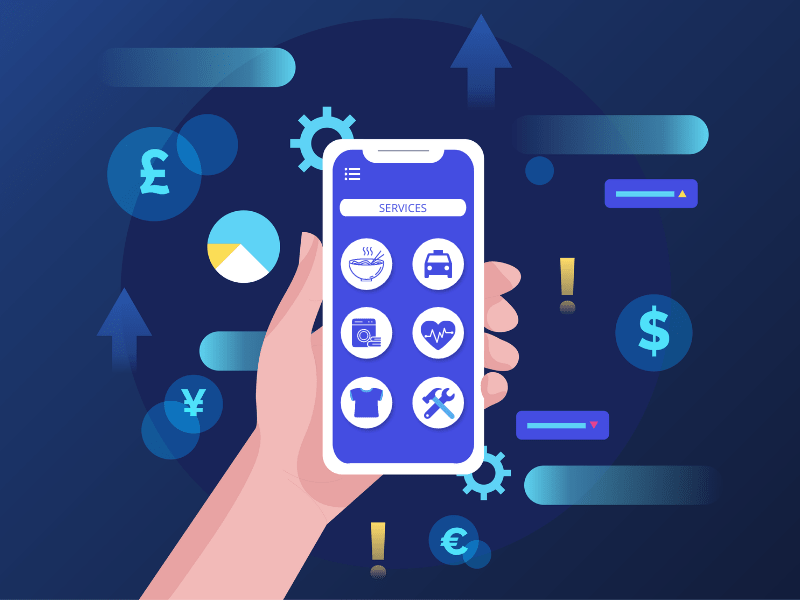 Ankit Patel

May 25, 2021

7 min read
Talking about the past years, in need of some services or to buy something, one had to go out and procure them physically. Today, with the advancement in technology, the scenario is completely opposite. With only a few clicks on their Smartphones, one can get the required things and services right in front of their doors.
The benefits offered by on demand apps are endless; thus the demand for Smartphone applications is increasing constantly. These apps offer a hassle-free shopping experience, convenience, and speedy shopping to consumers. As per a survey, the revenue derived from sales through on demand apps is surely going to bump up from $582 billion (2020) to $695 billion (2021).
The figures mentioned above are pretty much interesting and allure to new start-ups. You as a new start-up can grab this opportunity and earn tremendously. You can think of innovative on demand app ideas. Undoubtedly, your ideas may be incredible, but for developing a successful and exceptional application, you must hire on demand app development services provider company. You can develop the best apps with the help of a mobile app development company that offers the best on demand delivery app development services.
That company will help you create a personalized UI through which you can keep your consumers engaged in several ways. From an exceptional app, you not only make things convenient for your consumers but also have a firm grip over them.
Money Spinning On-Demand App Ideas In 2021
Without dilly-dallying any further, we should now delve into the main topic of discussion – The best on-demand app ideas through which you can make money lucratively in 2021. Below have been discussed a few ideas of on-demand apps from which you can pick the most suitable one and try your hands on it.
Medicine Delivery Apps

Whether a big or small disease or for a mere headache, medicines are required by all of us. Medicine delivery app is the most profitable on-demand app in 2021. The reason is not hidden from anyone. The COVID-19 has scared humans so much that people refrain from visiting a chemist shop to buy medicines until and unless it is too urgent. Also, it is not safe for aged people to step out of the house to buy medicines. With your on demand medicine delivery app, people can buy medicines while being indoors and get them delivered at their doors. You can get in touch with a top on demand delivery app development company and know about the cost to develop an on demand application. Make sure that you decide fast so that your competitors don't get a chance to steal your idea.

Fashion Apps

Be it for any special occasion or for daily wear, people love to shop for apparel. But due to late working hours hardly find ample time to buy clothing. Fashion apps came into the scene for resolving this issue. Your fashion app can be the one-stop online store for all the buyers who want to buy apparel but can't due to lack of time. It will connect your users with almost all the clothing brands.

As per the market researchers, about 40% of Smartphone users enjoy shopping for garments via on-demand fashion apps. With an appropriately created e-commerce fashion app, you can earn very good revenue.

Health & Fitness

Today's new generation is very much concerned regarding their fitness and health. They try every measure to maintain their figure. They keep a count on the calories they intake and ways they can burn them. 75% of Smartphone users are from the young generation. Hence, the requirement of the young generation cannot be ignored.

Also, in the wake of this pandemic period, people practice every method to be fit and boost their immunity. Through your on-demand fitness app, you can provide your users with workout sessions, the Zumba sessions, help them plan their healthy diet and many more.

You can clinch this idea of developing a health & fitness app, meet your user's requirements and make money side by side. For this, you will need on demand app development services of professionals.

On Demand Grocery Apps

In the Covid-19 period, the grocery on-demand apps have become the new normal. Instead of standing in a long queue at the supermarket, people prefer ordering grocery items online and getting them delivered right to their homes. You can take ideas from popular grocery apps like Peapod, Amazon Fresh, JioMart, Instacart, etc.

Grocery delivery apps have a booming future in 2021 as the COVID-19 pandemic is not going to end so soon. You can create an on-demand grocery delivery app and tie-up with some of the local shops of your locality to increase your app's efficiency and ultimately its demand.

Taxi Booking Apps

Commuting has become very convenient today. With taxi booking apps like Ola, Uber, BlaBlaCar, etc. cabs can be booked within seconds. Other than this, through the ride-sharing feature of these apps, people can save a lot of money. These apps also permit the users to book rides for their family members.

Hence, you can jump into this bandwagon of taxi booking app development and create an app similar to the ones named above. and create an app similar to the ones named above.

Food Delivery Apps

People crave restaurant and hotel food and this craving for food is never-ending. This is the reason why apps like Zomato, GrubHub, Swiggy, and Postmatesare have gained so much popularity within a few days. After the advent of these apps, people prefer the delivery of their favourite cuisines at their doorsteps.

This can be a good option for you. You can enter the online world via this app and earn huge money within a short span of time.

Beauty & Salon Apps

Offering specialized beauty services and products to customers is now easy via on-demand beauty apps. Through your beauty apps, your app users can book salon services at their convenience. You can integrate some advanced features to your app like booking appointments for home-based or in-venue services, managing the schedules, etc.

Try to offer centralized and a variety of services to attract a large number of customers. Increase your services horizon from body nurturing, makeup, and facials to branded beauty products for increasing your revenue.

Plumbing Apps

Earlier people had to call the plumbers hundreds of times to fix the leaking taps. Today, with the on-demand plumbing app, the plumber's services can be availed within a couple of hours. This app is definitely a new one in the app world but is sure to gain momentum in 2021. This is one of the lucrative on demand app ideas. Being new there are high chances of attaining great success. Grab this opportunity. Hire the on demand app development services of a reputable company for developing one.

Mechanics Apps

Your interactive on-demand car repair app can bridge the existing gap between the car owner and the mechanic. On-demand mechanic app is gaining momentum and by the mid of 2021, it will have a strong presence in the app world. Today, instead of travelling through public modes of transport, people prefer travelling in their private cars to distant places.

While travelling they might come across a place where their vehicle needs repair and there are no vehicle service stations or mechanics nearby. Here, your app will prove to be a saviour for travellers.

You can consider this concept and add some unique features to it to catch the attention of your audience. After developing an on-demand mechanic app, you can hire some efficient mechanics and offer their services whenever a person seeks vehicle repair help via your app.

Plant Delivery Apps

Scientific evidence has proved that houseplants play an essential role in removing harmful toxins present in the air. Not only this, the green and beautiful plants relieve our stress. The University of Queensland made a study and found that the offices that have showcased plants in their campus have experienced a 15% boost in the productivity level of their office workforce.

It is not easy to find the right plant or the desired plant. People living in urban areas look forward to on-demand plant delivery apps to shop for their favourite plants. This is why the plants selling apps are soaring high.

From these on-demand plant selling apps, people can come across a number of plant species other than the plants they have been looking for. If this app has attracted you, then you need to get in touch with the best on demand delivery app development company for developing one of this kind.

Laundry Apps

It was calculated that on-demand laundry apps generated $76,300 million in 2020. And, it is expected to accelerate by 4% in 2021. Can you ever imagine that this huge revenue could be generated by a laundry app?

You cannot ignore this figure. Laundry services have made life easy for office-going people. Instead of spending their weekends doing the tedious laundry work, people prefer to seek laundry services from outside. This is the reason this app is going to be a very popular and money-spinning app in the coming days. You can think of developing an on-demand laundry app even.

E-learning App

The education sector too has been impacted because of this pandemic. COVID-19 has locked students inside the home. Now, when schools and educational institutions are closed, then how can a child continue with his studies?

E-learning apps can help them to cover their course. The education sector when paired with digitalization can be a great growth scope for you. You can hire the on demand app development services of a professional team of developers and create one of the best on-demand e-learning apps.

Video Streaming App

As per statistics, in 2021, the revenue earned via video streaming apps is estimated to reach 71,230 million. Such apps gained popularity only after the most ruling apps – Amazon Prime and Netflix. These two apps have altered the way of watching shows and movies. With a good internet connection and a seamless functioning video streaming app like Netflix, one can watch his favourite shows.

The pandemic has hit the world so ruthlessly that it has become impossible for people to watch their favourite movies outside. People prefer watching them at home. Hence, you can plan to develop an on-demand video streaming app, through which not only your users will enjoy watching their favourite movies but also can watch web series and their daily soaps.
Cost of Developing On-demand Apps
Now, the question is what will be the cost to develop an demand app? The cost varies on the basis of the features you would like to integrate, the platform you choose, the tech stacks used, the development team and the geographical location.
However, the time required for developing an on-demand app with basic features ranges between 3-4 months. And, in India, mobile app development charges about $20-$25/hour. Hence, the cost to develop on demand app would be around $6000-$8000. But, it may go high as per your requirements.
Concluding Remarks
The industry of on-demand apps is growing rapidly. For staying competitive in this industry, you need to come up with a feature-rich and exceptional on-demand app to lure your audiences. Though there are many on demand app ideas, the above-stated ones are more profitable.
PeppyOcean is one of the leading on-demand delivery app development companies and is known for its exceptional app development services. You can partner with us and discuss with our dedicated team regarding your on demand app ideas and figure out how much it would cost to develop a mobile app.
You may also like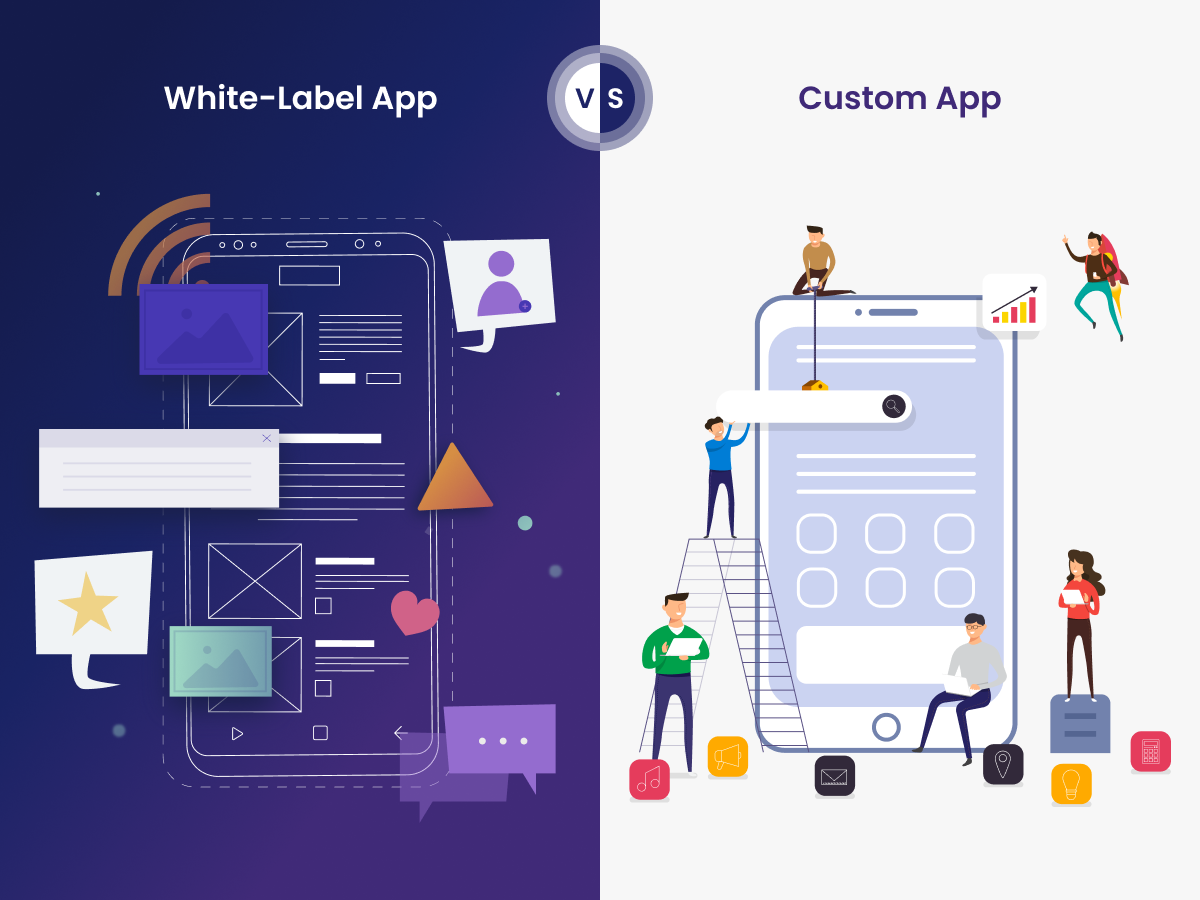 White Label App vs Custom App: Unveiling the Right Choice
Chirag Vaghasiya
In today's fast-paced digital landscape, the choice between white label app and custom app is a pivotal decision that businesses must make when venturing into mobile application development. Both approaches have their distinct advantages and disadvantages, and the path chosen can significantly impact a company's success in the digital realm. Every business has common goals… Read More