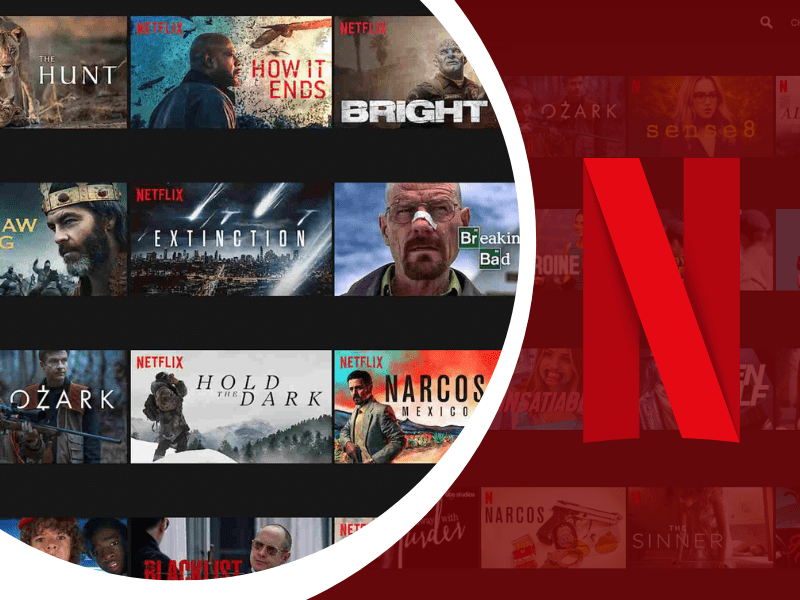 Ankit Patel

January 01, 2021

4 min read
Keeping watchers glued to it, Netflix has emerged as the number one video streaming platform. Netflix like app development services has also been in demand off-late. Charging only a nominal amount for its subscription, it is preferred by the majority of users for an uninterrupted viewing experience. With series and movies that transform any self-disciplined individual into a screen addict, Netflix has gained huge popularity in a short time. It has also increased the demand for Netflix clone apps. Keeping users hooked, it makes them watch the episode on episode. With the unique content it presented, it stood out as one of the best video streaming platforms.
Let's take a look at some of the interesting statistics related to Netflix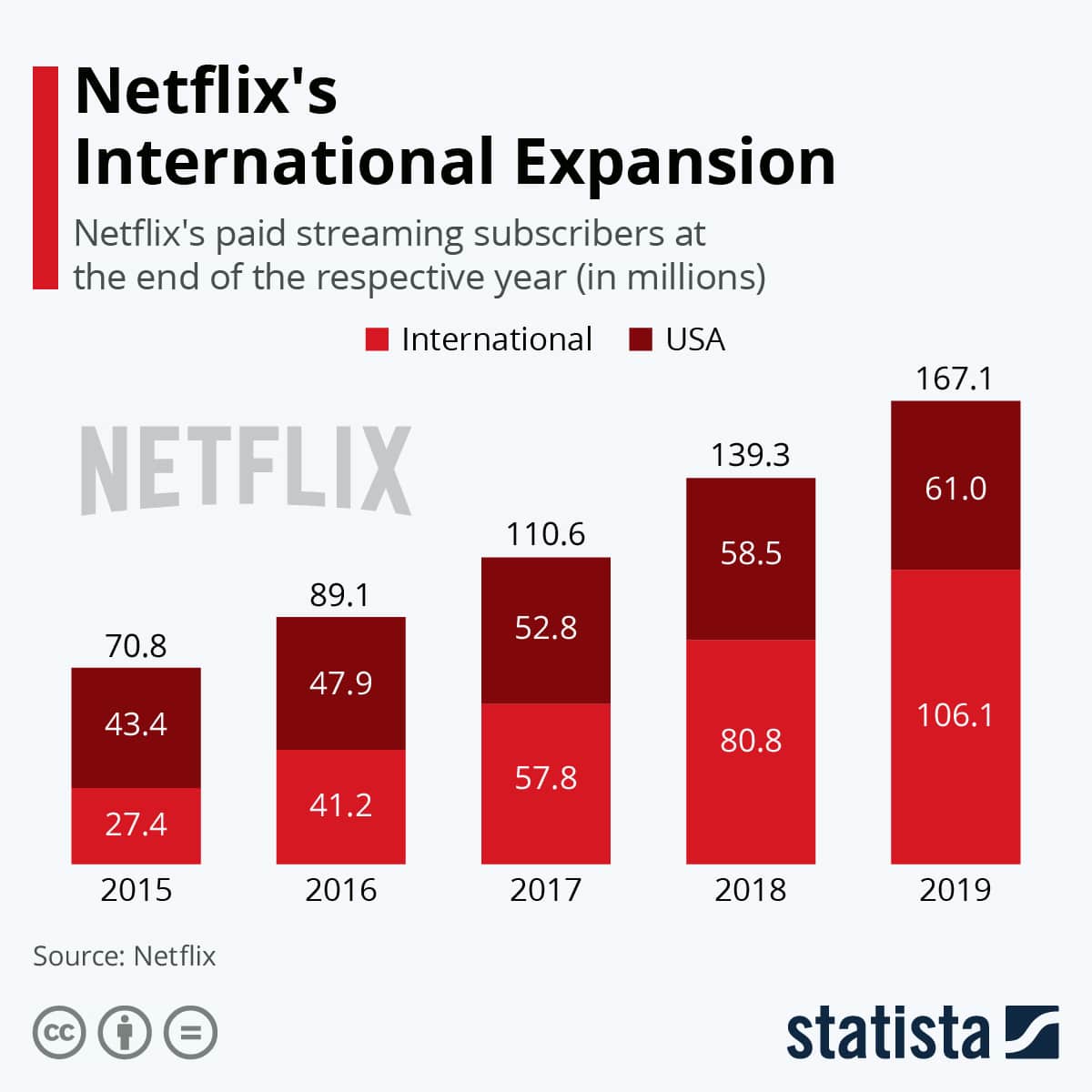 We can clearly see from the above image that the subscriber growth of Netflix has been steady since 2015. At the end of the year 2019, Netflix had more than 167.1 million subscribers. With such a whopping number of subscribers, there's no doubt why businesses are interested in investing in the Netflix clone app.
Before we proceed to know more about Netflix like app development, let's look at factors that lead to the growth of this video streaming platform.
Highly original content
Engaging content
Nominal subscription price
Availability on multiple platforms
No commercials
Flexibility to create your own schedule
Recommendations based on watch and liked history
This makes it crystal clear why Netflix has gained success in a short time and why there is so much demand for Netflix clone app development. A number of businesses are interested in creating such apps and making revenue from them.
Before entering into the details of the cost to develop app like Netflix and how to create a video streaming app that rules the hearts, we must look into the essential features of one such app. Developers should consider some of the features which should not be missed while rendering video streaming app development services.
Simple User Registration: Developers should ensure that users should be able to register for the app easily. Nothing can be more frustrating than a complex registration process. Registration is the first impression of the app in the mind of users. If it's straightforward and easy, it makes them feel at ease. Even if some of the features, after logging in the app, are complex, it lets the users take it easy.

Easy Navigation: Another essential feature to be considered while doing Netflix like app development is the ability to switch between the screens. This is done with a clear roadmap. For instance, on the home screen of Netflix after you log in, on the left sidebar you can clearly see the various screens which you can switch or navigate through. The options are laid out clearly for the user.
Payment Gateway: A secure payment gateway that makes the users feel that their financial information is secure is a must-have for any Netflix clone app. With payment gateway integrations, you offer not one but multiple modes of payment which only translates to more number of customers.
My List: One of the attractive features that lure users to the screen or the app per se is the provision to save personal choices to a list. With this functionality, users can add movies to their list whenever they find any trailer interesting. This is very important as it saves user's browsing time or they needn't remember the movie, show/series that they need to watch next. This increases the user retention rate.

Social Media Integration: We all know that humans are social animals and this has been proved by the popularity of social media platforms like Facebook, Twitter, Pinterest, Instagram, etc. People love to display their life whether it is public or private. People love to share what they viewed or learned from the movies they viewed. With the ability to share this info on various social media platforms, your app users shall surely be more than happy with your app. Having social media tools integrated on the video streaming platform, you will prove that your video streaming app development services are exceptional.
Screen Mirroring: If you want to create a successful Netflix clone app, it is important for you to let your users enjoy a viewing experience on a different screen like TV. Your app should let users stream on the TV screen with the use of Wi-Fi. What can be more convenient for users than being able to stream the audio and video content of the app on a TV set while the app remains a remote control to regulate the playback?
Support For Multiple Languages: One of the factors to be considered while arriving at the cost to develop app like Netflix is whether it supports more than one language. Your video streaming app should consider the local language. This will take your app beyond geographical boundaries. This one feature is majorly responsible for the growth of Netflix. For instance, viewers from Mozambique, a Portuguese speaking country, can get the audio track of movies/series in the Portuguese language too.
Developers providing video streaming app development services should consider all the above points while creating an app like Netflix. This will ensure that the app not only gains a huge number of subscribers but also retains them.
Cost to Develop App Like Netflix:
Creating an app like Netflix is surely going to demand a huge sum although it's not fixed. The budget needed to develop app like Netflix depends on various factors. These factors include the platform for which it is being created, features to be included in the app, technologies to be utilized, geographical location of the app developers hired for creating the app, and others. All these together determine the final cost to develop app like Netflix.
How to Develop An App Like Netflix?
To create an app like Netflix the best option is to outsource it to a company offering video streaming app development services. There is another option which is to create your own in-house app development team which develops and takes care of the app. However, it takes a huge amount of resources, efforts, and investment to do so. Hence, outsourcing the app to an experienced and professional app development company is the best option.
They can help you at every stage of development. Right from conception, determining the features of the app to the launching of the app, they are experienced and experts in every aspect of app development. They can also give you powerful insights about how to make your app successful and the essential features required in it.
So, if you have decided to be the next Netflix like app founder, then email us or contact us with your app idea. Our innovative team of designers and developers will help you transform your idea into a reality which you and your customers would love.
You may also like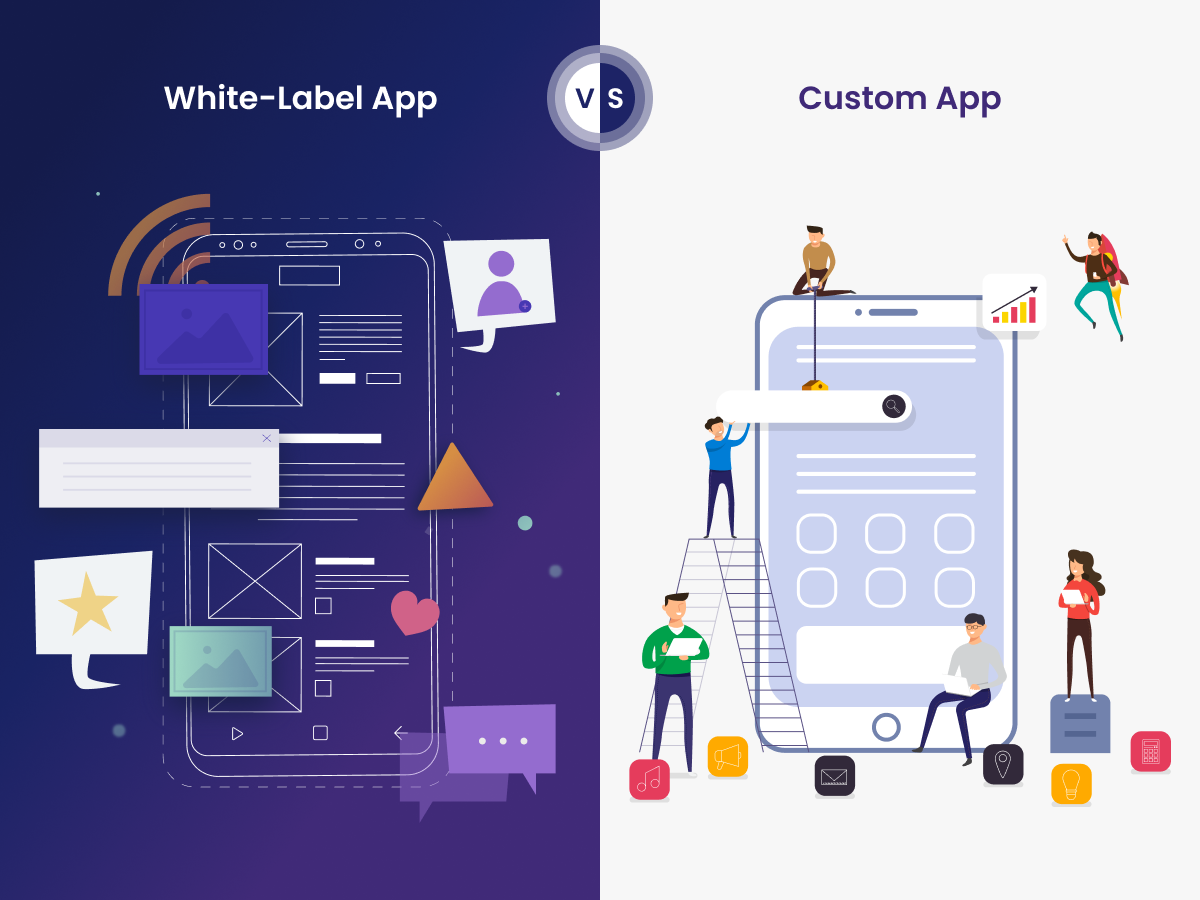 White Label App vs Custom App: Unveiling the Right Choice
Chirag Vaghasiya
In today's fast-paced digital landscape, the choice between white label app and custom app is a pivotal decision that businesses must make when venturing into mobile application development. Both approaches have their distinct advantages and disadvantages, and the path chosen can significantly impact a company's success in the digital realm. Every business has common goals… Read More