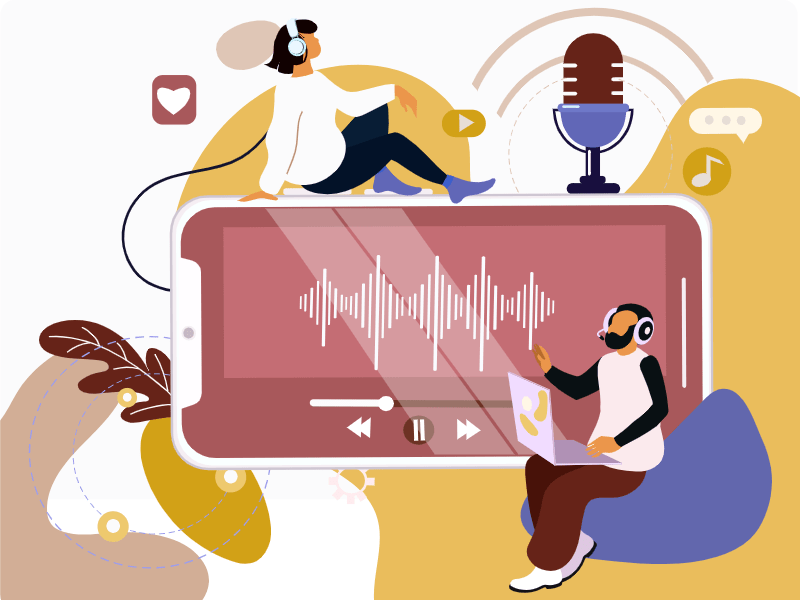 Ankit Patel

January 13, 2021

4 min read
Reading books is a pleasure only experienced by those who have a love for books. Audible clone apps have been in demand off-late due to more number of bibliophiles switching to audiobooks. They make it possible for book lovers to 'hear' their favorite books while they are on the go. Whilst cooking, washing, cleaning, or gardening, bibliophiles can continue listening to their favorite author and add more and more books to their 'Read', or perhaps 'Listened' list. This convenience has made entrepreneurs interested to develop app like audible.
Before we proceed to see how much does it cost to develop app like audible, let's look into the reasons why audiobooks gained popularity.
Technology has changed everything around. However, there are somethings which have evolved gradually and changed our lifestyles bit by bit. The increasing competition around us, the growth of content in our environment, and the need to be ahead of others have transformed our lives beyond words. Our lives are more hectic than ever, yet there is an inner part of us that constantly seeks satisfaction in pursuing leisure activities.
Reading is pursued by many not just as a hobby but as an escape to a totally different world, to improve the quality of life, and to gain knowledge on various subjects. Although lives are busier, it cannot be denied that reading improves the overall quality of our life. Amid the chaos of life, bibliophiles find respite in reading. However, the constant run for earning the daily bread hardly left any time for leisurely pursuits. This rose to the need to develop app like audible.
With Audible, you can hear a number of audiobooks, podcasts, and audio stories while continuing with your daily tasks that do not need meticulous attention. The demand for audio content has only increased since the launch audible and also increased the demand for audible clone apps subsequently.
The following image clearly shows the growth in the number of audiobook users in the U.S. Since 2011 it has been constantly growing, only to take a dip in 2015.
Images source: submittable.com
With such encouraging trends there is no doubt why authors are eager on investing resources, funds, and efforts to create an audio version of their book. Speakers are also now inclined to present their speeches in audio form on apps like Audible.
Winning Features of Audible
Download: This feature lets users download the audiobooks and access them later whenever they don't have an active internet connection.
Works in Background: Users can continue their tasks on mobile while the audiobook plays in the background. This implies that you can edit an image or send a message while listening to the audiobook.
Social Media Integration: People love to share what they read. With social media integration, users can share information they gained from the audiobooks on social networks. Audible clone apps can make it easier to spread the popularity of your app this way.
Versatile Content: The wide collection of books from different genres like crime, thriller, horror, mystery, fantasy, kid's stories, sci-fi, documentaries, wellness, etc. makes it the most outstanding app with huge content. The collection seems to be never-ending and attracts new users as well. By loading the app with a wide variety of content, you can encourage a wide customer base to use your audible clone app.
Control Narration Speed: One of the must-haves of every audible clone app which must be adopted from audible is the ability to control the narration speed. If you are not very comfortable with the accent you can reduce the speed to comprehend it better.
Sleep Timer: With this feature, you can never miss a plot twist while falling to sleep listening to your favorite author. You can set a timer for which the audiobook will play. Once the timer goes off, the audiobook will stop playing.
It can be seen how wonderful is Audible and the number of useful features it offers. The features stated above are not exhaustive. There are other features of this wonderful app you will experience while using it. They can also be considered during podcast app development.
There is no doubt why Audible has topped popularity charts and encouraged readers to opt for audio content rather than a textual one. A number of features make an audio content app easy to sell and thus, lure more number of users towards it.
Some of the features which make every audiobook popular are:
Provide Stability
Be User-friendly
Facilitate control over reading speed
Give the ability to choose between offline listening and live streaming
Offer sleep-timer
Free audiobooks for testing
Let users open the audiobook on the same page through any device
Ability to access audiobook store
Give access to a wide variety of content including audiobooks, podcasts, audio lectures, etc.
Provide complete access to subscribers
The Growth of Podcast App Development
The trend of using audio content, due to lack of time to sit with a book or paper, has also fueled the growth of podcast app development. There is an increasing number of podcasts being released almost every day. People love listening to them on the go. Hence, this is one thing that must not be ignored while creating an app offering audio content.
Cost to Develop app Like Audible:
With a number of companies offering to develop app like audible, it has now become easy to create such an app. All you need to do is approach a company offering to build an audible clone app.
Arriving at an exact answer for such a question would be very difficult due to the number of factors determining the cost. The following aspects must be taken into consideration while beginning to develop an app like audible.
Cost of hosting services
Size of the library
Cost to develop app like audible
Usage cost of the audiobook
Distribution rights
Technologies utilized
All in all, it can be said that no other time is better than this time to develop app like audible. Presently, when some of the countries are under lockdown, many of the individuals are under self-imposed lockdown. At such times, it can be very profitable to build an audiobook app or to go for podcast app development. Whether you need assistance in developing your idea for audio content app development or want to transform your app idea into reality, PeppyOcean possesses experienced designers and developers to make your dreams come true. Just email us your details and we will be there for you to accomplish your dream audio content app.
You may also like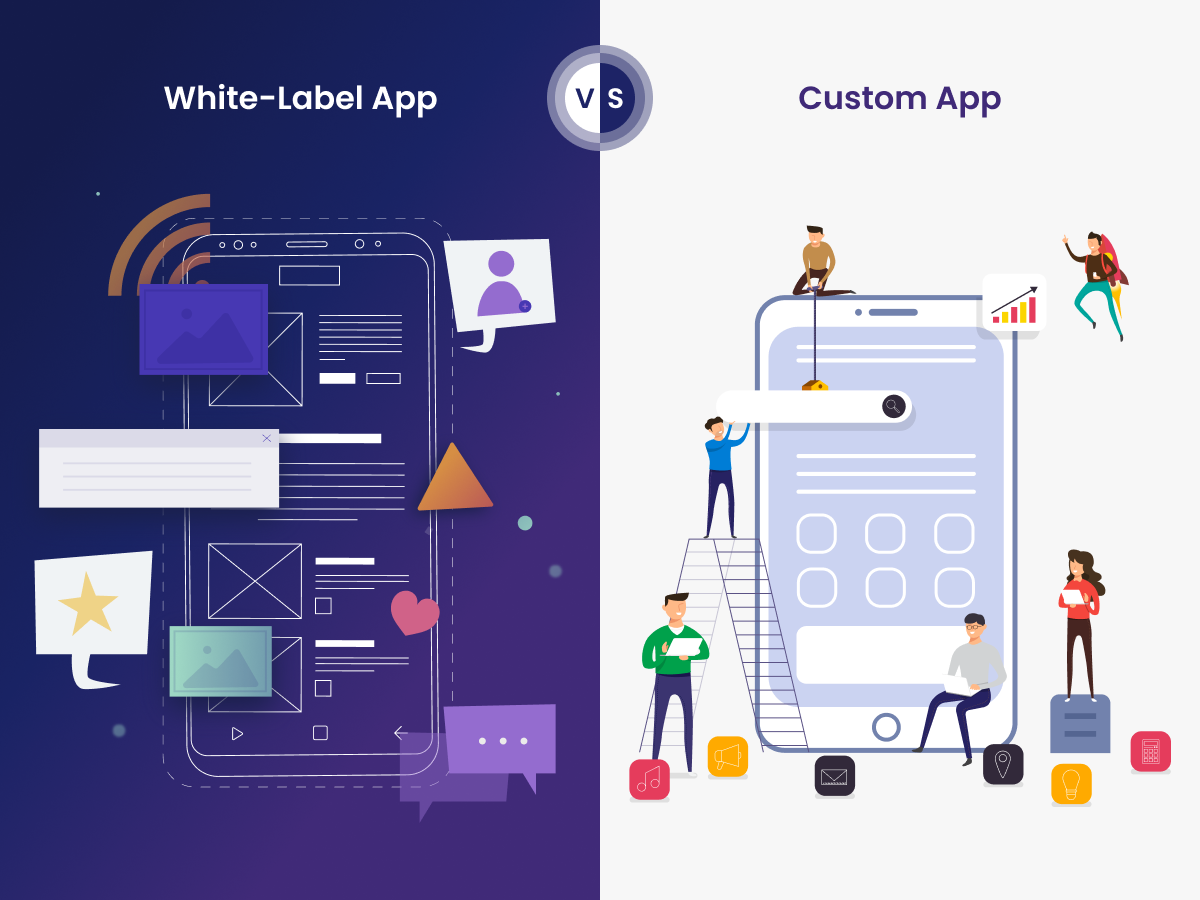 White Label App vs Custom App: Unveiling the Right Choice
Chirag Vaghasiya
In today's fast-paced digital landscape, the choice between white label app and custom app is a pivotal decision that businesses must make when venturing into mobile application development. Both approaches have their distinct advantages and disadvantages, and the path chosen can significantly impact a company's success in the digital realm. Every business has common goals… Read More