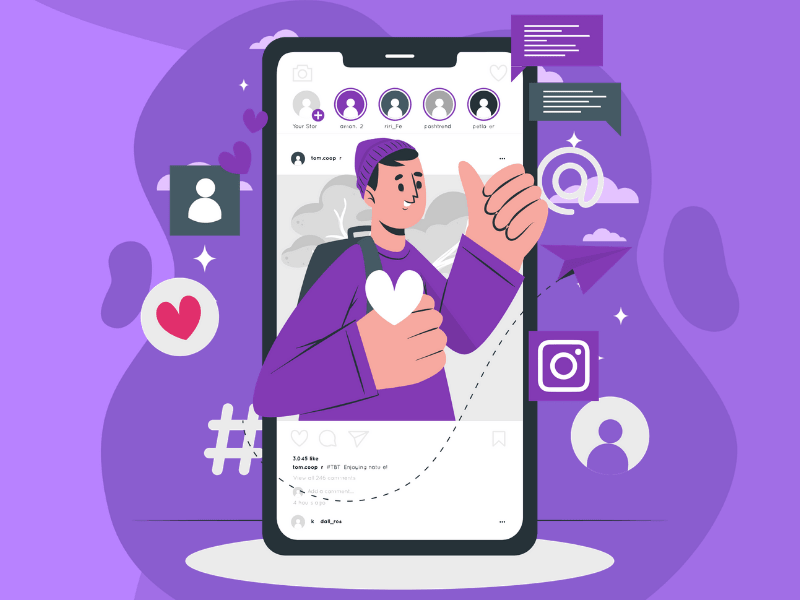 Ankit Patel

January 29, 2021

4 min read
The accelerating speed of our routine lives has coerced us to speed up our life. We have no time to pause or stop. The sunrise heralds the beginning of our non-stop every-day chores which ends only when we lie down in our bed at night. No doubt why there is a rise in demand for Instagram like app development services. People are not interested to pause and read any text due to their hectic schedules. They want pictures and images served on a platter. This trend has led to increasing in the number of Instagram clone apps in the app world.
Instagram, an American photo and video sharing social media platform, is one of the most popular visual social media. Competing with Pinterest, another visual media platform, Instagram has managed to claim its place in the social media world. Used by celebrities and individuals interested to display their life through illustrations, it is one of the most preferred visual platforms.
Why Apps Like Instagram And Instagram Clone Apps Are Popular?
The below image depicts the kind of content people usually prefer from the brands of their choice. It clearly reflects that most of the customers would like to view videos rather than written content. The importance of visual content thus becomes crystal clear.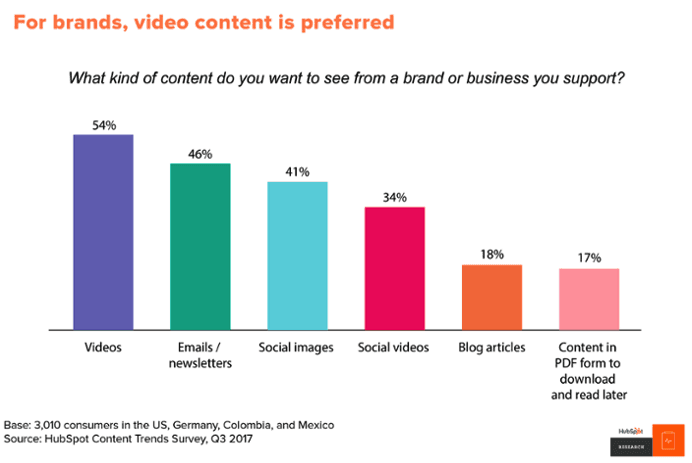 The adage "a picture is worth a thousand words" has been drafted meaningfully by its writer. Although text creates the needed impact, research shows that visuals are the most effective tools for high engagement and conversion levels. Our brains are wired to grasp visual information quickly. Here are some interesting facts that give us a peep into why visual content is more powerful and effective than text.
The human brain
Takes only 13 milliseconds to process a visual
Processes images 60,000 times faster than a script
Has no more time and patience to go through text
Remembers 80% of what it sees and only 20 percent of what it reads
It's apparent why apps like Instagram are growing and why entrepreneurs are interested to know the cost to develop app like Instagram.
Now that we know the importance and relevance of visual apps, let's now look into the specifics of why Instagram has grown popular.
Remarkable Features of Instagram That Lead to Its Popularity:

Video Features: Instagram not just allows users to post and share photos but it also supports video. Video posts on Instagram allow users to post videos that have a length of 60 seconds. On video posts, you can add a filter, a caption, and also tag your location while sharing your post.

Allowing video posts on Instagram clone apps is a must because of the fact that they generate more user engagement than photos.

Live Video: This feature allows users to go live on Instagram. The following things happen when you go live.

Your followers get a push notification about you going live
They can comment on or like your video in real time as it is a live video
Once you go offline, the video is no longer available.

While delivering Instagram like app development services, developers must keep all these features into consideration.

IGTV-Instagram TV This unique and impressive feature (app within Instagram) lets users share videos that are too long or maybe longer than an hour. Businesses using video marketing for advertising their products will find it very interesting and helpful. Video content creators can avail of this feature to make the most from the platform.

Follow From Search: This useful features lets users follow someone directly from the search results. When they perform a specific search and get the search result, they will be able to view a follow option beside their name on the same screen. This eliminates the need of visiting the profile and then clicking on the 'Follow' button. This increases the use of the app as users have to put in fewer efforts. Hence, it must be the aim of social media app development services to make such apps effortless.

Video Story: This recently added Instagram feature is also available on Facebook and Snapchat. The stories feature lets users add clips of video to a story which is available for viewing for 24 hours. Within the 24-hour period, viewers can see the video as many times as they want. Users can add one video or clips of a video to a story.

Developers delivering social media app development services must use this feature if they want their app to be as popular as the original app.

Convert Existing Posts Into Ad: Instagram, previously offered to turn an existing post into an ad only when a user hit the in-app promote button. However, with the recent changes introduced, businesses can transform their organic posts into ads using the Ads Manager. Users can go with the most popular posts so that they get the highest number of views. If organic posts yield good results, users can run them to create an engagement ad. This useful feature is a must-have in your Instagram clone app.
Social media app development services providing companies should all the above characteristics of the Instagram app to create a winning app. The list of features of Instagram is not exhaustive. There are a number of features that have led to the popularity of this platform. These must be studied in detail by developers providing Instagram like app development services.
Cost to Develop app Like Instagram
Now coming to the topic of the cost of developing a visual app like Instagram, it can be said that there are a number of aspects determining it. Just like a smartphone of the same brand would cost you different with different memory and features, in the same way, an app would cost you as per the functions and design it offers.
Organizations offering social media app development services determine the cost based on the following factors:
Technology utilized
Platform chosen for creating such an app
Features and functionalities
UI/UX design
Number of reworks
There are two ways in which you can create Instagram clone app.
First is to hire a developer who offers Instagram like app development services.
Second is to hire a professional organization that creates Instagram like apps.
The cost to develop app like Instagram depends on which option you select. The developer will charge you per hour whereas the company will charge you as per the project. However, you can opt to hire a dedicated developer from a specific company.
You can request quotes from various companies offering social media app development services. However, the cost should never be the criteria for outsourcing the development of your Instagram clone app. You must look into different details like the experience of the company, portfolio, client's testimonies or referrals, expertise, etc. to select the right app development partner.
You may also like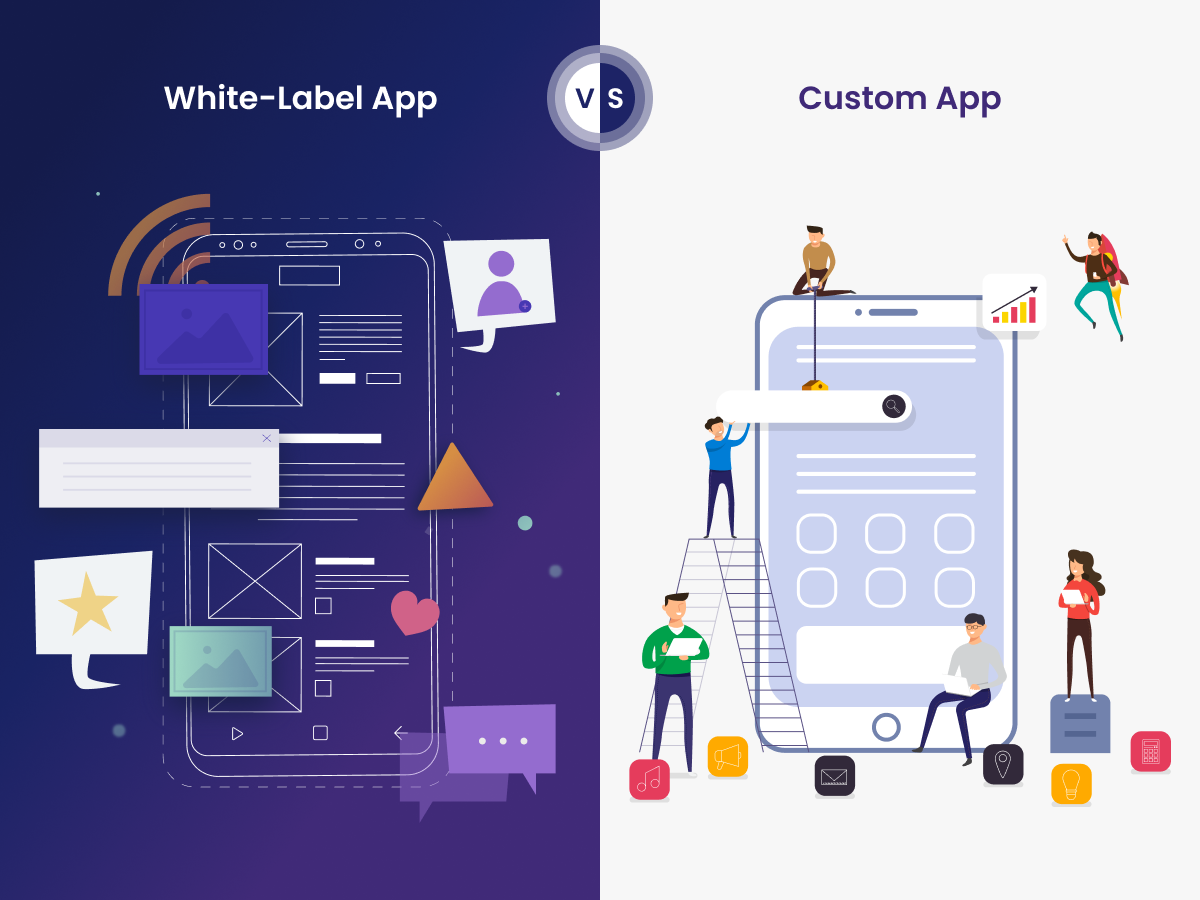 White Label App vs Custom App: Unveiling the Right Choice
Chirag Vaghasiya
In today's fast-paced digital landscape, the choice between white label app and custom app is a pivotal decision that businesses must make when venturing into mobile application development. Both approaches have their distinct advantages and disadvantages, and the path chosen can significantly impact a company's success in the digital realm. Every business has common goals… Read More