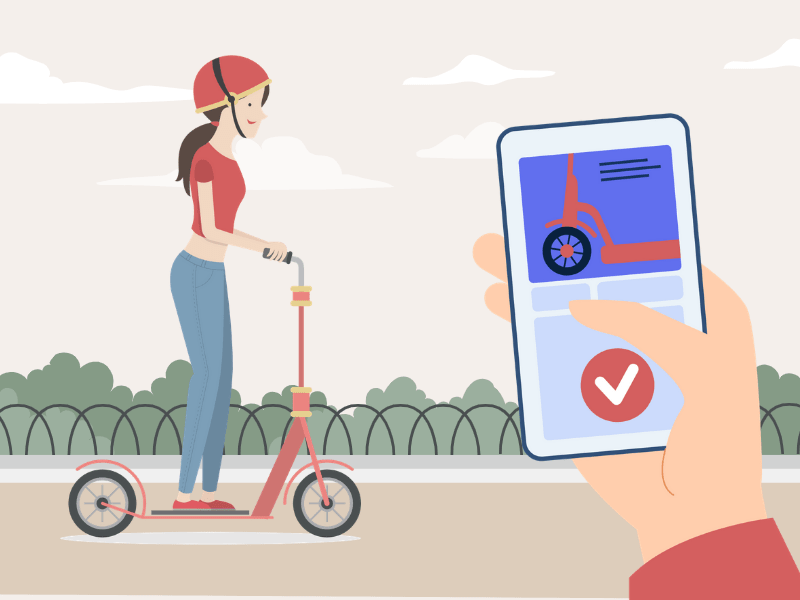 Ankit Patel

December 18, 2020

4 min read
Transporting from one place to another has become more pleasurable and easy with the introduction of apps like Limebike. Providing electric scooters and bikes on rent, they make it convenient for users to easily go from one place to another. The success of Limebike lead to the development of Limebike clone apps. The demand for electric scooter app development services has surged up. Users can easily find the nearest available scooter and enjoy the ride in a globally conscious fashion.
What Paved The Way To Develop an App Like LimeBike?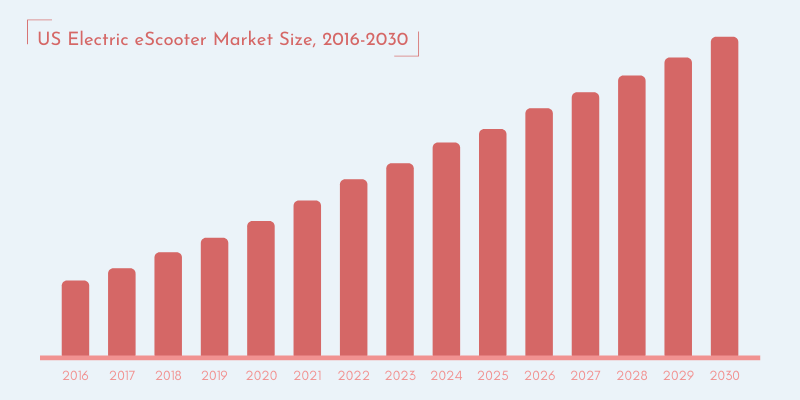 The increasing pollution impacting the earth's atmosphere and the ozone layer compelled nations to take action. A number of organizations came up with e-drives to reduce pollution and make the earth a better place to live. Governments across the world took several initiatives to increase the use of eco-friendly products and reduce the impacts of increasing pollution to the atmosphere. In a bid to do this, several entities introduced eco-friendly products vehicles like battery-driven cars, electrically charged vehicles which include electric scooters.
In the list of e-vehicles introduced to bring down the air pollution levels, one of the most significant is eScooter. Functioning without petrol and diesel, it keeps the atmosphere free of any emissions. The legislations regulating their use are different in different countries. However, people have also become cognizant about the increasing environmental concerns and are shifting towards green options.
LimeBike is an opportunity for commuters to contribute towards reducing pollution levels while having an enjoyable plus a safe ride from one place to another. In the era where transportation charges are surging high day by day owing to increasing petrol expenses, the Limebike clone app offers an affordable means of commuting.
Attractive Features of LimeBike:
By studying the features of this amazing green transportation option, you will gain a clear idea about what an E-scooter clone app should have in it.
Easy Navigation: This is one of the most luring features which keeps the users glued to the app. All users need to do, after registration, is to locate, scan, and ride.
Clean UI: From background colors to layout of the objects, everything is perfectly ordered to give users an optimum experience.
Inbuilt Map: With this feature within the app, users can easily trace the way to their destination. With the map, they can know the shortest distance to their destination. This is one of the important features to be kept in consideration while developing such type of app.
History of Rides Taken: With this users can see a record of all the times they rented e-scooter or bikes using the app. They can also view various details related to each ride.
Push Notifications: One feature which must be included in every Limebike clone app is this. The app notifies the users about the latest information related to the app by notifying them.
Multiple Payment Integration: Not all users can pay through a single mode of payment. To expand the base of the app and to make it accessible to all types of users Limebike provides several payment methods including, debit card, credit card, PayPal, etc.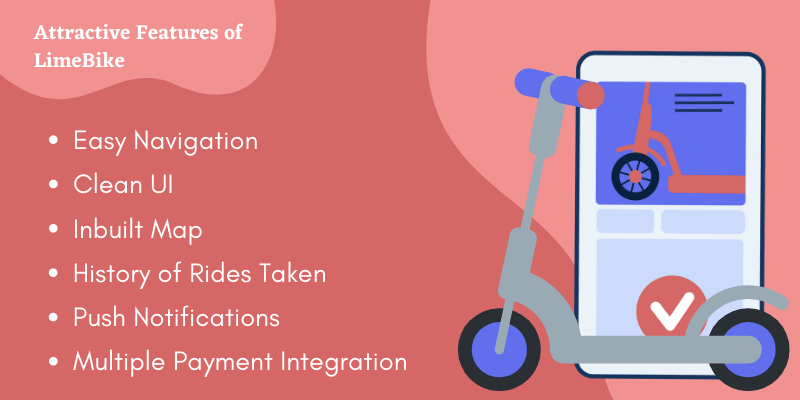 How to Create a Successful Limebike Clone App
It is certainly a piece of cake to develop an app like Limebike. However, it is not easy to create a successful one. Some of the most important elements which can make your e-scooter clone app come out with flying colors have been stated here.
Local Regulations and Conditions: One of the most important things you need to do before you seek electric scooter app development services is to check the rules and regulations related to driving of an e-scooter with the local authorities. Each country has a different set of guidelines related to it. In some countries, riders do not need any driving license to ride e-scooters while in some countries license is mandatory.
Decide the Platform: Once you have studied all the regulations and wish to proceed you can decide if you want to create the app on Android or iOS. Creating a cross-platform e-scooter clone app would be very expensive but it would ensure that your app is available for a wide user base. Making a decision based on a budget would be the wisest thing to do here.
Address Mobility Issues: If you want your app to be downloaded and used the most then you need to address the pain points. For this, you must understand what issues commuters are facing with the existing transportation system.

Once you research the issues, you will have a chance to address them in your app and thus lure more users. For instance, one issue faced by riders is that they are unable to resize the handlebars which are becoming an impediment to riding fast and with convenience. Hence, you need to dig out the smallest and biggest issues before you proceed.

Hire an Experienced Company: There are a number of companies offering electric scooter app development services. You need to select an experienced company that has churned out top-downloaded e-scooter clone apps. Alternatively, you can hire an in-house developer who can create the app and also upgrade it in the future. However, the former is an affordable solution in the long-term considering the time and resources needed to invest in the efforts.
Customize Your App: Although you are going to create a Limebike clone app, your app should have some features which are exceptional. It should make your app stand out from the rest. There should be a reason why users should download only your app. Customize your app using your business goals as the compass and you will be ready to go. If you have hired a company offering electric scooter app development services for your project, they can suggest the most important features which will differentiate your app from the rest.
Round The Clock Customer Support: One of the most important things users or customers look in a business before utilizing its services is the customer support provided. If any issue is faced by the rider at any point of the ride then they must be able to secure help from your experts.
Thus, creating an e-scooter app is the most environmentally profitable option for your business in this era when there are mounting concerns about keeping our atmosphere pollution-free. To develop an app like Limebike which tops the charts all you need to do is begin with understanding the laws governing the use of eScooters and bikes in your region, then proceed towards deciding the platform on which you need to create it. Subsequently, you also need to dig out the problem areas faced by existing e-scooter riders with the scooters/bikes as well as the app. Next, you need to make sure that your app is customized to meet these demands and address the pain points. With these steps alongside providing customer support 24X7 you can surely be ensured that you will have a successful eScooter app.
You may also like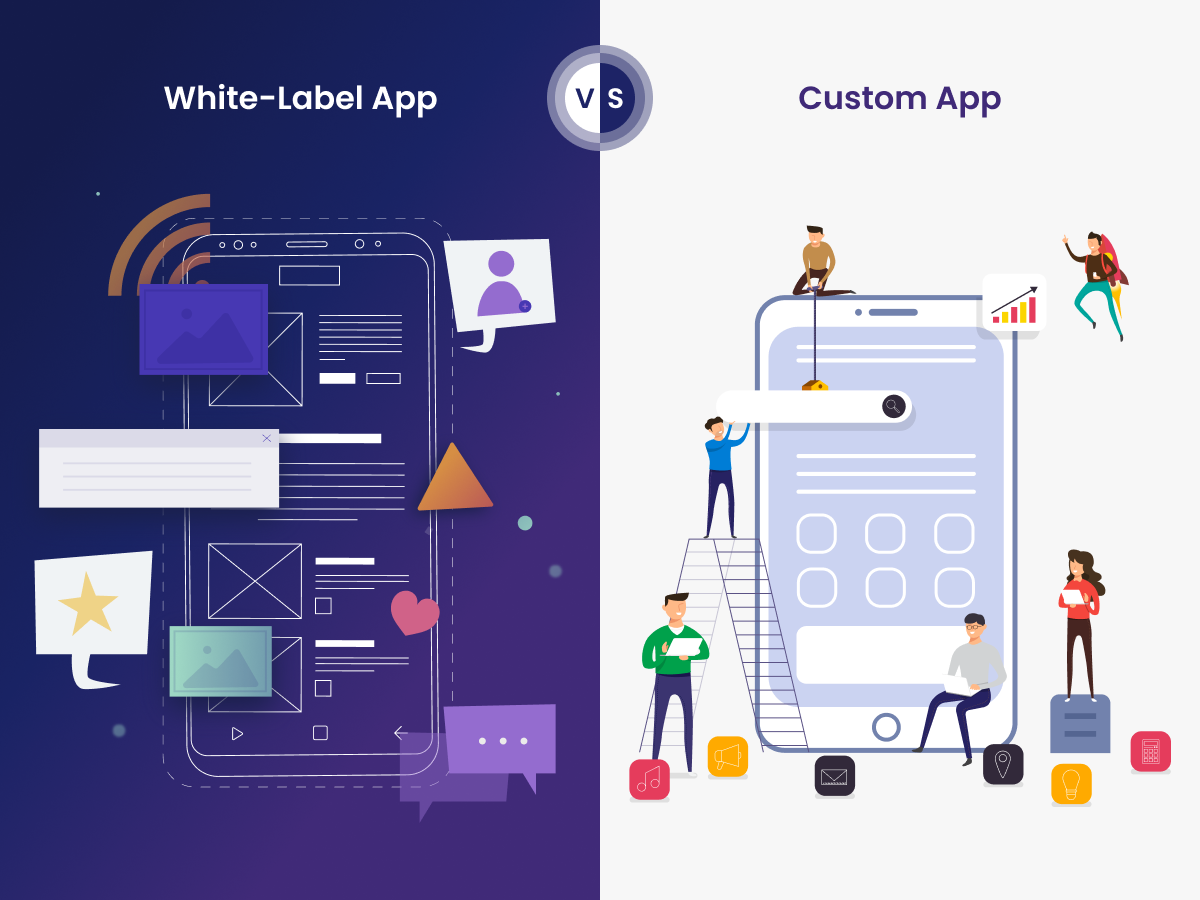 White Label App vs Custom App: Unveiling the Right Choice
Chirag Vaghasiya
In today's fast-paced digital landscape, the choice between white label app and custom app is a pivotal decision that businesses must make when venturing into mobile application development. Both approaches have their distinct advantages and disadvantages, and the path chosen can significantly impact a company's success in the digital realm. Every business has common goals… Read More