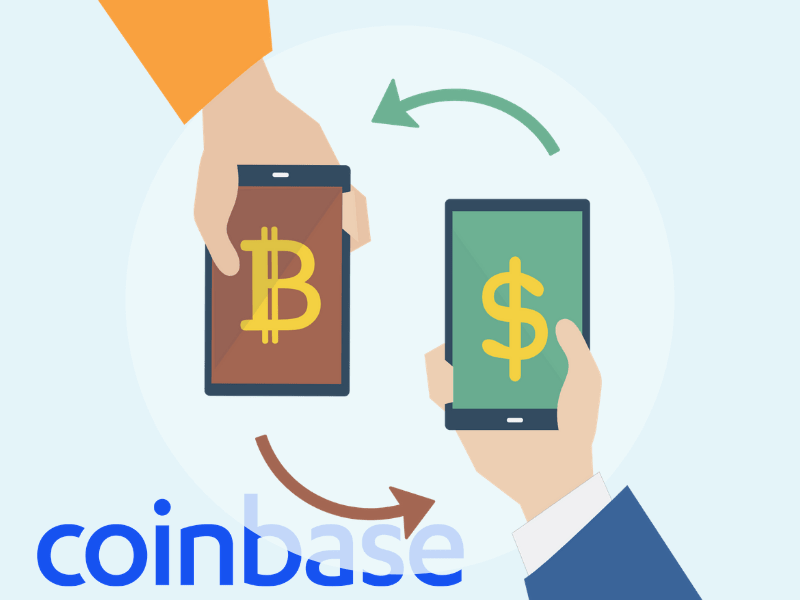 Ankit Patel

December 14, 2020

4 min read
Gone are the days when people just deal with cash and plastic money to complete the transaction. The success of Coinbase hails the beginning of the development of Coinbase clone apps. Today is the era of digital currency wherein the currency is stored as a digital asset and the coin ownership records are saved individually in a ledger form.
Was it a Googly and you are totally perplexed about what I am talking about?
Then, here are some of the preliminaries of cryptocurrency which will help you gain cognizance about what exactly it is.
What is Cryptocurrency?
It is a type of currency in a digital form. It makes use of digital files as money. The digital files are created using cryptography. Financial transactions are carried out digitally and they are made secure by digital signatures. Initially, the cryptocurrencies were independent of government-issued currencies. This implies that the money is created and transferred without any middle authority like banks. They use decentralized control which implies that they are not controlled by a single entity or an individual.
The use of cryptocurrency is prevalent in a number of countries. Following is the chart that depicts the use of cryptocurrency across some of the countries of the world.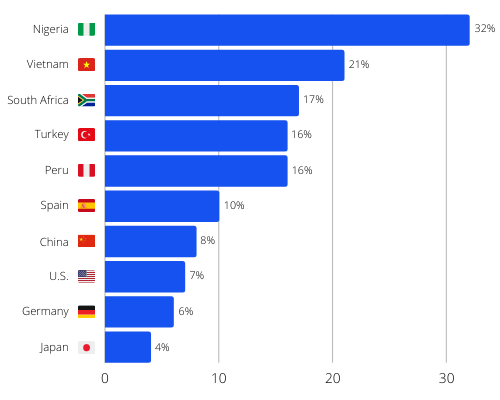 How is Cryptocurrency Used?
You can utilize cryptocurrency by purchasing some form of online exchange and choose a digital wallet to keep it secure. It can be utilized to buy products and services by the exchange of secret codes.
There are a number of cryptocurrency exchanges although not all exchanges work in all countries. Different exchanges offer various types of cryptocurrency, have different payment methods, and charge different fees.
What a Coinbase Clone App Does?
Coinbase is an app that offers a platform to buy, manage, and sell cryptocurrency. It is a user-friendly app and web platform which offers different cryptocurrencies like Bitcoin, Bitcoin cash, Ethereum, Litecoin, and so on. A Coinbase clone script emulates the useful features, as per your business requirements, of the original Coinbase app, and presents you with a clone of the app. With the upsurge in the popularity of cryptocurrency, it is certain that there will be surely an increase in the demand for the Coinbase clone app.
Winning Features of Coinbase App?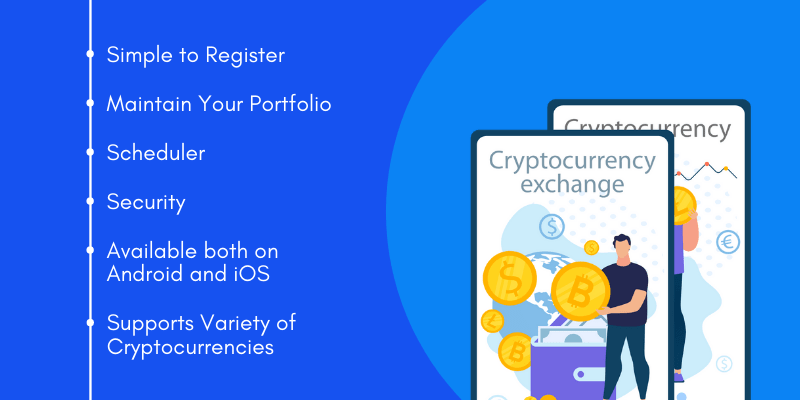 To understand how to create such an app and estimate the cost to develop app like Coinbase, let's first look at some of its outstanding features.
Simple to Register:

Coinbase makes it very easy for users to register and start transacting. All a user needs to do is create an account, link a bank account, and start buying and selling.

Maintain Your Portfolio:

Coinbase lets you deal in various digital currencies and lets users keep track of them from a single dashboard.

Scheduler:

With this you can schedule your purchases on a daily, weekly or monthly basis.

Security:

Coinbase enhances the security of your funds with vault protection which facilitates time delayed withdrawals. Also, most of the digital assets are securely stored on an offline device. This is an important feature that must not be overlooked by companies offering cryptocurrency app development services.

Available both on Android and iOS:

In order to cater to the needs of a vast variety of users, this app is available both for Android and iOS users.

Supports Variety of Cryptocurrencies:

Developers hired by companies offering Bitcoin wallet app development services, should definitely consider this point to be suggested to app owners. The app must support most of the popular cryptocurrencies.
With such exciting features, it is now clear how Coinbase scaled to heights of popularity. It is no wonder why there is an increase in the demand for cryptocurrency app development services.
How To Develop A Successful Cryptocurrency Clone app?
Once you have gained the fundamentals of what a cryptocurrency clone app is and how it functions, you can proceed towards knowing how to create a cryptocurrency clone app that rocks the charts.
Following are some of the outstanding features you should consider developing a cryptocurrency clone app that stands out from the test.
Create a Responsive User-Interface: Develop a responsive interface which has a minimalistic design. This will make the app both quick and responsive. Developers hired by companies offering Bitcoin app development services should ensure that the design is free of bugs.
Provide In-app Chat Facility: With this feature, the traders can communicate among them. Buyers and sellers can make secure and safe communications with each other.
Beef up the Security: Use additional security protocols to send a message among users that they are on a very secure platform.
Push Notifications: This is one of the important features utilized by companies offering Bitcoin wallet app development services. They keep the users informed about their daily transactions.
Provide Ads: Users using your app should be able to advertise the crypto coins they wish to offer. The fees to be paid for the ad depends on the duration and reach of the ad.
These are just some of the features which you must consider to create a Coinbase clone app.
All this discussion brings us to one question which is the cost to develop app like Coinbase. A number of companies offering Bitcoin app development services.
It is important to note here that the cost of creating an app like Coinbase depends on a variety of features. The more the number of features and functionalities of the app, the more the efforts will be needed by the developers and the more will be the cost of development.
If you want to create such an app then you can contact any company offering cryptocurrency app development services. This will help you reach the right estimate only after you discuss your idea with them. Such a company can enlist the features and functionalities you need in the app, the app platform, etc, and finalize an estimate which you need to pay in order to create the app.
Simply put, any cryptocurrency app development services providing company can create an estimate of the amount you need to pay them to give form to the app.
You may also like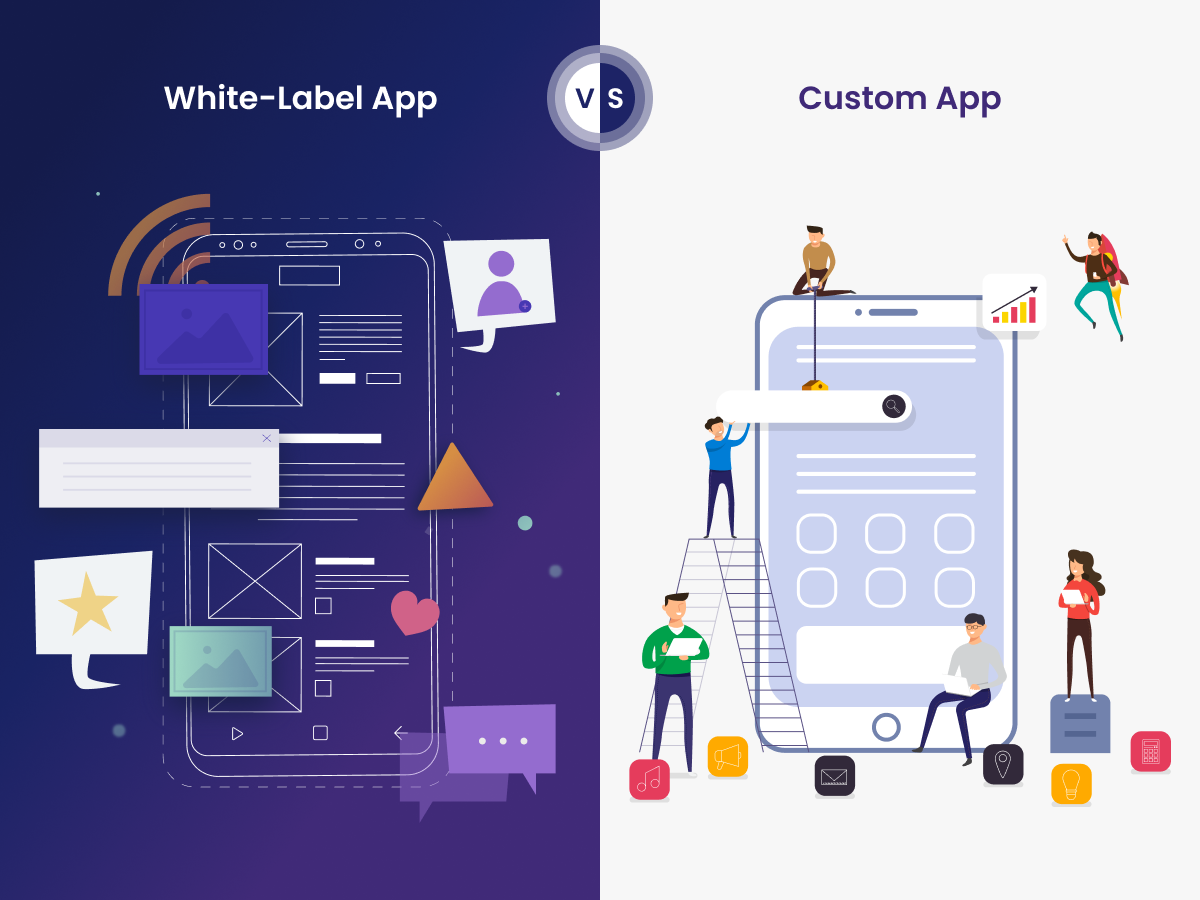 White Label App vs Custom App: Unveiling the Right Choice
Chirag Vaghasiya
In today's fast-paced digital landscape, the choice between white label app and custom app is a pivotal decision that businesses must make when venturing into mobile application development. Both approaches have their distinct advantages and disadvantages, and the path chosen can significantly impact a company's success in the digital realm. Every business has common goals… Read More