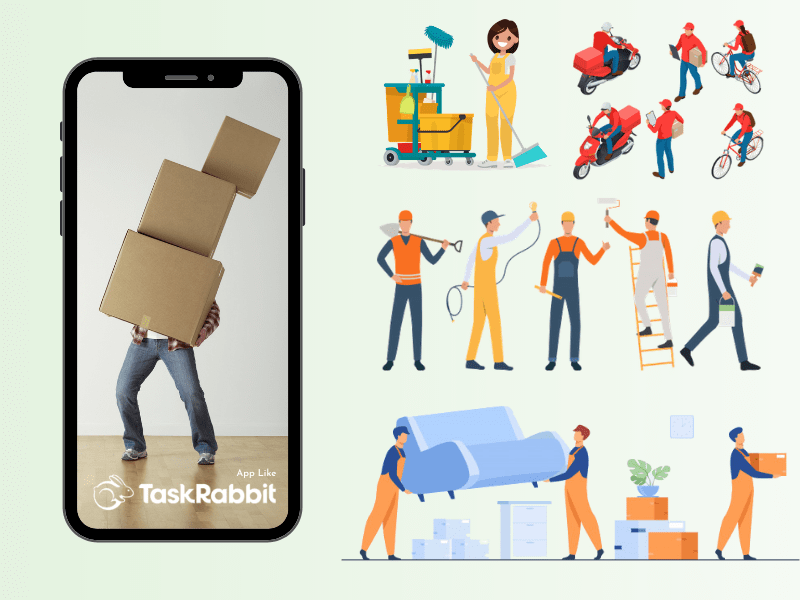 Ankit Patel

November 30, 2020

4 min read
Getting tasks done on time is sometimes so overwhelming for us that some of the tasks go on being postponed for weeks and weeks. To solve this problem TaskRabbit clone app has been created in numbers by a number of businesses. It helps people in managing daily tasks like picking up prescriptions and delivering medicines, running small errands, grocery shopping, disinfecting, painting, plumbing, etc. Taskers join the platform to provide their services whereas the service seekers register and avail of the services provided to complete their tasks. A number of businesses are seeking the assistance of companies offering such home service app development services.
Now that we have a brief idea about what a TaskRabbit clone app accomplishes, let us delve deep into what the original TaskRabbit performs:
What is TaskRabbit?

TaskRabbit is a platform that brings taskers and task seekers together. It is where all the people seeking different odd jobs and routine services like getting their garden clean, assembling their wardrobe, relocating, house cleaning, window cleaning, deep cleaning, heavy lifting, rearranging things, etc. register to get the services. On the same platform, a number of taskers also register to offer the services they can offer. For instance, someone who is retired or has free time can register for some virtual assistance work. A teenager who is still studying and doesn't have dedicated free time for doing a job can register to offer services such as delivery and pick-up.
How TaskRabbit Started?
Can you imagine that the idea of TaskRabbit came from dog food? Yes! Leah Busque, the founder of TaskRabbit, got the idea of creating TaskRabbit when she needed dog food but had no time to go to the shop for it. Primarily, she built an auction-based marketplace as the model was tested and familiar. With time it kept evolving, meeting different challenges in changing circumstances, and evolved into a successful app which is used by millions across the US.
Now that we understood how TaskRabbit functions, the importance of the TaskRabbit clone app must be crystal clear to you all. Although the cost to develop app like TaskRabbit is substantial, the returns are very high once it has an established user base.
Chief Functionalities of TaskRabbit App:
✓ Detailed marketplace
✓ Button to share app
✓ In-app Payment facility
✓ Booking history
✓ Help section
✓ Push notification
✓ Bookings
✓ Comprehensive admin panel
✓ Various payment options
✓ Reviews
✓ Views
✓ Ratings
✓ Chats within the app
✓ Ability to generate Invoice
Successful in 47 cities of the US, 4 cities of the UK, and one city of Canada, TaskRabbit has scaled heights of popularity. There is no reason why people don't want to go for a TaskRabbit clone app. There are also other on-demand home service apps like Gigwalk, Porch, HandyTakl, Nextdoor, Fivver, etc. However, the TaskRabbit clone script stands apart from all.
Benefits of Creating an App Similar to TaskRabbit:
High Probability of Success: With an app like TaskRabbit, which is already successful in the on-demand market, you are surely going to have a top downloaded app. You can be assured of your success because people are becoming highly reliant on apps and individuals to accomplish their tasks. Everybody wants everything to be served on a platter. In such times, apps like TaskRabbit are surely to be an instant hit among users.
Allows You To Make Money: Once you invest the amount in the TaskRabbit Clone script, you can be assured to get back the funds by charging a percentage of each job that is accomplished and paid for. All the accomplished jobs give you an opportunity to earn a fixed percentage.
Lets You Earn More With Different Strategies: You can also avail of peak pricing, meaning you can augment the prices of services which are in high demand. You can also increase the pricing when people become highly reliant on services during certain seasons or festive occasions. To further increase the revenues, you can avail of the advertisement or affiliate marketing.
If you decide to go for hiring a company that offers home service app development services to create a clone of an app like TaskRabbit, then you will get all the guidance on which platform you need to use and the technology to be exploited to accomplish your goal.
Cost To Develop App Like TaskRabbit:

There are a number of aspects surrounding the creation of TaskRabbit clone script. It is a comprehensive process having varying factors. The following are the factors that determine the cost to develop app like TaskRabbit.
The set of features and functionalities
The technology to be utilized to create the app
The place where the company offering to create TaskRabbit like app is situated
The number of platforms on which your TaskRabbit clone app is going to be launched
All these factors again cover a vast number of concepts. The cost highly relies on these factors. If there is a change introduced in any of them then the cost will certainly get impacted.
These features must be analyzed before the app development process begins. Both the client and company offering to create TaskRabbit clone script must discuss these in advance so that there are no qualms regarding the price of launching the app.
When you approach a company to create an app like TaskRabbit, they will provide you an estimate of the app development cost only after discussing the above factors with you. The total cost to develop app like TaskRabbit totally depends on the designs and features/functionalities that you select to be instilled in the app.
The Future of On Demand Apps Like TaskRabbit:
Although there is an increasing competition in the on-demand app market, it cannot be denied that this industry is only going to boost in the coming days. In fact, the increase in the number of on-demand apps is a harbinger that future times will see people becoming highly reliant on such apps.
There is a steady rise in the number of individuals delivering the services and the number of people seeking the services of experienced professionals. Such platforms give a surety to users of both the groups, task posters and task providers that things will be authentic and legal. With the inclusion of more and more services in such on-demand services app, we will see that almost all services will be included under their umbrella. This is the time to jump into this market and create the next on demand services app which can be more famous than TaskRabbit itself.
If you are interested in creating a home service app like TaskRabbit then you can approach an experienced and professional, company offering home service app development services, such as XongoLab, to assist you further.
Plunge into the market of on-demand service and raise the flag of success!
You may also like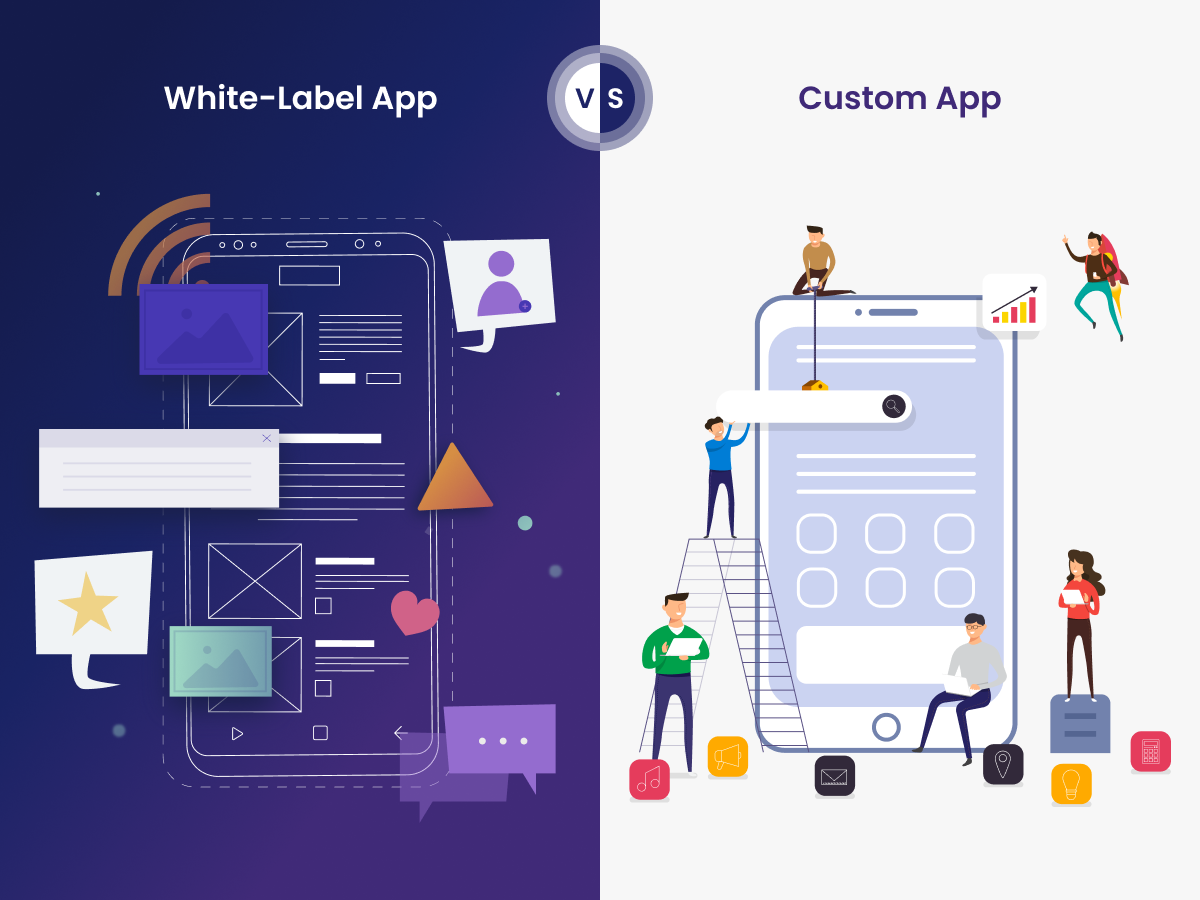 White Label App vs Custom App: Unveiling the Right Choice
Chirag Vaghasiya
In today's fast-paced digital landscape, the choice between white label app and custom app is a pivotal decision that businesses must make when venturing into mobile application development. Both approaches have their distinct advantages and disadvantages, and the path chosen can significantly impact a company's success in the digital realm. Every business has common goals… Read More