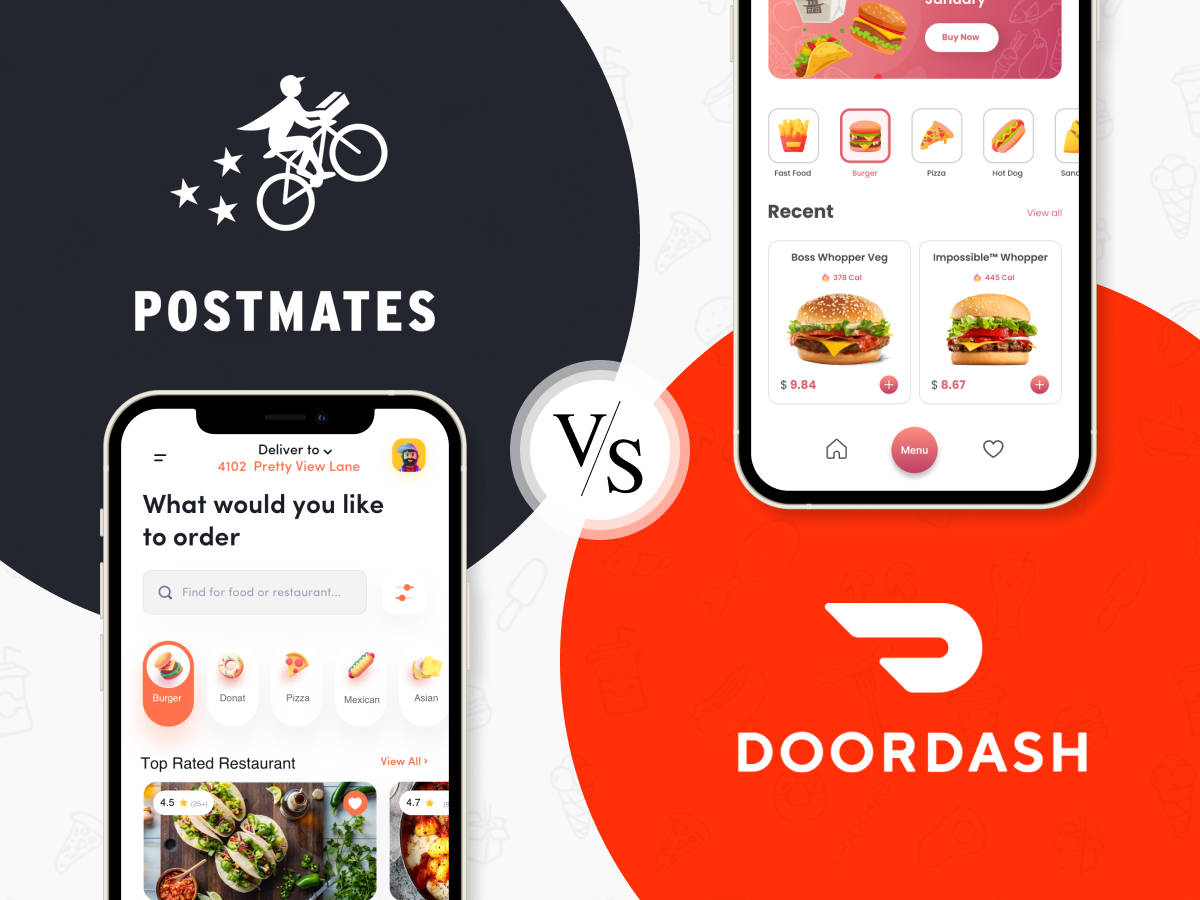 Chirag Vaghasiya

May 18, 2023

5 min read
Hungry and craving a juicy, mouthwatering meal? Don't worry; you don't have to put on your chef's hat or leave the comfort of your couch. Thanks to the wonders of technology, food delivery apps like Postmates and DoorDash are here to save the day! These apps have revolutionized how we satisfy our cravings, offering many restaurant options at our fingertips.
But with so many delivery services, which one should you choose? That's where the battle of the burger begins: Postmates vs DoorDash. It's like a delicious rivalry between two fast-food giants, each vying for the top spot in your heart (and stomach).
In this extensive blog, we will dive deep into these food delivery platforms, exploring the features, career opportunities, and quirks of both Postmates and DoorDash. So, whether you are a potential driver or a food enthusiast, this blog will help you select the most suitable option for your hamburger cravings and career aspirations. Get ready for a delicious and informative ride!
About Postmates
Postmates, founded in May 2011 by Bastian Lehmann, Sean Plaice, and Sam Street, is a renowned on-demand multi delivery app headquartered in San Francisco, California, United States.
Postmates revolutionized the food delivery industry by offering various options from various restaurants and establishments, ensuring customers could satisfy their cravings conveniently. In November 2020, Postmates reached a significant milestone when Uber Eats acquired it. Under Uber's ownership, Postmates underwent strategic changes to enhance its unique selling proposition (USP).
About DoorDash
DoorDash, founded by Tony Xu, Andy Fang, and Stanley Tang in January 2013, is a renowned food delivery platform headquartered in San Francisco, California, United States. With its innovative business model, DoorDash provides various food delivery services catering to various culinary preferences.
Whether it's fast food, quick service, or fine dining, DoorDash delivery connects hungry customers with their favorite restaurants and delivers delectable meals to their doorstep. With a user-friendly app and a vast network of partner restaurants, DoorDash has revolutionized how people enjoy their favorite meals, offering convenience, choice, and quality with every order.
Major Differences Between Postmates vs DoorDash
DoorDash and Postmates are two prominent players in the on-demand food delivery industry, offering convenient and efficient services to customers craving restaurant meals in their homes. While both platforms operate with the same core concept, notable differences set them apart.
| Basis of Distinction | DoorDash | Postmates |
| --- | --- | --- |
| Pricing Policy | Fixed delivery charges | Variable delivery charges |
| Restaurant Selection | Extensive selection of biggest restaurants | Focus on smaller restaurants |
| Service Speed | 30-45 minutes | 45 minutes-60 minutes |
| Service Options | Users can schedule orders up to 4 days in advance | Users can schedule orders up to 7 days in advance |
| Customer Support | 24/7 in-app customer support is available | 24/7 in-app customer support is available |
| Availability | Available in the U.S., Canada & Australia | Available in the U.S. |
| Rewards Program | DashPass subscription for discounts | Postmates Unlimited for free delivery |
* Please note that these points are based on general observations and may vary based on the specific location and time. It's always best to check the latest information on the official websites or apps of DoorDash and Postmates for the most accurate and up-to-date details.
Also check: Empower Your Food Delivery Venture with UberEats Clone App
Eligibility Criteria for Becoming a Driver at DoorDash or Postmates
For individuals seeking to join DoorDash or Postmates as drivers, it is important to understand the driver eligibility requirements for each platform. Meeting all the specified criteria is crucial to ensure a successful registration process.
| Criteria | DoorDash Driver | Postmates Driver |
| --- | --- | --- |
| Driver Age | 18 years old or above | 18 years old to deliver by foot, 19 for vehicle use |
| Smartphone Requirement | iPhone or Android | iPhone or Android |
| Vehicle Requirement | Car, scooter, or bike | N/A (foot delivery) or personal vehicle |
| DL Number & SSN (USA) | Required | N/A (SSN required for background check) |
| Background Check | Required | Required |
| Driving Record | N/A | Clean driving record |
| Driver's License or Government ID | N/A | Driver's license or state-issued ID |
*Please remember that the following points are derived from general observations and may differ depending on your location and current time. To obtain up-to-date information, it is recommended to consult the official websites or apps of DoorDash and Postmates.
Postmates vs DoorDash: Which is Better for Customers & Drivers?
Postmates and DoorDash are two of the most popular food delivery apps in the United States. Both offer a similar service, allowing customers to order food from their favorite restaurants and have it delivered to their door. However, both food ordering platforms offer different benefits for customers and drivers.
• For Customers
Availability: Postmates is available in more cities than DoorDash. If you live in a smaller city, Postmates may be your only option for food delivery.
Menu Selection: Postmates has a wider menu selection than DoorDash. This is because Postmates partners with a wider variety of restaurants.
Pricing: Postmates and DoorDash have similar pricing structures. Both platforms charge a delivery fee, a service fee, and a small order fee. However, Postmates sometimes offers promotions that can lower the cost of your order.
Customer Service: Postmates and DoorDash have similar customer service ratings. Both platforms have been criticized for their slow response times and lack of transparency.
• For Drivers
Pay: Postmates and DoorDash pay their drivers similarly. Drivers are paid a base rate plus tips. However, Postmates also offers bonuses and incentives that can boost your earnings.
Flexibility: Postmates is more flexible than DoorDash. You can work as much or as little as you want, and you can choose your own hours.
Insurance: Postmates offers its drivers insurance while they are on the clock. DoorDash does not offer insurance.
DoorDash App vs Postmates App: Availability & Market Dominance
In assessing the service coverage and market reach of the DoorDash and Postmates platforms, it becomes evident that the DoorDash app boasts a broader availability than Postmates.
Remarkably, the Postmates app possesses a greater market share relative to DoorDash and surpasses all other prominent on-demand delivery platforms in market dominance.
Cost Estimation For Building Postmates or DoorDash Clone
The cost is critical when deciding about food delivery app development. The expenses involved in developing an app can vary depending on whether it is for Android or iOS platforms. A reputed app development company can give a fair estimation if you consider creating a clone app.
If you plan to create Doordash clone app or Postmates clone app, it is essential to note that the estimated cost for a basic version typically falls within the $15,000 to $25,000 range. This cost will depend on the specific features and complexity you require. However, if you aim for a more advanced and feature-rich version of the app, the expenses can escalate up to approximately $40,000 and more.
It is worth mentioning that these cost estimates are subject to variation based on various factors such as the desired functionalities, design complexity, development time, and the development team's expertise. Therefore, consulting with a professional app development company is recommended for a more accurate and tailored cost estimation for your specific app project.

Postmates Vs DoorDash – Which is Better?
When deciding between Postmates and DoorDash for your food delivery needs, determining which platform is better depends on your location and specific order preferences. Postmates and DoorDash offer convenient services connecting customers with several restaurants and eateries. Postmates generally boasts a broader selection of local establishments, making it an excellent choice for unique and diverse dining options.
On the other hand, DoorDash often provides a more streamlined experience, especially in areas where it has established strong partnerships with popular chains. Considering factors like availability, delivery fees, estimated delivery times, and restaurant options will help you make an informed choice between the two, ensuring you enjoy your favorite fries and coke conveniently and to your satisfaction.
Final Thoughts
Postmates and DoorDash are both great options for food delivery. The best way to decide which platform is right for you is to try both and see which delivers the best food experience. If you are looking for the widest menu selection and the most flexibility, Postmates may be the better choice. If you are looking for the best customer service, you may want to consider DoorDash.
If you are contemplating the exciting adventure of developing clone apps like Postmates or DoorDash, partnering with PeppyOcean can be a game-changer. From coding wizards to design maestros, these professionals know how to blend functionality with creativity, ensuring your clone app stands out in the competitive market. Not only will they bring their technical expertise to the table, but they will also handle the nitty-gritty details while you focus entirely on the big picture.
It's like having a trusty sidekick helping you navigate the app development world with a sprinkle of fun. So, strap on your creativity and prepare for a thrilling ride as you join the best app development company to bring your clone app dreams to life. With their support, you will quickly serve the convenience and delight to hungry customers. Bon appétit!
You may also like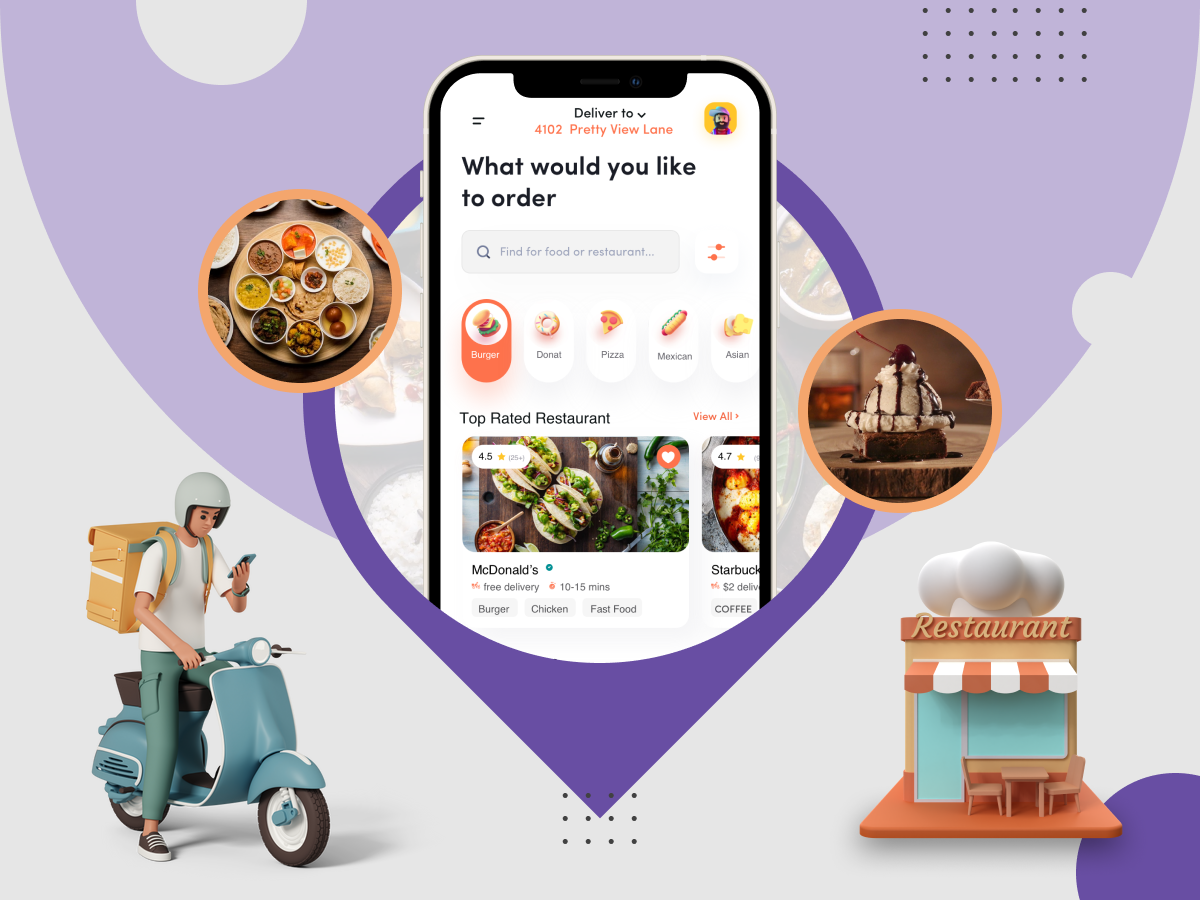 Top 11 Mobile App Ideas For Restaurant and Food Businesses
Chirag Vaghasiya
In today's digital age, mobile apps have become an indispensable tool for businesses of all sizes, and the restaurant and food industry is no exception. A well-designed and implemented mobile application can provide a range of benefits for restaurants, including increased customer engagement, streamlined operations, expanded reach, enhanced customer data, and ultimately, increased revenue. Restaurant… Read More