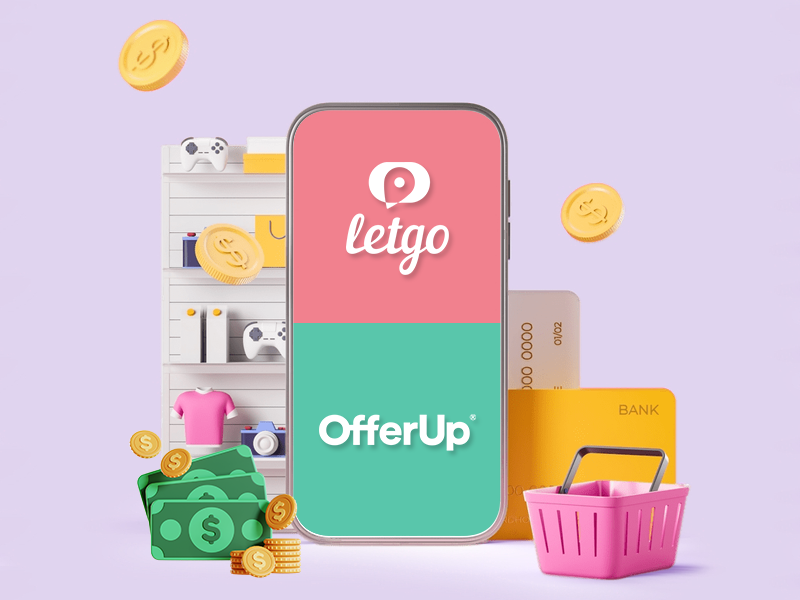 Ashka Panchal

May 02, 2023

6 min read
The connection between buyers and sellers has always been quite a tedious one. Especially before the advent of smartphones and apps, this was a difficult task. But after the app revolution, this has become a cakewalk.
Local eCommerce marketplace apps; the advent of these solutions has been responsible for the seamless, smooth, and flawless connection. Some prominent examples like the LetGo and OfferUp apps have been responsible for the prominence of this sector's growth.
These apps have helped customers to sell their used goods and buy second-hand items conveniently. Thanks to the comfort factor associated with these solutions, their popularity has grown manifold. This has helped the industry to gain a prominent scope. It has also encouraged them to digitize their local marketplace and build an app on similar lines.
If you plan to do something similar, this article is for you. We have covered steps for building local marketplace apps like OfferUp and LetGo and their development costs.
So let's begin.
A Brief Overview of Buy & Sell Apps
Talking about the concept of the buy and sell app, it is a solution that connects users with buyers and enables them to buy or sell goods to and from one another. It also aids sellers to list goods they wish to sell and earn money.
Also known as local eCommerce marketplace apps, these selling apps act as a source of monetization for those who wish to sell their goods and for those who wish to purchase them at a lower cost.
About LetGo App
LetGo app is a popular sell-and-buy app that enables users to buy and sell items. The sale is possible through users posting an item image followed by its price. Some products easy to sell through the platform are electronics, cars, clothing, etc.
The LetGo app has simple operations.
The user signs up on the platform and gets presented with its home screen.
In case they wish to buy or sell items, they tap on the respective category and choose the ones they want to sell or buy.
If required, customers can connect with a seller via chat or call to discuss the specifics of a product or item.
After they purchase the item or sell the goods they want, they receive its confirmation.
Launching a buy & sell app like Letgo is a very promising startup idea. And, to make this a successful venture you need a reliable eCommerce development company at your side.
About OfferUp App
A popular C2C or customer-to-customer marketplace app, the OfferUp app had its launch in 2011. Since then, it has enabled customers to buy and sell furniture, car, electronics, etc.
Coming 5th in the category of the best eCommerce marketplace apps; the solution has easy operations and functionality.
Customer registers or signs through social media login and choose if they want to buy or sell their items.
If the user wants to buy, they select the items and pay. If they plan to sell, they add the items, take their snap, and put it on sale.
They receive its confirmation.
Read Also: How to Develop Shopping App Like Carrefour?
Why Invest in Developing Buy & Sell Apps like LetGo or OfferUp
Local marketplace apps like OfferUp and LetGo have enabled the eCommerce industry to earn a conspicuous position. It has also given it the desired impetus to have a promising scope. Check out these facts and figures to gain perspective on what we mean.
The eCommerce marketplace apps industry will bring in profits of $6.3 trillion by 2023.
As per Data Reportal report, 4.11 billion shoppers purchased goods online in 2022.
24% of retail purchases will take place online around 2026.
29% of internet users prefer an eCommerce transaction on their smartphone at least once a week.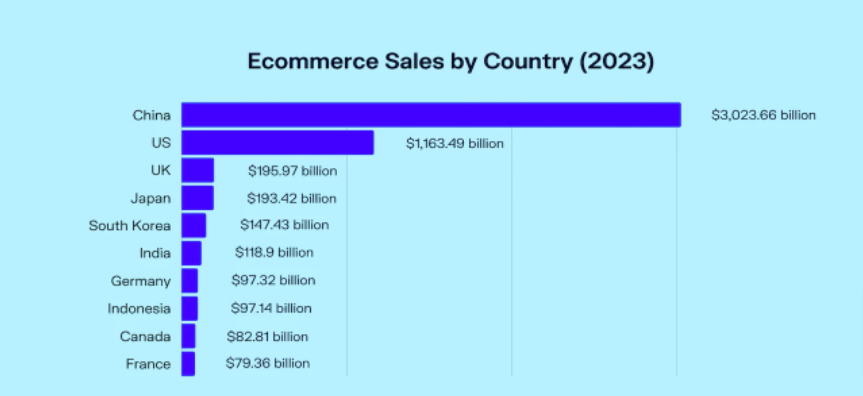 Image source: oberlo.com
Other factors that cite why investing in building such apps are good to go.
Upgrades the concept of buying and selling items online, reducing the chances for customers to make a physical visit.
Makes it easy for the user to easily navigate and skim through the app, find items they are looking for, buy, or even put their goods on sale so they can earn.
Provides a source for making money courtesy of the presence of revenue-generating models like subscription fees, seller fees, advertisements, etc.
Business Model for LetGo and OfferUp App
When you embark on the journey to create an app like LetGo or OfferUp, you need to be aware of their business model.
B2B or business-to-business model where businesses trade goods and services.
B2C or business-to-consumer model where consumers get attracted towards the purchase of tangible goods.
C2C or consumer-to-consumer model where consumers can post items for sale or find the items to purchase.
How to Perform Streamlined Marketplace App Development?
Do you want to achieve the advantages along the lines of the OfferUp and LetGo apps for your eCommerce venture? Gain perspective on the different steps for performing streamlined marketplace app development.
• Choose Appropriate Monetization Model
Choose an appropriate revenue-generating stream when you set out on the journey of buy-sell app development. It will aid you in earning considerable profits on every successful sale.
Transaction fees on every service availed or for shipping-related activities.
Advertising fees from sellers for the promotions they perform on the app.
Subscription fees that get charged to buyers and sellers to allow them to access premium features in the app.
• Ideate an Appealing UI/UX Design Strategy
Gain perspective of your users and the concerns they have. This will give you insight into the techniques to adopt for mitigating them. This includes choosing an appropriate design strategy. Get an idea of what your competitors are doing. Try to gauge techniques implemented by them in their app for user engagement. This will enable maximum users to remain interested in your app and ensure its success in the long run.
• Add Intuitive Features
When you add appealing features to your eCommerce marketplace apps, the user engagement level will grow.
Seamless registration using social media credentials to aid the users to enter into the platform without any obstacles.
Advanced filters to enable customers to find items they are looking for and make the purchase.
Built-in camera to allow end-users to take snaps of items they want to sell.
In-app payment for ensuring seamless payment for the items the customers purchase.
Virtual try-on for users to try the items before making their final purchase.
Price compare to assist the user in comparing prices for the items they want to buy beforehand to simplify the overall purchase process.
• Integrate Robust Technologies
When you plan to develop eCommerce marketplace apps like LetGo and OfferUp, it is critical to implement robust technologies. This will enable the app to function flawlessly. It will alternatively also prevent chances of crashes.
Here are some latest tech stacks you can particularly consider during buy-sell app development.
For Android: Kotlin or Java
For iOS: Swift or Objective-C
Frontend – React.js, Angular.js, Backbone.js, HTML, CSS
Backend – Node.js, Express.js, Python
Payments – Braintree, PayPal, Stripe, eWallet
Push notifications – Twilio, Push.io
Database – MongoDB, MySQL
Cloud architecture – AWS, Google Cloud
Real-time analytics – Hadoop, Spark, BigData
• App Development
Developing a selling app with MVP is one of the most pivotal steps. Thus, hiring a trusted mobile app development company is a must because the company you choose will impart the proper consulting and best-in-class app development services to make sure the final product will be high-performing.
• Get App Tested
Utilize the best testing practices to ensure that your users have a bug-free and seamless experience. QA, either automated or manual, is a very important stage of the product development process.

Estimated Cost to Develop Apps like LetGo or OfferUp
Well, the cost of creating an eCommerce marketplace app largely depends on several factors such as the app platforms you choose (Android, iOS, or both), UI/UX design, features & functionality you wish to include in your app, the company you choose and its location, etc.
However, if we have to give an approximate budget, a simple app with basic features may cost you around $20,000 to $30,000 whereas a mobile app with advanced features may go beyond $40,000.
What is the Solution?
Developing an app from scratch is a costly and time-consuming task. It is, therefore, a good idea to empower yourself with the OfferUp clone or LetGo clone. These will help you to successfully get your business future-ready and ensure you can serve business and customer needs.
Wrapping Up
With the popularity of smartphones and applications growing, their relevance has spread widely among all industries. Major ones like eCommerce have also taken the app advantage to boost their customer outreach. This has enticed them to embark on the journey of marketplace app development. In case you are also planning something similar, get in touch with us today. We will empower your business with the OfferUp and LetGo clone app so buyers and sellers can connect and your local marketplace can stand out.
You may also like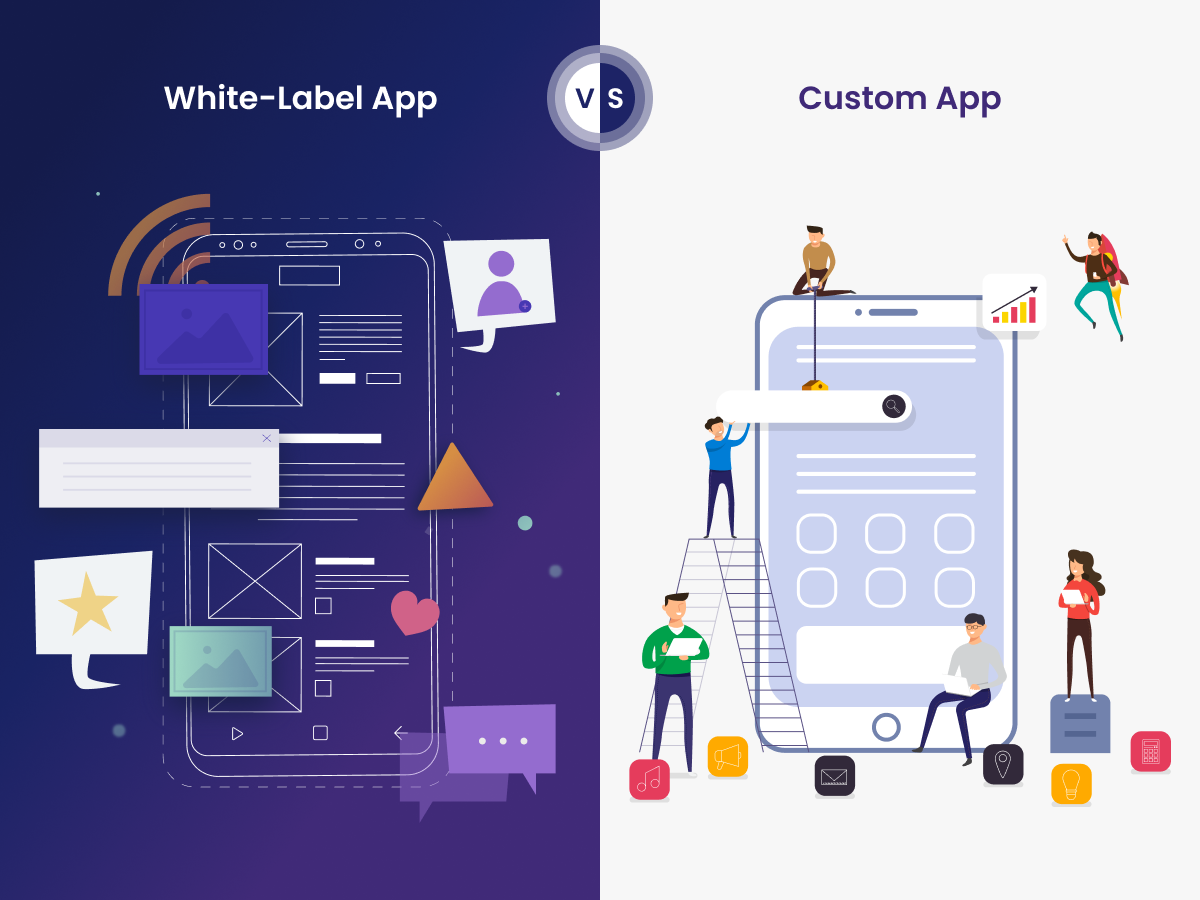 White Label App vs Custom App: Unveiling the Right Choice
Chirag Vaghasiya
In today's fast-paced digital landscape, the choice between white label app and custom app is a pivotal decision that businesses must make when venturing into mobile application development. Both approaches have their distinct advantages and disadvantages, and the path chosen can significantly impact a company's success in the digital realm. Every business has common goals… Read More