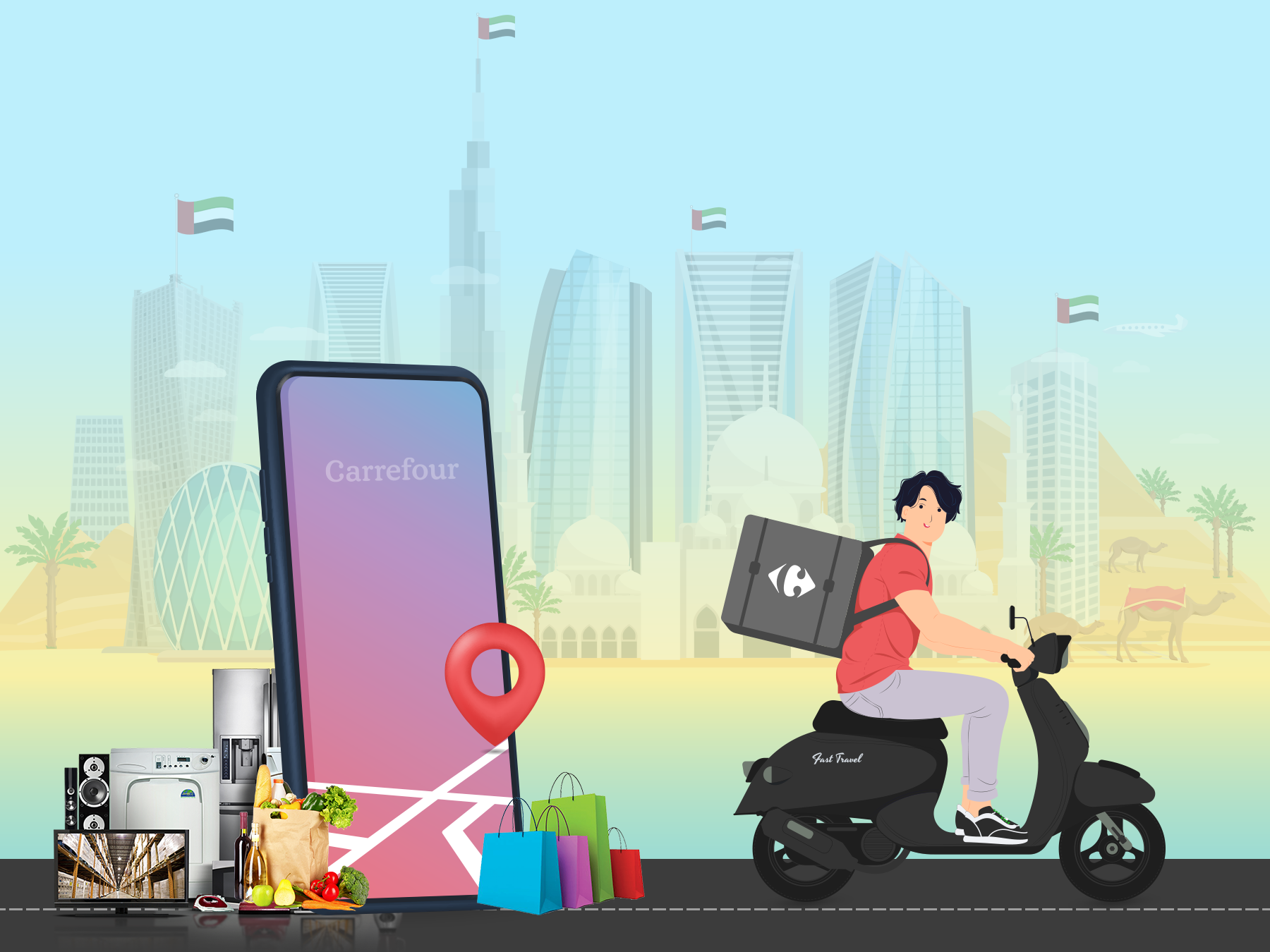 Ankit Patel

October 07, 2022

5 min read
Albeit the popularity of the online delivery business globally, it comes as no surprise the model is witnessing its prominence in places such as the Middle East as well. Want to know why? This is thanks to the region becoming a hotbed of many solutions that make groceries, food, household items and so on easily accessible to people living there, one most prominent among them being Carrefour.
The online delivery app that has given a new shape to the supermarket and grocery delivery business, in particular, has attracted the attention of entrepreneurs and encouraged them to take a plunge into this exceptionally profitable market in the UAE by building an app similar to the aforementioned one.
However, when it comes to app development from scratch since most of them realize that it consumes an enormous time and finances, this has motivated them to adopt the Carrefour clone app to their advantage.
We will introduce you to the solution and its benefits in the article alongside also educating you on the nature of this popular application that has metamorphosed the way shopping takes place thereby boosting profits to a great extent for online shopping and grocery business.
So let's begin.
Market Stats for Online Delivery Business Popularity in UAE
Check out these numbers below to gain insight into the popular nature of the online supermarket business in the UAE.
These numbers give an estimate of the lucrative nature of setting up a base for an online shopping business in the UAE. The presence of online shopping apps like Carrefour in particular has been predominantly responsible for this.
About Carrefour App
It was in 2011 when Carrefour decided to digitize its operations and transform the way supermarkets work giving it an online avatar. This in turn has led to the online supermarket business observing its prominence growing manifold in the UAE.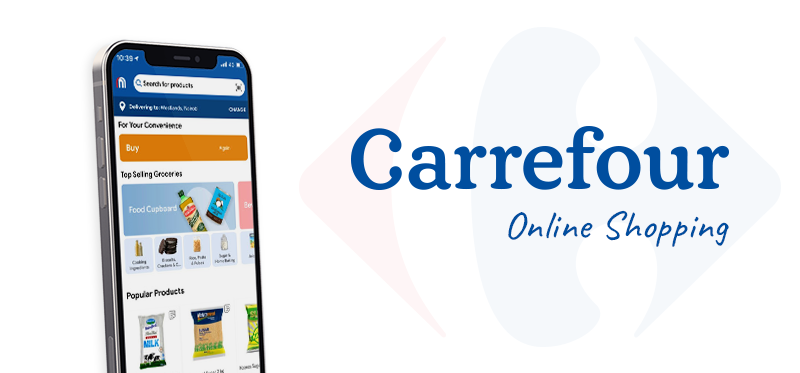 Today it observes different forms of deliveries to customers which includes fruits and vegetables, meat and poultry, bakery, rice, etc.
It has extremely simple operations. Check this out.
How does Carrefour App Work?
Carrefour is a popular online supermarket business and has extremely simple operations.
The customer enters the app and selects the delivery kind from the app.
Adds location and gets a list of stores nearby.
From the list, they select a store matching preference and choose items.
The user selects items, adds them to the cart, and makes payment.
Order confirmation takes place and the shop receives the order.
Request from the store is assigned to the delivery boy.
Delivery boy picks the order up and gets to the customer's location.
The order reaches the customer's location.
Let's get insight into its business and revenue model which in turn is responsible for its popularity growing manifold.
Read Also: Steps to Build a Multi-Delivery App like HungerStation in Saudi Arabia
Business Model of Carrefour
Want to know how Carrefour works and how it functions? Check out the business model mentioned in the image.
As you can observe in the image, there are three main segments involved in the Carrefour app – the consumers, the delivery providers, and the local stores.
The app observes consumers with a wide array of delivery options and gets deliveries to the doorstep.
Delivery providers provide doorstep delivery of items to the consumer upon receiving the pickup request from the store.
Local stores get their visibility boosted through items they present to the end consumers through the app.
Now, let's have a look at the revenue model of Carrefour.
Revenue Model of Carrefour
There are three revenue models that Carrefour carries out to boost its level of profits and earn handsome returns.

Standard delivery where a convenience fee gets charged to customers on order placement.
Through receiving revenue shares from stores registered on the app.
By marketing and advertising charges charged to stores that list their services on the app.
Through the same, you can understand why Carrefour has achieved so much popularity in the UAE and encouraged entrepreneurs globally to adopt a similar model to streamline its revenue. But since app development from scratch is a time and budget-consuming affair, they embrace the ready-to-launch Carrefour clone app so that they can get into the customers' radar in a short time.
So the question that needs to be asked next is- if one is an entrepreneur who is setting base there, how to get the business ready with the solution so one can streamline revenues from the first day itself?
How to Boost Profits for Online Supermarket Business with Carrefour Clone App?
Plan to get profits rolling for your online supermarket business with the Carrefour clone app? Follow these steps and start earning handsome revenues.
◉ Have a USP
A USP or unique selling point is key to a successful business especially if you are entering the online shopping or grocery app development market.
Hence it demands the addition of some unique features. If you are planning to build a shopping app like Carrefour in UAE, first remember the three segments – customers, delivery drivers, and stores. Next, add essential features to streamline business operations.
Customer App Features

Register/Login
Store locator
Advanced search
Add to cart
Multiple payment options
Push notifications
Tracking order
Offers and discounts
Multi-language support

Delivery Boy App Features

Register and create a profile
Update delivery status (on/off)
Accept reject/ delivery request
Track customers' location
Earning report
Work history

Admin Panel Features

Powerful dashboard
Manage stores
Manage customers
Manage delivery boys
Inventory management
Reports and analytic
Revenue tracking
Manage Rating & Review
◉ Keep App Robust
The next vital step is to use robust technology stacks so that online shopping services take place simply and conveniently.
Android: Kotlin, Java, React Native, Flutter
iOS: Swift, Objective-C, React Native, Flutter
Backend & API: Node.JS/Express.JS
Front-end: React.JS
Database: MongoDB, HBase, Postgres
Push Notification: Twilio, Push.io
For Server: AWS
For Geolocation: Google Maps API
Payment Integration: PayPal, Braintree, Stripe
◉ Focus on User
If your users are dissatisfied with the services they receive from the online shopping app you develop, you will lose out on significant business even before it begins.
Hence make sure you place focus on the following areas:
Maintain a user-friendly interface.
Delivery tracking should be made possible through the solution.
The checkout process is to be kept as simple as you can.
For app regulation, there should be provisions for reviews and ratings.
With these criteria kept in mind during online shopping app development to build an app like Carrefour in UAE, grocery and shopping services would get streamlined and revenues would start pouring to a huge number.
How Much Does It Cost to Develop Online Shopping App like Carrefour?
If you have made up your mind to build an app like Carrefour, you must be wondering how much would it cost. Well, the budget you need to allocate for the Carrefour clone app depends on many factors, such as:
The platform you want to launch (Android, iOS, or both).
Design of the app.
Features and functionality you want to integrate.
application complexity
The location of the mobile app development company you hire for this task.
Therefore, when you plan to embrace online shopping app development services from a reliable company, the total budget you have to keep aside for the task will be somewhere between $30,000 to $120,000.

Key Takeaways
Do you want to enhance your eCommerce business reach and maximize your customer base and profits in UAE? The Carrefour clone app is a solution that will make this task easy to accomplish for you. It will increase your returns and allow you to perform effective business management. It will also give you the desired support to scale and grow alongside addressing customer needs seamlessly.
Bottom Line
Carrefour has transformed the way shopping is performed in the UAE and has made online shopping extremely profitable. However, since app development from scratch is time-consuming and costs you high, the best way forward is to adopt the ready-to-launch Carrefour clone app. However, it is not easy to identify the best company which provides a top-notch clone app development solution. We have expertise in the task of clone app development services if you are planning to develop an app like Carrefour that addresses customer concerns in UAE well and streamlines shopping and other respective tasks.
You may also like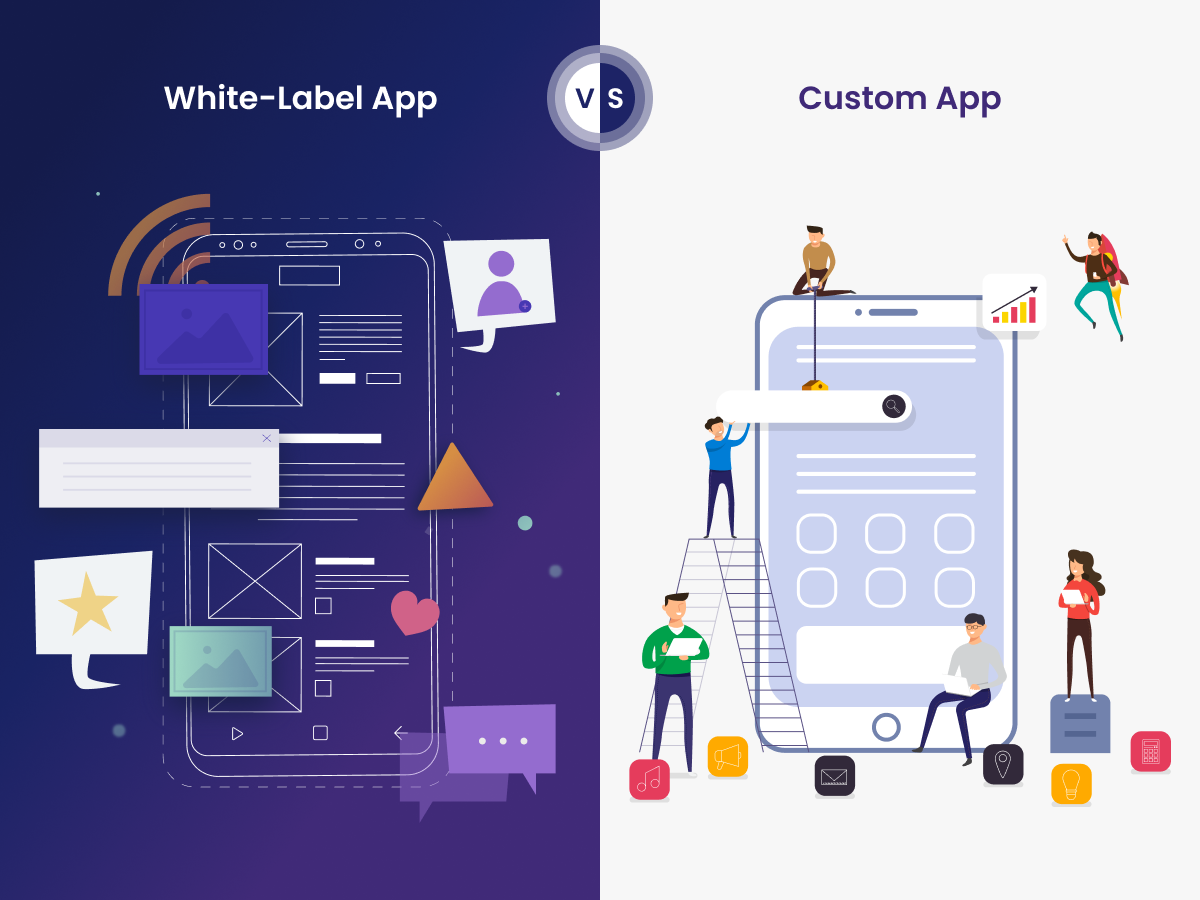 White Label App vs Custom App: Unveiling the Right Choice
Chirag Vaghasiya
In today's fast-paced digital landscape, the choice between white label app and custom app is a pivotal decision that businesses must make when venturing into mobile application development. Both approaches have their distinct advantages and disadvantages, and the path chosen can significantly impact a company's success in the digital realm. Every business has common goals… Read More