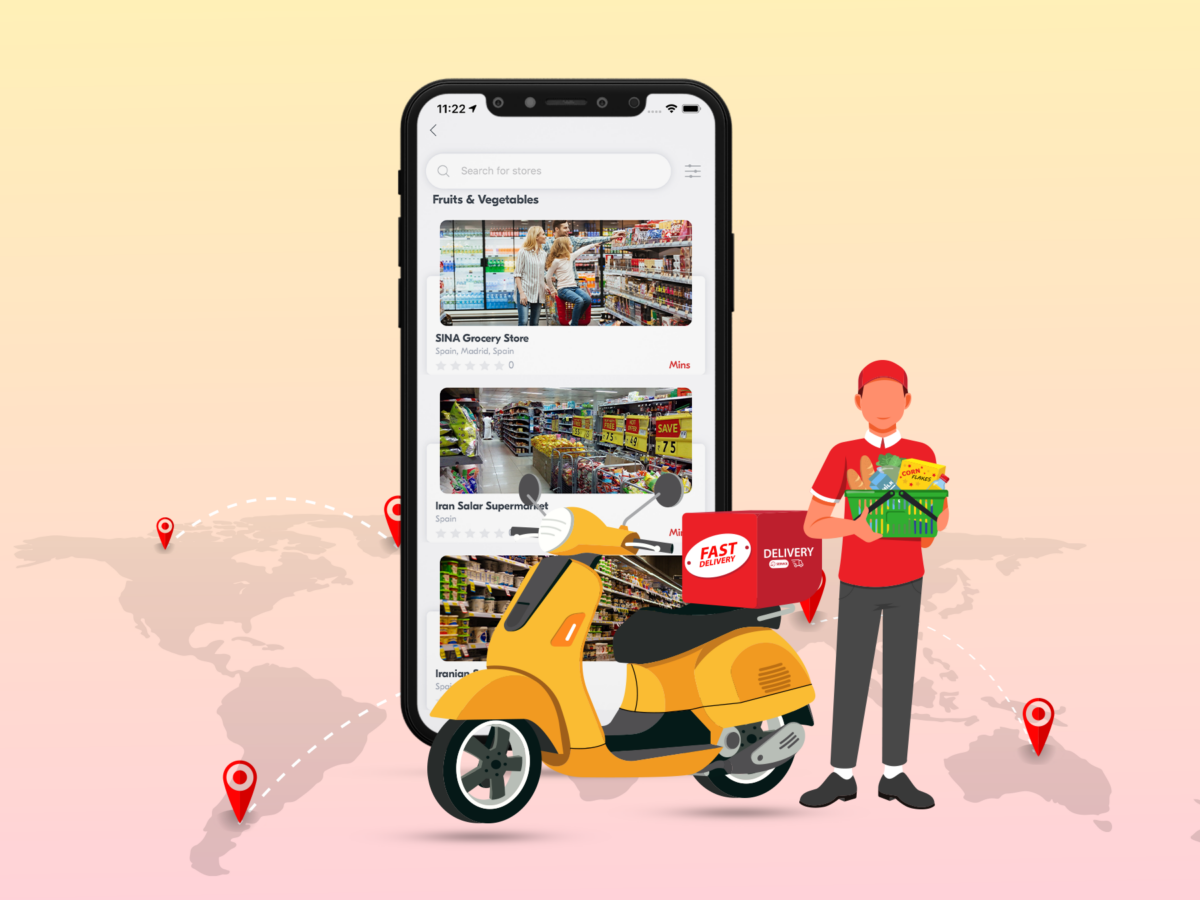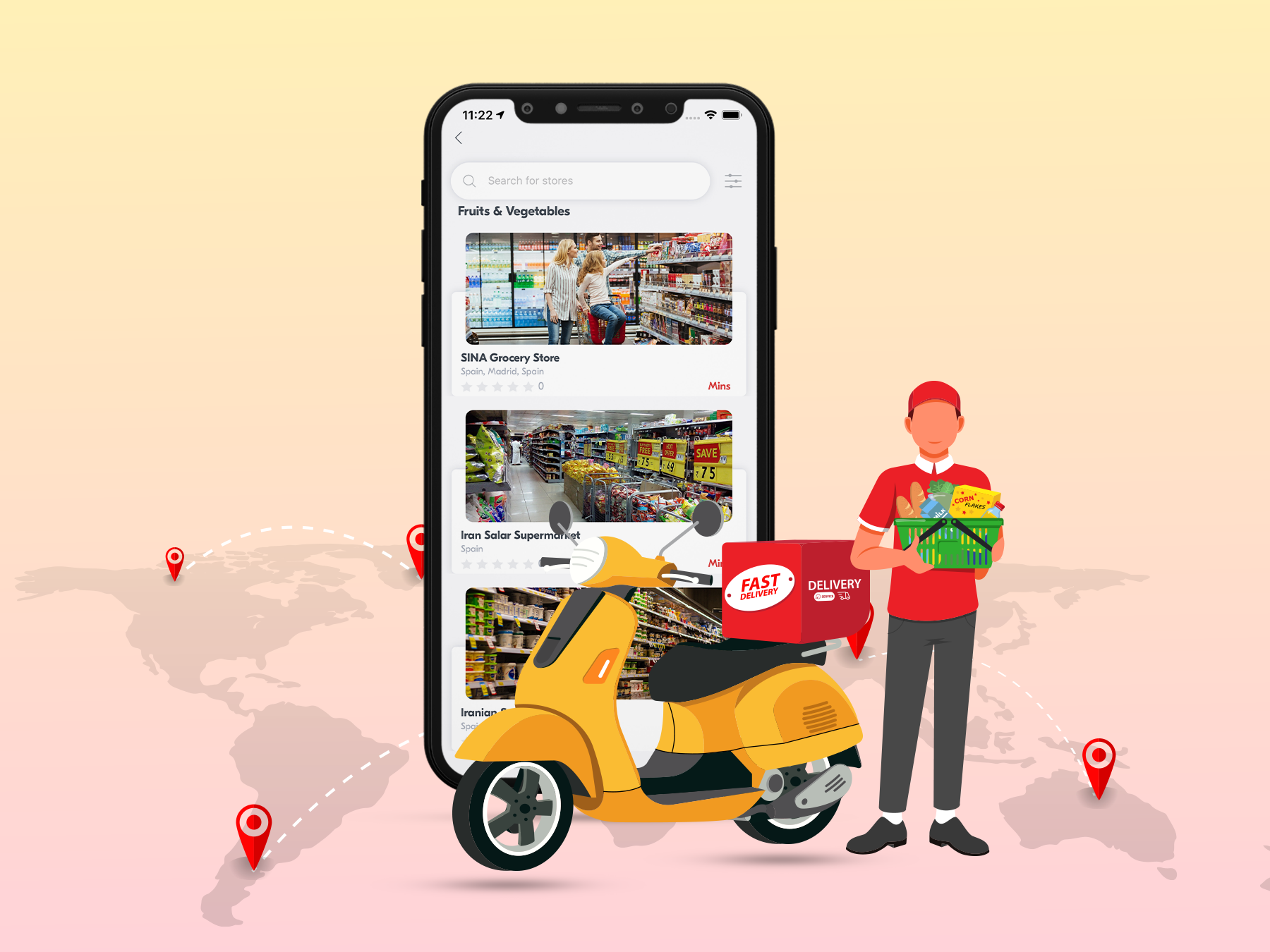 Ankit Patel

September 27, 2022

6 min read
Gone are the days when one waited in long queues at grocery stores to shop their household items. Today, we live in the digital era which in turn has led to these experiences getting smooth and convenient. Apps for online grocery shopping and online grocery delivery respectively have been instrumental in making these services easily accessible to customers apart from allowing the grocery stores to boost their visibility to a great extent.
This is the prime reason why it is a good idea to invest in an on demand grocery delivery business to become part of the multi-billion dollar online grocery market in the shortest time duration.
How to perform this task? We will educate you on this in the article so you can successfully build a grocery delivery app that increases the rate of profits for you through the deliveries you make.
Before that, we will give you knowledge of the numbers that will help you to gain insight into the profitable nature of these solutions.
Statistics to Depict Lucrative Nature of Grocery Delivery App
Check out the graph below to get an idea of this further.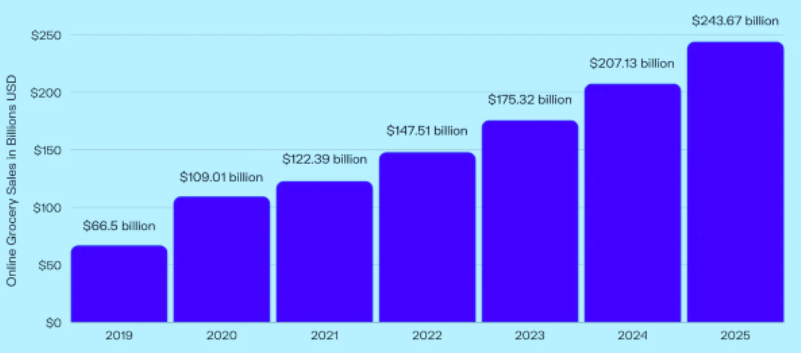 Image source: insiderintelligence.com
Before you invest in on demand grocery app development services, it is important to get knowledge of the numbers. These will help you to formulate the overall profitable and bright future of the application.
It is important now to understand the reasons why the app is attaining such a prominent nature after all.
Top Market Players in Online Grocery Business
In the last few years, the grocery delivery industry has witnessed massive growth. Check out the top grocery delivery applications that have assisted in this by bringing fresh vegetables to the customers' doorstep simply within a couple of minutes ONLY!

Instacart
Postmates
Shipt
BigBasket
Instashop
Kroger
Walmart Grocery Delivery
AmazonFresh
Reasons for Popularity of Online Grocery Delivery App
As mentioned above, the online grocery app has a wide array of advantages starting from helping the stores to get their visibility boosted to even giving customers assistance to get their household items delivered with convenience to their doorstep.
Here are some of the factors that suggest the reasons for its popularity.
Assists businesses to track customer behavior to personalize their shopping experiences.
Gives multiple payment methods flexibility to make the shopping process comfortable.
Allows making shopping comfortable by ensuring items are delivered to the doorstep.
With the knowledge you have gained of the different reasons for the popularity of the online grocery delivery app; you can understand entering this competitive market will prove to be a blessing in disguise.
However, before you know how you can become part of this booming market, we need to understand the different types of grocery delivery apps.
Types of Grocery Delivery App
When you are getting into the process of building an online grocery shopping setup, it is a very vital aspect that you have knowledge of its different types.

Ecommerce based grocery apps for allowing customers to search for products from a third-party source. For example, Amazon Fresh.
Individual-based grocery apps for making it easy for consumers to find products and order them from retailers.
Supermarket-based grocery app to aid the end-user shopping from stores present within a particular retail group.
Now that you know the different grocery app types, let's get an idea of the revenue models the solution adopts.
Revenue Model for Online Grocery Delivery Business
A successful online grocery delivery business ensures to serve customers in a seamless way. Through the same, it is able to earn considerable profits. However, it demands the utilization of some revenue models too.
Through charging a percentage of commission on transactions, deliveries, etc.
By asking stores to pay a nominal fee for listing on the app.
With customers paying fees for subscriptions on the grocery app.
Now that you are aware of the different app types and the revenue model; you are ready to step into the profitable world of an online grocery delivery business. Follow these steps below to perform this action with a bang and get your revenues pouring from Day 1.
How to Start a Grocery Delivery Business?
Knowing the reasons why the app is popular through the attractive numbers, it becomes clear that building the app will certainly turn the tides in favor of the on demand grocery delivery business startup.
It however demands adherence to some important steps.
• Research Research Research
Research as much as possible on different business and revenue models. Also study your competitors, the customers, and the target audience.
Ask yourself these questions:
Are customers satisfied with the current app?
If not, how do I create a solution that is different and unique?
What design do I implement?
What grocery app features does my competitor have?
If not, can their inclusion enhance my solution's value?
• Have a USP
It is important next to have a USP in place for the online grocery shopping app that you are building. Though this accompanies the process of research, it is different nevertheless.
This is because once you conduct research; you can then define a USP or unique selling point for your app.
Unique app design
Unique app features
Robust tech stacks
This is something you can ascertain when you have conducted thorough research on the competitor and the customer both.
• Use Robust Technology Stacks
The end goal of your app apart from helping you in the quest to make profits is also to ensure that your customers remain engaged. Therefore it is extremely critical to make use of robust technology stacks.
This is going to allow you to accomplish this aspect in a streamlined way without any form of issues whatsoever.
Here are some tech stacks that will come in exceptionally handy when you are performing on demand grocery app development.
Programming Languages – React Native, Flutter, Java, Swift, Kotlin
Backend & API – Node.JS/Express.JS
Front-end – React.JS
Database – MongoDB, HBase, Postgres
Push Notification – Twilio, Push.io
For Server – AWS
For Geolocation – Google Maps API
Payment Integration – Stripe, PayPal, Braintree
• Have Knowledge of Essential Features
A vital part of building an online grocery delivery app is knowledge of the features. However, it is equally critical to know there are three segments in the app, the customer, the delivery boy, and the admin panel.
Customer App Features

Register/Login
Advance search filter
Add to cart
Schedule delivery
Multiple payment options
Push notifications
Tracking order
Order history
Ratings and Reviews

Delivery Boy App Features

Register and create a profile
Update delivery status (on/off)
Delivery request notification
Accept or reject the delivery request
Track customer location
Work history
Earning and reports
In-app chat/call
Ratings & Reviews

Admin Panel Features

Powerful dashboard
Manage customers
Manage delivery boys
Manage grocery stores
Order management
Inventory management
Manage payments and commission
Manage discounts and promotions
Reporting and Analytics
With all these features in place, you can be sure engagement will remain to the maximum to the end-solution alongside ascertaining that grocery delivery services will take place seamlessly.
Read Also: Some of The Innovative Features Included in The World's Best Grocery Delivery Apps
• Buy Readymade On Demand Grocery Delivery App
The last extremely crucial step for successful on demand grocery app development is connecting with an offshore partner and you buy a readymade grocery delivery app from them.
It is important though to remember that there are many such custom solutions present in the market at the moment.
Therefore to ascertain the solution you are using is of the best quality and the company who is giving you its access is reliable; perform the actions such as-
Research the company online.
Check their portfolio.
Assess client testimonials.
Upon performing these actions, you can shortlist a company, connect with their experts and discuss your requirements. Once you are satisfied with what they are presenting, you can be sure the organization is trustworthy indeed.
It is now important to focus on the cost factor.

Estimated Cost to Develop Online Grocery Delivery App
It is not enough to only have a grocery business idea. You also need to be aware of the budget that you have to allocate for the task.
There are many factors that affect the cost to develop a grocery app, some of them are:
Number of app platforms (Android, iOS, or both)
UI/UX design
Frontend & Backend developers
App development company location
The complexity of the app
3rd party app integration
Different countries have different hourly developers charges, such as:
US based developers charge: $100-$150 per hour.
Eastern Europe-based developers charge: $80-$150 per hour.
India based developers charge: $20-$40 per hour
So here's giving you an overall estimate of the budget.
If you are planning to develop a grocery app like Instacart, then its costs vary. It depends on the features and functionality you want to include in your mobile application. The approximate cost with basic features will be somewhere between $12,000 to $20,000. However, the cost may go high if you want to include a number of advanced features.
Therefore, to keep the costs within limit, you need to make sure you maintain a simple app design and make sure to outsource the on demand grocery app development services from a reputed company.
Summing up
Reading this comprehensive guide, you can understand that becoming a part of the profitable on demand grocery delivery business is not as easy and as simple as it seems. It demands you research thoroughly on your customers, apart from assessing different revenue and business models carefully. Also, you need to focus on the cost factor.
Therefore, it demands you buy a readymade grocery delivery app. This will help you to save on costs. You can connect with us alternatively for this. With our expertise in understanding client requirements and performing grocery app development services as per their requirements, when you get in touch with us, you can be sure to get your business in the purview of customers in a short time and obtain returns that are profitable.
You may also like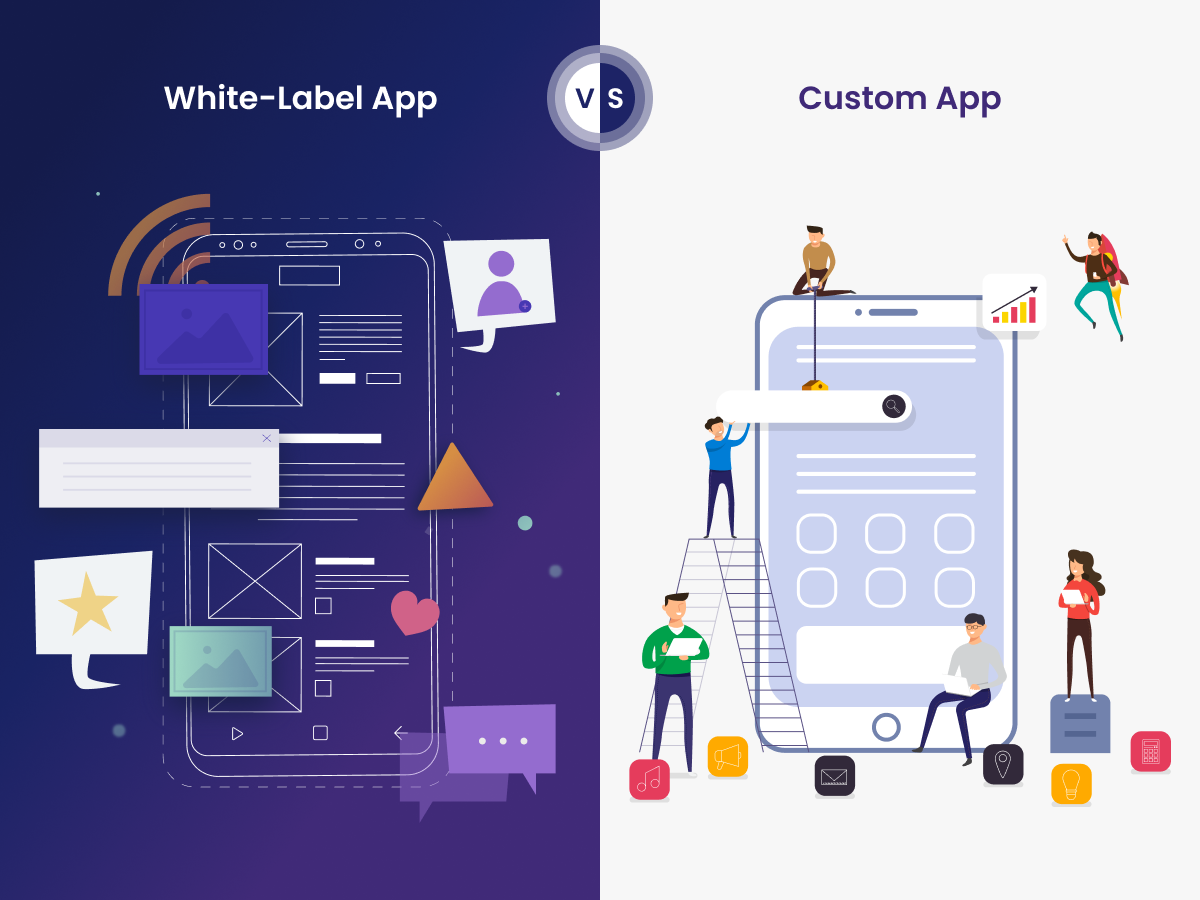 White Label App vs Custom App: Unveiling the Right Choice
Chirag Vaghasiya
In today's fast-paced digital landscape, the choice between white label app and custom app is a pivotal decision that businesses must make when venturing into mobile application development. Both approaches have their distinct advantages and disadvantages, and the path chosen can significantly impact a company's success in the digital realm. Every business has common goals… Read More