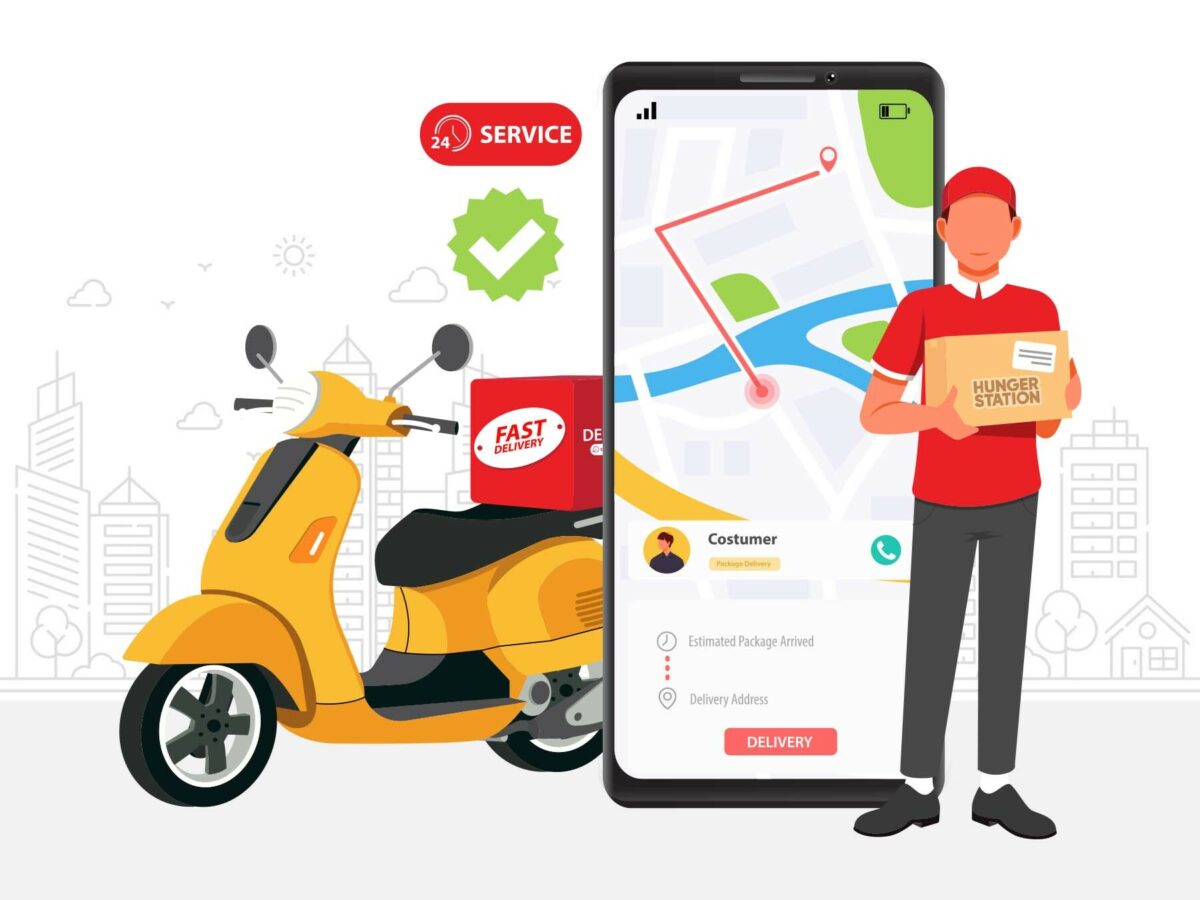 Ankit Patel

July 04, 2022

6 min read
Setting up a food delivery business, a grocery delivery business, or a combination of both in Saudi Arabia? Yes? Great. This is the right place you are at then. In the article, we give you the perfect set of tips you need to remember before you embrace multi-delivery app development services to build a successful app like HungerStation in Saudi Arabia.
So what are the factors responsible for the app market thriving there? Let us look at the lines below to get knowledge along these lines.
◉ Factors Responsible for the Thriving App Market in Saudi Arabia
Saudi Arabia has a population of around 30 million and currently possesses 24 million app users. This number will witness a significant rise with the passage of years. This is one of the prime reasons the app market is thriving there.
Next, mobile gaming, food and grocery delivery apps are the most downloaded app categories in Saudi Arabia.
Last, the region has started focusing on keeping its name as more than a major oil exporter. Instead, it is concentrating today on becoming one of the prime creators of unique solutions.
All these factors, in the end, have been responsible for the thriving app market in Saudi Arabia. Hence, setting up an on-demand business there will do wonders for a new entrepreneurial setup.
Here, we need to talk specifically about the popularity of the on demand multi-delivery business model and the nature of its popularity in the Middle East.
With the presence of apps like HungerStation, popularity has increased. In fact, according to Statista, thanks to the solution, the revenues will become 3759 million by 2026. Whereas if we analyze the number. The number of users is going to be approximately 15.9 million.
Exciting right? Let us get introduced to the solution to know more about this unique food delivery app.
◉ Introducing You to HungerStation App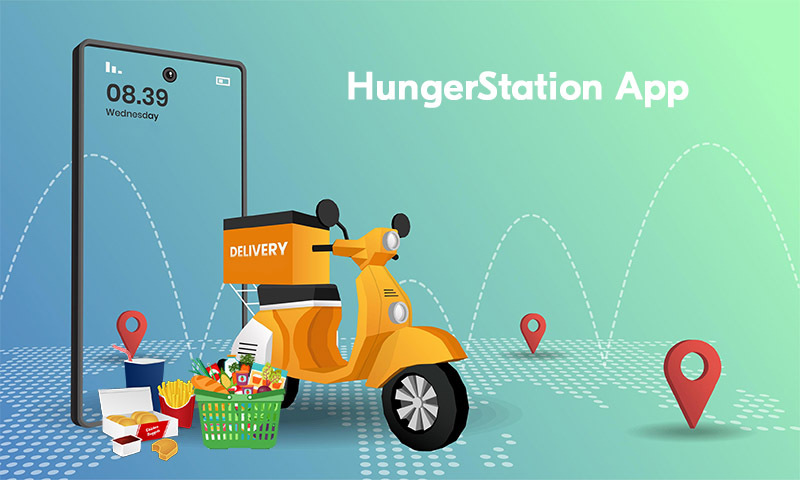 Launched in 2012, HungerStation today is a popular food and grocery delivery app that satiates hunger pangs and allows customers to get their household items conveniently delivered to their doorsteps from the nearest shops.
Available on the Google Play Store and the Apple App Store, upon installing the app on the respective Android or iOS device, it is an easy process to order meals and groceries.
If you visit these respective stores, you will observe the app has a 3.7 Stars rating on the Android marketplace, whereas, on the iOS marketplace, it has 4.4 Stars.
This is due to the features mentioned below that make HungerStation popular among the end customers and the other segments.
Unique Features Present in HungerStation
Food and grocery delivery in one place
Multiple payment modes
Track order status
Document verification
Find a nearby grocery store or restaurant
Contactless delivery
It thus becomes clear that launching a multi-delivery business model similar to HungerStation will help you to accumulate a good percentage of profits. However, it demands adherence to some steps. These will help you get an end-solution that drives success for you in the long run.
Read also: Know Why Your Grocery Startup Needs to Include Grocery App Development
◉ How to Build an App like HungerStation?
Give Your App a UVP
What makes HungerStation unique is its UVP (unique value proposition). In other words, using it, customers can place orders at any time- from 8 in the morning until 2 am. This follows next by its incorporation of a multi-delivery model. This is a prime reason responsible for its popularity. Therefore, when you build an app similar to this, work towards giving your app a UVP. This means you should select an appropriate business model. This will help you gain a higher user percentage in the Middle East in less time.
Examine the Revenue Model of HungerStation
This is another factor that you need to focus on. HungerStation generates revenues by charging platform fees at a percentage that varies from 5% to 25%. This depends on the scale and services of the restaurant from whom charges get levied. It will help you determine a revenue model that works best for you and earn considerable revenues.
Know The Legalities of Commencing Online Business in Saudi Arabia
It is undoubtedly a great idea to set up an online multi-delivery business in Saudi Arabia but do you know the legalities there? No? Don't worry.
Here, we have enlisted the points below that will help you get a good idea of the laws there.
The age of a delivery professional should be 18 or above.
It is mandatory to check the temperature of the delivery professional to prevent the transmission of the virus.
Tools you use for delivery and scanning cards require sterilization.
Therefore, make sure that you know these laws also. This will prevent your multi-delivery business from sinking into oblivion.
Next, after you know the legalities, place focus on the operations.
How HungerStation Operates – Have Its Knowledge

The image above depicts different steps that customers and other segments follow to ensure grocery and food delivery with HungerStation.
Read also: How On Demand Food Delivery Clone App Changing The Food Business
To explain this, look at the points below:
Customer sends a request.
Request gets approval.
Payment gets done.
Order gets picked up from restaurant or supermarket.
Delivery gets performed.
Feedback gets provided.
Make sure you know of this before you add features. This will help you to seamlessly identify the features whose addition will make your app easy to operate by the customers, delivery drivers, restaurants, grocery stores, and you (the business owner of this multi-delivery business).
Know Elements to Assist Easy Operations of App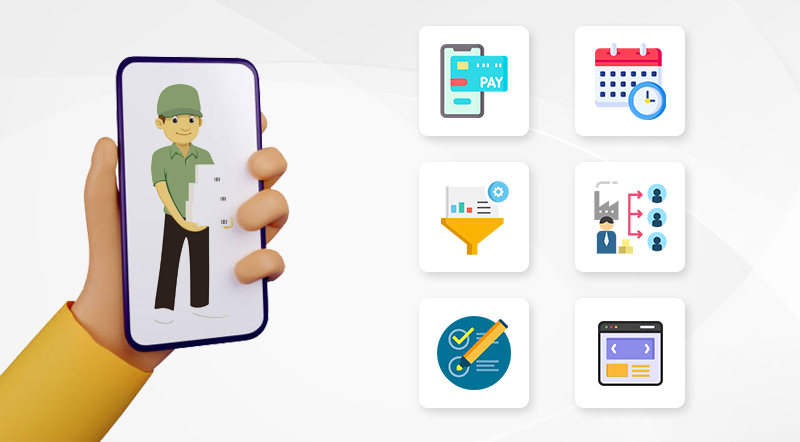 After you gain awareness of the operations, you must know the list of features that can allow you to make operations simple.
Hence, you must include the features like the ones listed below:
Include Multiple Payment Option

With this element, customers would get the desired convenience to make payments for the orders placed from your multi-delivery app. The modes of payments to add – UPI, cards, net banking, and COD, to name a few.

Make It Flexible to Schedule Orders for Later

Don't want food now? No worries. With the scheduled orders for later features, you can make this a seamless task for customers. This element will aid customers in conveniently scheduling orders for later.

This is a unique feature for those planning a weekend getaway with their friends or family. It will help them create an order request for a later date and then have it delivered to their doorstep. Even for those shopping for their household items, through this feature, customers who are working professionals would get the flexibility to schedule an order delivery as per their convenience and get it delivered.

Create Advanced Filters

A unique constituent you should include within your app like HungerStation. With this feature, customers would get the flexibility to gain access to a wide range of restaurant and supermarket options based on the filters they add. Say, for instance, sort from high price to low price or vice versa, or items that are vegan or non-vegan- the customers would get the desired range of options in their app.

Adding the elements listed above will ascertain your multi-delivery app like HungerStation does wonders for you. This is particularly when you launch it in Saudi Arabia.

Include Multi-Vendor Features

A unique element you should include within your app-like HungerStation. Through this, restaurants and supermarkets can create a profile on the app and start operations.

This will help them, in the end, to make more revenues, increase their visibility online, and build a robust online base, all at the same time.

Provide Safety Badges to Restaurants and Supermarkets

This element will allow customers to be aware of the restaurants and supermarkets adhering to the COVID-19 protocols. This will build trust and security among customers on the services you as a business provide.

Make Knowledge Banners Available

Last, another unique element you can consider including within an app like HungerStation is the availability of knowledge banners.

This feature will aid customers to know you care for them through the services you provide to keep COVID-19 under strict scrutiny.
Upon including all these elements in your HungerStation-like app, you can be sure that you will be able to build a robust customer base, especially when you have it launched in Saudi Arabia.
Estimated Cost to Develop HungerStation Clone App
If we analyze the cost for multi delivery app development when you launch an app similar to HungerStation, the total finances you would need to keep aside for this will be between $30,000 to $40,000.
It must be noted here, that this cost will vary based on the complexity of mobile app design, the advanced set of features you add, and so on.
Based on all these aspects thereafter, it will become a cakewalk to determine the overall budget that you would need to allocate for this.
At Last, How Can PeppyOcean Assist You?
PeppyOcean is a renowned online grocery and food delivery app development company known for its out-of-the-box ready-to-launch customizable clone solutions. With our industry-best support in developing the HungerStation clone app, the solution is ready to launch in Saudi Arabia and other parts of the world. Wait no longer thus. Get in touch with us today to ensure your customers enjoy unique food and grocery delivery experiences through the app we build for you.
You may also like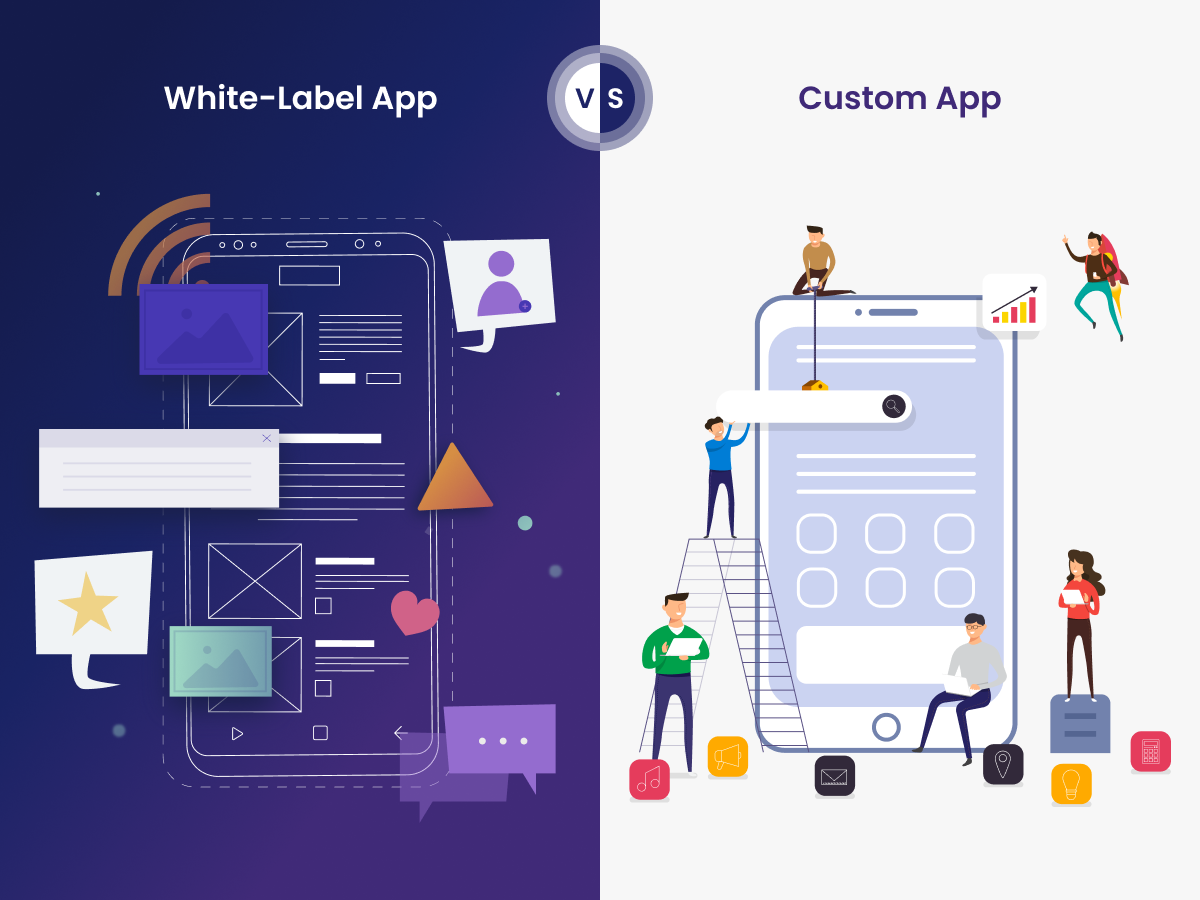 White Label App vs Custom App: Unveiling the Right Choice
Chirag Vaghasiya
In today's fast-paced digital landscape, the choice between white label app and custom app is a pivotal decision that businesses must make when venturing into mobile application development. Both approaches have their distinct advantages and disadvantages, and the path chosen can significantly impact a company's success in the digital realm. Every business has common goals… Read More