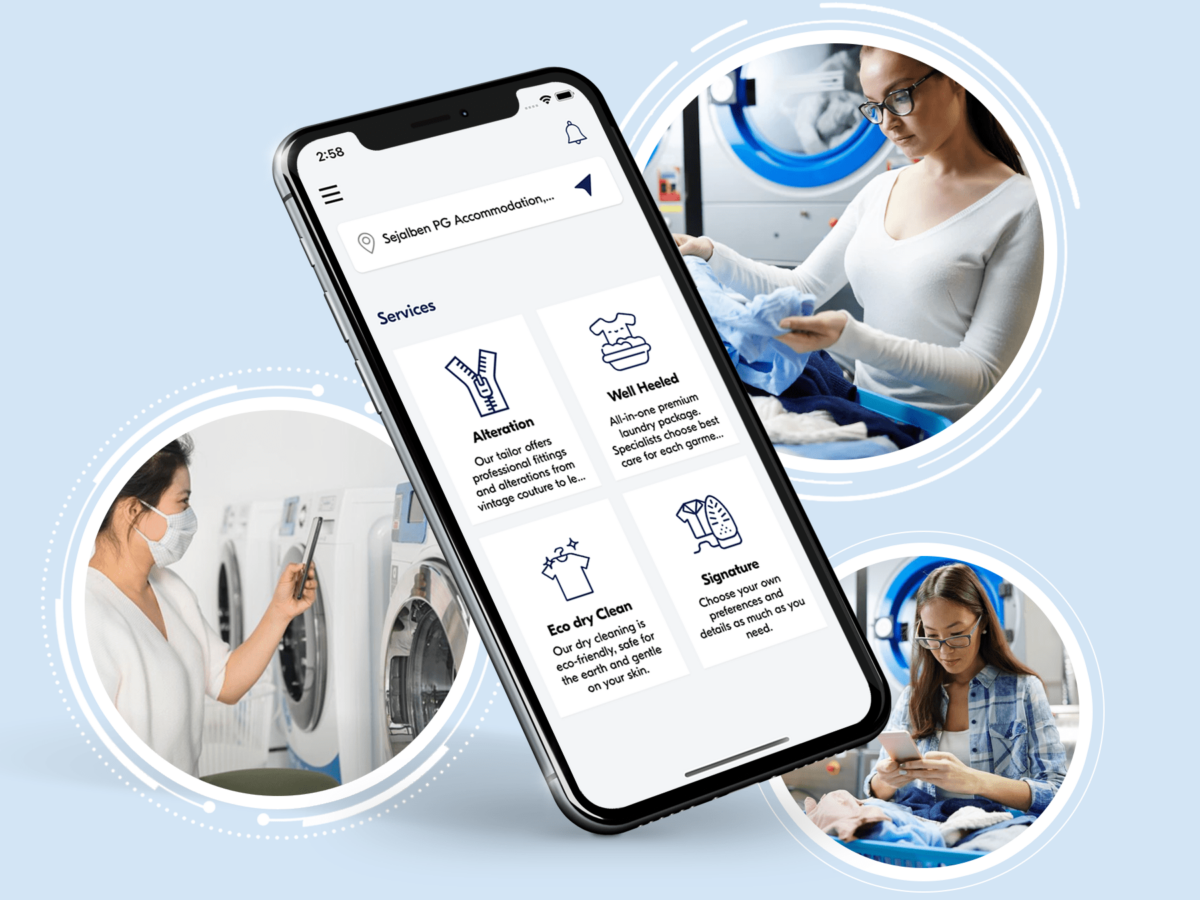 Ankit Patel

July 18, 2022

7 min read
The current generation is Gen-Z. This generation demands solutions that make their daily chores easy. One of those solutions that supports them in this is on-demand apps. They support them in ordering meals, getting household items delivered to their doorstep, and currently even getting their clothes washed. Yes, you heard it right. With apps for washing, the millennials do not have to spend a lot of time on this task. The app does the task for them. The customer gets connected to a dry cleaner near them and provides them with the desired convenience of doing the task of washing their clothes. This thereupon has allowed the global dry cleaning and laundry services market to become an exceptionally profitable market that will earn revenues of around $72.5 billion by 2024.
Hence, it is a flourishing market to be a part of. If you are an established laundry business or one who is setting up a base for the first time, developing an on demand laundry app is the right way ahead.
However, before we gain an understanding of building this app, let's take a peek into the attractive numbers that depict the overall profitable nature of these apps.
◉ Statistical Figures Depicting Profitable Nature of the Laundry App
The global online laundry market is predicted to observe a growth of $24.63 billion by 2027.
The online laundry service market is expected to grow at a CAGR of 3.77%.
These numbers are enough to depict the profitable nature of channeling on-demand laundry app development to the business's advantage.
If you visit the Google Play Store or the Apple App Store of your respective Android or iOS device, you will come across many apps that have revolutionized the way customers access laundry services.
Here are some of the most popular on demand laundry service apps that customers use for quick laundry services.
◉ Most Popular On Demand Laundry Service Apps in the Market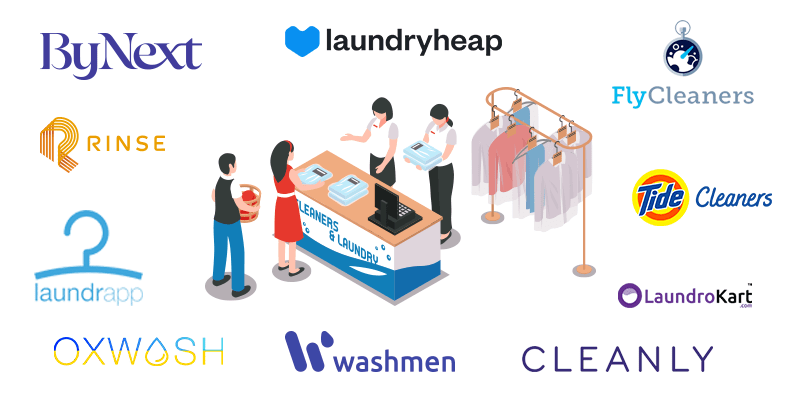 Rinse
FlyCleaners
Tide Cleaners
Laundryheap
Oxwash
Washmen
Laundrapp
ByNext
LaundroKart
Cleanly
With the idea now on the popular apps that have automated the way laundry services take place, let us next try to understand the reasons why it is a good idea to invest in on demand laundry app development.
◉ Reasons Why It Is Worthwhile to Invest in Laundry App Development
As you may have observed through the statistical figures above, the on demand laundry apps have a profitable scope indeed. This is due to the advantages that these apps provide in saving time for the Millenials in doing chores like washing clothes.
Also, the presence of on-demand apps for the service can allow the brick and mortar traditional laundry businesses to automate the way they manage orders, take care of order deliveries, and assign them to respective delivery drivers.
Hence, it is a good idea indeed to invest in laundry app development. Doing so will endow the dry cleaning business with the benefits such as the ones listed below.
◉ Laundry App Advantages for Dry Cleaning Business
Saves time for customers to get clothes quickly picked so that different services like dry-cleaning become easy to provide.
Online booking and doorstep delivery of clothes is a seamless process.
Allows laundry tasks to get their completion done within minimum time.
Helps to keep clarity in communication between the laundry service provider and customer so that the latter and the former know updates related to the laundries.
Hence, it is best to empower your brick-and-mortar laundry business with the app today. It will transport the venture towards an unforgettable path of success from the first day itself.
It is however first extremely necessary to understand the app model you should adopt for your laundry setup so that you can earn sufficiently profitable returns.
◉ Types of Laundry App Models Ideal for Your Laundry Startup
There are 3 main kinds of app models from which you can select the one that will boost profits for your laundry setup.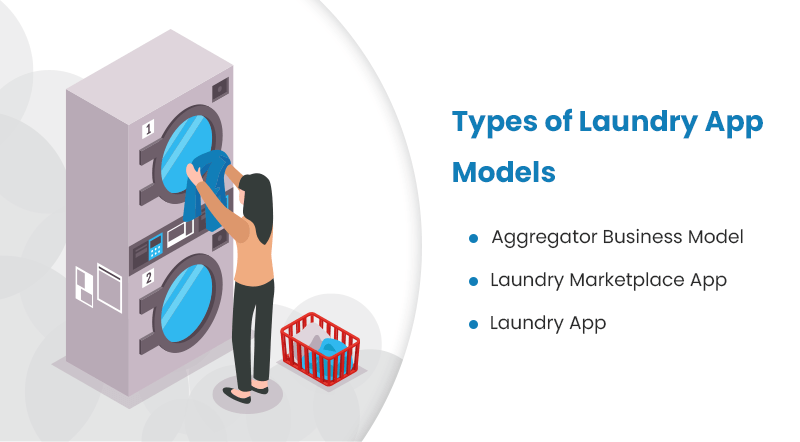 Aggregator Business Model
Laundry Marketplace App
Laundry App
Let's discuss each of these models in detail.
Aggregator Business Model
This model enables the laundry startup to collaborate with local laundry service providers and provide them with a platform to promote their services. This involves the business charging commission fees on transactions that are made by the provider.
Laundry Marketplace App
This model focuses on the startup. Here, the laundry startup handles the delivery and pickup of laundry instead of the laundries registered on the app. Therefore, in simple words, all the different information related to delivery is taken care of by the laundry setup itself.
Laundry App
This involves the business getting an app that will make it possible to get quick laundry pickup and delivery services at their doorstep.
Perfect for scaling up business operations, the last model is the one that will help you earn good revenues.
It is next extremely important to gain insight into how the app works, and its basic features alongside the tech stack that would make it extremely robust.
◉ How Does On Demand Laundry App Work?
When you are building an on demand laundry app, it is important to be aware of the overall workflow. Therefore, in simple lines, here's how the app works-
Customer enters the app, adds their location, and then gets a list of laundries nearby.
From the list, the customer taps on a laundry matching their preferences and taps on the service/services they want.
The customer then places a service request to make a payment.
The service request gets confirmed.
The laundry receives the request and accepts it.
The laundry assigns the request to delivery personnel nearby.
The delivery personnel reaches the customer's location and picks up the laundry.
Delivery personnel reaches the laundry and provides the clothes.
Clothes then get washed, ironed, etc., and then packed well.
Delivery takes place, in the end.
Thus, you see. It is altogether easy to operate solution. Hence, it is ideal to be aware of this aspect before you develop a laundry app. This will ascertain that you are aware of the features whose inclusion will make the operations seamless.
◉ Features You Should Include in the Laundry App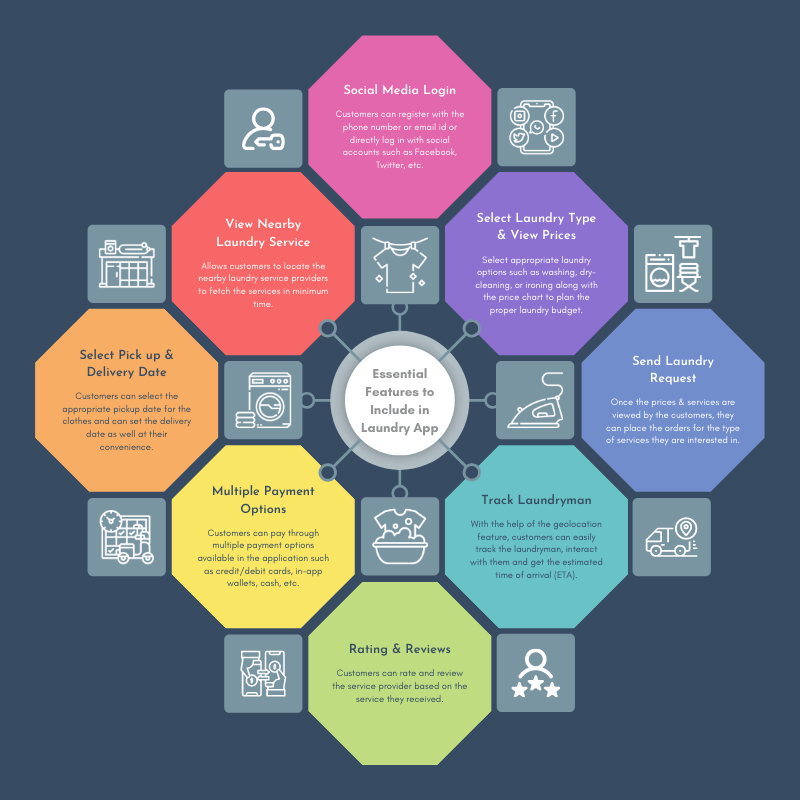 The main purpose of a laundry app is to help customers get access to easy dry cleaning services for their clothes on the tap of a few buttons on the app.
Therefore, it is understandable to make this achievable, it should have some important features within.
Hence, the ideal features that assist in the buildup of the solution are important to know. This will assist you during the development stage ensuring the end solution helps the customer, the laundry service provider, and the business to perform different laundry-related services from the solution with utmost ease.
Customer App Features
Social media login
Find nearby laundry services
Types of services
Cost calculation
Order Schedule
Request for services
Track laundryman
Multiple payment options
Order history
Ratings and Reviews
Laundry Service Provider Features
Login/Sign Up
View and Manage Profile
Manage Laundry Charges
Request Accept/Reject
Order Management
View Orders History
Manage Offers and Discounts
View Reviews and Ratings
Admin Panel Features
Managing Service Providers
Customer Management
Payment Management
Real-Time Analytics
GPS Tracking
Analytics Report
With the inclusion of these elements, you can be sure operations will remain seamless. Also, the business will be able to perform different laundry-related tasks with utmost ease and convenience.
Read also: 18 Must-Have Features of Any On Demand Laundry App
◉ Tech Stack that Ensures Robust App Buildup
Once you know the seamless app operations, it is important to get knowledge of the tech stack that will make the end-solution robust and ensure that laundry services become easy to offer.
Therefore, if we have to jot down the tech stacks which ensure robust app operations, these are the ones that promise to make the app robust and fully functional.
Swift for iOS/ Flutter / React Native
Java for Android/ Flutter / React Native
Node.JS/Express.JS for Backend & API
React.JS for Front-end
MongoDB for Database
AWS for Server
PayPal, Braintree, EWallets, Stripe for Payments
Twilio for Push Notifications
Upon including these tech stacks, it is extremely important next to have knowledge of the different features whose addition will make the app easy to work.
Read also: How Much Does it Cost to Develop an App Like PayPal?
◉ How Does Laundry Delivery App Assists Laundry Business Profit?
It is next important to understand that as a startup- in what ways would the app assist them in making considerable profits.
To understand this, it is first extremely crucial to have a revenue model for your venture.
Hence, you can select from the four different models, the one you deem best.
1. Charge Additional Amount
Doing so enables you to charge an extra amount for doing laundry of those clothes that may be made of special materials.
2. Based on Subscriptions
With the opting of subscription plans, based on the subscriptions customers make, and the fees they pay- on a monthly, quarterly or yearly basis, you can earn good revenues.
3. Laundry Listing Fees
This is best for the aggregator model. This model enables the business to charge a listing fee from the providers listed on the app. Thereafter, it will be useful to you in adding advanced features and getting more revenue. It will also help the laundry providers to get a good user base.
4. Commission Fees
One of the most common ways to earn revenue, through the charge of commission fees, based on every transaction made from the laundry app, you can earn a good amount of profits.
Hence, it goes without saying, the app has a huge scope for earning profits as well as a good user base from the first day itself.
Now that you know the revenue models through which you can make good profits for your laundry setup, it is essential to evaluate the budget for the task of development.
◉ Estimated Cost to Develop Laundry App
If we have to understand and assess the estimated cost to develop a laundry app, it will first be extremely crucial you know that – depending on your business requirements, the features you include, and finally the design you inculcate, the overall budget will go up or down.
So here is how you can understand the overall budget that you have to allocate for this task:
In Asian countries, the developers will charge between $35 to $60 per hour.
In European countries and the USA, you can be sure of the developers charging a bit higher, for instance, $70 to $150+ per hour.
On the basis of the basic and advanced features you include, the cost will be approximately $15,000 to $25,000.
Read also: How to Determine Cost for Logistics App Development?
Hence, make sure you have knowledge of this aspect when you embark on the journey of laundry app development. This will ascertain you save on costs tremendously and ensure you get a high-quality solution that drives value for your business in the end.
To sum up
Reading this in-depth blog on developing on-demand laundry and dry cleaning apps, we are sure you have understood how it has supported the industry in becoming a really profitable one. The presence of the laundry applications has assisted the dry cleaning business to become a really flourishing business. It is thus time to make use of the solution to your business's advantage. If you have also decided to build a laundry app, connect with us today to get access to an app that scales up as per your future business requirements to serve customers seamlessly and transport your laundry setup towards the path of success and profits like never before.
You may also like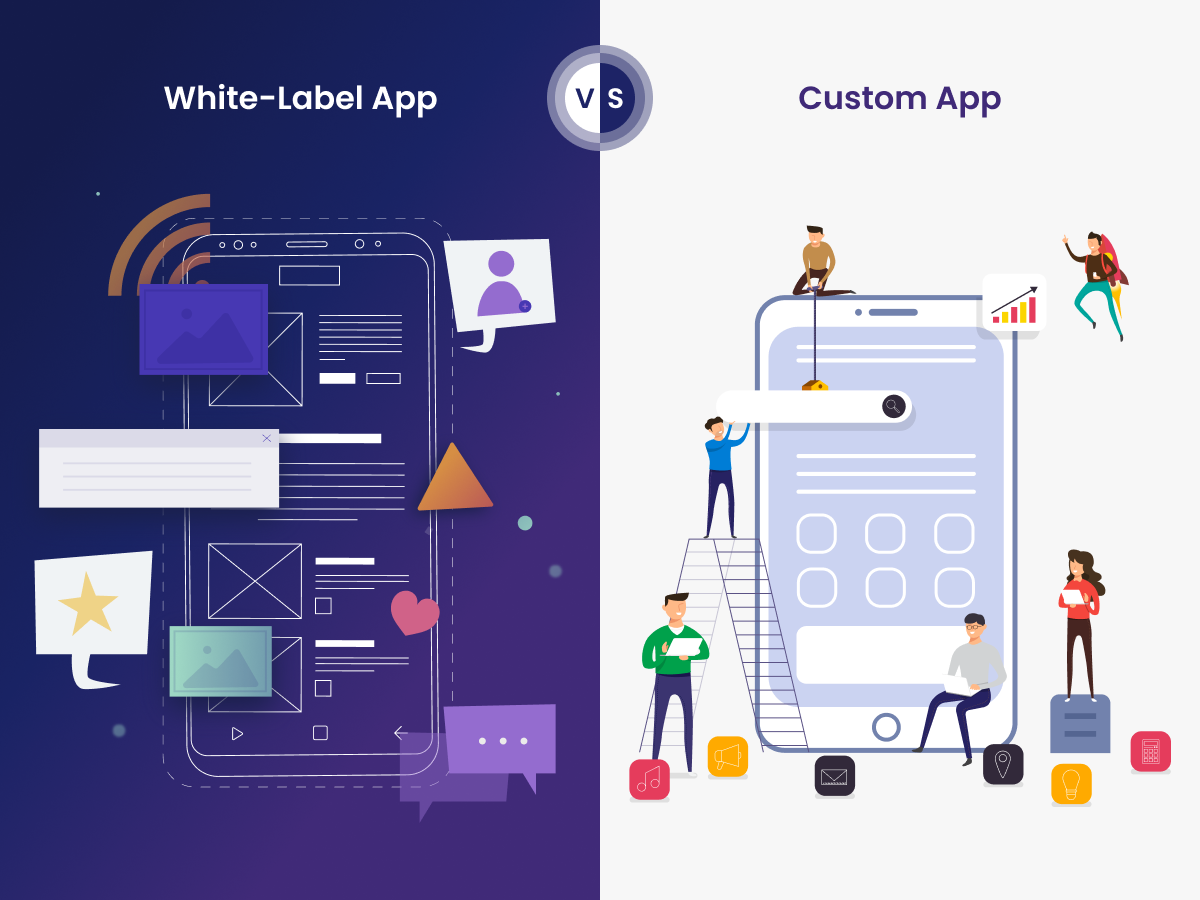 White Label App vs Custom App: Unveiling the Right Choice
Chirag Vaghasiya
In today's fast-paced digital landscape, the choice between white label app and custom app is a pivotal decision that businesses must make when venturing into mobile application development. Both approaches have their distinct advantages and disadvantages, and the path chosen can significantly impact a company's success in the digital realm. Every business has common goals… Read More