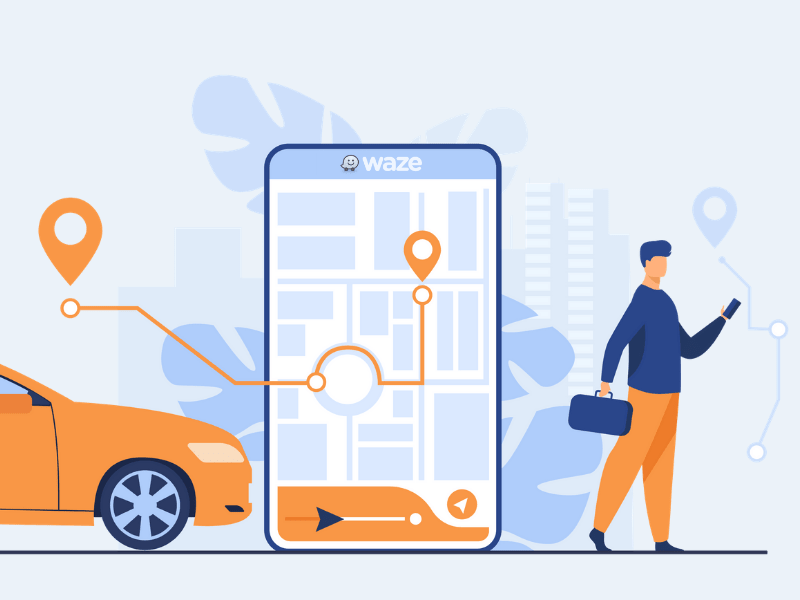 Ankit Patel

May 14, 2021

7 min read
The count of vehicles is increasing day by day that leads to land occupancy. Often you may have come across some street areas allotted for vehicle parking. Due to these vehicle parking areas, some space of the streets gets occupied leading to traffic jams. With so many traffic jams it becomes impossible for you to reach your workplace on time. So, here you need to find the routes that have fewer traffic jams. This could be only possible through technology.
To find the fastest route to your destination avoiding heavy traffic jams, app developers offering navigation app development services have developed Waze clone app like GPS navigation apps. These apps make your guide you with the fastest routes thereby making your navigation easy.
Also, if you are traveling to any new area, instead of asking the routes to the pedestrian, you can simply view multiple routes on these GPS navigation apps.
Today, GPS navigation has become an essential technology tool for all of us. Almost every taxi booking app uses this technology to commute the passengers quickly to their destinations. The navigation app development services offering app development companies are adapting the trendiest tools to make these navigation apps more precise so that the users can use them efficiently.
A navigation app like the Waze clone app is now a necessity for all professional and private drivers. This is the reason why the GPS navigation app development project is the most popular and profitable project. The count of people using these navigation apps is going to increase in the future and hence taxi operators and start-ups are seeking navigation app development services to develop a Waze type app.
If you are planning to develop a GPS navigation app, then probably you have taken the right decision.
Other than Google Maps, there is one more popular navigation app – Waze. Here in this article, we will discuss everything about Waze, how it works, how to develop a Waze-like app, and what it will cost to develop a navigation app like Waze.
A Highlight On Waze
Waze is a superb community-driven navigation app enabling drivers to use and build live maps. It also provides complete direction, route details, and travel time for a particular route. It permits the user to leave tips for other drivers mentioning the fastest direction of which path to choose to reach a particular destination.
Waze directs the drivers through crowdsourced information, which is a very amazing feature of this app. For example, alerts regarding the obstacles, accidents, police activity, hazards, speed traps, or any other issues can be posted by the drivers using Waze, so that other drivers. Other than turn-by-turn navigation, location alerts, real-time traffic conditions, it also sends information including location and speed. Let us see how the Waze clone app works.
A driver can also listen to his favorite songs from apps such as Spotify. Also, the drivers can search for the cheapest petrol pumps or gas stations that fall on the route.
Waze Workflow
Waze has always provided its users (both personal and taxi booking app drivers) with a relaxing, smart, and hassle-free traveling experience. Below is the workflow of Waze:
Using the crowd-sourced network, the app enables other drivers to report road closures, accidents, and other issues on the real-time map.
Other than sharing real-time road and traffic information, the drivers using Waze can post videos and photos. The latest information of the route is gathered by the app from drivers so that it could help its other drivers.
Using GPS, its users get turn-by-turn directions through voice commands via Smartphones or tablets.
The users are also provided with information regarding possible traffic jams. It suggests to users shortest, fastest, and optimal routes so that they can reach their destinations quickly.
With the integration of several social networking pages, the users of Waze can locate their Instagram or Facebook friends and help them.
Within Waze, its users can rate and share their experience with local businesses like gas stations, coffee houses, repair centers, and car washing stations.
Hence, with this amazing app, users can change their routes and avoid traffic jams, road closures, police traps, accidents, and various other unpleasant issues that might crop up on their routes to their destination.
How routes are explored by Waze?
Wаzе is not like other traditional navigation software. It is a community-driven app that collects accurate complementary traffic information and map data from its drivers and verifies and then shares with its other drivers traveling through the same route. Whenever you are driving, Waze will compare all the data to provide you with the best possible routes as per your preferences.
Essential Features Of a Waze Like GPS Navigation App
Before you hire the services of a GPS navigation app development company to develop a flawless GPS navigation app, you must look at the essential and basic features of the Waze clone app. A navigation app must have all the below-mentioned features to aptly guide its users with the right and fastest route and with utmost accuracy.
GPS navigation

The most common and essential feature that you will find in almost every taxi booking app is GPS navigation. This feature is the backbone of a navigation app. With the help of the GPS, a driver can get information on the location and the route he is traveling on. This feature navigates the driver and tries to guide him with the best possible routes throughout his travel time so that he can avoid road blockages and jams.

Calculating the best route is a bit tough. Routing algorithms are used by Waze servers for determining the optimal path to any particular destination along with the travel time. Whenever you request the app for a route, the Waze server as per your request transmits the best route and displays it on your device. Suggested paths vary as per the settings:

To avoid main highways
To avoid or allow toll roads
To request shortest and the fastest route
To avoid or allow roads within the city

Authorization

This feature collects your basic details at the time of registration to the app. By registering, you own a personal account within the app and get access to various app functionalities and services. Through your account, you can enter notes and can chat with other users. Registration can be done using your phone number or email id or simply you can use your social credentials such as Facebook and login directly.

In-App Messages

On designing a navigation app similar to Waze, you need to display the messages of your app users in an attractive manner. You can discuss this with your GPS navigation app development team and decide whether to send the messages as a chat to your app users or distribute them via push notifications. You can send messages whenever your user reaches a specific location or area.

Travel Management

Being new to any place, you hardly have any idea about the routes. This feature is of great help for all travelers as it guides them to the right path. Also, through this feature, you can set reminders for your upcoming travel plan and get notified on that particular date. You can add your planned trip to the calendar and share them via Facebook or email.

Voice Assistants

Ensuring that the drivers do not get distracted by viewing the map again and again to see the path, turn-by-turn voice assistance is provided to the drivers. Hearing the voice navigation, the driver can move in the right direction. Also, through voice assistance, the drivers get traffic alerts. This feature can be turned off manually if the driver doesn't need any further assistance or is getting distracted by the voice.

Live Updates

Almost every taxi booking app and navigation app has satellite pictures of high quality. Waze offers something more than this. It provides live updates derived from other drivers that enhance the user experience. Other than this, it permits the users to upload live pictures and add some notes to them for providing accurate data.

Payment Services

You may integrate the in-app purchases feature into your navigation app for monetizing money. If your app turns out to be the most popular among people offering complimentary services and drivers, there are bright chances of signing a partnership deed with them.

Gamification

To attract the users and make them carry out their vivid tasks with complete responsibility, you need to reward them with points or gift vouchers. Create a motivational environment for them within the app to enhance their engagement. Provide the users with extra points for those who are providing valuable information regarding the routes.

Social Media Integration

Integrating social media platforms will boost the visibility of your app. Not only that, it bestows fast authentication and also lessens authentication security risks as most of the possible issues and exposures have already been taken care of. With their pre-existing social media accounts, your users can log in seamlessly.

Rerouting

Through this feature, you can reroute the drivers immediately, if they have taken a wrong turn or if there is any road blockage ahead on that route due to an accident or construction.

Carpool Service

Inspired by the carpool feature of Ola and Uber, Waze too has integrated this feature to its app with the name 'Waze Ryder.' This feature enables the riders to share their rides with other commuters who are traveling in the same direction. Along with sharing the ride, they also share the ride charges. With this feature, you can save time, money as well as save the environment.
GPS Navigation App Development Stages
For building a seamless and robust navigation app like Waze clone app, you need to follow the below-stated steps:
Conduct a thorough research
Select the right tech partner
Fulfill the needs of your targeted users
Add multiple handy features
Integrate gamification feature
Use simple and clean UI/UX Design
Must have voice assistance feature
Ascertain The Cost To Develop Navigation App Like Waze
The GPS navigation app cost depends on various factors like the development agency's hourly rates, total features to be integrated, the project complexity, the platform, and the technical stack. It is better to create a navigation app with MVP first and then upgrade it after it becomes popular.
Wrapping Up
Waze is undoubtedly a great app with highly accurate and fascinating features. You can compete with a Waze-like app only if you have a navigation app with highly advanced features in comparison to the Waze app.
So by now, you have known how to create a GPS navigation app. Once you have formed your app idea, the next step for you is to look for a team of expert developers.
At PeppyOcean you can get budget-friendly navigation app development services. Every single developer and designer at PeppyOcean is experienced and certified, who can develop the best GPS navigation for you. With profound knowledge, adverse app development proficiencies, and great passion to complete your project, we create a feature-rich navigation app for you. You can get in touch with us to know the cost to develop a navigation app like Waze.
You may also like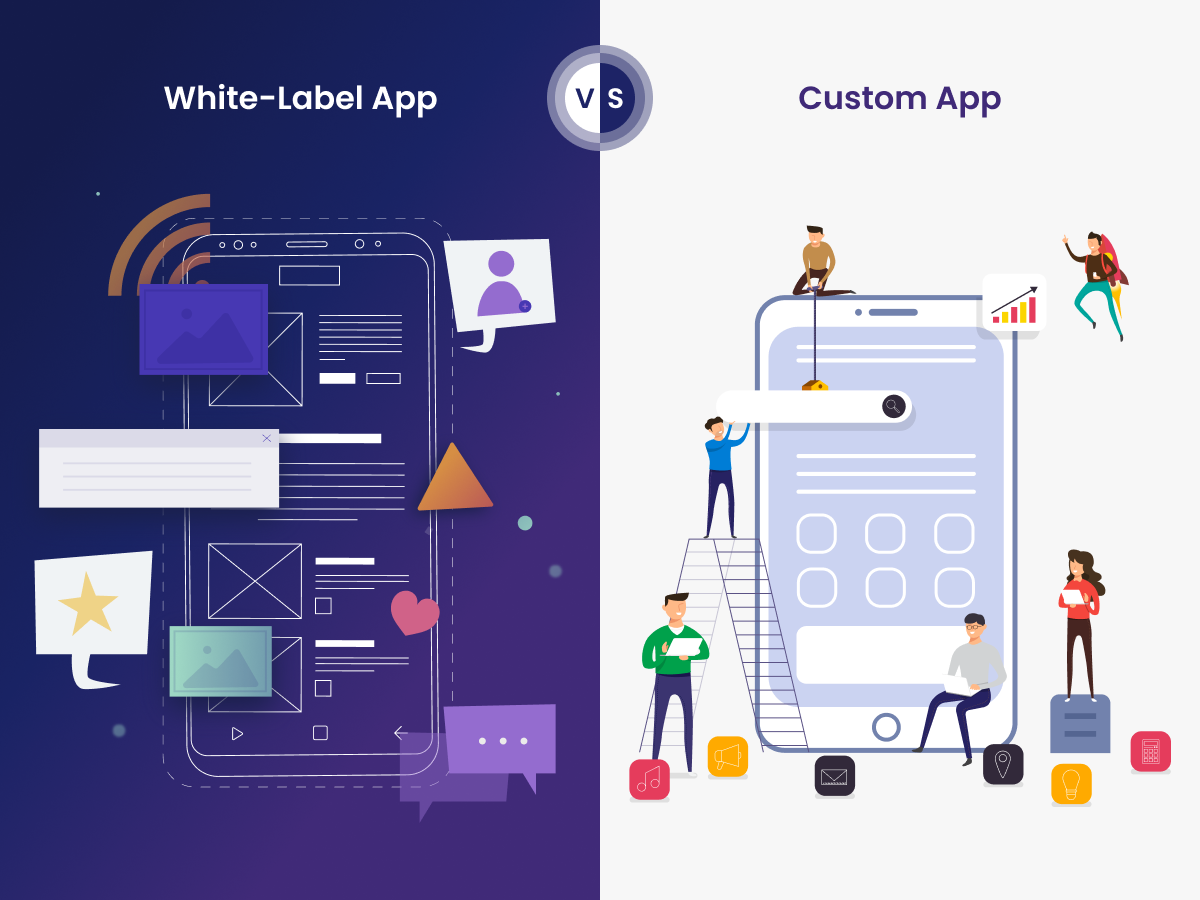 White Label App vs Custom App: Unveiling the Right Choice
Chirag Vaghasiya
In today's fast-paced digital landscape, the choice between white label app and custom app is a pivotal decision that businesses must make when venturing into mobile application development. Both approaches have their distinct advantages and disadvantages, and the path chosen can significantly impact a company's success in the digital realm. Every business has common goals… Read More