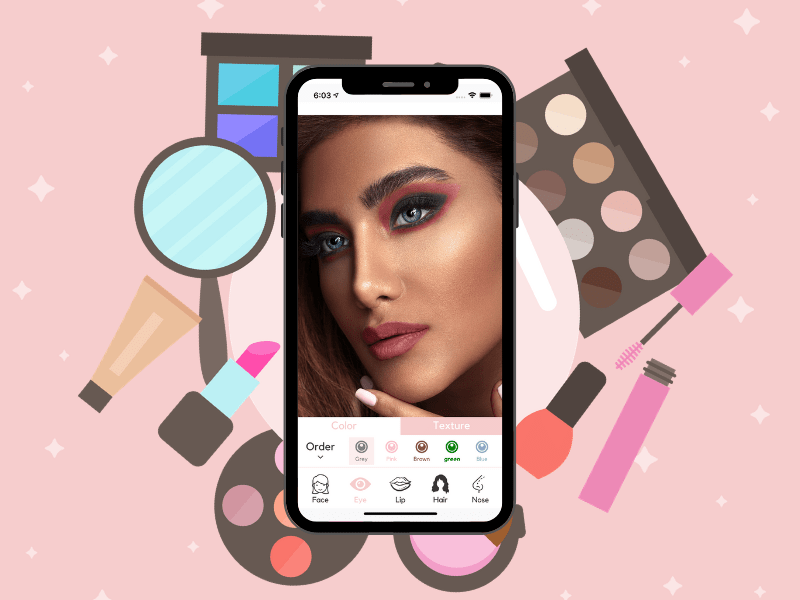 Ankit Patel

April 30, 2021

5 min read
Have you ever wondered that you can do photo editing within minutes? Certainly, no one of us has ever imagined that a photo editing task would be so simple and as easy as pie. All because of the ever-evolving technology, we have plenty of user-friendly virtual makeover apps just like the YouCam clone app. With the help of these apps, you can do editing to your selfies, party pictures or family pictures and make them look more vibrant and cool.
What is a Virtual Makeover App?
On blending interactive AR with mobile camera tech, a unique solution emerged that provided convenience and safety for all beauty lovers. Beauty lovers via this unique solution get a chance to experiment, explore and do the shopping for their beauty products while being in their comfort zone. The solution is no other than virtual makeup apps.
Virtual makeover apps are well-designed beauty camera mobile apps permitting you to try vivid makeup, lip colours, hair colours, accessories and hairstyles via AR. The neural networks of the app are well-trained to identify the hair, lips, eyes or nose and modify them as per your request. Also, the technology of face tracking is used for providing you real-time makeover experience.
With this glam squad, you can also browse the catalogues of different makeup companies, select the lipstick shades or any other products and immediately see which would look nice on you. If you are planning to change the colour of your hair, you can use a virtual makeover app and try different hair colours. This app helps you in nailing the perfect hair colour.
Virtual makeup apps are of two types: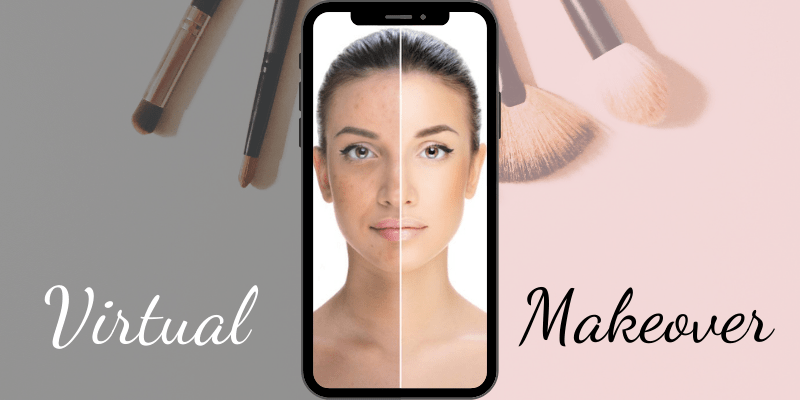 Augmented Reality beauty camera: Such apps focus on engaging the users with video or photo editing and face modification features.
Virtual makeup apps: Through such apps, actual products from various cosmetic companies can be tested in real-time.
Every single person wants to look good and attractive in his selfies or family photos. The desire to look good led to an increase in the demand for beauty apps. This ultimately led to the increased demand for Virtual makeup app development companies.
What is YouCam App?
YouCam is the most popular and the best example of a virtual makeup app. It edits selfies and photos instantly. Loaded with several functionalities, features, basic editing tools, and enhancement tools, you can give your photos a customized look.
Basic editing tools-

Blemish removal
Add lipstick shades
Add highlighters
Retouch
Teeth whitener

Enhancement tools-

Lip reshape
Nose enhancement
Face enhancement
Hair modification
Benefits YouCam App
Helps in editing face with several brightening effects
Plenty of integrated face effects
Image merging feature that boosts the interest of the users
Options for modifying or customizing pictures even during live-streaming
Eye size and other facial features can be resized promptly
User-friendly interface
Option to modify pictures while live-streaming
Swift filter options
Tools to enhance the beauty
Explore different beauty brands with a few taps
AR powered makeup tool
Options for changing the background image
It is impossible to change the face's view in reality. But it is possible to change the view using software like the YouCam clone app. There are millions of users who are using the YouCam app and entertaining themselves with its perks. As per the current scenario, it would be profitable to invest in building the Youcam app like a virtual makeup app. Your app can also be like the YouCam app.
For developing a beauty makeup app similar to the YouCam clone app, you need to have detailed knowledge on what things to consider prior to hiring virtual makeup app development services. Here in this content, you will get to know how to develop a virtual makeup app through which your app users can transform their boring and dull photos into bright and interesting ones in seconds. After that, approach the best virtual makeup app development company and hire its app development services. You need not worry about the cost to develop app like YouCam makeup as it will definitely fit in our budget.
3 Essential Points That Need To Be Considered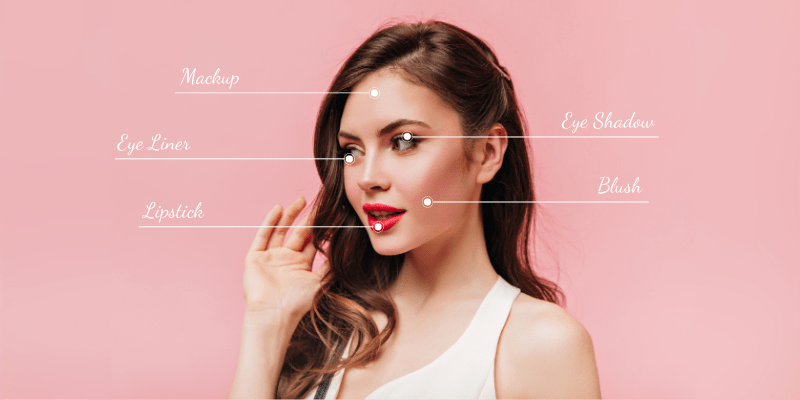 Now, let's discuss the points that you need to take into consideration before developing a virtual makeup app similar to YouCam.
Your virtual makeup app must be capable of addressing the recurring issues of your app users

Having extended its reach into the retailing and e-commerce business, other than just editing selfies, YouCam has gained immense popularity. YouCam recognized what people were accepting from a virtual makeup app and removed all the pain points from their life. Your makeup app should also be like this. Let your app users try different hairstyles, makeup looks, and hair colors. Let them view how they will look in a virtual hairstyle or makeup.

Your app should provide them recommendations as per their past selected options. Make use of the AR algorithms, for providing suggestions to your users as per their skin tones and face shape with a high rate of realism and precision. A virtual makeup app user looks for all these in a makeup app.

Your virtual makeup app must be capable of providing real-time results

Make sure that your app provides virtual makeover results to its users in real-time. With the help of this technology, you get a golden chance to stimulate your users to try on various styles through your virtual makeup app in real-time. When you hire Virtual makeup app development services from certified developers, ensure that they integrate all the tools to your app for virtual hairstyles and makeup in real-time.

If your app provides the same shade options for every user of different skin tones, your app is surely not going to work. Make your app different from others by permitting your users to choose the different shades of lipstick, eye shadow, blush or hair colour as per their skin tones. By doing so, your users can select the right shade.

Your virtual makeup app must provide a bundle of useful options

Let your app bet that one single makeup platform from where your users can get a bundle of virtual makeup options. With a wide range of makeup and filter options, your users can enhance their looks in their photos. Also, through 3D accessories, let your user know how they will look like in those accessories. Provide your beauty users with more ideas relating to their skin, hair colours and skin tone.
Features of Virtual Makeup App Like YouCam
If you really want to develop an app similar to YouCam, then you will have to decide what features should be included in it and how they can be scaled in the future with growing popularity. To get the maximum downloads for your app, your app must have the below-stated features that would distinguish your app from the other beauty makeup apps.
Customized makeup
Accessories
Try-on hair color try in real-time
Facial beautification like big eyes, fluffy cheeks to slimmed-down cheeks
Real-time makeover
AR effects
Face filters
Photo or video editing
Beauty community
Selfie Editor
Skin Analysis
Social channel integration
Blemish Removal
Virtual cosmetics
Beauty Advisors
Should You Really Hire Virtual Makeup App Development Services?
The YouCam clone app is generating amazing profits. So, there is no doubt in concluding how profitable a virtual makeup app can be for you. Also, the cost to develop app like YouCam makeup is more or less the same as other apps; hence you can create one while being within your budget. The future of such types of apps is certainly very bright. You must clinch this opportunity and develop one.
PeppyOcean can provide you complete help in developing a makeup app like YouCam with some extra and unique features. We have experienced professionals having complete knowledge of the latest tools and technologies. To discover the overall cost to develop an app like YouCam makeup, do get in touch with us.
You may also like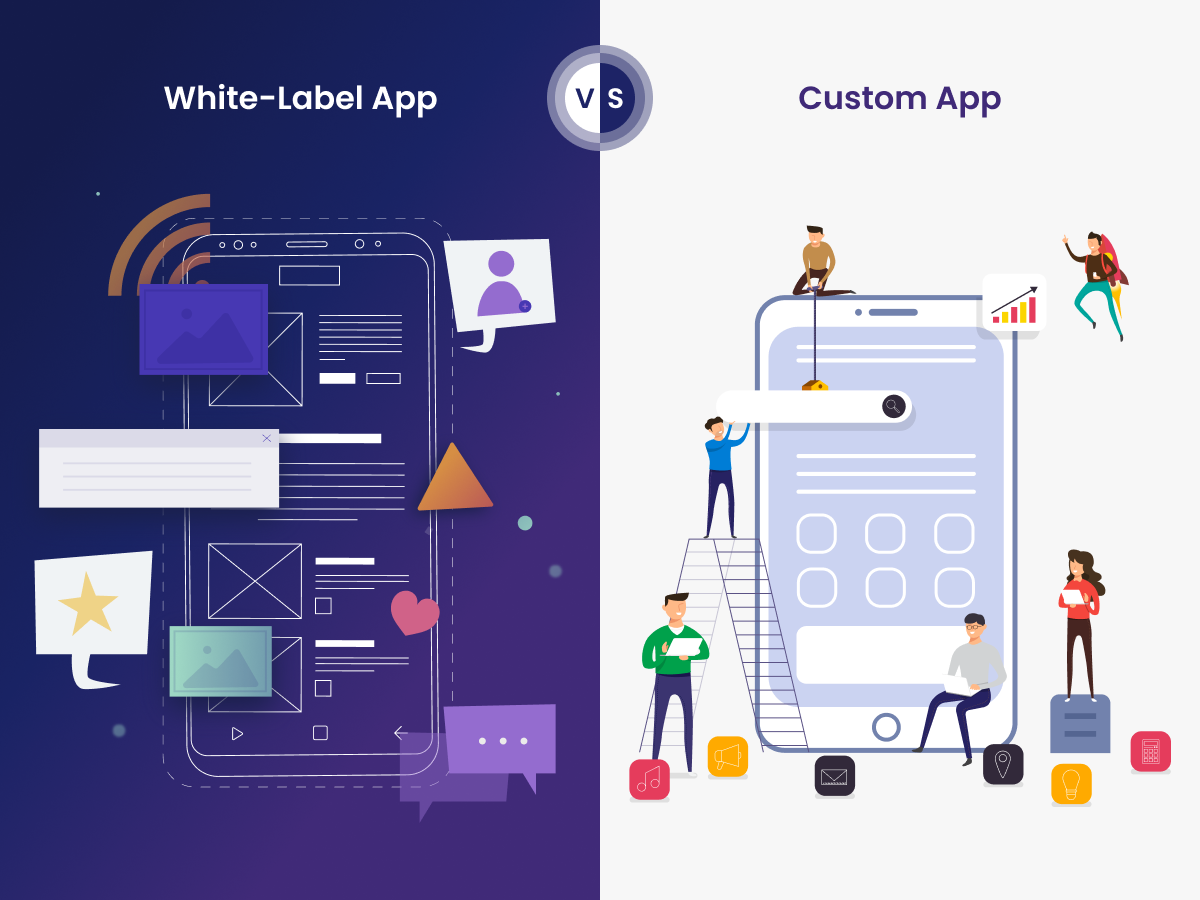 White Label App vs Custom App: Unveiling the Right Choice
Chirag Vaghasiya
In today's fast-paced digital landscape, the choice between white label app and custom app is a pivotal decision that businesses must make when venturing into mobile application development. Both approaches have their distinct advantages and disadvantages, and the path chosen can significantly impact a company's success in the digital realm. Every business has common goals… Read More