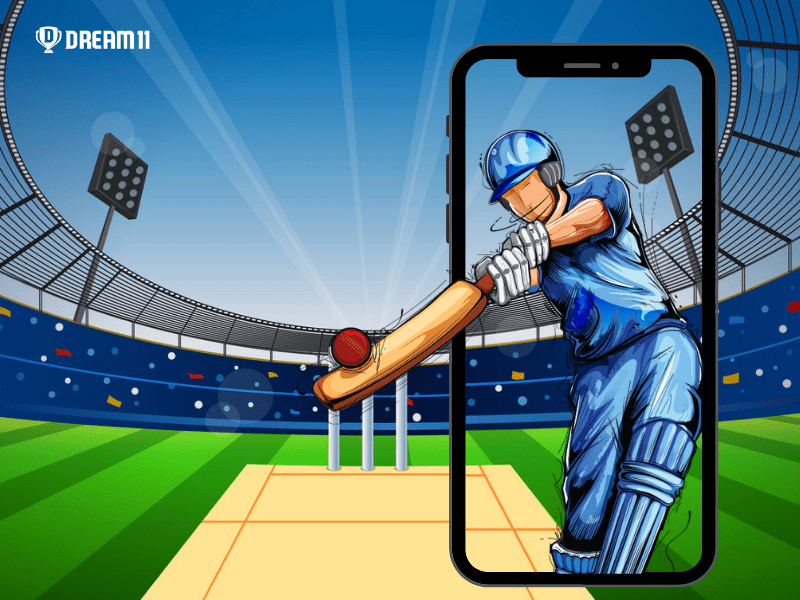 Ankit Patel

April 19, 2021

6 min read
Currently, the sports industry is one of the lucrative industries. Cricket, football, basketball, rugby and various other sports tournaments all over the world have billions of fan bases. Fantasy sports are experiencing a big surge. So far, the players of fantasy sports worldwide are more than 100 million. In the near future, surely the numbers will increase. Considering the immense popularity of sports, startups are now turning towards Fantasy sports app development services to create a marvellous sports app like Dream11 clone app.
Today, there is a bottle-neck competition in the fantasy sports app world. Many regional and international corporations are now taking a huge interest in developing a fantasy sports app and hiring fantasy sports app development services. Hence; it has become a big challenge for the mobile app development services offering companies to develop a robust and unique fantasy sports app.
You must be thinking of developing an out-of-the-box fantasy sports app. Being new to the world of fantasy sports, you might hardly have enough knowledge of it. You have clicked the right blog. From this blog, you can acquire sufficient information on how to develop a successful fantasy sports app like Dream11 clone app? How much will it cost to develop app like Dream11? What essential features should be integrated?
Know About Dream11 Like Fantasy Sports App
Dream11 is India's leading fantasy sports online platform having 10Crore+ registered users. Through this platform, users can play Fantasy Hockey, Cricket, Basketball, Football, Baseball, Hockey, Handball and Kabaddi. Dream11 has a partnership with international and national sports bodies and leagues. Also, it has partnered with more than 20 reputed international and Indian cricketers.
Using a high-speed internet connection, the fantasy sports app users can play their favourite games. Through these platforms, the participants can create real players' virtual or imaginary teams. Then these teams compete with each other as if they were playing the real game.
Points are given to the virtual players on the basis of their performances, which are added further and at the end of the game totalled as per the rules selected by the manager of the fantasy team.
There is a league commissioner who coordinates and manages the entire fantasy sports match. He manually calculates the points accumulated by each virtual player. With the mobile app, the gaming and the point accumulation process become easy.
Its Types
Fantasy sports are of vivid types. Before planning to develop a Dream11 clone app and hiring the Fantasy sports app development services, you must know about different fantasy sports types. Then, plan accordingly whether you want to have all these in your fantasy sports app or only some selected ones.
Daily and weekly
League-based
Draft-based
Scoring-based
Its Workflow
Have a glance at its workflow:

Select the Match – Once login and the OTP verification process is done, users choose their favourite match in which they wish to participate.
Team Formation – As per the team formed in the real game, a virtual team is formed. For example, for playing cricket, a team of 11 players is required. The team can be formed in many ways like offline drafting, serpentine and suction-based.
Captain – The team captain is selected by the users.
Team Division – According to the game's thumb rule, multiple teams are formed by the users. Virtual players get a choice to choose the team as per their choice.
Team Management – The created team can be modified whenever the users want while playing the game.
Reward Distribution – On the basis of their performances, the players are rewarded with points. The highest points scoring team ultimately wins the game.
Steps To Setting Up A Dream11 like Business Model
Team up with outstanding mobile app development services offering company that can create a superior-quality solution for you suiting your requirements. The expert team of that company will create a unique and innovative fantasy sports app for you. Apart from this, there are some other factors that would help you in having a perfect grip over your users and staying firmly in the competitive market.
Handle Data Aptly

While creating a fantasy sports app, you will have to handle innumerable data. Keep updating your app from time to time. Your sports app is more about calculative judgments and user interaction. Hence, ensure that the calculations don't go wrong because of insufficient data. The easier it is to analyze the data, the more popular your app will be.

Popularity Rule of 5 Seconds

If your app succeeds in keeping its users engaged for 5+ seconds, then probably your app has found a place in their smartphones. For this, you must make sure that your app has a simple yet interactive design through which you can attract and have a firm grip over the visitors.

Keep The Newsroom Updated

Keep your fantasy sports app updated with the latest sports news. By doing this you can keep your users engaged more with your app and lessen the bounce rate.

Apart from this, you need to focus on the features that you should integrate into your fantasy sports app. The essential features have been listed further.
Its Essential Features
Features of User Side (Front End)
Under the user registration comes

Registration
Login
Referral
Contest/Tournament Page

Filter
Join contest
Fantasy team creation
Create tournaments
Profile Settings

Edit profile
Reward points
Add cash
Transaction history
Features of Admin Side (Backend Panel)
Admin login
Interactive dashboard
User management
Tournament management
Match management
Category management
Revenue management
Payment management
Rewards management
Cash prizes management
CMS management
Additional Features
Live score
API integration
Push notification
Data analytics
GPS tracker
Email reminders
Other than the above-mentioned features; the following things should be in your fantasy sports app for its seamless functioning:
Domain Name: Strengthen your presence in the online market with an awesome domain name.
Cloud Server: On hosting your sports app, everyone can access it online. Cloud hosting is provided by AWS.
Sports API: The app can have access to match updates and live scores if API has been integrated into it.
SMS Gateway: Through this, players can be notified instantly regarding the contests as well as scores through SMS or emails.
CRM Integration: This will ensure that your app and the 3rd party app are connected seamlessly.
Push Notifications: Helps in sending alerts and messages to users regarding contest timings, upcoming tournaments, and scores.
Payment system: To transfer the won prize money to the account of the user. Payment modes should be available of different types like debit/credit cards, bank transfers, or E-wallet.
Understand Its Revenue Model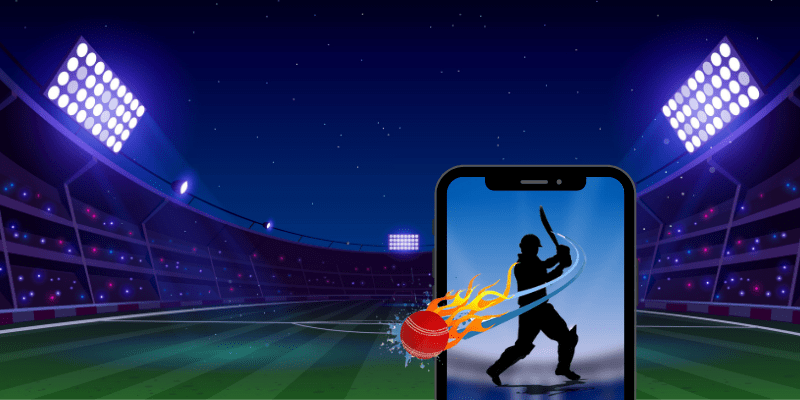 Are you creating an app just to entertain your users? Definitely Not! What is the use of investing so big in any app development when there is no scope of earning money through it? Once you have got your Dream11 clone app developed from a renowned mobile app development services providing company, the below-stated strategies can be utilized for monetizing your app.
Advertisements

The most profitable monetization model for a fantasy sports app is the mobile ads. Disney, Yahoo, and CBS are earning huge revenues through advertising. On displaying the commercial ads inside your app, you get paid from those ad networks. Hence, display as many as ads you can to earn more. But, note that you don't display too many ads; otherwise, the user might get annoyed and uninstall your app.

Merchandise

Sell merchandise and earn a pretty good amount of revenue. You can sell custom t-shirts, caps, or mugs with an imprinted photo of well-known sports players.

Freemium

This model permits the user to install your application for free. Later on, they can make purchases and upgrade their account to have access to advanced features and functionalities. Take the advantage of this model and give your paid users additional benefits like an ad-free gaming experience.

Participation Fees

You can set participating fees for some games and charge from those users who want to participate in that particular game. FanDuel and DraftKings are two famous fantasy sports app that organizes contests. The user who wants to participate in those contests had to pay the participation fees. You can earn maximum revenue from these types of cash-prize matches.
Technology Stack
Below have been mentioned different technologies that are being used by mobile app development services offering companies for managing database, front-end, and back-end functionalities of Dream11 clone app like fantasy sports apps:
Sports API: Cricket API, GoalServe, RapidAPI.com, Entitysports, Cricinfo, Sportsmonks
Real-Time Analytics: Bigdata, Hadoop, Spark, Cisco, IBM, Apache Flink
Swift for iOS App
Java or Kotlin for Android App
Node.JS for Backend & API
React.JS for Frontend
MongoDB for Database
AWS or Google Cloud for Server
Twilio for SMS Gateway
PayPal or Stripe for Payment Gateway (Depends on Availability as per your Country)
Development Team Structure
Project Manager
Android Developer
iOS Developer
Backend Developers 
UI/UX Designer
QA Experts 
Factors Influencing The Cost To Develop App Like Dream11
App design
Android/iOS platform or both
Features and functionalities
Team size
Development team's hourly rate
Project complexity and size
Technology stack
Hope you have acquired enough information on how to create an outstanding and flawless fantasy sports app and how much will be the cost to develop app like Dream11. Now, it's time to find one of the best and highly reputable app development companies that offer the best Fantasy sports app development services.
At PeppyOcean your search ends. We will help you in transforming your idea into reality and develop a feature-rich fantasy sports app just like Dream11 clone app right from the scratch.
You may also like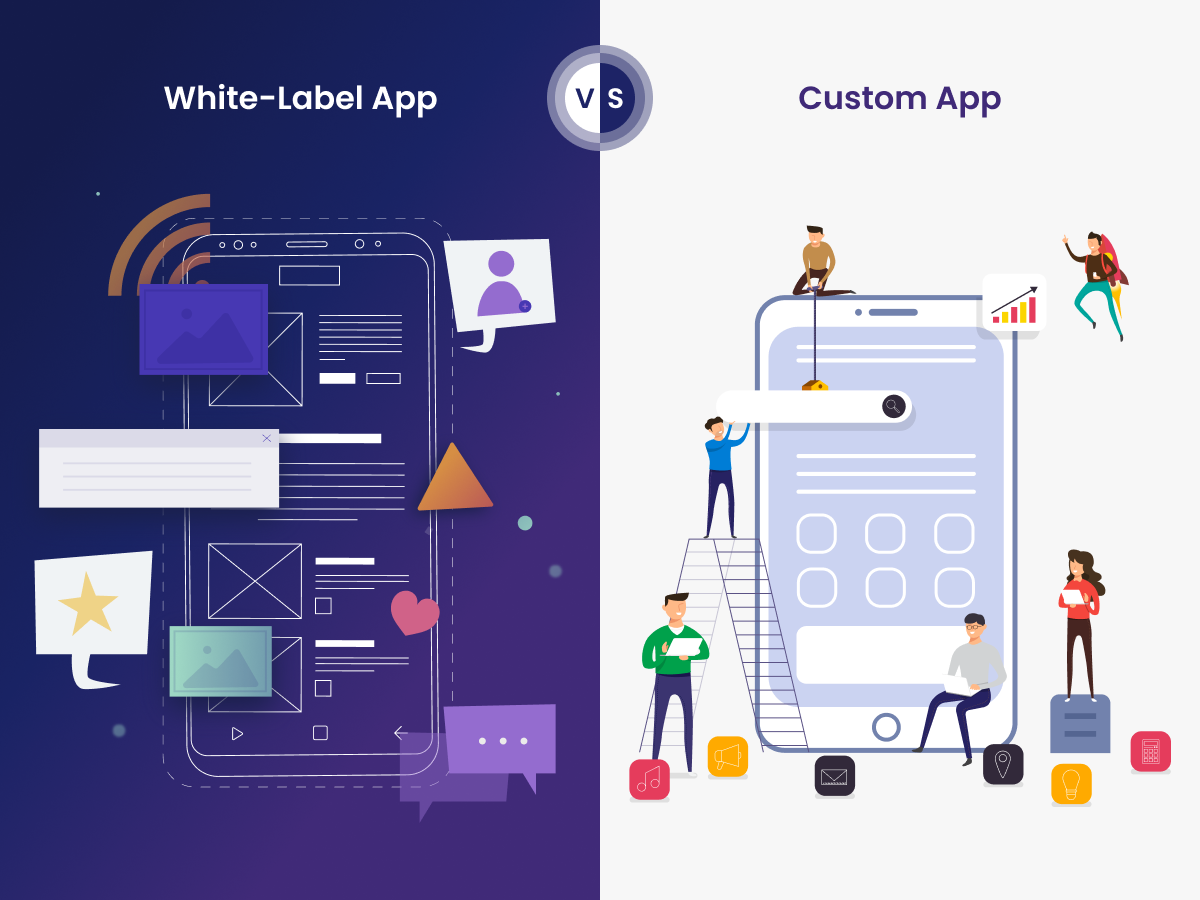 White Label App vs Custom App: Unveiling the Right Choice
Chirag Vaghasiya
In today's fast-paced digital landscape, the choice between white label app and custom app is a pivotal decision that businesses must make when venturing into mobile application development. Both approaches have their distinct advantages and disadvantages, and the path chosen can significantly impact a company's success in the digital realm. Every business has common goals… Read More