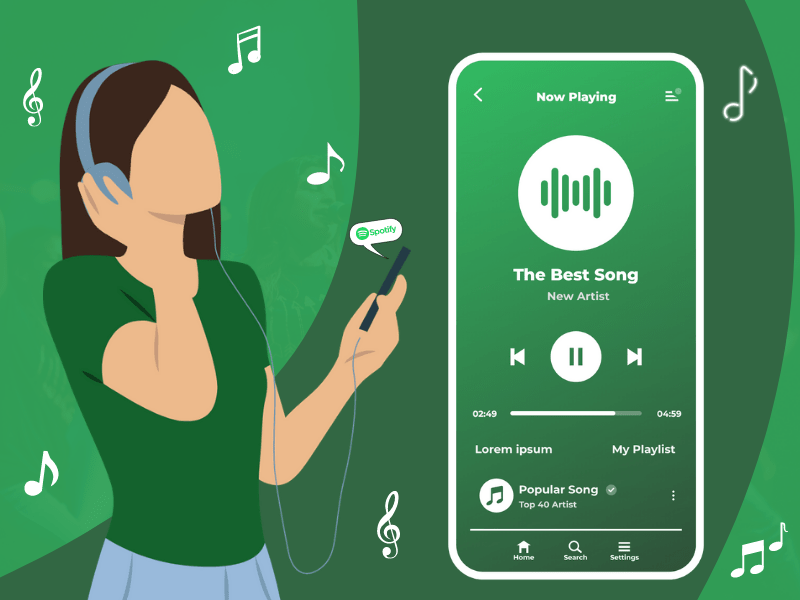 Ankit Patel

April 05, 2021

5 min read
Just imagine a party, workouts, or long drives without music! Sounds very odd, isn't it? There is no such thing that is complete and entertaining without music. Music is today the most essential part of our life. Every single person loves to listen to music while driving, partying, or relaxing. Earlier, to listen to their favorite song, people used to use iPods, mp3 players, tape recorders and several other song storage devices. Modern technologies have altered the manner in which we used to listen to music.
In the busy schedule you live in, you hardly find time to view the entire music tracks' list and download or purchase your favorite ones. Don't forget that we all are the inhabitants of this digital era. Today, the entire music world is right in our palms. With a high-speed internet connection, a smartphone and music streaming apps like Spotify, Gaana and Pandora, you can listen to your favorite music tracks with a few clicks.
As the demand and the popularity of music streaming apps are growing tremendously, there is a huge demand for the music app development company. People are hiring their music streaming app development services for getting a music app developed. It is very profitable to release your own music streaming app like the Spotify clone app, and for this, you must know about the basics of a music streaming app and the factors that adversely affect the development cost to develop a music app.
In this article you will get to have complete knowledge of how to create a Spotify like music app.
Things To Consider While Creating A Seamless & Successful Spotify Like Music App
Create A Framework For Your Idea


Prior to hiring the music streaming app development services, jot down your idea, like how you want your app to be and how you will get it run on the devices of your users. Perform thorough research and go through popular music apps. Learn from their success and prepare a list of features they have integrated. Analyze their strategies and figure out what makes them different from others. By doing this, you can realize your project goals effortlessly.

Identify Your Potential Audience


After detailed research on the popular audio streaming apps like Spotify clone app, Pandora, Gaana, etc. now you will have to identify your target audience. Learn everything about their location, music, preferences, gender, age and other necessary information. For example, for young audiences, you will have to provide them with the latest, rap, jazz or energetic music. While for adult audiences old songs collection would be the best. Also, you will have to know how much your users can pay so that it becomes easy for you to set the prices for the purchased songs.

Copyright and Legality


Everyone wants their talents and services to get paid, but no one will want their talents and services to get stolen and sold on the market by some other name or brand. The same thing is applicable to the artists of the music world. While creating an app like Spotify clone app, ensure the music content you are using is legal. You will have to pay the agreed share out of the revenues earned to the rightsholders. Also, there are many more factors that you need to consider while creating a music app in the context of copyright like the country owning the music track and the ratings earned by the music track.

Design


The design of an engaging music streaming app must be:

On hiring the music streaming app development services of any reputable music app development company, ensure that the UI/UX designer team holds an ample degree of expertise at prototyping and designing an impeccable design for your app. By prototyping a superior product can be developed. Through a prototyping method, beta-testing can be conducted and the design can be finalized.
How To Ascertain The Cost To Develop A Music App?
After knowing what you need to consider before developing a music streaming app, you should know about the factors that would affect the cost to develop a music app like Spotify.
Features

The features that you would integrate into your app affect the development cost of your app directly. The more advanced features you add, the more will be the cost to develop a music app. While sorting out and deciding the final features, it is better to divide the features into:

MVP – Stands for must-have features. These features are basic features satisfying the basic needs of the users. They are must for flawless functionality of the app.
Advanced – Advanced features are those extra features that make your app stand out of the crowd. These should be integrated into the app after your app achieves a certain degree of success post launch.
MVP Features

Registration – Should be easy, user-friendly and fast enabling the users to get access to music tracks immediately. Registrations can be done via email, phone number or via social credentials.
Search – Search bar to let the users search for their favorite songs by entering title, artist, recording studio, album or genre.
Music player – A must feature without which a music streaming app is incomplete. This permits your users to listen to their songs in the background, even when they are using their phone.
Playlist – Let your app users create a playlist where they can add their favorite songs. In Spotify you can create three playlists: Albums, Artist and the last one a customized one.
Play offline – Through this feature you permit your users to download the songs and play them offline.
In-app purchase – For monetization, this is a very good feature. For selling monthly subscriptions, you should have this integrated with your app.
Settings – For making your music app more accessible, you must enable your users to change the app settings. Say, for instance, the automatic download function can be added or easily sync of the app for various gadgets.
Advanced Features

Social Sharing – Promotion leads to success. This feature will make your app a successful one. It lets your listeners share their playlists, favorite tracks or songs via Instagram, WhatsApp or Facebook.
Recommendations – An awesome way to get connected with your listeners. It recommends the songs to the users on the basis of their previous searches.
Push Notification – Amaze your users through amazing discounts, offers, newly added music tracks, albums and many more. Through it, keep your users updated.
In-app messages – A good way to interact with your listeners. Send private messages to your users within the app and build a strong relationship with them.
Ad-free Experience – A part of the premium plan where your users can pay a certain amount and block unwanted ads. This renders a seamless ad-free music listening experience to your users.
Select The Team Of Developers
Once the necessary research has been done along with obtaining the license, now you will have to hire a team of developers who can offer the best music streaming app development services. Do not settle with that music app development company that offers its services at cheap rates. Experienced developers are never available at cheap rates. On choosing the wrong development company, your hard work, your research and your idea would all go in vain.
The team members that you would require for getting your own music streaming app like Spotify clone app developed have been listed here:
Project Manager
Business Analyst
UX/UI designer
Front-end & Back-end developer
iOS developers
Android developers
QA engineer
Tech Stack
Swift for iOS App
Java or Kotlin for Android App
Node.JS for Backend & API
React.JS for Frontend
MongoDB for Database
AWS or Google Cloud for Server
Twilio for SMS Gateway
PayPal or Stripe for Payment Gateway (Depends on Availability as per your Country)
Platform
Out of the two platforms – Android and iOS, it is all up to you which platform you would like to choose. For staying competitive, you must choose both platforms. Though the cost to develop a music app for both platforms will be a bit more, but you can make your app reach millions of music lovers.
If your budget is limited, then choose one as per the location and preferences of your targeted audience. In the USA, people use iOS devices and Android devices are used the most in the European and Asian countries.
Conclusion
Music streaming apps are an inexpensive and easily accessible medium to listen to favorite songs whenever one wants. Follow the above-mentioned points and be the owner of unbeaten music streaming app like Spotify.
PeppyOcean, ranked as the best music app development company holds years of experience in offering supreme music streaming app development services to enterprises and startups. Leveraging the latest technologies, we develop advanced solutions as per the project requirements of our clients.
You may also like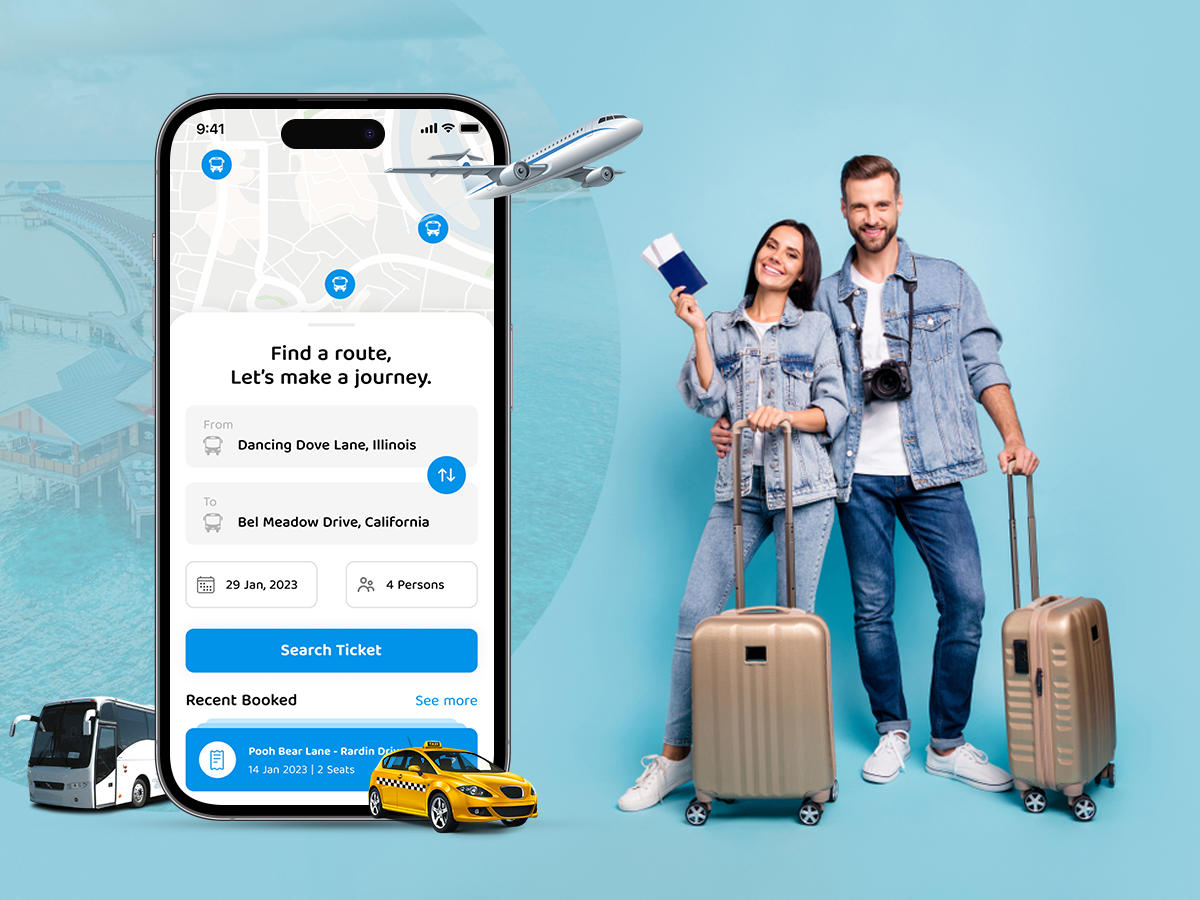 A Definitive Guide to Travel Booking App Development
Ashka Panchal
Globally more and more travelers are opting for convenient and efficient digital solutions. As the world is moving towards a post-pandemic reality, travelers seek seamless travel experiences at their fingertips, making a massive surge in the travel app industry. To meet this demand, developers have the opportunity to create impactful travel booking apps that will… Read More