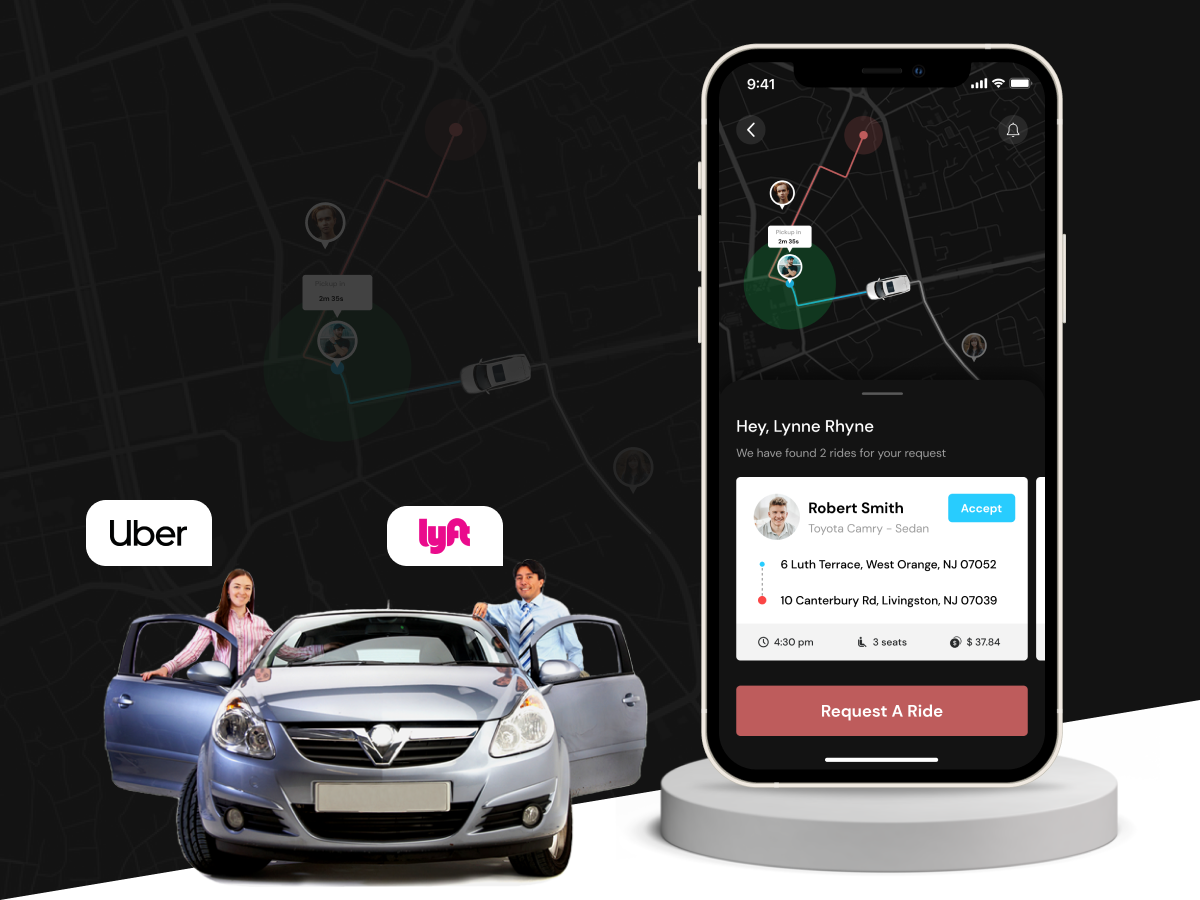 Ashka Panchal

October 17, 2023

6 min read
We live in an age of an on-demand economy where we can order a ride from anywhere at any time with just a few taps on our phones. Thanks to the technological advancements of companies like Uber and Lyft, the transportation industry has undergone a major transformation in recent years.
With millions of users and drivers, Uber and Lyft have become household names across the world. The convenience of hailing a ride and paying seamlessly through mobile devices has made these apps incredibly popular. In fact, it has also inspired a number of entrepreneurs to go for carpooling app development, offering new ways to address local transportation issues.
As a budding entrepreneur or investor looking to create an on-demand ride-sharing app, you may wonder, what's the cost involved in building an app like Uber or Lyft? In this blog, we will discuss the different components that impact the cost of developing carpooling app.
So, fasten your seatbelts and get ready to explore the exciting world of ride-sharing app development. Your journey to crafting the next Uber or Lyft clone begins here.
Why You Should Develop a Ride-sharing App Like Uber or Lyft for Your Taxi Business?
Here are some key statistics that demonstrate the benefits of developing a ride-sharing app for your taxi business:
According to a Bloomberg report, the global ride-sharing market is expected to reach $205.83 billion by 2030.
In 2022, Uber had a 25% share of the worldwide ride-sharing market while its closest rival, Lyft, had an 8% share.
In 2022, there were over 3 billion ride-sharing trips completed worldwide.
In the first quarter of 2023, Uber made $31.41 billion in gross bookings worldwide.
By early 2023, Uber had reached a monthly user base of 130 million.
Benefits of Developing a Ride-Hailing App for Your Business
If you are serious about growing your taxi business in the USA, Canada, UK, Australia, UAE, or Saudi Arabia, creating a ride-hailing application is a wise investment.
• Easy Management
In a ride-hailing and taxi business, handling your entire fleet without taxi dispatch software can be much harder than it looks. But with a single application, it becomes a breeze. Just think about how you currently manage your fleet without an app. It might involve lots of phone calls, confusion, chaos, and problems. In situations like this, a lot of time is wasted on pointless talking. That's why creating a Lyft clone for your business is a smart move.
• Tracking Made Simple
To make your services even more appealing, it's a good idea to add tracking technology when you build an Uber clone app. This technology lets you keep an eye on the drivers and rides through GPS, ensuring everyone's safety.
• Higher Profits with Low Investment
If you build a basic taxi app, there are many opportunities to grow your business. You can expand your network without buying more vehicles. All you have to do is create a clone of the Uber or Lyft app, and the drivers who join will use their own cars. You will make money through commissions. This means you can increase your income with minimal upfront costs.
Also check: 11 Best Ridesharing Apps to Consider While Building a Taxi App
Essential Features to Include in Ride-Sharing App
Building a successful ride-sharing app involves incorporating various essential features to meet the needs of both drivers and passengers while ensuring a seamless and safe user experience. Here are some key features to include in a taxi app.
| Features | Customer App | Driver App | Admin Panel |
| --- | --- | --- | --- |
| Registration | Create and manage a rider profile | Register and verify driver information | Admin dashboard for user & driver management |
| Ride Booking | Request and schedule rides | Accept or decline ride requests | Access to ride and user data |
| Ride-Tracking | Real-time GPS tracking of assigned driver | Real-time GPS tracking of rider | Monitor rides, driver activity, and earnings |
| Payment Options | Secure payment methods (credit card, PayPal, etc.) | View earnings and payment history | Manage payment processing and disputes |
| Pricing Estimation | Estimate fare before booking | View fare details and ride history | Set pricing algorithms and surge pricing |
| Ride-History | View past trip details and receipts | Access ride history and earnings | Generate reports and analytics on app usage |
| Push Notifications | Receive real-time updates on ride status | Get ride requests and updates | Send notifications, alerts, and announcements |
| Safety Features | Access emergency services and supportc | Safety toolkit and panic button | Monitor safety-related incidents and reports |
| In-App Call/Chat | Communicate with the driver via in-app calls/chat | Communicate with the rider via in-app calls/chat | Admin support for resolving issues and inquiries |
| Feedback & Ratings | Provide feedback and rate trips | View rider ratings and feedback | Manage ratings, reviews, and driver performance |
Factors Impacting the Cost of Ride-Sharing App Development
When considering on demand taxi app development akin to Uber or Lyft, it's essential to take various factors into account. These factors influence the overall cost of bringing your ride-hailing vision to life. Let's delve into the crucial aspects that significantly affect the budget of your carpooling app development journey.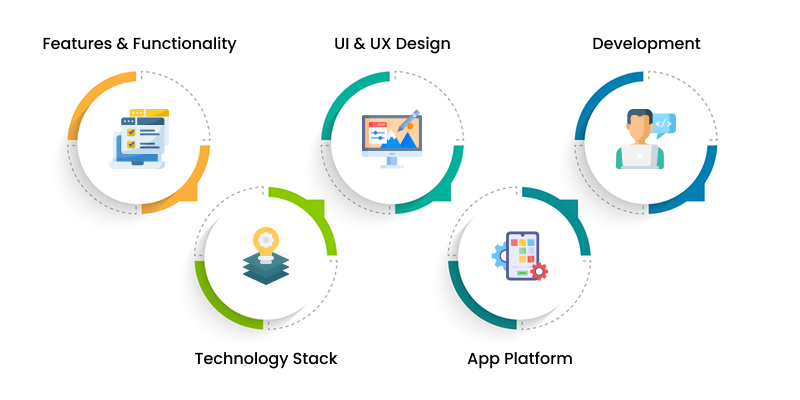 • Features and Functionality
The features you choose for your app will be a major determinant of the overall cost. Opting for basic functionalities will result in a more cost-effective solution. However, integrating advanced features such as speed limit alerts, real-time ID checks, cutting-edge heat maps, and AI-based capabilities, will increase development expenses.
• Technology Stack
The choice of technology is pivotal in shaping the cost of ride-sharing app development. Utilizing advanced and modern technology will inevitably escalate the project's cost. Nonetheless, staying updated with the latest tech trends is crucial to stay competitive in the market.
• UI & UX Design
Creating an appealing and user-friendly interface is vital for attracting and retaining users. Factors like intuitive icons, customizable options, timely push notifications, and other user-centric elements contribute to an exceptional user experience. Investing in an eye-catching and user-friendly design may result in higher development costs due to increased working hours.
• App Platform
Deciding whether to develop a native or hybrid app and choosing between Android and iOS platforms, will impact the overall ride-sharing app development cost. Each option comes with its own set of cost considerations, and your choice should align with your target audience and business goals.
• Complexity
The more complex your mobile application is, the higher the development cost will be.
• Development Company & Location
The expertise of the development company you choose and its geographical location play a significant role in determining expenses. Developing your app in regions like India, known for cost-effective development services, can be more budget-friendly compared to working with companies in the US or other higher-cost regions.
Also check: Cost to Develop Ride Sharing App Like Grab Clone
How Much Does it Cost to Develop an App Like Lyft or Uber?
In the world of mobile app development, one thing to remember is that there's no fixed price tag. The cost of building an app like Lyft or Uber depends on what you want. If you dream of advanced features and a top-notch UI/UX, it will cost more.
However, to give you a rough idea, creating an app similar to Uber or Lyft can range from $20,000 to $60,000 or more, considering an average hourly rate of $25. However, this is just an estimate. The final cost depends on your specific needs.
Hence, it is always a good idea to consult a prominent on-demand app development company with your requirements to get a better idea.

How Do Apps Like Uber and Lyft Make Money?
You might be curious about how Uber and Lyft make so much money. Let's uncover their secrets!
• Surge Pricing Mechanism
One of the primary ways ride-sharing apps like Uber and Lyft make money is through their surge pricing model. When demand spikes in a particular area, these platforms instantly raise the per-mile cost. Additionally, external factors such as adverse weather conditions can trigger price surges as well.
• Commission Based Revenue
Uber and Lyft take a portion of the money from each ride. This is usually around 20% to 30% of the total fare. Drivers get the rest of the money. As more people use these apps, they make more money from these commissions.
• Subscription Services
Both companies offer special subscriptions where you pay a monthly or yearly fee. In return, you get benefits like cheaper rides or avoiding high prices during busy times. These subscriptions create a steady income for Uber and Lyft.
• Advertising
Uber and Lyft sell advertising space on their apps and websites.
Wrapping up
The on-demand ride-sharing apps like Uber and Lyft have taken the world by storm. These apps have made it easier for people to travel within the city by offering convenient, comfortable, and affordable rides at any time of the day. With such a tremendous demand for ride-sharing services, it's no surprise that many businesses are now trying to develop their own apps like Lyft or Uber clone. Would you like to make a carpooling app for your transportation business? If you are not sure where to start, contact us to get the estimate and take your business to new heights.
You may also like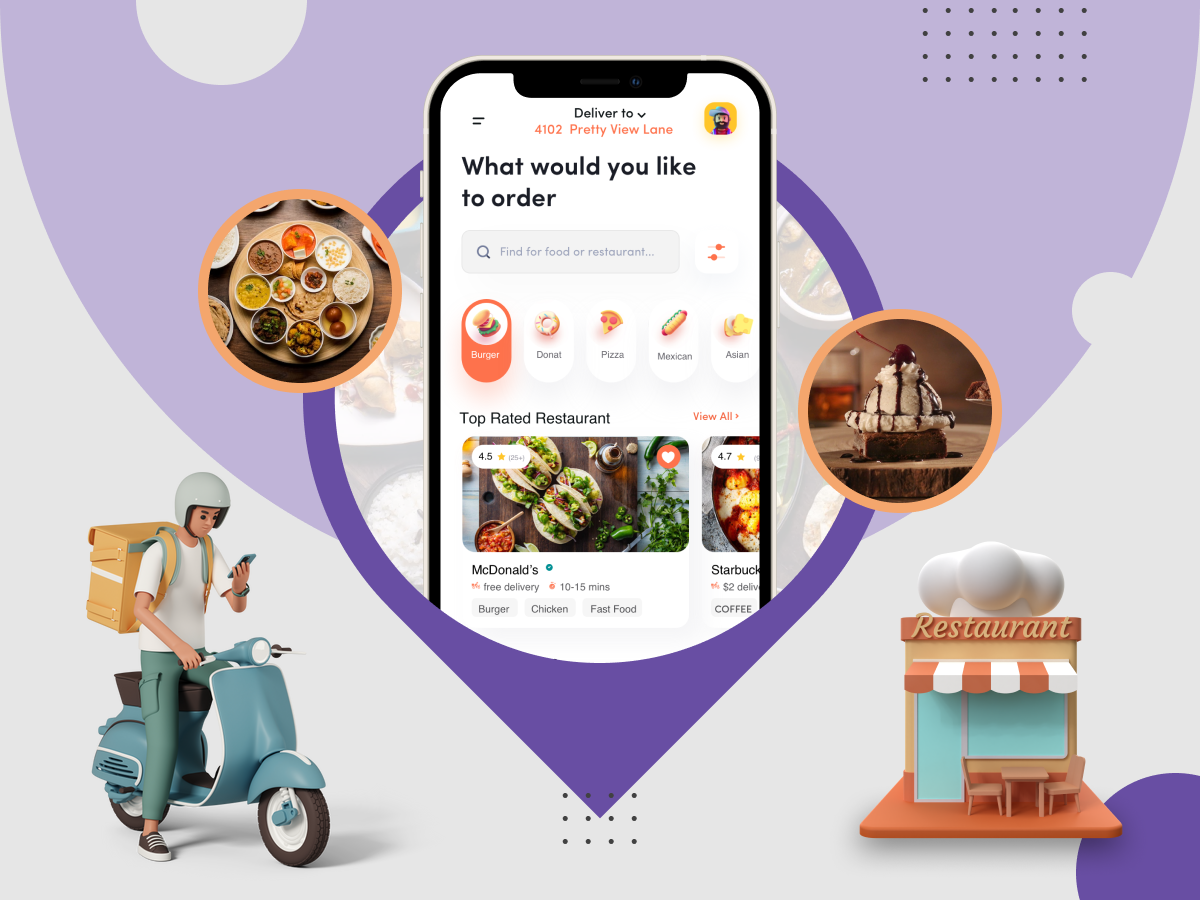 Top 11 Mobile App Ideas For Restaurant and Food Businesses
Chirag Vaghasiya
In today's digital age, mobile apps have become an indispensable tool for businesses of all sizes, and the restaurant and food industry is no exception. A well-designed and implemented mobile application can provide a range of benefits for restaurants, including increased customer engagement, streamlined operations, expanded reach, enhanced customer data, and ultimately, increased revenue. Restaurant… Read More