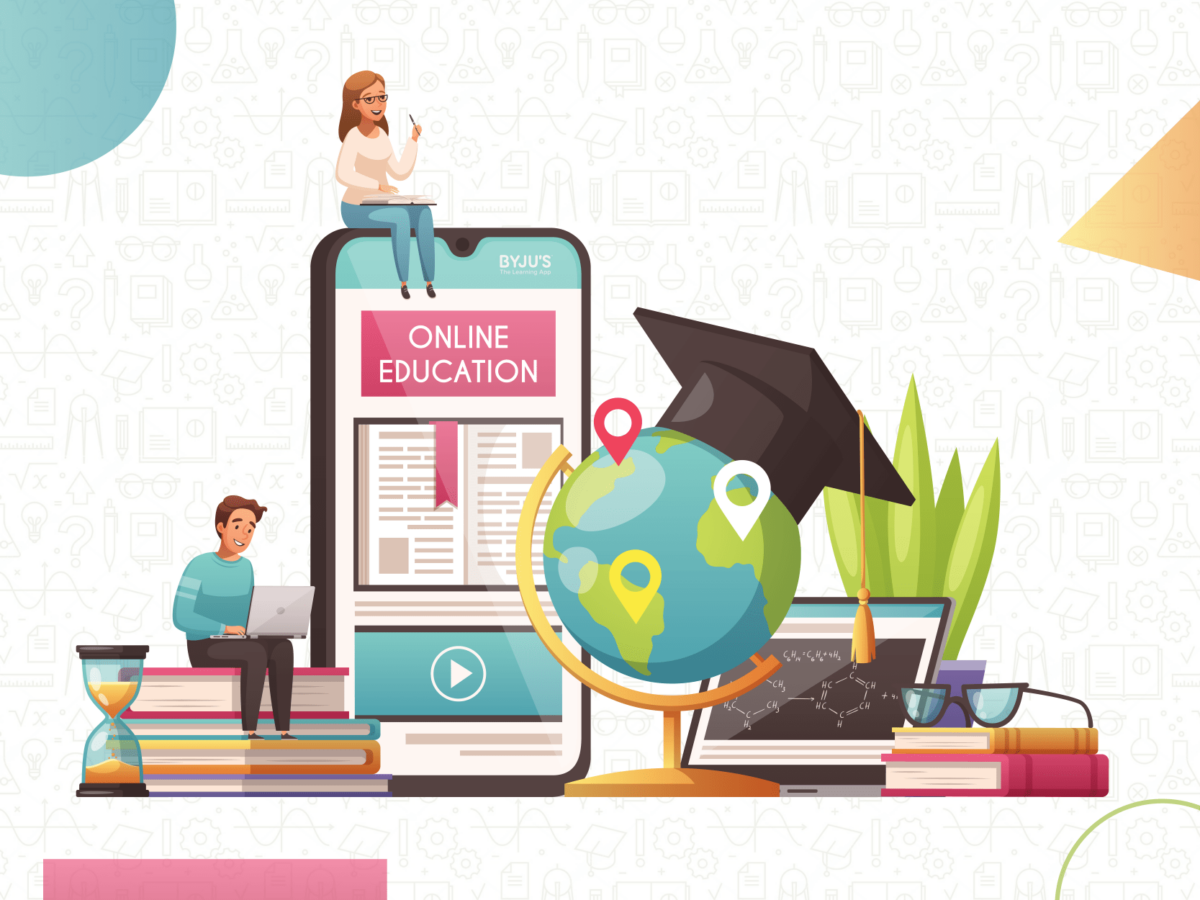 Ankit Patel

February 11, 2022

6 min read
The impact of smartphone technology is having a greater impact on education than ever before.
Covid19 had severely impacted the Education industry. Since the beginning of the pandemic, classrooms have been supplanted by smartphones. To continue teaching their students, every educational institution began to use E-Learning apps. Students also found it more convenient and helpful. Now With widespread E-Learning adoption and strong demand for online education, building educational apps has become a need of the current generation.
E-Learning marketplace has become more advance and popular due to this covid pandemic. According to Global Market insights the E-Learning Market was valued at over USD 250 billion in 2020, and it is expected to increase at a compound annual growth rate (CAGR) of over 21% between 2021 and 2027. New technologies like Artificial Intelligence, Virtual Reality, and cloud-based learning management systems (LMS) have been introduced which had simplified education at a huge scale. Let's discuss the BYJU'S app and how it had gained immense popularity in the eLearning marketplace.
● What is BYJU'S – Learning app
One of India's top academicians developed BYJU'S mobile learning application. A high-quality approach to communication and interactive learning has consistently positioned it among the top online education apps in India. Using visuals and clever tactics, BYJU'S app has content for practically every subject.
BYJU'S online education platform allows students to subscribe to courses based on their age groupings. It has a lot of essential characteristics that have greatly benefited students.
With over 15 million registered students Globally, 900,000 paying subscribers, and more than 2.2 Billion in funding, BYJU'S is the world's most valued ed-tech company.
● Future of E-Learning Platforms
Everything has been changed by technology, and education is no exception. The entire landscape of education has changed dramatically as a result of E-Learning. Human intervention has reduced up to a great extent due to the E-Learning approach. They can simply access the internet to know about any topic. Both students and teachers have benefited from the advent of eLearning.
As the number of people who own smartphones increases around the world, E-Learning becomes more viable and accessible. Internet broadband speeds are improving, which opens the door to additional multimedia training approaches.
In the previous few years, mobile networks had improved a lot through which people from less developed areas are also getting the opportunity to access the internet. Social media has played a big role in making the eLearning concept a success around the world. It is constantly transforming the education sector for the best. So, we can say that the E-Learning platform is the biggest reform that has ever occurred in the education system. So much is yet to come.
Know more: Guide to Develop An eBook App Like Kindle
● BYJU'S Business Model
BYJU'S is an E-Learning platform founded by BYJU'S Raveendran. It was created by Think and Learn Pvt Ltd in 2011. The platform lets professors teach students how to use the app to come up with original academic ideas and comprehend them much better than regular classroom instruction. They mainly focus on mathematics and science. In addition to being subscription-based, BYJU'S Business and Revenue model helps students achieve their academic goals in general.
From the very starting, the target audience of BYJU'S was clear. It basically targets students who study for their competitive exams. BYJU'S provides courses for all, whether it's for a first-grader or a student attempting to pass a competitive exam like the IAS or the CAT. It covers all important and popular exams like JEE, BITS, and NEET.
● Features of BYJU'S App
An E-Learning app can be made by adding any of the features which you think can help students in grasping the knowledge efficiently. The BYJU'S app is made with four different panels: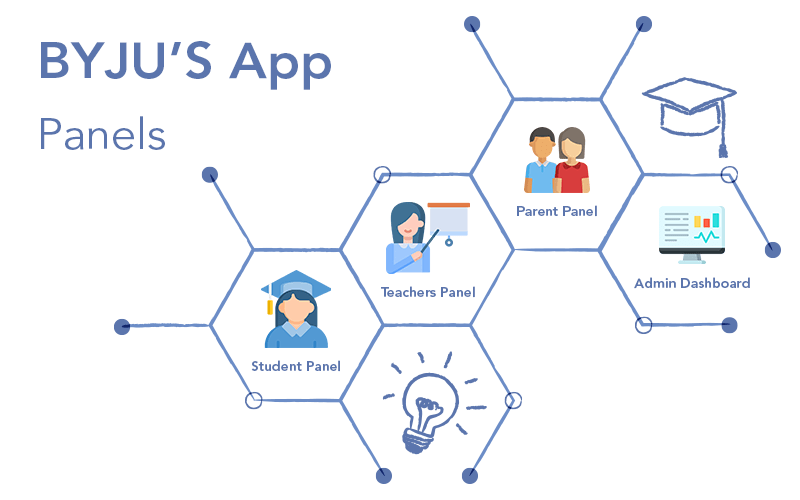 Student panel
Teachers panel
Parent Panel
Admin Dashboard
| Student Panel | Teachers Panel | Parent Panel | Admin Dashboard |
| --- | --- | --- | --- |
| Registration | Log In | User management | Login |
| Video/text chatting | View questions/answers | Location support | Profile check |
| Subscription | Statistics | Subscription control | Notifications |
| Filter search | Account setting | Transaction history | Admin announcements |
| Downloads | Password setting | Statistics | Connect students |
| Live classes | Video/text chatting | Subjects management | Student exam reports |
| Online exam | Profile check | Promotional offer management | Payment management |
| Quiz option | – | Managing customer complain | Contact teachers/admin |
| Profile check | – | – | – |
| Course listings | – | – | – |
| Purchase history | – | – | – |
| Help or support | – | – | – |
Apart from the above-mentioned features, you can also add advanced and external features to your eLearning app to make it look more unique and useful. You can add features like attendance, gamification, connect parents, data analytics, live chatting, screen sharing, Recording, in-app video calling, In-app wallet, daily quiz, CMS, and many more that can be integrated into apps. It's up to you which features you want to implement in the app and which ones you would like to avoid.
● Things to Consider While Developing App like BYJU'S
If you're new to app development, you're likely to be perplexed about how to get it done quickly and efficiently. Following a systematic and intelligent approach, on the other hand, can help you achieve it with less effort.
You should keep a few things in mind before starting an eLearning app business. Below you will find some tips that can help you build your eLearning platform.
Choose an interesting Niche
When you've developed a product strategy, make sure you envision the ultimate product's future in terms of promotion, branding, complexity, connectivity, time, and pricing. If you choose an E-learning software that has a variety of features, availability of many courses, as well as is highly challenging, make sure to make it unique by integrating AI as it assists students in solving difficult problems. It is also beneficial for students who wish to learn new languages.
Conducting extensive research before coming to any conclusion can help you to stand out from the competition.
Find out your target market
The E-learning industry is very big, and it is important to know who your target audience is before you start designing an app and design it accordingly. This is the most important step which should be considered before building an e-learning app. You must select if you want to create an app for school pupils or for people studying for admission exams. You can choose anyone or can also go with both. It depends on your reach and budget. Through this, you will be able to create the finest app for your target demographic.
Hire an experienced development team
Then comes the step of hiring an e-Learning app development team who will build the app according to your business requirement. To build an app like Buyju's, you'll need the following team of experts.
Project Manager
Delivery Manager
UX/UI Designers
Backend Developers
Frontend developers
Android Developers
iOS developers
QA Engineer
Choose the App Platform
It is the most important decision which you must make as it has a direct impact on your budget. You have the option of using an iOS or Android app or a cross-platform app. If you're just going to use one platform, iOS could be an excellent place to start because as compared to Android, iOS users spend more for using an app and if you want to build the app's MVP, this is a critical decision. The chances of success are high here because testing will be limited to a few device kinds.
Technology Stack
Once you've decided on the fundamentals for your eLearning software. To make an e-learning app like Byju's run smoothly you must decide the technology stacks which you want to use in the app development process. You must employ a development team for your project in order to avoid any issues with the app's functionality. Here's a quick rundown of the technologies utilized to develop an E-Learning app like Byju's:
Swift for iOS/ Flutter / React Native
Java for Android/ Flutter / React Native
Node.JS/Express.JS for Backend & API
React.JS for Front-end
MongoDB for Database
AWS for Server
Advertising
Marketing is the last step that comes, and it is important for the success of the app. It is critical to promote the app on various platforms once it has been produced in order to make it visible to consumers. Users must be aware of the product that you have published then only people will get to know that a new app has come into the market. So, to obtain the most users, advertise your software effectively.
● Cost to Develop E-Learning App like Byju's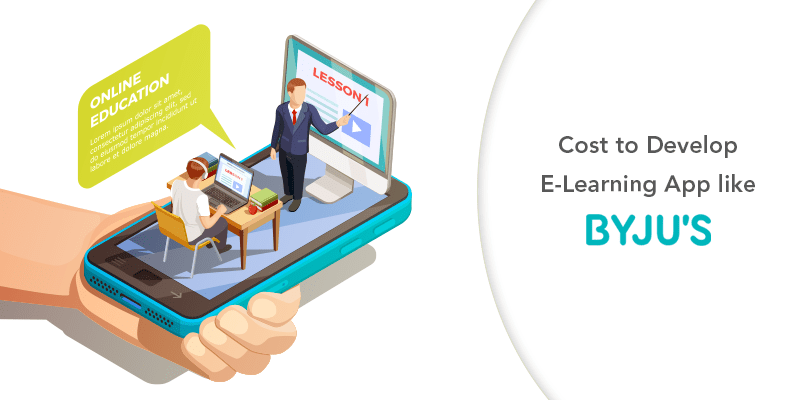 The cost to develop an app like Byjus is not fixed because it depends on the customized requirements of your business and the E-Learning app development company which you choose for the development. The cost of establishing an E-learning app is determined by a variety of criteria like:
App's complexity
Number of features & functionalities
Technology to be integrated
The number of third-party APIs that will be used.
From a cost perspective, If you would like to develop an E-Learning app like BYJU's then there are two options:
You can go for development from scratch and it will cost you around 25,000$ (cost may vary based on your requirements).
If you have a tight budget then you can go for a readymade app like BYJU'S or BYJU'S clone app which is available in the market and it will cost you around $10,000.
Apart from this, the developer or company location plays a vital role when it comes to determining mobile app development costs. Here is the cost of different regions that charge differently:
It will cost you $60-$250 per hour in North America.
It will cost you between $40 and $120 per hour in Europe.
It will cost you between $15 and $40 per hour in India.
Why Choose PeppyOcean for E-Learning App Development?
We are an on demand application development company that has worked with a variety of businesses worldwide. We have a team of talented designers and app developers who ensure the highest level of quality before delivering the final product to our clients.
We offer a wide variety of clone app solutions so if you are looking for BYJU'S clone app then we can help you from start to end.
Our skilled professionals deliver configurable, feature-rich, and highly scalable apps with the most spectacular app designs in order to provide our clients with the highest degree of satisfaction. We take a client-centric approach and strive to meet our clients' needs while staying within their budget.
If you have a concept or a business plan that can help you build your company, just contact us and we'll point you in the right direction. The E-Learning marketplace is growing at a rapid scale so don't leave it too late to choose the best time.
You may also like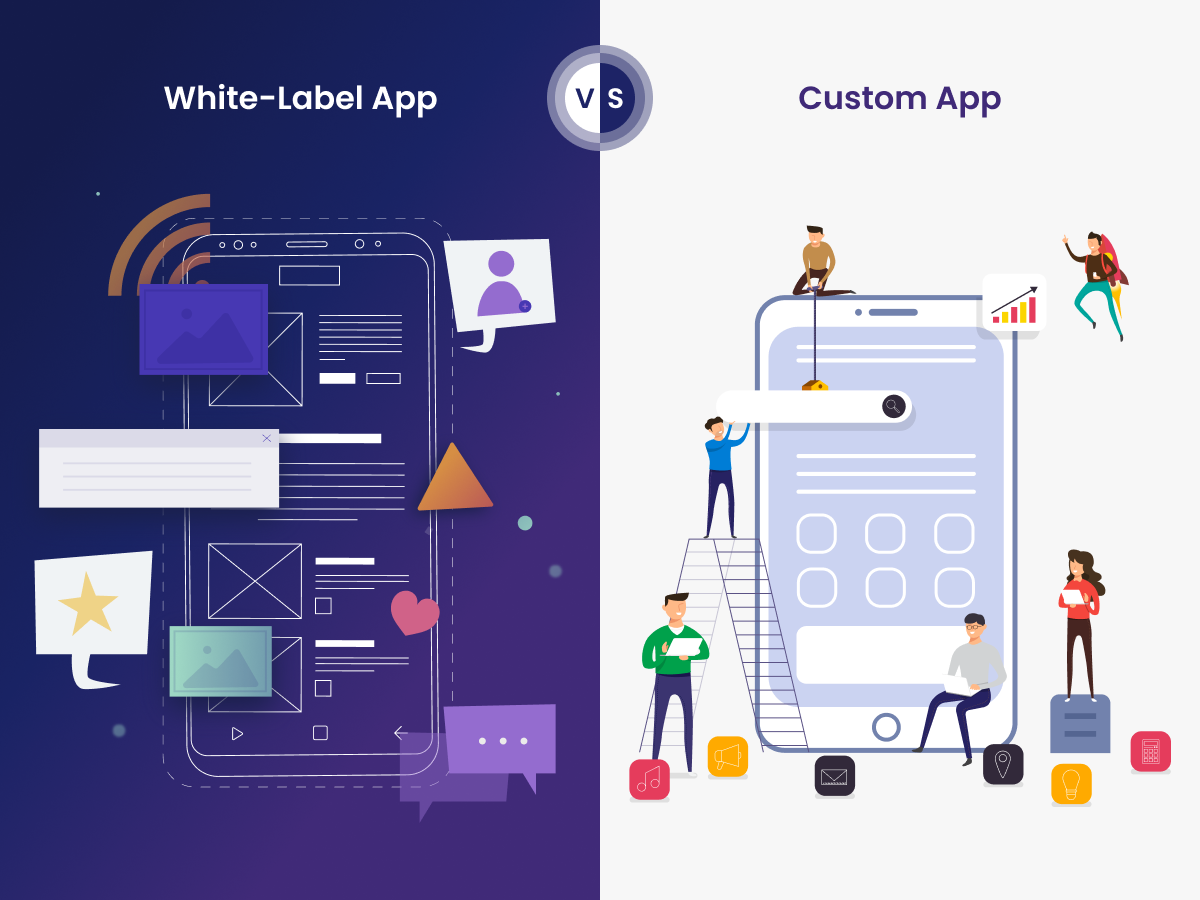 White Label App vs Custom App: Unveiling the Right Choice
Chirag Vaghasiya
In today's fast-paced digital landscape, the choice between white label app and custom app is a pivotal decision that businesses must make when venturing into mobile application development. Both approaches have their distinct advantages and disadvantages, and the path chosen can significantly impact a company's success in the digital realm. Every business has common goals… Read More