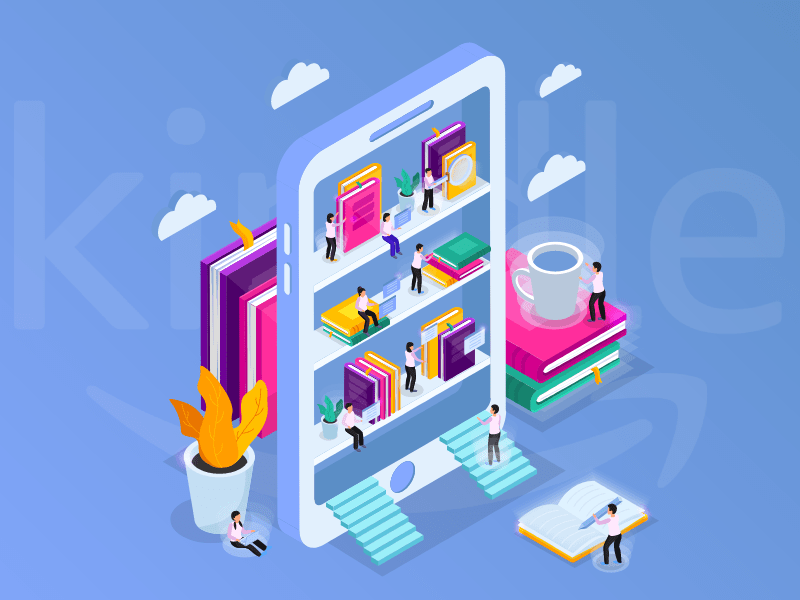 Ankit Patel

October 29, 2021

5 min read
Surprisingly, the stats show that the ebook market was worth $125 million in 2018 and is growing at 14.3 percent annually. Hence, by 2025, ebooks will bring about $246 million in revenues for the publishing industry. And, over 70 percent of publishers now release ebook versions of book titles as the millennials and generation next are seeking more of the online mode.
Thus, with the demand and supply algorithm, the market of the online reading app is flourishing at a heck speed. So, let's check what is this reading app like Kindle, its features, and estimate the approximate cost to develop an app like Kindle.
● What is Kindle?
A person with a passion for books and reading is not unaware of Kindle. Developed by Amazon, Kindle is a reading application that makes a breakthrough in the digital world with access to millions of books at a touch. You can easily download the reading app Kindle to read a wide range of books from all genres and domains. And the best part, everything that you do with a book is synchronized beautifully to the apps to access anywhere – mobile, desktop, laptop, or tablet and anytime.
With the drastic trend of reading online, there is a significant rise in e-reading apps like kindle. It is estimated that there would be a 36% growth in utilizing such online reading apps. So, it is the right time to grab the market if you are planning to plunge into this market and extract the maximum gains.
However, before that, you need to understand the must-have features that your kindle clone app needs to have. And, partnering with an on demand ebook app development company for excellent results is the best option.
● Must-Have Features of Kindle Clone App that Allures Your Readers
Login or Registration:

To access the ebook reading app like Kindle, this is the first step that every user will take, which your ebook app development services will develop.

Multi-Platform Availability:

The Kindle clone app needs to be available for various platforms and devices like iOS, Android, Mac, and PC.

Night Mode Reading:

With the night mode reading functionality, the user can easily switch between the blue light to white light and black color. It enables to change the text color to white and the background color black which helps to reduce eye strain.

Language Translation:

It is easier for any user to read any book in any language with your ebook kindle app when added a feature of language translation.

Time to Read:

One of the best features any ebook reading app can provide is Time to Read. With this in-built feature, readers can easily see how much each page or a book will take for them to read. Moreover, it also helps them to increase their reading efficiency.

Personalized Reading:

With some handy features, you can allow users to personalize the reading mode on the app. These features can be something from navigation, notes, bookmarks, highlights, font size, font style, page adjustments, background effect, and more.

My Library:

This feature allows readers to manage downloaded and purchased books, magazines, read and unread books in your ebook app like Kindle.

Dictionary:

This acts as a bonus for your users and is one of the vital functions that you need to miss when it comes to your kindle clone app development. A multi-lingual built-in dictionary is like icing on the cake. With this feature, the user can easily find the meaning of the word or relevant information through Wikipedia links or Google.

Audio Books

When users don't have the time to read the books they can just listen to audios on the go with this app.

Read Offline:

It is nothing better than reading offline. This is the best feature that the best ebook app development services can provide. Kindle offers reading offline when the internet speed is low or the connectivity is lost. And having this feature in your reading app makes it lovable.

Notes and Highlights:

With this feature, it is easy to highly text with different colors and can also see the other popular highlights by others. It becomes easier for readers to read again or refer to in the future. Also, this feature allows users to write notes based on their opinions on the topic on any page they want to save. Interestingly, they can also share their notes on social platforms or in their community. More importantly, this feature is specifically beneficial for research scholars and students.

Page Flip:

This feature is important as it allows readers to turn the pages or book without missing the last page where they have left. With this functionality, the users can easily navigate through the books and pages.

Favorites / Wishlist:

This feature helps users to add their favorite books to read later or refer to in the future. It also allows readers to save the list of books that wish to buy in the future.

Text to Speech:

This feature allows the readers to read the text or a book aloud.

Advanced Search Filter:

Adding tags like author name, genres, book name, industry, ratings, etc. is crucial for any reading app. These tags help readers to search for their specific taste effortlessly without wasting time. Also don't miss to add categories in the ebook app according to niche to make the app easy to access.

Gamification:

This unique feature makes reading interesting for the readers. It encourages readers to read more as well as inspire others to get the app for reading by offering various rewards or loyalty points.

Social Media Sharing:

For a successful ebook app, it is good to implement social platforms like Facebook, Twitter, and a reading community like Goodreads in the app. Kindle already has a Goodreads community for its users to share content or comment on it.

Upload Content:

Readers can be writers also. Your app needs to allow writers to upload their content on the app for reviews and feedbacks.

Payment Process:

Payment gateway is inevitable of any app, and integrating into a reading app like Kindle is a must. It allows readers to pay for ebooks or subscribe online. Ensure that it is secure enough for online payment transactions.
These are the primary features that you shall ensure that your ebook app development services need to imply in your online reading app. Considering the app features, now let us move to the development cost of the ebook app.
● Cost to Develop App Like Kindle
Usually, partnering with a reliable On demand ebook app development company will always be cost-effective as such an agency can take care of all the aspects starting from ideation, implementation to launch and maintenance.
On the other hand, the cost to develop a Kindle clone app and such apps depend on certain aspects including ebook app development services. Let us pull together all that is required to build an online reading app like Kindle.
Project Manager and Business analyst to assimilate project requirements and create scope of work.
UI and UX designer to create prototypes and designs.
Hire mobile app developers for the iOS and Android platforms.
QA specialists to test the app and report the bugs or errors to resolve before final launch.
To assimilate above all usually takes a lot of time and labor. However, On demand ebook app development company takes around 5-6 months to deliver an online reading app like Kindle. Moreover, the cost also ranges from $15k to $20k and it varies according to the features added or customization. Significantly, the ebook app development cost also changes depending on the country of the development company.
Notably, the development charges in the USA are likely to be 50% higher than in India.
In a Nutshell
Concluding, the development of an ebook app like kindle requires a huge investment of time and money. However, with a gigantic amount of ebook apps already existing in the market, you can still rank your ebook app with exceptional features and functionalities. So, without wondering where to look, just discuss with experts at PeppyOcean to turn your dream into reality.
You may also like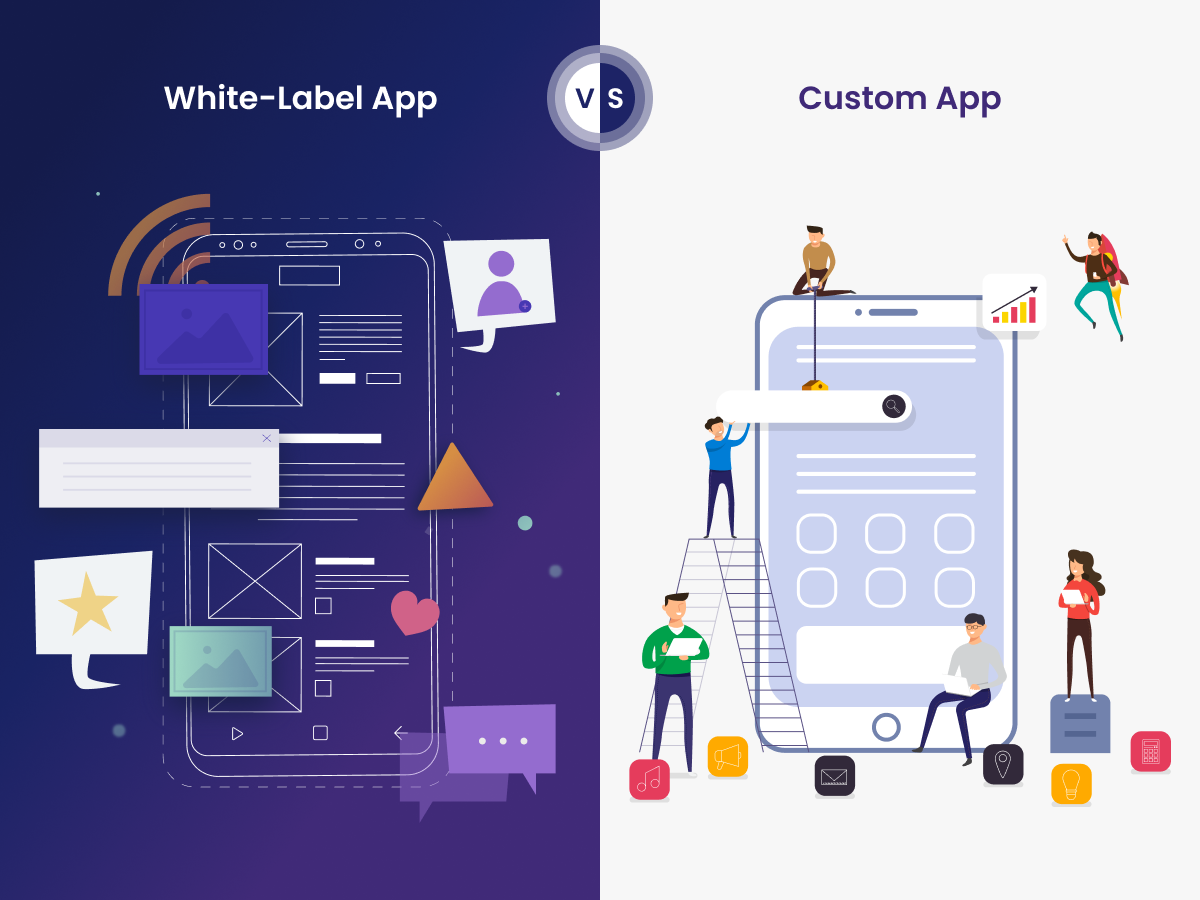 White Label App vs Custom App: Unveiling the Right Choice
Chirag Vaghasiya
In today's fast-paced digital landscape, the choice between white label app and custom app is a pivotal decision that businesses must make when venturing into mobile application development. Both approaches have their distinct advantages and disadvantages, and the path chosen can significantly impact a company's success in the digital realm. Every business has common goals… Read More