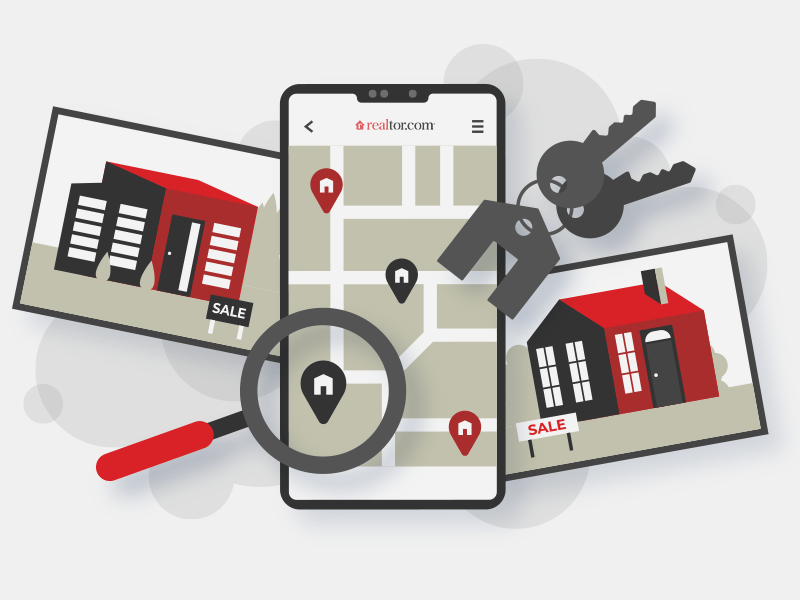 Ankit Patel

October 19, 2021

5 min read
The real estate business is always on the hype with no trend of going down. Whether it was a great global economic recession period or the worst scenario of the pandemic, real estate has stood steadfast. With a strong market position, the real estate industry is moving up to the next level leveraging mobile apps. And, one such popular and promising app is Realtor, where buyers and sellers come together enjoying the hassle-free buying and selling processes.
Real estate mobile app market is gaining traction with the businesses turning to the virtual world, and growing demand for real estate apps among the masses. The research study also claims that in the forthcoming years, the real estate app market will see a big boom. Therefore, if you want to churn out profits from this real estate market, then here is a mini-guide to help you understand real estate app development and cost to develop app like Realtor.
Let's begin with some basic things to consider before plunging into your realtor clone app development.
● Market Research and Competitor Analysis
Before starting with your idea to convert into an app, you need to follow some basic steps. For your Realtor like the app, you need to conduct a detailed study of your real estate market, where you may understand your target audience needs, requirements and unfulfilled property desires.
Furthermore, by analyzing what competitors are offering and what they are missing, you can bring in the edge that can make your real estate app development a unique property facilitator. Undoubtedly, it is inevitable to carry on competitor research and study as it helps your business to outperform.
● Gather and Analyse Real Estate Database
It is crucial to gather a huge database for your real estate business. If you do not have one, then you can collect it in different ways. Get it from the government property listing services or extract it from online property businesses. And the best way is to gather the databases is from your competitors' apps.
Going further, it is important that you allow your app users to post their property listings on your app. This helps you to have an updated database with more listings.
● Create User-Friendly Interface
It is crucial to gather a huge database for your real estate business. If you do not have one, then you can collect it in different ways. Get it from the government property listing services or extract it from online property businesses. And the best way is to gather the databases is from your competitors' apps.
● Opt a Business Model
There are two different business models for real estate app development Let's see them.
Agency Business Model
For individual or dedicated real estate agents, the agency business model is the most suitable option. If you are a real estate agent or looking to grow a business in real estate with an app like Realtor, then it is the best option for you. It can also help you track your business growth.
Third-Party or Aggregator Business Model
This type of business model acts as a platform for both buyers and sellers to meet and carry on business. Numerous real estate agencies are listed here with a variety of options for the buyers to pick from. With this commission-based model, you can charge the partnered agencies when a transaction is made using the app.
● Major Features to Implement in Real Estate App
Without a doubt, for the success of any app, there needs to be features and functionalities as there are building blocks of any app. Moreover, crafting the major features along with must-have features for your app, it is also important to have advanced and matchless features for your app that can stand out.
So, let's run our hands on the various features that your real estate app needs to have.
Major Features of Real Estate App
Property Search
Map Integration
Communication – Chat or Call
Content Management System
Real-Time Analysis
Must-Have Features of Your Real Estate App
Property listings
Images
Search bar and filters/advanced search
EMI calculator
Map/ Navigation support
Features for Buyers/Sellars
Property details
Images of house
Browse latest projects
Price calculator
Loan calculator
Geo-location tracking
Virtual Tours
Features for Admin
Property Management
User Management
Analytical Support
Real-Time analytics
Integrated dashboard
CMS Integration
Features for Sellers
Login/Subscribe
Customer Support
View Leads
Social media sharing
Customer query support
● How to Generate Revenue
Once the app is good to go with all the required features and functionalities as well as additional plug-ins, it is time to look into how you gonna make it a bankable app. Doubtlessly, there are different ways you can generate revenue by making a real estate Realtor clone app. Let's cash in.
In-App Ads

One of the most rewarding ways to generate revenue is in-app ads. Relevant advertisers can promote their services or products in your app. You can charge a fair amount of money for the leads. The ads can be from any business domain like home decor, property maintenance, loan insurance ads, and more.

Subscriptions

You can offer various subscription packages for your users with added discounts, perks, unlimited browsing, and a lot more benefits. You can monthly subscription or a premium yearly package.

Commission

You can always earn a commission on any transaction that happens between buyer and seller on your platform.

Reward System

With a Reward system, you can offer certain points to your users to leveraging your app for various purposes. When they gather a specific amount of points, they can redeem with some freebies or gift vouchers.

Referral Program

You can launch a referral program where users can refer your app to their friends or family and receive specific referral points, which they can redeem further for some perks.

Promotions

On your platform, you can allow real estate agencies to promote their brands. You can display it on the homepage, or the landing pages, giving them space that helps them increase their brand visibility. And, for this, you can charge them with some promotion fees.
● Benefits of Real Estate App
Users, as well as prospective buyers, can quickly search for the properties
Increases brand loyalty of your business
Excellent user experience
Helps increase traffic with the help of a real estate portal
● Pick the Right Technology Partner
Once you have clarity about your project, it is time to pick the right technology and partner company for Realtor Clone app development. Moreover, you can either hire a mobile app development company to work on your real estate app idea from scratch. Or, with the help of an expert app developer choose the easier approach – the realtor clone script – a customized real estate app development solution.
Depending on your budget and time, you can pick from the above two. Development from the scratch can do take time and would require more investment. However, the added advantage is you can tailor cut it according to your business needs and evolving trends. On the other hand, picking up the clone Realtor app script is quick to dispose of with minimum cost investment. Nevertheless, the features and functionalities are in-built which you may need to adjust.
At the end of the day, it all depends on you.
● Cost to Develop App like Realtor
As mentioned earlier, the cost of building a real estate app may cost depending on the requirements you quote according to your business. Roughly, the cost to develop app like Realtor turns to be around $30k to 40k. Normally, the costing includes the overall team that you may require to develop a realtor clone app.
Development Team includes
Business analyst
Project manager
Android/iOS developer
Backend API Developer
QA testers
Graphic designers
And, if you are seeking cost-effective app development then you can turn to an emerging mobile app development that can provide the best development services.
Closing Up
Designing, decorating, and building a real estate business Realtor clone app is a rewarding venture for realtors and estate agencies or anyone looking to jump into the real estate business. With this app, you gain not only visibility but also a huge customer base along with a boost in sales and revenue. And, if you are looking to develop one for your business, a leading Real estate app development company can help you out. Just quote your requirements and you can rest assured. So, join a league of high-profile real estate ventures and create your landmark.
You may also like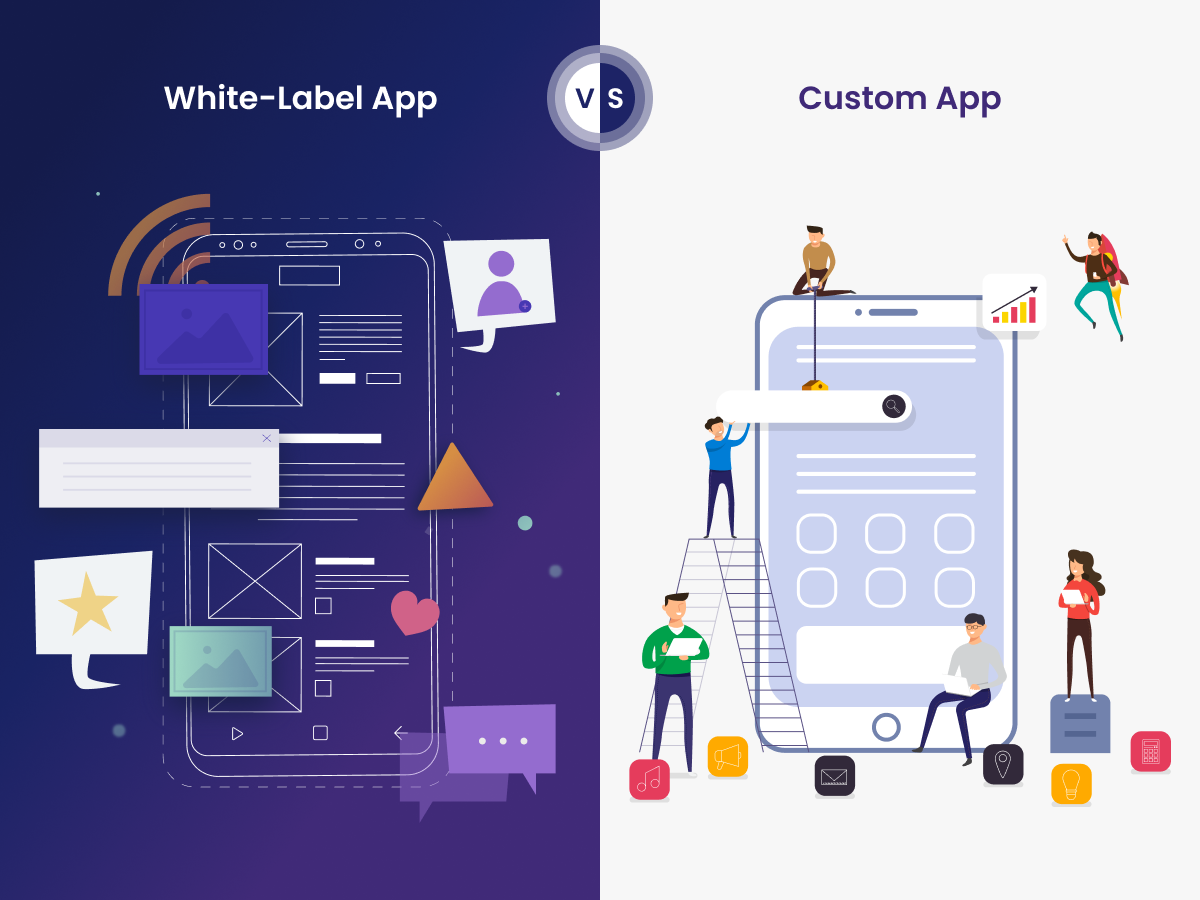 White Label App vs Custom App: Unveiling the Right Choice
Chirag Vaghasiya
In today's fast-paced digital landscape, the choice between white label app and custom app is a pivotal decision that businesses must make when venturing into mobile application development. Both approaches have their distinct advantages and disadvantages, and the path chosen can significantly impact a company's success in the digital realm. Every business has common goals… Read More