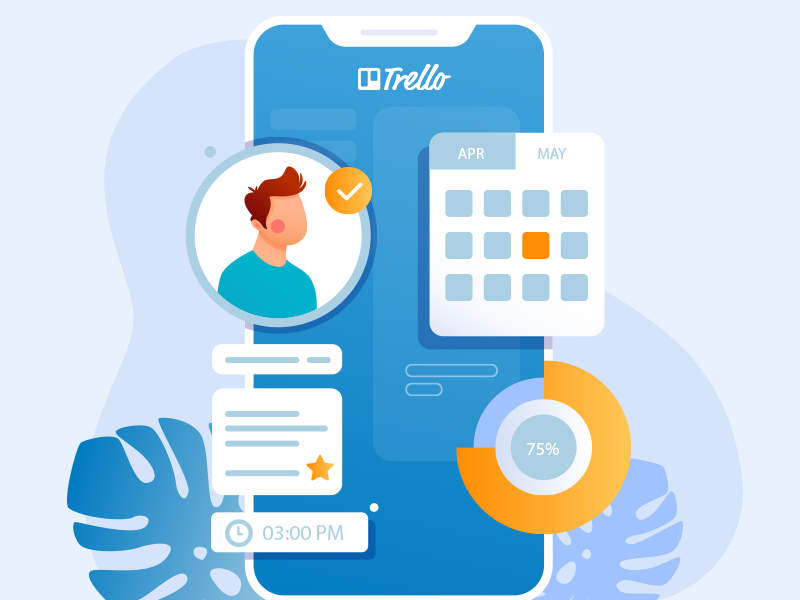 Ankit Patel

October 08, 2021

5 min read
When managers are asked about whether they use any tool for planning, implementing, and managing their projects and teams, mostly everyone will say YES. Normally, to streamline business everyday tasks and operations, organizing the things and workplace is the best option. And, there is no best tool than a project management app.
And the most popular is Trello that is widely used across various business verticals. Hence, a project management tool like Trello not only helps in managing the project, but also handling multiple tasks, arranging meetings, and making reports. Thus, it becomes a less exhausting task with quick results.
Apparently, Trello like a project management app offers huge benefits to businesses, along with increasing the efficacy of the workforce and offering more freedom. It also helps to improve workplace communication internally and externally for meeting project deadlines.
No matter what the size of the organization, the Trello clone app is a perfect management tool for success. Hence, if you are looking for a project management app, along with its development and cost. Then do carry on.
But, before diving into the project management app development like Trello, it is important to understand what exactly is Trello and how it is helpful.
● What is Trello?
Trello is a project management app that basically helps in handling web-based tasks. However, today it is useful for various technologies and frameworks. Now, it is possible to make this app run for both desktop and mobile platforms. The popular feature of Trello helps businesses to create their to-do lists for various tasks under committed time frameworks.
Due to its rich features and functionalities, many businesses have adopted it on a large scale for a huge number of users. It has expanded its horizons in various business spheres like product development, software development, marketing, advertising, and accomplishing new projects.
● How is Trello Helpful to Businesses?
It is understandable that the project management app development helps to easily carry on all the tasks without any hurdles keeping a record of all the pending, working, and accomplished tasks. It usually offers solutions to problems like product development and management, company management, campaign management and eliminates all the difficulties that pave the way for repetitive tasks.
Learning the benefits of the Trello app, it is crucial to know how to proceed with this project management app development and what steps to be taken to start building the Trello clone app.
● How to Develop Project Management App Like Trello?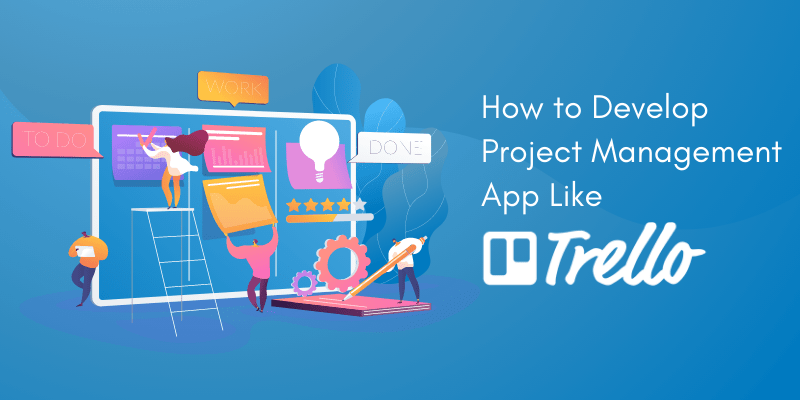 Similar to other app development, Trello clone app creation also requires certain basic steps to follow.
Understanding the motto of launching an app
In-depth market research and analyzing the competitors
Understanding full hand features and functionalities of Trello clone app
App Design – UX/UI
Picking up the right technology to cut down the cost to develop apps like Trello
Hiring project management app development company or app developers
Total cost to develop an app like Trello – a project management application
Taking care of these steps, it is also important to know the basic features and functionalities of the apps similar to Trello.
● What Basically Does Trello Consist Of?
Boards:

A Trello board is a list of multiple Lists filled with cards. Each board consists of a unique project or product development to be handled by the team members. It stands for anything that needs to be planned. Each Trello board is associated with a specific team, whose members have access to it. The team members of that particular board can see, control the workflow, update the developments, and comment on the challenges. And, can also invite the other team members.

Lists:

Known for its versatility, Trello also offers Kanban-style workflow, where it is easy to create lists inside the boards. Lists are nothing but to segregate the boards into specific categories for hassle-free workflow. Basically, each list represents a particular stage of progress or process in the project.

Cards:

As we have seen that Trello boards have lists and these lists (categories) can be filled with an unlimited number of cards. A single card represents a specific type of work to be completed. You can add labels to the card to prioritize the subtasks into it. Also, from time to time, you need to delete these cards. However, if deleted by mistake then no worries as Trello archive cards. So, you can get them back without losing any crucial information or before finally deleting it.

Teams:

If you have multiple boards and a large number of members in Trello, you can easily create business teams to keep everyone connected. Suppose you have a company team, under that you can create a list of different boards for each department. Moreover, as a member of a team, you can easily watch all of your team's boards and can manage the team members. Even, it is possible to create new boards as well as change the settings from private to public.

After reviewing each functionality of each core feature of the Trello app, the next step is to choose the right stack of technologies to begin with the project management development app, and then comes costing.
● What Is The Cost To Develop App Like Trello?
The cost of developing an app directly depends on the time that the developers, programmers, designers, project managers and quality analysts spent on the implementation. No doubt, for any organization the greatest concern is the cost when it comes to developing an app. But, unfortunately, as we have seen that there is no standard cost to develop an app like Trello as it varies depending on time invested. Hence, the budget may vary largely.
However, considering all the parameters, on average the app development cost with the most basic features will range from 25000 US dollars and can go up to 45 to 50000 US dollars with the most advanced and customized features.
Surprisingly, the cost also depends on the professionals from where you are hiring them. It varies from country to country. The specialists from the USA demand more than the professionals from India. Hence, the prices vary.
For example, the mid-level pros from the USA charge an average hourly rate of $70 per hour whereas the expert pros charge $120 per hour. On the other hand, in India, you can find a person who does the same job as a professional in the USA, but just at $20. Hence, you can see that the costing also varies on the expert levels as well as the different locations.
● In a Nutshell
Finally, when calculating the cost of a task management app like Trello, it is crucial to take into account all the features you are considering to include in your Trello clone app. Because without planning and a proper blueprint, the cost may vary drastically and can affect your estimation. Practically, the customization of each feature according to your business requirement will need a certain number of hours, depending on which the cost to develop an app like Trello also goes up or down.
However, rather than going for different developers or specialists for developing task management app, it is better to hire a mobile app development company. With a complete development team under one roof, it would be easier to get a good quality product within a limited time frame.
Overall, if your company requires a new customized app to help your business get on the growth trajectory and be ahead in the competitive world, then it is time to get your own app. It not only helps enhance your business performance but also helps your business to meet the growing demands of users.
You may also like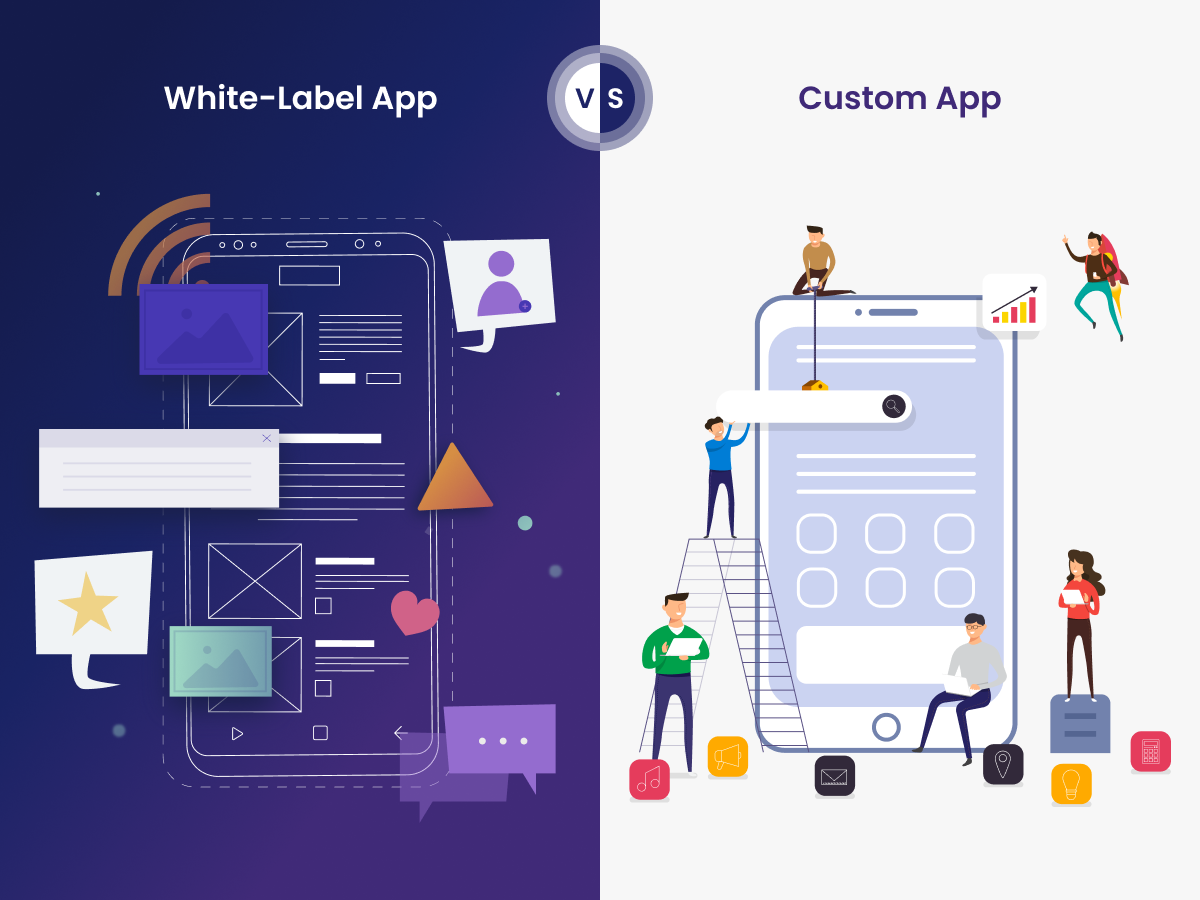 White Label App vs Custom App: Unveiling the Right Choice
Chirag Vaghasiya
In today's fast-paced digital landscape, the choice between white label app and custom app is a pivotal decision that businesses must make when venturing into mobile application development. Both approaches have their distinct advantages and disadvantages, and the path chosen can significantly impact a company's success in the digital realm. Every business has common goals… Read More