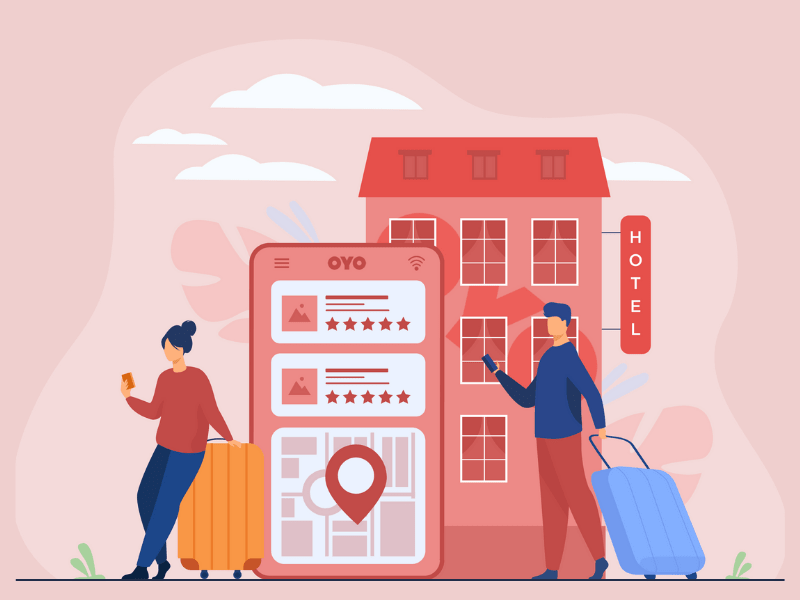 Ankit Patel

September 02, 2021

9 min read
The current time is of the mobile apps. You can avail yourself of anything with a single click through your mobile app downloaded and installed on your Smartphone. Be it the healthcare sector, education sector, logistics, or hospitality sector, not a single area has been left untouched by the evolution brought by mobile apps.
Today, we will talk about how mobile apps have revolutionized the hospitality sector. In comparison with the last decades, you can observe a massive change in this industry, and with the advancement in technology; it is becoming even more advanced. Mesmerized by the incredible success of mobile apps like OYO in the hospitality sector, many start-ups have started jumping into this trendy bandwagon and are hiring hotel booking app development services for developing OYO clone app.
Firstly, we will discuss the OYO app and its concept and then proceed further to discuss what all factors determine the development cost of an app like OYO Rooms.
● OYO Rooms App
OYO is a private company that is touching new heights of success significantly. Serving in more than twenty countries and over 800+ cities, this app gives a living space option of more than 45000 hotels and holiday homes when on tour. In the hospitality field, no other app can match the convenience that this app provides. 10,000 employees work for this app. OYO specializes in premium hotels, budget hotels, long stays, elite hotels, and hotels exclusively for women.
Insights of OYO Room App:
Founded In – 2013
Founder – Ritesh Agarwal (CEO)
Headquarters At – Gurgaon (Haryana, India)
Industry Type – A Private Company
Countries Served – Asia, America, and Europe
● Monetization Models of OYO Rooms
Creating an app like OYO Rooms is not enough. You will have to know the monetization models to earn extra revenue. OYO Rooms have two different monetization models:
Aggregator Business Model
Franchise Model
Aggregator Business Model
This model was followed by OYO Rooms till 2018. In this model, your app users can connect directly with various property dealers, hotels, room owners, and resorts for partnership so that they hire their hospitality services through your app. This implies that the travelers will book their rooms via your app.
This was followed by OYO till 2018 because OYO earned only 22% of the entire profit and the rest was earned by the room owners and the partnered resorts and hotels. OYO Rooms is today a well-known hospitality app; hence it is no longer following this model. Being a novice and building your own brand like OYO Rooms, you should go with this model.
Franchise Model
OYO is currently working with this business model. This monetization model is a sort of commission-based model and the profit percentage is decided by the OYO Rooms. If the room owners and the hotels want to partner with OYO Rooms, they will have to follow the terms and the stern service standards as set by the OYO Rooms.
● Factors Determining The Cost To Develop App Like OYO App
Other than the OYO app's functionalities and features there are various other factors on which the development cost of the OYO clone app depends. The key factors are:
App platform

App platform tends to be one of the chief factors from which the cost to develop an app like OYO can be decided. App for Android platform is relatively a bit more expensive than the app developed for iOS and Windows platforms. A lot of code and a technically strong OYO clone script have to be written for the Android platform and the emulators of this platform are slower. While in iOS apps, the developers have to test only a few smart devices.

When with a limited budget, you must opt for the iOS platform because the development cost of iOS apps is cheaper in comparison to that of Android ones.

App Design

Every app needs to have an attractive design to captivate the attention of the viewers and to keep them engaged. To design an attractive design for your app, you will have to pay a little more, which is worthy enough. With simple designs, you can cut down the development expenses but will fail to clinch new users for a long time.

PeppyOcean, a hotel booking app development company has certified designers who can develop eye-catching and unique app designs like OYO at cost-effective rates.

App size

The app size of an app depends on the number of functionalities and features you want to integrate into your app. In the initial stage, you should concentrate on integrating only the essential features. This will benefit you in two ways:

The development cost will be less.
You will get to know how your app is getting responses from the end-users.

By including all the features and functionalities present in the OYO clone script, the development cost will be higher. This is not a good decision if you are approaching the online market for the first time.

App developers

The cost to develop an app like OYO also depends on the expertise level, experience, and geographical location of the developers. Developers from foreign hotel booking app development companies and experienced developers will charge high rates in comparison to local and less experienced developers.

Also, the size of the development team affects the development cost of an app like the OYO clone app. An ideal development team comprises of:

UI/UX Designers
iOS or/and Android Developer
Back-End and Front-End Developers
Product Manager
Database Expert
QA Expert
Sales and Marketing Team
Delivery Manager

Mobile wallet

With in-app mobile wallets, your customers can make payments instantly without any hassle. Also, you get instant payments. With in-built mobile wallets, the cost of the app might increase but the tangible advantages are many.

Technology Stack

The technology stack used also affects the development cost of an OYO lie app. Below is the list of the technology stacks that can be used for creating an app like OYO clone app.

Framework – Cross Platforms, Android and iOS
Language – Java, JS, Node.Js, Objective-C, Kotlin, Xamarin, Swift, Angular, and PHP
Map – Google Map API
Interface – Slim Framework and Rest API
Database – Redis, MongoDB, and MySQL
Hotel meta-search data – Skyscanner Affiliate API and HotelsCombined Data Feeds
Cloud Environment – AWS
Payment Gateway – eWallets, Stripe, Braintree, and PayPal
Aggregator APIs – Expedia Affiliate Network API
Traffic Analysis Tools – Mouseflow and Google Analytics
Web Server – Apache HTTP Server & Nginx
Real-Time Analytics – IBM, Hadoop, BigData, Spark, Cisco, Apache Flink
● Functionalities and Features Impacting The OYO Clone Script Development Cost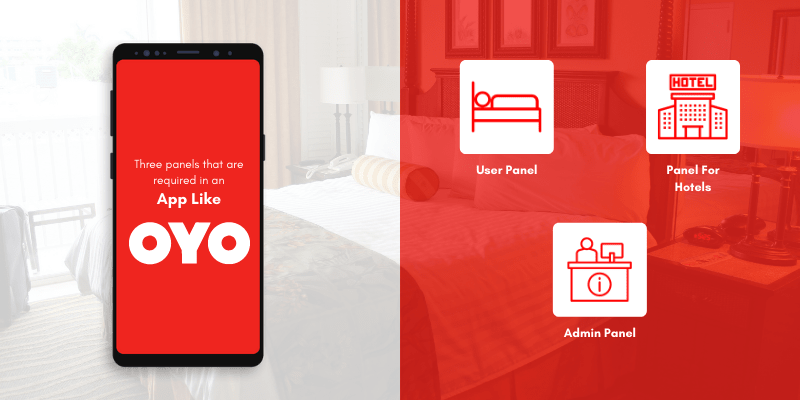 Basically, there are three panels that are required in an app like OYO.
User App
Hotel Owner Panel
Admin Panel
The features and functionalities of each panel are different from each other. Let us have a look at the three panels and their features.
User App
Easy registration & login

To access a hospitality app a user had to register to the app first. A user can use his mobile number or email id to register and set a password to secure his account.

Another alternative way of easy registering is using the social credential id like a Facebook account or via a Google account. With these ids, a user can register instantly. Complicated registration processes irate a user and he may uninstall the app.

Search functionality & Room availability

For generating the search list, the user should be given the option to insert his travel dates and location. From the search list, the user can easily get to know about the room availability and their prices (including taxes).

The filters under the search feature should be:

Accommodation type
Room type
Price range
Amenities
Nearby places
Meal plans (inclusion of any meal)

Through these filters, a user can conveniently select the best room.

3D images

With 3D images, you can let your users know how the hotel and its rooms are. On seeing the images, a user gets satisfaction. He can get to know in advance how the room is going to be and can make the bookings instantly if the room matches his requirements.

Booking rooms

As soon as the user gets the room details and feels that a particular room fits his budget and his requirements he will try to book the room. With this feature, he can book the room in advance without any hassle.

Price comparison

A user must get the option to make a price comparison of different available rooms along with the included amenities. On comparing the prices, the user will not feel like he has paid extra for the room. He gets mental satisfaction. This will make the final decision process very easy for them.

Easy payment

The payment procedure must be very simple and easy. With complicated payment procedures, the user might leave the app without completing the final booking. You must have various payment portions integrated like:

Debit and/or Credit Cards
PayPal
Net Banking
Pay to the hotel at the time of checkout
eWallets

As per his preference, the user will choose the payment mode.

Booking modification

This feature lets the user modify his bookings. He can upgrade the room, add meals, add or remove services like laundry services, car bookings, etc. If the user makes additions, then he will have to pay the difference to confirm the modifications.

Places nearby

The best hospitality app will always provide information on nearby places. Using this feature, a traveler can view places nearby like restaurants, tourist destinations, malls, movie theatres, etc.

Car or taxi booking

A tourist will always need some transportation mode to explore the nearby places. Hence, the app should have the feature of car or taxi booking so that he need not have to rush every morning to book a car or taxi. They can place ride requests through the app and the driver will pick them from the hotel gate.

This makes traveling super convenient for tourists.

User Contribution

Prior to booking a room in a particular hotel, a user will always scroll through the feedback and reviews given by other travelers for that hotel. Plus, he can also leave his feedback too for that property. Also, pictures of the property can also be uploaded by the travelers, which can be viewed by other travelers prior to making any booking.

Easy rescheduling or cancellation

Unavoidable situations can arise anytime. Suppose, it arises after the booking has been done, then there should be a feature to cancel the bookings. With an easy cancellation feature, bookings can be cancelled or rescheduled (as per the T&C of the booking).

GPS functionality

This is a must feature in a hospitality app. Being new to a certain place, a tourist will never know about its roads. Hence, to reach his destination following the right path, the user can take the help of this GPS navigation feature and get the most favorable route.

Trip history

Trip history acts as a reference feature for the users of the app. He can view his previous travel period, hotel booked, destinations travelled, and more.

Push notification

Push notification is a feature that will help you in upholding your app users. Through this feature the user can get to know about:

His confirmed bookings
Updates on the addition of new properties
Price drops of a property that he has saved
Updates on deals, discounts, and offers

In-app Chat/Call

Along with GPS, this is one more essential feature. It connects the traveller with the customer care representative of the app in case of any emergence of queries.
Hotel Owner Panel
Account Creation

Account creation is very necessary prior to accessing any app. Through this feature, the hotel, property, and room owners can create their accounts immediately and start offering their hospitality services.

Hotel Management

Through this feature, the property owners can add, edit, publish and view products on their dashboard. They can also track the booking status of the rooms.

Booking Management

All the bookings can be managed seamlessly. The hotel owners can overview the bookings for the room, cancellation of the bookings, and reschedules if any.

Room Management

Owners can manage the availability of rooms and other information related to the room. They can update this feature with room description, room dimensions description, price, facilities, and amenities along with room images, exclusions, inclusions, etc.

Upgrade or Degrade Amenities

Amenities provided along with the room like free meals, laundry services, cab services, and many more can be upgraded or degraded as per the consent of the hotel owners through this feature.

Reports & Analytics

Reports can be generated and analyzed whenever the hotel owner wants from here. From the generated reports, they can get a clear picture regarding the progress of their business.

Customer Reviews & Ratings

Reviews and the ratings provided by the travellers can be viewed from here. As per the feedback received, the hotel owners can take action accordingly to make their services better.
Admin Panel
User Management

With the help of the robust back-end, the admin can overview completely the entire information of the users. The admin can edit, delete and search the user profile. He can also generate essential insights and reports as to when required by him.

Payment Management

Payment of commissions to the hotel owners, payments received from the users against the bookings and refunds to be made on cancellation of the bookings can all be managed from here.

Discount & Offer Management

Discounts, cashback, offers, and sales are tracked and monitored via this feature. The admin can create and send new promotions to the app users. He can update the update existing through this functionality.

Support Management

The entire support requests are moderated and examined by the admin from here and then shared with the respective departments for finding the solutions.

Analytics

Real-time analytics can be derived via this functionality. With the help of these analytics, the admin can keep track on in-app activities and monitor all the vital information like total sales, revenue earned, most viewed and liked properties, booking patterns of the customers, etc.
● Unique Features Of OYO Room App
OYO Money & OYO Rupee – A feature through which virtual currency can be earned by the user on referring the app to his family and friends.
OYO Wizard – A membership program through which OYO's loyal customers get heavy discounts on every booking.
OYO Captain – Under this feature, the OYO customer can hire a local representative's services so that he can make all the arrangements for his holiday.
OYO Assist – Through this feature, the user can himself self-assist and check his hotel booking policies, cancel or modify his bookings, claim refunds and lodge a complaint against grievances.
OYO SOS – This feature connects the user with the respective call center so that the user can get help when needed.
Deals for You – Through this feature, the users come to know about discounts and deals from OYO Room partners like eWallets, banks, cabs, etc.
Wrapping Up
The hospitality industry is witnessing a major dramatic transformation. Hence, OYO Rooms like apps are the hotel booking's future. With many new investors investing in this sector, you need to come up with a unique idea. For this, you will have to hire the hotel booking app development services of one of the best app development companies offering app development services at affordable rates.
You may also like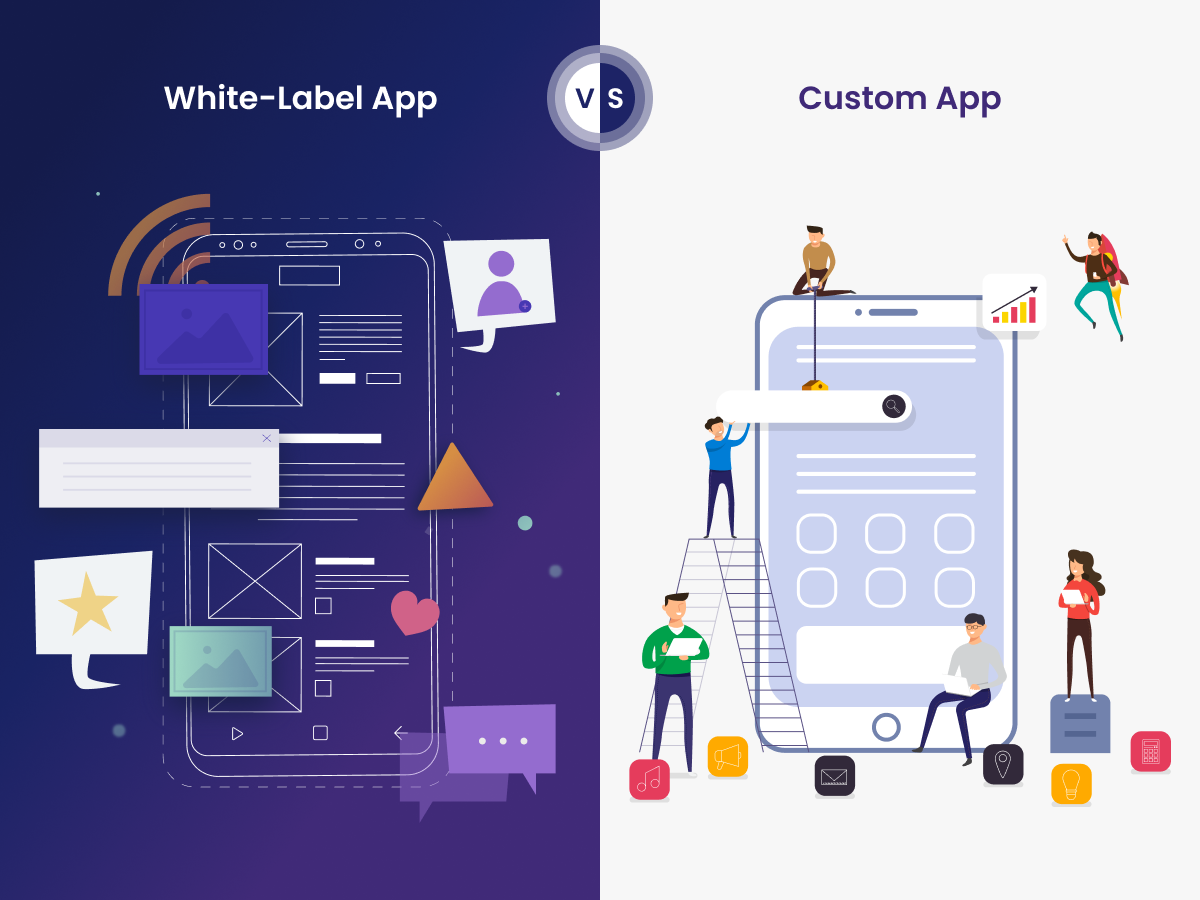 White Label App vs Custom App: Unveiling the Right Choice
Chirag Vaghasiya
In today's fast-paced digital landscape, the choice between white label app and custom app is a pivotal decision that businesses must make when venturing into mobile application development. Both approaches have their distinct advantages and disadvantages, and the path chosen can significantly impact a company's success in the digital realm. Every business has common goals… Read More