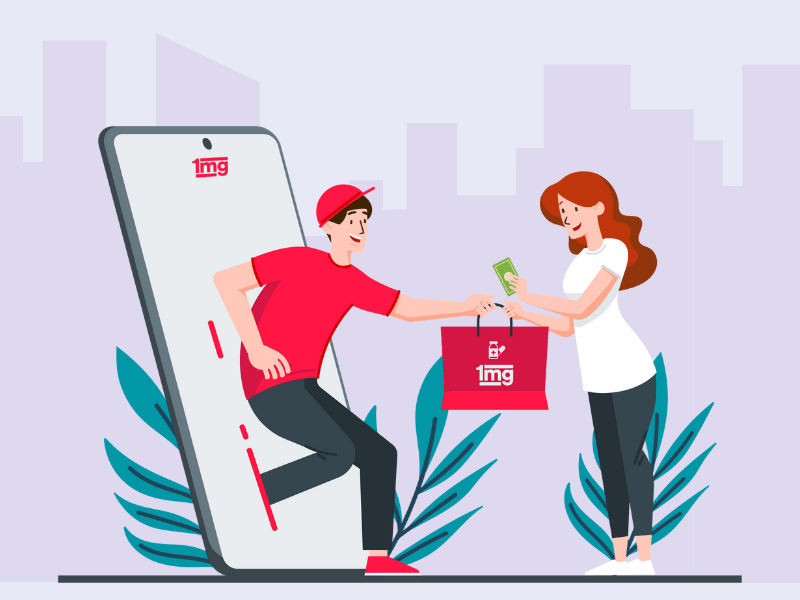 Ankit Patel

August 23, 2021

8 min read
Millennials prefer shopping online. Right from apparel to groceries and home decor, they can shop everything with a few clicks through on demand apps while being in their comfort zone. Along with on-demand grocery and food apps, there is a huge demand for pharmacy apps.
The Covid-19 pandemic and the induced lockdown affected the entire world adversely. This was the period when people seek for more medical assistance and medicines. To protect themselves from this highly contagious virus, people started using pharmacy apps to buy medicines or seek medical assistance. Due to this, medicine delivery apps like 1mg saw a big spike in their demand. This ultimately resulted in the high demand for medicine delivery app development companies and their pharmacy app development services.
From this article, you will get to know about the benefits, features as well as the cost to develop an app like 1mg.
● Benefits
Pharmacy apps are beneficial for both Pharmacists and app users. Such apps help the app owner as well in monetizing money. An app just like the 1mg clone app helps a person save his effort and time by not visiting the medical stores to buy medicines. Cashback is also one more additional benefit that the user of a medical app enjoys. Investing in pharmacy apps will undoubtedly bring you wealth as well as recognition for your brand. The on-demand medicine apps are now going to be used always and it will be beneficial for you if you plan to develop one.
Here we have discussed how a 1mg clone app like a medicine delivery app is beneficial for Pharmacists and app users.
Benefits Enjoyed By The Users
Saves effort and time as the user need not have to go from one medical store to another in search of specific medicines.
Cashback and discounts can be easily availed by the users while buying medicines and drugs from these medical apps. Make sure that your medical delivery app development team integrates this feature.
Whether a particular medicine is available or not can be checked with a tap. Also, the user can select the option of "Notify" whenever the medicine is in stock.
There are many medicine delivery applications that have the feature of consulting with doctors. Some apps also have the video-calling feature because of which consulting with the doctor becomes easy.
Benefits Enjoyed By The Pharmacists
Pharmacists prefer medicine delivery apps because their sales have now increased because of such apps
The geographical location is no longer a barrier to sell the medicines. They can now sell medicines to users located at distant places. This ultimately increases their sales.
Now it is possible for pharmacists to manage their inventory. The inventory gets updated online automatically thereby eliminating the need of employing any extra staff.
Creating campaigns and introducing new deals and discounts becomes easy for pharmacists which will help them in boosting their brand identity.
The benefits have been discussed and now we shall move ahead to the features that must be integrated into your medicine delivery app like 1mg clone app. Basically, the app has four panels and each segment has different features so that from medicine ordering to its delivery, everything is carried out in a streamlined manner. The four panels are:
User App
Medicine Panel
Delivery Boy App
Admin Panel
The features of each panel have been stated below with a proper description.
User App
Easy Login: Login should be always hassle-free. Let your user sign-up and login using his social media id, email, or contact number.
Quick search: Through this option, a user can search for the medicines. ML algorithm-backed quick search feature makes the search process very fast.
Medicine Details: The medicine composition, the rate, expiry date, and the manufacturer name can all be viewed through this feature. When you offer each and every detail to your user, you gain confidence in them.
Substitute Suggestions: In cases where a particular medicine is not available and a user wants it urgently, let them search for a substitute medicine via this feature.
Product Comparisons: There are many medicines that have the same composition but differ in prices because of the manufacturer. Let your user compare such medicine and choose one as per his choice.
Upload Prescription: On uploading the doctor's prescription directly the user need not have typed the name of the medicine. This will save their time as well as prevent them from typing any wrong name.
In-app Payment: One of the useful features. A user can easily and quickly checkout after placing the order.
Order Tracking: In real-time, a user can track his order and know the ETA.
Cancellation Feature: Through this feature, a user can return or cancel a medicine. Your app must also have a refund policy so that such users can get the refund if they have already made the payment.
Notifications: Notification on every step carried is sent to the user as order received, payment made, order despatched, order delivered, etc.
Dose Reminder: One of the most appreciated features by the users. Using this feature, a user can set reminders and never miss to take their dose on time.
Order History: Previous orders and orders canceled can be viewed here.
Feedback: On the basis of the experience received from placing an order to its delivery, a user can give feedback.
Medicinal Panel
Easy Login: From this feature, pharmacists, retailers, and the store staff can login easily and securely.
Notification: On receiving medicine orders from the user, the pharmacist gets notified instantly.
Prescription Checking: Enables the pharmacist to check the uploaded prescription and check whether the medicine is in stock or not.
Order Management: From this feature, pharmacists, retailers, and the store staff can manage orders and returns. Also, they can manage refunds.
Billing: Permits the pharmacists, retailers, and the store staff to make bills for each order easily.
Manage Delivery: Once the medicine order is packed and ready, the store owner notifies the delivery partner to collect the order and deliver it.
Delivery Boy App
Easy Login: The delivery panel should have all the necessary information of the driver like name, contact information, address, etc for the record.
Notifications: Whenever a delivery of a new order is to be done, the driver will get notified through this feature.
Route Tracking: With this feature, the driver can find the fastest route to the destination.
Quick Communication:Drivers can contact the customers whenever required with a single tap on this feature.
Accept/Reject Delivery Request:As per his consent or availability, the driver can accept or reject the delivery order. Also, if the delivery location is very far, the driver can decline the delivery order.
Feedback:Permits the delivery boy to receive customer's feedback on the basis of his performance.
Admin Panel
Dashboard: A robust dashboard from where all the in-app activities can be managed and carried out.
User Management: From here, the admin can manage each and every app user. He can block those users whose act he finds suspicious.
Order Management: Each and every detail regarding storage capacity, inventory, delivered orders, cancelled orders, returns etc. can be viewed & managed from here.
Analytics: From this feature the admin can access each and every report related to orders received, fulfilled, and returned.
Manage Payments: Payments received and commissions to be paid can be managed from here. Also, the refunds can also be easily managed.
Supplier Management: A complete list of all the suppliers registered with the app can be viewed and managed from here.
Discounts & Offer Notifications: The admin can notify its users whenever he comes up with new discounts and offers.
Complaint Management: Permits the admin to view and manage the received complaints and take necessary action.
● Advanced Features
To make your medicine delivery app an exceptional one and the favorite of millions of users, you should never miss adding advanced features to your app. Ask the medicine delivery app development company whose services you have hired to do so. With the advanced features, your app becomes more convenient for your users. Futuristic, unique, and modern features help you stay ahead of your competitors. Let's have a look at some of the advanced features that can be integrated into your medicine delivery app:
In-app Consultations: This feature lets your app users get connected to a doctor and book an appointment immediately. After proper consultancy, your users can order medicines via your app, as there are many medicines that cannot be bought without a proper prescription.
Bookings for Lab Test: When a user gets an option to book lab tests via an app, they feel relaxed, as they don't have to rush to the lab centers to make bookings. Also, the lab test can be scheduled as per the convenience of the users.
Multilingual & Multi-currency Support: With this feature, you can launch your app beyond the borders and reach out to hundreds and thousands of users.
Search Local Store: There are situations where a physical visit to the local store is required to understand the procedure to take medicine or buy any medicine urgently. From this feature, nearby local stores can be easily found.
Chatbot: Almost every app today has a chatbot support feature. Using this feature, a user can easily and immediately contact the customer support team. Understanding the sentiments of a user and replying to their queries is engaging and incredible.
● Technology Stack
The technology serves as the backbone of an app. The success and failure of an apply behind the technology stack used for developing it. A well-known and experienced medicine delivery app development company will always use the best and apt technology for developing a fully functional and robust medicine delivery app. The vivid tech stacks and for what purpose they are used have been mentioned hereunder:
Platforms – Web App, iOS, Android
Front-end development – Java, CSS, Angular, HTML, React.js
Back-end development – Python, Laravel, NodeJS
Cloud environment – Google Cloud, AWS (Amazon Web Services)
In-app message – Batch
Database – MongoDB
Payment integration – Braintree SDK, PayPal API
Social media – Facebook, APIs, Twitter, Google
GPS – For Android Google Maps SDK and for iOS MapKit framework
● Structure Of The Development Team
The development team is responsible for the efficient functioning of an app. The more the experience and the creativity level of the app development team the more they are capable of handling the development process' complexities. An ideal pharmacy app development services offering team consists of:
Project manager
Back-end developers
Front-end developers
Android or/and iOS developer
Graphic Designer
UI/UX designer
App Tester
● The Cost To Develop App Like 1MG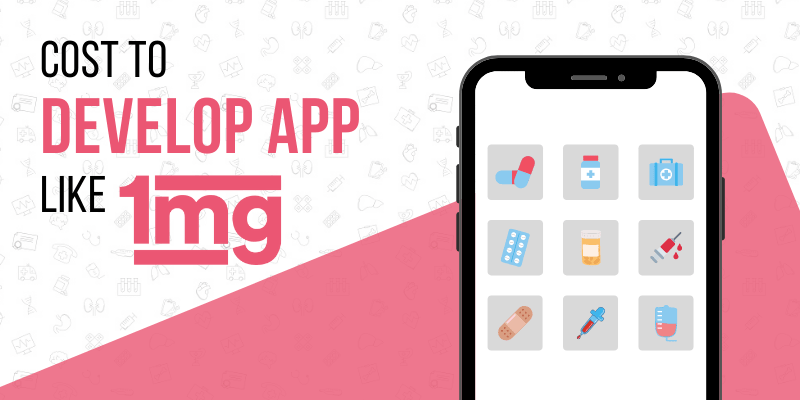 On the basis of the functionality, features, and scale, a medicine delivery app like 1mg clone app can be categorized into – Premium, Advanced and Basic.
The development cost of a premium 1 mg like the app will come around $15000+
The development cost of an advanced 1mg like app will come around $10000 to $15000
The development cost of a basic 1mg like app will come around $5000 to $10000
However, these are only the estimates. On integrating complex features, the cost to develop an app like 1mg may be a bit higher in comparison to the cost of integrating only the essential features. The actual cost may vary on the basis of the crucial factors that have been stated below:
App Size: Whether the size of your app is large, medium, or small
Tech Stack: The usage of the latest technology will lead to an increased app development cost.
Geographical Location: On the basis of the location of your developer's team the price varies.
Development Team Size: Whether the size of the team is small or large.
App Platform: Whether you choose iOS or Android or both.
UI Level: Either Polished, MVP or Basic
Signup & User Accounts: Google account, Facebook, Twitter, email login as many login options are there the development cost will increase as per that.
Social Engagement: Core programming is required for providing a chatbox, message box, forums, commenting, referring or sharing.
Admin Pages: More number pages with greater capabilities are required by the admin to manage in-app activities efficiently.
Performance Monitoring: This factor requires APM tools, API calls, as well as complex logic for monitoring and maintaining the performance.
Usage Analytics: For tracking the behavior pattern of the users and their experience integration of analytics.
CMS Integration: Integration of this factor in a pharmacy app
Multilingual Support: As many languages, you integrate the cost will depend on that
Wrapping Up
As people of today's period have become completely accustomed to ordering and buying medicines through medicine delivery apps, the demand for such apps will only boost. Grab this opportunity and hire the best pharmacy app development services of one of the best medicine delivery app development companies and step into this one of the most profitable online businesses.
As there are many people planning to develop a medicine delivery app like 1mg; hence you need to hire the pharmacy app development services of the top app developers so that you get the most excellent product.
You may also like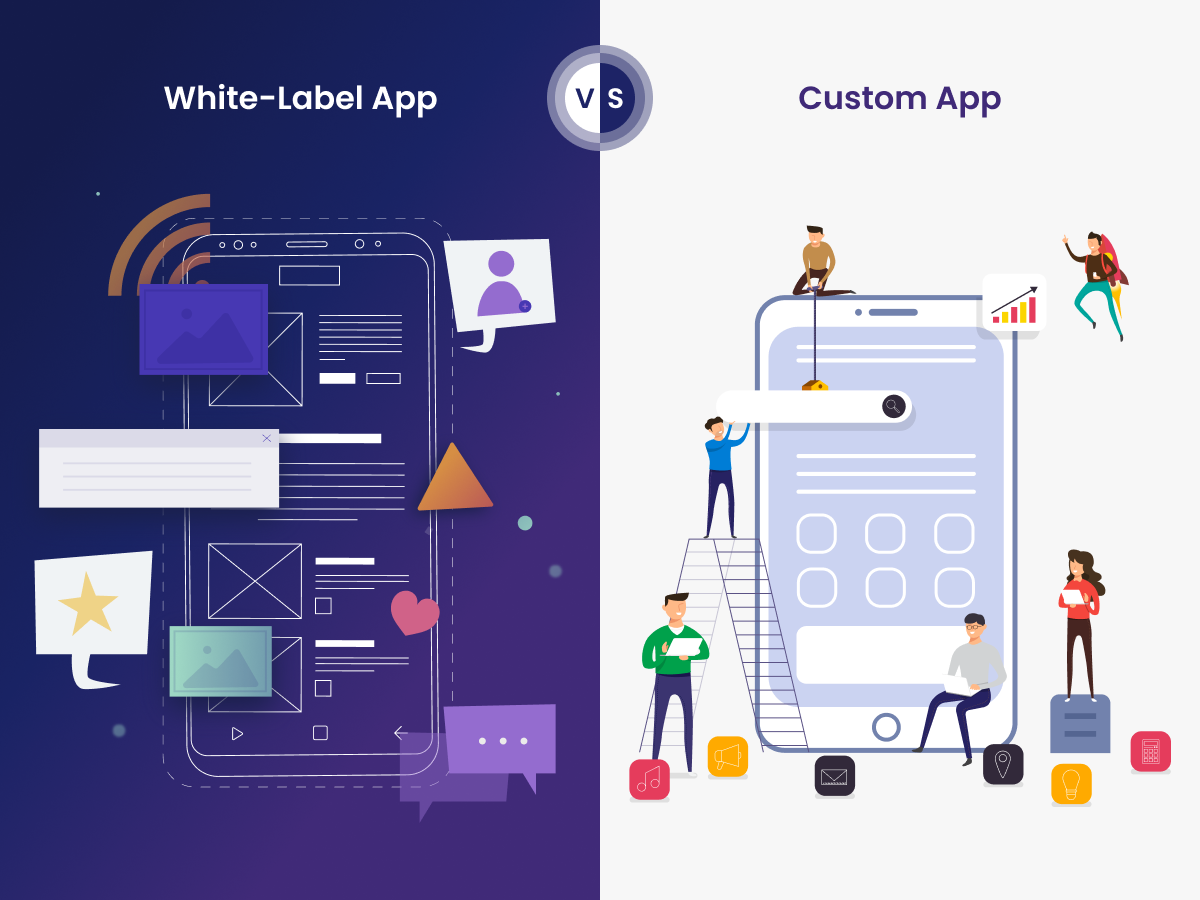 White Label App vs Custom App: Unveiling the Right Choice
Chirag Vaghasiya
In today's fast-paced digital landscape, the choice between white label app and custom app is a pivotal decision that businesses must make when venturing into mobile application development. Both approaches have their distinct advantages and disadvantages, and the path chosen can significantly impact a company's success in the digital realm. Every business has common goals… Read More