Ankit Patel

August 12, 2021

5 min read
The eCommerce sector is evolving rapidly. An incredible pace in regards to popularity can be noticed in the on-demand apps. These apps have changed the entire traditional business model. From brick and mortar stores, today everything is being shopped online. The on demand delivery app development services offering companies have made the lives of every individual easier in comparison to the past. From booking spa appointments to hailing taxi rides, from ordering food to buying groceries everything is just a tap away.
Dunzo is one such on demand delivery app that has made life surprisingly easier for us. First, let us know about the Dunzo clone script and then we will proceed further and discover its features and the cost to develop app like Dunzo.
Dunzo
In the year 2015, Dunzo was created by four budding industrialists. It is a smartphone application operating in seven major Indian cities – Gurgaon, Chennai, Pune, Hyderabad, Bangalore, Mumbai, and Delhi. Dunzo was created with an intention to solve the pain points of an individual who barely could find enough time to shop for his/her daily needs except for weekends.
Dunzo is an all-in-one delivery platform delivering high-quality products and unparalleled comfort to its users. As per the records, the orders placed by Dunzo every month are more than a million. As it successfully met the needs of every user, it is today one of the successful on-demand apps. More start-up entrepreneurs today are seen hiring on demand delivery app development services to develop something like the Dunzo clone app. Google too backed this on-demand app and invested around US$ 12 million after which it came into more limelight.
The stores and sectors that Dunzo covers are the grocery stores, pet supply shops, restaurants, meat shops, pharmacies, etc. A Dunzo app can purchase the required things directly from these stores via the app and get them delivered quickly at his doorsteps. Also, a user can order food from any local restaurant despite it being located far away from his home. Dunzo offers heavy discounts to its users, which is also the biggest reason behind its tremendous popularity.
● How Can You Earn Revenue Via An App Script Like Dunzo Clone Script?
Seasoned with a plethora of revenue opportunities, it is a wise decision to develop something similar to the Dunzo app. The revenue models of the Dunzo clone app are:
Delivery Fee – Directly charging from the customers for the order's delivery.
Listing Fee – For getting listed or registered on the platform, charging a pre-decided listing fee or special fee from stores and vendors.
Promotions & Marketing – Charging marketing or promotion fees from those vendors who want to expand their reach as well as sales.
Special Membership Programs – Adding paid membership plans and loyalty programs for customers.
● Services Offered By Dunzo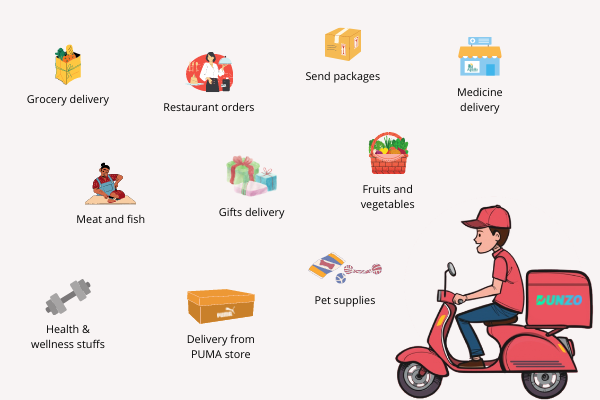 In a very spectacular manner, Dunzo meets every single need of its users. When the Dunzo app is there, then a person need not visit the store physically to buy the required stuff. There are a lot of services that Dunzo offers to its users. They all have been enlisted hereunder:
Daily grocery
Restaurant orders
Send packages
Apollo pharmacy supply
Meat and fish
Gifts delivery
Fruits and vegetables
Pet supplies
Health & wellness stuff
Delivery from PUMA store
● Essential Features Of Dunzo Clone App
Customer App
Easy registration
Social media integration
Advanced search
Add to cart
Wish list
Place order
Data security
Multi payment options
Live tracking
Schedule delivery
Manage shipping address
In-app chat/call
Push notification
Order history
Rate & review
24*7 customer support
SOS button
Delivery Boy App
Easy registration
Manage profile
Manage availability
Accept/decline order request
GPS navigation
In-app chat/call
Track earnings
Track deliveries
Barcode scanner
Store Owner Panel
Receive order notification
Accept/decline the order
Profile analysis
Catalogue instalment
Manage products
Good incentives
Update profile
Add product images
Update product rates
Notify delivery personnel
Payment method
Real-time order tracking
Admin Panel
Robust dashboard
Manage users
Manage store owners
Manage delivery personnel
Notification control
Payment history
Record bills
Loyalty program management
Generate QR code
Manage order deliveries
Manage feedback
Commission management
Generate reports & analytics
Manage refunds
Manage invoice
Advanced Features
Chatbot
Voice skills
Profile analysis
Track monthly expenditures
● Technology Stack
For Payment – PayPal, Stripe
For finding user location – Google Places API
For registrations – Gmail SDK, Facebook SDK
For finding directions – Google Maps, MapKit
For analytics – Google Analytics, Firebase
For storage – Digital Ocean, Azure, AWS, Google
● Primary Factors To Ascertain The Cost To Develop App Like Dunzo
App Platform: On the basis of the platform you choose to develop an app like Dunzo, the development cost depends. Some testing functionalities are there in Android; hence it costs more in comparison to that of the iOS platform.
Content inclusion: The entire digital platform revolves around the content. Good content can make your app a popular one. Contents can be in the form of blog posts, 3D images, Infographics, or even short videos.
Theme design: The Internet is a big ocean holding a plethora of themes. As per your project you can choose the best theme. Ensure that the theme is not very messy and is compatible with almost all Smartphones.
App launch screen: The screen size of the smartphones differs from each other. Irrespective of the platform you have chosen to build your app on, make sure that your on-demand app fits perfectly into all the screen sizes.
App developer: Another factor affecting the development cost of an on-demand app like the Dunzo clone app is the demographic, expertise, and strength of the developers offering on demand delivery app development services.
External & advanced features: On the basis of all features you want in your app, the app development cost can be ascertained. The development cost for integrating only the essential features into your app will obviously be less than the integration of advanced features.
App development company's location: The charges of on demand delivery app development services are not the same all around the world. The cost of coding and creating a Dunzo clone script varies from country to country.

USA: $200 – $250 hourly basis
Eastern European countries: $150 – $200 hourly basis
India: $40 – $50 hourly basis
Now, let us have a look at the hours required for developing a particular app feature:
User registration – 32+ hours
User profile – 30+ hours
Search bar – 20+ hours
Payments – 70+ hours
Push notification – 25+ hours
Location tracking – 100+ hours
Calls & messages – 80+ hours
Add to cart – 140+ hours
Reviews – 25+ hours
UI/UX design – 150+ hours
The total number of hours required to develop an on-demand app like Dunzo is ~640 hours. If you hire developers from India, the cost to develop app like Dunzo will be around $20,000 – $25,000.
Wrapping Up
Today maximum tasks are being accomplished by gadgets powered by AI and ML without any human interference. People are getting more inclined towards on-demand apps like Dunzo. Through these apps, they can get everything delivered within hours at their doorsteps. Dunzo must have inspired you too and if you are planning to develop an app just like the Dunzo clone app, then Kudos! You have made the right decision.
You may also like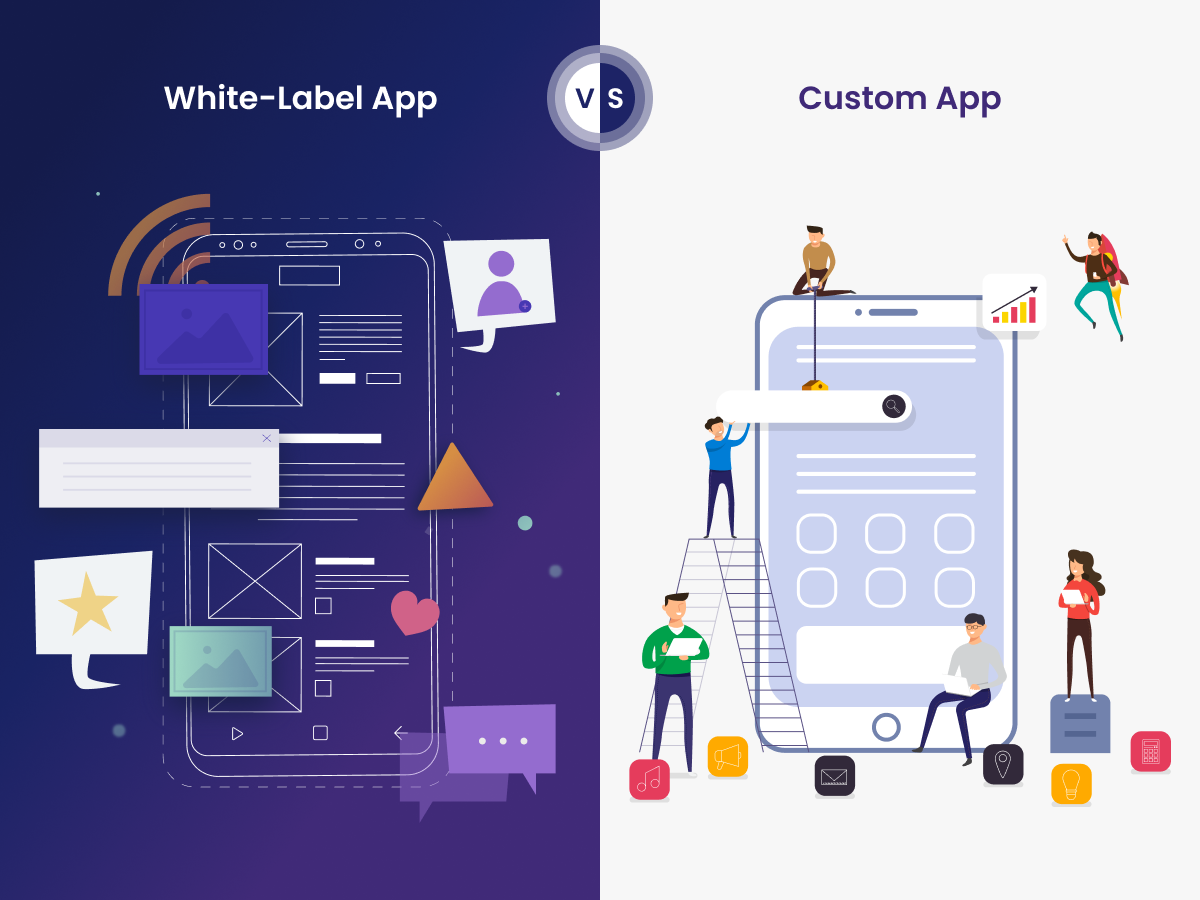 White Label App vs Custom App: Unveiling the Right Choice
Chirag Vaghasiya
In today's fast-paced digital landscape, the choice between white label app and custom app is a pivotal decision that businesses must make when venturing into mobile application development. Both approaches have their distinct advantages and disadvantages, and the path chosen can significantly impact a company's success in the digital realm. Every business has common goals… Read More