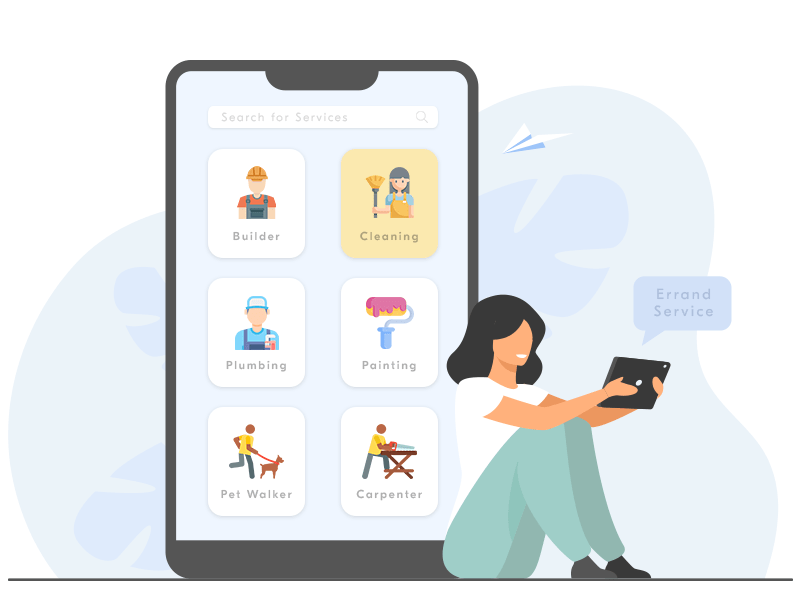 Ankit Patel

February 03, 2022

5 min read
Every person's routine is filled with a list of activities to be completed. Due to globalization and lives being busy, there are a number of tasks that lie pending on the to-do list. You have that leaking tap to be fixed, your clothes to be sent to the laundry, get the garden trimmed, take your dog for a walk, deep clean your house, and whatnot. With the number of tasks increasing on your task list, you find yourself juggling between different tasks. This gave birth to the concept of errand service.
There was an increasing demand for people who could provide errand services. This gave rise to the demand for errand service app development.
A number of entrepreneurs decided to get such a lucrative app developed to bring together people who demanded errand services and people who provided them. Life has become easier for people who demanded errands to be completed while they were busy completing office assignments.
The errand service market is expected to boom in the coming decade. Based on the current and future trends of this market and its size, all types of segments have been analyzed to make an estimate of the growth of this market in the upcoming eight years.
Know more: How To Make Successful Dog Walking Apps Like Rover and Wag
The following graph shows which segments of the errant service market are likely to experience growth.
How Does an Errand Service App Work?
Firstly, let's understand what an errand is. An errand is any short trip done to complete a task or deliver a thing. An errand can be something very important or trivial. It can be as important as depositing a cheque in a bank or as trivial as getting pet supplies.
An app offering errand services helps you find a task runner who can complete the errand for you. Any person who is looking for some tasks to be completed can get them done through the errand service app. People offering to complete errands can also register on the app. They have a number of tasks to be completed on their to-do lists. This way an errand service app brings together task assigners and task runners.

The task seeker will first post the task or errand to be completed.
The app reflects the errand runners available to complete the tasks. It will also reflect their rates and experience level.
The errand runner, chosen by the task seeker, will be notified about the request. Based on his or her availability, the task is either declined or accepted.
The task runner completes the task and receives online payment for the work.
The app cuts a commission rate on the transaction.
All the errand runners who request to be registered on the database should have the required skills and their request should be accepted only after doing a detailed background check.
Errand business has huge growth estimated specifically in the metropolitan zones and huge urban communities. So, it is high time that you implement your errand business idea and create errand services providing app to your customers.
Different Types of Errand Business Ideas You Can Implement
When coming to an errand service app, it can offer a general service wherein the errand runners can do any task assigned by the customer. You can also go for creating an app that services a specific niche or target customers. For instance, initially, you can serve the needs of senior citizens, then as your business generates revenue, you can expand to wider task-running services like serving students.
Errand services are not only designed for helping individuals but also for businesses that are not able to complete certain tasks due to a lack of personnel in a specific area. There are a number of errand business ideas that you can implement for a successful errand app. The following are some of the ideas you can implement:
Pick up or drop off service
Shopping
Sending clothes for laundry
Bank task
Post office errands
Deliver meals to kids or individuals
Babysitting
House watch
Prescription delivery
Handyman services
Mail and newspapers pickup
Courier services
Making reservations in hotels or lodges
Car cleaning and servicing
Making pet walk
Apart from the above, there can be a number of other tasks or errands which could be demanded by task assigners. This has further augmented the need to errand service app development.
How to begin an Errand Service?
Decide the Niche

The first step you need to take to start an errand service is to decide whether you will be launching a general errand service or the one targeted towards a specific audience or customer group.

Give it an exclusive name

The more unique, creative, and attractive your brand name is, the more customers your business will attract. Your brand name should reflect your business idea yet it should be simple to remember.

Go Legal

Once your business idea has been finalized along with the name, you can move ahead and complete all legal requirements such as getting your business registered. It can give your business an image of being legit and enhance your presence. You should also focus on getting a government approved number for your errand service app business.

Insurance is a must

The importance of insurance for a business cannot be underestimated. It is necessary to ensure that any natural or man-made circumstances that endanger your business, do not break you down completely.

App development

At this stage, you should consult an on demand mobile app development company that has the skill and experience to create a winning errand service business app. Once you create a blueprint and decide the platform on which you will launch the app, you can consult them to start developing the app.

Launch

Once the app has been fully developed and tested, you can launch it on the decided platform. The official launch of the app should be strategically planned. You can also start marketing the app before the launch so that users can be excited and look forward to using the app. You can use different marketing channels such as email chains, video advertising, and others to spread the word about your app.

Post-Launch marketing

Once your app is out in the market, you need to ensure that it is downloaded and used by a maximum number of users. After the app has been out in the market, you need to ensure that customers use it by developing ways to engage them. Deals and discounts are surefire ways to attract more users to the app. You can closely watch customer feedback to know about the things which need to be improved.

Business Promotion

You can use different strategies for promoting your business. You can use both digital and traditional ways of marketing. However, between the two, internet marketing is the best because you will be able to promote your business on a number of social media platforms.
Swift for iOS / Flutter / React Native
Java for Android / Flutter / React Native
Backend & API: Node.JS/Express.JS
Front-end: React.JS
Database: MongoDB
Server: AWS, Google Cloud
Payment Gateway: PayPal, Stripe, Any Local Payment Gateway
Analytics Tool: Google Analytics, Firebase
SMS Gateway: Twilio, Clickatell, MessageBird, SMSGlobal
What is the Cost of Errand Service App Development?
Every person desiring to get an app developed is puzzled by the question of how much budget he needs to set for creating the app. The cost of developing an app depends on a variety of factors including the following.
Technology stack utilized
Platform on which the app is launched
Features and functionalities of the app
Security
Hosting
Maintenance
Device compatibility
Simply put, a task-running service app is a great idea to earn money. At times when people rely for everything on apps, it is the best time to join the bandwagon and get an app created. However, you need to move steadily on this path after doing a great deal of research.
You must ensure that the service you are going to offer is very useful to the public and it offers a unique solution. There are thousands of apps in the Play Store or App Store which can offer the same service as yours. Hence, you must be very choosy when you are going to finalize your business idea. It should be the one that can impress the investors as well as the target users. If you have any questions or queries related to errand service app development then don't hesitant to connect with us.
You may also like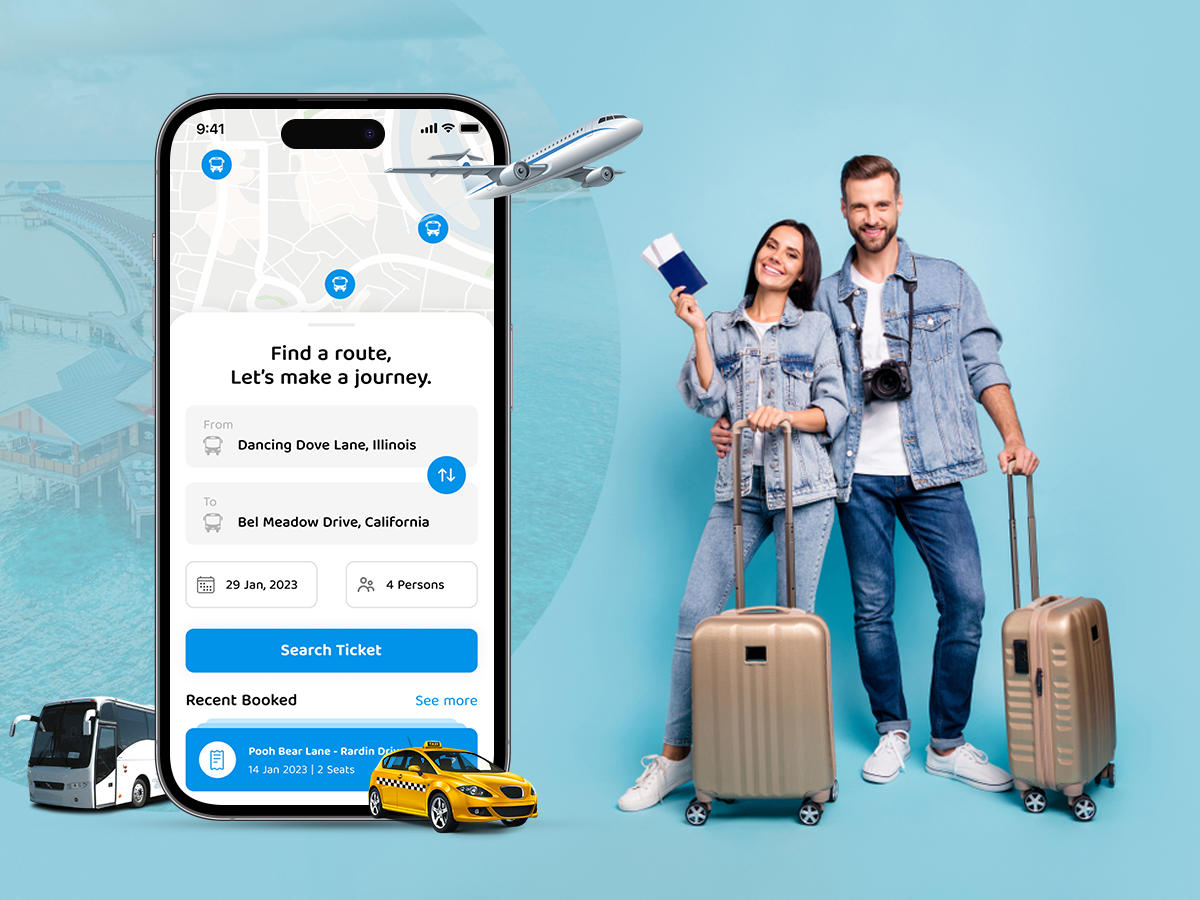 A Definitive Guide to Travel Booking App Development
Ashka Panchal
Globally more and more travelers are opting for convenient and efficient digital solutions. As the world is moving towards a post-pandemic reality, travelers seek seamless travel experiences at their fingertips, making a massive surge in the travel app industry. To meet this demand, developers have the opportunity to create impactful travel booking apps that will… Read More