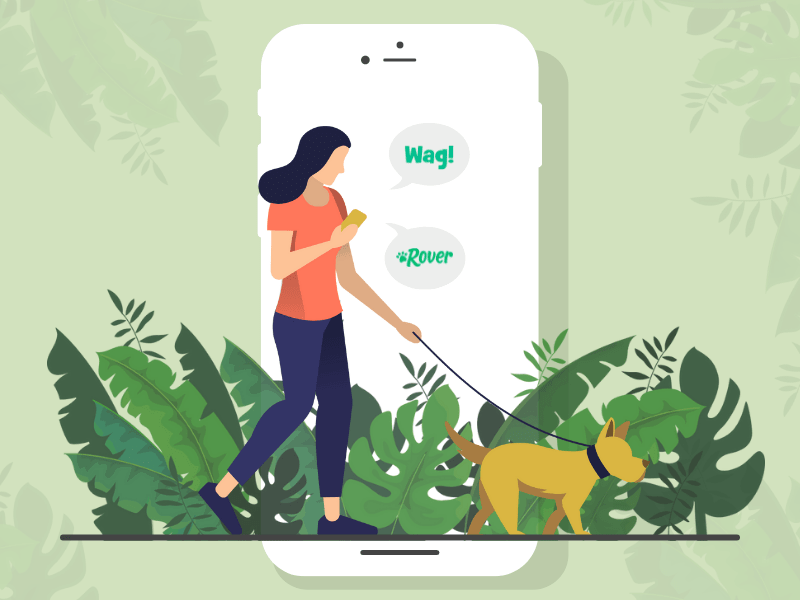 Ankit Patel

July 16, 2021

4 min read
Every one of us who has pets adores them. We want the best for our pets and ensure that they stay in the best of their health. Most of us almost consider them as our children. However, due to the hectic lifestyles, we hardly have any time for even the minutest of the tasks. Despite our best intentions, buying them food, or say, taking them for a walk becomes the last task on our to-do list. This leaves us with pain and guilt about not doing enough for them. However, with the increasing development of technology, we all are cognizant that apps can solve any problem at hand.
One such solution offered for enhanced pet care is the wide array of pet care apps. Amongst this collection, on-demand dog walking apps are the most popular. With the power of innovative digital technologies, you will be empowered to take your dog care to the next level. This is why there is an increase in the number of on-demand dog walking app development.
If you are a budding entrepreneur looking to employ your resources and skills in the development and management of dog walking apps, then you can walk on the path ahead. This blog will enlighten you about how you can create an ideal dog walking app that takes you towards the path of success.
Before we proceed, let's dwell on what a dog walking app is all about.
What is a dog walking app? What does it do?
A dog walking app enables dog owners to hire an individual to take their dog for a walk for a specified time. This multi-panel app also allows individuals, interested to take dogs for a walk, register with the app so that they can be hired by pet owners. An admin panel helps you edit, delete, and manage all the data within the app. As an app owner, you will have total control over things that must appear on the dog-owners and dog-walkers panel.
Types of apps created using on-demand dog walking app development services:
Own Business: If you are personally involved as a pet care agent, then you can move ahead and create a pet walking application to provide enhanced services to your clients. Thereby, ensuring their loyalty, appreciation, and conclusively their recommendation.
Work as an Intermediary: You can also choose to be a bridge between the dog owners and agents by providing a platform for both to get together. This implies that you can conduct a business as an intermediary though you don't own a pet-care business.
Features of an Impeccable Dog walking app
Getting on-demand dog walking app development accomplished may be an easy task. However, creating a successful Rover clone app is the key to an app that fetches returns for your business.
Let's peek into the features an ideal on demand dog walking app should have.
Possesses user-friendly features
Displays no-ads
Different categories for entering detailed information about the pet
Calorie counting enabled
Ability to track the location
Should offer the ability to book a walk or schedule one
Should have the option to get photo updates
Messaging to walkers enabled
Feedback enabled app which gives a peek into reviews and ratings
Easy booking and payment method
Panels of a dog walking app
For the app to be fully functional and be able to be used by multiple parties, a wag clone app must have three different panels which must be kept in mind while developing it.
Basically, there are three different parties involved in the entire transaction of dog walking.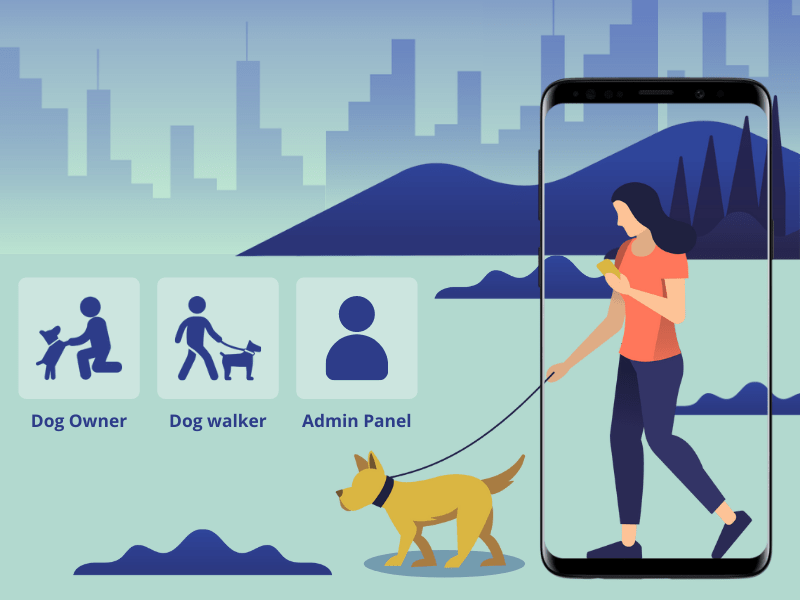 Dog owner
Dog walker
Admin (Who can be either a pet-care business owner or just an intermediary between the dog owner and walker.)
To enable all of these to utilize the app, three panels must be developed.
Dog-owner's front-end
Dog-walker's front-end
Admin: back-end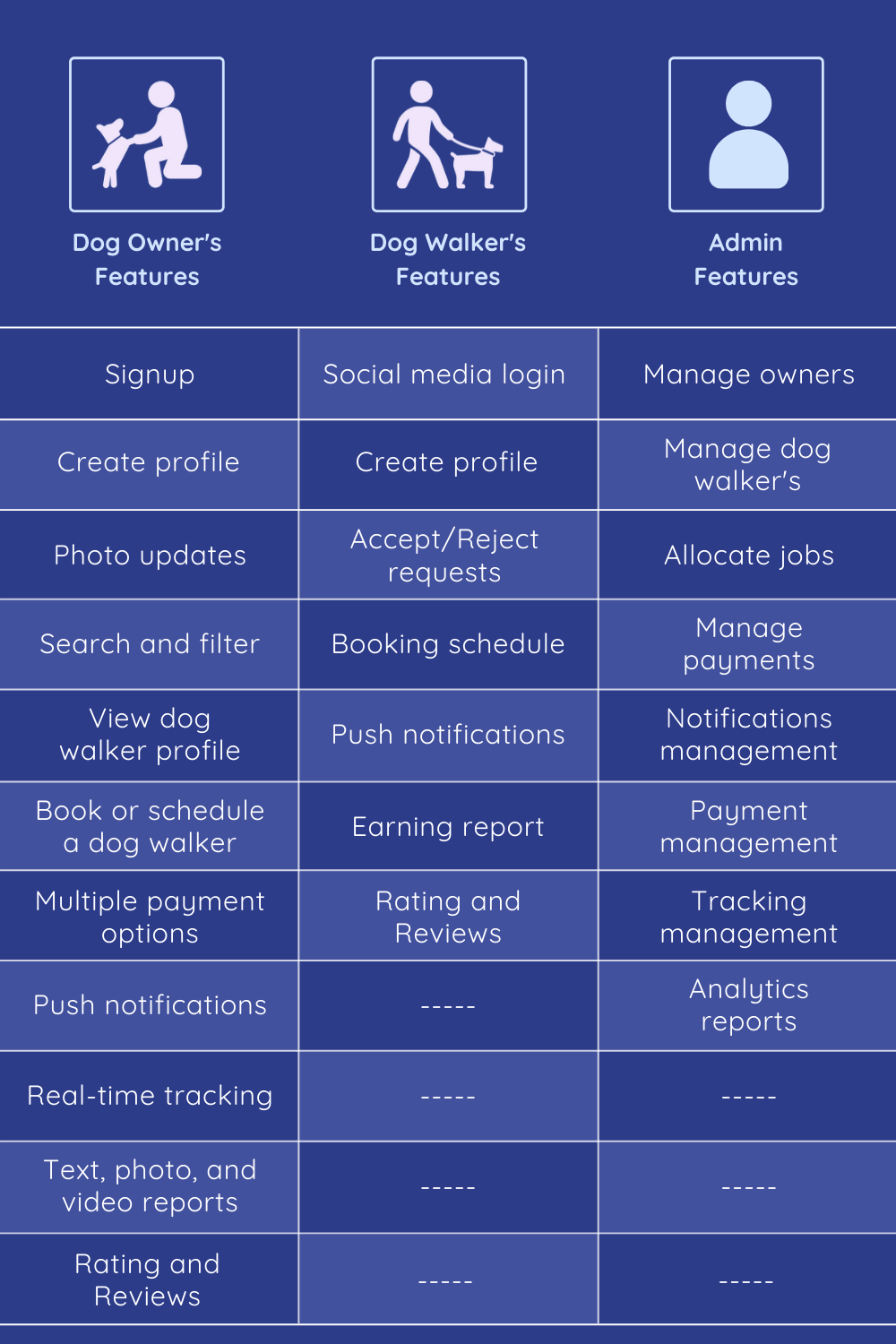 Process of Creating On-Demand Dog Walking App
Creating a successful rover clone app is not a cakewalk. It needs a methodological approach that demands substantial financial investment.
Let us look at the process step by step so that we can understand how professionals providing on demand dog walking app development services function.
Step 1. Conduct market research: If you want an income-generating dog walking app which is similar to a wag clone app then you need to carefully do market research and consider the following factors.
Demand for the dog-walking service in the area you will be providing the service.
Target audience expectations.
Analysis of the existing successful dog-walking apps and identify what's missing in them.
Step 2. Pin down the solutions to the problems in existing dog walking apps.
Once you find out what problems existing users are facing, you need to create a design of the app that addresses these issues. At this stage, you need to decide the USP of your app.
Step 3. Consider different aspects of development
Apart from the above, you need to decide on different factors which impact the development process.
Methods of payment
Methods of advertising or marketing the app
Methods of interacting with the client
Ways to secure dog-walkers and pet-owners
Ways of monetizing your app for dog-walkers
Step 4. Blueprint of the app: You need to plan the basic design of the app which dictates the main features of the rover clone app you have in your mind.
Step 5. Deciding the development team: You then need to decide the party which will give life to your application. You can research the best on demand dog walking app development services providing company. Consider the experience of the developers and the reputation of the company.
Step 6. MVP Creation: Creating a Rover clone app is not a simplified process. It is a complex and expensive process. The best place, to begin with, is by creating an MVP model, which has only the important features. This will help you save money and get a chance to check if the first version of the app is good for end-users.
Step 7. On-going Maintenance of the Application: You can now make a plan for regular service and update its functionality as required so that the app is always up. This includes modifying the app as per the changing demands of the customers and maintaining the USP factors so that the app gains continuous success.
Although the process of developing, launching, and running a rover clone app seems easy at the outset, it may have varied challenges. These roadblocks must be bet by hiring a professional and experienced company providing top-edge on demand dog walking app development services.
Now that you know about what a dog-walking app is like and what it takes to create it, you can proceed to transform your idea into reality and monetize it. If you still got to know something more about the process of creating a wag clone app then you can certainly comment in the section below.
You may also like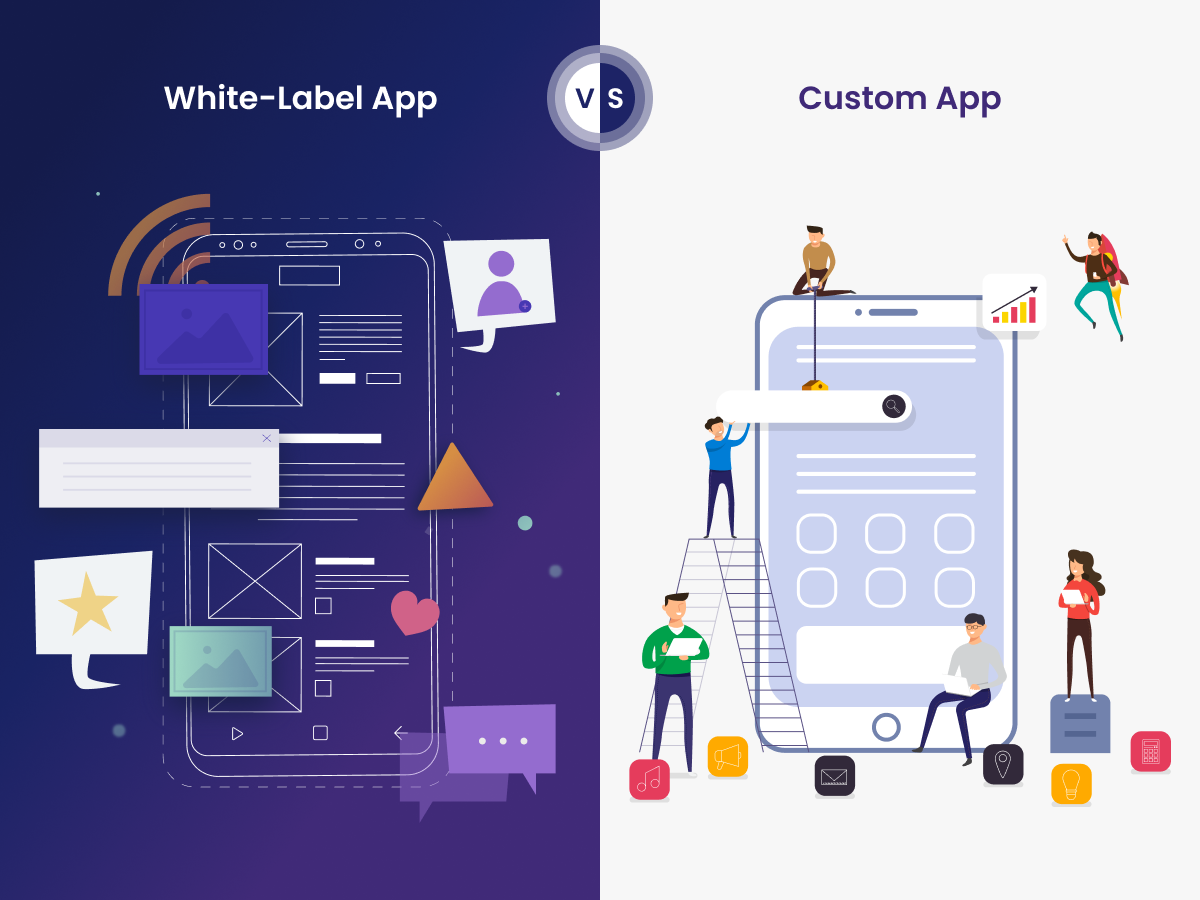 White Label App vs Custom App: Unveiling the Right Choice
Chirag Vaghasiya
In today's fast-paced digital landscape, the choice between white label app and custom app is a pivotal decision that businesses must make when venturing into mobile application development. Both approaches have their distinct advantages and disadvantages, and the path chosen can significantly impact a company's success in the digital realm. Every business has common goals… Read More