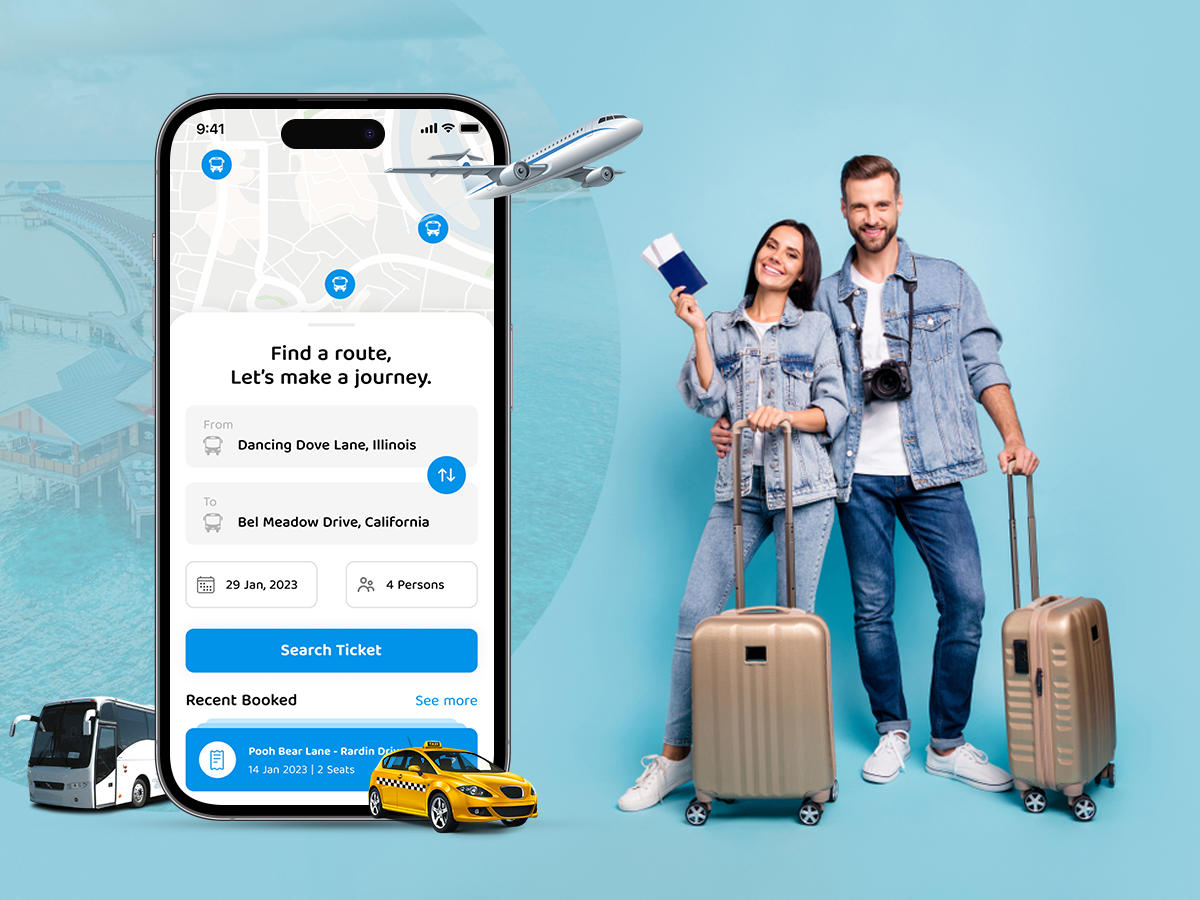 Ashka Panchal

August 16, 2023

6 min read
Globally more and more travelers are opting for convenient and efficient digital solutions. As the world is moving towards a post-pandemic reality, travelers seek seamless travel experiences at their fingertips, making a massive surge in the travel app industry. To meet this demand, developers have the opportunity to create impactful travel booking apps that will cater to the changing needs of the modern traveler.
The travel industry is a booming market, and travel booking apps are a major part of it.
According to Statista, "The overall market cap of the online travel industry worldwide is expected to surpass $521 billion in 2023 and rise to over one trillion U.S. dollars by 2030."
This growth is being driven by the increasing popularity of smartphones and the growing demand for convenience and personalized travel experiences.
However, crafting a successful travel booking app is a challenging process. With numerous competitors in the market, your app must distinguish itself and offer a unique user experience. We have compiled a comprehensive guide on developing travel booking apps to guide you through this process. Whether an experienced app developer or a newcomer, this guide provides all the essential information you need to create an exceptional travel booking mobile app.
Understanding Travel App Development
Travel app development involves building applications that enhance travel planning, from booking tickets to organizing itineraries. While the development process follows a template, the magic lies in tailoring apps to their unique roles, like crafting diverse dishes from a basic recipe.
For business owners entering the field, choosing the right app type is crucial, akin to selecting the perfect tool.
Why Creating a Travel Booking App Can Be a Great Idea For Your Business?
If your business requires providing users with the flexibility to book tickets as per their requirements, then this application is tailored for you. There are numerous other reasons you should develop a travel booking app for your travel agency, some of which are listed below:
Reduced Intermediary Costs: A travel booking app development can reduce reliance on third-party platforms and booking engines, cutting commission fees. It means a higher portion of the revenue remains within your business, contributing to increased profitability.
Customer Loyalty and Engagement: A well-designed travel booking app can foster customer loyalty. By offering personalized recommendations, exclusive deals, and loyalty programs, you can keep users engaged and encourage them to use your app repeatedly for travel needs.
Revenue Streams: A travel booking app can generate revenue through booking commissions, advertising partnerships, premium features, and in-app purchases. The diversification of income sources can lead to a sustainable business model.
Global Reach and Accessibility: A travel booking app can transcend geographical barriers in the online travel industry, allowing you to reach a global audience. With the right marketing strategies and localization efforts, you can attract users from various regions, expanding your customer base and potentially increasing profits.
Also check: Steps To Develop a GPS Navigation App Like Waze
Popular Types of Mobile Travel Apps
There are many different types of mobile travel apps, but some of the most popular include:
Flight Booking Apps: These apps allow users to search for and book flights from a variety of airlines. Popular examples include Kayak, Skyscanner, and Expedia.
Hotel Booking Apps: These apps allow users to search for and book hotels from a variety of hotel chains and independent hotels. Popular examples include Booking.com, Hotels.com, and Agoda.
Travel Itinerary Apps: These apps help users organize their travel plans by centralizing all booking details, including flights, accommodations, activities, and reservations. They often offer offline access to itineraries and real-time updates.
Navigation and Mapping Apps: Navigation apps provide GPS-based directions, maps, and information about points of interest. They are essential for exploring new destinations and finding the best routes.
Transportation Apps: These apps allow users to book transportation, such as taxis, buses, and trains. Popular examples include Uber, Lyft, and Citymapper.
Travel Guide Apps: These apps provide users with information about destinations, such as attractions, restaurants, and activities. Popular examples include TripAdvisor, Lonely Planet, and Google Maps.
Packing List Apps: These apps help users create packing lists for their trips. Popular examples include Packing Pro, PackPoint, and Packing List Pro.
Language Translation Apps: These apps allow users to translate text and speech between different languages. Popular examples include Google Translate, iTranslate, and Papago.
Also check: Steps to To Develop A Highly Responsive Location-Based App
Core Features of A Travel Booking App
Travel booking apps often pack additional features to elevate your travel planning game. Armed with essential details, they are empowered to fine-tune travel plans. As a travel business, knowing the details about the features available for each panel is good. A general list of features for the user, admin, and service provider panel is given below:
| Feature | User App | Service Provider App | Admin Panel |
| --- | --- | --- | --- |
| Search | Find flights, hotels, and activities | List available services | Monitor and manage listings |
| Filters | Refine search results by price, location, etc. | Update service information | Set parameters for search and listings |
| Booking | Reserve flights, hotels, and activities | Accept/Reject booking requests | Review and manage bookings |
| Payment | Secure payment gateway integration | Manage payment preferences | Handle payments and refunds |
| Reviews | Read and write reviews and ratings | Respond to user reviews | Moderate reviews and ratings |
| Profile | Manage personal information and preferences | Update service provider profile | Access user data and resolve issues |
| Push Notifications | Receive booking updates and travel alerts | Receive booking notifications | Send important updates and notifications |
| Itinerary | View and manage trip details and schedule | Update service availability | Provide support for itinerary adjustments |
| Customer Support | Access FAQs, live chat, and help resources | Contact user regarding bookings | Respond to user inquiries and issues |
| Wishlist | Save preferred options for future bookings | Manage offered services and pricing | Monitor user interactions and trends |
Steps To Develop a Travel Booking App
The scope of travel booking apps varies depending on the business's specific objectives behind their creation. Once the app takes shape, it's ripe for use. Now, are the steps for crafting these apps universal? Yes and no. The underlying development process might share similarities, but the true differentiator lies in the purpose for which the app is designed. To know more about how to develop a custom travel app, take a look at these steps that are universally followed:
• Conduct Thorough Market Research and Analyze Trends
Begin by thoroughly analyzing the market to understand its current dynamics comprehensively. Recognize the trends and services that are currently thriving. Conduct in-depth research to eliminate discrepancies, ensuring your application meets market demands. This research should encompass market trends, statistics, and potential profits. If you need help with this research, consider engaging with mobile app development companies to gain valuable insights.
• Formulate a Strategy and Set Clear Goals
Following the market analysis, devise a well-defined strategy and establish your objectives. Best travel booking apps can be created with meticulous attention to each goal related to a business. Neglecting strategy and goal-setting could impede the success of your endeavor. Create a roadmap to guide your progress and prevent straying from your course while developing the travel booking app.
• Identify Your Target Audience
Define your target audience beyond demographics. Understand their psychological traits and preferences. Differentiate between price-sensitive and value-focused segments. Tailor your approach to engage both effectively.
• Design and Prototype
Once your target audience is determined, design the application and create a prototype. During the design phase, meticulously incorporate every intended feature. Thoroughly assess the functionality of these features; if any issues arise, address them promptly. The prototype should encompass all factors, and you must review it rigorously to prevent discrepancies.
• Develop and Test the App
With a completed prototype, proceed to develop the application and initiate testing. Ensure a comprehensive testing process encompassing alpha and beta phases. The beta phase is crucial as it introduces all the features. The application will be in beta during the initial launch, accessible to users who can evaluate its functionality. Be receptive to user feedback; their recommendations can significantly enhance the application's quality.
• Launch and Monitor
When confident in the app's readiness, launch it and closely monitor its performance. Pay attention to user reviews and feedback. Utilize this input to improve the user interface and retain customers. Regularly update the app to demonstrate its relevance and commitment to user experience.

How Much Will It Cost to Build a Travel Booking App?
There are multiple aspects to ponder that can influence the cost to build a travel app. These comprise the extent of customization, the complexity of the app, and the essential features that need inclusion. For a basic travel booking app encompassing core features, you can expect the development cost to range from $15,000 to $30,000. This package would include essential functionalities such as user search, filters, booking capabilities, payment integration, user profiles, notifications, and customer support.
The cost of developing this full-fledged travel app could range from $30,000 to $50,000 and more based on your requirements.
To build a successful mobile travel app, it is crucial to collaborate with a reputable development team that can guide you through the travel app development cost and help you get the most out of your investment. Remember that the success of your app relies on understanding user preferences, adapting to changing trends, and providing a solution that simplifies and enhances the travel booking experience.
Final Words
If you are a business owner venturing into this dynamic market, here's a crucial nugget of wisdom: your success hinges on selecting the right type of app that aligns seamlessly with your business objectives. It's akin to choosing the perfect travel itinerary – tailored to your unique needs and aspirations. For businesses seeking to create a travel app, partnering with a specialized travel app development company like ours is the most strategic decision. With our extensive expertise and experience, you can design a user-friendly app, enabling your business to differentiate itself within the highly competitive travel industry.
You may also like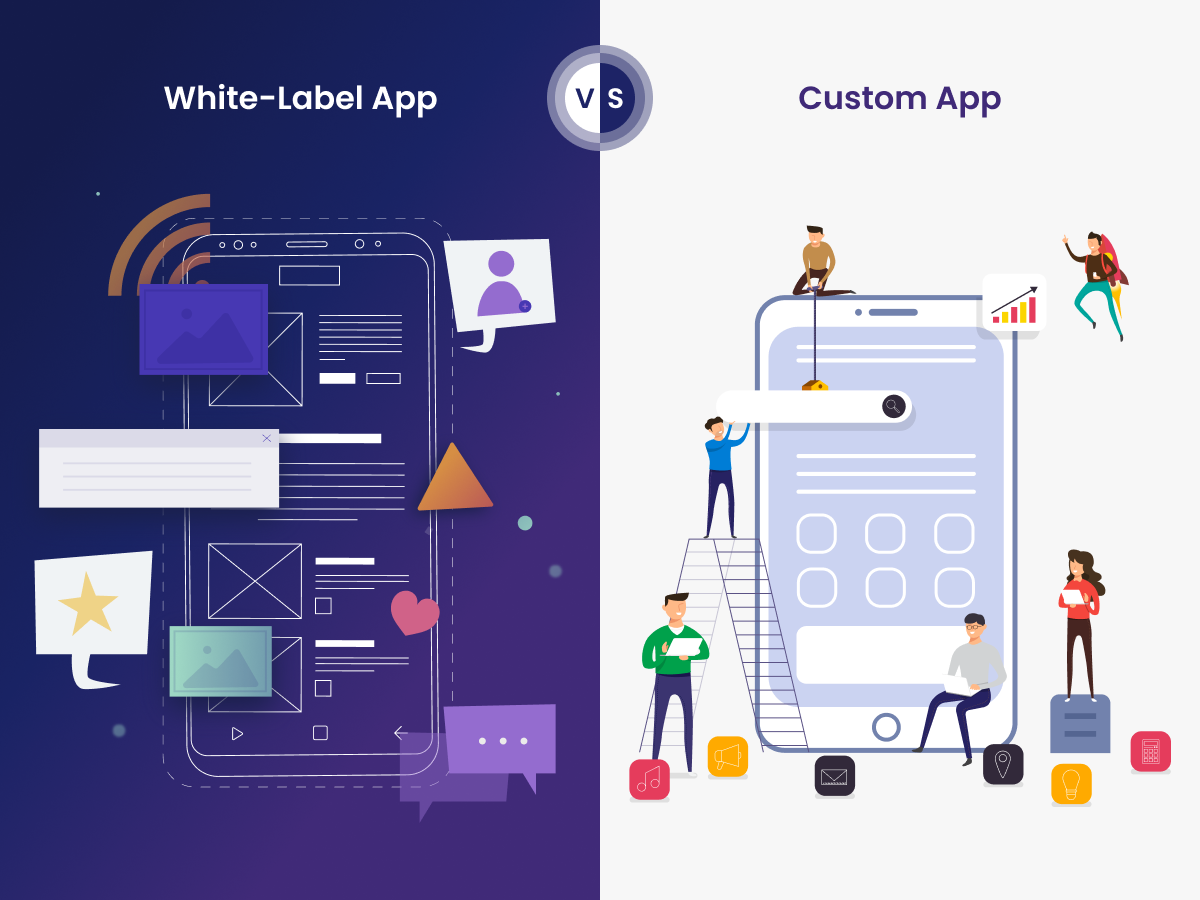 White Label App vs Custom App: Unveiling the Right Choice
Chirag Vaghasiya
In today's fast-paced digital landscape, the choice between white label app and custom app is a pivotal decision that businesses must make when venturing into mobile application development. Both approaches have their distinct advantages and disadvantages, and the path chosen can significantly impact a company's success in the digital realm. Every business has common goals… Read More