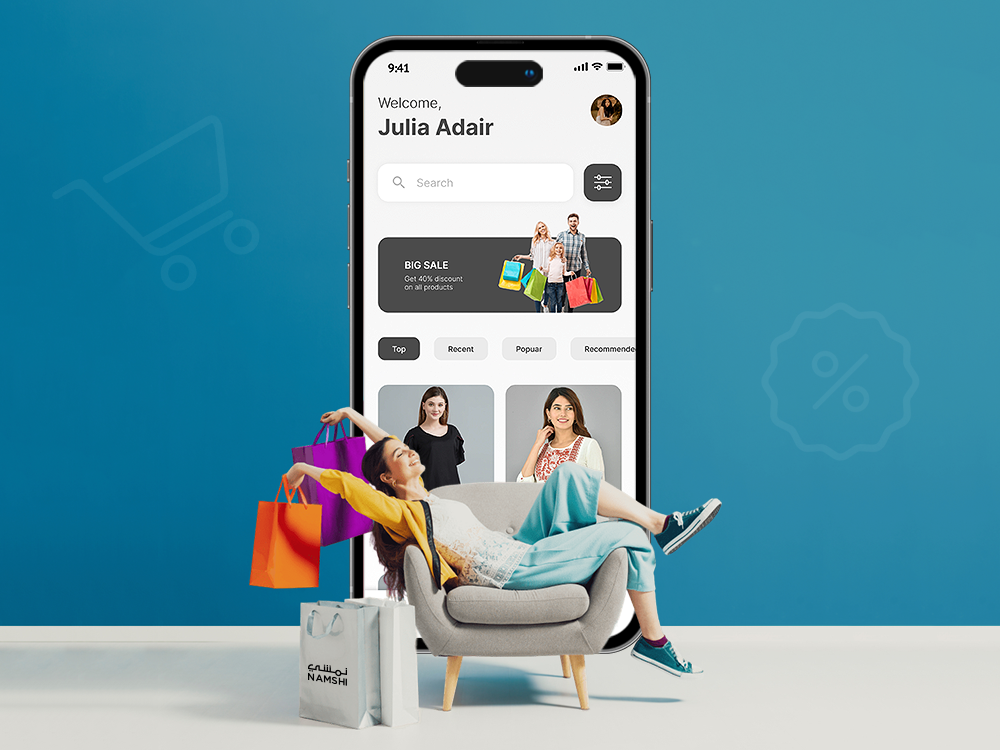 Chirag Vaghasiya

August 01, 2023

7 min read
eCommerce startup is a relatively new and booming trend in the business world today. If we consider how popular online shopping has become in recent years, it's no surprise that more and more people are embracing the convenience of shopping from the comfort of their homes. The ease of browsing a wide range of products, making secure online payments, and having items delivered right to your doorstep has undoubtedly attracted a massive customer base.
According to Statista, "The eCommerce market in UAE is set to hit a revenue of $10.21 billion in 2023.
This projection indicates a bright future for eCommerce startups and established players like Namshi. It's an exciting time for entrepreneurs looking to venture into the digital marketplace, as the potential for success and profitability seems promising. So, whether you are planning to start your own eCommerce business or already running one, examining the key features and cost of developing an app like Namshi is crucial.
Namshi is one of the most popular e-commerce apps in the Middle East, with over 10 million active users.
If you're thinking about building an eCommerce app of your own, you may be wondering: How much does it truly cost to develop an eCommerce app like Namshi?
The cost to build an app like Namshi can vary depending on a number of factors, including the features you want to include, the complexity of the app, and the location of the company. However, in general, you can expect to pay anywhere from $20,000 to $40,000+.
In this blog, we'll take a closer look at the factors that affect the cost to build an app like Namshi.
About Namshi
Namshi is a highly successful retail and E-commerce business operating in UAE. It has emerged as the most sought-after eCommerce app in the UAE, having an extensive catalog featuring thousands of products from renowned global brands. The app's user-friendly interface has played a crucial role in its success, allowing customers to effortlessly browse products, add them to their cart, and make secure payments. Additionally, Namshi prioritizes the local market by providing Arabic language support, facilitating transactions in local currency, and offering dedicated customer service in the UAE region.
Benefits of Developing an eCommerce App like Namshi
Namshi is a popular online fashion and lifestyle shopping platform in the Dubai, UAE, and replicating its success can be advantageous. Here are some of the benefits:

• Increased Sales and Revenue
Namshi-like shopping app development can significantly boost business sales and revenue. With a user-friendly interface and convenient shopping options, customers are more likely to make purchases, leading to higher conversion rates. Moreover, the app's accessibility allows businesses to tap into a broader customer base, reaching potential buyers beyond geographical limitations.
• Brand Visibility and Recognition
A dedicated mobile app strengthens brand visibility and recognition. It is why businesses these days prefer to build an eCommerce mobile app. Businesses stay top-of-mind by having an app presence on users' smartphones, even when customers are not actively shopping. This consistent brand exposure helps build brand loyalty and establishes the company as a reliable choice among competitors.
• Enhanced Customer Support
E-commerce apps can incorporate various customer support features such as in-app chat or instant messaging, making it easier for customers to seek assistance. Quick and personalized responses to customer queries enhance satisfaction and trust in the brand's customer service.
Also check: Cost of Building a Fashion App Like Shein
Reason to Invest in Building eCommerce App Like Namshi
There are many reasons why you might want to invest in building an eCommerce app like Namshi. Here are a few reasons:
The growth of online shopping: The global online retail market is expected to reach $8.1 trillion by 2026. This represents a significant growth opportunity for businesses that are able to reach consumers online.
The convenience of mobile shopping: More and more people are using their smartphones and tablets to shop online. This means that businesses that have a mobile-friendly app will be able to reach a wider audience.
The Personalization of eCommerce: eCommerce apps can be used to collect data about users' shopping habits, which can then be used to provide personalized recommendations and offers. This can help businesses to increase sales and improve customer loyalty.
The scalability of eCommerce: eCommerce apps can be scaled up or down easily, which makes them a good option for businesses that are growing rapidly.
Also check: Valuable Tips On Building A Successful Shopping App
Key Features of the Namshi eCommerce App
Namshi follows a three module approach – Shoppers, Sellers, and Admin. The platform's success relies on each module's key features:
Shoppers Features
Advanced Search: AI-powered advanced search functionality to help customers find products quickly.
Product Details: Detailed product information, including specifications, quantity, user reviews, etc.
Add to Cart and Wishlist: Allowing users to save products for future purchases.
Multiple Payment Integration: Integrating various payment options for customer convenience.
Push Notifications: Push notifications to let users know about new arrivals, sales, and other events.
Real-Time Tracking: Providing real-time updates on the status of orders.
Rewards program: Users can earn points for every purchase they make, which they can then redeem for discounts or other rewards.
Social Sharing: Facilitating product sharing with your friends on social media platforms.
Review and Rating: Customers can share their product experience and provide feedback.
Customer Support: 24/7 customer support with multiple communication options.
Sellers Features
Product Listing: Allowing sellers to create, modify, and delete product listings.
Dashboard: Providing sellers with a comprehensive view of their product performance.
In-App Messaging and Forum Posting: Enabling sellers to interact with customers and address queries.
Admin Panel Features
Dashboard: Monitoring overall app performance and analytics.
Order Management: Tracking and managing customer orders.
Product Management: Overseeing product listings and reviews.
Promotions and Offers: Managing promotional campaigns and offers.
Also check: Cost to Develop an eCommerce App Like Noon
How Much Does it Cost to Build an App like Namshi?
When it comes to Namshi E-Commerce app development cost, it is around $20,000 for a basic application. If you want a more moderate version with additional features, the cost could range from $25,000 to $35,000.
Suppose you aim to create a full-proof app with advanced features like voice search, AI chatbots, machine learning-based analytics, highly personalized recommendations, and more. In that case, with all these cutting-edge features, the cost of developing such an app would be over $40,000 or more.
If you're on a tight budget, you can consider developing a Namshi clone to save time and money.

Factors Affecting the Cost of Developing an E-commerce App Like Namshi
The cost to develop an app like Namshi can vary significantly depending on various factors. Some of them are as follows:
• App Development Process
Step 1: Ideation
The journey begins with ideation, where the concept of eCommerce app development is shaped through market research and analysis of the competition. Here's where decisions about choosing the right platform come into play – whether iOS, Android, or both. Remember that developing solely for one platform tends to be more budget-friendly than cross-platform or hybrid.
Step 2: Design and User Interface
Next up is designing the app's UI and UX. Making the app visually appealing and user-friendly is crucial for its success. Of course, investing in a seamless and intuitive user interface might bump up the development costs. The user interface and experience design play a significant role in determining expenses, with an approximate range of $5,000 to $10,000 for an eCommerce app with a strong focus on design, just like Namshi.
Step 3: Development
Skilled developers work to bring the app to life and ensure it functions smoothly on various devices, like mobile phones, web browsers, and even smart home devices. If you are considering incorporating technologies like blockchain and artificial intelligence, that could also influence the costs. Developing a feature-rich Namshi clone may generally cost you somewhere between $15,000 to $25,000 or more.
Step 4: Features and Functionality
Now, let's talk features! The complexity and number of features you want in your app directly impact the development cost. Prioritizing essential functionalities and saving the more advanced ones for future updates can be an intelligent way to manage your budget effectively.
Step 5: Payment Gateway and Third-Party Integration
Ensuring secure and reliable payment processing is vital for smooth transactions for an online shopping app like Etsy or Namshi. The cost of this integration may vary depending on the chosen payment gateway provider and any additional security measures required. If you plan to include third-party services, such as social networking platforms or analytics tools, be sure to account for their expenses and development needs.
Step 6: Testing
It's crucial to ensure your app runs flawlessly across all platforms, leaving no room for pesky bugs or security loopholes. The thorough testing and maintenance expenses typically account for about 10% of the total development costs.
Step 7: Deployment
Finally, it's time to release your app. Before making the app available on app stores, rigorous testing for bugs, functionality, and compatibility with different devices and operating systems is necessary. The cost to publish your app on platforms like the Play Store or the Apple App Store usually falls in the range of $25 to $99 respectively.
• Technology Stack
The choice of technology stack will rely on your requirements for development. Discussing your requirements with an eCommerce app development company and identifying the core elements that help your company's goals is good. It ensures that developers create a unique design that expresses your brand positively.
The following technologies are generally used for creating Namshi clone app:
| Category | Technology |
| --- | --- |
| Frontend | React.js, Angular.js, Vue.js, HTML, CSS |
| Backend | Node.js, Express.js, Python |
| Android | Kotlin or Java |
| iOS | Swift or Objective-C |
| Payments | Braintree, PayPal, Stripe, eWallet |
| Push Notifications | Twilio, Push.io |
| Database | MongoDB, MySQL, PostgreSQL |
| Cloud Architecture | AWS, Google Cloud |
| Analytics and Monitoring | Google Analytics or Mixpanel |
• Location of the Company You Choose
The location of the eCommerce app development company you choose can have a significant impact on the final cost of building the Namshi-like application. Knowing how the hourly costs vary based on geography is good. The mobile app development cost in UAE is usually higher, and you might be interested to know that Asia often stands out as a more cost-effective choice.
Wrapping Up
In conclusion, developing an eCommerce app like Namshi can be a substantial investment, but it offers a multitude of benefits and lucrative opportunities. As the eCommerce market continues to flourish and consumers increasingly embrace online shopping, creating a feature-rich app can position your business for long-term success, enabling you to thrive in the digital landscape and connect with a broader audience of enthusiastic customers.
Are you an eCommerce business looking to hire mobile app developers that can turn your vision into a reality? Then partnering with a company like ours can indeed be a game-changing decision. We are an experienced company for tailored insights on realistic development costs aligned with business demands. Allow us to bring innovation and excellence to your shopping app and rule the eCommerce world.
You may also like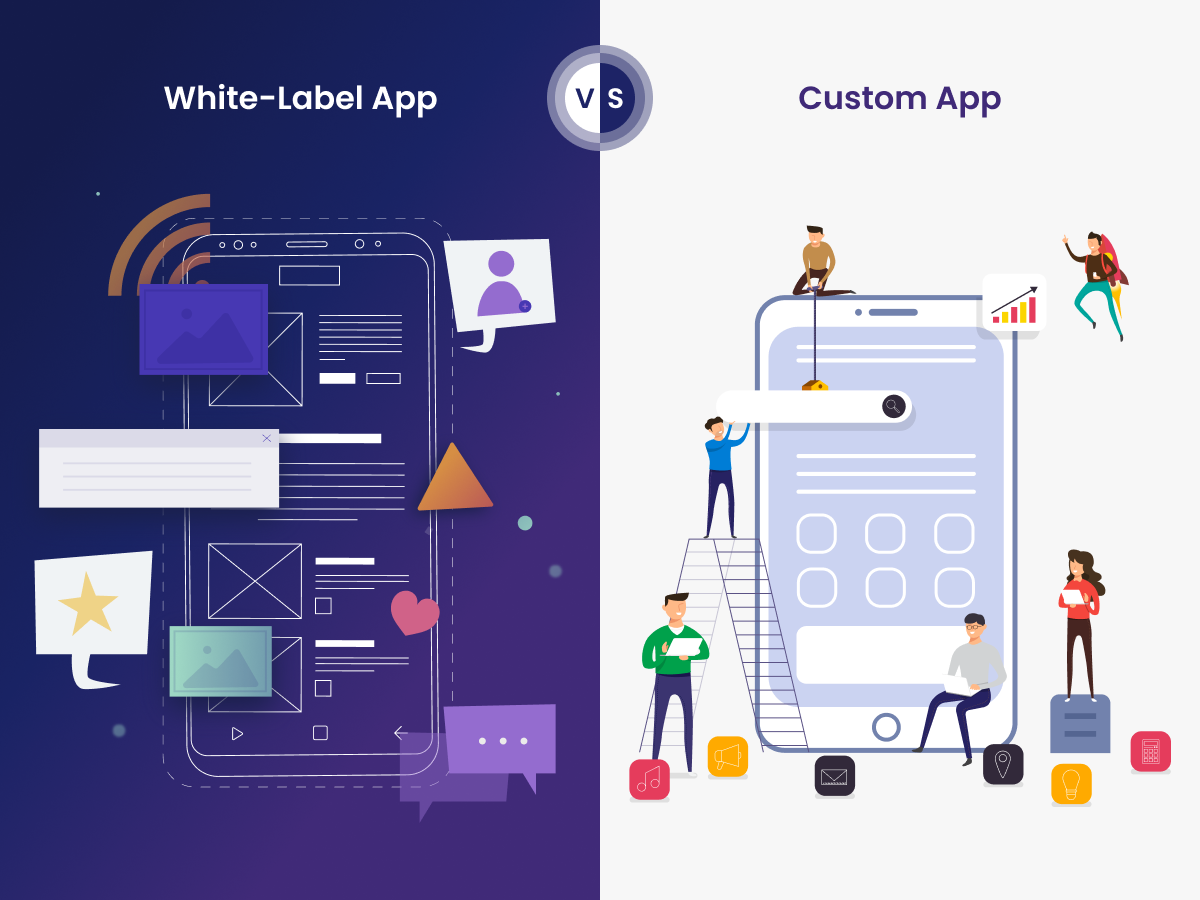 White Label App vs Custom App: Unveiling the Right Choice
Chirag Vaghasiya
In today's fast-paced digital landscape, the choice between white label app and custom app is a pivotal decision that businesses must make when venturing into mobile application development. Both approaches have their distinct advantages and disadvantages, and the path chosen can significantly impact a company's success in the digital realm. Every business has common goals… Read More