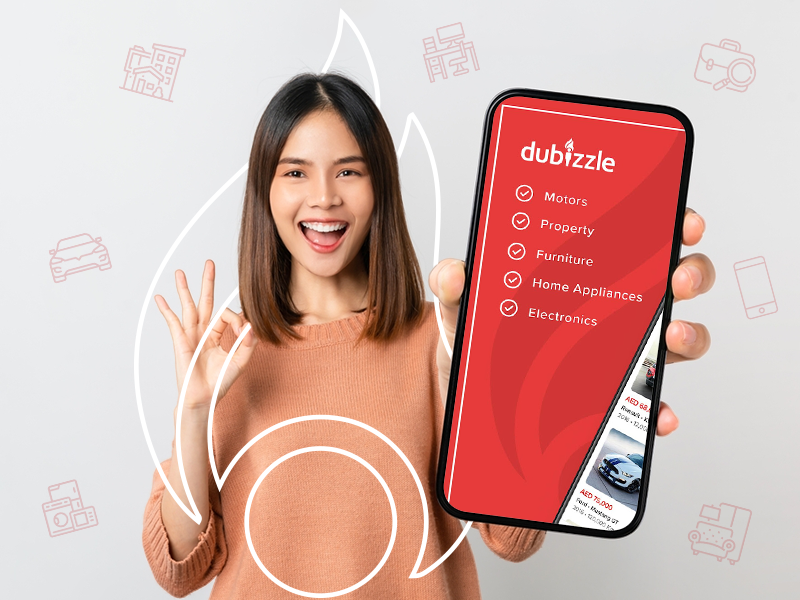 Ashka Panchal

July 11, 2023

6 min read
The Internet offers numerous avenues that provide various advertising materials. It's an excellent strategy to connect with a large audience in a specific location, making it an ideal solution for buy-and-sell app development. The most effective approach when promoting products or items online is through online classified services. These services serve as a convenient hub for buyers and sellers, offering a one-stop platform. Sellers place their ads while buyers browse through these ads and make purchases.
In this fast-paced digital era, classified apps have revolutionized the way we buy, sell, and connect with others in our communities. Among the plethora of options available, one name stands out as a shining beacon of success: Dubizzle.
If you're thinking of building a classified app like Dubizzle clone, this article is a goldmine of information for you.
About Dubizzle
Created by the brilliant minds of JC Butler and Sim Whatley, these folks saw the gap in the expat real estate market and went like, "We gotta fix this!" And voila, Dubizzle was born! Fast forward to today, it's a rocking online classified marketplace app operating in 31 countries across the Middle East and North Africa. With a user-friendly interface and several categories, Dubizzle's unique model of buying and selling anything in the UAE has gained immense popularity.
Dubizzle is a popular classified app that allows users to buy and sell a wide variety of items, from used cars to furniture to electronics. It has transcended geographical boundaries, catering to millions of users across the globe. This exceptional platform offers a wide array of categories, including real estate, jobs, cars, services, and much more. With its user-friendly design, Dubizzle empowers individuals and businesses alike to showcase their offerings and find their perfect match.
"According to Semrush, "Dubizzle boasts 7.6 million users in the UAE, generated $75 million in revenue in 2022 and is projected to experience further growth."
Key Features of the Popular Dubizzle App
The Dubizzle app offers a range of features that contribute to its popularity and user engagement. Here are some key features that are prominent: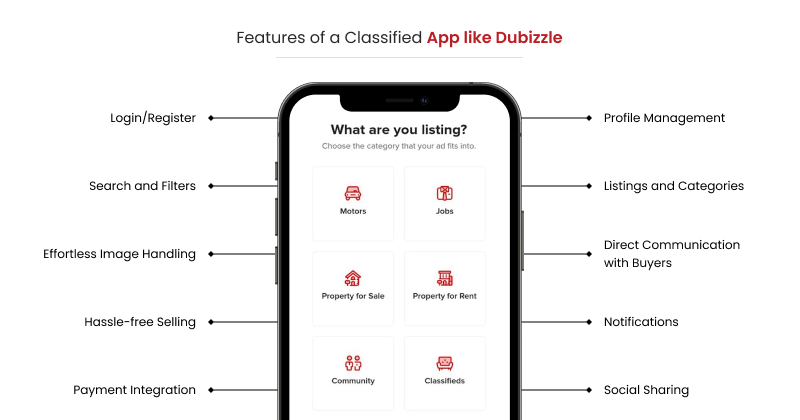 Login/Register: Enjoy a quick and straightforward login process using your social media accounts such as Facebook, Twitter, etc.
Profile Management: Customize and enhance your profile easily, modifying various aspects according to your preferences.
Search and Filters: Implement a robust search functionality that allows users to search for specific listings based on keywords, location, price range, and other relevant filters.
Listings and Categories: Allow users to post and browse listings across different categories such as real estate, vehicles, jobs, services, etc. Organize listings into relevant categories and subcategories for easy navigation.
Effortless Image Handling: Take control of your images by quickly uploading, deleting, and editing them, along with adding a captivating description.
Direct Communication with Buyers: Seamlessly connect with potential buyers, allowing candid conversations to resolve product queries or concerns.
Hassle-free Selling: Utilize your account to effortlessly sell your products, showcasing them with appealing images and compelling descriptions.
Notifications: Implement push notifications to keep users informed about new listings, messages, updates, and relevant activities.
Payment Integration: Integrate secure payment gateways to facilitate transactions within the app, ensuring a seamless buying and selling experience.
Social Sharing: Allow users to share listings on social media platforms to expand their reach and increase visibility.
Also check: Cost To Develop Buy and Sell Apps Like LetGo or Offerup
Advantages of Dubizzle-like App Development
Dubizzle and similar classified mobile apps provide a secure online platform for businesses and customers to access a wide range of products. These apps are popular for B2B, B2C, and C2C transactions, offering properties, home rentals, appliances, furniture, electronics, and more.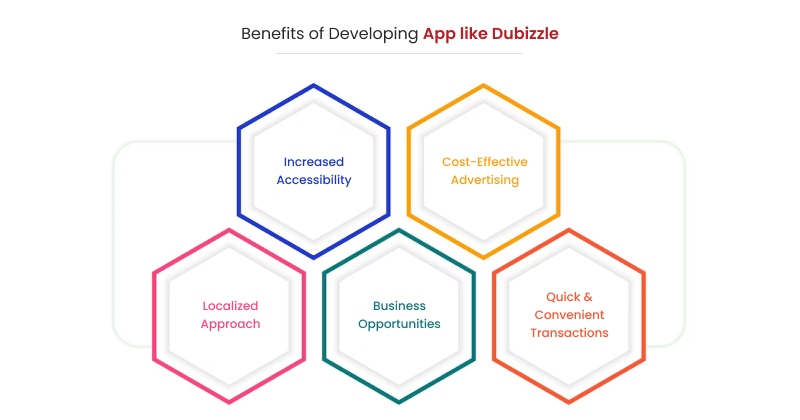 • Increased Accessibility
Developing a Dubizzle app clone allows users to access various classifieds and shopping opportunities at their fingertips. Whether looking to buy or sell products, rent or lease properties, or find services, users can easily navigate through the app to explore listings in their local area, making the entire process more accessible and convenient.
• Cost-Effective Advertising
It offers a cost-effective solution for promoting products and services compared to traditional advertising methods. The app typically offers various advertising packages and options, allowing businesses to choose the ones that align with their budget and marketing goals. This affordability makes it an attractive platform for budding entrepreneurs to showcase their offerings without incurring substantial expenses.
• Localized Approach
Dubizzle-like app development focuses on providing localized content and services catering to specific regions and cities. It ensures that users can find relevant listings to their local area, resulting in a more targeted and efficient search experience. By tailoring the app to specific regions, users can connect with nearby sellers and service providers, reducing shipping costs and promoting local businesses.
• Business Opportunities
By creating a platform where individuals and businesses can showcase their products and services, the shopping app acts as a marketplace, allowing sellers to reach a more extensive customer base and boost sales. Additionally, the app can offer advertising and promotional options for businesses to increase their visibility and attract more customers.
• Quick and Convenient Transactions
Dubizzle-like apps often provide convenient features that facilitate quick and hassle-free transactions. Users can communicate directly within the app, negotiate prices, and finalize deals. Additionally, some apps offer secure payment options, which enhance user trust and streamline the buying and selling process. This convenience encourages more transactions and improves user satisfaction.
Also check: Cost to Develop Online Shopping App like Carrefour in UAE
Steps to Develop an On-demand Classified App like Dubizzle
The creative journey of a Dubizzle-like app that can connect buyers and sellers within a specific market segment needs meticulous planning. Remember to stay customer-centric while developing classified apps like Dubizzle in UAE, continuously iterate and improve the app based on user feedback and market trends.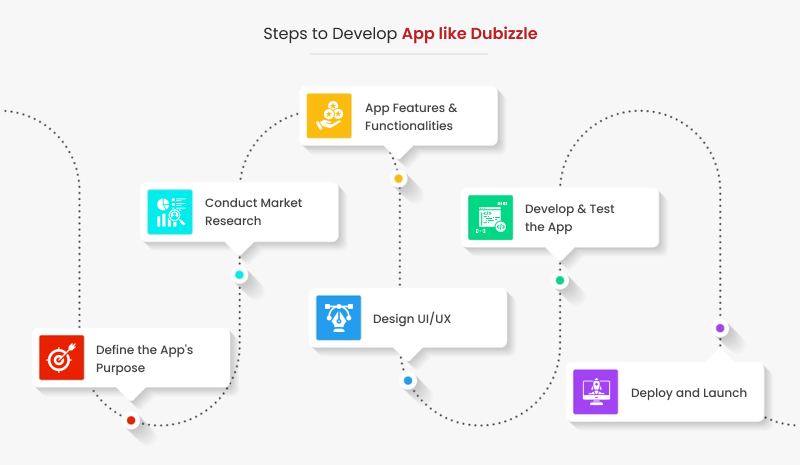 • Define the App's Purpose and Target Audience
Determine the specific audience your app will cater to. It will help you to plan your efforts in the right direction.
• Conduct Market Research
Identify the strengths and weaknesses of other similar apps in the market and identify opportunities for differentiation. This research will help you refine your app concept and make informed decisions throughout development.
• Plan App Features and Functionalities
Chalk out a plan of features and functionalities your Dubizzle-like app will offer. These may include user registration, listings management, search filters, messaging capabilities, payment integration, and more.
• Design User Interface and User Experience
Pay attention to the user experience UI/UX and consider how users interact with the app at each step. Create wireframes or prototypes to visualize the app's flow and gather feedback before proceeding to development.
• Develop and Test the App
If you have the resources, consider adopting an agile development approach to ensure flexibility and adaptability. Conduct thorough testing at each stage to identify and fix any issues to ensure compatibility and smooth performance on various devices and operating systems.
• Launch and Continuously Improve
Once development and testing are complete, prepare for the app's launch by submitting it to relevant app stores and platforms. Create a marketing plan to generate awareness and attract users to download the app. Regularly update the app with new features, enhancements, and bug fixes to provide an excellent user experience and maintain user engagement.

Revenue Model for an App Similar to Dubizzle
There are a number of different revenue models that can be used for an app similar to Dubizzle. Some of the most common models include:
Advertisements: Generate revenue by displaying targeted advertisements within the app.
Featured Listings: Offer businesses the option to promote their listings by highlighting them as featured listings, charging a fee for increased visibility and better positioning in search results.
Subscription Model: Introduce a subscription-based revenue model where users can access premium features and enhanced functionalities by subscribing to a monthly or yearly plan.
Sponsored Content: Collaborate with brands and businesses to showcase sponsored content within the app, integrating it seamlessly into the user experience while generating revenue through sponsored posts, articles, or videos.
How Much Does it Cost to Build an App like Dubizzle Clone?
Building an app similar to Dubizzle involves various factors influencing the overall cost. The cost to develop an app like Dubizzle clone depends on the app complexity, features & functionalities, required tech stack, etc. Several factors need to be considered to determine the total cost.
| Factors | Impact on Cost |
| --- | --- |
| Additional features and functionalities | Higher development costs |
| Location of the company you choose | Varying development rates across regions |
| Labor costs | Lower labor costs may save money, but the quality is important |
| The average cost of building an app like Dubizzle | $15,000 to $40,000 or AED 55,096 to AED 146,921 |
To know the exact cost; you can connnect with us with your requirement and we will provide you with a free quote.
Why Choose PeppyOcean for Developing an App like Dubizzle?
Are you looking to make an app like Dubizzle clone in UAE? We can help! We have a team of experienced developers who can create a custom application that meets your needs. Our apps are designed to be user-friendly and scalable, and we offer a variety of features that can help you attract users and generate revenue.
Contact us today to learn more about our classified app development services. We'll be happy to answer any questions you have and help you get started on your project.
Summing Up
Developing an app like Dubizzle requires careful planning and consideration of various factors that contribute to the overall cost. If you are on tight budget, going for the Dubizzle clone app is a lucrative option for leveraging a marketplace app that enables widespread customer use. Partnering with a reliable mobile application development company like ours is recommended for the best results. Our expertise can help you create a responsive and scalable app that securely handles high-traffic volumes and facilitates seamless payment transactions. While developing a Dubizzle-like app may initially incur higher costs, it is an economical and time-saving choice in the long run.
You may also like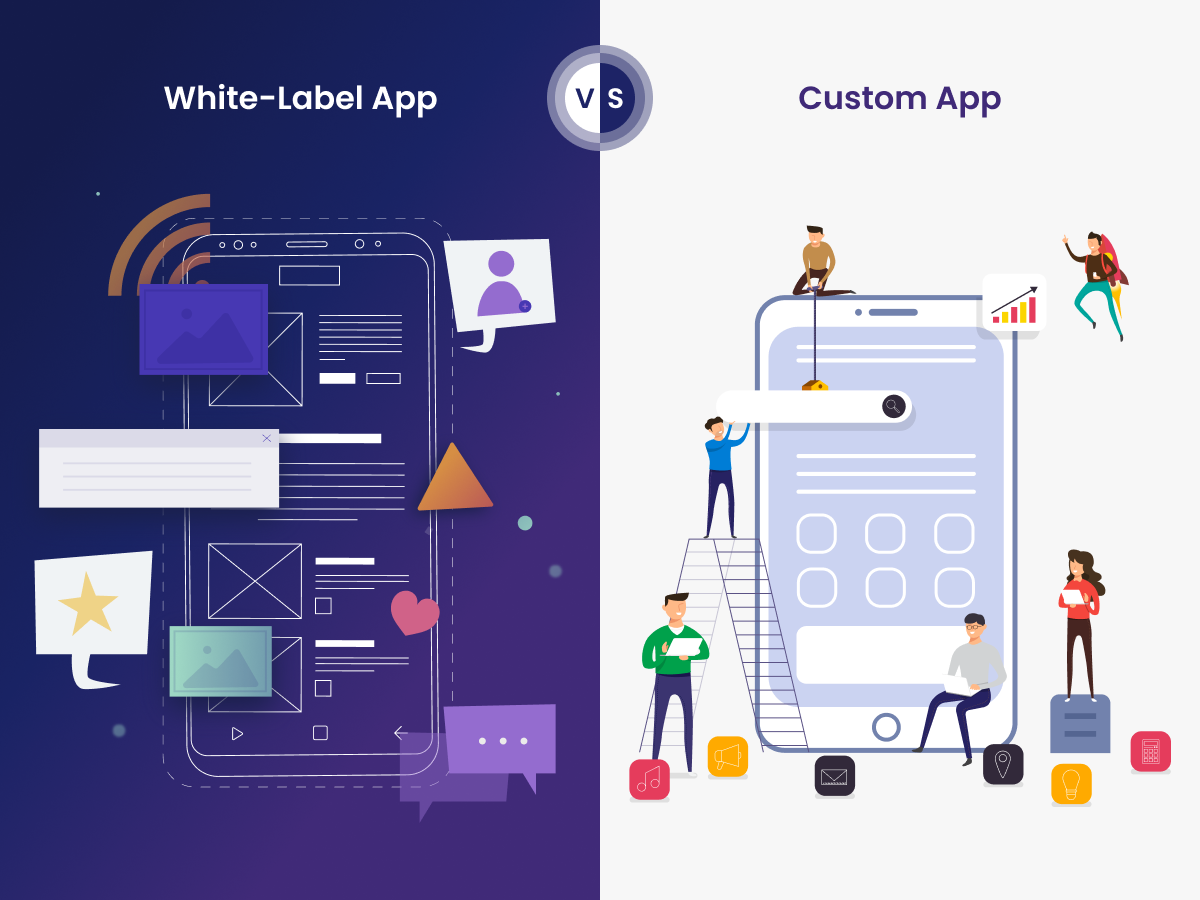 White Label App vs Custom App: Unveiling the Right Choice
Chirag Vaghasiya
In today's fast-paced digital landscape, the choice between white label app and custom app is a pivotal decision that businesses must make when venturing into mobile application development. Both approaches have their distinct advantages and disadvantages, and the path chosen can significantly impact a company's success in the digital realm. Every business has common goals… Read More